By Jerri-Lynn Scofield, who has worked as a securities lawyer and a derivatives trader. She is currently writing a book about textile artisans.
Some good news out of Nebraska on the right to repair.
Right to repair advocates achieved some successes in 2019. The concept made the agenda for 2020 presidential campaigns, endorsed first by Elizabeth Warren and then Bernie Sanders, starting with farm equipment. Twenty state legislatures have considered digital right to repair measures – although so fair, none has become state law. There is broader public awareness of the concept, with the New York Times editorial board now in favour. And the EU has adopted a limited right to repair for household appliances, to take effect in April 2021, with  Australia, Canada, and South Africa also joining the party.
Part of the impetus for these measures is the huge environmental costs of a throwaway culture, particularly for ewaste. But the economics costs are also a major concern, particularly for regulators.
Both the Federal Trade Commission and the House Judiciary committee have undertaken initiatives, with the House committee questioning whether Big Tech – e.g., Amazon, Apple, Facebook, and Google – are violating anti-trust laws. Apple, a staunch right to repair opponent, adopted limited concessions in late August, to provide  independent repair providers access to Apple parts and repair tools (see Apple Blinks on Right to Repair: Or Does It?) Earlier in 2019, the company played a major role in defeating legislation in California (see Apple to California Legislators: Consumers Will Hurt Themselves if Provided a Right to Repair). For a recap of these and other developments, see US PIRG  RIGHT TO REPAIR WRAPS UP A BIG YEAR).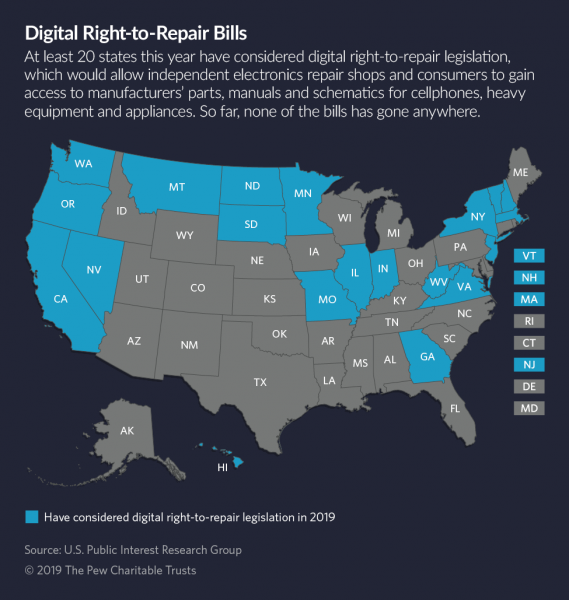 Nebraska Right to Repair for Farm Equipment
In early December, the Nebraska Farm Bureau voted 176 -1, to support a right to repair, including clear guidelines to prevent diluting future agreements. This policy was to counter what was seen as an earlier capitulation in California, where the California Farm Bureau Federation accepted a half-measure that left dealers with the whip hand over most repairs.
According to US PIRG in  NEBRASKA FARMERS VOTE OVERWHELMINGLY FOR RIGHT TO REPAIR:
Working equipment is mission-critical for farms.

If you can't harvest your crop because the equipment you need isn't functioning, you can't earn a living. But modern farm equipment is getting harder and harder to fix because manufacturers such as John Deere won't give farmers or independent mechanics access to what they need to repair the equipment outside of their dealerships.

This is especially true of the software locks on the equipment that require access to dealership-only software to fully repair. A documentary by Vice cataloged how farmers have taken to hiring hackersand buying black market software to bypass the software locks so they can keep equipment in the fields.
Dealers are fierce opponents of any right to repair, for as Crain's Chicago Business reports in Why Deere and Cat don't want customers to do it themselves,:
Manufacturers have a strong financial incentive to limit customers' repair options. Making an iPhone hard to fix drives sales of new ones. For Illinois heavy-equipment makers, controlling repairs drives lucrative service work to dealers and boosts sales of parts, a growing portion of manufacturers' revenues.

"From the perspective of [John] Deere, opening up controlled systems or applications on equipment presents nothing but downsides," says Morningstar analyst Scott Pope.

…

…Dealers depend on repair work, which yields profit margins up to five times better than new-equipment sales, Pope says.

Right-to-repair laws also threaten parts sales, since Deere generally sells parts to its dealers. Deere brought in $37.36 billion in revenue in 2018, with about $5.8 billion from parts sales. Bloomberg Intelligence analyst Christopher Ciolino says Deere's parts sales are growing faster than equipment sales.

"There has been a concerted effort to grow the aftermarket business" among all heavy-equipment makers, Ciolino says. "Parts and service have very attractive margin profiles that not only add to the bottom line but help mitigate the cyclicality in their business."
Nebraska farmers are now aggressively promoting specific standards according to US PIRG in  NEBRASKA FARMERS VOTE OVERWHELMINGLY FOR RIGHT TO REPAIR:
The measure adopted by the Nebraska Farm Bureau laid out specific standards for any agreement or legislation:

Right to Repair: Nebraska Farm Bureau supports the implementation of comprehensive right to repair legislation OR a negotiated written agreement between ag producers and original equipment manufacturers (OEMs). This legislation or agreement must: 

1. Be enforceable. 

2. Guarantee farmer/repair technician access to the identical information, parts, and tools that are available to dealerships. These items must be fairly and reasonably priced (taking into account both small and large producers) and be delivered in a timely manner. 

3. Include ALL OEM equipment, regardless of age, model, or years in use at the time of the effective date. 

4. Differentiate between repair (the restoration of hardware to its original intended function) and illegal "modding," (modification of original hardware to bypass environmental controls). 

5. Not require any agricultural equipment owner to agree to any contract which removes existing rights. 

Furthermore, Nebraska Farm Bureau will support or endorse any legislation or agreement that grants agricultural equipment owners/repair shops with the same rights accorded to automobile & light truck owners/repair shops. 
The Nebraska Farm Bureau is currently attempting to negotiate a right to repair deal with dealers and original equipment manufacturers, to incorporate these minimum standards, according to NET in Nebraska Farm Bureau Eager For 'Right To Repair' Agreement In 2020 . If a deal is not achieved by this time next year, the Nebraska farmers will opt to pursue mandatory legislation instead.
Presidential campaigns provide an opportunity to highlight policies that affect farmers. In 2020, one key issue is the right to repair for farm equipment.