By Lambert Strether of Corrente
This may be a good time to pull on my yellow waders, and take a look at Trump's letter to Pelosi, since his letter is simultaneously a parting shot as the House votes impeachement, and — assuming impeachment doesn't die in the House — the opening gun not only for his trial in the Senate but for election 2020. Here is the letter; if you have time, it's worth reading it to form your own opinions.
One tip to make reading Trump more tolerable is to hear him as a borscht belt comedian like Rodney Dangerfield or Henny Youngman. Clifford A. Rieders, who grew up with enduring memories of the borscht belt, commented in 2016:
The humorists spanned the spectrum from Yiddish-speaking Brooklynites to Midwestern Protestants. Each comedian had a shtick. What exactly is a shtick? A "shtick" was an approach, an act, a way of relating to people that could be funny, serious, entertaining or crass, but always memorable in some way. Donald Trump is surging in the polls because he has a shtick. He is very much like a borscht belt entertainer, memorable because of how he speaks and the way he presents himself, rather than his content. The experts will have to parse the substance of Trump's message, if any, but his entertainment value should not be underestimated. He is making people sit up and take notice, whether he is hated, loved, or whether he just makes people shrug their shoulders and giggle.
The New Yorker's Emily Nussbaum wrote in 2017:
You didn't have to think that Trump himself was funny to see this effect: I found him repulsive, and yet I could hear those comedy rhythms everywhere, from the Rodney Dangerfield "I don't get no respect" routine to the gleeful insult-comic slams of Don Rickles (for "hockey puck," substitute "Pocahontas")… Like that of any stadium comic, Trump's brand was control. He was superficially loose, the wild man who might say anything, yet his off-the-cuff monologues were always being tweaked as he tested catchphrases ("Lock her up!"; "Build the wall!") for crowd response. On TV and on Twitter, his jokes let him say the unspeakable and get away with it. "I will tell you this, Russia, if you're listening—I hope you're able to find the thirty thousand e-mails that are missing," he told reporters in July, at the last press conference he gave before he was elected. Then he swept his fat palm back and forth, adding a kicker: "I think you will probably be rewarded mightily by our press."
I date those quotations because the main line of liberal reaction has gotten a lot less creative and, I dare say, less insightful. Here is a sampling of reactions to Trump's letter:
I don't take all this medicalizing seriously, since I don't accept armchair analysis of Donald Trump by liberal Democrats any more seriously than I took armchair analysis of Terry Schiavo by conservative Republicans. Anyhow, the Democrats have been calling their opponents crazy and stupid since at least the Bush era, and it hasn't really gotten them anywhere, so who's crazy and stupid, anyhow? (Diedre McCloskey: "If you're so smart, why ain't you rich?")
The other main line of liberal reaction is, of course, fact checking, which I grant with Trump is like shooting fish in a barrel. AP solemnly convicts Trump of hyperbole (his victory was not a "landslide," not even in the electoral college, among other things). The New York Times presents an annotated version of the letter. For example, here is Trump on the Steele dossier, and the Times' annotation:

So, before the Times correction:
illegally purchased from a foreign spy by Hillary Clinton and the DNC in order to assault our democracy
And after:
illegally purchased from a foreign spy by Hillary Clinton and the DNC in order to assault our democracy
So, OK, facts matter, but does the Times really think that the residual fact set — the text not deleted — is going to move the needle on Steele? (Hilariously, "so long as the service was paid for at the market rate" is peak neoliberalism.)
Even more amazingly, the Times leaves this passage, which occurs immediately before the passage they corrected, uncorrected:
Before the Impeachment Hoax, it was the Russian Witch Hunt. Against all evidence, and regardless of the truth, you and your deputies claimed that my campaign colluded with the Russians — a grave, malicious, and slanderous lie, a falsehood like no other.
One must assume that the Times does not correct what it believes to be true. Therefore, RussiaGate — which the Times assiduously propagated, to its great profit — is "a grave, malicious, and slanderous lie"? Alrighty then.
Similarly: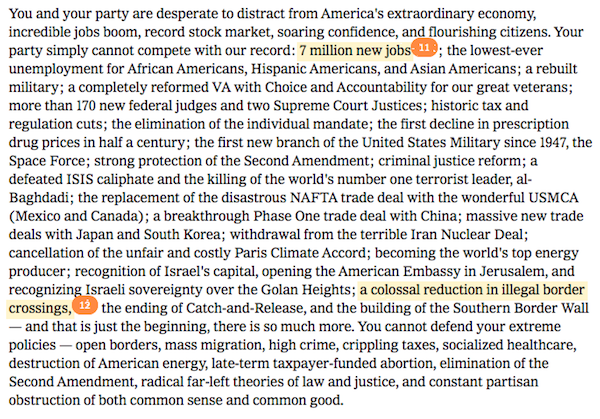 What the Times is looking at is a blueprint for Trump's case to the voters in 2020. And yet the Times can find only two corrections to make? If I were a liberal Democrat, I would be very, very worried about 2020.
I'm not going to make an armchair diagnosis of Trump's mental state, or shoot fish in a barrel with factchecking. Rather, I'm going to look at Trump's letter through the lens of his schtick, or, using the seventy five-cent word, his rhetoric. (I will be the first to say that Trump is not a superb technician; for an analysis of an orator who is, see NC here on Julia Gillard.) First, I will show that Trump's letter falls naturally into two parts: His defense against the indictment, and his 2020 case against the fitness of Democrats to govern). Given that the text has such a structure, it's simply not tenable to call it an "unhinged rant," which disposes of the first mainstream response. Nor it is especially useful to fact-check it, especially when the facts are so disputed[1], which disposes of the second. Unfortunately, I cannot annotate the entire six-page letter, but I will comment on the rhetoric used in each part. Now let's look at the two parts.
Here is the division point between the two parts. Using direct address ("inter se pugnantia"), Trump writes:
There is nothing I would rather do than stop referring to your party as the Do-Nothing Democrats. Unfortunately, I don't know that you will ever give me a chance to do so.
There are two reasons this paragraph marks a division. First, it's the first and only joke (irony). Second, it's the first use of one of Trump's favorite figures: paralipsis, here saying something while pretending that one does not wish to say it ("unfortunately," my sweet Aunt Fanny).
So, let us turn to the first part, Trump's defense. After some hyperbole about the Constitution, Trump addresses each claim in the House indictment in turn. On (1) "Abuse of Power," Trump responds that (A) "I had a totally innocent conversation with the President of Ukraine," (B) "You are turning a policy disagreement between two branches of government into an impeachable offense", (C) "you are trying to impeach me by falsely accusing me of doing what Joe Biden has admitted he actually did," and (D) "President Zelensky has repeatedly declared that I did nothing wrong." On (2), "Obstruction of Congress," Trump responds, (A) "if you make a high crime and misdemeanor out of going to the courts, it is an abuse of power," (B) "you have spent three straight years attempting to overturn the will of the American people and nullify their votes," (C) "Congressman Adam Schiff cheated and lied all the way up to the present day", and (D) "You and your party are desperate to distract," followed by the accomplishedments listed in the second Times "correction" above." I've lettered and numbered the responses because the structure is perfectly clear to those who are willing to look for it. (There is a minor Twitter controversy over whether Trump wrote the letter himself, but I would say he, like any President, has people for that. I think that Trump, for whatever reason, had a lot more input into part two, for reasons I will show.)
A second feature of the first part is that it's virtually devoid of rhetorical devices: Tricolon and anaphora are the only ones used frequently ("[1] crimes, [2] misdemeanors, and [3] offenses"; "[1] violating your oaths of office, [2] breaking your allegiance to the Constitution, and [3] declaring open war on American Democracy"; "[1]misquoted, [2]mischaracterized, and [3]fraudulently misrepresented").
Now let's turn to the second part. Unlike the first part, it can't be represented with an outline structure. Indeed, it might be considered to be grist for Trump's improvisations and A/B testing on the trail. From my post describing Trump's visit to Bangor:
I want to focus on how [Trump] made [his] points: He didn't just emit them in bulleted-list form. Rather, he treated them as waypoints. He'd state the point, clearly and loudly, and then begin to move away from it in ever-widening circles, riffing jazzily on anecdotes, making jokes, introducing other talking points ("We're gonna build the wall"), introducing additional anecdotes, until finally popping the topical stack and circling back to the next waypoint, which he would then state, clearly and loudly; rinse, repeat. The political class considers or at least claims Trump's speeches are random and disorganized, but they aren't; any speech and debate person who's done improvisation knows what's going on.
You can just see Trump cutting up bits of part two, revising some, discarding others, re-arranging them, and so on.
The primary rhetorical device in the second part is tu quoque, colloquially "The pot calling the kettle black." Here it is combined with anaphora (and a dash of tricolon and alliteration):
the ones interfering in America's elections. the ones subverting America's Democracy. the ones Obstructing Justice. the ones bringing pain and suffering to our Republic for your own selfish [1]ersonal, [2]olitical, and [3]partisan gain.
And here Trump combines tu quoque with straight up [A] ad hominem plus [B] mesarchia, [C] tricolon, [D] hyperbole, and [E] ad populum. (I have to change the notating system for this one because the devices are so numerous and interlocked.)
Perhaps most insulting of all is [A]your false display of solemnity. You apparently have so little respect for the American People that you expect them to believe that [B] approaching this impeachment [C]somberly, reservedly, and reluctantly. [D]No intelligent person believes what you are saying. Since the moment I won the election, the Democrat Party has been possessed by Impeachment Fever. There is no reticence. This is not a somber affair. [B] making a mockery of impeachment and scarcely concealing [C]your hatred of me, of the Republican Party, and tens of millions of patriotic Americans. [E]The voters are wise, and they are seeing straight through this [C]empty, hollow, and dangerous game you are playing.
Now, tu quoque is indeed a logical fallacy with respect to claims. But is it a fallacy with respect to the right to govern, which is one way for Trump to structure the 2020 campaign?[1] Consider the parable of King David, Bathsheba, and Uriah the Hittite, Bathsheba's husband and David's soldier. King David commands that Uriah be put in the front lines, he is killed, and King David took Bathsheba as one of his wives. Enter the prophet Nathan. 2 Samuel 12:
1 The Lord sent Nathan to David. When he came to him, he said, "There were two men in a certain town, one rich and the other poor. 2 The rich man had a very large number of sheep and cattle, 3 but the poor man had nothing except one little ewe lamb he had bought. He raised it, and it grew up with him and his children. It shared his food, drank from his cup and even slept in his arms. It was like a daughter to him.

4 "Now a traveler came to the rich man, but the rich man refrained from taking one of his own sheep or cattle to prepare a meal for the traveler who had come to him. Instead, he took the ewe lamb that belonged to the poor man and prepared it for the one who had come to him."

5 David burned with anger against the man and said to Nathan, "As surely as the Lord lives, the man who did this must die! 6 He must pay for that lamb four times over, because he did such a thing and had no pity."

7 Then Nathan said to David, " … 9 … You struck down Uriah the Hittite with the sword and took his wife to be your own. You killed him with the sword of the Ammonites.
"You are." No doubt Nathan committed a logical fallacy. But was King David fit to rule?
Here I must conclude part two; as I said, it's much more discursive than part one, and I think it will be revised on the trail anyhow.
* * *
My bottom line is that the mainstream analysis — armchair psychology and fact checking — of Trump's letter to Pelosi is virtually useless; worse than useless if the maxim "Know your enemy and know yourself" is important to you. A rhetorical analysis of Trump's letter shows that he will be a formidable opponent in 2020, and that he's crazy like a fox. Trump has form. His schtick has worked, and may well work again.
NOTES
[1] Many have commented on the relevance of the Simpsons for our times: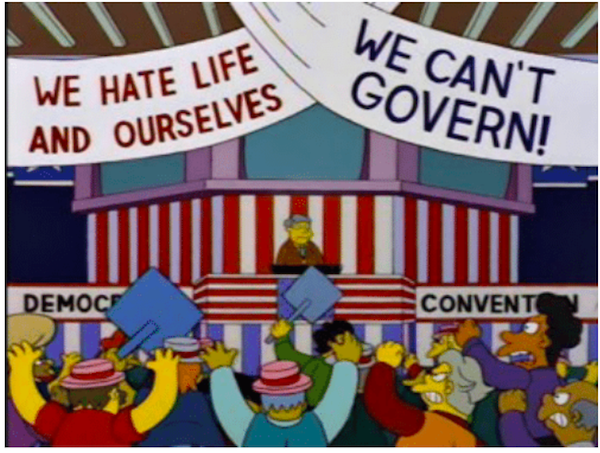 NOTE
The clock kinda ran out on me for this one; with more time I'd give an inventory of Trump's rhetorical devices on the trail, and consider Quintilian's claim that "The good orator is a good man." If there's reader demand, perhaps I'll take up these topics in future.