By Lambert Strether of Corrente.
The news seems a bit light, as we all sink back exhausted from the war scare, now rapidly dropping off the front pages. –lambert
Trade
"U.K. Tells Trump That American Chicken Is Still Off the Menu" [Bloomberg]. "With the breakup near, Prime Minister Boris Johnson's administration is preparing to negotiate trade deals this year with the EU and the U.S. Typically such agreements take years. The timetable for these talks is months. With reelection on the brain, President Donald Trump is ogling the opportunity. "This deal has the potential to be far bigger and more lucrative than any deal that could be made with the EU," Trump tweeted in December. While there are plenty of sticking points, count chlorine-washed chicken as early out of the gate. Most Americans aren't fussed by domestically produced poultry parts bathed in a water-and-chemical bath to kill bacteria — per capita consumption will approach 100 pounds this year, double the level from 35 years ago, according to the National Chicken Council. But U.S. chicken imports offend British sanitary sensibilities. Not just for the safety of people who ingest it, but mainly because the process compensates for less stringent health standards when the chickens are being raised."
Politics
"But what is government itself, but the greatest of all reflections on human nature?" –James Madison, Federalist 51
"They had one weapon left and both knew it: treachery." –Frank Herbert, Dune
Here is a second counter for the Iowa Caucus, which is obviously just around the corner:
* * *
2020
Alert reader dk (not to be confused with DK) is in the process of developing the following interactive chart.

We do not have new polls today, so yesterday's YouGov poill is the most recent, as of 1/8/2020, 12:00 PM EST. On the average, the pattern of Biden first, Sanders strong second, then Warren and Buttigeig is stable, but Bloomberg is closing on Buttigieg, which is interesting or concerning. Of course, these are national polls, about to be massively thrown into confusion by IA, NH, SC, and NV — and then CA.

And the numbers:

The chart from South Carolina:

And the numbers from South Carolina:

Steyer??

And now California:

The numbers from California:

Sanders solidly in first. That's quite remarkable.

CAVEAT I think we have to track the polls because so much of the horse-race coverage is generated by them; and at least with these charts we're insulating ourselves against getting excited about any one poll. That said, we should remember that the polling in 2016, as it turned out, was more about narrative than about sampling, and that this year is, if anything, even more so. In fact, one is entitled to ask, with the latest Buttigieg boomlet (bubble? (bezzle?)) which came first: The narrative, or the poll? One hears of push polling, to be sure, but not of collective push polling by herding pollsters. We should also worry about state polls with very small sample sizes and big gaps in coverage. And that's before we get to the issues with cellphones (as well as whether voters in very small, very early states game their answers). So we are indeed following a horse-race, but the horses don't stay in their lanes, some of the horses are not in it to win but to interfere with the others, the track is very muddy, and the mud has splattered our binoculars, such that it's very hard to see what's going on from the stands. Also, the track owners are crooked and the stewards are on the take. Everything's fine.

I think dk has started a really neat project, and in the near future we'll seek your feedback (within reason) for the tool "live."

* * *

Biden (D)(1): "Joe Biden Most Likely Democrat to Beat Donald Trump, Party Members Tell Pollsters" [Newsweek]. "However the latest [Reuters/IPSOS] poll found that 40 percent of Democrats thought the ability to beat Trump was the 'most important character trait,'—far outweighing other considerations such as 'strong on healthcare' (12 percent) and 'strong on the economy and job creation' (10 percent)." • Somehow democracy has turned into a Keynesian beauty contest. Not what do you think, but what do others think….

Bloomberg (D)(1): "Opinion: Trump has been great for people like me — but I'll be great for you" [Mike Bloomberg, MarketWatch]. "Again and again, candidate Trump made economic promises to working people that he had no intention of keeping. And, sure enough, he has broken all of them. In fairness, we faced serious economic problems before President Trump took office. That's one of the reasons he won. He promised to fix them. Instead, he has made them worse. We need to elect a leader who can actually deliver real change — not just talk about it — and create more good jobs, with good salaries, all across America. And I know I can do that, because I've done it. As mayor of New York, I helped to create nearly 500,000 new jobs, most of them outside of Manhattan." • Bloomberg also touts his effort to "rebuild Lower Manhattan" after 9/11. Local New York readers, comments?

Buttigieg (D)(1): "Pete Buttigieg Woos 'Future Former Republicans' in New Hampshire" [Bloomberg]. "Pete Buttigieg likes to invite "future former Republicans" and independent voters into the fold, and the fiercely independent people of New Hampshire seem to be open to that offer. In a state where residents cherish their "Live Free or Die" motto, 42% of voters are not affiliated with either the Democratic or Republican Party, and they range from progressive to conservative…. The lack of a serious Republican primary may also help Buttigieg. Kathy Sullivan, the former chairwoman of the New Hampshire Democratic Party, predicted that moderate independents would play a larger role in this year's Democratic primary, which is open to all voters." • He's a real Democrat!

Sanders (D)(1): "Democrats slept on Bernie Sanders. Now he's surging as Iowa approaches" [CNN]. "with less than a month before the Iowa caucuses, this volatile 2020 presidential primary has taken yet another eye-popping turn: Bernie Sanders is being recognized by the Democratic establishment, sometimes in puzzlement and others in fear, as the real deal — a legitimate contender, even a front-runner, to become the party's next presidential nominee. It happened slowly, then, as the year turned, seemingly all at once. Maybe it was his fourth quarter fundraising total — $34.5 million, more than anyone else and a personal best — or the recent early-state polls, which suggest a Sanders sweep of Iowa and New Hampshire is very much in play. The 78-year-old democratic socialist always had the firmest voter base. He has not made any meaningful adjustments to his campaign strategy. What's changed is that he is beginning to show concrete signs of expanding his support in a way that few outside his loyal circles predicted." • Of course, we haven't counted any ballots yet.

Sanders (D)(2): "Democrats need to face facts about Bernie Sanders, his heart attack and his health" [Kurt Bardella, USA Today]. "At the risk of incurring the online wrath of the "Bernie Bros" who might point out that former Vice President Joe Biden is 77, the fact is that 1 in 5 people who have a heart attack will be readmitted for another one within five years of their first. According to the American Heart Association, there are about 335,000 recurrent heart attacks in the United States each year…. Under these circumstances, why would Democrats give Republicans the gift of a nominee whose health could derail the campaign at any moment?"

Trump (R)(1): "Trump, in a raucous rally, takes on Democrats and touts Soleimani killing" [Politico]. It's not a "killing." It's an assassination. "[Trump mocked] House Intelligence Chairman Adam Schiff (D-Calif.) as 'you little pencil neck' and then added 'He buys the smallest shirt collar you can get, and it's loose!'" • Well earned mockery, too. Three years of breathless hysteria on Russia, and in the end it never made the articles. More: "Trump is expected to increase the number of rallies he headlines now that Democratic voters are beginning the process of choosing a nominee to face him in November. He has two others scheduled for this month — in Wisconsin on the 14th and in New Jersey on the 28th." • It would be interesting to see the two Borscht Belt comedians — Trump and Sanders — duke it out. I don't see how any other candidate, including Bloomberg, could deal with Trump's mockery any better than Clinton did. Clutching their pearls and heading for the fainting couch doesn't work. And there's no manager to call.

Warren (D)(1): "Progressive Coalition Makes Case for Unity Deep Into Primary" [The Intercept]. • This is in essence wrapped around a press release from DFA, whose membership is split between Sanders and Warren. We didn't hear this unity talk when Warren was leading. Now that she's fading, we hear it. Odd. One important issue is that Warren's price would probably be a place on the ticket. Warren shouldn't be anywhere near the ticket. First, she has terrible political instincts — see her failure to launch in 2016, DNA debacle, and the butchered MedicareForAll rollout. Second, assuming she were on the ticket as Vice President, she'd still to try to run everything from a subordinate position; Yves characterizes Warren as a "High D" personality. Warren would make a good Secretary of the Treasury, assuming Kelton was somewhere to get the macro right, and that's a fine and important position.

Williamson (D)(1): "Marianne Williamson ends 2020 presidential campaign" [CNN]. "'I stayed in the race to take advantage of every possible opportunity to share our message. With caucuses and primaries now about to begin, however, we will not be able to garner enough votes in the election to elevate our conversation any more than it is now,' Williamson wrote in a message to supporters. 'The primaries might be tightly contested among the top contenders, and I don't want to get in the way of a progressive candidate winning any of them,' Williamson continued. Williamson had not qualified for the Democratic debate next week."

* * *
2016 Post Mortem
About electability:

Bernie won all 55 counties in West Virginia. Here is the official primary results. pic.twitter.com/tyDAJgLa5q

— Linda- #Bernie2020 (@LindaOrndoff) January 10, 2020
Impeachment
"Pelosi will send articles of impeachment to Senate next week" [CNBC]. "'I have asked Judiciary Committee Chairman Jerry Nadler to the Floor next week a resolution to appoint managers and transmit articles of impeachment to the Senate,' Pelosi wrote to House colleagues." • Not to quibble, but "send" is not the same as "be prepared" to send. More:
Stats Watch
"U.S. creates 145,000 jobs in December as hiring slows and wage growth softens" [MarketWatch]. " The economy created 145,000 jobs in the final month of 2019 to cap off the ninth straight year in which new hires topped the 2 million mark, but workers still aren't reaping a windfall from the strong labor market through rapidly rising pay. The increase in new jobs fell short of the 165,000 forecast of economists polled by MarketWatch. Wall Street was expecting a drop-off after a surprisingly robust 256,000 gain in the prior month. The unemployment rate, meanwhile, stayed at a 50-year low of 3.5%. The sturdiest labor market in decades has shielded the economy from a broad slowdown in global growth triggered in part by the U.S. trade war with China. Skilled workers are so hard to find companies are afraid to lay anyone off in case the economy speeds up. The low unemployment rate hasn't produced fatter paychecks for American workers like it usually did in the past,however. The pace of hourly wage growth fell below 3% in December for the first time in a year and a half."
Retail: "Sales results from the holiday season show the U.S. retail sector running on two very different tracks. J.C. Penney Co., Kohl's Corp. and Victoria's Secret parent L Brands Inc. all reported lower sales in the critical months of November and December… as Americans shifted their purchases online and to other retailers" [Wall Street Journal]. "The winners in the bid for sales look to be those that have undertaken aggressive efforts to meet changing consumer buying patterns, including so-called omni-channel strategies that blend physical stores with e-commerce fulfillment. Walmart Inc. and Target have reported rising sales and store traffic as they have ramped up online ordering and in-store pickup services. But same-store sales at J.C. Penney fell 7.5% in the nine weeks ending Jan. 4."
Shipping: "California's bid to toughen its trucking regulation is facing more roadblocks. A state judge says the state's new 'gig-economy' law raising the bar for use of independent contractors doesn't apply to truck drivers… ruling that the federal oversight built around interstate commerce preempts California's law" [Wall Street Journal]. "The ruling in a lawsuit involving port trucking operations joins another case in federal court that takes aim at the law known as AB-5."
Tech: "Police call for ban on anonymous pay-as-you-go phones" [Guardian]. "One flaw in any crackdown would be criminals moving to internet phone services via Skype or WhatsApp, which are encrypted. Law-abiding people who prefer contract-less mobile phones would be inconvenienced."
Tech: "Why is a 22GB database containing 56 million US folks' personal details sitting on the open internet using a Chinese IP address? Seriously, why?" [The Register]. "A database containing the personal details of 56.25m US residents – from names and home addresses to phone numbers and ages – has been found on the public internet, served from a computer with a Chinese IP address, bizarrely enough. The information silo appears to belong to Florida-based CheckPeople.com, which is a typical people-finder website: for a fee, you can enter someone's name, and it will look up their current and past addresses, phone numbers, email addresses, names of relatives, and even criminal records in some cases, all presumably gathered from public records. However, all of this information is not only sitting in one place for spammers, miscreants, and other netizens to download in bulk, but it's being served from an IP address associated with Alibaba's web hosting wing in Hangzhou, east China, for reasons unknown." • Oh.
* * *
Today's Fear & Greed Index: 92 Extreme Greed (previous close: 93 Extreme Greed) [CNN]. One week ago: 93 (Extreme Greed). (0 is Extreme Fear; 100 is Extreme Greed). Last updated Jan 9 at 12:21pm.
The Biosphere
"Climate change fueled the Australia fires. Now those fires are fueling climate change." [Grist]. "The most obvious climatic impact of the fires is that they're spewing millions of tons of heat-trapping carbon dioxide into the atmosphere, contributing to a vicious feedback loop of heat and flame. But the fires are also kicking up lots of soot, creating a smoke plume that's circling the globe and could hasten the melting of any glaciers it comes in contact with. Preliminary evidence suggests some of that smoke has even made its way into an upper layer of the atmosphere called the stratosphere, buoyed aloft by rare, fire-induced thunderclouds. That, too, could have subtle but far-reaching climate impacts…. As fire seasons become longer and more intense across the world, understanding this complex web of planetary impacts will only become more urgent."
"Seaweed Chronicles" [Orion]. "[G]rowing industrial harvests, by companies using tools both effective and destructive, threaten rockweed forests along Maine's coast and the species that need them for survival. Biologists are studying cutting techniques and are researching how cut areas can return to full ecological function, but much remains uncertain — especially the human ability to moderate harvest, a familiar challenge. Maine is 'new to the pressures of this accelerating seaweed harvest. . . . But we know a lot about plunder. We've been doing it ourselves for years.' As oceans are plundered, some coastal citizens are acting to protect rockweed's wild habitat and curb industrial harvest. The Rockweed Coalition is one group, among others such as the Nature Conservancy and the Seaweed Council, questioning seaweed harvest and the policy guiding it in Maine. These groups debate who owns the rockweed — coastal landowners or the public — how to reap its abundance sustainably, and where not to cut it at all." • Hmm. We don't know who owns the rockweed?
"Despite everything, U.S. emissions dipped in 2019" [Grist]. "[T]otal emissions fell 2 percent compared with the year before, according to the Rhodium Group, a research firm that frequently crunches climate numbers. The reason for that decline? The U.S. is burning less coal. That's been driving down emissions from electricity generation. But the way we get around, heat our homes, and manufacture our stuff, hasn't had much of an effect. 'It's a good-news bad-news story,' said Trevor Houser, a partner at Rhodium and author of the report. 'In the electricity sector we had a banner year — we had the largest decline in coal generation in recorded history. But in the other 75 percent of the economy, emissions remain stubbornly flat.'"
Health Care
"Costs, Benefits, and Sacred Values — Why Health Care Reform Is So Fraught" [Lisa Rosenbaum, New England Journal of Medicine]. "In the face of complex trade-offs, it's tempting to reach for simple solutions. [professor of health policy Ashish Jha], who is often asked why the United States can't have a single-payer system like those in some other high-income countries, explains that 'there is almost no health care system that can be transplanted without the host rejecting it.' He paraphrases the late health economist Uwe Reinhardt who, when asked about praise for the Danish health care system, would say something like, "Denmark has a great health care system. But if you want me to adopt the Danish health care system, you must also give me the Danish political system, and it would surely help if you also gave me the Danish people." Whereas Denmark's population, roughly the size of Wisconsin's, is relatively homogeneous, including in its embrace of communal values, America's large and diverse population is deeply divided on some central issues — for instance, the power of a free market and the appropriate role of government in our lives." • Right, right, Canada's population is totally homogenous and the Tories and the Liberals and the NDP and the PQ live in total harmony. Holy moley, with a straight face? In a flagship publication like the NEJM? (Note that no argument like this can give an account of the the presence or the success of existing Medicare.)
"High-Deductible Plans Jeopardize Financial Health Of Patients And Rural Hospitals" [Kaiser Health News]. "Plans with annual deductibles of $3,000, $5,000 or even $10,000 have become commonplace since the implementation of the Affordable Care Act as insurers look for ways to keep monthly premiums to a minimum. But in rural areas, where high-deductible plans are even more prevalent and incomes tend to be lower than in urban areas, patients often struggle to pay those deductibles. That has hit patients like Flowers hard as they grapple with medical debt when emergencies happen — but small rural hospitals like Lincoln Community are suffering, too. These facilities often stabilize critically ill patients and then transfer them to larger regional or urban hospitals for more definitive care. But when the hospitals submit their claims, bills from the first site of care generally get applied to a patient's deductible. And if patients can't afford to cover that amount, those hospitals often don't get paid, even as the larger urban hospitals where patients were transferred get close to full payment from the health plan. 'As soon as we send them to the city, those things start being paid by the insurance company,' said Kevin Stansbury, CEO of Lincoln Community, 'while we're still chasing the patient around for collections.'"
Class Warfare
"Increasing the minimum wage can reduce suicide rates, study finds" [Global News]. "A study published Tuesday in the Journal of Epidemiology & Community Health examined the link between minimum wage increases and suicide rates among various groups across the U.S., between 1990 and 2015. For every dollar added to the minimum wage, suicide rates among people with a high school education or less dropped by 3.4 to 5.9 per cent, the authors found. The effects were more pronounced during periods of high unemployment."
"When 140 million Americans are poor, why has poverty disappeared from public discourse?" [Des Moines Register]. "'It's hard work being poor,' said John Campbell of Des Moines, a black man of 63 who works at Bridgestone Firestone and is active in the steel workers' union. Raised in poverty by a single mother of four who died of lung cancer in her 40s, Campbell enlisted in the Marine Corps Reserves and later in the Army from 1973 to '78 to escape his battles with drugs and alcohol. He went on to have sustained employment and an education through union programs. But recently, he's been out on disability, living on $300 a week. ." • We are ruled by House Harkonnen.
"Working in the restaurant industry will haunt your dreams" [The Outline]. "The restaurant industry has one of the highest rates of mental health issues in the country. As restaurant owners begin to address that crisis, they need to include trauma-induced chronic nightmares along with depression and addiction. The haunting might end, long after the aprons are hung up." • Servers have "waitmares" — nightmares about waiting on tables.
News of the Wired
"U.S. Plagued By Widespread Website Crashes After Mouse Gets Into Internet" [The Onion] • Happened to me yesterday!
Tricoteuse?
Dealing with existential dread by knitting. So now I have existential dread and a hat. pic.twitter.com/LtpB3ckRui

— elizabeth townley (@elizatownley) January 8, 2020
"Exercise Is the Answer for All That Ails You" [Medium]. "The idea that exercise is good for the human body is a truism. No one doubts it. According to a large 2015 perspective paper on the health benefits of exercise published in the journal Cell Metabolism: 'The human species evolved to perform and endure habitual [physical activity] … it is not surprising that its absence can lead to devastating physiological and clinical consequences.' But until recently, few people regarded physical activity as a form of medicine capable of managing or treating disease."
* * *
Readers, feel free to contact me at lambert [UNDERSCORE] strether [DOT] corrente [AT] yahoo [DOT] com, with (a) links, and even better (b) sources I should curate regularly, (c) how to send me a check if you are allergic to PayPal, and (d) to find out how to send me images of plants. Vegetables are fine! Fungi and coral are deemed to be honorary plants! If you want your handle to appear as a credit, please place it at the start of your mail in parentheses: (thus). Otherwise, I will anonymize by using your initials. See the previous Water Cooler (with plant) here. Today's plant (TH):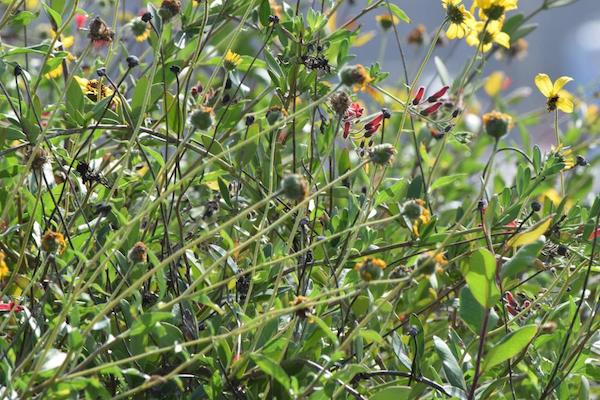 TH writes: "I just liked the lighting on this one, but I won't be sad if you don't care for the jumble of spent flowers." I think this is just what a flower garden should look like — from ground level. I like the jumble!
* * *
Readers: Water Cooler is a standalone entity not covered by the annual NC fundraiser. So if you see a link you especially like, or an item you wouldn't see anywhere else, please do not hesitate to express your appreciation in tangible form. Remember, a tip jar is for tipping! Regular positive feedback both makes me feel good and lets me know I'm on the right track with coverage. When I get no donations for five or ten days I get worried. More tangibly, a constant trickle of donations helps me with expenses, and I factor in that trickle when setting fundraising goals:
Here is the screen that will appear, which I have helpfully annotated.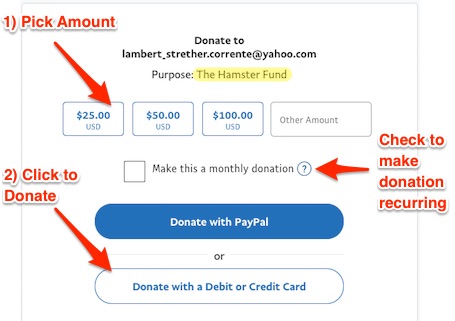 If you hate PayPal, you can email me at lambert [UNDERSCORE] strether [DOT] corrente [AT] yahoo [DOT] com, and I will give you directions on how to send a check. Thank you!