By Lambert Strether of Corrente.
Readers, I got wrapped around the axle trying to translate the New Left Review, so the politics section is a little thin. More shortly, as the press recalibrates from the war scare back to 2020. –lambert UPDATE All done
Trade
"Ship brokers expect tankers to resume normal operations in the Middle East before disruptions upend energy markets. Two major tanker operators suspended crossings in the Strait of Hormuz and oil giant Saudi Aramco was considering diverting its vessels, the WSJ's Benoit Faucon… as the economic impact of the U.S.-Iran confrontation ripples across the region" [Wall Street Journal]. "Carriers will remain cautious but several brokers say they expect usual shipping patterns to resume before the end of the week."
Politics
"But what is government itself, but the greatest of all reflections on human nature?" –James Madison, Federalist 51
"They had one weapon left and both knew it: treachery." –Frank Herbert, Dune
Here is a second counter for the Iowa Caucus, which is obviously just around the corner:
* * *
2020
Alert reader dk (not to be confused with DK) is in the process of developing the following interactive chart.

We do not have new polls today, so yesterday's YouGov poill is the most recent, as of 1/8/2020, 12:00 PM EST. On the average, the pattern of Biden first, Sanders strong second, then Warren and Buttigeig is stable, but Bloomberg is closing on Buttigieg, which is interesting or concerning. Of course, these are national polls, about to be massively thrown into confusion by IA, NH, SC, and NV — and then CA.

And the numbers:

Since we have nothing new, here's the postage stamps view of the race:

The trendlines are pretty clear. I can't imagine the political class is happy about them (though between the two candidates with obvious and continuous upward sloping numbers, Sanders and Bloomberg, they would doubtless brought to support the latter without much coaxing).

CAVEAT I think we have to track the polls because so much of the horse-race coverage is generated by them; and at least with these charts we're insulating ourselves against getting excited about any one poll. That said, we should remember that the polling in 2016, as it turned out, was more about narrative than about sampling, and that this year is, if anything, even more so. In fact, one is entitled to ask, with the latest Buttigieg boomlet (bubble? (bezzle?)) which came first: The narrative, or the poll? One hears of push polling, to be sure, but not of collective push polling by herding pollsters. We should also worry about state polls with very small sample sizes and big gaps in coverage. And that's before we get to the issues with cellphones (as well as whether voters in very small, very early states game their answers). So we are indeed following a horse-race, but the horses don't stay in their lanes, some of the horses are not in it to win but to interfere with the others, the track is very muddy, and the mud has splattered our binoculars, such that it's very hard to see what's going on from the stands. Also, the track owners are crooked and the stewards are on the take. Everything's fine.

I think dk has started a really neat project, and in the near future we'll seek your feedback (within reason) for the tool "live."

* * *

UPDATE Biden (D)(1): "Joe Biden's free ride is over" [The Week]. One example: "Incidentally, of late Biden has taken to claiming that he opposed the Iraq War from 'the moment it started,' but as a July 2003 speech he gave at the Brookings Institution shows ('I voted with my colleagues to give the president of the United States of America the authority to use force, and I would vote that way again today. It was the right vote then and it would be a correct vote today'), that is a straight-up lie." • It will be interesting to see who, if anyone, brings this up in debate.

UPDATE Biden (D)(1): "Fact check: Biden again dishonestly suggests he opposed the Iraq War from the beginning" [CNN]. • This is not the kind of headline your campaign manager likes to see. From CNN, of all places!

UPDATE Biden (D)(3): "'Past Due': Court Declares Hunter Biden The Father Of Child In Arkansas" [Jonathan Turley]. "In the order, [Arkansas Circuit Judge Holly Meyer] ordered the Arkansas Department of Health to issue a birth certificate listing Biden as the father. Biden has children by at least three different women. [Former GW student, 29-year-old Lunden Alexis Roberts] filed papers that portrayed him as a deadbeat father, stating that Biden 'had no involvement in the child's life since the child's birth, never interacted with the child, never parented the child,' and 'could not identify the child out of a photo lineup.' ." • Pass the popcorn. Of course, if this were Trump's son, the cries of kompromat would be deafening, as would the Op-Eds by the woke.

Bloomberg (D)(1): "Katy Perry Talked Politics with Mike Bloomberg During Beverly Hills Dinner: Source" [People]. "Perry, who campaigned for Democratic candidate Hillary Clinton in 2016, ate with Bloomberg at Wolfgang Puck's CUT in the Beverly Wilshire hotel in Beverly Hills, California, a source tells PEOPLE…. Bloomberg has already notched one celebrity endorsement this week after Judge Judy — real name Judy Sheindlin — endorsed the billionaire businessman." • Celebrity endorsements get the political class excited. I don't think they move the polls.

UPDATE Bloomberg (D)(2): "Bloomberg won't release women who sued him from secrecy agreements" [Bloomberg]. "Democratic presidential candidate Mike Bloomberg told ABC News this week he will not take any steps to release women who have signed confidentiality agreements with his company to speak publicly about past allegations that the former New York City mayor fostered a hostile work environment for some female employees. 'You can't just walk away from it,; Bloomberg said. 'They're legal agreements, and for all I know the other side wouldn't want to get out of it.'… ABC News has spoken with several women who expressed interest in telling their stories who were subject to confidentiality agreements, but said they feared the prospect of facing retribution from the company for speaking out." • It will be interesting to see if liberal Democrats are willing to work themselves into contortions to avoid the #MeToo implications (and no wonder Bloomberg doens't want to face a debate stage).

UPDATE Bloomberg (D)(3): "Maybe Nominating Bloomberg for President Isn't a Crazy Idea" [Jonathan Chait, New York Magazine]. "Bloomberg would be a seriously flawed candidate. But the campaign seems to be exposing all the candidates as seriously flawed, while frequently generating new flaws as they and their supporters tear each other to shreds. Whoever survives the primary, which still has months to go, will face a well-funded incumbent president benefitting from a mature economic expansion he inherited. Winning the presidential election is starting to look hard. How about buying it instead?" • Breathtakingly pragmatic!

Buttigieg (D)(1): "Mayor Pete's Invisible Black Police" [The Root]. "Buttigieg repeatedly says he demoted [Black Police Chief Darryl] Boykins because Boykins was the 'subject' or 'target' of an FBI investigation—but the U.S. attorney has never confirmed that Boykins was the 'subject' or 'target' of their investigation. Pete's chief of staff confirmed that the U.S. attorney never said it in a deposition. He also insists that Boykins' demotion had nothing to do with race and he has yet to comment publicly on the fact that DePaepe's secret legal documents quote police as saying he agreed to get rid of Boykins before he even became mayor. No one knows why Buttigieg pressured Boykins to resign and subsequently demoted him. The only thing we know is Buttigieg's explanation that Boykins was the target of a federal investigation is not true. It was never true. Still, Buttigieg—or proxies from his campaign—continue to repeat it." • For this to stick, it needs to be written on a postcard to avoid seeming like a Benghazi-level hairball. But the details are very, very ugly for Buttigieg. More on the same theme–

UPDATE (D)(2): Thread:

Trina Robinson, former South Bend NAACP officer and president, tells reporters that on race and police violence @PeteButtigieg's candidacy is "a ticking-time bomb."

— Philip Wegmann (@PhilipWegmann) January 4, 2020

Nobody from Newark seems to like former Mayor Cory Booker very much. But they aren't coming after him seeking vengeance justice, either.

Sanders (D)(1): "Bernie emerges as growing threat to Biden" [Politico]. "The Biden campaign has specifically courted the endorsement of community leaders in Iowa who backed Sanders in 2016. They've sought to combat Sanders' recent habit of rolling out star surrogates like Alexandria Ocasio-Cortez with their own A-list surrogates. And last week, Biden's five-day Iowa bus tour heavily concentrated on the eastern part of the state — the biggest regional battleground between the two candidates because of its concentration of working-class voters…. Biden snagged several endorsements that went to Sanders in 2016, including Waterloo pastor and African American leader Frantz Whitfield, former AARP Iowa director Bruce Koeppl, Sioux City state Rep. Tim Kacena and Linn County Supervisor Brent Oleson." • Biden is Biden. But his campaign's not dumb, as the numbers show.

Sanders (D)(2): Huge:

We are proud to announce that our movement has voted resoundingly to endorse @BernieSanders for President of the United States.

?Join the #GreenNewDeal political revolution: https://t.co/3eXE0XsIUv#Sunrise4Bernie pic.twitter.com/cAO09Irndt

— Sunrise Movement ? (@sunrisemvmt) January 9, 2020

UPDATE Sanders (D)(3):

My kid's on a flight with @BernieSanders and texted,

"His coat and luggage are clearly decades old and he's sitting in a normal people seat no extra leg room."

These are the things we Yankees appreciate in a candidate.

— Jessica Lahey (@jesslahey) January 8, 2020

UPDATE Sanders (D)(4): "We will create a government that represents the working class, not billionaires" [Bernie Sanders, Des Moines Register]. First and second paragraphs: "As the Feb. 3 caucus approaches, Iowans face a choice: Are we going to settle for a status quo that is leaving so many behind? Or are we going to come together to finally transform our country so that our government works for all of us? Our grassroots campaign clearly represents the latter — which is why polls consistently show us defeating Donald Trump, who is the most dangerous and corrupt president in modern history." • That is an extremely elegant pivot to electability. Also, it's nice to see "working class" in the headline, and not much like "working families" or "everyday Americans" or other focus-grouped mush.

UPDATE Sanders (D)(5): "Shadow group provides Sanders super PAC support he scorns" [Associated Press]. " Bernie Sanders says he doesn't want a super PAC. Instead, he has Our Revolution, a nonprofit political organization he founded that functions much the same as one. Like a super PAC, which is shorthand for super political action committee, Our Revolution can raise unlimited sums from wealthy patrons that dwarf the limits faced by candidates and conventional PACs. Unlike a super PAC, however, the group doesn't have to disclose its donors — a stream of revenue commonly referred to as 'dark money.'" • There was controversy that OR was a 501(c)(4) at the time of its founding. More: "Our Revolution has taken in nearly $1 million from donors who gave more than the limits and whose identities it hasn't fully disclosed, according to tax filings for 2016, 2017 and 2018. Much of it came from those who contributed six-figure sums." • A million dollars over three years? Really? Still, the Sanders campaign needs to clean this up, pronto. (NOTE: I first saw this on the Twitter from Buttigieg volunteer — possibly quote unquote volunteer — accounts on 538's feed. Either AP was watching, or they managed to place it. If so, good job by the Buttigieg campaign.)

UPDATE Trump (R)(1): "A popular theory for Trump's popularity among Republicans appears to be wrong" [Philp Bump, WaPo]. "To Democrats, the level of support for Trump within his party seems occasionally baffling. How could someone they hate so much be viewed so positively by the other party? Over the course of Trump's presidency, a theory emerged: He's so popular among Republicans because Trump-skeptical Republicans have simply given up on the party. Wring all the skeptics out of the party, and you're left with a more unanimous, if smaller, core." • However, party identification numbers pre- and post-Trump are more or less the same.

Warren (D)(1): "Elizabeth Warren's ex-husband founded DNA testing company" [Washington Examiner]. "Sen. Elizabeth Warren's ex-husband co-founded a DNA testing company and wrote one of the first computer codes for making genetic comparisons…. One of the two other co-founders of his testing company, FamilyTreeDNA, has worked with Carlos Bustamante, the Stanford University geneticist who administered a DNA test at Elizabeth Warren's request. Bustamante, a Stanford University geneticist, conducted the test… Rather than using a commercial service to conduct her DNA test, Warren hired Bustamante, 43, who appears in the video explaining the test and in a scene in which the Massachusetts senator telephones his office and asks to speak with him." • Gad. I suppose I should have put this together, but the initial fact set was so bad anyhow. What possible justification can there be for using a family friend to run the test? (What would Warren say about the same set of relationships between a bank and its auditors, say?) Put in its very best light, the episode shows what we know, that Warren's political judgment is terrible.

* * *

Liberal Democrat ballot-gaming in California looks like it's working:

? Crucial info for CA NPP voters ?

Initial tallies coming in for NPP voters who mailed in their postcard to ask for a Democratic mail-in ballot and it's LOW.

Please tell NPP voters if they don't request a Dem ballot, their mail-in ballot will NOT have a POTUS section in it. https://t.co/fm08ou6KXL

— The Bern Identity (@bern_identity) January 9, 2020

This is important to the Sanders campaign, which wants to expand the electorate, which surely includes getting Independents to vote in the Democrat primary.

"I am a Republican, and I hope the Democrats pick a candidate I can vote for" [Shield Bair, WaPo]. • If you're "the former chair of the Federal Deposit Insurance Corp. and [have] held senior appointments in four Republican and Democratic administrations" you can say that. If you're some working class schlub in a swing district, you can't.
Our Famously Free Press
Before the Iowa caucus, ffs:

On Jan. 19, the @nytimes editorial board will publish our choice for the Democratic nomination for president. It won't be the first time we've endorsed a candidate — we've been doing that since 1860 — but we aim to make it our most transparent endorsement process to date. pic.twitter.com/ElLqPoBgjn

— Kathleen Kingsbury (@katiekings) January 9, 2020

Smells of desperation.
Impeachment
"Trump Says He Doesn't Plan to Block Bolton: Impeachment Update" [Bloomberg]. "Trump said he doesn't plan to block his former top national security aide, John Bolton, from testifying at a Senate impeachment trial, but that he would need to protect his executive privilege. He told reporters on Thursday that it's up to the Senate to determine whether he should testify. 'I don't stop it,' Trump said. But he said he needs to 'protect presidential privilege' for himself and future presidents. He said he'd have to consult with lawyers about whether Bolton's testimony would present a problem. 'When we start allowing national security advisers to just go up and say whatever they want to say, we can't do that,' Trump said." • True, at least going by past precedent.
The Debates
"Des Moines Register, CNN moderators announced for Tuesday's Democratic Presidential Debate" [Des Moines Register]. "CNN anchor Wolf Blitzer, CNN political correspondent Abby Phillip and Des Moines Register chief politics reporter Brianne Pfannenstiel will moderate Tuesday night's Democratic Presidential Debate in Des Moines. It will be the final debate before the Iowa caucuses on Feb. 3, when the first votes are cast in the presidential nominating race. Five candidates have qualified for the debate so far: former Vice President Joe Biden; former South Bend, Indiana, Mayor Pete Buttigieg; and U.S. Sens. Amy Klobuchar of Minnesota, Bernie Sanders of Vermont and Elizabeth Warren of Massachusetts. Other candidates have until the end of the day Friday to meet the donor and polling threshold requirements to qualify." • Only five? (Then again, if you look at the charts above, the debates don't seem to giving any candidate much of a pop.)
Realignment and Legitimacy
Democrat hearing on the ballot and Ballot Marking Devices unsurprisingly turning into a debacle:

.@RepZoeLofgren: find out:
*Where specifically they installed remote access
* When specifically it was removed
* How specifically they know it was removed.
* Where specifically there are BMDs w/ Permission to Cheat
* Where specifically they installed wireless modems. https://t.co/EVgZtHa3HW

— Jennifer Cohn (@jennycohn1) January 9, 2020

Hard to imagine why the Democrat establishment would want to enable election theft on a national scale by funding insecure Ballot Marking Devices. Not.

"Trump is a Criminal, But the Democrats Belong to the Same Mafia" [Black Agenda Report (NippersMom)]. "The Democrats, like their corporate and banking masters, are determined to preserve the neoliberal economic order – the global Race to the Bottom in which U.S. workers compete with super-exploited workers in the developing world. The only difference is that the Democrats would 'integrate' the management of this dwindling wage economy through a policy of racial and ethnic 'diversity.' Same downward destination, but with multi-colored overseers."

"AOC Is Right: She and Joe Biden Should Not Be in the Same Party" [Jacobin (Nippersmom)]. "In any other country, the diehard far-right Trump team, the self-proclaimed "respectable" but austerity-crazed Republicans like Paul Ryan, the Biden-Buttigieg-Clinton-Obama sphere of big-business-friendly social liberals, and democratic socialists like AOC and Sanders would sort themselves into four different parties. These four parties would then run competitively in general elections, presenting four different visions for the country's future to voters. In the seventy or so congressional races on average, for example, that are won by less than a ten-percentage-point margin, the main fight might come down to a race between Ryans and Bidens. In the remaining 365 seats, elections in today's solidly red districts might come down to fights between the Ryans and Trumps, while in today's solidly blue districts, Bidens would face off against AOCs. The end result might be similar to the makeup of Congress today, with no party having a clear majority. Coalitions could then be entertained, via formal negotiations with clear pacts arranged between parties. But the critical advantage in this arrangement would be that general elections would test the popularity of four very different political programs before a critical mass of voters. Instead, in the United States today these vital battles between very different visions happen in low-turnout primaries in which few voters weigh in. Worse still, the political loyalties of candidates are usually unclear, and kept purposefully so by many candidates afraid of alienating voters. As a result, most people in the ballot booth have an understandably difficult time sussing out which political faction within the existing parties a candidate might belong to."
Stats Watch
Shipping: "AAR: 2020 Picks Up Where 2019 Left Off" [Railway Age]. "The Association of American Railroads (AAR) reported U.S. rail traffic for the week ended Jan. 4, 2020, and, for this week, total U.S. weekly rail traffic was 414,014 carloads and intermodal units, down 5.1% compared with the same week last year." • Handy chart: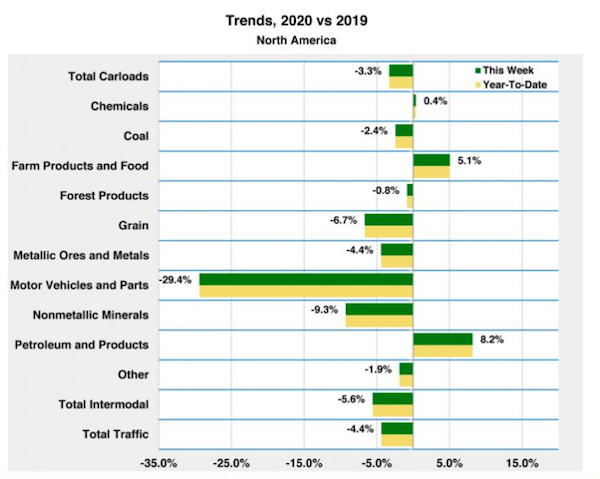 Retail: "Walmart Inc. is turning to robots to help break a logjam caused by the combination of physical and online commerce… joining a growing field of grocers deploying automation behind the scenes to improve efficiency in finding, picking and packing goods for delivery" [Wall Street Journal]. "The systems are part of the expanding use of robotics to solve operations puzzles that arise as retailers blend stores with digital sales efforts. Goals include cutting labor costs and filling orders faster. Alert Innovation says the average store worker can collect around 80 products from store shelves an hour, while the Alphabot system of tall stacks and wheeled robots can handle 10 times that figure." • Hmm. Amazon has not, apparently, hired Alert.
The Bezzle: "The SEC proposes to "modernize" auditor independence rules" [Francine McKenna, The Dig]. "Barbara Roper told me: 'Instead of acknowledging ongoing violations as a sign that the audit firms are willfully ignoring the law, in the absence of strong deterrent-level sanctions and individual punishments, and stepping up enforcement to provide that deterrent, the SEC and PCAOB propose to weaken the auditor independence rules.' 'If audit firms aren't willing to maintain their independence, and regulators aren't willing to hold them accountable, at a certain point investors are going to start asking whether it is really worth paying for the not-so-independent audit.'" • Yikes! Important piece (and only part one).
The Bezzle: "Grubhub has built up distribution and software capabilities but its revenue has been declining. Now, the company is tapping financial advisers to help with a review that could include a sale or acquisition, if it makes any moves at all" [Wall Street Journal]. • What a shame. No IPO.
Tech: "Amazon Doubles Down on Ring Partnerships With Law Enforcement" [The Register]. "In an interview at the annual CES conference in Las Vegas this week, Amazon's top hardware executive said he's proud of the program, believes the partnerships with police departments are good for neighborhoods, and hinted at a future in which Ring cameras could use Amazon's facial recognition technology—a scenario that some of Ring's critics have already expressed concerns about. Dave Limp, chief of Amazon devices and services, says Ring has partnered with well over 400 police and fire departments around the US and that he's a 'big fan' of the devices' ability to boost community policing efforts. 'I'm proud of that program, and I think we'll continue to do it. If anything we're putting more resources on it,' Limp said." • Only in America would we privatize the Stasi.
* * *
Today's Fear & Greed Index: 93 Extreme Greed (previous close: 92 Extreme Greed) [CNN]. One week ago: 97 (Extreme Greed). (0 is Extreme Fear; 100 is Extreme Greed). Last updated Jan 9 at 12:21pm.
The Biosphere
"Seaweed 'forests' can help fight climate change" [National Geographic]. "[A] new study that for the first time quantifies the global capacity of large-scale seaweed farming to offset terrestrial carbon emissions and maps areas of the ocean suitable for macroalgae cultivation…. Farming seaweed in just 3.8 percent of the federal waters off the California coast—that's 0.065 percent of the global ocean suitable for growing macroalgae—could neutralize emissions from the state's $50 billion agriculture industry, according to the paper published Thursday in the journal Current Biology." • Holy moley!
"A year's diary of reckoning with climate anxiety, conversation by conversation." [New York Magazine]. "Some scientists say the best way to combat climate change is to talk about it among friends and family — to make private anxieties public concerns. For 2019, my New Year's resolution was to do just that, as often as possible… [As] it turned out, people wanted to talk about it. Nobody was silent. I listened to their answers. I noticed the echoes. I wrote them all down." • This is very good, although definitely through a PMC lens.
"Like sending bees to war': the deadly truth behind your almond-milk obsession' [Guardian]. "Like most commercial beekeepers in the US, at least half of Arp's revenue now comes from pollinating almonds. Selling honey is far less lucrative than renting out his colonies to mega-farms in California's fertile Central Valley, home to 80% of the world's almond supply. But as winter approached, with Arp just months away from taking his hives to California, his bees started getting sick. By October, 150 of Arp's hives had been wiped out by mites, 12% of his inventory in just a few months. 'My yard is currently filled with stacks of empty bee boxes that used to contain healthy hives,' he says. This shouldn't be happening to someone like Arp, a beekeeper with decades of experience. But his story is not unique. Commercial beekeepers who send their hives to the almond farms are seeing their bees die in record numbers, and nothing they do seems to stop the decline." • Monoculture, yay!
"Struggling to breathe in 48217, Michigan's most toxic ZIP code" [Detroit Metro Times]. "Garrison is among more than 7,000 people who live in 48217 — the most polluted ZIP code in Michigan. The community is inundated with a toxic stew of chemicals wafting from steel mills, coal-fired power plants, gas flares, billowing smokestacks, towering piles of coal and petroleum coke, a salt mine, wastewater treatment plant, and one of the nation's largest oil refineries — all looming over schools, neighborhoods, parks, senior centers, and a recreation center. A nauseating stench of rotten eggs, burnt plastic, and gasoline permeates the air." • But sadly: "It wasn't always like this. In the mid-20th century, the Tri-Cities was a working-class community teeming with Black-owned grocery stores, restaurants, hotels, banks, pharmacies, flower shops, car dealers, and even a hospital. Unlike many areas of Detroit, large sections of the Tri-Cities didn't have racially restrictive covenants that banned all but white people from homes and apartments. Drawn to the Motor City by the booming auto industry, tens of thousands of Black people fled the Jim Crow South and moved into the area's modest bungalows in the 1950s and '60, becoming first-time homeowners. For many of them, a century after slavery and still in the midst of segregated schools and neighborhoods, the American Dream was finally within grasp."
"Double Environmental Injustice — Climate Change, Hurricane Dorian, and the Bahamas" [New England Journal of Medicine]. "Climate-change–driven hurricanes tend to inflict two types of environmental injustice. One is that socioeconomically disadvantaged and racial or ethnic minority populations experience disproportionate harm, loss, and life changes. The increased severity of climate-change–related storms portends a worsening impact on marginalized people that can exacerbate preexisting health gaps and social inequities. As Dorian moved over the northwest Bahamas, for instance, the most severe destruction affected thousands dwelling in shantytowns on Great Abaco Island. Many of those affected were undocumented migrants…. [A]fter Hurricane Maria, many rural, disadvantaged Puerto Rican municipalities struggled without electricity for as long as a year. The death toll rose steadily into the thousands, as frail, elderly, and chronically ill people died preventable deaths. Disparities in health, as measured by multiple indicators, were magnified. At a more fundamental level of environmental injustice, the contribution of island-based populations to global carbon emissions is negligible." • Everything's going according to plan!
Now is the time to think about trees!
I've finished placing my 2020 tree order. I'm getting

2 grafted Chestnuts
5 Chestnut seedlings
5 Turkish Tree Hazelnut seedlings
5 grafted Mulberries
6 grafted Persimmon

What are you planting next spring? pic.twitter.com/4vgSk5kwAs

— David (@organicgay) January 7, 2020
And soil! I could have put this under Groves of Academe, too. Thread:
At @Rothamsted where he used to work, they've been collecting soil samples since 1843. It is the world's longest-running scientific experiment. Seeing them in person was like being in an apothecary or an old-fashioned sweet shop. #soils #food #agriculture #climate (3) pic.twitter.com/8q2fO73z9A

— Thin (@thinink) January 8, 2020
Health Care
"US Healthcare Industry Creating an Endless Shitstorm of Money-Grubbing Bureaucracy and Paperwork, Study Finds" [Vice]. "Capitalist though [(?)] it may be, the U.S. healthcare industry is a bureaucratic, inefficient and unnecessarily complicated mess, which has created a highly lucrative paper-pushing industry that is unnecessarily costing already-broke Americans hundreds of billions of dollars a year, according to a new study published this week in the Annals of Internal Medicine. . Another way to think about those numbers: , according to the analysis, which was performed by researchers at Harvard Medical School, the City University of New York at Hunter College, and the University of Ottawa." • Hey, careful! That paperwork is somebody's rent!
Groves of Academe
"A scandal in Oxford: the curious case of the stolen gospel" [Guardian]. As indeed the article points out, this could be an Inspector Morse mystery. Here is the opportunity part: "There is a rough, handwritten catalogue of the entire collection, on 12cm by 7cm index cards, as well as photographs, which gives a rough indication of what each fragment contains. Editors have not usually been forthcoming about the details of the unpublished material, fearing an onslaught of interested academics. For scholars outside the charmed circle, who wonder what gems lie in wait, that can be frustrating. For a criminal, it might create an opportunity. The fewer people who know what is in the collection, the easier it might be to pilfer from it." • The motive would have been money….
Class Warfare
"Empire, Twenty Years On" [New Left Review]. Long and extremely dense, as is NLR's once. This, IMNSHO, is the key paragraph:
[T]he concept of class can be used to grasp the effects of subjection created by relations of domination, not only with respect to capital but also with respect to white supremacy and patriarchy, in the interests of not only the working class but also the racial class, the sex class and others. Second, it is important to stress that the concept of class is employed here not only as a descriptive claim but as a political call to those subjected to patriarchal or racial hierarchies to struggle together, as a class. Finally, and this is the point most difficult to confront: to recognize a plurality of classes dominated and struggling in parallel fashion is a step forward, but is not enough. . Intersectional analyses commonly address the need for articulation between the subordinated subjectivities in terms of solidarity and coalition. Often this repeats an additive strategy: working-class plus feminist plus antiracist plus lgbtq struggle, plus . . . In other words, even when intersectional analysis refuses additive notions of identity, an additive logic can still govern activist imaginaries. One weakness of this approach is that the bonds of solidarity are external. What is needed are internal bonds of solidarity—that is, a different mode of articulation, going beyond standard conceptions of coalition.

Let us illustrate this key condition—the internal relations of solidarity in this multitudinous class—with three theoretical examples.
Integrating "classic" notions of class with intersectionality seems necessary — when not polluted with aspirational "voices" pushing "diversity" — but frankly, the portion I underlined above, seemingly meant to displace with notion of "allies" (rightly) doesn't mean much to me, and the examples following don't help (since they are not examples of where the concept, whatever it may be, actually worked). I think the Sanders campaign has the right of it in their catchphrase "the multiracial working class," and it may be that practice is outrunning theory. Perhaps a reader who speaks leftish better than I do can give an interpretation.
* * *
USA! USA!
The wealthiest 10% of adults own 82% of the world's wealth. The bottom 50% account for less than 1% https://t.co/cYGCjG8QkC

— The Economist (@TheEconomist) January 9, 2020
"Afternoon of the Pawnbrokers" [The Baffler]. "The phrase "redemption ratio" rang through my head on the bus ride home. It seemed to me that I had unwittingly exited the realm of New York leftism where Marx ruled as an absent godhead, poised forever to vengefully return. Here in the land of Weber, like a good American Protestant, I would suck at the scum of petty usury, unredeemed yet restored to my unfortunate roots. I had entered the pawnshop that day a broke and desperate person; when I left, I was a subprime lender."
"Mike Davis on the Crimes of Socialism and Capitalism" [Jacobin]. For example, India: "Due to the famines in the 1870s and the 1890s, population growth [in India] slowed so much in some regions that it didn't recover until Independence in 1948, after World War II. India's always depicted as a teeming country, but these were very large-scale disasters. Regionally they were equivalent in terms of population loss and destruction of productive resources to the era of the Black Death in Medieval Europe, or even to the Mongol invasions. But they occurred on the watch and through the deliberate policies of the most powerful industrial nation in modernity. Modernization, which Indians paid for with their own taxes, did little or nothing for ordinary Indians. In fact it had the perverse effect of abetting a speculative market in grain, converting an environmental event into a famine that caused mass death." • Well worth a read.
"Mobility: Real and Perceived" [City Journal]. "Americans, by and large, view the market economy as fair: if one works hard, poverty can be left behind; and wealth is generally deserved by those who have accumulated it. In other words, Americans believe in and endorse the American dream. Even after several decades of widening income inequality in the U.S., Americans don't show much of a taste for greater redistribution, as shown in a study that one of us conducted in 2015, possibly because they don't think that government can do it well and fairly….. According to the World Value Survey, a respected international study of socioeconomic views, 70 percent of Americans believe that the poor can escape poverty if they try hard enough; only half of Europeans share this view. Even low-income U.S. respondents (especially whites) generally share these American views and don't tend to favor redistribution, compared with the European poor." • Hmm. From "a leading free-market think tank….."
"Think Debtors Prisons Are a Thing of the Past? Not in Mississippi." [The Marshall Project]. "ississippi appears to be the only state where judges lock people up for an indefinite time while they work to earn money to pay off court-ordered debts. While there is no comprehensive data, legal experts who study fines, fees and restitution say Mississippi is unusual at the very least." • Sounds like an opportunity for a new start-up to bring this model to the rest of the country!
"Union Library Workers Call on Executives to Meet 'As Soon as Possible, as Long as Necessary' to Prevent Strike" [Cleveland Scene]. "More than 400 union library workers voted yesterday to authorize their bargaining team to strike. If Cleveland Public Library leadership fails to demonstrate meaningful commitments to staffing and safety in ongoing negotiations, the workers may issue a 10-day notice of an intent to strike at any time."
News of the Wired
So Neera Tanden won't have to have an intern manage her list of the blocked?
Twitter will soon let you restrict who can reply to your tweets

Options:
? Global – Anybody can reply
?? Group -Only people you follow + mention can reply
??? Panel – Only people you mention in the tweet can reply
? Statement – Nobody can replyhttps://t.co/Ef6p2yG7Va

— Matt Navarra (@MattNavarra) January 8, 2020
* * *
Readers, feel free to contact me at lambert [UNDERSCORE] strether [DOT] corrente [AT] yahoo [DOT] com, with (a) links, and even better (b) sources I should curate regularly, (c) how to send me a check if you are allergic to PayPal, and (d) to find out how to send me images of plants. Vegetables are fine! Fungi and coral are deemed to be honorary plants! If you want your handle to appear as a credit, please place it at the start of your mail in parentheses: (thus). Otherwise, I will anonymize by using your initials. See the previous Water Cooler (with plant) here. Today's plant (IM):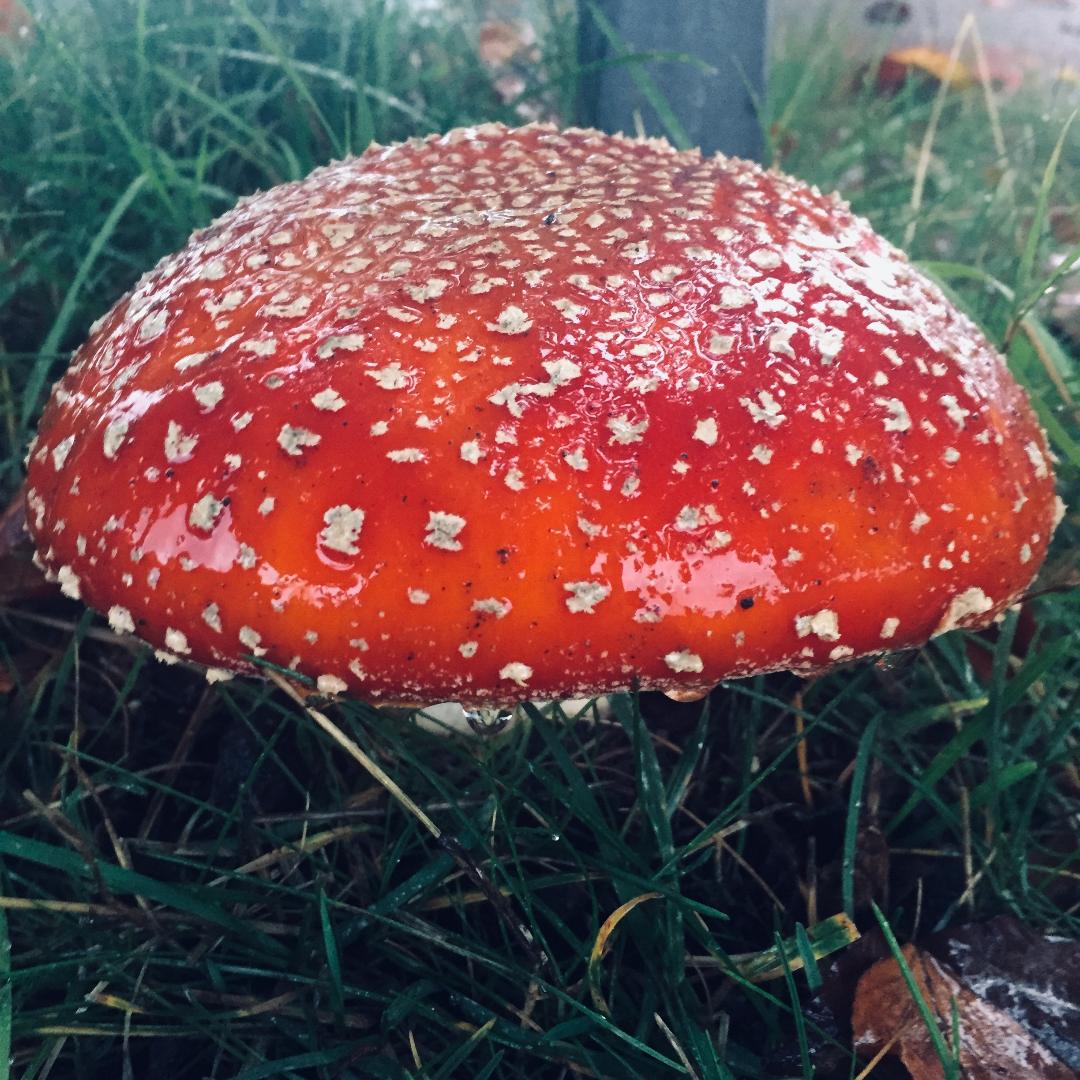 IM writes: "The neighbourhood amanita muscaria is back! This year it was joined by its obnoxious and deadly poisonous cousin amanita Phalloides, which continues its colonization of the west coast. Mushroom hunters, beware…"
* * *
Readers: Water Cooler is a standalone entity not covered by the annual NC fundraiser. So if you see a link you especially like, or an item you wouldn't see anywhere else, please do not hesitate to express your appreciation in tangible form. Remember, a tip jar is for tipping! Regular positive feedback both makes me feel good and lets me know I'm on the right track with coverage. When I get no donations for five or ten days I get worried. More tangibly, a constant trickle of donations helps me with expenses, and I factor in that trickle when setting fundraising goals:
Here is the screen that will appear, which I have helpfully annotated.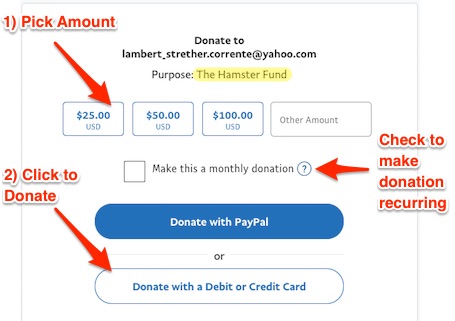 If you hate PayPal, you can email me at lambert [UNDERSCORE] strether [DOT] corrente [AT] yahoo [DOT] com, and I will give you directions on how to send a check. Thank you!