By Lambert Strether of Corrente.
Politics
"But what is government itself, but the greatest of all reflections on human nature?" –James Madison, Federalist 51
"They had one weapon left and both knew it: treachery." –Frank Herbert, Dune
Here is a second counter for the Iowa Caucus, which is obviously just around the corner:
* * *
2020
Alert reader dk (not to be confused with DK) is in the process of developing the following interactive chart.

We have a new national poll today from IDB/TIPP, albeit with a very small sample, as of 1/13/2020, 11:00 AM EST. On the average, the pattern of Biden first, Sanders strong second, then Warren and Buttigeig is stable, but Bloomberg is closing on Buttigieg, which is interesting or concerning. NOTE: If we take out the averaging, Warren is in second, and Sanders is in third. The last week has been volatile. Of course, these are national polls, about to be massively thrown into confusion by IA, NH, SC, and NV — and then CA.

And the numbers:

Cory Booker (see below) has dropped out, so I take this opportunity to see what all the bottom feeders are doing:

The numbers:

And here are the campaigns as small multiples:

You can see how Booker basically flatlined from Day One, unlike Yang, Klobuchar, and Steyer (also plugging along buying his way in). Gabbard pretty flat too, but her message and campaign are very different from Booker's.

CAVEAT I think we have to track the polls because so much of the horse-race coverage is generated by them; and at least with these charts we're insulating ourselves against getting excited about any one poll. That said, we should remember that the polling in 2016, as it turned out, was more about narrative than about sampling, and that this year is, if anything, even more so. In fact, one is entitled to ask, with the latest Buttigieg boomlet (bubble? (bezzle?)) which came first: The narrative, or the poll? One hears of push polling, to be sure, but not of collective push polling by herding pollsters. We should also worry about state polls with very small sample sizes and big gaps in coverage. And that's before we get to the issues with cellphones (as well as whether voters in very small, very early states game their answers). So we are indeed following a horse-race, but the horses don't stay in their lanes, some of the horses are not in it to win but to interfere with the others, the track is very muddy, and the mud has splattered our binoculars, such that it's very hard to see what's going on from the stands. Also, the track owners are crooked and the stewards are on the take. Everything's fine.

I think dk has started a really neat project, and in the near future we'll seek your feedback (within reason) for the tool "live."

* * *

Readers, I will have a bonus post in a short while about Politico's story on the putative Sanders' campaign script "trashing" the Warren campaign (on which Warren is already fundraising (!).

* * *

Biden (D)(1): If you want a friend in Washington, get a dog:

I'm not sure I have any purpose here anymore. Actual email from Joe Biden. pic.twitter.com/lKO9PtUiEn

— Nate's Liver – Commentary (@SilERabbit) January 12, 2020

Biden (D)(2): "Joe Biden's Vote for War" [New York Times]. "On Oct. 11, he was one of 77 senators to authorize the use of military force in Iraq. Twenty-three colleagues, some of whom harbored grave doubts about the danger Iraq posed at the time, refused to back the president's request…. [T]he Iraq war vote is part of the extensive record he cites, and he has struggled to accurately account for it on the campaign trail, repeatedly suggesting he opposed the war and Mr. Bush's conduct from the beginning, claims that detailed fact checks have deemed wrong or misleading." • Those of us who were alive and paying attention in 2003 would be extremely surprised to learn that Biden opposed the war.

Booker (D)(1): "Senator Cory Booker Ends Presidential Campaign" [HuffPo]. "Booker often found himself in a political never-never land of sorts, stuck in the middle of ideological war between Sen. Bernie Sanders (I-Vt.) and Sen. Elizabeth Warren (D-Mass.) on the left and Biden and host of other candidates in the center. He tried to focus his campaign on love and unity, a message that was sometimes out of sync with the fighting approach many Democrats hope a nominee would bring to a general election battle with Trump."

Sanders (D)(1): "Bernie Sanders leads the Iowa Poll for the first time, just weeks before the Iowa caucuses" [Des Moines Register]. "U.S. Sen. Bernie Sanders leads the Democratic field three weeks ahead of Caucus Day in Iowa — narrowly overtaking his closest competitors, who remain locked in a tight contest just behind him…. After a surge of enthusiasm that pushed Pete Buttigieg to the top of the field in November, the former South Bend, Indiana, mayor has faded, falling 9 percentage points to land behind both Sanders and U.S. Sen. Elizabeth Warren. Warren is at 17%; Buttigieg, 16%; and former Vice President Joe Biden, 15%. 'There's no denying that this is a good poll for Bernie Sanders. He leads, but it's not an uncontested lead,' said pollster J. Ann Selzer, president of Selzer & Co., which conducted the poll. 'He's got a firmer grip on his supporters than the rest of his compatriots.'" • A prestigious poll. More below.

Sanders (D)(2) "Iowa caucuses: Very close and never more important" [Bleeding Heartland]. "Before looking at the numbers, a reminder: a 5-point gap between first and fourth isn't statistically significant. The Selzer poll is widely regarded for a good reason, but the first thing to know about Iowa is we really don't know who is ahead…. There are really two fights going on at once. The first is an ideological fight between Elizabeth Warren and Bernie Sanders for the left and Joe Biden, Pete Buttigieg, and Amy Klobuchar for the right. The second fight is among those who think Democrats need new leadership (and have therefore ruled out Biden and Sanders). This dispute is not really ideological and is primarily between Warren, Buttigieg, and Klobuchar. People may be surprised to hear this, but I hear from staff working for Warren and Buttigieg that a fair number of voters are trying to decide among those three candidates. Other less likely but possible contenders for this group are Andrew Yang and Cory Booker. The polling suggests that this second fight is the most unsettled and the most volatile. History tells us this later fight will not break evenly. One of Warren, Buttigieg, or Klobuchar will likely win that vote decisively, and if that happens, that person will probably win Iowa." • This writer certainly knows the Iowa electorate better than I do. But classifying "Sanders" as "old leadership" seems odd. And the concept does come from Warren and Buttigieg staffers….

Sanders (D)(3): Sanders makes Trump look like the straight man feeding him a line:

It means you're going to lose. https://t.co/CVBKoKq8DT

— Bernie Sanders (@BernieSanders) January 12, 2020

[rimshot, laughter]

Sanders (D)(4): "While Bernie Sanders has always stood up for African Americans, Joe Biden has repeatedly let us down" [Nina Turner, The State]. In South Carolina: "Biden has repeatedly worked with Republicans to try to slash Social Security even though "almost three-fourths of African American beneficiaries rely on Social Security for at least half their income," according to the National Committee to Preserve Social Security and Medicare. Sanders, on the other hand, has fought to block those cuts and has proposed expanding Social Security." • An appeal to older black voters — as is the whole piece, really, since an older voter is more likely to be familiar with Biden's entire record.

Sanders (D)(5): "Democrats voice concerns over Sanders" [The Hill]. "'Bernie Sanders is the Democratic Party's version of Donald Trump. Thank god we are smart enough to stop him,' said Democratic strategist Michael Trujillo, who served as an aide to Clinton." • They weren't smart enough to stop Trump, but are smart enough to stop Sanders?

UPDATE Sanders (D)(6): "Bernie Sanders told Elizabeth Warren in private 2018 meeting that a woman can't win, sources say" [CNN]. • Seems to be a bit of a pile-on right now. The sourcing:

The description of that meeting is based on the accounts of four people: two people Warren spoke with directly soon after the encounter, and two people familiar with the meeting.

That evening, Sanders expressed frustration at what he saw as a growing focus among Democrats on identity politics, according to one of the people familiar with the conversation. Warren told Sanders she disagreed with his assessment that a woman could not win, three of the four sources said.

Sanders denied the characterization of the meeting in a statement to CNN.
"It is ludicrous to believe that at the same meeting where Elizabeth Warren told me she was going to run for president, I would tell her that a woman couldn't win," Sanders said. "It's sad that, three weeks before the Iowa caucus and a year after that private conversation, staff who weren't in the room are lying about what happened. What I did say that night was that Donald Trump is a sexist, a racist and a liar who would weaponize whatever he could. Do I believe a woman can win in 2020? Of course! After all, Hillary Clinton beat Donald Trump by 3 million votes in 2016."

Warren's communications director Kristen Orthman declined to comment.

So, the source is the Warren campaign, then. Seems not in character for Sanders:


"In my view a woman could be elected president of the United States." — Bernie Sanders, 1988 pic.twitter.com/WJd847DdmA

— Meagan Day (@meaganmday) January 13, 2020

It also seems odd that if Sanders really believed that, he would be stupid enough to tell Warren.

* * *

IA: "How Local Dems Plan To Win Back Obama/Trump Counties In 2020" [Iowa Starting Line]. "In all, Iowa has 31 counties that voted twice for Obama before for going for Trump, the most of any state in the nation. That's made for an attractive campaign target for the Democratic presidential candidates here over the past year. On nearly every trip a candidate makes in Iowa, their campaign is sure to point out how many Obama-to-Trump counties they're visiting. With a Democratic base concerned about electability, the message is simple from the White House hopefuls: they're the one who can win those Iowa pivot counties back." More: "The dislike of Trump has been a motivating factor for many Iowa Democrats since 2016. 'As soon as he was elected, we saw an increase of a huge number of people who showed up at our events and meetings,' [JoAnn Hardy, in Cerro Gordo County] said. 'There are more people involved in politics. We found out we can't sit back and just expect things to be OK, so I expect a lot better participation in this election cycle.'" • This is the "revulsion" of which Thomas Ferguson, Paul Jorgensen, and Jie Chen recently wrote; it's real. A fascinating report from the trenches and well worth a read.

"Endangered Democrats sound the alarm on Bernie and Warren" [Politico]. "A slate of endangered House Democrats is coalescing behind Joe Biden for president as the Iowa caucuses approach — a surge of support triggered by fears that Bernie Sanders or Elizabeth Warren at the top of the ticket would cost them their seats. More than a dozen swing-seat freshmen have taken part in at least one private call session with Biden, Amy Klobuchar or Pete Buttigieg in recent weeks. A handful have already gravitated toward the former vice president, and more are expected to follow before Democrats start voting on Feb. 3, according to interviews with 15 lawmakers, aides and campaign strategists." • Meanwhile, Obama lost a thousand seats, and none of 'em turned a hair. They'll all do fine on K Street. So what's the real issue, here?
Impeachment
"Pelosi warns senators will 'pay a price' if impeachment witnesses are blocked" [MarketWatch]. "The Democratic-run House is set to vote this week to send over the articles of impeachment after Pelosi ended a more than three-week delay…. The date is not yet certain and Pelosi will meet behind closed doors with House Democrats to decide next steps on Tuesday morning ahead of the party's presidential primary debate that evening, the last before the Iowa caucus Feb. 3." • Fortunately Cory Booker will have more time to join the deliberations.
RussiaGate
Impressive:

Liberal xenophobia proudly displayed along the Highline pic.twitter.com/nd1SA7yIMw

— Mark Ames (@MarkAmesExiled) January 12, 2020
Stats Watch
Shipping: "Bigger trends show hiring in the logistics sector slowed sharply last year as an industrial downturn took a toll on some business and even operations tied to the e-commerce seeming to pull back" [Wall Street Journal]. "Some of that may be a matter of how the jobs are counted—the government counts holiday-season warehouse staff brought on through staffing agencies as temporary workers. But truckers added just 2,200 jobs overall last year, down from more than 44,000 in 2018, while rail employment fell by about 20,000 last year under efficiency initiatives at the freight railroads."
Infrastructure: "Highway construction is kicking into higher gear across the U.S. even if lawmakers in Washington aren't taking any new steps to help. State transportation departments are pumping more money into projects to clear up traffic-clogged highways and modernize aging infrastructure… with budgets buoyed by a recovering economy and increases in tax revenues" [Wall Street Journal]. "The 50 states collectively spent $113.2 billion on transportation in fiscal year 2019, a 9% jump from the previous year and the biggest jump since 2015. Transportation industry trackers say they expect spending to continue to grow this year."
Tech: "Skype audio graded by workers in China with 'no security measures'" [Guardian]. • Cool, cool. Jaw-dropping:
A Microsoft programme to transcribe and vet audio from Skype and Cortana, its voice assistant, ran for years with "no security measures", according to a former contractor who says he reviewed thousands of potentially sensitive recordings on his personal laptop from his home in Beijing over the two years he worked for the company.

The recordings, both deliberate and accidentally invoked activations of the voice assistant, as well as some Skype phone calls, were simply accessed by Microsoft workers through a web app running in Google's Chrome browser, on their personal laptops, over the Chinese internet, according to the contractor.

Workers had no cybersecurity help to protect the data from criminal or state interference, and were even instructed to do the work using new Microsoft accounts all with the same password, for ease of management, the former contractor said. Employee vetting was practically nonexistent, he added.

"There were no security measures, I don't even remember them doing proper KYC [know your customer] on me. I think ," he told the Guardian.
Tech: "San Diego's massive, 7-year experiment with facial recognition technology appears to be a flop" [Fast Company]. "Since 2012, the city's law enforcement agencies have compiled over 65,000 face scans and tried to match them against a massive mugshot database. But it's almost completely unclear how effective the initiative was, with one spokesperson saying they're unaware of a single arrest or prosecution that stemmed from the program."
Tech: "Dark Patterns after the GDPR: Scraping Consent Pop-ups and Demonstrating their Influence" (PDF) [arXive.org]. "New consent management platforms (CMPs) have been introduced to the web to conform with the EU's General Data Protection Regulation, particularly its requirements for consent when companies collect and process users' personal data. This work analyses how the most prevalent CMP designs affect people's consent choices. We scraped the designs of the five most popular CMPs on the top 10,000 websites in the UK (n=680). We found that dark patterns and implied consent are ubiquitous; only 11.8% meet the minimal requirements that we set based on European law… This study provides an empirical basis for the necessary regulatory action to enforce the GDPR, in particular the possibility of focusing on the centralised, third-party CMP services as an effective way to increase compliance." • For more on dark patterns, see NC here.
* * *
Today's Fear & Greed Index: 89 Extreme Greed (previous close: 91 Extreme Greed) [CNN]. One week ago: 93 (Extreme Greed). (0 is Extreme Fear; 100 is Extreme Greed). Last updated Jan 13 at 12:07pm.
Rapture Index: Closes up one on Earthquakes. "Puerto Rico shocked by a series of massive quakes" [Rapture Ready]. Record High, October 10, 2016: 189. Current: 18t4. Remember that bringing on the rapture is a good thing. I would expect the Rapture Index to jump if evangelicals thought impeachment was likely to hurt Trump. So it looks to me like this index is delivering a verdict on impeachment as well.
The Biosphere
"Australia is promising $2 billion for the fires. I estimate recovery will cost $100 billion" [John Quiggin, CNN]. "Perhaps largest of all, but impossible to measure, is the destruction of natural ecosystems. It has been estimated that 480 million native animals have died, and whole species have almost certainly been wiped out. The results of billions of dollars spent on preserving these ecosystems have been wiped out in just a few weeks.
To prevent this type of massive destruction in the future, we will need a fully-fledged national organization, capable of mounting a rapid response to disasters requiring evacuations, relief efforts and the rapid mobilization of large numbers of personnel. A budget of $1 billion a year (or $4 billion over the four-year budgeting period used in Australia) would be conservative at best." • Sounds like a job for public-private partnerships!
"The tragedy of the climate dildos" [Heated]. "On Thursday, an Australia-based company called Geeky Sex Toys unveiled "The Down-Under Donation Dildo," the proceeds from which will go toward relief for the country's devastating climate-fueled wildfires… the Down-Under Donation Dildo story is downright tragic. The first reason—and I can't believe I'm writing this—is that we shouldn't have to sell silicone penises to pay for the effects of climate change.' • OK, the headline is clickbait (though kudos for the Garett Hardin reference). Still a good wrap-up. Though consumerism is hardly the driver of climate change, IMNSHO.
News you can use:
READ: What to do before, during and after an ash fall. | @phivolcs_dost pic.twitter.com/YOTZb7dIOJ

— Inquirer (@inquirerdotnet) January 12, 2020
But shouldn't the radio in your emergency kit be a wind-up radio, not a battery-powered one?
Health Care
"Op-Ed: Using artificial intelligence to diagnose cancer could mean unnecessary treatments" [Los Angeles Times]. • That's not a bug. It's a feature.
The Carceral State
"This True Crime Podcast Is Brought To You By The Prison Industrial Complex" [McSweeney's Internet Tendency]. "But first, a word from our sponsors. GEO Group is a full-source incarcerator that brings people together. With state-of-the-art turnkey facilities in 28 states and numerous complementary public-private partnerships, like the state of Louisiana and the Chicago Public School System, GEO Group is the disruptive, evergreen investment to round out your portfolio."
L'Affiaire Joffrey Epstein
"Jeffrey Epstein Gave MIT $850,000, and Senior Staff Kept Quiet" [Bloomberg]. "Senior Massachusetts Institute of Technology administrators knew for years they were accepting donations from convicted sex offender Jeffrey Epstein but decided to keep it quiet, and one professor even took money personally, a report by an outside law firm found. Epstein, a financier, gave a total of $850,000 and visited the Cambridge, Massachusetts, campus nine times between 2013 and 2017, according to the report, published Friday. At times, Epstein arrived with one or two female assistants who appeared to be in their twenties, something that made observers uncomfortable, witnesses told the investigators. Seth Lloyd, a professor of mechanical engineering, was placed on paid administrative leave because he didn't disclose that Epstein was the source of two donations to support his research in 2012, and he received a personal gift of $60,000 from Epstein in 2005 or 2006, the university said." • Did all Lloyd's personal gifts take the form of money, or were some, er, in kind?
Groves of Academe
"Nixed CCSF Classes for Older Adults Diverted to Nonprofits" [SF Weekly]. "Mayor London Breed and several supervisors stepped in Monday to save some community classes for older and aging adults threatened by class cuts at City College of San Francisco. When the college suddenly cut 288 spring classes in November, it wiped out nearly all the classes in its Older Adults Program serving seniors and adults with disabilities. Breed and supervisors Norman Yee, Catherine Stefani, Ahsha Safaí, Aaron Peskin and Rafael Mandelman on Monday announced a funding plan to restore some of those classes. …The City will use $216,000 annually from the Dignity Fund, which voters passed in 2016 to support older adults and adults with disabilities, to fund 17 of the 50 classes cut in the program. Nonprofits like the Jewish Community Center, Self-Help for the Elderly, and YMCA Stonestown will take over the administration of the classes, which are expected to serve about 1,000 people…. 'The announcement from the mayor today is certainly concerning, because it suggests [The City will] allow the defunding of a public institution and give city funding to private institutions,' said Jenny Worley, president of the college's faculty union AFT 2121. 'We have created these programs, we have the infrastructure and the experience to run them.'" • So, very progressive [x] black [x] woman Mayor London Breed is busting a union and giving their programs to some NGOs? That's what this is about? How unexpected.
Class Warfare
Thanks, Obama!
The net worth of the typical American family is about 30% below what it was before the Great Recession

2007 — $146,600
2016 — $101,800 (most recent year available) https://t.co/PzGQXnrVcU pic.twitter.com/nF4ztDp5OB

— John Gramlich (@johngramlich) January 13, 2020
"Strikes Are Hard Work" [Labor Notes]. "Some kind of movement is developing. Perhaps, after decades of lethargy, workers across industries are ready to once again leverage our power to disrupt—by withholding our labor—and win. Certainly, workers are learning from each other, and the strikes are opening up a renewed understanding of what's possible when we activate the full force of our power. In a recent conversation we hosted about the educators strike in Chicago, some listeners wanted to know when we would talk about a national strike. Big wins in tough times can inspire us to think bigger. But when we hear about successful strikes, we don't always fully listen to the work it took to get there. Members of the Chicago Teachers and school employees in SEIU Local 73 developed contract action teams and community coalitions to confront a powerful mayor. It took years to build the relationships, trust, and collective power that sustained them through a difficult fight. A national strike will involve a protracted struggle. It will take serious preparation. It will take serious power. It's something to build towards—one step at a time. One-day strikes that flex our muscles will bring new people into the struggle. That's great. But we want more than participation; we want transformation. And what transforms us isn't the highs of excitement and inspiration. It's keeping on when the struggle gets tough—discovering within ourselves the reservoirs of courage, fortitude, commitment, and rock-solid solidarity. It's sharing the work of organizing each day, and the next day, and the next." • So, we are far away from being able to do what France has done?
"American Deaths of Despair Aren't the Whole Story" [Noah Smith, Bloomberg]. "At the American Economic Association's big annual conference last week, one of the most-attended sessions was a panel entitled "Deaths of Despair and the Future of Capitalism." The panelists included economists Anne Case and Angus Deaton." • Quite the time lag, there, given that Case Deaton's have been publishing on this topic since 2015. Smith writes: "But the narrative that U.S. society is coming apart needs some perspective. Some trends are bad, but others are positive…. For example, the U.S. is much less violent than it used to be… A modest increase in homicides in 2015 and 2016 turned out to be a temporary blip. Domestic violence has fallen significantly… Meanwhile, young Americans are engaging in less risky sexual behavior… Thus, a broader look at U.S. trends show a society that is coming apart in some ways but has knit itself back together in others."
"Labor Department replaces Obama-era 'joint employer' standard" [MarketWatch]. "The new rule, which will take effect March 16, provides a four-part test to determine whether a company is a 'joint employer.' The tests are: Whether or not it can hire or fire the employee; whether it supervises the employee's work schedule; whether it sets their pay; and if it maintains their employment records….The Economic Policy Institute, a pro-labor group, has argued that the new rule 'dramatically narrows' the likelihood that a company can be considered liable for overtime or minimum wage violations. It provides an incentive for companies to outsource more jobs and avoid that responsibility, the EPI said." • Oy, they could outsource the employment record-keeping?
News of the Wired
Evolving meme:
quantum state h/t Fipi Lele pic.twitter.com/kpBc1zHvnk

— Bernie Beats Trump (@doctorow) January 13, 2020
"Excited Park Rangers Announce Lincoln Memorial Actually A Girl After Statue Gives Birth To Litter Of Tiny Marble Abraham Lincolns" [The Onion]. • And we're only two weeks into 2020…
* * *
Readers, feel free to contact me at lambert [UNDERSCORE] strether [DOT] corrente [AT] yahoo [DOT] com, with (a) links, and even better (b) sources I should curate regularly, (c) how to send me a check if you are allergic to PayPal, and (d) to find out how to send me images of plants. Vegetables are fine! Fungi and coral are deemed to be honorary plants! If you want your handle to appear as a credit, please place it at the start of your mail in parentheses: (thus). Otherwise, I will anonymize by using your initials. See the previous Water Cooler (with plant) here. Today's plant (LR):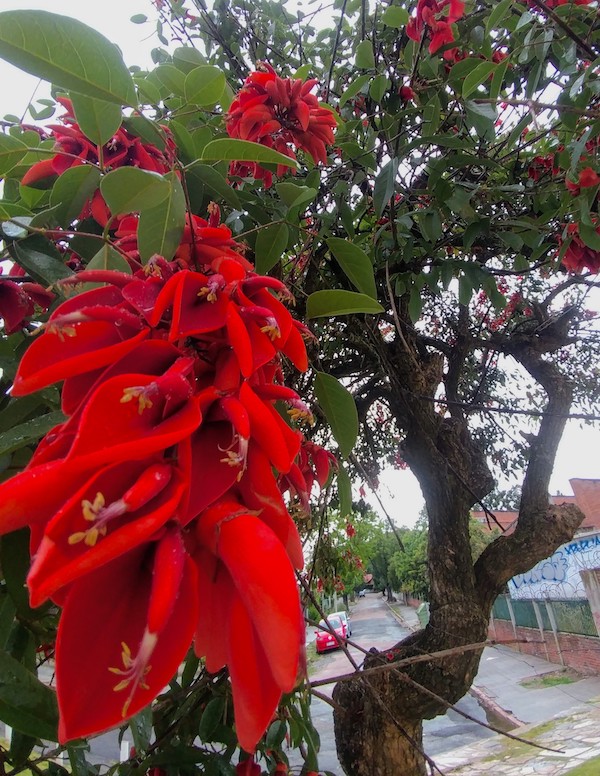 LR writes: "I've seen a lot of plants, but I've never seen this one before. It's springtime here in Uruguay and this is a small tree of about 15 feet high. What is it?" Readers?
* * *
Readers: Water Cooler is a standalone entity not covered by the annual NC fundraiser. So if you see a link you especially like, or an item you wouldn't see anywhere else, please do not hesitate to express your appreciation in tangible form. Remember, a tip jar is for tipping! Regular positive feedback both makes me feel good and lets me know I'm on the right track with coverage. When I get no donations for five or ten days I get worried. More tangibly, a constant trickle of donations helps me with expenses, and I factor in that trickle when setting fundraising goals:
Here is the screen that will appear, which I have helpfully annotated.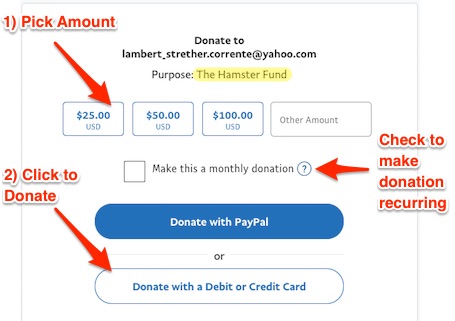 If you hate PayPal, you can email me at lambert [UNDERSCORE] strether [DOT] corrente [AT] yahoo [DOT] com, and I will give you directions on how to send a check. Thank you!