By Lambert Strether of Corrente.
The Onion is really on fire today, and how badly we need that. –lambert
Politics
"But what is government itself, but the greatest of all reflections on human nature?" –James Madison, Federalist 51
"They had one weapon left and both knew it: treachery." –Frank Herbert, Dune
Here is a second counter for the Iowa Caucus, which is obviously just around the corner:
* * *
2020
Alert reader dk (not to be confused with DK) is in the process of developing the following interactive chart.

We have a ton of new polls today: Quinnipiac and Morning Consult nationally, and IA, NA, NV, and CA, as of 1/14/2020, 11:00 AM EST. On the average, the pattern of Biden first, Sanders strong second, Warren fading, and then Buttigeig is more pronounced, with Bloomberg still closing on Buttigieg, which is interesting or concerning. NOTE: If we take out the averaging, Sanders is back in second, and Warren is in third. The last week has been volatile. Of course, these are national polls, about to be massively thrown into confusion by IA, NH, SC, and NV — and then CA.

From the Morning Consult poll:

Bernie Sanders consistently had solid support among younger Black voters, with Biden holding on to Black voters 65+.

That's changing now. @BernieSanders approaches Biden's older Black voter ranks by 1 point. #Bernie2020https://t.co/5tNjZP9Bwp pic.twitter.com/KXfzj5BeIS

— CPD Action (@CPDAction) January 14, 2020

And the numbers:

And now the states (all of which look encouraging for Sanders, though all the leaders are in the margin of error; we'll see if the current conflicts with Warren move the polls at all). Starting with IA:

IA numbers:

Top three are Sanders, Biden, and Buttigieg. Warren trails.

Here is NH:

NH numbers:

Top two are Biden and Sanders. Warren trails.

Here is NV:

NV numbers:

Biden first by 5, Sanders second, 5 over Warren in third.

Here is CA:

CA numbers:

Sanders and Warren are top two, Biden trails. I'm stunned that Sanders is leading in California, given that this is a liberal Democrat heartland.

Summary: Biden juggernaut rolls on, Sanders challenging strongly, Warren in difficulties, Buttigieg patchy.

CAVEAT I think we have to track the polls because so much of the horse-race coverage is generated by them; and at least with these charts we're insulating ourselves against getting excited about any one poll. That said, we should remember that the polling in 2016, as it turned out, was more about narrative than about sampling, and that this year is, if anything, even more so. In fact, one is entitled to ask, with the latest Buttigieg boomlet (bubble? (bezzle?)) which came first: The narrative, or the poll? One hears of push polling, to be sure, but not of collective push polling by herding pollsters. We should also worry about state polls with very small sample sizes and big gaps in coverage. And that's before we get to the issues with cellphones (as well as whether voters in very small, very early states game their answers). So we are indeed following a horse-race, but the horses don't stay in their lanes, some of the horses are not in it to win but to interfere with the others, the track is very muddy, and the mud has splattered our binoculars, such that it's very hard to see what's going on from the stands. Also, the track owners are crooked and the stewards are on the take. Everything's fine.

I think dk has started a really neat project, and in the near future we'll seek your feedback (within reason) for the tool "live."

* * *

Buttigieg (D)(1): "Swing Voter Really Relates To Buttigieg's Complete Lack Of Conviction" [The Onion]. "'As a generally noncommittal person without any firm ideas about how our government should be run, I can see a lot of myself in this up-and-coming young leader with no discernible political identity,' said [swing voter Chris Fernsby], who added that Buttigieg's vague but carefully focus-grouped positions on Medicare for All and police reform perfectly captured his own indecisive and shifting mindset when it came to issues at stake in the 2020 election." • To be fair, I shouldn't fall into the trap of blaming voters, but this is still pretty funny.

Booker (D)(1): "Cory Booker Drops Out Of 2020 Rat Race After Falling In Love With Small-Town Iowa Life" [The Onion]. "'I've spent my whole life worrying about my career, chasing the next big position, but after spending all this time in Iowa, I've realized it's community and family that count,' said Booker."

Gabbard (D)(1):

I also met with @BernieSanders before announcing my candidacy. We had a nice one-on-one conversation and I informed him that I would be running for President. In that meeting, he showed me the greatest respect and encouragement, just as he always has.

— Tulsi Gabbard ? (@TulsiGabbard) January 14, 2020

Somewhat against interest for Gabbard, given that the Sanders campaign has not been notably supportive of her candidacy (although to be fair, it's a primary, and primaries have a single winner).

Sanders (D)(1): The Sunrise Movement endorsed Sanders. Thread:

This is a thread about @BernieSanders, and why he's my (and now @SunriseMvmt's) candidate for President. It's long, but I swear it's going to be worth it!

— Sara Blazevic ? (@SaraBlazevic) January 13, 2020

Importantly, the Sunrise Movement isn't just a Beltway NGO. They bring their own ground troops.

UPDATE Sanders (D)(2): "Nevada's Largest Teachers Union Is Endorsing Bernie Sanders" [Buzzfeed]. "Sen. Bernie Sanders won the endorsement of an influential teachers union in Nevada on Tuesday morning, a key sign of support in the early voting state where unions have significant political power. "We appreciated that Sen. Sanders came to us, very much reached out to us, and wanted to speak to us," Clark County Education Association President Vikki Courtney told BuzzFeed News on Monday night. Sanders was the clear leader in a recent straw poll of union members, she said, which was a major factor in the decision. The union represents 19,000 teachers and other educators in Las Vegas and is the largest teachers union in Nevada. The Clark County School District is the fifth-largest school district in the country." • Good for the Sanders campaign, but the Culinary Workers are the real power. Here from their site: "This year, the Culinary Workers Union is focused on health care and keeping the plan they have. With concerns over proposals for Medicare-for-all, they're asking candidates directly where they stand on issues related to health care. The union, mostly made up of Hispanics and women, is described as the largest immigrant organization in the state. Their key endorsement is expected to be announced sometime early next year."

Trump (R)(1): "Trump's data operation is targeting women voters amid warning signs" [McClatchy]. "President Donald Trump carried non-college-educated white women — 20% of all voters in presidential election years — by 27 points in 2016. But the group shifted by 13 points in the 2018 midterm elections, and in recent months warmed to the prospect of impeaching and removing Trump from office over his efforts to pressure Ukraine to investigate a domestic political rival…. The campaign launched its Women for Trump group last year and says it has attracted 30,000 members ever since. Out of all of its "coalition" events targeting individual subgroups — including veterans, Latinos, evangelical Christians and African Americans — 63% have been held for women voters. But it is unclear whether the campaign is making progress, as polls show growing disapproval of Trump among white working class women and suburban women — two critical subgroups in the upcoming general election."

Warren (D)(1): On CNN's story in which Warren-adjacent persons accused Sanders of sexism:

This Warren story is mind-blowing. If there isn't more to this, this is about as dirty as politics gets. https://t.co/ego3XAODZp

— Matt Taibbi (@mtaibbi) January 14, 2020

Taibbi is not a fragile flower. So his reaction is interesting.

Warren (D)(2): Silver isn't a fragile flower either:

Wait, there are people who *don't* think the Warren campaign leaked the story?

— Nate Silver (@NateSilver538) January 14, 2020

Warren (D)(3): "Sanders-Warren feud takes a turn onto the dangerous turf of gender" [WaPo]. Here is WaPo's reporting on the same incident "reported" by CNN: "Two people with knowledge of the conversation at the 2018 dinner at Warren's home told The Washington Post that Warren brought up the issue by asking Sanders whether he believed a woman could win. One of the people with knowledge of the conversation said Sanders did not say a woman couldn't win but rather that Trump would use nefarious tactics against the Democratic nominee." • "A lie can run round the world before the truth has got its boots on." –Terry Pratchett, The Truth. (The Truth is a wonderful novel about the newspaper business, which you should read if you have not.) This reporting is against interest, since WaPo is not known for stanning Sanders.

Warren (D)(4): "CNN's Sanders Hit Piece Doesn't Pass the Smell Test" [FAIR]. "CNN (1/13/20) has an anonymously sourced hit piece out today on Bernie Sanders, claiming that at a meeting in Elizabeth Warren's home on December 18, 2018, he told her "a woman can't win" the presidency. The article, by CNN correspondent MJ Lee, is so journalistically shoddy that someone reading only the first few paragraphs would end up believing that it is a fact that the current top-polling candidate for the February 3 Iowa Caucus actually said that. Never is Sanders' 'quote' prefaced with the term 'allegedly.' None of the four anonymous staffers/friends making the charge of Sanders sexism were actually witnesses who were apparently in the room that day. Two, according to Lee, spoke to Warren 'shortly after' that meeting. The other two 'sources' were described only as people who 'knew about the meeting.'"… Why were CNN's sources allowed to makes such an explosive, far-fetched claim anonymously? Anonymity is most justifiably granted to protect sources from retaliation for revealing damaging information about their superiors; would Warren staffers (assuming they were the source) be fired for giving an accurate account of their candidate's conversation?"

Warren (D)(5): What Warren could have said:

ON #WARREN'S LOW BLOW

Since this will come up at the #DemDebate, I want to explain her attack on #Bernie.

When CNN leaked the story, Warren could have said: "We're friends and he was referring to the challenges women candidates face. I won't grace these leaks."

Instead…

— Peter Daou (@peterdaou) January 14, 2020

Both in the "trashing me" flap and the "Sanders is sexist" flap, the Warren campaign did not use surrogates; they put Warren right out there as a spokesperson (directly quoting her in a campaign press release in the latter case). That seems risky and weird to me.

UPDATE Warren (D)(6): "#RefundWarren Trends as Elizabeth Warren's Offensive Strategy Divides Progressives" [Paste Magazine]. • This is a really excellent summary and timeline of the two weekend, pre-date controversies fueled by Warren personally. (The headline is a bit click-baity; I haven't seen any numbers on #RefundWarren.)

Warren (D)(7): "NYT Columnist Touts Warren as 'Unity Candidate'…While Also Disclosing Her Husband Works for Warren Campaign" [Mediaite]. "Goldberg's husband, Matthew Ipcar, is the executive creative director at Blue State Digital, a digital strategy and technology firm based in Brooklyn. But the relationship between Blue State and the Warren campaign goes beyond mere vendor and client. Blue State's founder and CEO, Joe Rospars, who led Obama's digital campaign in 2008 and 2012, is also Warren's chief campaign strategist and, as Politico story noted last summer, the company has been closely working with the Massachusetts senator since the very beginning of her 2020 run. According to the most recent, 3rd quarter FEC filings, Blue State was paid $327,000 from July through September by the Warren campaign (the 4th quarter filings are not yet publicly available). Combined with 2nd quarter ($571,000) and 1st quarter 2019 payments ($183,089), Warren paid Blue State nearly $1.1 million in total through the first nine months of the year." • A New York Times Op-Ed is actually product placement for the Warren campaign. Isn't this corruption? A million bucks is real money for a Democratic strategist!

UPDATE Warren (D)(8): "My Plan To Cancel Student Loan Debt On Day One Of My Presidency" [Elizabeth Warren, Medium]. As so often with Warren's plan, the headline makes a pitch, but the detail doesn't close the sale: "I'll direct the Secretary of Education to use their authority to and modify federal student loans consistent with my plan to cancel $50,000 in debt for 95% of student loan borrowers (about 42 million people)." • So, means-tested and not universal.

* * *

UPDATE IA: "Why Elizabeth Warren and Bernie Sanders are fighting" [WaPo]. This is very interesting. Monmouth ran a simulation of the Iowa Caucus, and: "Warren's problem is this: She is very disproportionately the second choice of voters whose first choices are already the other top candidates. Monmouth pollster Patrick Murray told me she takes 83 percent of her second-choice votes from the triumvirate of Biden-Buttigieg-Sanders. By contrast, the vast majority of people who don't support a top-four candidate — 75 percent — go for a top-four candidate as their backup. And that's an issue in Iowa. It means the other candidates have more to gain from the 15 percent threshold. And it essentially means that Warren probably needs to have one of them stumble to build out her base of support and actually win the state…. The same national Quinnipiac University poll, in fact, shows that Warren is the second choice of 57 percent of Sanders supporters, and Sanders is the second choice of 52 percent of Warren voters. Neither of them are the second choice for more than 12 percent of any other candidate's voters." • In other words, the soft left that presented Warren and Sanders as interchangeable ("two good choices!") helped to bring on Warren's attack. Well played, all.

NV: "Exclusive: Nevada poll shows Biden-Sanders showdown in a tightening Democratic race" [USA Today]. "It's not just Iowa: An exclusive Suffolk University/USA TODAY Poll of Nevada finds another early-voting state where the Democratic presidential race is tightening, former Vice President Joe Biden is struggling to hold front-runner status and Vermont Sen. Bernie Sanders is showing strength." • Nevada is Harry Reid's patch, and Reid got Warren into politics. So…

"Steyer, Bloomberg's 2020 delegate gambit is an effort to change the political map" [ABC]. "In the final push before the first debate of 2020, the last before voters have their first say, the two billionaire Democratic presidential contenders have zeroed in on strategies that leverage two precious assets for any campaign: time and vast amounts of money in states that could help net delegates…. Steyer has swamped competitors on the airwaves in early states, playing retail politics with boots on the ground as well. Moreover, his campaign has just hired Jeff Berman, a banner name among the pundit class who quite literally wrote the book on delegate strategy. Berman was an instrumental force in engineering Barack Obama's 2008, and a major role in Clinton's run eight years on. Earlier this cycle, he was also on for Texas Rep. Beto O'Rourke team. Bloomberg, meanwhile, is throwing out the rule book altogether: bypassing the early states entirely, honing directly in on the delegate-rich Super Tuesday spots like California, Texas, and Florida."
Impeachment
"House to vote Wednesday to send impeachment articles to Senate" [CBS]. "The House will vote Wednesday on a resolution to name impeachment managers and transmit articles of impeachment to the Senate for President Trump's trial on charges of abuse of power and obstruction of Congress, Speaker Nancy Pelosi announced Tuesday…. Pelosi did not reveal the names of the impeachment managers in the meeting, but several members said they assume the team will be led by Judiciary Committee Chairman Jerry Nadler and Intelligence Committee Chairman Adam Schiff, who both spoke in the meeting and laid out in detail how the Senate trial will work."

"Chief Justice Roberts won't compel witnesses to testify at Trump impeachment trial, legal expert says" [Yahoo News]. "Chief Justice John Roberts is almost certainly going to avoid weighing in on whether President Trump's Senate impeachment trial should include testimony from witnesses, legal expert Jeffrey Rosen told Yahoo News. 'I can't imagine him playing a really substantive role about whether or not to hear witnesses,' said Rosen, president and CEO of the National Constitution Center… Rosen said he thinks Roberts 'will do anything possible to avoid weighing in on that.' 'The main thing he can do is show up and be neutral and nonpartisan and dignify the procedure,' Rosen said." • Not an easy task!
Our Famously Free Press
UPDATE "Establishment Pundits Go Nuts Over New Russian Hacking Conspiracy" [Caitlin Johnstone, Medium]. "The New York Times reports that GRU operatives launched a successful 'phishing attack' on the Ukrainian gas company at the heart of scandalous allegations about Joe Biden, and establishment pundits are falling all over themselves to tweet the hottest take on this exciting new Russia conspiracy. The story itself fails the smell test on a number of fronts. It falsely claims that allegations of Biden's corrupt dealings with Ukrainian officials as vice president have been "discredited", and its only named source is a cybersecurity firm with foundational ties to the NSA and to Crowdstrike, which you may remember as the extremely shady Atlantic Council-tied company at the heart of the plot hole-riddled 2016 Russia hacking narrative (whose CEO is now a billionaire). The article also of course lacks any hard evidence for its claims, and is of course completely silent on any details as to how the security firm knows that the alleged hackers were both (A) Russian and (B) tied to the Russian government. This is par for course with mass media news reporting on anything negative about Russia." • Groundhog Day. Johnstone might have mentioned that CrowdStrike was also the DNC's IT vendor.
2019
UPDATE Very enjoyable:

"[@AOC] has given $300,000 to other incumbents, including some in swing districts. And I'm asking the chairwoman of the DCCC if…she's good for the [Democratic] caucus and you can't give me a straight yes or no." –@VictorBlackwell to @CheriBustos, chair of the @dccc pic.twitter.com/rMkOm65WPv

— Waleed Shahid (@_waleedshahid) January 13, 2020
Stats Watch
Tech: "Grindr Shares Location, Sexual Orientation Data, Study Shows" [Bloomberg]. "'Every time you open an app like Grindr, advertisement networks get your GPS location, device identifiers and even the fact that you use a gay dating app,' said Austrian privacy activist Max Schrems. 'This is an insane violation of users' EU privacy rights.'"
Manufacturing: "Boeing posts negative commercial airplane orders in 2019 for first time in decades" [CNBC]. "For all of 2019, Boeing lost orders for 87 commercial airplanes, meaning it had more cancellations than new purchases, the company said Tuesday. The final tally included the cancellation of three orders in December when customers changed plans to buy 787 Dreamliners. A Boeing spokesman said he wasn't sure when the company last lost commercial plane orders for the year, but 'it definitely has not happened in the last 30 years.' The negative number is especially painful when compared with European rival Airbus, which logged orders for 768 new planes for 2019." • Problems with our national champion…
* * *
Today's Fear & Greed Index: 89 Extreme Greed (previous close: 91 Extreme Greed) [CNN]. One week ago: 93 (Extreme Greed). (0 is Extreme Fear; 100 is Extreme Greed). Last updated Jan 13 at 12:07pm.
The Biosphere
Winter (1):
When it is 52 degrees when you wake up in January in Vermont and the condensation is on the *outside* of the windows. pic.twitter.com/tfRY7SAf7t

— Dr. Elizabeth Sawin (@bethsawin) January 12, 2020
Winter (2):
First sunrise after 40 days of polar night in Murmansk, northern Russia. Can confirm people are losing it on the snowy dance floor pic.twitter.com/v3lgHDWeAk

— Theo Merz (@theo_merz) January 12, 2020
* * *
"Europe Could Lead Way in $10 Trillion Fossil Fuel Capex Ban, UBS Says" [Bloomberg]. "A $10 trillion ban on fossil fuel capital spending could hold the key to net-zero emissions by 2050, according to UBS Group AG. To achieve such a freeze on emissions, there would need to be enough global restrictions to reduce cumulative fossil capex by two-thirds of the current amount, or about $10 trillion, UBS analysts led by Sam Arie wrote in a note assessing the outlook on energy and climate change. Europe will likely be the starting point for such a move, according to them. 'We expect to see increasing legal and financing restrictions on fossil capex — taking effect more quickly than any moves towards a global carbon tax, and inevitably accelerating convergence of the energy and utilities sectors,' the analysts wrote." • Hmm.
"New Research: Calculating The Carbon Emissions Of Holidays" [Responsible Travel]. "A ground breaking new study highlights the pressing need for the tourism industry to carbon label holidays and design trips with lower carbon footprints. Although transport is the number one concern when we're considering the carbon impact of our holidays, findings show that carbon emissions from the food eaten on holiday – the foo(d)print – can also be a very significant part of the overall emissions from a holiday. In fact, emissions associated with food can potentially exceed a trip's transport emissions, and that of accommodation. To become more carbon efficient in the future, it is vital that the tourism industry makes important emissions reductions across food, accommodation and transportation and presents CO2 information to travellers as transparently as possible." • Interesting, albeit consumer-driven, perspective.
"Imperial Oil, Canada's Exxon Subsidiary, Ignored Its Own Climate Change Research For Decades, Archive Shows" [The Intercept]. "Imperial Oil, Exxon's Canadian subsidiary, is a household name in Canada thanks to its ubiquitous Esso gas stations. Exxon owns 70 percent of the company… The cache of documents shows that as far back as the 1960s, Imperial had begun hiring consultants to help them manage a future public backlash over its environmental record, as well as conducting surveillance on its public critics. The documents also show that, as the company began to accept the implications of a warming planet, instead of acting decisively to change its business model, it began considering how a melting Arctic might open up new business opportunities."
Water
"'The colour is blue': Strange changes to Mekong River as hydropower dams and climate change make their mark" [Channel News Asia]. "here is something wrong with the Mekong. The 'Mother of Water' as this great river is known throughout the regions it passes, is sick. As hydropower dam projects come online, at the same time as the effects of climate change start to manifest, the Mekong's even flow has been disrupted. River levels are fast changing as water is stored and released. Dry and wet seasons have become confused. Fish breeding is irregular and passage has become problematic as water levels drop to record lows. The Mekong is defined by its colour – a deep ochre that reflects the life-giving sediment that feeds its fauna and enriches the soils that countless communities depend upon. At present, in parts, even that has changed."
Health Care
"Taiwan's single-payer success story — and its lessons for America" [Vox]. "In Taiwan, everybody is covered. The Taiwanese health care system is built on the belief that everyone deserves health care, in Xiulin just as much as anywhere else. The costs to patients are minimal. In the 1990s, Taiwan did what has long been considered impossible in the US: The island of 24 million people took a fractured and inequitable health care system and transformed it into something as close to Sen. Bernie Sanders's vision of Medicare-for-all as anything in the world." • But Taiwan is a First World country, so they can pay for it. (Interestingly Uwe Reinhardt played a huge role in getting Taiwan's system fixed.) The article is well worth a read, and I'd welcome thoughts from any readers famliar with Taiwan.
"A Healing Place" [Nathan J. Robinson, Current Affairs]. "Bad experiences at hospitals are incredibly common. A close relative of mine called me today having just been released from the hospital, and having had to fill out papers while in horrible pain, then sitting for hours in a harshly lit room being ignored. What's strange to me about the bad experiences people have is that they are some of the easiest possible things we could change about medicine. You can't cure cancer, but you can certainly cure paperwork. You can cure depressing architecture. You can cure indifference and bureaucracy and discomfort. The problems with hospitals are strange, because they violate the first principles we would use to design a 'healing place.' The first thing you should do when designing a place to make people feel better is to make sure they suffer no unnecessary stress or confusion or unpleasantness there. In fact, there is apparently hard evidence that this can make a difference to patient outcomes, which is why sensible hospitals have gardens. I'd like to suggest, though, that 'first person experience' needs to be put at the center of every single discussion of healthcare." • Yep. Avoiding hospitalization at all costs is a major driver for me.
Class Warfare
""Somebody's gotta stand up": Miners block coal from leaving Pike County after weeks without pay" [WYMT]. "Around 12:30 p.m. miners said they could see a pay stub for two weeks' pay show up in their work accounts, but the money has not arrived in their bank accounts yet. ',' one miner added. Several miners and their families stood on the tracks leading from Quest Energy in Blackburn Bottom Monday afternoon. A train loaded down with coal is stuck on the tracks. A CSX crew went to the tracks to get the engine and left the loaded train cars there. Miners said they worked from mid-December until now without getting paid for that work. They said they came home last Thursday after a 17-hour shift, expecting to be paid Friday, but that check never came. They were told to wait until Monday and then the date was pushed back again. Now they just want to get what is owed to them." • Of course, one view is that they're owed a lot more than a wage….
"A Way Out" [Popula]. "The generous answer is that society is imperfect: people have needs that the government cannot meet (and that corporations refuse to meet). But the cynical answer is that there's money to be made in nonprofits. Not for the people actually working at them, of course; they make very little. But for their extremely wealthy patrons, the rich people who want to protect their capital from being taxed and expropriated by the government, nonprofits are not only lucrative—they're an effective way to provide legitimacy to the ruling class. The scale of the industry is phenomenal. As Elizabeth Kolbert recently pointed out, the growth in foundation assets has exploded in the past eighty years, from 'less than a billion dollars to more than eight hundred billion dollars.' In the next two decades, 'affluent baby boomers are expected to contribute almost seven trillion dollars to philanthropy.' Nearly 10 billion dollars a year is spent on shaping public policy alone." • Euthanize the NGOs. The Trillbillies are very sound on this, being from coal country, where this article is set.
News of the Wired
"Top-secret UFO files could cause "grave damage" to U.S. national security if released, Navy says" [CBS]. "The [Navy's Office of Naval Intelligence (ONI)] also admitted to possessing at least one video of unknown length, classified as 'secret' by the Naval Air Systems Command (NAVAIR). ONI didn't reveal whether this footage is the same 1-minute video that was leaked online in 2007 and widely released by The New York Times in 2017. However, in November 2019, several naval officers who witnessed the incident aboard the Nimitz told Popular Mechanics that they had seen a much longer video of the encounter that was between 8 and 10 minutes long. These original recordings were promptly collected and erased by 'unknown individuals' who arrived on the ship by helicopter shortly after the incident, one officer said." • Oh.
* * *
Readers, feel free to contact me at lambert [UNDERSCORE] strether [DOT] corrente [AT] yahoo [DOT] com, with (a) links, and even better (b) sources I should curate regularly, (c) how to send me a check if you are allergic to PayPal, and (d) to find out how to send me images of plants. Vegetables are fine! Fungi and coral are deemed to be honorary plants! If you want your handle to appear as a credit, please place it at the start of your mail in parentheses: (thus). Otherwise, I will anonymize by using your initials. See the previous Water Cooler (with plant) here. Today's plant (LO):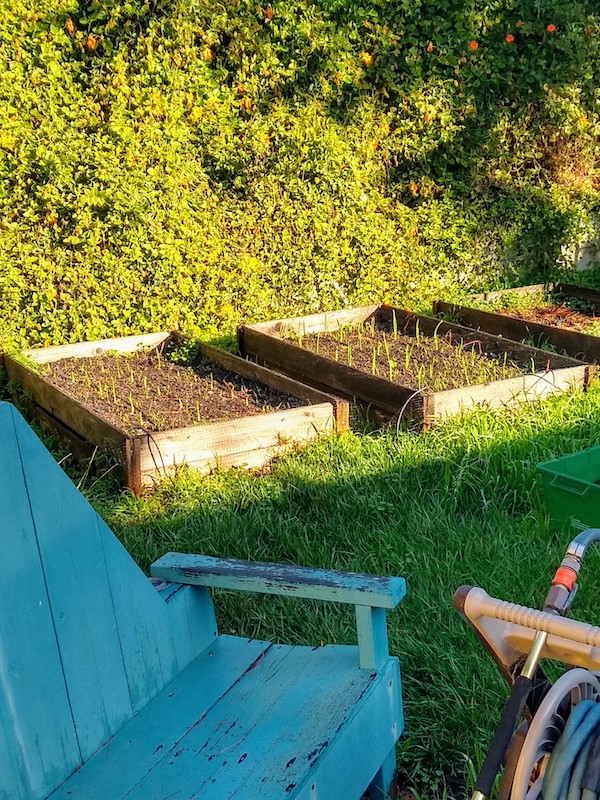 LO writes: "This is what 'wintry plants' look like in my coastal California garden–young garlics. I plant cloves saved from last year's crop around Halloween, harvest after Memorial Day. There's something innocent and optimistic about them at this point that touches me." That looks like one happy garlic bed!
* * *
Readers: Water Cooler is a standalone entity not covered by the annual NC fundraiser. So if you see a link you especially like, or an item you wouldn't see anywhere else, please do not hesitate to express your appreciation in tangible form. Remember, a tip jar is for tipping! Regular positive feedback both makes me feel good and lets me know I'm on the right track with coverage. When I get no donations for five or ten days I get worried. More tangibly, a constant trickle of donations helps me with expenses, and I factor in that trickle when setting fundraising goals:
Here is the screen that will appear, which I have helpfully annotated.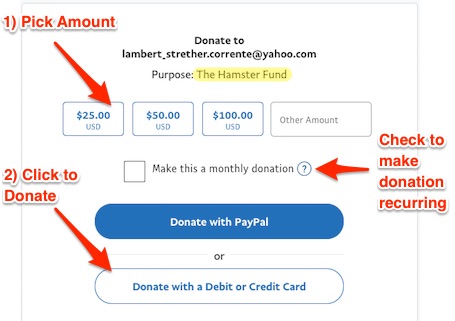 If you hate PayPal, you can email me at lambert [UNDERSCORE] strether [DOT] corrente [AT] yahoo [DOT] com, and I will give you directions on how to send a check. Thank you!