By Lambert Strether of Corrente.
Patient readers, this will be longer on politics and with more UPDATES than usual, because I had to run down some rumors about the debates. –lambert UPDATE All done. If you're returning, I did so much re-arranging and tinkering with the politics section that I didn't mark each change.
Politics
"But what is government itself, but the greatest of all reflections on human nature?" –James Madison, Federalist 51
"They had one weapon left and both knew it: treachery." –Frank Herbert, Dune
Here is a second counter for the Iowa Caucus, which is obviously just around the corner:
* * *
2020
Alert reader dk (not to be confused with DK) is in the process of developing the following interactive chart.

We have a two new national polls today: HarrisX and YouGov nationally, as of 1/15/2020, 12:00 PM EST. On the average, the pattern of Biden first, Sanders strong second, Warren fading, and then Buttigeig is more pronounced, with Bloomberg still closing on Buttigieg, which is interesting or concerning. NOTE: If we take out the averaging, Sanders is back in second, and Warren is in third. Of course, these are national polls, about to be massively thrown into confusion by IA, NH, SC, and NV — and then CA.

And the numbers:

Summary: Biden juggernaut rolls on, Sanders challenging strongly, Warren in difficulties, Buttigieg patchy.

CAVEAT I think we have to track the polls because so much of the horse-race coverage is generated by them; and at least with these charts we're insulating ourselves against getting excited about any one poll. That said, we should remember that the polling in 2016, as it turned out, was more about narrative than about sampling, and that this year is, if anything, even more so. In fact, one is entitled to ask, with the latest Buttigieg boomlet (bubble? (bezzle?)) which came first: The narrative, or the poll? One hears of push polling, to be sure, but not of collective push polling by herding pollsters. We should also worry about state polls with very small sample sizes and big gaps in coverage. And that's before we get to the issues with cellphones (as well as whether voters in very small, very early states game their answers). So we are indeed following a horse-race, but the horses don't stay in their lanes, some of the horses are not in it to win but to interfere with the others, the track is very muddy, and the mud has splattered our binoculars, such that it's very hard to see what's going on from the stands. Also, the track owners are crooked and the stewards are on the take. Everything's fine.

I think dk has started a really neat project, and in the near future we'll seek your feedback (within reason) for the tool "live."

* * *

Biden (D)(1): "Biden Allegedly Told Bush He'd Get The Nobel Peace Prize If He Could Invade Iraq Quickly" [HuffPo]. "' got a commitment from President Bush he was not going to go to war in Iraq,' said Biden. 'He looked me in the eye in the Oval Office; he said he needed the vote (authorizing the war) to be able to get inspectors into Iraq to determine whether or not (Iraqi dictator) Saddam Hussein was engaged in dealing with a nuclear program. He got them in, and before we know it, we had a shock and awe. Immediately, the moment it started, I came out against the war at that moment.'" • Leaving aside "the moment it started," this anecdote doesn't build my confidence that Biden will be able work across the aisle successful. Bush took him. Bush.

Klobuchar (D)(1): "Why Voters Are Nervous About Amy Klobuchar" [Politico]. • Shorter: Klobuchar is stuck in fifth because of misogyny (and not, just saying, because she throws binders at staff or pursues them vengefully).

Sanders (D)(1): If the Sanders campaign played rough:

For better or worse, Bernie is too decent to call out the latent anti-Semitism in the casual assumption that you can't trust the old New York Jew's word against the good Middle American Christian's word.

— Mark Ames (@MarkAmesExiled) January 15, 2020

Sanders (D)(2): "Democratic presidential candidate Bernie Sanders has doubled his lead over President Donald Trump in a hypothetical general election match-up, according to new polling from Morning Consult. The latest data, which was drawn from surveys of more than 40,000 registered voters from January 6 to 12, showed Sanders beating Trump by 4 percentage points, up from a previous 2 percent lead, at 46 percent compared to the president's 42 percent. Although Biden still performs slightly better—46 percent compared to 41 percent for Trump—Morning Consult noted that Sanders outperformed Biden among independents and young voters, or those 18 to 29 years old" [Newsweek].

Sanders (D)(3): "National immigrant rights group endorses Sanders" [Politico]. "Make the Road Action, an immigrant rights group, is endorsing Bernie Sanders for president, lending the Vermont senator significant political muscle in the early caucus state of Nevada and a delegate-heavy group of northeastern states.The 10-year-old organization, which mobilizes immigrants and minority communities for political action in Connecticut, Nevada, New Jersey, New York and Pennsylvania, has not previously endorsed candidates in presidential races." • More troops in the field, adding to the Sunrise Movement.

Steyer (D)(1): "What The Hell Is Tom Steyer Doing On That Debate Stage?" [Buzzfeed]. "Some of the candidates who aren't there also raised and spent millions. But only Steyer exploited the DNC's complex system, in which you need to meet percentage requirements in a series of polls to qualify for the debates. He realized that popularity in South Carolina in December and January can be bought relatively cheap — and converted into a coveted spot on the Des Moines stage. And so he essentially converted an investment in a strangely early advertising campaign in South Carolina — when he was basically alone on the air there — into poll results that got him into the debate. Soon, the system leaves the hands of the DNC and enters (mostly) the hands of Democratic voters. You probably can't arbitrage your way to the nomination."

Trump (R)(1): "Trump takes Sanders' side in tiff with Warren over prospect of female U.S. president" [Reuters]. ""I don't believe that Bernie said that. I really don't. It's not the kind of a thing he would say," Trump said, adding that he did not know Sanders and did not like him." • Donald Trump, master troll and shit-stirrer extraordinaire.

Trump (R)(2): "Poll: Majority supports Trump's decision to not strike back against Iran" [Politico]. "An overwhelming majority of voters support President Donald Trump's decision to not pursue military action against Iran last week after Tehran launched a missile strike targeting two air bases in Iraq housing U.S. troops, a new POLITICO/Morning Consult poll found."

Warren (D)(1): The Third Rail of Calling 'Sexism' Warren tried not to talk about it." [Rebecca Traister, New York Magazine]. "On Monday, CNN's MJ Lee reported that according to several sources, during a private 2018 meeting between Warren and Bernie Sanders…" • "Several sources," none of whom were at the meeting, and all of whom, therefore, derived their information from Warren. So there's only one source. More: "What has been exposed here are some of the complicated, painful, difficult dynamics that have kept women from the presidency for the country's entire history." • It's not complicated. It's simple. Warren needs not to fall below the 15% threshold to get delegates in the Iowa caucuses, and she's hovering at that level now. She needs to take voters from somewhere, and decided to take them from Sanders. (There is also the account that she wants to be Biden's Vice President, but I don't think wants to watch his back all the time. or make sure all his meetings with Warren get recorded. Of course, the Biden campaign could certainly have given Warren a different impression.

Warren (D)(2): "#Refundwarren Trends After Elizabeth Warren Accuses Bernie Sanders Of Saying A Woman Couldn'T Beat Trump" [Newsweek]. "It was not immediately clear how many Warren donor refunds ActBlue is processing or if the refunds were offset by higher donations. Newsweek asked ActBlue for comment by email and will update this article if one is provided." • I can't find any number on this. I do think refunds are a terrific feature and a good way to hold candidates accountable.

* * *

"Warren, Sanders backers feud after 'Pocahontas' text message" [Associated Press]. "A text message that referred to Democratic presidential candidate Elizabeth Warren as "Pocahontas" that was sent through rival Bernie Sanders' volunteer messaging system led to social media feuding and confusion among supporters of both candidates. It turns out the text message came from a rogue Sanders campaign volunteer believed to be a supporter of President Donald Trump, the campaign told The Associated Press. The individual was removed from the system." • It seems clear to me that there will continue to be such individual cases — whether spontaneous or ratf#cking — in an enormous volunteer-driven canvassing system. It would be best of such cases were treated as non-stories, instead of making individuals proxies for entire campaigns. Patterns of behavior would be an other thing.
The Debates
Debate Numbers

Viewership: "Democratic Debate Viewership Rises, But Still Far Off From Ratings Highs In 2020 Cycle" [Deadline]. "CNN's coverage of the Democratic presidential debate drew an estimated 7.3 million viewers, according to early numbers from Nielsen Media Research. That's a slight uptick from the the 6.17 million who watched the debate in December, sponsored by PBS and Politico, and the 6.5 million who watched November's event, hosted by MSNBC. But the debate numbers are a big drop from those held earlier in the cycle."

Social media:

Final totals for the evening, with the number of new followers on Twitter and Instagram and new likes on Facebook for the verified campaign accounts of each of the six candidates on stage at tonight's #DemDebate. Sanders finished first, followed by Klobuchar and Steyer. pic.twitter.com/tac0J4Aezz

— Ry Crist (@rycrist) January 15, 2020

Searches:

We're going to win. pic.twitter.com/kUII7VshBM

— Iri (@irihox) January 15, 2020

Fundraising: "Despite the pummeling by moderators, a staffer for the Sanders campaign said it had its best fundraising hour of any debate thus far, with more than 15,000 contributions. The campaign said the donations, which totaled $1.7 million by the end of the night, accounted for 43 percent of all money raised on the Democratic fundraising site ActBlue during that period of time" [The Intercept].

* * *

Warren refuses to shake hands with Sanders

Bloomberg video:

WATCH: As they walked off of the #DemDebate stage — Elizabeth Warren rejected Bernie Sanders's handshake and they exchanged words https://t.co/1Sglwm1S1X pic.twitter.com/sEHeEJ2gOC

— Bloomberg (@business) January 15, 2020

Warren wringing her hands in the video is so suggestive. Macbeth, Act V, Scene 1:

LADY MACBETH: Here's the smell of the blood still. All the perfumes of Arabia will not sweeten this little hand. Oh, Oh, Oh!

DOCTOR What a sigh is there! The heart is sorely charged.

GENTLEWOMAN I would not have such a heart in my bosom for the dignity of the whole body.

"Can a woman win the presidency? Clash exposes deeper issue" [Associated Press]. "Warren responded, 'Bernie is my friend and I'm not here to try and fight with Bernie." She then drew sustained applause by noting that the male candidates on stage had lost elections while she and the only other woman participating, Sen. Amy Klobuchar, have not." • Breaking off here for Matt Bruenig's comment:

imagine seriously for a second thinking that winning a senate seat as a democrat in massachussets is more impressive than winning a mayorship, house, and senate seat as an independent socialist

— Matt Bruenig (@MattBruenig) January 15, 2020

Sanders should have made this point himself. (See also the Lowell Sun, "Peter Lucas: A rigged Democrat political system? Ask a beneficiary, Elizabeth Warren" for detail on Warren's 2012 election.)

Back to AP: "After the debate, video showed Sanders extending his hand but Warren not shaking it, and the pair engaged in a subsequent brief but seemingly intense discussion." • This is really astonishing to me, not least for its lack of logic; how can Warren simultaneously run as/be framed as a unity candidate, while refusing a basic gesture of courtesy and respect to an opponent, especially one she was calling a "friend" only minutes before? The campaign must surely have gamed this out, since the debate format is very stylized, and the cameras still run, but… What's the endgame? Driving the Sanders faction out of the Party?

Naturally, people are trying to lip-read the video. Here is an example of the genre:

A lip-reading of what they said to each other after the debate:

WARREN: "Hey Bernie, how are you? Sorry, I have a cold, don't shake my hand."

BERNIE: "Doin' great, Liz. Hope the kids are good!"

WARREN: "They are. I like your suit! You chose it well."

BERNIE: "Thanks, Liz."

— The Gravel Institute (@GravelInstitute) January 15, 2020

Let's give Nina Turner the final word. This video is worth watching:

"You just shake your colleague's hand, but again we're getting caught up in this," Sen. @ninaturner said after the the debate. pic.twitter.com/I6yVZcGJNQ

— Adam Brewster (@adam_brew) January 15, 2020

I've only seen Turner from afar, on the stage. She's pretty impressive close up. Smart, aware, funny, ironic, on task, and very stylist. My heavens.

* * *

"Democratic officials have reason to hope for a happy ending. The debate shows why" [WaPo]. "The Democratic Party's dream is that at the end of the convention, as the balloons fall from the rafters, all umpty-seven candidates who started the race can come onstage and join hands in unity against Trump. Tuesday's debate didn't change the race, but it did give Democratic officials reason to hope that the happy ending they seek for might actually happen. These were not bitter rivals. They actually seemed to like each other." • Oh?
Our Famously Free Press
People are starting to stare:

CNN has long been viewed as anti-Sanders, but this is incredible. After asking Sanders to repeat his denial, Abby Phillips asserted that Sanders was lying: "Senator Warren, what did you think when Senator Sanders told you a woman could not win the election?"

— Jonathan Turley (@JonathanTurley) January 15, 2020

Naturally, people are writing out new scripts for the CNN moderators:

DEM DEBATES HOST: For Former Vice President Joe Biden: How much do you love America, in your own words?

BIDEN: A whole skip of a lot buddy

HOST: Thank you. And for "Senator" "Bernard" Sanders: how much money do you plan to steal, through communism, from America's children

— dante ? (@videodante) January 15, 2020

And from the post-debate analysis, where CNN defended its "reporting" on Warren's planted story:

Naturally, the @CNN paid political analyst who insisted the Warren claim about Sanders was "reported out" and not she said/he said was @jess_mc. CNN will never tell viewers her background. But I will. Jess McIntosh was a communications director in '16 for Hillary Clinton. https://t.co/Mj6aXzMhx7

— David Shuster (@DavidShuster) January 15, 2020

With enemies like this, who needs "friends"?

Lots of Bernie fans angry at CNN, but this year its better to be disliked by the media. Voters don't like them, at all. Just the reality now.

— Chris Arnade (@Chris_arnade) January 15, 2020

"CNN Has It In for Bernie" [Jeet Heer, The Nation]. "CNN was so consistently aligned against Bernie Sanders that it compromised its claim to journalistic neutrality…. CNN's treatment of Sanders raises a major problem that he's going to have to confront going forward: Some major players in the mainstream media are clearly unafraid to cover him in a biased and one-sided manner. But this problem also has an upside: Sanders thrives under adversity, and he can use these examples of bias to fundraise and to mobilize his base. The Sanders campaign is a gamble, and one major uncertainty is whether his base is strong enough to overcome consistently negative media coverage." • And another "pillar of the regime" begins to crumble. NOTE: I believe that Sanders came out in support of a union at CNN. But I haven't been able to find the link again. Can readers help?
Impeachment
"Senators Prepare for Trump Trial That Could Run Into February" [Bloomberg]. "McConnell has said the procedures would hew closely to the initial rules set by the Senate in the impeachment trial of President Bill Clinton in 1999. That would allow votes on witnesses and documents only after both sides have presented their cases and senators have asked questions. That process alone is expected to take about two weeks, running right up against the Feb. 3 Iowa caucuses. The four Democratic senators running for president — Elizabeth Warren, Bernie Sanders, Amy Klobuchar and Michael Bennet — will be largely off the campaign trail and sitting in the trial, potentially prohibited from even using their cell phones during trial proceedings." • So this time around, the Democrat leadership has rigged the calendar in favor of Joe Biden?
Stats Watch
Real Estate: Thread:
i knew this. it's how the rents can skyrocket and the houses can just sit empty. individuals can't do that because they only have one or two spare houses. https://t.co/phXD5w5OK7

— Gravis (edited) (@gravislizard) January 14, 2020
Real Estate: "How Did Alleged Ukrainian Money Launderers Buy Up Downtown Cleveland?" [Belt Magazine]. "In May 2019, a lawsuit "alleging massive money laundering via American real estate by Ihor Kolomoisky" was filed by the Ukrainian financial institution PrivatBank. The suit claims that Kolomoisky and Ukrainian associates funnelled illegally-obtained funds into American real estate deals. During the course of this alleged money laundering, they became the largest property owners in Cleveland. They purchased, under the name Optima Ventures, five skyscrapers between 2008-2010: One Cleveland Center, 55 Public Square, Huntington Building, AECOM/Penton Media Building, and the Crowne Plaza Building. Then they let those buildings deteriorate, and sold them at a loss. (They also bought a steel mill in Warren, which has since gone out of business, its 162 workers laid off.) It's an astounding story with national implications, and features some of our favorite characters from the news, including Rudy Giuliani, Dmytro Firtash, and Igor Zelenskiy."
Manufacturing: "Boeing hasn't hit bottom yet. Neither have suppliers." [Leeham News & Analysis]. "When Boeing restarts production, it won't be turning a key and resuming rate 42/mo, which was in place when production shut down this month. Based on available information, the initial production rate will be between 10-15 MAXes per month. The return to rate 42 likely won't occur until 2021. Achieving rate 57/mo, which was the goal by the end of 2019, now likely won't occur until late 2022 at the earliest. This is one of dozens of scenarios Boeing has gamed out. It's the one that, at the moment, stands out. This, like so many other things, could change…. It will be challenging for Small suppliers to stay in business…. A slow return to full production also places [Boeing] jobs at risk…. The disruption to the airlines and lessors will be huge… Boeing's cash flow will be reduced for years to come. The 737 accounted for about 40% of Boeing's profits before it was grounded. The dramatic production decline will eat into this cash flow proportionately." • Oof.
Manufacturing: Ouch:
An Enter Air 737 MAX 8 is being ferried from Warsaw to Tel Aviv. In order to disable MCAS the aircraft is flying with flaps down which limits the speed and altitude of the aircrafthttps://t.co/HMqw14mmd6 pic.twitter.com/lu15YgRuqN

— Flightradar24 (@flightradar24) January 15, 2020
"Flaps down."
* * *
Today's Fear & Greed Index: 88 Extreme Greed (previous close: 90 Extreme Greed) [CNN]. One week ago: 92 (Extreme Greed). (0 is Extreme Fear; 100 is Extreme Greed). Last updated Jan 15 at 12:31pm.
The Biosphere
"Does Consciousness Pervade the Universe?" [Scientific American]. "Human beings have a very rich and complex experience; horses less so; mice less so again. As we move to simpler and simpler forms of life, we find simpler and simpler forms of experience. Perhaps, at some point, the light switches off, and consciousness disappears. But it's at least coherent to suppose that this continuum of consciousness fading while never quite turning off carries on into inorganic matter, with fundamental particles having almost unimaginably simple forms of experience to reflect their incredibly simple nature. That's what panpsychists believe…Consciousness, for the panpsychist, is the intrinsic nature of matter."
"Australians 'may become climate refugees' as global temperatures soar: US expert" [SBS News]. "'It is conceivable that much of Australia simply becomes too hot and dry for human habitation," Dr [Michael] Mann, who is director of the Earth System Science Center at Pennsylvania State University, told Reuters. 'In that case, yes, unfortunately, we could well see Australians join the ranks of the world's climate refugees.'" • Not, I would bet, the aboriginals.
"Ashes to Ashes" [Grist]. "The view from above is dramatic, but the two Altamaha Riverkeeper employees are more interested in the thick black sludge darkening the ground below. Once coal becomes ash, Georgia Power mixes it with water and stores it in ponds collectively large enough to hold roughly 4,700 Olympic-sized swimming pools of contents. But whereas in a pool, the cement barrier keeps water from spilling out, no protective lining exists between the waste and the land underneath." • Oy.
"Nutria: The Invasive Rodents of Unusual Size" [LiveScience]. "Nutria, also known as coypu or swamp rats, are large rodents that live in areas with lots of freshwater…. Nutria have a voracious appetite for wetland plants and will chow down an entire plant… [N]utria aren't considered picky eaters as they're often caught eating crops such as rice, sugarcane and corn.., Nutria are now considered one of the most ecologically harmful invasive species on the planet…. Nutria eat about 25% of their body weight each day in plants and their roots, wreaking havoc on the native ecosystem. Because the animals eat the entire plant, the vegetation are less likely to grow back…" • First feral hogs, now this. Though on the bright side, I thought the headline implied that new, giant-sized nutria had appeared, but it seems nutria have always been of unusual size. Phew!
Health Care
"How the Health Insurance Industry (and I) Invented the 'Choice' Talking Point" [Wendell Potter, New York Times]. "There's a dangerous talking point being repeated in the Democratic primary for president that could affect the survival of millions of people, and the finances of even more. This is partly my fault. When the candidates discuss health care, you're bound to hear some of them talk about consumer 'choice.' If the nation adopts systemic health reform, this idea goes, it would restrict the ability of Americans to choose their plans or doctors, or have a say in their care. It's a good little talking point, in that it makes the idea of changing the current system sound scary and limiting. The problem? It's a P.R. concoction. And right now, somewhere in their plush corporate offices, some health care industry executives are probably beside themselves with glee, drinking a toast to their public relations triumph. I should know: I was one of them." • Potter should really have mentioned the lobbying muscle (and money) of P4AHCF — that's what moved the needle on "choice" (beyond the usual liberal Democrat cravenness and faith in the magic of the marketplace).
Class Warfare
"FedEx mounts big-money push to head off unionization by US workers" [Guardian]. "The Guardian obtained recordings of meetings that were mandatory and required workers to sign in, according to a FedEx employee, held at FedEx facilities in 2015 and 2016, where managers and union avoidance consultants lectured workers on unions as the Teamsters was attempting to organize FedEx drivers at several locations around the United States. 'It's time to campaign. If you don't want this third party coming in putting a wall between us, it's time. Because when you campaign and tell them you don't want them here, eventually it becomes loud and clear to them. You can do that,' said a FedEx human resources manager in a July 2016 captive audience meeting."
"The Crippling Effect of Incarceration on Wealth" [Prison Policy Initiative]. "Once an individual is incarcerated, they often lose what little wealth they have and are left with little to no wealth accumulation. Once released, that individual may make gains in wealth accumulation, but they will always remain at significantly lower levels of wealth compared to those who are never incarcerated in their lifetime…. White men that never experience incarceration will accumulate the most wealth compared to Black and Hispanic men regardless of incarceration status. At the other end of the spectrum, Black men that are incarcerated at some point in their lifetime accumulate less wealth compared to all other groups regardless of incarceration status. Later in life, this disparity endures. As the survey respondents got older, white men who experienced incarceration reported higher levels of wealth compared to Black men who had never experienced incarceration."
"Another Timothy Geithner Scandal" [CEPR]. "Tim Geithner might have left his job as Treasury Secretary seven years ago, but his legacy lives on. The Wall Street Journal reported that the financial firm Morningstar had reached a settlement with the SEC over marketing it had done for firms whose bonds it had rated. SEC rules prohibit rating agencies from doing promotional work for firms whose bonds it rates. This is done to prevent the obvious conflict of interest, that it may give better ratings as part of a promotional effort…. This was one of the problems that led to the run-up in the housing bubble, the collapse of which caused the Great Recession. [Franken's] amendment [to Dodd-Frank] would [have required] issuers to contact the SEC, who would then select the rating agency. This would eliminate the incentive to give good ratings to attract more business. The Franken amendment passed with bipartisan support, getting 65 votes in the Senate. Unfortunately, as he discusses in his autobiography, Tim Geithner arranged to have the amendment killed in the conference committee. Ensuring that the corrupt system we had in the housing bubble years was left in place." • No scandals in the Obama years, no siree!
News of the Wired
"Why the game of Life used to have poverty, suicide, and ruin" [Vox]. "Bradley's morals were deeply embedded in the original game of Life in other ways, too. Unlike later versions, the original game didn't have money — it relied instead on points on squares to calculate the winner. The goal wasn't a fat retirement fund, but rather 'happy old age.' Those who achieved it did so through industrious living (and by playing the game prudently). An early brochure for the game claimed that "it is only by constant and renewed exertion that lost ground can be regained." And victory was obtained by being appropriate — not by gaining cash. That meant players had to run the risk of landing on depressing squares, like suicide, that showed the consequences of playing Life (and living life) the wrong way. If you hit the suicide square, you were thrown out of the game. 'Milton Bradley envisioned happy old age as the goal of the game of Life,' Snyder says. 'It was much more moral in its original interpretation.'" • I wonder if the old vesion exists anywhere, so it could be played.
"You will be helped! Research using real-world situations fails to replicate the 'bystander effect'" [Boing Boing]. Genuinely good news:
For decades, the "bystander effect" (previously) has been a bedrock of received psychological wisdom: "individuals are less likely to offer help to a victim when other people are present; the greater the number of bystanders, the less likely it is that one of them will help."

Some experiments seem to have borne this out, though these experiments were, of necessity, contrived: "it is ethically and practically difficult to simulate violent emergencies."

Now, an international team of psych researchers have created an empirical account of the bystander effect that punctures the received wisdom, finding that in 9 out of 10 times, bystanders do step up to help; and the more bystanders there are, the greater the likelihood is that you will receive help.

The researchers used police CCTV video footage of "conflict between at least two individuals" and analyzed whether bystanders intervened to help. The footage came from central districts Cape Town, Amsterdam, and Lancaster, providing data on cities with very different public perceptions of the likelihood and severity of violent crime.

The researchers concluded that not only did one or more people intervene in 90% of conflicts, but also that the likelihood of intervention went up with the number of bystanders present.
I guess we have to raze the psychology departments along with the macro-economics departments?
* * *
Readers, feel free to contact me at lambert [UNDERSCORE] strether [DOT] corrente [AT] yahoo [DOT] com, with (a) links, and even better (b) sources I should curate regularly, (c) how to send me a check if you are allergic to PayPal, and (d) to find out how to send me images of plants. Vegetables are fine! Fungi and coral are deemed to be honorary plants! If you want your handle to appear as a credit, please place it at the start of your mail in parentheses: (thus). Otherwise, I will anonymize by using your initials. See the previous Water Cooler (with plant) here. Today's plant (LR):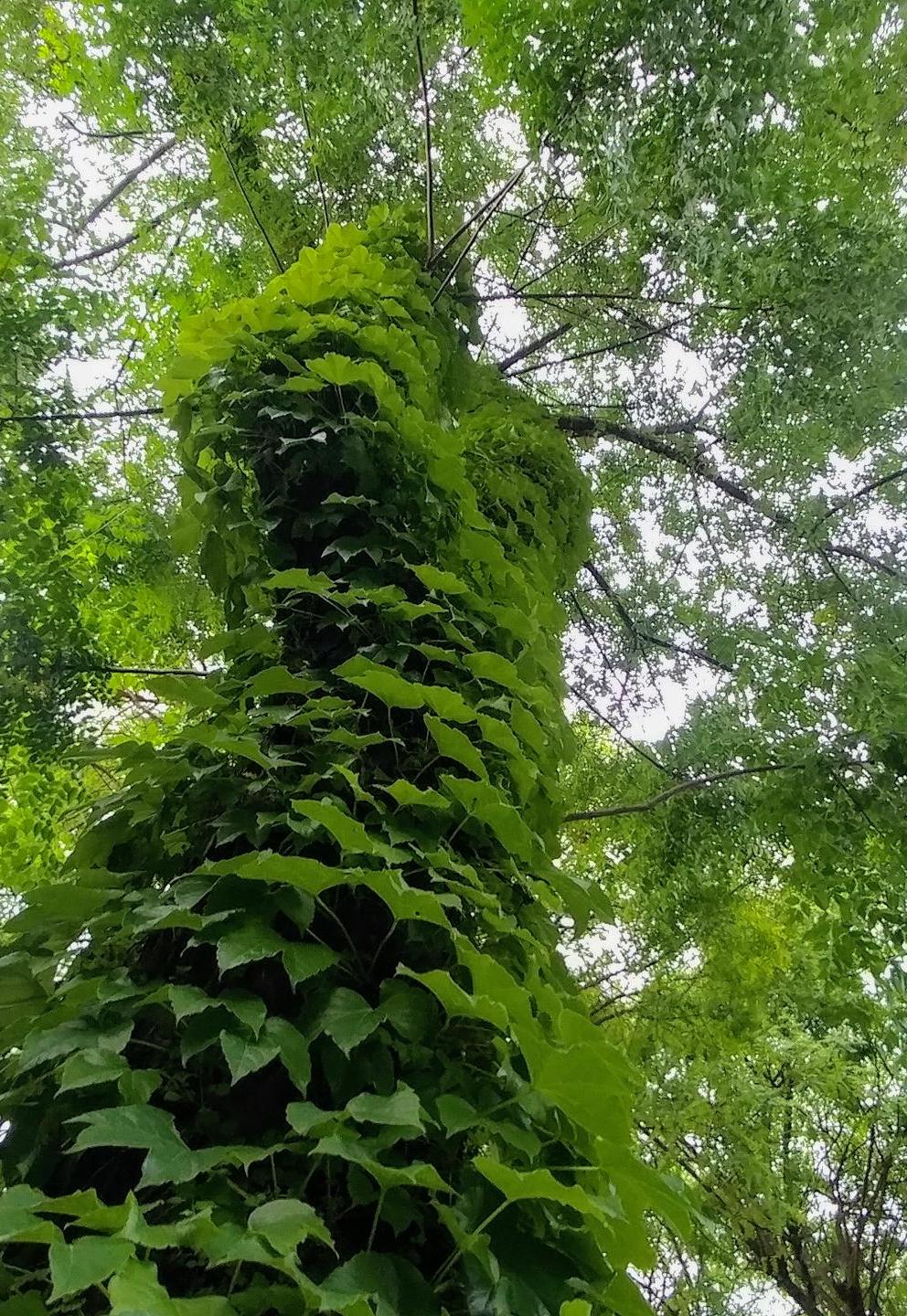 LR writes: "Backlit Ivy covers a tree trunk." Indeed! Backlighting is hard…
* * *
Readers: Water Cooler is a standalone entity not covered by the annual NC fundraiser. So if you see a link you especially like, or an item you wouldn't see anywhere else, please do not hesitate to express your appreciation in tangible form. Remember, a tip jar is for tipping! Regular positive feedback both makes me feel good and lets me know I'm on the right track with coverage. When I get no donations for five or ten days I get worried. More tangibly, a constant trickle of donations helps me with expenses, and I factor in that trickle when setting fundraising goals:
Here is the screen that will appear, which I have helpfully annotated.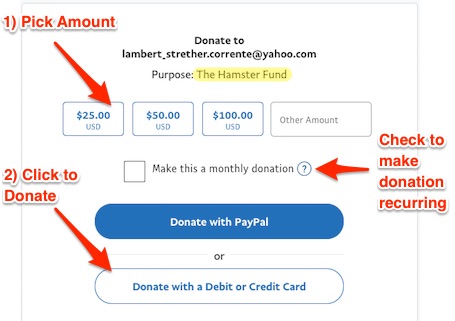 If you hate PayPal, you can email me at lambert [UNDERSCORE] strether [DOT] corrente [AT] yahoo [DOT] com, and I will give you directions on how to send a check. Thank you!