By Lambert Strether of Corrente.
Patient readers, I accumulated a lot of stuff over the weekend that I didn't get to use yesterday. I'm going to do politics, first, then fill in the other buckets. –lambert strether UPDATE All done!
Trade
"The Trade War, Paused for Now, Is Still Wreaking Damage" [New York Times]. "Two years of tit-for-tat tariffs and on-again-off-again trade talks have left American farmers reeling. The manufacturing sector is in a recession, albeit a relatively mild one, and factory employment declined in December after rising slowly for most of last year. And in recent months, there have been signs that the damage is spreading: Railroads and trucking companies have been cutting jobs, and consumers — at least in the parts of the country most affected by the trade disputes — may be pulling back as well."
Politics
"But what is government itself, but the greatest of all reflections on human nature?" –James Madison, Federalist 51
"They had one weapon left and both knew it: treachery." –Frank Herbert, Dune
Here is a second counter for the Iowa Caucus, which is obviously just around the corner:
* * *
2020
Alert reader dk (not to be confused with DK) is in the process of developing the following interactive chart.

We have a lot of polls today, as of 1/24/2020, 12:00 PM EST. Today we have national polls from Emerson and Ipsos. It looks like it's now a two-person race between Biden and Sanders, with Warren trailing badly, followed by Buttigeig, with Bloomberg still closing on Buttigieg, which is interesting or concerning. Of course, these are national polls, about to be massively thrown into confusion by IA, NH, SC, and NV — and then CA. I stopped using three-day averages because, this close to the first balloting, day to day fluctuations are important:

And the numbers:

I thought I'd post another "small multiples." It's curious how the changes in the numbers are slow, even glacial. I've helpfully added arrows to show who's going down and who's going uo. Hard, again, to think that this is what the DNC gamed out:

Summary: The Biden juggernaut rolls on, but Sanders is closing. Warren is in trouble (meaning her smear of Sanders did not work). Needless to say — though of course IA, NH, SC, and MV are each different — this is a good place for Sanders to be. It's hard to believe this was the DNC's desired result.

CAVEAT I think we have to track the polls because so much of the horse-race coverage is generated by them; and at least with these charts we're insulating ourselves against getting excited about any one poll. That said, we should remember that the polling in 2016, as it turned out, was more about narrative than about sampling, and that this year is, if anything, even more so. In fact, one is entitled to ask, with the latest Buttigieg boomlet (bubble? (bezzle?)) which came first: The narrative, or the poll? One hears of push polling, to be sure, but not of collective push polling by herding pollsters. We should also worry about state polls with very small sample sizes and big gaps in coverage. And that's before we get to the issues with cellphones (as well as whether voters in very small, very early states game their answers). So we are indeed following a horse-race, but the horses don't stay in their lanes, some of the horses are not in it to win but to interfere with the others, the track is very muddy, and the mud has splattered our binoculars, such that it's very hard to see what's going on from the stands. Also, the track owners are crooked and the stewards are on the take. Everything's fine.

I think dk has started a really neat project, and in the near future we'll seek your feedback (within reason) for the tool "live."

* * *

Biden (D)(1): "Law School Memes for Edgy T14s Endorses Joseph 'Sloppy Joe' Biden" [Medium]. "Joe Biden is what every law student strives to be: a lawyer who has moved seamlessly from the practice to the creation of law while escaping consequences, failing upwards, and showing no particular talent for legal work."

Biden (D)(2): "Joe Biden's Checkered Ethical History Is Fair Game for Criticism" [Jacobin]. "It's not a coincidence that the right flank of the party started finger-wagging about divisiveness, incivility, and disunity precisely when the left flank began to seriously threaten its dominance. As the left wing gains momentum, the party establishment's tolerance for legitimate criticism wears thinner, and the range of topics considered off-limits or below-the-belt expands. New behavioral norms have appeared out of thin air: suddenly political criticisms of opponents, no matter how legitimate by traditional standards, are a bridge too far, and are even alleged to help Donald Trump. At least, if the criticisms are flying from left to right." • But hippie-punching is always good.

UPDATE Bloomberg (D)(1): "Michael Bloomberg Hits Quarter-Billion Mark in Campaign Spending" [Bloomberg]. "Bloomberg's presidential campaign has spent $209.3 million on broadcast television time, $13.7 million on cable, $1.1 million on radio and $27.2 million on digital, according to data from Advertising Analytics, which tracks political ad spending. The former New York mayor has spent $116 million more than fellow billionaire Tom Steyer, who is also relying on his personal fortune to fund his campaign. Bernie Sanders, the next biggest spender among Democrats, has purchased $26.8 million of media…. Unlike his Democratic rivals, Bloomberg is focused on states holding their nominating contests later in the year. He's spent $12.8 million in Los Angeles and $12.5 million in New York City, and has made seven-figure purchases of air time in other markets in California as well as in Texas, Illinois and Florida."

Buttigieg (D)(1): "Pete Buttigieg is missing support from another key Democratic group: Unions" [Los Angeles Times]. "Buttigieg has embraced a policy platform that aggressively favors organized labor, but no unions so far have endorsed his bid to win the Democratic nomination for president… Over the last week, the 120,000-member International Assn. of Bridge, Structural, Ornamental and Reinforcing Iron Workers Union endorsed Biden, and the University Professional and Technical Employees union, which represents more than 16,000 University of California employees, endorsed Sanders, who has collected the most union endorsements thus far."

Klobuchar (D)(1): Weird:

Klobuchar is a big supporter of Minnesota's Ukrainian nationalist community & went to the Donbas front lines for photo-ops with Ukrainian nationalist fighters & pols. Curious if any reporter has looked into her local Ukr support networkhttps://t.co/l0qXXUdhs7

— Mark Ames (@MarkAmesExiled) January 22, 2020

Sanders (D)(1): "S. Carolina elected official now backing Sanders over Biden" [Associated Press]. "A South Carolina elected official who endorsed Joe Biden last month is switching her allegiance to Bernie Sanders in the state's first-in-the-South presidential primary, saying she had viewed the former vice president — whose support in the state is considered deep — as 'a compromise choice.' Dalhi Myers told The Associated Press on Wednesday that she was making the change in part because she values what she sees as Sanders' strength in being able to go toe-to-toe with President Donald Trump in the general election. 'I looked at that, and I thought, 'He's right," said Myers, a black woman first elected to the Richland County Council in 2016. '. … I like the fact that he is willing to fight for a better America — for the least, the fallen, the left behind.'" • Another strong point for Rovian assault… .

UPDATE Sanders (D)(2): Amother endorsement…

"I think I'll probably vote for Bernie… He's been insanely consistent his entire life. He's basically been saying the same thing, been for the same thing his whole life. And that in and of itself is a very powerful structure to operate from." -Joe Rogan pic.twitter.com/fuQP0KwGGI

— Bernie Sanders (@BernieSanders) January 23, 2020

Some people are losing their minds about this, but my view is that if Sanders can go before the New York Times Editorial Board seeking an endorsement, than Joe Rogan is comparatively inoffensive.

Sanders (D)(3): Those can destroy a thing….

National @7News / Emerson College Poll:

Will you support the Democratic nominee even if it is not your candidate?

72% yes
13% no
15% depends on nominee

Broken down by candidate's supporters:https://t.co/e8BNMNZ0tb pic.twitter.com/86jDR7B2l9

— Emerson College Polling (@EmersonPolling) January 24, 2020

UPDATE Sanders (D)(4): "Sanders tells supporters to cool it — but they don't always listen" [Karen Tumulty, WaPo]. So, is it a cult, or isn't it? And: "'This is a moment for our campaign to show we are capable of uniting not just our base, but the broader Democratic Party and country — and healing a nation that is deeply divided,' sad Rep. Ro Khanna (D-Calif.), a national co-chair of the Sanders campaign. Khanna drew parallels to the test Barack Obama faced in 2008 when revelations about racially charged sermons by his pastor, Jeremiah Wright, threatened to derail his campaign. Obama rose to the occasion with a unifying call and by showing leadership, Khanna said, and Sanders has similarly met the moment 'by making it clear that everyone in this movement has to live up to his values and standards.'" • This is a horrible example. What Obama did was throw Wright under the bus — the minister of a church he'd attended for years. Wright knew it, too, and wasn't having it.

Sanders (D)(5): "'Guillotine the rich': Sanders staffer says he's ready for armed 'revolution'" [Washington Times]. "Project Veritas has apparently snared another pro-Soviet, pro-gulag Bernie Sanders campaign staffer, this one saying in a hidden-camera video released Tuesday that he was ready to 'get armed' for the 'revolution' and musing about sending Republicans to 'reeducation camps." The footage featured a man identified as 'paid' South Carolina field organizer Martin Weissgerber was posted a week after the release of video featuring radical Iowa field organizer Kyle Jurek, part of the undercover journalism outfit's #Expose2020 series. In the video, Mr. Weissgerber described himself as a communist and said that he was in contact with groups that planned to hold mass 'yellow-vest' protests like those that have roiled France if Mr. Sanders loses." • Big talk from Weissgerber! The Sanders campaign called the cops on O'Keefe (who has a history of faked videos). But this is where the campaign is headed. The Sanders field office called the cops on O'Keefe (as opposed to cowering in fear, as with the infamous ACORN episode).

UPDATE Sanders (D)(6): "Obama feels Sanders is unfit to battle Trump – and he has told people he might say so publicly" [FOX]. "People close to Obama point out that he has always said that he will support the Democratic nominee, whoever that may be. They also point out that Obama's opinion of Warren has softened since November, and he is said to be growing comfortable with endorsing her fully if she should win the nomination. But, these people add, he has recently grown even more wary of Sanders as the Vermont senator appears to be gaining momentum in polls and the Democratic primaries begin to heat up with the Iowa caucuses and the New Hampshire primary both in February…. Obama is weighing a more forceful rebuke of Sanders." • Rebuke?!?!?! That's a very heavy word in the Beltway.

Sanders (D)(7): So I guess the flap about Teachout's Guardian piece didn't come to much:

In high school, I was the New Hampshire state cross-country champion and state track champion.

I'm heading to New Hampshire to door-knock for Bernie next weekend. Planning on doing some more winning. pic.twitter.com/YxFXXPiUWH

— Zephyr Teachout (@ZephyrTeachout) January 24, 2020

Sanders (D)(8): "Watchdog files FEC complaint against pro-Sanders nonprofit" [Associated Press] (the complaint). "The campaign finance act says groups established by federal officeholders or candidates cannot raise money for federal electoral activity that exceeds the limitations of the law. Those contributions are currently set at $2,800 for candidates and $5,000 for political action committees…. Our Revolution has taken in nearly $1 million from donors whose contributions exceeded those limits and whose identities it hasn't fully disclosed, according to tax filings for 2016, 2017 and 2018. Much of it came from donors who contributed six-figure sums… National Nurses United for Patient Protection, a super PAC that supported Sanders' 2016 run, disclosed that it donated $300,000 to Our Revolution. Sixteen Thirty Fund, a nonprofit group that allows donors to anonymously funnel large contributions to progressive and liberal causes, was the source of a $100,000 contribution in 2017." • One million over three years?

UPDATE Sanders (D)(9): "Those Mittens Bernie Sanders Wears Campaigning Are Made in Vermont

[Seven Days]. "Sen. Bernie Sanders (I-Vt.) is known for his frumpy and unkempt attire. His latest sartorial choice, mittens he wore during the Women's March on Saturday in Portsmouth, N.H., certainly made an impression. The oversize mittens, called "oven mitts" by some, went viral online and soon had their own @BerniesMittens Twitter account. "Feeling the BERN not the BURN," the account's profile reads. Jen Ellis, a teacher from Essex Junction, made the mittens and gave them to Sanders. She used repurposed wool from sweaters and lined them with fleece. She generally sells mittens at craft fairs or gives them to friends. Sanders' daughter-in-law, Liza Driscoll, runs Ellis' daughter's daycare, so one holiday season, Ellis made mittens for all the teachers — plus Bernie."

Warren (D)(1): "Moment Iowa dad gets into a heated row with Elizabeth Warren over her student loan forgiveness plan, telling the candidate people who have already paid for their kids' tuition will be getting 'screwed'" [Daliy Mail]. "'My daughter is in school, I saved all my money just to pay student loans, can I have my money back?' the man says to Warren. The senator from Massachusetts replies: 'Of course not.'" • I've raised this issue before, to, IIRC, some scoffing. I donl't know what the numbers would be if we rolled back all student payments, however. You can also hear Trump making this argument, so it has to be dealt with. (I suppose Luke 15:11-32 applies, but it's a heavy lift.)

UPDATE Warren (D)(2): "Warren built a vaunted Iowa team early. Now she's counting on it for a comeback." [McClatchy]. "Her team isn't the largest in the state, yet even rival campaigns privately herald its early scale, intensity and deep community connections. A band [of] 150 staffers spread out over 26 offices have served as the steady, trusted oar for a campaign that's experienced its fair share of turbulence over the last year. Now, less than two weeks from the lead-off Iowa caucuses, Warren's vaunted political machinery is under pressure to prove it can help engineer an Iowa comeback — especially with the candidate stuck in Washington for the Senate's impeachment trial of President Donald Trump. Capitalizing on thousands of one-on-one conversations and relationships with undecided and persuadable caucus-goers — accounting for about 60 percent of the state's electorate in the latest Des Moines Register/CNN poll — will be vital in determining an outcome that most Iowa Democrats anticipate will be razor close. And no major candidate has been doing it longer — or is more dependent on it ⁠— than Warren. 'The biggest advantage I think they have is familiarity, because they've been here the longest,' said Peter Leo, the Carroll County Democratic Party chairman who has endorsed Warren. 'They've just built a lot of goodwill with people.' 'The Warren staffer is always around. Whenever we have an event or a county party meeting, he's there,' Leo added, referring to the Warren campaign's local county staffer. 'Whenever I need to talk to him, he's in the office. He's just ubiquitous.'" • Dash of cold water for premature Sanders triumphalism.

UPDATE Warren (D)(3): "Elizabeth Warren Promises Half Her Cabinet Will Be Women" [HuffPo]. "Massachusetts Sen. Elizabeth Warren on Tuesday promised to appoint women or nonbinary people to at least half of the top positions in the executive branch if she wins the presidency. The pledge comes as Warren, one of the three leading 2020 Democratic candidates in national polling, is seeking to consolidate and rally female voters ahead of crucial early primaries in Iowa and New Hampshire." • So Warren pivots to identity politics — building on her smear of Bernie as sexist. I don't see how this brings in new voters.

UPDATE Warren (D)(4): "The Elizabeth Warren News Cycle Has Pushed Bernie Sanders Supporters Even Closer To His Campaign" [Buzzfeed]. • That's obvious. The real issue is whether Warren managed to place a ceiling on Sander's support. My guess: PMC women, possibly. Working class women: Absolutely not.

* * *

UPDATE Bloomberg/Steyer 2020!

Source: https://t.co/lrnlKOTz2g pic.twitter.com/j3pXbMLPjA

— Robert Reich (@RBReich) January 22, 2020

NV: "Amid hacking fears, Nevada Democrats to use app for caucus results" [Reno Gazette-Journal]. "Nevada is one of two early caucus states to use new mobile apps to report caucus results amid heightened worries about election hacking. The Silver State will be joining Iowa in using mobile apps to gather results from thousands of caucus sites. The decision to use the apps was made to increase transparency and help run the caucuses more smoothly, said Shelby Wiltz, director of the Nevada State Democratic Party Caucus, on Monday." • Lol. More: "Party officials said that they worked closely with the Democratic National Committee and security experts while picking and vetting the app vendor that was chosen." • That's re-assuring! More: "The party is moving ahead with the technology amid warnings that foreign hackers could target the 2020 presidential campaign to try to sow chaos and undermine American democracy." • FFS, it's not foreign hackers we need to worry about! (See the introductory paragraph here.)
Impeachment
"Adam Schiff: 'Because right matters. And the truth matters. Otherwise, we are lost.'" [Press Watch]. • Full text of Adam Schiff's closing remarks.

"Democrats launch last bid to break Trump's impeachment firewall" [Politico]. "Throughout their testimony, the impeachment managers emphasized holes in the full Ukraine story that could only be filled by specific documents that they know exist but that Trump has withheld from Congress. They include correspondence, like former U.S. envoy to Ukraine Bill Taylor's cable to Secretary of State Mike Pompeo worrying about the hold on military aid. They also include the notes kept by Trump's former national security aide Fiona Hill and contacts between Trump's personal lawyer Rudy Giuliani and senior members of the State Department and White House." • Three years of "This time we've got him!" and now, with these documents, "This time we'll really get him!"

* * *

"Impeachment Super Bowl: Trump 2, Dems 0" [The American Conservative]. "Embedded in this impeachment inquiry are hawkish assumptions about the absolute necessity of engaging in proxy wars with Russia far from the United States' borders that I cannot endorse regardless of Moscow's election interference and other misdeeds. 'The U.S. aids Ukraine and its people so they can fight Russia over there and we don't have to fight them here,' insists Representative Adam Schiff, a California Democrat who is among the impeachment managers. This is a bad parody of neoconservatism circa 2003… Anti-Trump prosecutors also repeatedly make assertions that American foreign policy is set by unelected bureaucrats and professionals apart from the elected branches of government, including the president to whom they are constitutionally subordinate." • It's not possible to parody the neo-cons, of 2003 or any other time. Wierd to see the Democrats decided that Ukraine is the hill to die on, after three years of daily RussiaRussiaRussia.

"'Take her out': Recording appears to capture Trump at private dinner saying he wants Ukraine ambassador fired" [ABC]. • I know this is dumb, but was a point when I gave up on Benghazi because there were too many names and not enough narrative. I think, with "Marie Yovanovitch," we've reached that point with impeachment, or whatever this is. If we're not going to die on the Ukraine hill, we're going to die on the "Presidents can't fire ambassadors" hill? OK, OK, show me your yarn diagram….
Realignment and Legitimacy
"How a stronger anti-war movement rallied to stop a march to war with Iran" [Politico]. "As headlines began flashing earlier this month that the United States had killed a top Iranian general, the leaders of a new think tank [Quincy Institute for Responsible Statecraft] quickly realized that this was their moment…. Funded in part by the unusual pairing of liberal financier George Soros and conservative tycoon Charles Koch, the institute is inspired by the famous quote from John Quincy Adams – that America "goes not abroad in search of monsters to destroy" – and it seeks to inject that point of view directly into the bloodstream of media outlets that more often privilege the voices of a narrow set of Washington hawks." • Strange that Politico leads with that, though it does go on to mention other NGOs like MoveOn and Win Without War.

"Inside the secret Twitter rooms where Debra Messing, Don Cheadle, and the rest of the celebrity #Resistance organizes" [Vox]. • Progessive "influencers"…
Stats Watch
Manufacturing: "Coronavirus fears hit world markets – as face mask makers see windfall" [Sky News]. "China Eastern Airlines lost 2.9% but Shanghai Dragon Medical, which makes medical disposable and healthcare products, and Tianjin Teda, a conglomerate whose products include medicines, were both up by 10%."
* * *
Today's Fear & Greed Index: 64 Greed (previous close: 68 Greed) [CNN]. One week ago: 89 (Extreme Greed). (0 is Extreme Fear; 100 is Extreme Greed). Last updated Jan 24 at 12:39pm. Big swing down!
The Biosphere
"DNA from child burials reveals 'profoundly different' human landscape in ancient Africa" [Los Angeles Times]. "Central Africa is too hot and humid for ancient DNA to survive—or so researchers thought. But now the bones of four children buried thousands of years ago in a rock shelter in the grasslands of Cameroon have yielded enough DNA for scientists to analyze. It's the first ancient DNA from humans in the region…. The discovery underscores the diversity of African groups that inhabited the continent before the Bantus began to herd livestock in the grassy highlands of western Central Africa. The Bantus made pottery and forged iron, and their burgeoning populations rapidly displaced hunter-gatherers across Africa. Analyzing DNA from a time before this expansion offers 'a glimpse of a human landscape that is profoundly different than today,' [population geneticist David Reich of Harvard University] says."
"There's been a huge spike in one of the world's most potent greenhouse gases" [MIT Technology]. "Levels of a gas that is 12,400 more damaging than carbon dioxide in terms of its planet-heating properties are higher than ever. HFC-23 was believed to have been almost completely eliminated after India and China reported they had reduced emissions to almost zero in 2017. In fact, a year later emissions were at an all-time high of 15,900 tons, equivalent to the annual CO2 output from about 50 coal-fired power plants, according to a paper published today in Nature Communications. Where is it from? HFC-23 is used to manufacture fridges and air conditioners, and is vented to the atmosphere during the production of HCFC-22, another chemical used in cooling systems in developing countries. Researchers at the University of Bristol used gas detection data from five Advanced Global Atmospheric Gases Experiment (AGAGE) stations, captured between 2007 and 2018. The researchers didn't attempt to identify the source of the emissions, but the Environmental Investigation Agency, an NGO that monitors environmental crimes, said China is likely to have played a major role since it holds 68% of the capacity for the production of HCFC-22."
The Carceral State
"Another inmate found dead inside understaffed Mississippi prison" [CBS News]. "An inmate was found hanging inside his cell in an apparent suicide at the Mississippi State Penitentiary at Parchman on Wednesday, authorities said. This is the eighth death at the troubled facility following a wave of violence last month….. The apparent suicide comes a day after two other inmates were found beaten to death inside their cells at Parchman. They were identified as Timothy Hudspeth and James Talley. A total of 10 inmates have died in state prisons since December." • Yikes.
Guillotine Watch
"Globalists Gone Wild" [Politico]. "The Davos-Alfalfa pairing serves as a kind of unofficial launch of what is now a yearlong season of corporate and political networking among a certain set of the world's most influential people. Davos is by far the largest and most celebrated of these conclaves. But there are others that are more intimate and more exclusive…. It is an odd choice in a way. After a week of nonstop panels and interviews and receptions and handshakes and air kisses, days and nights that blur into one with typically too much drink and too little sleep, you would think even titans of technology, finance, and politics might want to throw on sweatpants and flop on the couch at home with a cup of herbal tea. And perhaps these modern moguls do want that. But there is something they plainly want more: confidence that if other important people are gathering somewhere they will not be left out and missing potentially valuable action."
Class Warfare
"Martha Nussbaum Thinks the So-Called Retreat of Liberalism Is an Academic Fad" [LiveScience]. "Evolution and natural selection take place at the level of DNA, as genes mutate and genetic traits either stick around or are lost over time. But now, scientists think evolution may take place on a whole other scale — passed down not through genes, but through molecules stuck to their surfaces. These molecules, known as methyl groups, alter the structure of DNA and can turn genes on and off. The alterations are known as 'epigenetic modifications,' meaning they appear 'above' or 'on top of' the genome. Many organisms, including humans, have DNA dotted with methyl groups, but creatures like fruit flies and roundworms lost the required genes to do so over evolutionary time." • Paging Lamarck….
"How Women Are Training to Do Their Own Abortions" [Vice]. "Shortly after Donald Trump won the presidency in 2016, the reproductive justice group Reproaction decided to start hosting gatherings to teach people about self-managed abortion. So far, Reproaction has hosted 21 meetings across Arkansas, Missouri, Ohio, Texas, Virginia, and Washington, D.C. — including the one in Columbia — where activists tell attendees about a regimen recommended by the World Health Organization. That protocol details how a drug called misoprostol can induce an at-home abortion, right down to the number of doses you would need to take and when."
"It's been 3 months since the New Orleans Hard Rock Hotel collapse. The bodies of those killed are still there" [CNN]. "It's been more than three months since the Hard Rock Hotel construction site collapsed in New Orleans. The crumbled building sticks out as an eyesore on the edge of the city's historic French Quarter as Mardi Gras celebrations approach. But what's even more horrific is that the bodies of two workers killed in the collapse have still not been recovered. The victims are 63-year-old Jose Ponce Arreola and 36-year-old Quinnyon Wimberly."
News of the Wired
"In 'Agency,' William Gibson Builds A Bomb That Doesn't Boom (And That's OK)" [NPR]. "His conflicts are intellectual, occasionally solved by the swift application of overwhelming violence, but more often seeing victory come as the natural result of more intelligent systems processes; through more effective usage of human capital and resources. And the good guys win simply because they are smarter and geekier and just so much cooler than the bad guys could ever hope to be." • There's that word: "Smart." I'll have a review the next time I'm posting long-form.
"Struggling to be a Stoic Problem Solver?" [Medium]. "Building on the Socratic questioning techniques, there's one interesting piece of research that might help give us insight. Igor Grossmann, of the University of Waterloo, carried out experiments about problem-solving. The name of the study was… Exploring Solomon's Paradox. For those that don't know: King Solomon is the biblical figure known to give wise counsel. But, apparently, his own life was a bit of a shambles! What he could dish out to others, he seemed unable to apply to his own life. Taking that as context, Grossmann formed the hypothesis for his experiment. Grossmann wanted to test if people were wiser when they solved other peoples' dilemmas rather than their own. He also checked to see whether viewing our problems, as if we were looking down on ourselves in the third person, would give better answers — rather than trying to solve it from an ego-centric perspective. He found this was indeed the case…. [P]sychological distancing can lead us to make better decisions and solve issues more quickly and wisely."
* * *
Readers, feel free to contact me at lambert [UNDERSCORE] strether [DOT] corrente [AT] yahoo [DOT] com, with (a) links, and even better (b) sources I should curate regularly, (c) how to send me a check if you are allergic to PayPal, and (d) to find out how to send me images of plants. Vegetables are fine! Fungi and coral are deemed to be honorary plants! If you want your handle to appear as a credit, please place it at the start of your mail in parentheses: (thus). Otherwise, I will anonymize by using your initials. See the previous Water Cooler (with plant) here. Today's plant (BR):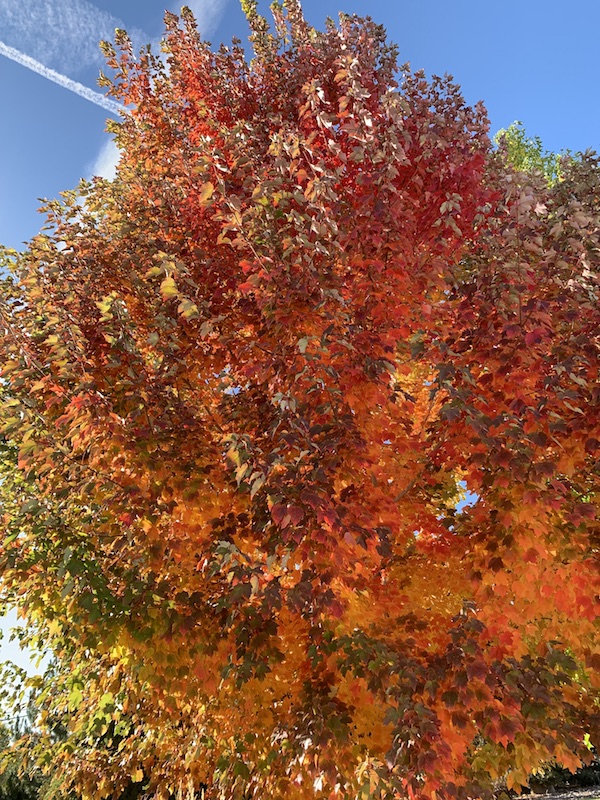 BR writes: "This tree is in our backyard in Reno, and is always beautiful in the fall but the colors this year are especially vivid. Unfortunately, I don't know the name of the tree." A little break from the January monochrome.
* * *
Readers: Water Cooler is a standalone entity not covered by the annual NC fundraiser. So if you see a link you especially like, or an item you wouldn't see anywhere else, please do not hesitate to express your appreciation in tangible form. Remember, a tip jar is for tipping! Regular positive feedback both makes me feel good and lets me know I'm on the right track with coverage. When I get no donations for five or ten days I get worried. More tangibly, a constant trickle of donations helps me with expenses, and I factor in that trickle when setting fundraising goals:
Here is the screen that will appear, which I have helpfully annotated.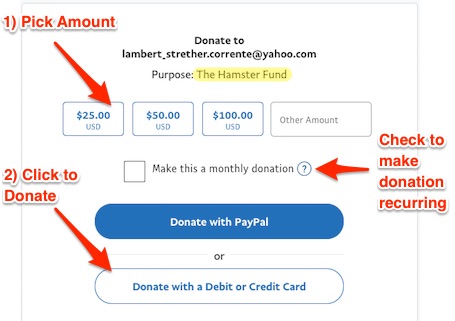 If you hate PayPal, you can email me at lambert [UNDERSCORE] strether [DOT] corrente [AT] yahoo [DOT] com, and I will give you directions on how to send a check. Thank you!