By Lambert Strether of Corrente.
Any aware person who's been following United States elections since, oh, the year 2000 should have a chronic, low-grade worry about the legitimacy of the election results. I'm not talking about gerrymandering, or voter roll "purges," or ballot gaming, or discriminatory voter ID requirements, or even the electoral college, but rather that, for any given voter, it is not necessarily certain the ballot as cast is ballot as counted. The United States has a rich history of election fraud, and it has nothing whatever to do with "meddling" by foreigners; we can steal elections all on our own, right here. (See the Presidential elections of 2000 (Florida) and 2004 (Ohio); the Democrat Texas Caucus in 2008[1]; the Democrat 2016 California primary; and doubtless other examples that readers will suggest. Note that the list just given is bipartisan, as are presumably the election fraudsters[2] responsible). In this post I will do two things: Bring us all up to date on the continuing "ballot marking devices" (BMD) debacle — because BMDs make election fraud undetectable — and raise the issue of what will happen if a the 2020 election result is challenged on the ground of foreign interference; Adam Schiff's recent tweet on that topic, posted in Links today, chilled my blood, and it's why I thought to write this post today.
The State of Play for Ballot Marking Devices
As my first step, I thought I'd try to get a handle on where digital devices, including BMDs, where being used; surely there would be a map! This proved surprisingly difficult. The best map I could find was Ronald Rivest in 2018: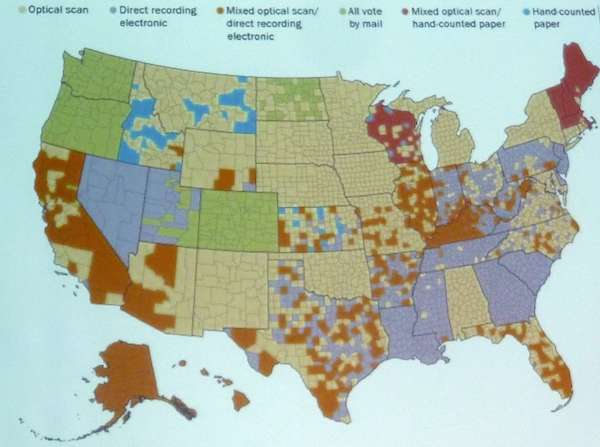 This map goes down to the county level; however, voting technology decisions can vary by municipality. The map, although it gives a sense of the variety of voting systems employed across the country (there's your neoliberal "choice," right there) is also obsolete; being from 2018, it misses the surge in BMDs. Here, from Verified Voting, is a putative map of the prevalence of BMDs: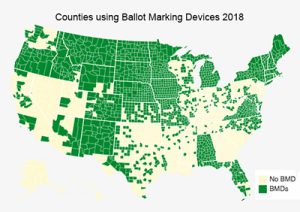 Verified Voting also gives a putative list of states that use BMDs, conforming to the map:
States Using BMDs Statewide

Alabama, Connecticut, District of Colombia, Iowa, Maine, Maryland, Massachusetts, Michigan, Minnesota, Montana, Nebraska, New Hampshire, New Mexico, New York, North Dakota, Oregon, Rhode Island, South Dakota, Vermont, and Virginia.

States Using BMDs in Some Counties

Arizona, Arkansas, California, Colorado, Florida, Idaho, Illinois, Indiana, Kansas, Kentucky, Mississippi, Missouri, Nevada, North Carolina, Ohio, Pennsylvania, Tennessee, Texas, Utah, Washington, West Virginia, Wisconsin, and Wyoming.
Unfortunately, the map and the list are wrong. The very first state in the "BMDs Statewide" category is Alabama. BallotPedia says Alabama (as of 2018) uses paper ballots. Here is a sample paper ballot for the 2020 election from the Alabama Secretary of State, so that's still going on. Mobile and Baldwin Counties are using BMDs[3], but that's not "statewide." This is unfortunate, since Verified Voting's data is replicated in a lot of places.[3]
So I guess we have to fall back on prose. The Washington Post says that "at least 18 percent of the country's districts will use as their default voting machines in November." Jennifer Cohn, "How New Voting Machines Could Hack Our Democracy":
[M]any analysts have cautioned against acquiring these new ballot-marking machines for universal use, but election officials in at least 250 jurisdictions across the country have ignored their advice. Georgia (all one hundred and fifty-nine counties), South Carolina (all forty-six counties), and Delaware (all three counties) have already chosen these systems for statewide use in 2020. At least one or more counties in the following additional states have done the same: Pennsylvania (for the most populous county, plus at least four more), Wisconsin (for Waukesha, Kenosha, Chippewa and perhaps more), Ohio (for the most populous county and others), Tennessee (for at least ten counties), North Carolina (for the most populous county), West Virginia (for the most populous county and at least one other), Texas (for at least Dallas and Travis counties), Kentucky (for the most populous county), Arkansas (at least four counties), Indiana (for the most populous county and at least eight others), Kansas (for the first and second most populous counties), California (again, for the most populous county), Montana (at least one county, though not until 2022), and Colorado (for early voting). New York state has certified (that is, voted to allow) one such system as well.
Note that BMDs are most likely to be used in the "most populous" counties. This is extremely important, since BMDs are inherently insecure, that is to say inherently permit election fraud[4]. Again from the Washington Post:
New voting machines that hundreds of districts will use for the first time in 2020 don't have enough safeguards against hacking by Russia and other U.S. adversaries, according to a study out this morning from researchers at the University of Michigan.

The study marks the first major independent review of the machines called ballot-marking devices… The results are a major blow for voting machine companies and election officials, who have touted BMDs as a secure option in the wake of Russia's 2016 efforts [heh] to compromise U.S. election infrastructure.

"The implication of our study is that

(Does anybody think 2020 could be close?) The security issues with BMDs are inherent to their architecture, i.e. unfixable. In our review of the Los Angeles County VSAP BMD system, we presented the following diagram:

The key point is that in the BMD system you get a paper receipt to take home with you, but that receipt is not the ballot (i.e, what is tabulated). The ballot is a bar- or QR-code, on the same paper, that cannot be read by you. A hacker, therefore, could hack the QR code, and you would never know. As Jennifer Cohn writes:

Another concern is that almost all new BMDs place a large barcode or matrix-style QR code above the human readable text on the summary card. The barcode, which humans can't of course read, is the only part of the ballot counted as their vote. According to election-security expert Richard DeMillo, a professor of computer science at Georgia Tech, "malevolent actors could manipulate the barcodes to do various things, such as instructing the scanners to flip votes, and voters would have no idea." As Professor Jones lamented (in an email to me):

We have a longstanding habit in the United States of adopting voting systems for use in the polling place without any real studies of how well they work. We only learn about human-factors failings after the machines are deployed and widely used… We followed exactly [this] pattern with the move to touchscreen voting systems, we followed it again with the move to voter-verified paper trail add-on equipment for touchscreen machines, and we are following it again with ballot-marking device technology.

It's unsurprising, therefore, that the Los Angeles VSAP rollout is turning into a debacle. From the LAist, "LA's New Voting System Is Still Uncertified. Why Election Security Experts Are Worried":

The state has yet to sign off on the new technology — and it's coming down to the wire: In-person voting begins in six weeks, on Feb. 22.

Certification testing has uncovered:

Dozens of critical user interface and security problems, according to recent published reports and conversations with experts.
.

Testers could also access and alter electronic records and get into physical ballot boxes — all without detection.

Holy moly! Kinda makes you wonder how the Democrat primary is gonna go on March 3.

Who Resolves a Charge of Foreign Interference?

And now to Adam Schiff's chilling tweet:

"The President's misconduct cannot be decided at the ballot box, for we cannot be assured that the vote will be fairly won," lead impeachment manager Rep. Adam Schiff says during his opening statement at the Senate impeachment trial. https://t.co/14mXcvjVzh pic.twitter.com/F2OZhLYx7v

— CNN Newsroom (@CNNnewsroom) January 22, 2020

Let's try to work through a scenario where Schiff's dream comes true. As we've shown above, 18% of the voters, disproportionately in populous counties, will be using BMDs, which are "extremely unsafe", "especially in close elections." Suppose Trump wins the electoral college, but it's close, as was 2016. Suppose the Democrats have some statisticians primed (as they do lawyers). Some counties are proclaimed to have anomalous results; charges of "election fraud" and "Russian meddling" (or Iranian meddling, or Chinese meddling, or Venezuelan meddling) at once pervade the press. What to do?

We will have exit polls; but there are two. They're also not that accurate:

The history of exit poll failures is well-documented, even if the slip-ups aren't that frequent. If the exit polls in 2004 were accurate, John Kerry would have been elected president. And exit poll data suggested Hillary Clinton would defeat Donald Trump in 2016.

(Or else they are, since 2004 was sketchy, and if you believe RussiaGate, 2016 as well.) To whom should be turn for an authoritative answer? I would suggest the organs of state security. From DHS website:

We recognize the fundamental link between the trust in election infrastructure and the confidence the American public places in basic democratic function. A secure and resilient electoral process is a vital national interest and one of our highest priorities at the Department of Homeland Security.

DHS relies on auditing the ballots after the vote (in principle only, so far). From the Hill:

The Department of Homeland Security's (DHS) cybersecurity agency announced Thursday it would partner with election officials and private sector groups to develop an election auditing tool that can be used to help ensure the accuracy of votes in 2020.

According to CISA, Arlo conducts an audit of votes by selecting how many ballots and which ballots to audit and comparing the audited votes to the original count.

The tool has already been used to conduct post-election audits across the country, including during the recent 2019 elections. Election officials in Pennsylvania, Michigan, Virginia, Ohio and Georgia have signed on to partner with CISA on Arlo, with more officials expected to join.

Krebs added that "At a time when we know foreign actors are attempting to interfere and cast doubt on our democratic processes, it's incredibly important elections are secure, resilient, and transparent."

Use of post-election audits have been widely recommended by experts as a major step to secure elections, particularly in the wake of attempted Russian interference in 2016.

(If history is any guide, it's domestic actors we need to worry about!) Unfortunately, BMDs are not auditable[5]. From Philip N. Stark, the inventor of "risk-limiting audits, "Ballot-marking devices (BMDs) are not secure election technology"

BMDs do not provide voters a way to demonstrate to pollworkers or election officials that a BMD has malfunctioned, and the available evidence suggests that voters are not able to check BMDs effectively or reliably, as I shall explain. This makes auditing elections that were conducted primarily using BMDs meaningless: an audit could easily confirm an incorrect outcome, because a BMD-generated paper trail is not a trustworthy record of voter intent.

So what's left? Forensic analysis of the voting machines, I would say. And if you want to know how that will go, think back to the Clinton servers: There was no chain of custody for the digital evidence, and a party-connected Beltway vendor was used.

So, summarizing the scenario: In the case of a challenged election that turns on precincts using BMDs, we could trust the exit polls, but they may disagree. So far as I can tell, the only authority to turn to would be the DHS — which presents issues for the Constitutional order in and of itself — who have not yet done a forensic audit, and in any case cannot audit BMDs, because that can't be done. I would imagine IT experts could be hired to dig into the code on the machines, but it's likely those experts would be party-adjacent and not especially competent. We could, of course, appeal to the Supreme Court, but on what basis would a decision be made, given that the actual intent of the voters with BMDs is fundamentally not knowable? (Bush v. Gore, let us remember, took place when Florida had paper ballots. Not BMDs.)

I really can't see my way to a scenario with a happy outcome, though I'd welcome a successful reader effort to relieve my angst.

Of course, with hand-marked paper ballots, hand-counted in public, no such problems arise. That would break a lot of rice bowls, though.

NOTES

[1] This episode is now erased history due to link rot, but affidavits from Texas caucus-goers were collected, which I have seen and read. The film-maker Gigi Gaston interviewed them for her film, the ironically titled "We Will Not Be Silenced 2008," still available on YouTube.

[2] This would also imply, for all forms of balloting but especially digital, that there are consultants and/or precinct workers who have the skills to commit election fraud, for money or conviction or both. And most of them are probably smart enough, and low-profile enough, not to go up in small planes. We should regard these cadres as a normal feature of our electoral system as presently constituted. Where there is a phishing equilibrium, there will be phishers.

[3] More on Verified Voting: "Two influential board members of the prominent election security watchdog group Verified Voting resigned their positions late last year over the BMD dispute, accusing the organization of glossing over concerns about the systems' security issues."

[4] A cynic would say that is the BMD's unique selling proposition.

[5] That might not mean the DHS doesn't seize the moment and make a power grab. The intelligence community has not been noticeably reticent about self-aggrandizement, and election certification, de jure or de facto, would certainly be a feather in their caps.