By Lambert Strether of Corrente.
Trade
"Businesses from car manufacturing to airlines are bracing for a growing impact from the coronavirus outbreak on their China operations. The virus's spread has disrupted some automotive production in China…. raising the potential for a broader industrial impact as Lunar New Year seasonal shutdowns are extended to keep people from traveling" [Wall Street Journal]. "Global businesses are scaling back operations as Beijing tries to control an outbreak that has now infected more people than severe acute respiratory syndrome did nearly two decades ago. The locked-down city of Wuhan at the center of the outbreak is a major car manufacturing hub, contributing some 6% of China's overall output, and hosts factories including joint ventures between Chinese and major foreign auto makers."
"Coronavirus could mean more U.S. jobs. Wilbur Ross goes there." [NBC]. "'Well, first of all, every American's heart has to go out to the victims of the coronavirus. So, I don't want to talk about a victory lap over a very unfortunate, very malignant disease,' Ross told Fox Business Network on Thursday. 'But the fact is, it does give businesses yet another thing to consider when they go through their review of their supply chain."
Politics
"But what is government itself, but the greatest of all reflections on human nature?" –James Madison, Federalist 51
"They had one weapon left and both knew it: treachery." –Frank Herbert, Dune
Here is a second counter for the Iowa Caucus, which is obviously just around the corner:
* * *
2020
Alert reader dk (not to be confused with DK) is in the process of developing the following interactive chart.

We have two national polls, Ipsos and IBC/TIPP, as of 1/31/2020, 12:00 PM EST. Biden and Sanders are the pick of the litter, trailed by Warren and, horridly, Bloomberg, as in the polls we saw yesterday, has lapped Buttigieg and Klobuchar. Of course, these are national polls, about to be massively thrown into confusion by IA, NH, SC, and NV — and then CA. I returned to one day average — just call me Nate — because FL wasn't throwing things off:

And the numbers:

Now IA:

Look at Klobuchar go! IA numbers:

Summary: The Biden juggernaut rolls on, but Sanders has pulled even. Warren is in trouble (meaning her smear of Sanders did not work). Bloomberg is buying his way in.

CAVEAT I think we have to track the polls because so much of the horse-race coverage is generated by them; and at least with these charts we're insulating ourselves against getting excited about any one poll. That said, we should remember that the polling in 2016, as it turned out, was more about narrative than about sampling, and that this year is, if anything, even more so. In fact, one is entitled to ask, with the latest I boomlet (bubble? (bezzle?)) which came first: The narrative, or the poll? One hears of push polling, to be sure, but not of collective push polling by herding pollsters. We should also worry about state polls with very small sample sizes and big gaps in coverage. And that's before we get to the issues with cellphones (as well as whether voters in very small, very early states game their answers). So we are indeed following a horse-race, but the horses don't stay in their lanes, some of the horses are not in it to win but to interfere with the others, the track is very muddy, and the mud has splattered our binoculars, such that it's very hard to see what's going on from the stands. Also, the track owners are crooked and the stewards are on the take. Everything's fine.

* * *

Bloomberg (D)(1): "A sideshow no more: Michael Bloomberg's fast ascent unnerves rivals" [Los Angeles Times]. "The Bloomberg campaign is scaling up at an unprecedented pace. It has 1,000 staffers working from dozens of offices — many signed to contracts running through November. In El Paso on Thursday night, Bloomberg launched the opening of another of what will be 17 Texas offices. Among the dignitaries on hand to greet him was hometown favorite Beto O'Rourke, the former congressman who dropped out of the presidential race weeks before Bloomberg plunged in as a very late entrant. 'I like that he is here,' O'Rourke said during a brief interview. 'I strongly believe we have a chance to deliver the [state's] 38 electoral college votes to the Democratic nominee. But it won't happen of its own accord. It's going to take a massive level of organizing and a significant investment.' 'The fact that he's willing to do that … bodes very, very well for the state, and may bode well for his candidacy.'" • Oh, Beto. Bloomberg makes your calves cramp?

Bloomberg (D)(2): "Bloomberg's Moment May Arrive" [Charlie Cook, Cook Political Report]. "If you were going to conjure up a scenario for Bloomberg, it relates not to who Democrats want, but what Democrats want—and what they fear. The one common goal of Democrats this year is to unseat President Trump. Evicting Trump is more important to most Democrats than who actually moves in. About 60 percent of the Democratic Party just wants to hit the reset back to a pre-Trump status quo, while about 40 percent see Trump's defeat not as an end but as the beginning of 'fundamental change.' This latter group is made up of a hybrid of progressivism and populism. It is not the conventional liberalism of Ted Kennedy, Walter Mondale, Michael Dukakis, and John Kerry. It has more than a touch of Huey Long: The little guy and gal are getting screwed by the rich and the powerful in every day and in every way. We need to fundamentally change, this group believes, the way our political process works and reorder capitalism to level the playing field. With that in mind, let's note that while the progressive wing has not consolidated behind Sanders, he is the one with the mojo in this race, running a pretty strong second place behind Biden in national polling. If Sanders comes out of the gate like gangbusters in the first two states, which then weakens Biden in Nevada and South Carolina, that opens up a breach for Bloomberg to step into. What's more, the pros tell us that competing in the 14 states holding primaries on Super Tuesday, including California and Texas, will cost a minimum of $100 million. Sanders, whose fundraising has gone better than any of the other major contenders in February states, might be able to raise enough to spend that. Biden, whose strength has never been raising money, sure can't. Bloomberg can." • Sanders might not only get to run against "the billionaire class," but against an actual billionaire.

UPDATE Buttigieg (D)(1):

New Buttigieg donor appeal attacks the IE effort for Sanders by @sunrisemvmt @CPDAction et al pic.twitter.com/AhL2T5GSmK

— Dave Weigel (@daveweigel) January 31, 2020

I don't think calling the Sunrise Movement an "outside group" (i.e., dark money) is very smart, and I would bet Iowa voters pay attention to this sort of thing. See also the thread.

Delaney (D)(1): "John Delaney Is 2020's Latest Also-Ran" [FiveThirtyEight]. "In his announcement to withdraw, Delaney said that his decision rested on "internal analyses" that suggested he would not meet the viability threshold — typically 15 percent — at most caucus sites, but that he might get just enough support to keep other more moderate Democrats from reaching that mark."

Klobuchar (D)(1): "'Moderates Don't Excite Us.' Amy Klobuchar Struggles To Win Over Young Voters" [Time]. "While the three-term Minnesota Senator is modestly popular with middle-aged Americans—she polls at 6% among people ages 50 to 64, according to a December Quinnipiac poll—she's not even on the board among voters under 30. She is polling at zero percent among those under 35, and at 1% among the entire 35 to 49 set." •

Sanders (D)(1): "Bernie Sanders Releases His Disability Policy Plan Ahead of Iowa Caucuses" [Time]. "While disability rights advocates have expressed some support for many of the other Democratic candidates' proposals — particularly Massachusetts Sen. Elizabeth Warren's, which was released earlier this month — Sanders' plan is the most ambitious. His proposed policy, which opens by declaring that "disability rights are civil rights," is wide-ranging and covers issues including health care, employment, Social Security, education, environmental justice, housing, immigration, incarceration, technology and voting." • On-brand, however.

Sanders (D)(2): "Sanders under increasing pressure on funding for 'Medicare for All'" [The Hill]. "Sanders's Democratic rivals are ramping up their attacks on him as he surges to the top of polls in early voting states like Iowa and New Hampshire. The criticisms are focused on the Vermont senator's lack of explanation over the funding mechanism for a health care proposal that is estimated to cost $32 trillion over 10 years." • That's not the same as "pressure"…

Sanders (D)(3): "Take Two: Can Sanders Broaden His Base?" [Sabato's Crystal Ball]. A look back at 2016: "in 2016, Sanders never had a realistic chance of winning the party's nomination. Two basic stumbling blocks stood in his way: superdelegates and the South. The former, which comprised 15% of the convention delegates, went virtually en masse for Clinton, as she was a part of the Democratic establishment in a way that Sanders never was or could be. And with Clinton's firm grip on the minority vote, the Vermont senator was never able to penetrate the South. He lost 12 of 13 primaries across the region (all save Oklahoma), polling barely one third of its aggregate primary vote in the process. Sanders' problem garnering the votes of African Americans and Hispanics extended to other regions of the country as well, helping Clinton to dominate the vote in many of the nation's leading urban centers and their suburbs. The result: In the 10 states with 15 or more electoral votes, Sanders could carry the primary in only one, and that, Michigan, was by less than 20,000 votes out of 1.2 million cast."

Sanders (D)(4): "Democratic Elites Take On Bernie At Their Own Peril" [Patrick Buchanan, The American Conservative]. "If, however, Bernie's last chance at the nomination is aborted by an establishment piling on, party super PACs running attack ads against him, and major media taking time out from trashing Trump to break Sanders, the Democratic Party will have the devil's time of it bringing Bernie's backers home in the fall. Bernie's believers might just conclude that the real obstacle to their dream of remaking America is neither the radical right nor Donald Trump, but the elites within their own party."

Trump (R)(1): "RNC will flood battleground states with staffers to boost Trump" [Politico]. "The Republican National Committee on Thursday approved plans to dispatch an additional 300 field staffers to 18 target states in this fall's general election, a move that comes as the Trump political machine ramps up its presence in battlegrounds across the country. The deployment was confirmed by a party official briefed on the plans. With the new wave, the committee will have over 600 staffers spread out across the nation. Party officials, who noted they had already knocked on a million doors, said the canvassers would be promoting GOP candidates up and down the ballot."

* * *

IA: "The Iowa Caucuses Are In 4 Days. Almost Anything Could Still Happen." [Nate Silver, FiveThirtyEight]. "Take a look at what polls said a few days before previous Iowa caucuses and you'll find they were sometimes much less correlated with the results than you might assume. Instead, there was often late movement, election night surprises, or both. Out of 11 races, we have only three cases (the 2016 and 2000 Democratic caucuses and the 2008 Republican caucuses) where the polls at this point were more or less spot on. And two of those three cases were in races where there were essentially just two candidates, which are sometimes easier to predict. Every other race featured some kind of late polling movement or election night surprise involving the top three candidates. The trick is that … there doesn't seem to be much of a pattern in which candidates surge and which ones don't." • Don't count your chickens before they are hatched!

IA: "Just How Unrepresentative Are the Iowa Caucuses?" [JSTOR]. "Perceptions of Iowa's unrepresentativeness usually boil down to its racial diversity, or lack thereof. … But this isn't the only way to think about representativeness. Political scientists Michael S. Lewis-Beck and Peverill Squire ask about the extent to which "the social, economic, and political characteristics of Iowa describe those of the nation itself." … Theirs is a "descriptive representation," taking 51 indicators of "social, cultural, economic, political, and policy activities in each of the 50 states." Their indicators include such expected factors as race, age, education, income, and rates of employment and unemployment. But they also factor in such variables as depressive episodes, seat belt usage, health care access, beer consumption, energy consumption, median tuition at state schools, traffic fatalities, wine consumption, and "vanity license plate penetration rate" (the latter data was evidently complied by the American Association of Motor Vehicle Administrators)…. Their conclusion is that, economically, "Iowa is unambiguously the most representative state in the country." However, overall, the state is twelfth on their state representativeness score chart."
Impeachment
"OnPolitics: Is today the day impeachment ends?" [USA Today]. • No. Like RussiaRussiaRussia, it's never gonna end.

"'Lock them up!'" [The Week]. "When Trump loses his presidential immunity to indictment, "Lock her up" will not be forgotten. Prosecutors in multiple jurisdictions — city, state, and federal — will be salivating over the rich smorgasbord of potential crimes. Several Democratic presidential candidates have indicated the Trump team merits investigation, with Sen. Elizabeth Warren promising to create a special federal task force for that purpose. If Trump is re-elected, on the other hand, he'll escalate his demands for prosecutions of intelligence officials, Democrats on his long and growing enemies list, and former aides who've turned into "rats." Back in 2008, many legal scholars and politicians from both parties argued that prosecuting people from the previous administration is un-American — something that "banana republics" do. How quickly we've devolved."

* * *

"Murkowski to vote against calling witnesses in impeachment trial" [Politico]. "Sen. Lisa Murkowski will not support hearing from new witnesses, essentially ensuring the vote fails on the Senate floor this afternoon. The decision by a key swing vote will likely absolve Chief Justice John Roberts from having to decide whether to break a tie."

"GOP Sen. Murkowski says she will vote against witnesses, calls impeachment articles 'rushed and flawed'" [NBC News]. Murkowski: ""The House chose to send articles of impeachment that are rushed and flawed. I carefully considered the need for additional witnesses and documents, to cure the shortcomings of its process, but ultimately decided that I will vote against considering motions to subpoena. Given the partisan nature of this impeachment from the very beginning and throughout, I have come to the conclusion that there will be no fair trial in the Senate. I don't believe the continuation of this process will change anything. It is sad for me to admit that, as an institution, the Congress has failed."
Realignment and Legitimacy
"Nomiki Konst: A Democratic Party Power Play" [R.J. Eskow, YouTube].

The selection of Tom Perez was even more nauseating than we knew at the time. Well worth a listen.

"FBI breach notice rules lauded by states, but some want more" [FCW]. "Under a recent policy change, the FBI will notify states if local election systems are hacked, but some state officials and lawmakers want the feds to commit to informing a broader range of stakeholders…. The FBI's new policy does not include notifying members of Congress or the public when a system is breached, though bureau and DOJ officials told reporters last week they might to do so in extenuating circumstances."
Stats Watch
Shipping: "United Parcel Service Inc.'s close work with Amazon.com Inc. is working out very well for the package carrier. The package giant's shipping volume and operating profit jumped sharply in the fourth quarter… as UPS gets cozier than ever with the largest online retailer in the U.S. while rival FedEx Corp. focuses on retailers competing with the e-commerce behemoth" [Wall Street Journal]. "UPS Chief Executive David Abney says Amazon now makes up 11.6% of the company's annual revenue, but that other major retailers all are shipping more with the carrier." • That will work for UPS until it doesn't.
The Bezzle: "Here Are the Most Common Airbnb Scams Worldwide" [Vice]. "The stories quickly started to fall into easily discernible categories. Scammers all over the world, it seems, have figured how best to game the Airbnb platform: by engaging in bait and switches; charging guests for fake damages; persuading people to pay outside the Airbnb app; and, when all else fails, engaging in clumsy or threatening demands for five-star reviews to hide the evidence of what they've done. (Or, in some cases, a combination of several of these scams.) In the aggregate, these emails paint a portrait of a platform whose creators are fundamentally unable to track what goes on within it, and point to easily exploitable loopholes that scammers have steamed their way through by the truckload." • Thank you, Silicon Valley.
Supply Chain: "How the Coronavirus Can Infect Global Supply Chains" [Bloomberg]. "China is the world's largest exporter of intermediate manufactured products — components destined for use in supply chains across the world. About 20% of global imports of those products came from China in 2015, according to Bloomberg Economics' calculations based on OECD trade data. The longer the coronavirus curtails China's industrial output, the bigger the risk of disruption to factories elsewhere. For countries in the Asian supply chain, the exposure is bigger — about 40% of all imports of intermediate manufactured products consumed in Cambodia, Vietnam, South Korea and Japan came from China in 2015."
* * *
Today's Fear & Greed Index: 46 Greed (previous close: 58 Neutral) [CNN]. One week ago: 62 (Greed). (0 is Extreme Fear; 100 is Extreme Greed). Last updated Jan 31 at 12:18pm.
The Biosphere
"They survived fire and toxic fumes. So what happened next to Notre Dame's bees?" [Guardian (DG)]. "The bees of Notre Dame, whose escape from the inferno seemed almost miraculous, are thriving and conserving their energy ready to produce honey this summer, just as they have every year since they took up residence on the sacristy roof in 2013. Nearly 10 months after the Paris cathedral was ravaged by fire, the three colonies are healthier than ever, according to their beekeeper." • Honey has medicinal properties, but I don't think viral properties, though any beekeepers in the commentariat may enlighten us otherwise.
"Can the Dutch save the world from the danger of rising sea levels?" [Financial Times]. "As sea levels rise ever faster this century, more places on earth will flood. Coastal cities, such as New York, Shanghai, Miami and Jakarta, and river deltas, in Bangladesh and Vietnam, face a battle to survive.  Can the Dutch — with their centuries of experience fighting the water — save the planet? Can they even save themselves? Or will our children have to abandon some of the world's most densely populated places?" •¨This is a must-read. (It wan't paywalled for me, but you can always blow away your FT cookies, Google the headline, and get to it that way.) I appreciate the engineering and institutional focus.
"Germany Looks for Flight Shame Cure in Jet Fuel Made From Water" [Bloomberg]. "The solution to flight shaming may hinge on a modernized version of a synthetic jet fuel that was honed by Adolf Hitler's Luftwaffe. German scientists and business leaders are working to create what they hope will be the first viable market for a carbon-neutral version of the kerosene that already powers most modern aircraft. The science is still based on chemical reactions pioneered in Germany in 1925, but instead of converting coal and other fossil fuels like the oil-starved Nazis did during World War II, green kerosene is derived from water and actually pulls carbon dioxide out of the air during creation. The process, which requires huge amounts of electricity generated from renewable resources to ensure carbon neutrality, fractures water into oxygen and hydrogen, which is then combined with carbon."
Water
"People In 43 US Cities Are Drinking Toxic "Forever Chemicals" In Their Tap Water, Tests Show" [Buzzfeed]. "Dozens of cities nationwide — including Miami, Philadelphia, and New Orleans — have toxic 'forever chemicals' in their drinking water, an environmental group reported on Wednesday. Such long-lived 'fluorinated' PFAS chemicals (short for per- and polyfluoroalkyl substances) have emerged in the last decade as a wider pollution concern because of some evidence of links to cancer and lowered fertility… Earlier surveys have linked water contamination with these chemicals to firefighting foams and Teflon, but the new independent lab results, which detected PFAS chemicals in 43 of 44 cities tested last year, point to a more widespread problem."
"California will be hit hard as Trump administration weakens clean water protections" [Los Angeles Times]. "Defying environmentalists and public health advocates, the Trump administration on Thursday announced the replacement of Obama-era water protections with a significantly weaker set of regulations that lifts limits on how much pollution can be dumped into small streams and wetlands. The changes to the Clean Water Act's protections are expected to hit California and other Western states especially hard. Federal data suggest 81% of streams in the Southwest would lose long-held protections, including tributaries to major waterways that millions of people rely on for drinking water."
Health Care
"Coronavirus outbreak: what's next?" [Nature]. "In the best case, fewer people will be infected because the effects of the control measures will start kicking in, says Ben Cowling, an epidemiologist at the University of Hong Kong. But it's too early to tell whether efforts to quarantine people, and the widespread use of face masks, are working. The incubation period for the virus — up to 14 days — is longer than most control measures have been in place, he says. In a worst-case scenario, some 190,000 people could be infected in Wuhan, according to another prediction model. Scientists are particularly concerned about fresh outbreaks emerging outside China. The virus has already spread in small, localized clusters in Vietnam, Japan, Germany and the United States, but authorities have been quick to isolate the people affected. Fewer than 100 cases have been recorded outside China as of 30 January…. One big question is whether the coronavirus is also here to stay. If efforts to contain it fail, there's a high chance that it will become endemic."
"No evidence saline gargle will kill novel coronavirus, says DOH" [GMA News]. From the Philippines: "Saline gargles or gargling with water and salt will provide no protection against or cure for the 2019 novel coronavirus acute respiratory disease (2019-nCoV ARD). A tip to gargle with salt water to prevent infection with the nCoV has been circulating online. 'I don't think there is any evidence that it will kill a virus,' DOH Spokesperson Undersecretary Eric Domingo said in a press conference." • I dunno. I think it makes sense to protect the mucous membranes at all costs. Maybe gargle with honey? I have done that with (purely anecdotal) success…
"Delta, American, and United just suspended all China flights, a red flag as the unprecedented coronavirus wreaks havoc on the airline industry" [Business Insider]. "The temporary halting of China flights across the airline industry reflects plummeting demand as people and businesses rethink travel to China amid the coronavirus outbreak." • Also making it more difficult for scientists and subject matter experts to come to China's aid.
* * *
Best practices:
At CVS, a form for staff members to report errors asks whether the patient is a "media threat." CVS said in a statement it wouldn't provide details on what it called its "escalation process." pic.twitter.com/GnD3cHcHaE

— Ellen Gabler (@egabler) January 31, 2020
Sports Desk
"Concussions Linked With Erectile Dysfunction in Football Player Study" [JAMA]. n=3409. "A recent JAMA Neurology study found that the more concussion symptoms former National Football League (NFL) players had during their careers, the more likely they were to have been prescribed medication for low testosterone levels or erectile dysfunction (ED) later in life. Knowing that head injuries may cause sexual dysfunction could help more men and their physicians overcome the stigma of ED and talk about treatment." • Or move the country away from contact sports?
Department of Feline Felicity
Lovely long requiem. Thread:
Let me tell you about my cat. He was born somewhere around New Florence PA, a barn cat, or at the very least a cardboard-box-on-a-porch-by-a-barn cat. He was the runt of his litter and nobody wanted him. They were going to let him wander off into the woods if we hadn't taken him. pic.twitter.com/g67zGWk075

— Down Here For Your Soul (@bombsfall) January 18, 2020
Class Warfare
"Why do so many US workers fall to their deaths?" [Guardian]. "The Bureau of Labor Statistics (BLS) reported 5,147 workplace fatalities in the US in 2017. Among these fatalities, 887 were due to fatal falls, the highest level reported in the 26-year history of the Census of Fatal Occupational Injuries. There are two different categories for fatal falls: falls on the same level, such as slips or trips, and falls to a lower level. Both increased in 2017, with the majority, 713 fatalities, a result of workers falling to a lower level. … The US consistently outpaces other industrialized nations in workplace fatalities. Among the industries where workers are falling to their death, tower climbers have experienced fatality rates up to 10 times higher than construction workers." • Hmm. 5G rollout?
News of the Wired
Maybe I have never been sufficiently mature to appreciate Ernie Bushmiller:
Nancy dreaming of a dream, of a dream, of a dream… pic.twitter.com/5ldfQ1aAGt

— Nancy Comics by Ernie Bushmiller (@JohnnyCallicutt) January 31, 2020
Tomorrow: Nancy's interior monologues!
* * *
Readers, feel free to contact me at lambert [UNDERSCORE] strether [DOT] corrente [AT] yahoo [DOT] com, with (a) links, and even better (b) sources I should curate regularly, (c) how to send me a check if you are allergic to PayPal, and (d) to find out how to send me images of plants. Vegetables are fine! Fungi and coral are deemed to be honorary plants! If you want your handle to appear as a credit, please place it at the start of your mail in parentheses: (thus). Otherwise, I will anonymize by using your initials. See the previous Water Cooler (with plant) here. Today's plant (CR):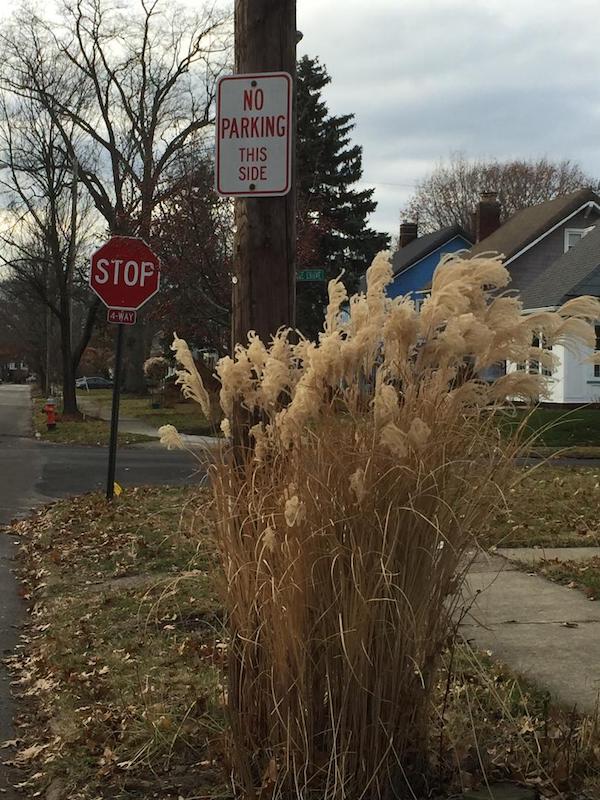 CR writes: "Boxing Day, NE Ohio, 60 deg. F." So American, this shot. I don't think it could be taken in any other country, not even Canada. Also, that plant wasn't really challenged very much by the winter, was it?
* * *
Readers
: Water Cooler is a standalone entity
not
covered by the annual NC fundraiser. So if you see a link you especially like, or an item you wouldn't see anywhere else, please do not hesitate to express your appreciation in tangible form. Remember, a tip jar is for tipping!
Regular positive feedback both makes me feel good and lets me know I'm on the right track with coverage
. When I get no donations for five or ten days I get worried. More tangibly, a constant trickle of donations helps me with expenses, and I factor in that trickle when setting fundraising goals:
Here is the screen that will appear, which I have helpfully annotated.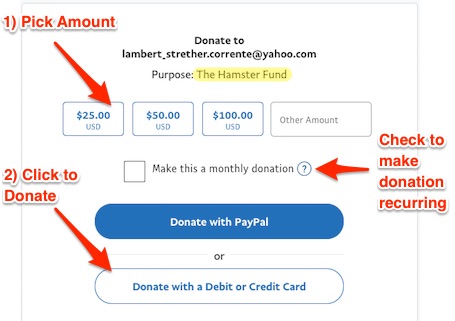 If you hate PayPal, you can email me at lambert [UNDERSCORE] strether [DOT] corrente [AT] yahoo [DOT] com, and I will give you directions on how to send a check. Thank you!