By Lambert Strether of Corrente.
Trade
"Businesses from car manufacturing to airlines are bracing for a growing impact from the coronavirus outbreak on their China operations. The virus's spread has disrupted some automotive production in China…. raising the potential for a broader industrial impact as Lunar New Year seasonal shutdowns are extended to keep people from traveling" [Wall Street Journal]. "Global businesses are scaling back operations as Beijing tries to control an outbreak that has now infected more people than severe acute respiratory syndrome did nearly two decades ago. The locked-down city of Wuhan at the center of the outbreak is a major car manufacturing hub, contributing some 6% of China's overall output, and hosts factories including joint ventures between Chinese and major foreign auto makers."
"Coronavirus could mean more U.S. jobs. Wilbur Ross goes there." [NBC]. "'Well, first of all, every American's heart has to go out to the victims of the coronavirus. So, I don't want to talk about a victory lap over a very unfortunate, very malignant disease,' Ross told Fox Business Network on Thursday. 'But the fact is, it does give businesses yet another thing to consider when they go through their review of their supply chain."
Politics
"But what is government itself, but the greatest of all reflections on human nature?" –James Madison, Federalist 51
"They had one weapon left and both knew it: treachery." –Frank Herbert, Dune
Here is a second counter for the Iowa Caucus, which is obviously just around the corner:
* * *
2020
Alert reader dk (not to be confused with DK) is in the process of developing the following interactive chart.

We have new national YouGove as of 1/28/2020, 12:00 PM EST. Biden and Sanders are the pick of the litter, trailed by Warren and, horridly, Bloomberg, who has lapped Buttigieg and Klobuchar. Of course, these are national polls, about to be massively thrown into confusion by IA, NH, SC, and NV — and then CA. I returned to the three-day average because (as you see from the numbers) the big FL sample was throwing everything off:

And the numbers:

Come on, man. And now FL:

Notice the miserably inadequate frequency. FL numbers:

Summary: The Biden juggernaut rolls on, but Sanders has pulled even. Warren is in trouble (meaning her smear of Sanders did not work). Bloomberg is buying his way in.

CAVEAT I think we have to track the polls because so much of the horse-race coverage is generated by them; and at least with these charts we're insulating ourselves against getting excited about any one poll. That said, we should remember that the polling in 2016, as it turned out, was more about narrative than about sampling, and that this year is, if anything, even more so. In fact, one is entitled to ask, with the latest I boomlet (bubble? (bezzle?)) which came first: The narrative, or the poll? One hears of push polling, to be sure, but not of collective push polling by herding pollsters. We should also worry about state polls with very small sample sizes and big gaps in coverage. And that's before we get to the issues with cellphones (as well as whether voters in very small, very early states game their answers). So we are indeed following a horse-race, but the horses don't stay in their lanes, some of the horses are not in it to win but to interfere with the others, the track is very muddy, and the mud has splattered our binoculars, such that it's very hard to see what's going on from the stands. Also, the track owners are crooked and the stewards are on the take. Everything's fine.

I think dk has started a really neat project, and in the near future we'll seek your feedback (within reason) for the tool "live."

* * *

Biden (D)(1): "Biden Push for Labor Support Is Burdened by Obama-Era Baggage" [New York Times]. "'[Biden] failed to fight for our priorities and stand up for the main reason we endorsed him — card check," said Norwood Orrick, a telecom technician and member of the International Brotherhood of Electrical Workers in Tampa, Fla. 'It was discussed a lot in my immediate circles of activists.'" • Karma in this lifetime.

Biden (D)(2): "Iowa has been volatile for Biden. Can an electability argument save him at the end?" [McClatchy]. "Over the last year, Biden's campaign in Iowa has been sluggish, even by his allies' admission, then revived, thanks in part to a successful December bus tour, and now threatened, by a late surge in support for Bernie Sanders. But with just days to go before the lead-off caucuses, Biden and his allies are relying on a blunt message of electability — hopeful that the sizable chunk of undecided voters fixated on defeating Donald Trump will swing support to his campaign…. But Biden's pitch could still make inroads with some key caucus-goers, most of whom have yet to definitively settle on a candidate: A CBS News poll of Iowa found only 35 percent of them say they have "definitely" made up their mind about whom to support. And many voters continue to say that electability is their most pressing concern in selecting a candidate." • Only centrists are electable! Take John Kerry — please!

Biden (D)(3): "As Biden Makes Push in Iowa, His Ground Game May Have Some Gaps" [New York Times]. "Dan Corken, one of Mr. Biden's most fervent volunteers, knocks on doors here, he is dubious about the candidate's prospects just days out from Monday's caucuses. 'If you want to look at the Biden community in Dubuque, the average age is probably about 72,' he said. "I'm having difficulties imagining some of the people I'm talking to door-knocking getting out on February 3 in the cold to go caucus.' As Mr. Corken approached the first house on a list of potential Biden backers on Tuesday, a volunteer for Bernie Sanders swooped in and planted two signs in the yard before Mr. Corken reached the door. 'We're all Bernie,' a man at the door told Mr. Corken…. The age of many Biden supporters could also prove detrimental: In 2016 only 28 percent of caucusgoers were over 65,"

Bloomberg (D)(1): "You Think Trump's a Danger to Democracy? Get a Load of Bloomberg." [Daily Beast]. "Already a modern-day Crassus, Bloomberg has both the wealth and the brains to emerge as a true Caesar, albeit a short-statured and aging one. Just as Caesar used the wealth of Gaul to finance his takeover of the Republic, Bloomberg can use his private fortune to bribe, cajole and otherwise promote his ascendancy. In his 12 years as ruler of New York, he showed his willingness to "buy" elective office, spending half a billion dollars on his three runs. To match the $174 per vote he spent to win his final term, Bloomberg—who's has already spent $200 million on TV ads—would need to spend an unheard of $12 billion. He could afford it."

Bloomberg (D)(2): "CBS Inks Deal For 30-Episode Bloomberg Ad" [The Onion] • I hope we're still looking back on this and laughing a few years from now.

UPDATE Klobuchar (D)(1): "Klobuchar Called On To Suspend Campaign As Questions Swirl Around Myon Burrell Case" [CBS Minnesota]. "The Associated Press report published Tuesday, in collaboration with American Public Media, raised questions about the [Myon Burrell] convictions, saying that police relied on jailhouse informants who have since recanted their stories, adding that one man who is in prison confessed to the murder. Also noted was the lack of gun, fingerprint or DNA evidence…. Klobuchar's campaign says if there is new evidence it should be reviewed by the Hennepin County Attorney." • Missed this on Tuesday.

Sanders (D)(1): "Sanders Team Weighing Executive Orders to Legalize Marijuana, Stop Trump Border Wall, Declare Climate Emergency, and More" [Common Dreams].

The Washington Post's Jeff Stein, citing two anonymous people familiar with the campaign's plans and an internal document, reported Thursday that Sanders aides have presented the senator with a list of possible executive orders that would allow him to unilaterally:

Declare a national climate emergency;
Ban U.S. exports of crude oil;
Import prescription drugs from Canada;
Cancel federal contracts for companies that pay their workers less than $15 an hour;
Direct the Department of Justice to legalize marijuana at the federal level;
Reverse existing rules that bar the U.S. from funding organizations that provide abortion services;
Immediately halt the construction of President Donald Trump's U.S.-Mexico border wall;
Lift the cap on the number of refugees the U.S. accepts each year; and
Release billions in disaster aid to Puerto Rico that the Trump administration has withheld.

Picking out the White House drapes aspects aside, I think it's important to send the signal now that Sanders will move aggressively; it raises the baseline for other candidates. That said, I'm seeing a social-justice inflected laundry list; I'm not seeing universal concrete material benefits ("more money in your pocket"), which would put the Sanders administration in the strongest possible position with working class voters (as opposed to Washington-based NGOs, however well-intentioned). How about an interest-free moratorium on student debt collection, for example? And I think importing prescription drugs from Canada is small ball.

UPDATE Sanders (D)(2): "Fact check: Is California putting Bernie Sanders at the bottom of its 2020 primary ballot?" [Sacramento Bee]. "Concerns Sanders is being deliberately placed at the bottom of California ballots, however, are unfounded and inaccurate… The facts are that the names of candidates are listed in an order determined in December through a randomized alphabet selection process conducted by the Secretary of State's Office. Twenty Democrats qualified for the ballot, including three candidates who dropped out of the 2020 race out after a Dec. 26 withdrawal deadline and one candidate who didn't file the necessary paperwork to take his name off the ballot. The randomized drawing rotates the 20 candidates by state Assembly district, meaning all candidates will appear both at the top and bottom of the ballot in four districts."

UPDATE Sanders (D)(3): "Bernie Sanders Is Getting a Ton of Endorsements From Musicians" [Vice]. "[A]rtists on the fringes of success have come out in droves to endorse the 78-year-old Vermont senator; earlier this month, a 20-song compilation from bands like Strange Ranger, Frankie Cosmos, Shady Bug, and many more was uploaded to Bandcamp with the proceeds directly supporting Sanders' campaign. Those acts are just a small slice of the indie, D.I.Y., and working-class musicians who have recently voiced their support for the 2020 presidential election. Evan Weiss, whose pop-punk band Pet Symmetry opened a recent Iowa Sanders rally, told Mother Jones, 'He's definitely the most punk-adjacent of the candidates. His messaging is all about community. It feels like he's one of us. He'll wax poetic about not being a Washington insider 'till the cows come home and that really resonates with us.'" • Punk-adjacent!

Trump (R)(1): "Trumpworld torn over running against Bernie" [Politico]. "The biggest fear about Sanders is that he could threaten the president's monopoly on the outsider mantle in a way other Democrats in serious contention for the nomination cannot. Others express unease about Sanders' energized following and worry that, as an unconventional, candidate he could inject an unpredictable dynamic into the contest. They, too, see potential parallels to Trump in 2016, when he attracted a wave of new voters."

Trump (R)(2): "Explaining the triumph of Trump's economic recklessness" [Bruegel]. "The Trump administration's economic policy is a strange cocktail: one part populist trade protectionism and industrial interventionism; one part classic Republican tax cuts skewed to the rich and industry-friendly deregulation; and one part Keynesian fiscal and monetary stimulus. But it's the Keynesian part that delivers the kick." • Making Obama's economic team look like the fools they were.

Trump (R)(3): "Life Expectancy Rises in U.S. for First Time in Four Years" [Wall Street Journal]. "U.S. life expectancy increased in 2018 for the first time in four years as deaths from drug overdoses dropped, according to government figures released Thursday. Lower mortality from cancer, accidents and unintentional injuries were the main reasons life expectancy ticked up in 2018."

Trump (R)(4): "One year inside Trump's monumental Facebook campaign" [Guardian]. "Over the course of 2019, the Trump campaign spent nearly $20m on more than 218,000 different Facebook ads, a new Guardian analysis shows. Among the ads were some of the images and videos that made front-page news for their xenophobic, fear-mongering, vitriolic and outright false rhetoric. But the campaign also ran a decidedly mundane social media campaign featuring classic marketing ploys designed to harvest user data. Considering the fact that the campaign has run these ads – which are largely substance-free and appear designed to maximize engagement with simple requests – over and over again, they were probably very effective."

Warren (D)(1): "Elizabeth Warren proposes criminal penalties for spreading voting disinformation online" [CNBC]. • With less than a week to go, this is the issue? Who does it appeal to? Clinton voters still upset about 2016?

* * *

UPDATE IA: "What are the Iowa presidential caucuses and why are they so important to the 2020 election?" [Los Angeles Times]. "Maybe. But probably not. Among Democrats, the winner of the caucuses has won the nomination in seven out of the 10 contested races since 1972. But only two candidates — Jimmy Carter and Barack Obama — have gone on to win the White House. Among Republicans, the caucus winner has won the nomination in three of eight contested contests, but only won the White House once: George W. Bush in 2000. The caucuses definitely have had their moments, allowing candidates to prove their viability. Among the top examples is Obama in 2008. His ability to win the caucuses — beating John Edwards and Hillary Clinton in an overwhelmingly white state — helped dispel doubts that the United States could elect a black president." • Lots of detail on how the caucus process works, plus detail on reforms made after 2016.

"1. The Democratic nomination contest" [Pew Research]. "Looking at those same voters today, 43% of Democratic voters who consistently supported Clinton for the nomination in 2016 now support Biden. None of the other Democratic candidates garner more than 13% of this group's support for the nomination. Among those who consistently supported Sanders in 2016, 44% favor him for the nomination today, while 25% support Warren. And among the larger share of Democrats whose preferences were less consistent in late 2015 and early 2016, a third now support Biden, while 17% favor Warren and 13% back Sanders."

To rig primary against Bernie, DNC chair Tom Perez nominates regime-change agents, Israel lobbyists, and Wall Street consultants

https://www.buzzfeednews.com/article/rubycramer/tom-perez-dnc-compensation

–>
2016 Post Mortem
"Hillary Clinton refuses to be served Tulsi Gabbard's defamation lawsuit" [New York Post]. "Hillary Clinton has now twice snubbed a process server attempting to deliver the defamation lawsuit filed against her by Democratic presidential candidate Tulsi Gabbard, according to Gabbard's attorney. 'I find it rather unbelievable that Hillary Clinton is so intimidated by Tulsi Gabbard that she won't accept service of process," the congresswoman's attorney, Brian Dunne, told The Post. 'But I guess here we are.'" • Try serving Clinton at brunch.
Pollsters
Iowa voters react to polling?

Psych experimenter: Our cover story is rock-solid, undergrad research participants will never suspect the real intention of our study

Research participants: pic.twitter.com/xjCjK04S83

— Dan Quintana (@dsquintana) January 30, 2020
Impeachment
"Opinion: It looks like John Bolton isn't going to get his C-SPAN moment after all" [Los Angeles Times]. "In a huge win for the publishers of Bolton's forthcoming book, Senate Republicans reportedly have lined up the votes to block Democrats from calling the former national security advisor or any other witnesses to testify at President Trump's impeachment trial. That vote is expected to happen Friday…. So it must seem far more palatable for Republicans to explain to their constituents why Bolton's testimony wouldn't have fundamentally changed the contours of the case. And that has the benefit of being true: Bolton would merely shore up an assertion that House Democrats have been treating as if it were already proved."

"The dubious impeachment proclamations of Alan Dershowitz: Jonathan Turley" [USA Today]. "I hold a different interpretation but not necessary a different ultimate conclusion from Dershowitz. I do not believe that the House managers have sufficiently rebutted the defense of the president and specifically established the necessary intent to hold the Ukrainian aid for solely political purposes (as opposed to a policy concern of corruption or sharing costs with allies). … The fact is that there is a host of non-criminal acts that could not just put lives but the nation at risk. If those acts are committed for purely personal reasons, they can be impeachable. It is the most difficult type of impeachment to prove, particularly if you are not alleging collateral criminal acts. This is not just the narrowest presidential impeachment in history but the first to allege only non-criminal conduct. If there are other reasons for a president to have acted (even unwisely or catastrophically), a case for removal cannot be made. In other words, it is not impossible (as suggested by Dershowitz) but it is highly difficult when faced with countervailing reasons for the same conduct.
Our Famously Free Press
UPDATE "MSNBC's Owners Shower Biden With Campaign Cash" [Sludge]. "A Sludge review of Federal Election Commission records shows Biden is the preferred candidate of the station's owners, the behemoth Comcast Corporation. Biden has received 17 large campaign contributions from executives and vice presidents at Comcast, including eight for the legal maximum of $2,800. Of all the other candidates still in the race, only South Bend, Indiana Mayor Pete Buttigieg has received any Comcast executive contributions—Buttigieg received a single contribution from Comcast Managing Director Amy Banse. In addition, Comcast's top lobbyist, David Cohen, co-hosted Biden's kick-off fundraiser in April and he is listed as a bundler for the campaign, meaning that he has collected at least $25,000 in contributions from others for Biden." • No wonder they pay "Rachel" so much.
Realignment and Legitimacy
CA: "6 Ways to Vote for Bernie in the CA Primary" [GoogleDocs].• Or anybody. It's… complicated.

UPDATE "'Election Meltdown Is A Real Possibility' In 2020 Presidential Race, Author Warns" [NPR]. "The American public is going to be really sick and tired of the 2020 election by the time we get to November, and they're going to want an instant result. And yet the people need to be prepared that it's going to take a week or two. So that's, I think, at the top of the list for the news media."

"'Scam PAC' fundraisers reap millions in the name of heart-tugging causes" [Reuters]. "From unmarked strip-mall offices in small-town Alabama, the calls go out across the United States, meant to talk people into giving money for heart-tugging causes like helping breast cancer patients or the widows of fallen police officers. Even as they charmed millions from credulous donors, a dozen former callers for two major fundraisers told Reuters that they knew their companies would be keeping the vast majority of it. And the groups they were raising money for weren't charities at all, but political action committees, which normally are set up to gather funds for candidates or political causes. 'The motto was, 'Leave your morals at the door,' said Alexander Lefler, 21, who worked for nearly a year at a call center southeast of Birmingham, Alabama, describing what he saw as high-pressure and deceptive tactics. 'We kind of all understood what we were doing was wrong, but I needed a place to live.'" • Precarity.
Stats Watch
Construction: "AIA Projects Slowing Growth in Nonresidential Construction in 2020 and 2021" [Architect Magazine]. "'The broader economy is expected to continue to see slower growth this year, but the number of potential trouble spots seems to be diminishing,' said AIA Chief Economist Kermit Baker, Hon. AIA, PhD. 'Revenue trends at architecture firms saw an uptick in the fourth quarter last year, which suggests construction spending will continue to see growth in the coming quarters.'"
Tech: "After meager 2019, Samsung's modest chip recovery outlook falls flat" [Reuters]. "But in a guarded outlook, the world's biggest memory chip and smartphone maker said on Thursday it couldn't rule out the possibility that demand growth may be curbed amid lingering tensions on U.S.-China trade and looming fears of the economic impact of the new coronavirus outbreak in China and beyond."
Manufacturing: "Boeing Co. packed a planeload of bleak financial news into a single earnings report but the impact on its suppliers is likely only beginning. The aircraft manufacturer posted a full-year loss of $636 million and says the costs from the 737 MAX crisis have climbed above $19 billion" [Wall Street Journal]. "The company is cutting production of its wide-body 787 Dreamliner for a second time, hitting more suppliers in a field already stung by the fallout from the MAX suspension. Boeing's 777X jet, which flew for the first time last weekend, is behind schedule, and deliveries aren't due to start until next year. That could force a cut in output of the existing 777 model."
Manufacturing: "Exclusive: Do or die – Nissan takes the axe to the house Ghosn built" [Reuters]. "Nissan is planning aggressive cost cuts to deal with an unexpected slump in sales as the expansionist strategy it inherited from fugitive former Chairman Carlos Ghosn flounders…. Japan's second biggest carmaker is set to eliminate at least 4,300 white-collar jobs and shut two manufacturing sites as part of broader plans to add at least 480 billion yen ($4.4 billion) to its bottom line by 2023, two of the people told Reuters. The moves come on top of a turnaround plan unveiled in July and are likely to include cutting Nissan's range of cars and the array of product options and trims in each line, slashing jobs mostly at head offices in the United States and Europe, and reducing advertising and marketing budgets, they said. 'The situation is dire. It's do or die,' a person close to Nissan's senior management and the company's board told Reuters."
The Fed: "A Nothingburger Snoozefest From the Fed. Should We Be Worried?" [Bloomberg]. "In my experience covering FOMC meetings, I can only think of one that was duller. That was the meeting overseen by Ben Bernanke in May 2006…. However, we should never ignore the Fed completely. Back in May 2006, it seemed truly to be on autopilot. But we now know that U.S. house prices were about to peak in the next month, while credit markets were boiling up. By making life so predictable for markets, the Fed had created the conditions for complacency and excessive speculation." • This is a grab-bag of a column, with a lot of interesting stuff. For example, Mexican border factories were winners from the U.S. v. China trade war!
* * *
Today's Fear & Greed Index: 56 Greed (previous close: 53 Neutral) [CNN]. One week ago: 74 (Greed). (0 is Extreme Fear; 100 is Extreme Greed). Last updated Jan 28 at 12:59pm.
The Biosphere
"US Household Carbon Footprint" (map) [Decolonial Atlas]. "While population density contributes to relatively low household carbon footprint in the central cities of large metropolitan areas, the more extensive suburbanization in these regions contributes to an overall net increase in household carbon footprint compared to smaller metropolitan areas. Suburbs alone account for 50% of total U.S. household carbon footprint." •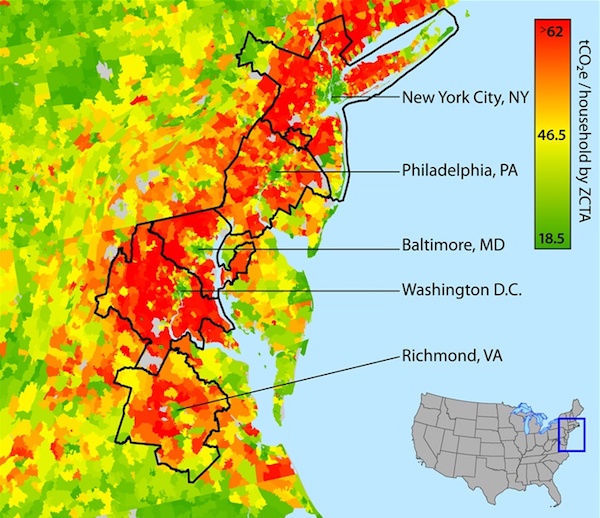 "Guardian to ban advertising from fossil fuel firms" [Guardian]. "The Guardian will no longer accept advertising from oil and gas companies, becoming the first major global news organisation to institute an outright ban on taking money from companies that extract fossil fuels. The move, which follows efforts to reduce the company's carbon footprint and increase reporting on the climate emergency, was announced on Wednesday and will be implemented with immediate effect. The ban will apply to any business primarily involved in extracting fossil fuels, including many of the world's largest polluter." • Good. One can only hope that our own newspapers follow suit.
"Everyone's Favorite Climate Solution Has a Fire Problem" [Bloomberg]. "Plunging prices and intensifying efforts to reduce greenhouse-gas emissions have touched off a battery boom. Energy companies are plugging more battery packs into the grid as a way to store renewable power and replace fossil-fuel plants. Megaprojects are becoming the norm. Last year, regulators approved a battery installation in New York City that will be big enough to power 250,000 homes for eight hours. Developers near Las Vegas plan a similarly huge system to store energy from a 690-megawatt solar plant. But the April explosion in Arizona illustrated a lingering problem that has long dogged lithium-ion batteries: fires that can be difficult to douse. In South Korea, a global leader in battery manufacturing and adoption, there have been at least 23 fires over a roughly two-year period."
"World's largest solar telescope takes its first shot" [Science]. "This new close-up of the turbulent boiling plasma of the solar surface is the debut image of the largest telescope ever built for staring at the Sun. Sporting a 4-meter-wide mirror—twice the size of any existing solar scope—and a vantage point 3000 meters up on the summit of Haleakala on the Hawaiian island of Maui—the Daniel K. Inouye Solar Telescope (DKIST) will reveal unprecedented detail of processes that channel energy from the Sun's interior into its atmosphere, the corona. Researchers hope that by zooming in on cell-like structures like those shown above—each about the size of Texas—they can learn what causes the Sun to launch powerful flares out into space." • Pass the popcorn: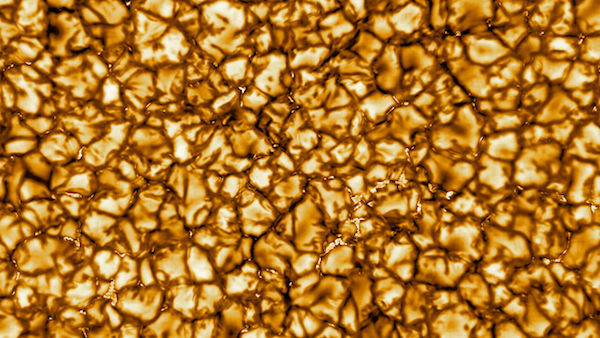 "The hunt for a healthy microbiome" [Nature]. "What does a healthy forest look like? A seemingly thriving, verdant wilderness can conceal signs of pollution, disease or invasive species. Only an ecologist can spot problems that could jeopardize the long-term well-being of the entire ecosystem. Microbiome researchers grapple with the same problem. Disruptions to the community of microbes living in the human gut can contribute to the risk and severity of a host of medical conditions. Accordingly, many scientists have become accomplished bacterial naturalists, labouring to catalogue the startling diversity of these commensal communities. Some 500–1,000 bacterial species reside in each person's intestinal tract, alongside an undetermined number of viruses, fungi and other microbes."
Health Care
News you can use:
If you must fly in a time of #coronavirus, one big tip: https://t.co/dATMvPqnDK @NatGeo pic.twitter.com/AvMR4pCp0P

— David Beard (@dabeard) January 28, 2020
And here is the National Geographic article from which the chart was taken.
"Social ties and susceptibility to the common cold." [JAMA]. n = 276 . From 1997, still germane: "[T]hose with more types of social ties were less susceptible to common colds, produced less mucus, were more effective in ciliary clearance of their nasal passages, and shed less virus. These relationships were unaltered by statistical controls for prechallenge virus-specific antibody, virus type, age, sex, season, body mass index, education, and race. Susceptibility to colds decreased in a dose-response manner with increased diversity of the social network. There was an adjusted relative risk of 4.2 comparing persons with fewest (1 to 3) to those with most (6 or more) types of social ties. Although smoking, poor sleep quality, alcohol abstinence, low dietary intake of vitamin C, elevated catecholamine levels, and being introverted were all associated with greater susceptibility to colds, they could only partially account for the relation between social network diversity and incidence of colds. More diverse social networks were associated with greater resistance to upper respiratory illness." • Rhino viruses, not corona viruses; perhaps that makes a difference. That said, some ironies: First, the recommendation to fight #2019-nCoV by increasing social distance (whether person-to-person, or nation-to-nation) would seem to decrease our resistance to the next outbreak, no matter what it may be. Second, it seems not to have been predicted that globalization, as a function of neoliberalism, would end up atomizing people even more than they already are. Short mass tourism, amusement parks, malls; go long VR, AR, digital entertainment, and so forth. What a nauseating prospect for a fundamentally social species.
* * *
"'Block grants' no more: Trump's Medicaid overhaul has new name, same goals" [Politico]. "The Trump administration will rebrand its Medicaid block grant program and look to safeguard the policy against an expected wave of legal challenges from patient advocates, according to two officials with knowledge of the plan set for release Thursday. The forthcoming block grant program comes with a new name — "Healthy Adult Opportunity" — but retains the original mission long sought by conservatives: allowing states to cap a portion of their spending on Medicaid, a radical change in how the safety net health program is financed. The block grant plan, which invites states to request capped funding for poor adults covered by Obamacare's Medicaid expansion, also would let states limit health benefits and drugs available to some patients. Medicaid advocates already have vowed to make the block grant an issue in this year's election, particularly after President Donald Trump repeatedly pledged to protect Medicaid during his 2016 campaign. after Congress rejected the idea during the failed effort to replace Obamacare." • I'm a-skeered!
Black Injustice Tipping Point
"The Emancipatory Past and Future of Black Politics" [Jacobin (NippersMom)]. "A multidimensional assessment of both historical and contemporary black political developments is needed for our current moment. A social democratic current is roaring back onto the political scene. A "political revolution" of the type Bernie Sanders envisions would necessarily involve rebuilding a viable working-class political project among millions of black people. It is with this task in mind that we should review the triumphs and limitations of the past."
Guillotine Watch
"Yusaku Maezawa: Japanese billionaire cancels search for moon trip 'life partner'" [BBC (NippersMom)]. "Fashion mogul Yusaku Maezawa invited single women over the age of 20 to apply for a 'match-making event.' Almost 28,000 applied, but on Thursday he said he was experiencing "mixed feelings" and pulled out of the search." Maezawa: 'To think that 27,722 women with earnest intentions and courage had used their precious time to apply makes me feel extremely remorseful to conclude and inform everyone [of] this selfish decision of mine.'" What an odd statement from a billionaire. Perhaps I should stay the guillotine blade's descent?
Class Warfare
"The New Majority Behind Sex Work Decriminalization" [The New Republic]. • A good summary of current social justice thinking, which, oddly, or not, seems not to consider economic aspects at all.
"Minimum wage would be $33 today if it grew like Wall Street bonuses have" [CBS]. "Wall Street employees saw their typical annual bonus slip by 17 percent last year to $153,700, according to new data from the New York State Comptroller. But don't feel sorry for the banking set just yet — even including down years like 2018, bankers' bonuses have jumped by 1,000 percent since 1985. By comparison, the federal minimum wage has increased about 116 percent during the same period, according to an analysis from the Institute for Policy Studies, a left-leaning research center that used the comptroller's latest data. If the minimum wage had grown at the same pace as Wall Street bonuses, fast-food workers and other low-wage workers would earn a baseline wage of $33.51 an hour, the group said."
"Membership Levels and Fees" [Unicode Consortium]. • The spectrum of emotions that can be expressed on the Internet through emojis is determined by players who pay big bucks to do so.
News of the Wired
"Emotional expressions in human and non-human great apes" [Science Direct]. "Humans and great apes are highly social species, and encounter conspecifics throughout their daily lives. During social interactions, they exchange information about their emotional states via expressions through different modalities including the face, body and voice. In this regard, their capacity to express emotions, intentionally or unintentionally, is crucial for them to successfully navigate their social worlds and to bond with group members… [W]hile showing deep evolutionary homologies across closely related species, emotional expressions show relevant species variation." • "If a lion could speak, we could not understand him." –Wittgenstein.
"Long-term follow-up of psilocybin-assisted psychotherapy for psychiatric and existential distress in patients with life-threatening cancer" [Journal of Psychopharmacology]. n=16. From the abstract: "A recently published randomized controlled trial compared single-dose psilocybin with single-dose niacin in conjunction with psychotherapy in participants with cancer-related psychiatric distress…. Reductions in anxiety, depression, hopelessness, demoralization, and death anxiety were sustained at the first and second follow-ups. Within-group effect sizes were large. At the second (4.5 year) follow-up approximately 60–80% of participants met criteria for clinically significant antidepressant or anxiolytic responses. Participants overwhelmingly (71–100%) attributed positive life changes to the psilocybin-assisted therapy experience and rated it among the most personally meaningful and spiritually significant experiences of their lives." • That's why it's illegal.
"Today I Learned That Not Everyone Has An Internal Monologue And It Has Ruined My Day." [Inside My Mind]. "My day was completely ruined yesterday when I stumbled upon a fun fact that absolutely obliterated my mind. I saw this tweet yesterday that said that not everyone has an internal monologue in their head. All my life, I could hear my voice in my head and speak in full sentences as if I was talking out loud. I thought everyone experienced this, so I did not believe that it could be true at that time." I don't. Readers?
* * *
Readers, feel free to contact me at lambert [UNDERSCORE] strether [DOT] corrente [AT] yahoo [DOT] com, with (a) links, and even better (b) sources I should curate regularly, (c) how to send me a check if you are allergic to PayPal, and (d) to find out how to send me images of plants. Vegetables are fine! Fungi and coral are deemed to be honorary plants! If you want your handle to appear as a credit, please place it at the start of your mail in parentheses: (thus). Otherwise, I will anonymize by using your initials. See the previous Water Cooler (with plant) here. Today's plant (BR):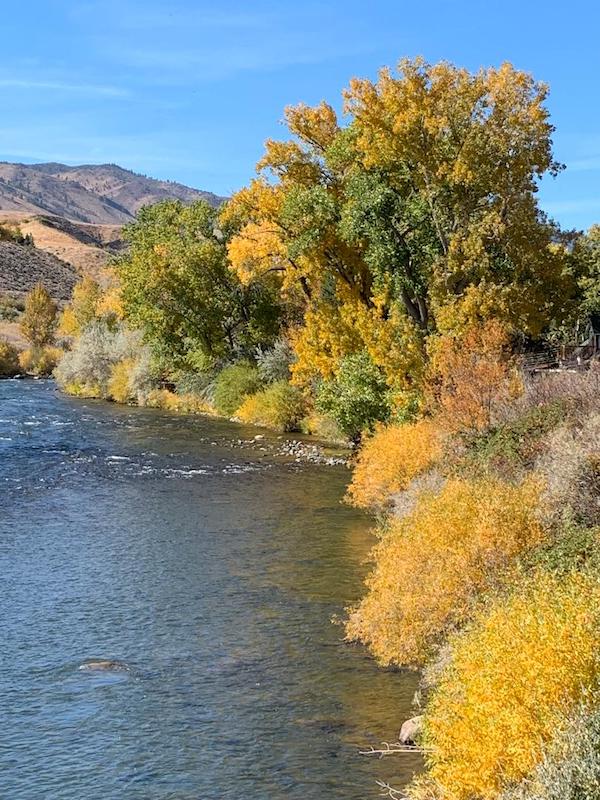 BR writes: "A photo of Truckee River with fall colors." Readers may remember that, as a New Englander, I had thought, wrongly, that fall colors shared the same palette throughout the country.
* * *
Readers
: Water Cooler is a standalone entity
not
covered by the annual NC fundraiser. So if you see a link you especially like, or an item you wouldn't see anywhere else, please do not hesitate to express your appreciation in tangible form. Remember, a tip jar is for tipping!
Regular positive feedback both makes me feel good and lets me know I'm on the right track with coverage
. When I get no donations for five or ten days I get worried. More tangibly, a constant trickle of donations helps me with expenses, and I factor in that trickle when setting fundraising goals:
Here is the screen that will appear, which I have helpfully annotated.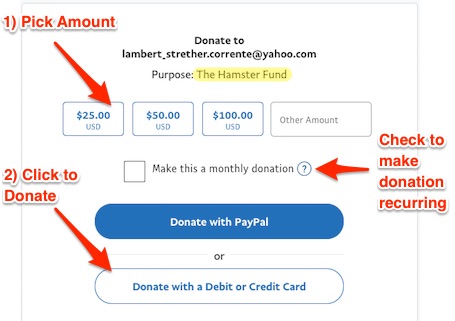 If you hate PayPal, you can email me at lambert [UNDERSCORE] strether [DOT] corrente [AT] yahoo [DOT] com, and I will give you directions on how to send a check. Thank you!