Large African herbivores have helped to repair their environment Nature
A century ago, Pennsylvania stood almost entirely stripped of trees Pittsburgh City Paper
Huge dust storms in Australia hit central New South Wales Guardian. Next, locusts. Followed by bankers and private equity.
BlackRock gets praise for coal divestment. What it really needs is regulation Ann Pettifor, Guardian (UserFriendly). As opposed to dismemberment?
The $119 Billion Sea Wall That Could Defend New York … or Not NYT
U.S. appeals court tosses children's climate lawsuit Science. For more on Juliana v. United States, see NC (2019, 2017, 2015).
The index providers are quietly building up enormous powers FT. "The new gatekeepers of capital." Important.
How An Exotic Investment Product Sold In Korea Could Create Havoc In The U.S. Options Market Bloomberg
Ready, steady, review: Five questions for the ECB Reuters
Syraqistan
China?
China reports another death from Wuhan virus and infections in other cities as WHO warns of human transmission South China Morning Post. During the Lunar New Year, the largest human migration in the world with 400 million Chinese taking the train.

Cluster of pneumonia cases caused by a novel coronavirus, Wuhan, China (PDF) European Center for Disease Prevention and Control

Estimating the potential total number of novel Coronavirus (2019-nCoV) cases in Wuhan City, China MRC Centre for Global Infectious Disease Analysis, Imperial College. Here also is the page on "2019-nCoV" at FluTrackers.com (which seems to be the PPRuNe of the infectious disease community).
India
Why Modi's Thugs Attacked My University Project Syndicate

Assessing the sustainability of post-Green Revolution cereals in India PNAS. "In India, diversifying crop production to include more coarse cereals, such as millets and sorghum, can make food supply more nutritious, reduce resource demand and greenhouse gas emissions, and enhance climate resilience without reducing calorie production or requiring more land."
Impeachment
Impeachment: What Lies Beneath? The Polemicist (CL). From December, still germane. In fact, today's must-read.

Are the Democrats Ready for Trump's Impeachment Trial? The New Yorker

The drama and protagonists: A guide to Trump's impeachment trial FT
New Cold War
As Protests in South America Surged, So Did Russian Trolls on Twitter, U.S. Finds NYT. I can't even.

Kansas City radio station agrees to broadcast Russian-owned 'propaganda' program Kansas City Star

The lost boys of Ukraine: How the war abroad beckoned American white supremacists Triad City Beat
Hyper Over Russian Hypersonics Consortium News
Trump Transition
National Archives says it altered Trump signs, other messages in Women's March photo The Hill

Labor Department limits news outlets' use of embargoed data AP

USPS 5-year business plan: 'Innovate faster,' cut costs to remain solvent Federal News Network
2020
The Democrats' Best Choices For President: Amy Klobuchar and Elizabeth Warren Editorial Board, NYT. Maybe if the ratings are good enough, the Times will commission a second season where they actually make a choice? (I'll put on my yellow waders for this ridiculousness in a post later today.)

The New York Times' Made-for-TV Endorsement Missed the Mark (Column) Variety.

* * *

Jayapal defended Warren's #MedicareForAll rollout, let us remember:

I'm all in for @BernieSanders for President! Bernie has the bold passion, authenticity & clarity that working people across this country desperately need.

We are building the progressive movement that will bring justice & opportunity & transform our country. Join us! https://t.co/GnWZ6BK4R5

— Pramila Jayapal (@PramilaJayapal) January 19, 2020

Bernie Sanders Says He Hopes Americans 'Look at the Totality Of A Candidate,' Not Their Gender, Amid Feud with Warren Newsweek. The predictable hysteria from the usual sources followed. Two words: "President Palin." I mean, come on, man. How can this be controversial? And the reporting on this was a little… odd:

This was indeed mistranscribed in a number of crucial ways. If you're commenting on this, do not go by the transcript. https://t.co/iJrif228t4

— Ryan Grim (@ryangrim) January 19, 2020

More:

UPDATE: @EmmaKinery has deleted her "rushed transcript," and posted a full one. This whole faux outrage cycle could have been avoided if she had just posted the full remarks in the first place instead of deceptively editing them. pic.twitter.com/HF6dKXIhbK

— 29 U.S.C. § 157 (@OrganizingPower) January 19, 2020

Bloomberg really butchered this; it's exactly like putting out a hot take that's wrong, and then issuing a correction (which nobody reads) after the wrong take propagates. That happened here. I can only hope that the cause was lack of professionalism, and not malice.

CNN Reveals Bernie Sanders Running For President Of Country With History Of Sexism The Onion

Why they hate Bernie's supporters Carl Beijer. Proles taking liberties with the narrative. Can't have that.

Sanders is right: Biden is vulnerable to Trump on Social Security WaPo

Remember When Obama and Biden Tried to Cut Social Security by $230 Billion? Benjamin Studebaker. I do, as does any other sentient creature who's been following politics in any detail over the last few decades, including, one assumes, a segment of the White House press corps.

* * *

Why Do Trump Supporters Support Trump? Anand Giridharadas, NYT (Re Silc). What do the drums say, Anand?

The Truth About the Trump Economy Joseph Stiglitz, Project Syndicate

Trump Administration is "woke" to the student-loan crisis: What can it do in 2020? Condemned to Debt (UserFriendly).

How five members of Joe Biden's family got rich through his connections NY Post
Puerto Rico
Puerto Ricans discovered a warehouse full of unused food, water, and supplies from Hurricane Maria, resulting in the firing of the island's emergency manager Business Insider (KW).
Guillotine Watch
How Western advisers helped an autocrat's daughter amass and shield a fortune Quartz
Class Warfare
Injuries at Fresno's Amazon warehouse double California's industry average Fresno Bee

Windowless underground sleeping pods could rent from $1K/month NY Post
'She'll tackle any voiceover – just not Scar': Moment Prince Harry tells Lion King director Jon Favreau his wife is available for work – as Meghan jokes 'That's really why we're here – to pitch!' Daily Mail (J-LS).
Antidote du jour (via):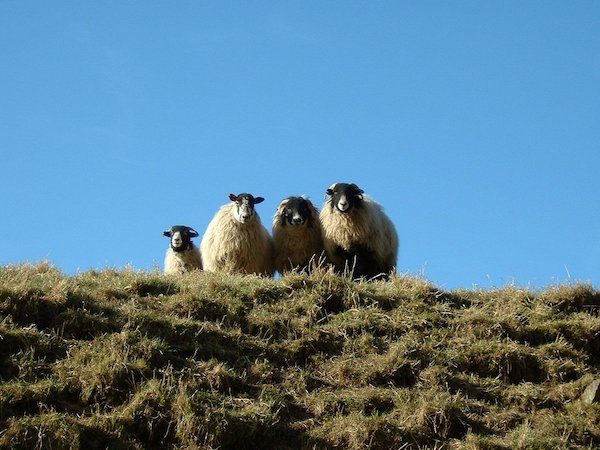 Bonus antidote:
woke up to a text from my mom about how a wild elephant went into a Sri Lankan hotel and gently wandered around while poking stuff with his trunk pic.twitter.com/C2biQT8C30

— Upuli ?? (@upidaisy) January 19, 2020
Festival of large herbivores!
See yesterday's Links and Antidote du Jour here.