By Lambert Strether of Corrente.
Patient readers, I have as usual accumulated far too much political material over the weekend (and handled some administrivia for NC this morning as well). I will have more soon, especially the upcoming Nevada caucus debacle. –lambert UPDATE All done.
Politics
"But what is government itself, but the greatest of all reflections on human nature?" –James Madison, Federalist 51
"They had one weapon left and both knew it: treachery." –Frank Herbert, Dune
Here is a second counter for the New Hampshire Primary, which is obviously just around the corner:
* * *
2020
Alert reader dk (not to be confused with DK) is in the process of developing the following interactive chart.

We have no new national polls, but we have NH polls:

NH numbers:

Note, again, the small sample sizes. If they are accurate, Sanders is holding onto his lead, and Klobuchar (!) has passed both Biden and Warren. Who knows, perhaps this time the pundits are right, and Klobuchar had a great debate that really meant something.

CAVEAT I think we have to track the polls because so much of the horse-race coverage is generated by them; and at least with these charts we're insulating ourselves against getting excited about any one poll. That said, we should remember that the polling in 2016, as it turned out, was more about narrative than about sampling, and that this year is, if anything, even more so. In fact, one is entitled to ask, with the latest I boomlet (bubble? (bezzle?)) which came first: The narrative, or the poll? One hears of push polling, to be sure, but not of collective push polling by herding pollsters. We should also worry about state polls with very small sample sizes and big gaps in coverage. And that's before we get to the issues with cellphones (as well as whether voters in very small, very early states game their answers). So we are indeed following a horse-race, but the horses don't stay in their lanes, some of the horses are not in it to win but to interfere with the others, the track is very muddy, and the mud has splattered our binoculars, such that it's very hard to see what's going on from the stands. Also, the track owners are crooked and the stewards are on the take. Everything's fine.

* * *

Bloomberg (D)(1):

Out here in the much-hyped red-to-blue suburbs of Philly, I'm hearing more and more talk from not-on-Twitter normal voters about Mike Bloomberg

They are desperate to beat Trump. Bloomberg is positioning himself as the ugly way to make sure the deed is done.

What could happen…

— Will Bunch ? (@Will_Bunch) February 8, 2020

"Desperate to beat Trump" has the same level of principle and strategery as (if you are a New Englander) "desperate to beat the hated Yankess" (see Bitecofer).

Bloomberg (D)(2): "Mike Bloomberg Is Paying 'Influencers' to Make Him Seem Cool" [Daily Beast]. "The Bloomberg campaign has quietly begun a campaign on Tribe, a "branded content marketplace" that connects social-media influencers with the brands that want to advertise to their followers, to pitch influencers on creating content highlighting why they love the former New York City mayor—for a price. For a fixed $150 fee, the Bloomberg campaign is pitching micro-influencers—someone who has from 1,000 to 100,000 followers, in industry parlance—to create original content 'that tells us why Mike Bloomberg is the electable candidate who can rise above the fray, work across the aisle so ALL Americans feel heard & respected.' …. 'Are you sick of the chaos & infighting overshadowing the issues that matter most to us? Please express your thoughts verbally or for still image posts please overlay text about why you support Mike,' the campaign copy tells would-be Bloomberg stans under the heading 'Content We'd Love From You,' asking influencers to 'Show+Tell why Mike is the candidate who can change our country for the better, state why YOU think he's a great candidate.'" • So that's the pitch, eh?

Bloomberg (D)(3): "A Republican Plutocrat Tries To Buy The Democratic Nomination" [Current Affairs]. "Why are dozens of liberal elected officials suddenly stumping for a Republican billionaire? In the case of some elected officials, the answer seems to be simple bribery…. But, beyond people he outright bribes, Bloomberg has another potential source of support: Democratic elites who desperately want to stop Bernie Sanders from being the party's nominee… But the biggest boost to Bloomberg is his giant pile of money, which he has vowed to use to obtain the nomination for himself." • Missing from the piece is that Bloomberg has also purchased the loyalty of the vast network of NGOs in which the Democrat Party is embedded. Sure is curious we're not hearing "He's not even a Democrat!" about Bloomberg. (It's also odd that we have sex abusers at the top of both party heirachies: We have Trump's comparatively mild transgressions; we have respected party elder Bill Clinton's workplace abuse and rape; and we have Bloomberg's own workplace harrassment. It certainly is odd that #MeToo isn't out in force on that.) At any rate, Bloomberg's run, like Trump's, should be wonderfully clarifying.

Buttigieg (D)(1): "Pete Buttigieg Funded by Russian-Linked Oligarch Who Supports Trump and McConnell" [Law and Crime]. "Democratic presidential candidate and former South Bend, Indiana mayor Pete Buttigieg is facing questions after recent revelations that his 2020 effort has taken campaign contributions from an infamous Republican Party billionaire with direct links to the Russian oligarchy. That's according Federal Election Commission (FEC) data reviewed by Law&Crime. Previously described in the press as "The Giver," Leonard "Len" Blavatnik is a well-known GOP donor with a New York address who previously took it upon himself to fund President Donald Trump's lavish — and allegedly criminal — inauguration festivities in 2017 to the tune of some $1 million. Now, Blavatnik and his wife are apparently shifting allegiances. As of this writing, they have donated thousands of dollars to Pete for America, Inc., Buttigieg's official campaign organization." • That's nice.

Buttigieg (D)(2): Booker never had problems like this with Newark:

As a Councilman in #SouthBend, I know why @PeteButtigieg looked like a deer in headlights last night when talking about systemic racism in the South Bend Police. He tolerated it, he perpetuated it, and last night he lied to millions of Americans about it.

— Henry Davis, Jr. (@iamhenrydavisjr) February 9, 2020

Buttigieg (D)(3): "Buttigieg's Antitrust Adviser is a Wells Fargo Attorney" [ReadSludge]. "A compliance attorney with miscreant bank Wells Fargo is part of a small group advising the Pete Buttigieg campaign on antitrust policy, the Prospect has learned…. Campaigns routinely seek advice from unpaid volunteer experts, who come from think tanks, academia, and the private sector. But any Democratic campaign using someone still employed by Wells Fargo for such a purpose is playing with fire, given the bank's well-earned reputation for swindling customers."

UPDATE Buttigieg (D)(4): On-brand indeed:

The Buttigieg campaign applied for a "Best Brand Identity" award lol
https://t.co/NVK0lFdNQM pic.twitter.com/xrIuBWkzz6

— Ken Klippenstein (@kenklippenstein) February 9, 2020

Sanders (D)(1): "Laundromat Caucus" [Sixth Perfections]. "This is not a pro- or anti-Bernie rant. This is just an observation while folding clothes in a Brooklyn laundromat on a Friday night with mostly brown and black people. The NH Primary Debate was on tv. I caught a few minutes. Most of the candidates seemed really nice and considerate. They came across just fine. But there was something when Bernie Sanders came on…that popped. Ppl stopped or looked up from their clothes or got a little quieter. It was eery…like an audio fog was clearing up over the washers and dryers. When you have some who speaks with clarity -regardless of the political leanings- they pop. When you have someone who speaks with passionate clarity, they pop. Now yes, detractors will say 'but Aurin, didn't Trump pop in 2016?' Why, yes he absolutely did. He popped b/c he spoke from a very clear stream of fear/isolationism. There was no nuance, it was straight from his guts. People feel that…even if your guts are filled with poison and ignorance."

Sanders (D)(2): Oy:

Fascinating moment this AM on the trail, when MSNBC host & former banking exec Stephanie Ruhle asked Bernie Sanders: "One might argue that Bernie Sanders does stand for that person who is struggling … but what about that affluent person? Are they welcome in your modern family?" pic.twitter.com/TmRVncyjul

— Holly Otterbein (@hollyotterbein) February 8, 2020

Sanders (D)(3): "Sanders says Democrats should do the "same thing" as right-wing Federalist Society in nominating federal judges" [CBS]. "Sanders on Saturday said Democrats have to start 'taking a look at good young legal minds all over this country and cultivating them to the courts.' 'We can learn some lessons from what the right wing is doing in this country,' he said. 'Republicans have been effective in politicizing the judiciary in a way Democrats have not.' Sanders also elaborated on concepts he's spoken about before regarding the highest court in the country. He said he's against packing the Supreme Court, and supports the idea of having a rotation of judges."

Sanders (D)(4): Will nobody think of the billionaires:

Fascinating moment this AM on the trail, when MSNBC host & former banking exec Stephanie Ruhle asked Bernie Sanders: "One might argue that Bernie Sanders does stand for that person who is struggling … but what about that affluent person? Are they welcome in your modern family?" pic.twitter.com/TmRVncyjul

— Holly Otterbein (@hollyotterbein) February 8, 2020

Sanders (D)(5):

I am once again asking you to let me out and then let me back in again

— Snitch Knightly (@KnightlySnitch) February 9, 2020

UPDATE Warren (D)(1): "Warren dismisses need to win New Hampshire: 'It's going to be a long campaign'" [The Hill]. "Sen. Elizabeth Warren (D-Mass.) dismissed the need to place in the top two in Tuesday's New Hampshire primaries after trailing in third coming out of last week's Iowa caucuses. 'The way I see this is it's going to be a long campaign,' Warren said Sunday on ABC's 'This Week.'" • Brokered convention, here we come! Not if the money dries up, though.

UPDATE Warren (D)(2): "'Where's Joe?': Kennedy goes MIA for Warren" [Politico]. "The next-in-line Kennedy scion and fellow Massachusetts lawmaker — a former student of Warren's at Harvard Law School who introduced her when she formally announced for president — has made only two campaign appearances for Warren since then. Kennedy popped over twice to New Hampshire; he did not set foot in Iowa ahead of its caucuses. Kennedy's absence has frustrated some Warren allies who feel he could be an eloquent and forceful presence on the trail in the final stretch, when she needs all the help she can get. 'Where's Joe?,' fumed one who is up in New Hampshire this weekend helping Warren. 'Everybody should be here.'"

UPDATE Weld (R)(1): "Bill Weld Hunts For Elusive Pre-Trump Republicans In New Hampshire Sprint" [HuffPo]. "He pointed to Trump's frequent line at his rallies: 'You have no choice. You have to vote for me,' and everyone laughs, because they know, of course, they do have a choice, and that's what elections are all about. But Mr. Trump is absolutely serious when he says, 'You have no choice.' And all of us, if we vote to reelect Mr. Trump, we better get used to hearing those words, because we're going to be hearing them a lot more.'"

* * *

* * *

NH:

"EXCLUSIVE: NeverTrump-Funded Phone Calls Push GOP-Leaning Independents to Vote in NH Dems Primary" [Inside Sources]. "GOP-leaning independent voters in New Hampshire are receiving phone calls and texts from anti-Trump Republicans urging them to cross the aisle and vote in the Democratic primary on Tuesday, NHJournal has learned. The message is for these unaffiliated voters, who can vote in either party's primary, to vote for a 'responsible and electable' Democratic alternative to Donald Trump. National #NeverTrump leader Bill Kristol, founder of the conservative Weekly Standard magazine, confirmed to NHJournal that he is part of the effort, which involves tens of thousands of New Hampshire voter contacts and a six-figure budget." • Bringing the genre of helpful advice from concerned Republicans to Democrats to a whole new level.

NV:

"Nevada Democrats debut to volunteers new iPad-based 'tool' to calculate math on Caucus Day in the wake of Iowa fiasco" [Nevada Independent]. "Nevada Democrats are planning to use a new caucus tool that will be preloaded onto iPads and distributed to precinct chairs to help facilitate the Caucus Day process, according to multiple volunteers and a video recording of a volunteer training session on Saturday. The new tool will help precinct chairs fold in the results from people in their precinct who chose to caucus early with the preferences of in-person attendees on Caucus Day by calculating the viability threshold and carrying out the two alignments in the caucus process, according to the volunteers and the video recording. Details about the tool come two days after Nevada Democrats said that they would not use any apps for their Feb. 22 caucus after a coding error in a similar program used by Iowa Democrats delayed the release of results from that state's nominating contest earlier this week. In the video, a party staffer tells volunteers that the new mechanism "is not an app" but should be thought of as "a tool.'" • Oh.

Holy moley, a must-listen:

The @nvdems still aren't saying much about their caucus "tool" or plan for early voting, but their volunteers sure are.

"If they don't make some changes, we're going to be Iowa the second time." pic.twitter.com/K9lZD7KyAv

— Keith Schipper (@SchipperKeith) February 10, 2020

So, the app-that-is-really-a-tool is still being developed, eh? That's a confidence builder. Naturally, everybody knows as much about this app as they did about the Iowa app. Now they're just trolling us.

"Culinary Union suggests Sanders, Warren asking union members to trade health plans for 'promises'" [Nevada Independent]. "The politically powerful Culinary Union hasn't yet endorsed in the Democratic presidential primary, but it is making clear which candidates it won't be supporting. A one-pager from the union, the kind of document usually distributed in employee dining rooms and break areas, obtained by The Nevada Independent obliquely accuses Vermont Sen. Bernie Sanders and Massachusetts Sen. Elizabeth Warren of wanting to take away union members' hard-fought and much beloved health plans and warns that electing either candidate will lead to four more years of a Donald Trump presidency. The union, which provides health insurance to 130,000 workers and their family members through a special trust fund, strongly opposes the Medicare-for-all plans the two candidates support, which would eliminate the union's health plan by design." • A trust fund, eh? NOTE The Nevada Independent is Jon Ralston's paper: He of the fake chair-throwing story at the Nevada Caucus in 2016. He will also be moderating the pre-Nevada debate.

* * *

UPDATE CA: "They're Going to Try to Steal California From Sanders (Again)" [TruthDig]. • Excellent, must-read post on the deliberate complexities and obfuscations of the CA ballot (too complex to summarize; really!). Again, whatever sort of beast a political party may be, the key feature is control of the ballot. This story exempifies that (and I have not seen nearly enough work on this by the Sanders campaign, and now it's too late. Perhaps they think they can cure this with early voting. CA reader comments welcome).

* * *

UPDATE Iowa:

"Sanders to seek partial recanvass of Iowa caucus results" [Associated Press]. "Sen. Bernie Sanders' campaign plans to ask for a "partial recanvass" of the results of last week's Iowa caucuses. A campaign aide confirmed the plans Sunday night, ahead of a Monday deadline for candidates to ask the Iowa Democratic Party to recanvass the results. A recanvass is not a recount, but a check of the vote count against paper records to ensure the counts were reported accurately." • See the tweets below. Also: ",' [DNC Chair Tom Perez] said." To an insider, that's much more important than a mere election. Rice bowls could get smashed! The campaign comments:

Bernie Sanders campaign manager @fshakir on the prospect of recanvass in Iowa: "I don't believe that the first canvas has even been completed. What are we talking about a recanvass for? I want to see that the first canvass is fully completed & then we can all have transparency…

— Greg Krieg (@GregJKrieg) February 7, 2020

Election fraud? Thread:

I am once again asking you to let me out and then let me back in again

— Snitch Knightly (@KnightlySnitch) February 9, 2020

IANAL, and neither is the poster. Still.

This is what the Times should have done with "Iowa Caucus Results Riddled With Errors and Inconsistencies." Instead of simply writing a story about irregularities, and then sending the list of the irregularities to the IDP only, they should have published a spreadsheet like this one:

I added 7 more precincts to the Iowa Caucus Precinct Errors spreadsheet (There are now 35 precincts). The impact of correcting them would now be +4.598 SDEs for Bernie.

This would give Bernie a 3.083 SDE lead over Pete in the total count, if corrected.https://t.co/AOr2OaHj4s

— Jordan Hobfoll (@Jhobfoll) February 8, 2020

I can't vouch for the project, but I see only reponses with disputes or corrections on detail.

"How the Iowa Caucuses Became an Epic Fiasco for Democrats" [New York Times]. • Weak. Fails to mention the presence of Buttigieg and Warren operatives on staff at Shadow.

Nooners is shit-stirring, but there is shit to be stirred. Thread:

1. Iowa, why arent you angry at what was done to you? 'Dear uninformed caucus critics: You might want to consider a few things https://t.co/ktnRhWugyZ via @DMRegister

— Peggy Noonan (@Peggynoonannyc) February 7, 2020

* * *

"Sanders Surged in Iowa on a Wave of New Voters" [The Nation]. "But one thing was clear across Iowa: Vermont Senator Bernie Sanders benefited tremendously from an effort to mobilize new and diverse groups of voters in the first-in-the-nation caucus state." • That's the Sanders theory of change. But it only allowed him to eke out a victory. Will it scale?

"Listen to S7: Episode 5 – Nomiki Konst" [Unauthorized Disclosure]. • Well worth a listen for details of the DNC's operations, if operations is the word I want, as opposed to "machinations," or "intrigues." (Naturally, it's all about the benjamins; third boats, steak dinner; "Everything is like CalPERS"™.) Incidentally, the Iowa app was approved by the DNC (whose financing is, let us remember, entirely opaque).

"Iowa conspiracy theories show US democracy has bigger problems than foreign interference" [CNN]. "Almost a year before the Iowa caucuses, a top US cybersecurity official said fears about foreign meddling in the 2020 election were the one thing that kept him up at night. But if this week's debacle in the first vote of the Democratic presidential primaries is anything to go by, another formidable threat to American democracy lies much closer to home." • Not "another." "The most important." Still, I'm amazed to see even this weak tea at CNN.
The Debates
"Debate shows desperation of everyone but Bernie" [Politico]. "There is only one candidate, Sen. Bernie Sanders, who by every indication is staying put. His lines were familiar, his performance as spirited as ever. But the jabs and jostling of debate nights — this was the eighth since June, and the direct confrontations were fairly muted — don't matter so much for him….. Sanders is going nowhere anytime soon from his position at or near the top of this contest. Every other candidate is going somewhere very soon. For all but one, or at most two, of those candidates, that somewhere is down. In a sense, the encounter at St. Anselm College in Manchester, aired nationally by ABC News, had only one question: This is a race between Sanders and BLANK." • Except they aren't BLANK. They have all introduced themselves to the voters, for good or ill, and all of them have serious flaws.
Realignment and Legitimacy
"What's It All About Then" [Eschaton]. "Too much is explained by the fact that too many people need a third boat."

Alert reader RU: "re: the debate thread, this slide is from econofact.org":

Let's keep it this way!
Stats Watch
The Bezzle: "Will Spotify Ruin Podcasting?" [Matt Stoller, BIG]. "Podcasting is a three tiered system, with production, distribution, and advertising in vertically separated lawyers. There are corporations who produce, distribute, and sell podcast ads, but the markets in all three lawyers are open. As a result, there's relative ease of entry. It's hard to build an audience, but if you do, you can get access to a financing channel. And the net result is a lot of diverse voices and entrepreneurship. This dynamic is changing somewhat, as branded podcast corporations increasingly build formulas to launch new shows, but relative to near all other media ecosystems, with the exception of the mid-2000s open internet, it's open." • Sounds like the blogosphere, which was then slaughtered by Facebook and Twitter…
Tech: "Food delivery apps are changing the way we eat, and raking in billions" [CBS]. "For the first time, U.S. restaurants are projected to make more money from food consumed outside their doors than inside. The food delivery industry has swelled to a $10 billion per year industry, thanks in no small part to ordering apps such as DoorDash, GrubHub, Uber Eats and many more. It took over two decades for the seemingly overnight success to take off, and has changed the way most Americans get their food." • More social distancing. It's not clear to me, however, that the restaurant industry as a whole is making more money, or whether Silicon Valley is just moving money around and taking a cut.
Tech: Here is an Apple Dark Pattern on the iPad: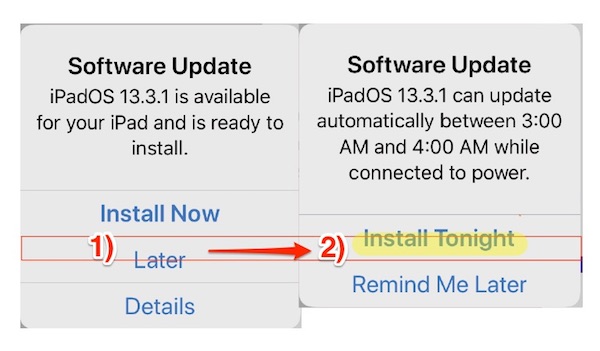 I always put off updates as long as possible, because there will be bugs. Apple wants me to update immediately, because they want to train me that they own my machine. So Apple reminds me to update, which is fine. What is not fine is the dark pattern they use: If I postpone the update at 1) by tapping "Later", and then tap again at the same place 2) — as would be reasonable to do in the Mac OS, which wasn't designed by manipulative sociopaths — I may accidentally tap "Install Tonight," when the closest approximation to my intent is "Remind Me Later" (because I don't want to be reminded at all). I hate an OS that's full of little traps like this.
Manufacturing: "China's Dangerous Chokehold On Our Medicines" [The American Conservative]. "The U.S. doesn't depend on China for 80 percent of the oil needed to fuel our economy. That would be economic suicide. But we do depend on China for 80 percent of the core components to make our generic medicines. How dependent are we? If the Chinese government turned off the spigot, pharmacy shelves would be empty within months. Hospitals would cease to function. Doctors couldn't perform surgery, treat cancers with recommended medicines, or provide dialysis treatment for people with kidney failure. Infectious diseases such as pneumonia and STDs would go untreated. Members of Congress, the White House, the military, veterans, seniors—everyone would be affected. Generic drugs are 90 percent of the medicines Americans take. Thousands of them, sold at corner drug stores, grocery store pharmacies, and big box stores, contain ingredients made in China. As a country, we recognize the geopolitical leverage China would wield if global oil supply and refineries were concentrated in a single country. But we have had a blind spot as to China's chokehold on our medicines." • So, even if for mere public relations purposes, do everything possible to help China with a pressing medical problem that it has?
* * *
Today's Fear & Greed Index: 57 Greed (previous close: 57 Greed) [CNN]. One week ago: 46 (Neutral). (0 is Extreme Fear; 100 is Extreme Greed). Last updated Feb 10 at 12:28pm.
Rapture Index: Closes down one on Interest Rates. "The Coronavirus virus is putting downward pressure on rates" [Rapture Ready]. Record High, October 10, 2016: 189. Current: 183. Remember that bringing on the rapture is a good thing. Finally, the Corona Virus shows up, but under Interest Rates, not Plagues. What is this, cognitive regulatory capture?
The Biosphere
"British Airways 747 Sets New Transatlantic Speed & Time Record" [One Mile at a Time]. "Flight times can already be highly variable based on the time of year one is traveling, but winds across the Atlantic last night were on a whole different level. BA112 from New York JFK to London Heathrow set a new flight time record last night. A British Airways 747 operated the flight in just 4hr56min. That flight is blocked at 7hr5min (which includes taxi time and a buffer), meaning that the plane arrived at 4:47AM, a full 1hr38min ahead of the 6:25AM scheduled arrival. WOW." • Hmm. Effects on the airframe?
UPDATE "Catastrophic Fires Released Billions of Tons of CO2 in 2019" [Bloomberg]. "What made 2019 extraordinary wasn't the overall number of fires, or total fire emissions, but where they happened and how intense they were. Scientists were baffled to record fires burning in some parts of Siberia and Alaska for longer than they'd ever seen."
Health Care
"Coronavirus: Turn off air-conditioners and open windows to reduce risk of being infected, say experts" [Straits Times]. "On top of washing their hands and disinfecting surfaces, people need to switch off the air-conditioner, turn on the fan and get fresh air to reduce the chances of getting infected by the novel coronavirus. The reason is that while many unknowns remain about the virus, earlier studies have shown that viruses thrive better in cool, dry climates. That would make tropical Singapore, with its hot and tropical weather, less conducive for the virus to thrive. This 'good news' for Singapore was delivered on Monday (Feb 10) by the Ministry of Health's (MOH) chief health scientist, Professor Tan Chorh Chuan, at a press conference. 'The likelihood of viral persistence outdoors is lower,' he said, as he noted the prevalent use of air-conditioning in Singapore." • Probably not greatly relevant to New England, but the temperature at LAX at 10:00AM PST is already 67°F. So.
"Coronavirus Forces World's Largest Work-From-Home Experiment" [Bloomberg]. "The cohorts working from home are about to grow into armies. At the moment, most people in China are still on vacation for the Lunar New Year. But as Chinese companies begin to restart operations, it's likely to usher in the world's largest work-from-home experiment. That means a lot more people trying to organize client meetings and group discussions via videochat apps, or discussing plans on productivity software platforms like WeChat Work or Bytedance's Slack-like Lark." • Go long social distancing tech!
"Changing the Game of Prior Authorization" [JAMA Network]. "Securing approval for reimbursement of care in a medical care system affected by overuse and ineffective care seems logical and arguably protective of patients' interests. However, the prior authorization process has now become a significant burden on clinicians, patients, and health care organizations. Even though some organizations are actively advocating to reduce the financial implications and time requirements caused by this process, the full effects and consequences of prior authorization on patients and their families (particularly reversals of authorization after the fact) remain enormous. Along with whatever protections against unnecessary care that it offers, prior authorization has created a minefield of financial risks for patients and their families. It should be a simple matter for patients and those who care for patients to ask insurers in advance if they will pay for the proposed care and to get a firm answer: approval or denial. Yet even when clinicians or hospitals inform patients that "insurance has given an all clear," sometimes insurers subsequently refuse to pay, and patients receive unexpected and expensive bills.:" • One of the many reasons people love their insurance.
"Utah sends employees to Mexico for lower prescription prices" [ABC]. "Lovell is one of about 10 state workers participating in a year-old program to lower prescription drug costs by having public employees buy their medication in Mexico at a steep discount compared to U.S. prices. The program appears to be the first of its kind, and is a dramatic example of steps states are taking to alleviate the high cost of prescription drugs. In one long, exhausting day, Lovell flies from Salt Lake City to San Diego. There, an escort picks her up and takes her across the border to a Tijuana hospital, where she gets a refill on her prescription. After that, she's shuttled back to the airport and heads home. Lovell had been paying $450 in co-pays every few months for her medication, though she said it would have increased to some $2,400 if she had not started traveling to Mexico." • Wait until the pricing for flying starts to change, as it must.
Guillotine Watch
"Even If You Weren't Born Into Nobility, You Can Buy Your Way In" [Bloomberg]. "The value of a title lies in part in its scarcity. About 0.1% of Germans are of noble descent, roughly 80,000 out of a population of almost 84 million. In the U.K. the number is closer to 0.01%. There are clear rules about who's in the club: Typically you were born or married into gentility, and only men can legitimately pass their title on to spouses and offspring. But there's a loophole: adoption. Usually by a noble who can't afford the upkeep on his or her crumbling country estate or the staff to polish the family silver. Acquiring a title this way is a simple transaction between a noble seller and a social-climbing buyer, often involving a go-between such as [Horst Walter Count von Hessen-Homburg'. He says each year he brokers about a dozen deals, for prices ranging from around €80,000 ($88,000) to more than €1 million, depending on the dynastic relevance of the name and auxiliaries such as an elaborate coat of arms or storied family tree."
"Former Pimco CEO sentenced to 9 months in college admissions scandal" [CBS]. "A federal judge in Boston on Friday handed down the toughest sentence yet against a parent charged in the college admissions scandal. Of all the parents swept up in it, prosecutors said Douglas Hodge was especially prolific. For nearly a decade, they said he paid Rick Singer, mastermind of the fraud $850,000 to get four of his children into Georgetown and USC as phony athletic recruits. He was wiretapped allegedly trying to get a fifth child into school. The retired chief executive of investment giant, Pimco, begged the judge for leniency, admitting he 'illegally, tipped the scales in favor of my children over others,' and expressed his 'deepest and sincerest regret.'… In Hodge's case, the defense pointed out that he donated more than $30 million to philanthropic causes." • See below.
Class Warfare
"Against Charity" [Jacobin]. "Effective Altruists calculate where expendable income is best spent and encourage the relatively affluent to channel their capital accordingly. Among their most highly favored causes are the Against Malaria Foundation (which distributes insecticide-treated bed nets), the Schistosomiasis Control Initiative (which works to establish school-based deworming programs), and GiveDirectly (which gives unconditional cash transfers to people in extreme poverty)…. Effective Altruists treat charities as black boxes — money goes in, good consequences come out. The desire to achieve salutary results becomes an imperative to give money to charities. The only aspect of charity worthy of analysis is how much bang donators can expect to get for their buck — cost per life saved or quality-adjusted life-years. In the process Effective Altruists gloss over important social relations, obscuring the morality (and efficacy) of giving to charity, or commanding others to do so, in the first place." • Euthanize the NGOs!
"Theory Discussion: A Working Definition of Neofeudalism" [Nina Illingworth]. "I think I'm finally ready to establish a working definition of the socioeconomic gestalt that is not only transforming life in the 'western world' but increasingly restoring the hoary desiccated corpse of colonialism, albeit a newly financialized and corporatized variation, to fashion throughout the rest of a dying world. Here goes: 'Neofuedalism is the application of extractivism (a particularly destructive form of anti-environmental capitalism typically personified by the fossil fuel, mining and deforestation industries) to individual human beings, en masse and increasingly globally.'" • Illingworth is always worth reading. I'd quarrel with "feudalism" as a name but she's on to something with extractivsm (as it turns out, not only production, but reproduction can be exploited).
News of the Wired
"Americans went to the library more often than they went to the movies, poll finds" [CNN]. "US adults reported taking 10.5 trips to the library on average in 2019, the poll found — about twice as many times as they went to the movies. They went to live music or theatrical events and national or historic parks roughly four times last year, and visited museums and casinos about 2.5 times. Trips to amusement parks and zoos were the least common activities on the list… 'Despite the proliferation of digital-based activities over the past two decades — including digital books, podcasts, streaming entertainment services and advanced gaming — libraries have endured as a place Americans visit nearly monthly on average,' according to the Gallup report. 'Whether because they offer services like free Wi-Fi, movie rentals, or activities for children, libraries are most utilized by young adults, women and residents of low-income households.'"
"How To Build A Skyline At Human Scale" [The American Conservative]. "The horizontal roof was one of the innovations of which the modernists were most proud. Le Corbusier saw the flat roof of the Villa Savoye as a proof of the new aesthetic, and the fact that it leaked, and that the whole house beneath it was soon to become uninhabitable and an object of litigation, was a matter of indifference to him. The house, he told us, is a 'machine for living in.' He meant that it was to be lived in by machines, not by those petulant and comfort-hungry creatures known as humans. The skyline of the old city was not created by spires, domes and minarets only. It was created most of all by the rows of pitched roofs on which these decorative additions cast their endearing shadows." • TAC is pretty cranky about architecture, but in this case, I agree. And not only because of snow. Rain, too!
* * *
Readers, feel free to contact me at lambert [UNDERSCORE] strether [DOT] corrente [AT] yahoo [DOT] com, with (a) links, and even better (b) sources I should curate regularly, (c) how to send me a check if you are allergic to PayPal, and (d) to find out how to send me images of plants. Vegetables are fine! Fungi and coral are deemed to be honorary plants! If you want your handle to appear as a credit, please place it at the start of your mail in parentheses: (thus). Otherwise, I will anonymize by using your initials. See the previous Water Cooler (with plant) here. Today's plant (TH):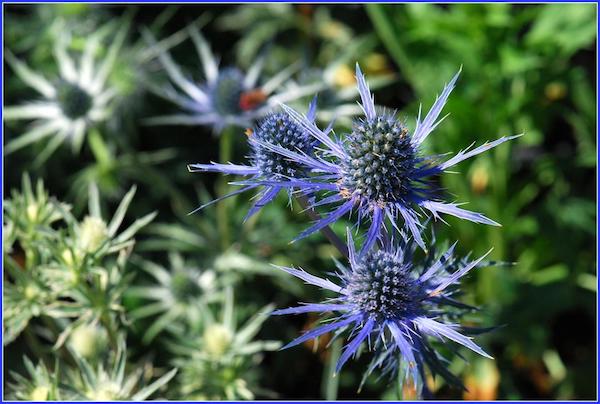 TH writes: "Perennial Eryngium."Sapphire Blue" AKA "Sea Holly". Roger's Gardens in Newport Beach, CA. (Loved it so much had to buy it!)" These look like thistles, to me. I grew thistles once, or they grew in my front garden area, and it was a bad mistake. They are too invasive even for me!
* * *
Readers
: Water Cooler is a standalone entity
not
covered by the annual NC fundraiser. So if you see a link you especially like, or an item you wouldn't see anywhere else, please do not hesitate to express your appreciation in tangible form. Remember, a tip jar is for tipping!
Regular positive feedback both makes me feel good and lets me know I'm on the right track with coverage
. When I get no donations for five or ten days I get worried. More tangibly, a constant trickle of donations helps me with expenses, and I factor in that trickle when setting fundraising goals:
Here is the screen that will appear, which I have helpfully annotated.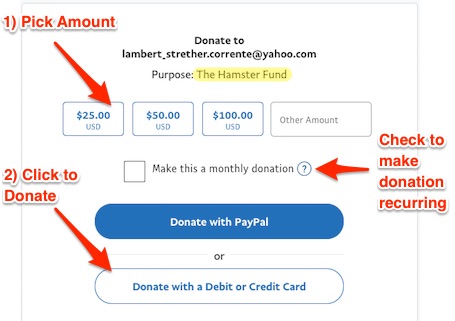 If you hate PayPal, you can email me at lambert [UNDERSCORE] strether [DOT] corrente [AT] yahoo [DOT] com, and I will give you directions on how to send a check. Thank you!