By Lambert Strether of Corrente.
Patient readers, the Democrat Party continues to amaze. I was hoping to take it easy today, which the shortness of this Water Cooler reflects. Just when I thought I was out, they pull me back in…. More soon. For pity's sake. –lambert UPDATE All done.
Politics
"But what is government itself, but the greatest of all reflections on human nature?" –James Madison, Federalist 51
"They had one weapon left and both knew it: treachery." –Frank Herbert, Dune
Here is a second counter for the New Hampshire Primary, which is obviously just around the corner:
* * *
2020
Alert reader dk (not to be confused with DK) is in the process of developing the following interactive chart.

We have no new national polls. We have two new polls from Suffolk and Emerson (different from the two Suffolk and Emerson polls yesterday):

The numbers:

Note — hat tip, continued Iowa debacle! — a little drop from Sanders, Biden deflation, a big pop for Buttigieg, and a small pop for Warren.

Sanders running away with NH, as indeed he should.

And because I didn't do the national poll, here's a "small multiples" image:

Note the trendlines!

CAVEAT I think we have to track the polls because so much of the horse-race coverage is generated by them; and at least with these charts we're insulating ourselves against getting excited about any one poll. That said, we should remember that the polling in 2016, as it turned out, was more about narrative than about sampling, and that this year is, if anything, even more so. In fact, one is entitled to ask, with the latest I boomlet (bubble? (bezzle?)) which came first: The narrative, or the poll? One hears of push polling, to be sure, but not of collective push polling by herding pollsters. We should also worry about state polls with very small sample sizes and big gaps in coverage. And that's before we get to the issues with cellphones (as well as whether voters in very small, very early states game their answers). So we are indeed following a horse-race, but the horses don't stay in their lanes, some of the horses are not in it to win but to interfere with the others, the track is very muddy, and the mud has splattered our binoculars, such that it's very hard to see what's going on from the stands. Also, the track owners are crooked and the stewards are on the take. Everything's fine.

* * *

Buttigieg (D)(1): "In Pete Buttigieg, The Establishment Finds Their Man" [The American Conservative]. "Democratic Party's establishment today is simple: education and the meritocracy. Bill Clinton vaulted from white trash to the White House; in the back of his mind, he always thanked Georgetown, Yale, and the Rhodes program for rescuing a kid from Hope. And Obama ascended through Columbia, Harvard, a blue-chip law firm, and U Chicago on a journey of personal clarification before writing The Audacity of Hope…. Buttigieg is Barack Obama without the charm, the youthful visage of the technocratic elite, even as technocracy melts down (on live TV, if the caucus room floor is any evidence). He offers the audacity of hope with little audacity and only a perfunctory pretense of hope. "Something is stirring in America," Buttigieg tweeted Tuesday in a remark that could have been made in any year. "I believe in American unity. I believe in American boldness," he said this week, with no elaboration. Buttigieg's preemptive victory declaration Tuesday morning took on the air of a dare. He says he won, and he would be the youngest president in history. Goldman Sachs, Google, and the deep state of the government are with him, he noted almost explicitly. The last three years of Donald Trump's presidency have been dominated by hushed, or not so hushed, talk of a coup. On Tuesday morning, America's politics felt, if only for a moment, truly Latin American." • If Buttigieg doesn't want people to confuse him with Juan Guaidó, he's gotta ditch those white shirts.

Sanders (D)(1): "Sanders Raises $25 Million in January, a Huge Show of Financial Strength" [New York Times]. "Senator Bernie Sanders of Vermont raised $25 million in January, his campaign said on Thursday, a staggering sum that gives him an enviable financial advantage at a crucial moment in the Democratic primary race. He plans to use the windfall to immediately buy $5.5 million in television and digital ads across 10 states, at a time when some of his rivals are shifting or cutting their existing ad reservations. The $25 million haul is more money than any other candidate raised in any full quarter during 2019, including several presidential hopefuls who hold the big-dollar fund-raisers that Mr. Sanders forgoes."

Sanders (D)(2): "Health care VCs haven't made plans for a Bernie Sanders win" [Axios]. "[M]ost venture capitalists investing in America's health care industry — the primary target of Bernie's ire — have shoved their heads so deep in the sand that they've found water. Why it matters: At some point, it could become a failure of fiduciary duty. Health care accounts for over 20% of all U.S. venture activity. Investors view many of those deals as binary: Either the drug doesn't work, resulting in a total write-off, or it does work and the financial sky's the limit. Strike out or grand slam. Sanders pledges to limit the upside, either by limiting drug prices under the current system or (if he gets Medicare-for-all) by establishing a single, centralized buyer."

Trump (R)(1): "Team Trump Plans Its Assault on Bernie. Step One: 'Victims of Socialism.'" [Dally Beast]. "As recently as October, Donald Trump's re-election team and top Republican officials viewed the 2020 Democratic primary as a two-way race between Sen. Elizabeth Warren (D-MA) and Joe Biden, and had entirely written off Sen. Bernie Sanders (I-VT) in high-level strategy discussions. A few months later, Team Trump, the GOP, and the president himself aren't laughing off the self-identifying socialist anymore. In fact, they're gaming out various attacks and troll tactics to deploy against the Vermont senator in a potential general election face-off. According to four sources familiar with the internal deliberations, an aggressive anti-Bernie effort is already being drafted inside the Trump campaign, the Republican National Committee, and allied organizations. And one of the major ideas being kicked around is to deploy more 'victims of socialism' and communist regimes to make the case—via video testimonials—against Sanders' vision of governance." • Good thing the liberal Democrats helped soften him by rebooting McCarthyism!

Trump (R)(2): "The case for taking Trump's black outreach seriously" [Matthew Yglesias, Vox]. "But even though Trump's outreach to black voters is overwhelmingly tacky and ridiculous, it shouldn't be dismissed out of hand. After all, Trump's courting of white working-class voters is tacky and ridiculous, but that doesn't mean that it doesn't work. Even a very successful outreach, though, will still leave Trump losing badly among black voters, who overwhelmingly do not support him. But it also means that Trump's got nowhere to go but up. And the bulk of the evidence suggests that support among black voters has in fact gone up and may rise even further depending on how the rest of the 2020 cycle plays out…. It's well established that African American turnout declined in 2016 to the levels seen in pre-Obama elections, even as turnout rose in other demographic categories. Less known, as Philip Bump wrote last year, is that Trump actually 'did slightly better with black voters than did John McCain in 2008 or Mitt Romney in 2012,' albeit worse than George W. Bush or earlier Republicans." •

UPDATE Trump (R)(3): "Trump Fans Flooded Iowa Caucus Hotline, Democrats Say" [Bloomberg]. "According to two participants on the call, Ken Sagar, a state Democratic central committee member, was among those answering the hotline on caucus night and said people called in and expressed support for Trump. The phone number became public after people posted photos of caucus paperwork that included the hotline number, one of the people on the call said." • Democrats: Deploy the blame cannons! (And I wonder who those "people" were. Buttigieg's campaign manager was tweeting out caucus tallysheets with the PIN numbers for entering data into the app.)

Warren (D)(1): "After disappointing Iowa vote, Warren says she needs to be 'careful' with money" [WaPo]. "Sen. Elizabeth Warren's campaign is trying to conserve cash and pulled down TV ads in Nevada and South Carolina after a disappointing third-place standing in Iowa that failed to provide a fundraising bump. 'I just always want to be careful about how we spend our money,' Warren (D-Mass.) said Wednesday after being asked about the roughly $375,000 of TV ads pulled in two states that vote later this month. She added that her cash comes from people who make small donations. 'I just want to be very careful with this money,' she said. Warren on Wednesday also yanked an additional $100,000 worth of ads, mostly in South Carolina markets but also in Reno, Nev., according to Advertising Analytics, which tracks campaign spending on television…. Compounding that problem, Warren also has among the largest campaigns, with more than 1,000 on staff, meaning she has a hefty payroll bill to meet each month and little extra that she can cut before chopping personnel."

Warren (D)(2): This might help:

Barack Obama — who is neutral in the 2020 primary — is now the narrator of THREE ads in the current primary.

The latest one is from Elizabeth Warren pic.twitter.com/qHHcgesPaf

— Shane Goldmacher (@ShaneGoldmacher) February 6, 2020

UPDATE Warren (D)(3): Team sports (dk):

Yowza. Warren campaign manager to Buttigieg strategist, calling out what he says are instructions to super PAC: pic.twitter.com/gMREt8pHYM

— MJ Lee (@mj_lee) February 5, 2020

See the FEC here and here on "coordinated communications."

* * *

Let me just start by playing a beautiful song about Iowa.

Now to the ugliness. "Enough is enough":

Enough is enough. In light of the problems that have emerged in the implementation of the delegate selection plan and in order to assure public confidence in the results, I am calling on the Iowa Democratic Party to immediately begin a recanvass.

— Tom Perez (@TomPerez) February 6, 2020

Helpful tip: Just in case you're on the Twitter, and you want to avoid keywords that cause those DNC "disinformation" tripwires to fire, here are some synonyms for "rig": falsify, fix, manipulate, tamper with, doctor, engineer, fake, gerrymander, juggle, fiddle with, and trump up (indeed!). ("Ratf*ck" — without the asterisk — was the keyword that got me; perhaps readers can come up with some useful synonyms: Rodent erotica?)

Thing is, the DNC has had at least a dozen people on the ground in Iowa since the caucus, helping the Iowa Democrat Party. So Perez just discarded whatever plan the DNC originally set up — while blaming the Iowa Democrats not only for his own plan, but erasing the role the DNC's own app played in the debacle. Certainly, Perez is giving Obama, who installed him at the DNC after defenestrating Ellison, every reason to be satisfied with his choice:

NEW: The Iowa Democratic Party did not have advance warning that @TomPerez was calling for a recanvass of the Iowa caucus results, two people familiar with the matter tell @CNN. Perez doesn't point out that the DNC has been running the show in Iowa for the last 48 hours.

— Jeff Zeleny (@jeffzeleny) February 6, 2020

Sanders throws down the gauntlet:

NEWS: Bernie Sanders declares a "very strong victory" in Iowa at an NH press conference.

Says when 6,000 more people turn out for you than any other candidate, "we here in Northern England" call that a win. Says SDEs have "greatly diminished importance, and they should." pic.twitter.com/WISdAcRfPp

— Alex Seitz-Wald (@aseitzwald) February 6, 2020

The DNC throws the Iowa Democrats under the bus:

NEW: The Iowa Democratic Party did not have advance warning that @TomPerez was calling for a recanvass of the Iowa caucus results, two people familiar with the matter tell @CNN. Perez doesn't point out that the DNC has been running the show in Iowa for the last 48 hours.

— Jeff Zeleny (@jeffzeleny) February 6, 2020

Hilarity ensues:

The rules for who gets into the debate on Friday are based on who got delegates in Iowa.

HAHAHAAHAHAHAHAHAHAHAA

— Matt Stoller (@matthewstoller) February 6, 2020

UPDATE The overly cynical might think that this triggered Perez:

So: With 97% of vote counted, Iowa caucus results are:
Sanders 44,753 26.5%
Buttigieg 42,235 25.0%
Warren 34,312 20.3%
Biden 23,051 13.7%
If no big changes in last 3 percent of vote, bottom line: Sanders won, Buttigieg did well, Warren OK, Biden bad, bad, bad. pic.twitter.com/lNNoj7KQ9T

— Byron York (@ByronYork) February 6, 2020

UPDATE Or maybe Perez was triggered by the prospect of the Times "needle" flipping to a Sanders victory:

Well we're going to evaluate, but it sure seems to me that– despite being set up to accept it and model them separately–that the needle does not have the satellite caucuses pic.twitter.com/2r05X1qVal

— Nate Cohn (@Nate_Cohn) February 6, 2020

Since the satellite caucuses were both the last to be counted, for some reason, and also heavily and successfully organized by the Sanders campaign, this is quite the faux pas by The Newspaper of Record. (I also remember the catastrophic failure of the Times needle on Election Day, 2016. Perhaps it's time to retire it, even if the sort of people who design "dashboards" for a living love it.)

Lol:

The Iowa Caucus BROKE the NYTimes needle! #BernieWonIowa #IowaCauscus pic.twitter.com/ARgPBrb9lz

— Donna Maine Smith ?? (@DonnaMaineSmith) February 6, 2020

UPDATE Or maybe Perez was triggered by the Buttigieg campaign complaining about the satellite caucues (the SDEs, mind you, not the popular vote):

If this was @TomPerez's actual reason this is nothing other than corrupt. I reported yesterday that the satellite caucuses could make the difference for Sanders. This didn't come out of nowhere. To order a re-canvass because Sanders surged at satellites is staggering. Get over it https://t.co/nlCwII7oWr

— Ryan Grim (@ryangrim) February 6, 2020

UPDATE Not a good look for Buttigieg (1):

159 people from the Karen, Karenni, Chin, Mon, Shan, and Rakhine refugee communities from Myanmar came to caucus at the Karen Baptist Church in DSM. All 159 caucused for Bernie, winning all 9 county delegates. It was the first vote/caucus for over 95% of them. #iowacaucuses pic.twitter.com/zTFGC1Vm3a

— kerubin_ho (@kerubin_ho) February 5, 2020

UPDATE Not a good look for Buttigieg (2):

with 97% of results in, the last caucus satellite site to be counted is the one with the viral picture of East African immigrants who'd came from a brutal day of work at a meat packing factory — many casting their first vote as naturalized, new Americans. pic.twitter.com/2DVWmYm9ej

— Kamau #HomeIsHere (@Kamaumaumau) February 6, 2020

We keep hearing about "rules." Here they are!

UPDATE "UNLOCKED: 391 – Bernie Won (2/5/20)" (podcast) [Chapo Trap House]. • Very good and very funny, despite occasional descents into scatology and flights of triumphalism. The stuff to give the troops!

* * *

And more on the app:

"Acronym group that sabotaged Iowa caucus birthed by billionaire who funded Alabama disinformation campaign" [The Grayzone]. "Silicon Valley billionaire Reid Hoffman funded the creation of ACRONYM, the group that sabotaged the Iowa caucus results, after bankrolling voter manipulation campaigns including the notorious online "false flag operation" in Alabama's 2017 senate race." • Oh.

"The Iowa Caucuses App Had Another Problem: It Could Have Been Hacked" [Pro Publica]. "The IowaReporterApp was so insecure that vote totals, passwords and other sensitive information could have been intercepted or even changed, according to officials at Massachusetts-based Veracode, a security firm that reviewed the software at ProPublica's request. Because of a lack of safeguards, transmissions to and from the phone were left largely unprotected." • Oh.
The Debates
"For the first time, a climate journalist will moderate a presidential debate" [Heated]. "For the first time in history, a climate journalist will moderate a presidential debate. On Wednesday, NBC News announced that Noticias Telemundo senior correspondent Vanessa Hauc will be among the co-moderators of the Democratic presidential primary debate on February 19 in Las Vegas, Nevada. (There are three debates scheduled for this month—one tomorrow, one on the 19th, and one on the 25th). If there is a broadcast journalist with a longer history of covering the climate crisis than Hauc, I do not know of them. Huac has been a reporter for more than two decades, and currently leads the investigative unit on environmental issues at Telemundo's 'Planeta Tierra.'" • Too bad the DNC didn't allow a whole debate on climate. Of course, to do that, they would have had to change the rules.
Impeachment
"How Rick Perry waltzed past the impeachment probe" [Politico]. "Former Energy Secretary Rick Perry will skirt questioning by Congress during the impeachment of President Donald Trump despite his central role in the administration's contacts with Ukraine. Perry stonewalled all requests from lawmakers for information in the investigation, defying a House subpoena and limiting his public comments to friendly media outlets. And despite a lawsuit that's yielded a trickle of internal records from the Energy Department and allegations from Rudy Giuliani's associate Lev Parnas that Perry played a central role in conveying Trump's demands for investigations into political rival Joe Biden, the Senate is poised to acquit Trump Wednesday with no clear answers about the former Cabinet member's activities." • If the Democrats don't want to enforce subpoenas, what's the point of issuing them?
Realignment and Legitimacy
"Bloomberg Surrogates Have Seats on DNC Rules Committees" [Sludge]. And the deck: "After DNC Chair Tom Perez unilaterally changed the Feb. 19 presidential debate requirements, opening the door for Mike Bloomberg, two campaign surrogates are in position to propose changes to superdelegate voting rules for the July DNC Convention." More: "The DNC passed intensely-negotiated rule changes in August 2018 that sought to reduce the influence of superdelegates—appointed at-large delegates whose ranks include influential party consultants—primarily by preventing them from casting votes on the first nomination ballot, as they did in 2016. If no candidate receives a majority on the first ballot at the upcoming convention, which will be voted on by 3,979 pledged delegates, then the 771 superdelegates—including some lobbyists for corporate clients—can vote on the second ballot, under the new rules. If the superdelegates were to vote as a block, they could add over 16% to a candidate, potentially pushing their favorite over the top."

UPDATE "Iowa's high-tech caucuses crashed, and paper ballots saved the day" [MIT Technology Review]. • So why do we need the high-tech stuff at all, then? Except as a rice bowl for grifters?

UPDATE "DNC Offers Startup $500 Million To Develop Pencil That Can Accurately Record Election Results" [The Onion]. ""As of this morning, we have commissioned the design and manufacture of a cutting-edge tabulation device that will be able to legibly report vote totals on a sheet of paper 99% of the time," said DNC chair Tom Perez, holding up a rough prototype of the 7.5-inch hexagonal marking implement, which will be built and rigorously stress-tested by a new Silicon Valley business venture known as Sharpen." • I believe that's a typo: the venture should be Sharpn™.
Stats Watch
Commodities: "Virus Hits Copper Trade as China Asks Chile to Defer Cargoes" [Bloomberg]. "China's copper buyers are asking Chilean miners to delay shipments due to port shutdowns, adding to tumult in global commodity trade in the wake of the coronavirus outbreak. While the suppliers haven't reported any contract breaches, they have verbally agreed with clients to reschedule some deliveries…. 'Just like airlines don't want to go to China, ocean freight companies don't want to either,' [Victor Garay, market coordinator for Cochilco, the copper commission in Chile] said in an interview Wednesday. Copper is joining shipments of everything from oil to crops that have been disrupted by the spread of the deadly virus, which originated in China."
Shipping: "AAR: "Glimmers of Hope" in U.S. Rail Traffic" [Railway Age]. "'U.S. rail volumes fell again in January, reflecting continued softness in manufacturing and global economic weakness made worse by trade uncertainties,' said AAR Senior Vice President John T. Gray. 'But there were glimmers of hope. Nine of the 20 carload categories we track had year-over-year gains in January, the most in a year, and several other commodities had carload declines in January that were less pronounced than they've been in recent months. It's too early to say if the worst is behind us, but railroads are hopeful that 2020 will see an improved business climate and rising volumes across much of their traffic base.'"
Shipping: "The toll from the coronavirus outbreak is starting to hit maritime operations from container terminals to shipyards. A report from Alphaliner projects the impact of factory shutdowns and other restrictions crimping China's output will reduce global ocean container volumes, by about 0.7% this year…. as Beijing struggles to rein back the outbreak while keeping its economy on track" [Wall Street Journal]. "The dour outlook for a key segment of global trade comes as international container lines cancel a growing number of scheduled sailings through China and airlines ground flights to the region, squeezing cargo capacity for a broad range of shippers and logistics operators."
* * *
Today's Fear & Greed Index: 62 Greed (previous close: 60 Greed) [CNN]. One week ago: 56 (Greed). (0 is Extreme Fear; 100 is Extreme Greed). Last updated Feb 6 at 12:29pm. Let the good times roll!
The Biosphere
"Arctic sinkholes open in a flash after permafrost melt" [Live Science]. "Arctic permafrost can thaw so quickly that it triggers landslides, drowns forests and opens gaping sinkholes. This rapid melt, described in a new study, can dramatically reshape the Arctic landscape in just a few months. Fast-melting permafrost is also more widespread than once thought. About 20% of the Arctic's permafrost — a blend of frozen sand, soil and rocks — also has a high volume of ground ice, making it vulnerable to rapid thawing. When the ice that binds the rocky material melts away, it leaves behind a marshy, eroded land surface known as thermokarst. Previous climate models overlooked this kind of surface in estimating Arctic permafrost loss, researchers reported. That oversight likely skewed predictions of how much sequestered carbon could be released by melting permafrost, and new estimates suggest that permafrost could pump twice as much carbon into the atmosphere as scientists formerly estimated, the study found." • Yikes.
"Mysterious Australian rock art may depict the chaos following rising seas" [Science]. "When lost Australian rancher Joseph Bradshaw stumbled across dancing, mulberry-colored figures painted on a rock shelter in the northwestern Kimberly region in 1891, he was mesmerized: They looked like no rock art he had seen before. Since then, the slender, detailed figures—now known as Gwions—have puzzled archaeologists, who didn't know when they were painted or by whom….. [T]he researchers to reliably bracket the age of the Gwions for the first time: 12,000 years ago, give or take 500 years. That means, Finch says, the Gwion style lasted in the area for just a short period—1000 years or less. That period coincides with the rapid ending of an ice age, when rising seas inundated northern Australia and shrank the lands of the Kimberley region by half. The resulting chaos displaced populations, and it may help explain why the Gwion artists focused on clan dynamics and ceremonies in their paintings." • The methodology, involving wasps' nests (!), is fascinating.
"After 2,000 Years, These Seeds Have Finally Sprouted" [The Atlantic (David L)]. "Five of the six seeds that ultimately sprouted came from either Masada, the site of a famous siege in 74 b.c. that is said to have ended with the mass suicide of Masada's defenders, or the Qumran Caves, best known as the site of the Dead Sea Scrolls. (A sixth came from caves at Wadi Makukh.) At 2,000 years old, the seeds are in fact contemporaries of these ancient events. Around the time Romans were laying siege to Masada and the Dead Sea Scrolls were being written, these seeds were being formed."
"The scientists restoring a gold-mining disaster zone in the Peruvian Amazon" [Nature]. "La Pampa was once the largest and most dangerous gold-mining zone in the Peruvian Amazon, so riddled with gangsters that scientists dared not enter. For nearly a decade, they could only watch by satellite as gold hunters mowed down some of the most biodiverse rainforest on the planet. That ended in February 2019, when the government declared martial law and expelled an estimated 5,000 miners. Now, La Pampa is deserted and under military guard. When Silman and his colleagues surveyed the area for the first time in late June, they found a barren, eerily quiet landscape polluted with mercury, a toxic by-product of mining. The data that the researchers collect on this inadvertent experiment could help to determine the extent to which restoration is possible — or document the evolution of an entirely new, and human-made, ecosystem."
News of the Wired
"This Professor's 'Amazing' Trick Makes Quadratic Equations Easier" [New York Times]. "Quadratics, which are introduced in elementary algebra classes, pop up often in physics and engineering in the calculating of trajectories, even in sports. If, while watching the Super Bowl, you had wanted to estimate how far a pass thrown by Patrick Mahomes traveled through the air, you would have been solving a quadratic equation. The equations also show up in calculations for maximizing profit, a key consideration for anyone who wants to succeed in business. [Dr. Po-Shen Loh] has not discovered something entirely new. Indeed, his method mixes together ideas dating back thousands of years to the Babylonians." • Paging Michael Hudson!
* * *
Readers, feel free to contact me at lambert [UNDERSCORE] strether [DOT] corrente [AT] yahoo [DOT] com, with (a) links, and even better (b) sources I should curate regularly, (c) how to send me a check if you are allergic to PayPal, and (d) to find out how to send me images of plants. Vegetables are fine! Fungi and coral are deemed to be honorary plants! If you want your handle to appear as a credit, please place it at the start of your mail in parentheses: (thus). Otherwise, I will anonymize by using your initials. See the previous Water Cooler (with plant) here. Today's plant (TD):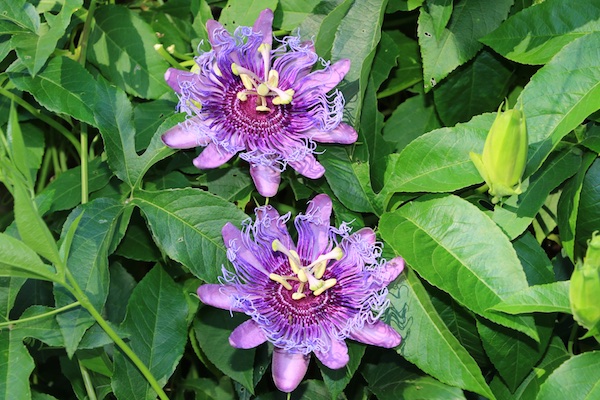 TD writes: "Still no frosts in Oklahoma, so we are still getting blooms."
* * *
Readers
: Water Cooler is a standalone entity
not
covered by the annual NC fundraiser. So if you see a link you especially like, or an item you wouldn't see anywhere else, please do not hesitate to express your appreciation in tangible form. Remember, a tip jar is for tipping!
Regular positive feedback both makes me feel good and lets me know I'm on the right track with coverage
. When I get no donations for five or ten days I get worried. More tangibly, a constant trickle of donations helps me with expenses, and I factor in that trickle when setting fundraising goals:
Here is the screen that will appear, which I have helpfully annotated.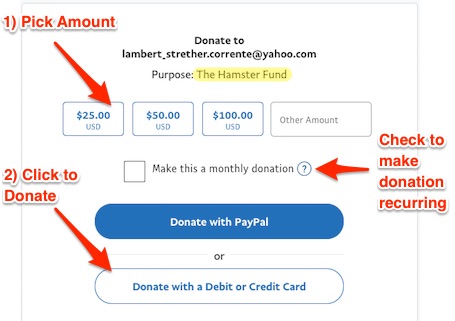 If you hate PayPal, you can email me at lambert [UNDERSCORE] strether [DOT] corrente [AT] yahoo [DOT] com, and I will give you directions on how to send a check. Thank you!