By Lambert Strether of Corrente.
Readers, be sure to come back for the Democrat debate tonight. Doors open at 8:30PM ET (at which point this link will work).
Politics
"But what is government itself, but the greatest of all reflections on human nature?" –James Madison, Federalist 51
"They had one weapon left and both knew it: treachery." –Frank Herbert, Dune
Here is a second counter for the Nevada Caucus, which is obviously just around the corner:
* * *
2020
Sorry for the chart kerfuffle yesterday. Clearly, readers regard the charts as an important service, or they wouldn't complain when they are off! (My error for not doing sufficient QA, but I move quite fast doing Water Cooler.) For readers who want to do more debugging, or simply play around with the charts, here is a link to alert reader dk's project. You can file bug reports or feature requests using the same contact process as for Plants, below. Thanks — but no promises!

Today we have two new national polls from Emerson and YouGov, and new state polls from CA, MA, NC, NJ, and VA. As of 2/18/2020, 11:00 AM EST (three-day average):

The numbers:

A new poll from CA (% by day):

CA numbers:

And now the rest of the state polls, all with small samples, irregular, and more or less flaky. First, MA:

MA numbers:

Ouch! Sanders with a lead (albeit statistically insignificant) in Warren's home state.

NC:

NC numbers:

NJ:

NJ numbers:

VA:

VA numbers:

Sanders doing surprisingly well everywhere, though we don't know how soft his support is. (My uninformed guess is less soft than average, because the media vilifies him; it takes a bit of courage to go against that tide.) Bloomberg doing well in the South. The South has a rich populist history, though…

CAVEAT I think we have to track the polls because so much of the horse-race coverage is generated by them; and at least with these charts we're insulating ourselves against getting excited about any one poll. That said, we should remember that the polling in 2016, as it turned out, was more about narrative than about sampling, and that this year is, if anything, even more so. In fact, one is entitled to ask, with the latest I boomlet (bubble? (bezzle?)) which came first: The narrative, or the poll? One hears of push polling, to be sure, but not of collective push polling by herding pollsters. We should also worry about state polls with very small sample sizes and big gaps in coverage. And that's before we get to the issues with cellphones (as well as whether voters in very small, very early states game their answers). So we are indeed following a horse-race, but the horses don't stay in their lanes, some of the horses are not in it to win but to interfere with the others, the track is very muddy, and the mud has splattered our binoculars, such that it's very hard to see what's going on from the stands. Also, the track owners are crooked and the stewards are on the take. Everything's fine.

* * *

Bloomberg (D)(1): These are questions properly scaled to Bloomberg's fortune (as opposed to this pissant tax return stuff). Thread:

Questions I have about Bloomberg's financial disclosures, which he will hide from the public until after most delegates have been allocated: https://t.co/ZIWej1PnEw

1. How many of your investments vulnerable to the Chinese government? e.g., https://t.co/TGbDIUl6Bq
(1/x)

— Jeff Hauser (@jeffhauser) February 18, 2020

Bloomberg (D)(2): "" [National Review]. "[T]he Republican Party has largely acquiesced to Trump….; some would argue the rest of the party has become subservient. Perhaps Democrats will elevate and acquiesce to Mike Bloomberg in a similar fashion. (The Bernie Bros look like a difficult challenge; Sanders's national campaign co-chair labeled Bloomberg an 'oligarch.') If he beat Trump, he would end the Democrats' current nightmare and do as they wished on gun control and climate change. But Bloomberg is skeptical of tax hikes on the rich (he wants to reduce, but not undo, the Trump tax cuts), opposes Medicare for All, he believes replacing private, employer-provided health insurance was financially impossible, and he's a free trader. Bloomberg defended bonuses to traders at Wall Street firms that were being bailed out by the taxpayers. He has said he hopes the National Security Agency is reading every American's email. He insists that China's Xi Jinping is "not a dictator." He's called for raising the retirement age, and in 2013, Bloomberg said, "no program to reduce the deficit makes any sense whatsoever unless you address the issue of entitlements, Medicare, Medicaid, Social Security, and defense spending.' ." • But… but… but the money….

Bloomberg (D)(3): "Mike Bloomberg is not the lesser of two evils" [Ryan Cooper, The Week]. "Given his wretched politics, even Bloomberg's superior competence is a mark against him. Right now one tiny silver lining of the Trump administration is that the people trying to commit atrocities through the federal bureaucracy are so inept they keep fumbling the legal procedures and getting stopped in the courts. Bloomberg is sure to appoint competent authoritarian maniacs."

Bloomberg (D)(4): There's always a quote:

Michael Bloomberg in 2014 proposing we defund the USPS pic.twitter.com/QYSdzxfbiC

— Walker Bragman (@WalkerBragman) February 18, 2020

Sanders (D)(1): "Fox Has Been "More Fair": Why Bernie Sanders' Team Has Had It With MSNBC" [Vanity Fair]. "Sanders's legion of very online supporters are quick to share clips and gripes after any perceived slight against Sanders. The anti-Bernie highlight reel grew in recent weeks, with some moments verging on parody. Joy Reid hosted a body-language expert who said Sanders's posture revealed that he was "lying" about a recent dispute with Elizabeth Warren. Chris Matthews's appearances, meanwhile, have become appointment viewing for his anguished warnings about Sanders. On the day of the Iowa caucuses, a glum Matthews invoked the ghost of George McGovern in forecasting a wipeout for Sanders in the general election. "Bernie Sanders is not going to be president of the United States, okay?" Matthews declared. Following the most recent debate in New Hampshire, Matthews breathlessly offered another history lesson. "I have my own views of the word socialist and I'd be glad to share them…They go back to the early 1950s. I have an attitude about them. I remember the Cold War," Matthews said. "I have an attitude towards [Fidel] Castro. I believe if Castro and the Reds had won the Cold War there would have been executions in Central Park and I might have been one of the ones getting executed. And certain other people would be there cheering, okay?"

* * *

NV:

"Harry Reid Tells Candidates Hoping to Stop Sanders to 'Speak Up'" [Bloomberg]. "Reid made clear to me that if the moderate hopefuls (and for that matter, Elizabeth Warren) want to stop the Vermont senator, they'll have to stop shrinking from confrontation and go after him directly. 'The American public will make that decision in little bits and pieces,' he said, when I asked him to assess the primary race. 'If Bernie is the one that comes out ahead, we'll just have to see what happens. But if people don't like what he does, they're going to have to start saying they don't like it rather than pat him on the back.'" • Open season!

I hate to quote Ralston, but:

NEWS: Stunning last day of turnout for Nevada caucus: Not
all ballots counted but the number Tuesday was about the same as the first three days COMBINED. Upwards of 33,000. So about 70,000 total.

Perspective:

84K turned out on Caucus Day in '16, with no early voting.

Damn.

— Jon Ralston (@RalstonReports) February 19, 2020

The question is how they're distributed. The Culinary Workers, for example, have caucus locations near to where they work (and good for them). But that's not true everywhere:

.@RalstonReports In Northwest Reno caucus location today. Hundreds and hundreds of people standing for hours. What could happen? pic.twitter.com/uadcJVU1y7

— Cycling_Whine (@Cycling_Whine) February 18, 2020

Looks like voter suppression to me….

* * *

SC:

"The Republicans Planning to Vote in South Carolina's Democratic Primary" [The New Yorker]. • Because elevating Trump worked so well for the Clinton campaign….

* * *

IA:

"Sanders To Ask For Recount Of Iowa Caucuses" [Forbes]. "Bernie Sanders will ask for a partial recount of the Iowa caucuses due to apparent mathematical mistakes and reporting errors, the campaign said Tuesday, two weeks after the caucuses descended into chaos after technical glitches caused the results to be delayed and called into question… 'While it is clear that Sen. Sanders won the popular vote in Iowa by 6,000 votes, the recanvass process reduced the State Delegate Equivalent deficit by 97 percent,' Sanders Senior Advisor Jeff Weaver said in a statement. 'We now believe a recount will give Sen. Sanders enough State Delegate Equivalents to put him over the top by that metric as well.'"
Realignment and Legitimacy
Hmm:

From new @EmersonPolling national poll

% of each candidate's supporters who believe that Jeffrey Epstein committed suicide:

Klobuchar 42%
Bloomberg 34%
Warren 33%
Biden 31%
Steyer 29%
Buttigieg 25%
Sanders 16%
Gabbard 8%

— Eldon Katz ? (@eldon_katz) February 19, 2020

"TV Executives Celebrate Bloomberg's Unprecedented Spending" [The Intercept]. "The 2020 campaign is shaping up to be an incredible financial opportunity for media companies." • I'm sure they'll plow the profits into the newsrooms.

"Adolph Reed JR: Neoliberal Democrats & Bloomberg Are Scared of The Sanders Movement" [YouTube (JM)]. Reed is always worth a listen:
Obama Legacy
"How the cowardice of the Obama administration foreshadowed the impunity of Trump" [Alternet]. "Thanks to the cowardice of the Obama administration, no CIA officer or any higher official in the administration of George W. Bush and Dick Cheney, no psychologist, no doctor, no one at all has yet been held accountable for the years of torture practiced on a global scale in the war on terror. Donald Trump himself, of course, got elected while publicly proclaiming about waterboarding that "I like it a lot" and he reportedly considered Gina Haspel's black-site torture experiences a positive part of her resume when considering her for CIA director. … Is it really so surprising, then, that we now have a man in the Oval Office who believes he has 'the right to do whatever I want as president'? The history of the twenty-first-century war on terror suggests that, if he doesn't have the right, he certainly appears to have the power."
Stats Watch
At reader request, I added some business stats back in. Please give Econintersect click-throughs; they're a good, old-school blog. If anybody knows of other aggregators, please leave links in comments.
Producer Prices: "January 2020 Producer Price Final Demand Year-over-Year Growth Jumps To 2.1%" [Econintersect]. "Year-over-year Inflation pressures significantly grew this month."
Household Spending: "Year-over-year Inflation pressures significantly grew this month." [Econintersect]. "The [Fed's Survey of Consumer Expectations (SCE) Household Spending Survey] shows the highest reading for monthly household spending growth compared to a year ago since April 2015. The share of respondents who reported making at least one large purchase in the last four months also reached a new series high. Year-ahead total household spending growth expectations, however, were substantially lower compared to levels seen in the previous year. Median year-ahead expected growth in spending on clothing, food, medical care, housing, and transportation all declined." • Stocking up on generators and canned goods?
Shipping: "Thousands of Frozen Meat Containers Pile Up at Chinese Ports" [Bloomberg]. "Thousands of containers of frozen pork, chicken and beef are piling up at some major Chinese ports as transport disruptions and labor shortages slow operations, people familiar with the matter said. Deliveries are mounting at ports including Tianjin, Shanghai and Ningbo because there aren't enough truck drivers to collect containers due to travel curbs imposed in the country to control the coronavirus, said the people, who asked not to be identified because they're not authorized to speak publicly. Ports are also starting to run out of electricity points to freeze the containers and some ships have been told to reroute to other destinations in mainland China and Hong Kong, the people said. China is a massive importer of meat from South America, Europe and also the U.S., and has been boosting purchases to help ease shortages caused by African swine fever.'" • So we have the intersection of two epidemics: #COVID-19 and African swine fever.
The Bezzle: Hoisting this from comments. Arizona Slim writes:
Lambert, I gotta tell you this, you really posted a humdinger of a link today.

I'm talking about the Smile Direct Club.

Back in my coworking days, the Smile Direct Club moved into the space. Like a herd of elephants, they did.

SDC rented five offices, kaching! And the company hired a dozen young women in blue jackets to staff them.

We, the longtime coworkers, noticed that something was amiss right away. That blue jacket-clad dozen didn't seem to have any work to do. So, they spent their days in the kitchen or on the patio, chatting with each other and messing around with their cell phones.

The guy who sat right across me was especially disturbed by all the SDC foot traffic — patients and staff — that went right behind him. And he spoke up in a member meeting.

Ba-a-a-ad move!

He pointed out that the contract he signed said that he could not operate a business providing health care-related services. Nor could he be doing a retail business out of the coworking space. Or one that had frequent visits from the public.

Well, the coworking space management was not at all amused. And they kicked him out of the space. I saw it happen with mine own two eyes.

I guess that management thought that they would Make An Example out of my desk-mate, but the opposite happen. A lot of us got very angry.

Me? My house was being renovated, so working there wasn't an option. But, after my desk-mate and friend got tossed out, I never felt very enthusiastic about going down there.

Over time, the Smile Direct Club started laying off staff and downsizing their presence in the coworking space. They went from five offices to three. For which they were still paying beaucoup bucks.

Eight months after they moved in, the Smile Direct Club abruptly moved out of the coworking space. No one outside of management was sorry to see them go.
Bezzle (Smile Direct) layered on bezzle (co-working). Impressive.
The Bezzle: "Blue Apron Seeks Funds or a Sale as It Shutters a Facility" [Bloomberg]. "Blue Apron Holdings Inc., which kicked off the meal-kit-by-mail fad, is evaluating options to rekindle the business, including raising additional capital or selling assets, as it struggles to find new customers or profit." • "Rekindle."
The Bezzle: "Groupon's Worst-Ever Decline Drives It to Record Low Amid Revamp" [Bloomberg]. "Groupon Inc. plummeted a record 38% to an all-time low after delivering worse-than-expected results and announcing plans to stop selling goods — a retreat for a company that once aspired to be a major shopping service."
The Fed: "How Millennials Could Make the Fed's Job Harder" [New York Times (KW)]. "A young generation of aggressive savers could leave central bankers with less room to cut interest rates, which they have long done to boost growth in times of economic trouble. To leave the work force early, millennials would need to build up massive retirement funds and consume less in the process. That hit to demand could slow growth and force rates to drop ever lower to entice spending. And if today's workers actually managed to retire young, it would exacerbate the situation by shrinking the labor force, further weighing on the economy's potential."
* * *
Today's Fear & Greed Index: 55 Neutral (previous close: 51 Neutral) [CNN]. One week ago: 60 (Greed). (0 is Extreme Fear; 100 is Extreme Greed). Last updated Feb 19 at 12:59pm.
The Biosphere
"Panicking about societal collapse? Plunder the bookshelves" [Nature]. "Turchin has been compared to Hari Seldon, science-fiction writer Isaac Asimov's "psycho-historian", who studies the past to statistically predict the future. He belongs to a new breed of scientific historian taking a big-data approach, and argues — controversially — that societal spasms are cyclic. This idea itself comes and goes: the ancient Greeks took the cyclic nature of history for granted, but it has been unfashionable since the Enlightenment. Today, we tend to have a linear concept of progress, in which life generally improves for most people over the long term. Works such as Turchin's see this trend as superimposed on an inherent cyclicity in the evolution of societies." • An interesting review of the literature!
"Has the wooden skyscraper revolution finally arrived?" [CNN]. "Soaring above the neighboring Mjøsa lake, more than 100 kilometers (62 miles) north of Oslo, the 280-foot-tall Mjøstårnet tower became the world's tallest timber building when it opened last year. The 18-story structure contains apartments, office space and the aptly named Wood Hotel. And beyond putting a small town on the world map, it has added to a growing body of evidence that timber can provide a sustainable alternative to concrete and steel… The record-breaking feat was realized thanks to a type of engineered wood called cross-laminated timber, or CLT. Part of a larger group of materials known as mass timber, it is produced by gluing strips of laminated wood together at 90-degree angles to one another, before they're compressed into huge beams or panels under extreme pressure…. The construction and operation of buildings accounts for 40% of the world's energy consumption, and approximately one-third of greenhouse gas emissions. But while concrete emits a huge amount of carbon, trees instead absorb it throughout their lifetime."
Guillotine Watch
"Five Hedge Fund Heads Made More Than $1 Billion Each Last Year" [Bloomberg]. "Twelve billion dollars. It's more than JPMorgan Chase & Co. paid all 56,000 of its investment bank employees, and almost twice as much as gamblers lost in Las Vegas last year. It's also what 15 hedge fund managers collectively earned in 2019. Five of them—Chris Hohn, Jim Simons, Ken Griffin, Steve Cohen and Chase Coleman—reaped more than $1 billion each, according to estimates by the Bloomberg Billionaires Index.The rewards for the men—and they're all men—are notable, especially given only a third of the 15 managers on the list beat the S&P 500 Index's 29% gain last year. It also comes as the hedge fund industry has been grappling with closures and mediocre returns." • Nobody's worth that much, especially hedgies.
"After learning of Whitey Bulger LSD tests, juror has regrets" [Associated Press]. • What a headline. I can't even.
Class Warfare
"Huge companies are a problem. So are tiny ones." [The Week]. "Life under the giant nation-bestriding private goliaths of modern American capitalism may be an alienating and anti-democratic mess, but there's no intrinsic guarantee life would improve under giant nation-bestriding socialist institutions. And one strength of the anti-monopoly tradition is it deals with the nitty-gritty of these questions, like the design of institutions and the structure of power relations — questions which, in a socialist world, would make the difference between Soviet-style tyranny and genuine democracy and freedom." • Mention's Stoller's Goliath a lot. (On Goliath, see NC here).
News of the Wired
"Neuroscientists discover 'engine of consciousness' hiding in monkeys' brains" [Live Science]. "Using electrodes, the researchers sent small electric impulses into different areas of the monkeys' brains when they were asleep or sedated using several types of anesthesia. Mostly, the monkeys stayed asleep. But sending an impulse at a specific frequency to the central lateral thalamus woke the monkeys up — even from deep anesthesia — and allowed them to experience the world…. Recording from the monkeys' brains as they went back and forth between conscious and unconscious states, the researchers narrowed down consciousness to two key ingredients. "Consciousness always coincided with two activated pathways," [Michelle Redinbaugh, a graduate student in psychology at the University of Wisconsin-Madison] told Live Science. One of these critical circuits carries sensory information from the thalamus to the cerebral cortex, the brain region that does many forms of complex thinking. Both that circuit and another pathway — one that 'carries feedback about predictions, attention priorities and goals in the reverse direction' — needed to be active for consciousness to function, Redinbaugh said." • Please don't tell Marketing.
"Sturgill Simpson on Trillbillies Podcast: 5 Things We Learned" [Rolling Stone]. ""You don't want to be the Nissan commercial song guy, and I haven't been, but those are tough decisions when they offer you more money than my grandfather made in his life for 45 seconds of some jingle. You gotta wake up and look at yourself…How much do you need, man? I don't need that," Simpson said. "In the mainstream country world, there's guys that for all intents and purposes have the talent and ability to make the most beautiful traditional country music you've ever heard, but they keep pumping out formulaic horseshit to sustain a lifestyle, or I don't know, maybe it's to pay the people they're now responsible for with their giant careers, I don't know," he continued. "How much do you need? You know, how much do you need to where when 50 people get shot to death at a music festival and your string pullers tell you you're not allowed to answer questions about gun control, that everybody's too afraid to say shit. You've got 45 million fucking dollars in the bank. What are you scared of, man?" • I am a Trillbillies fan; the humor, when not ribald, is very, very dry. Here's a link to the episode.
"Explain away: 'How can I decline engagements without seeming antisocial?'" [Guardian]. Answer: "I have a friend who routinely just leaves things when he wants to…. I admire him for this with the kind of fever most people reserve for professional athletes. I mentally rate his exits by degree of difficulty and panache in the execution. It's the effortless unselfconsciousness that makes it true greatness…. The solution is not to perfect the explanations we offer. It's to turn inwards and make sure our preferences seem authoritative to ourselves. This is not a matter of thinking more. It's a matter of doing; of making your choice and then just gliding, with the unselfconscious assuredness of someone who knows what they're doing."
* * *
Readers, feel free to contact me at lambert [UNDERSCORE] strether [DOT] corrente [AT] yahoo [DOT] com, with (a) links, and even better (b) sources I should curate regularly, (c) how to send me a check if you are allergic to PayPal, and (d) to find out how to send me images of plants. Vegetables are fine! Fungi and coral are deemed to be honorary plants! If you want your handle to appear as a credit, please place it at the start of your mail in parentheses: (thus). Otherwise, I will anonymize by using your initials. See the previous Water Cooler (with plant) here. Today's plant (JJ):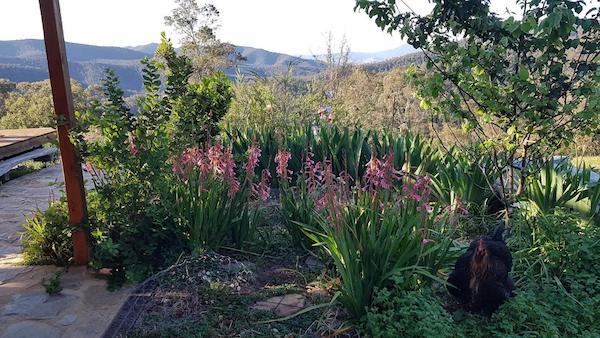 JJ: "(La Perouse) The garden is small but gives me so much pleasure. Nearly everything in it was given to us – plant sharing is the best!" Plenty of time to plan still!
* * *
Readers: Water Cooler is a standalone entity not covered by the annual NC fundraiser. So if you see a link you especially like, or an item you wouldn't see anywhere else, please do not hesitate to express your appreciation in tangible form. Remember, a tip jar is for tipping! Regular positive feedback both makes me feel good and lets me know I'm on the right track with coverage. When I get no donations for five or ten days I get worried. More tangibly, a constant trickle of donations helps me with expenses, and I factor in that trickle when setting fundraising goals:
Here is the screen that will appear, which I have helpfully annotated.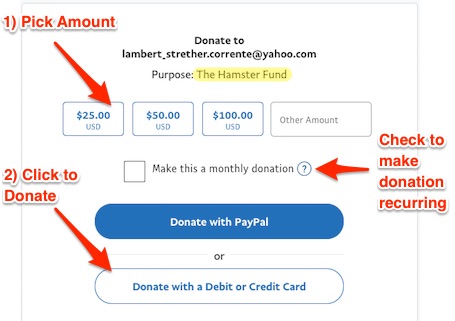 If you hate PayPal, you can email me at lambert [UNDERSCORE] strether [DOT] corrente [AT] yahoo [DOT] com, and I will give you directions on how to send a check. Thank you!