By Lambert Strether of Corrente.
Patient readers, this Water Cooler will be Iowa and not much more, because my other Twitter persona was limited, probably because the word "ratfucking" hit a tripwire, so my research tool got trashed, and then my iPad did its trick of leaving links I'd sent to my browser persona in the Outbox, without telling me, naturally. So my workflow was completely, toothgrindingly disrupted. –lambert UPDATE All done.
Trade
"Coronavirus Threatens To Disrupt eCommerce Supply Chain" [PYMNTS.com]. "Visa's 8 percent [earnings] tally excludes China and the U.K. And as CEO Al Kelly said on the call: 'Planes are being halted both in and out of China, and you're probably reading, as we are, that companies were telling their employees to stay home. So, even for the eCommerce world, [if] employees are staying home – who's picking goods and shipping them?' Separately, Sachin Mehra, CFO of Mastercard, said on the earnings call that '…fortunately, a decent portion of our inbound and outbound cross-border from China is [eCommerce]-related. So it provides some level of a hedge. And we will continue to monitor the environment. It's too early to tell at this point in time, how this thing plays out.' Since those comments were made, avenues of transport seem to be getting increasingly choked off. That means goods that have already been produced, or have been ordered or are getting ordered, are unlikely to arrive on doorsteps. As we noted in this space, Cathay Pacific, which is also a major cargo airline for China and Hong Kong, has said it will reduce flights to mainland China by 50 percent through the end of March. UPS had canceled 22 flights to China. Beyond that, if supply chains are truly disrupted (we're thinking here about consumer goods, such as tech-related or pharma items), the ripple effects may be that inventory in the pipeline is held up, and it will take a while for that new inventory to reach end customers, and then for new demand to materialize and bring those plants back online."
"A weakened bulk shipping market is proving highly susceptible to China's coronavirus. A bellwether of the global commodities shipping market plummeted deeper into negative territory this week… in a stark sign of how the fast-spreading virus and uncertainty around its impact on the world's economy have rocked markets and sent commodities prices to multi-month lows" [Wall Street Journal]. "The Baltic Exchange's capesize index, a part of the Baltic Dry Index, tracks the largest dry-bulk vessels carrying raw materials like iron ore and coal. Bulk carriers have already been under pressure from weakening factory activity and excess shipping capacity. Now China's lockdown aimed at containing the coronavirus is extending factory shutdowns, crimping demand for industrial transport."
Politics
"But what is government itself, but the greatest of all reflections on human nature?" –James Madison, Federalist 51
"They had one weapon left and both knew it: treachery." –Frank Herbert, Dune
Here is a second counter for the New Hampshire Primary, which is obviously just around the corner:
* * *
2020
Alert reader dk (not to be confused with DK) is in the process of developing the following interactive chart.

NOTE: We still do not have results from Iowa as of this writing, although the count is expected to be completed today. So there's no point speculating on a Biden implosion, any more than a Buttigieg victory. However, if Biden did in fact drastically undperform the polls — unlike Sanders, then Buttigieg and Warren — I would speculate conventional wisdom needs to be inverted: The youngs turned out, and the olds did not.

We have two national polls, Morning Consult (big sample) and Atlas, as of 2/4/2020, as od 12:00 PM EST. Biden and Sanders are the pick of the litter, trailed by Warren and, horridly, Bloomberg, as in the polls we saw yesterday, has lapped Buttigieg. I have returned to three-days average.

The numbers:

NH:

NH numbers:

Sanders running away with NH, as indeed he should.

CAVEAT I think we have to track the polls because so much of the horse-race coverage is generated by them; and at least with these charts we're insulating ourselves against getting excited about any one poll. That said, we should remember that the polling in 2016, as it turned out, was more about narrative than about sampling, and that this year is, if anything, even more so. In fact, one is entitled to ask, with the latest I boomlet (bubble? (bezzle?)) which came first: The narrative, or the poll? One hears of push polling, to be sure, but not of collective push polling by herding pollsters. We should also worry about state polls with very small sample sizes and big gaps in coverage. And that's before we get to the issues with cellphones (as well as whether voters in very small, very early states game their answers). So we are indeed following a horse-race, but the horses don't stay in their lanes, some of the horses are not in it to win but to interfere with the others, the track is very muddy, and the mud has splattered our binoculars, such that it's very hard to see what's going on from the stands. Also, the track owners are crooked and the stewards are on the take. Everything's fine.

* * *

Iowa meltdown:

UPDATE "Partial Iowa caucus results to be released this afternoon; timing of full release uncertain" [Los Angeles Times]. "Partial results of the Iowa caucuses will be released at 2 p.m. Pacific time Tuesday, according to officials from several campaigns who were briefed about the Iowa Democratic Party's plans…. State party officials told campaign leaders that 50% of the results would be released Tuesday, but no timeline yet exists for a full release." • The bleeding continues. Ya know, when I was living in Montreal years ago, the Quebecois, six million people, used hand-marked paper ballots, hand-counted in public, and had a result the same day. #JustSaying. It's not just the app that's shambolic, it's the entire voting system, root and branch, top to bottom.

"Tech problem with mobile app causes Iowa caucus chaos" [Associated Press]. "A new mobile app was supposed to help Democratic officials quickly gather information from some 1,700 caucus sites throughout Iowa. Instead, a "coding issue" within the app is being blamed for delays that left the results unknown the morning after the first-in-the nation presidential nominating contest… The party said it expects to release unofficial results later Tuesday after manually verifying its data against paper backups. Unlike the November election and state primaries administered by state and local election officials, the Iowa caucus was administered by the Iowa Democratic Party. Nevada Democrats also have plans to use a mobile reporting app for their caucuses set for Feb. 22." • First, Nevada should obviously not use the tainted app (and especially if its paper backup system is not as robust as Iowa's). Second, why on earth didn't the Iowa Democratic Party (IDP) simply go to the University of Iowa's Computer Science Department, and have them write an open-source app? If they didn't want to use Microsoft software, as they did in 2020? That said, why on earth did the IDP choose the vendor they chose?

"This Is The Buzzy Democratic Firm That Botched The Iowa Caucuses" [HuffPo]. "A tech company affiliated with and funded by Acronym, a Democratic digital nonprofit group that has rapidly expanded in recent years, was responsible for building the Iowa caucus app… State campaign finance records indicate the Iowa Democratic Party paid Shadow, a tech company that joined with Acronym last year, more than $60,000 for "website development" over two installments in November and December of last year. A Democratic source with knowledge of the process said those payments were for the app… . He previously served as chief technology officer and chief operating officer of Acronym, according to his LinkedIn page. In 2019, , one of the chief architects of President Barack Obama's wins, joined the board of advisers for Acronym. Acronym spokesman Kyle Tharp put out a statement distancing the group from Shadow, saying that Acronym is merely an investor in the for-profit company." • Because of course they did; this was a nearly contemporaneous report; good job, HuffPo! More on Acronym President McGowan, who seems to be rather well connected:

Of course you can! You program it to count however you want it to.
Pete paid for it. Tara McGowan is CEO of Shadows parent company Acronym and creator of Shadow. Her husband is a Buttigeig campaign strategist. Her brother in law is the Buttigeig Iowa state comms director pic.twitter.com/AUQjgfcgRs

— Nathan Lyon (@FakeNathanLyon) February 4, 2020

So, let's say you have a political party divided into two factions: Faction A and Faction B. (Faction A was sub-factions, but they are united in their hatred of Faction B.) Faction A and Faction B participate together in an election, which Faction B is expected to win. The software to count the votes is written by Faction A, and the software breaks down, denying Faction B, at the very least, a traditional victory speech. At the very least, is that a good luck?

I have to break off here, on a very CT-ish note (which I don't really support as a method on principle, but time presses). More soon.

1) Shadow, Inc.: "Nevada won't gamble on vote results app that derailed the Iowa caucuses" [Daily News]. "Democratic officials in the home state of Las Vegas insisted Tuesday that they will not gamble on the now notorious election app that virtually singlehandedly destroyed the credibility of the Iowa caucuses. 'What happened in the Iowa caucus last night will not happen in Nevada,' William McCurdy, the state party chairman, said in a statement. 'We will not be employing the same app or vendor used in the Iowa caucus.'" See also: "Investors Rush to Downplay Ties to Firm Behind Iowa Clusterfuck" [Daily Beast].

2) ClintonWorld: "Clinton campaign veterans linked with app that contributed to caucus chaos" [Des Moines Register]. "The smartphone application blamed in part for the ongoing delay in reporting results of the Monday Iowa caucuses is linked with key Iowa and national Democrats associated with Hillary Clinton's 2016 presidential campaign…. The app was issued by Jimmy Hickey of Shadow Inc., metadata of the program that the Des Moines Register analyzed Tuesday shows. Gerard Niemira and Krista Davis, who worked for Clinton's 2016 campaign, co-founded Shadow. Iowa Democratic Party Chairman Troy Price worked as Clinton's 2016 Iowa political director. He did not immediately respond to requests for comment Tuesday about the relationship between the party and Shadow… Shadow collected $153,768 in 2019 from seven different Democratic or advocacy campaigns, mostly for technology, software and subscription services such as text messaging, according to Federal Election Commission data. Among them were the presidential campaigns of former Vice President Joe Biden and former South Bend, Indiana, Mayor Pete Buttigieg, as well as the Democratic Party of Wisconsin, according to the federal reports." • Why hasn't every participant in the 2016 Clinton debacle seriously considered leaving public life? Read Shattered and Chasing Hillary!; shambolic isn't in it.

3) The IDP: Not only for its odd software procurement issues, but for its performance on the day itself. Problems were known instantly:

"I am hearing way more problems than in 2016… Worst case, call it in, which I expect 90% of the state will be doing anyway."

"I gave up on the app," precinct chair replied 9:13a.

"I'm not using the app," wrote another. "I'm going to call in my results."#MSNBC #Decision2020

— Cal Perry (@CalNBC) February 4, 2020

And from the Department of Schadenfreude:

This one didn't age so hot… @MajorCBS: "Do you have a nightmare scenario?"

Iowa Democratic Party Chair @troymprice: "This is probably the most prepared we've ever been." ?#DesAster #IowaCaucuses pic.twitter.com/aeHjxHMCx5

— The Tennessee Holler (@TheTNHoller) February 4, 2020

To be fair to Clintonite Price, "the most prepared" does not actually mean "prepared."

4) The campaign volunteers and staffers:

It's the candidates and the larger chaos that are getting the attention. But there were many young operatives who uprooted their lives to move to Iowa over the last year, worked insanely long hours with few weekends to support candidates, only to see that it was all for… this

— Edward-Isaac Dovere (@IsaacDovere) February 4, 2020

The staffers will dine out on this in ten years. But for now, it hurts, and it should.

5) The campaigns: "3 Big Questions After The Iowa Results Meltdown" [NPR]. "[T]he winner is not yet known and, above all, this debacle robbed whomever that is of a chance to have their moment in the sun. The campaigns worked so hard in this state because it has been predictive of who has become the Democratic nominee — the last four and seven of last nine have gone on to be the party's standard-bearer over the past 40 years. Iowa, being first, also serves to winnow the field and help elevate front-runners. That's especially important in a year like this with a record number of candidates running. Whoever actually won was stripped of the potential momentum they were banking on to catapult them into New Hampshire and beyond…. At this point, it is all spin. But imagine, for example, if on caucus night, it was known in prime time that Sanders and Buttigieg were the top two. And imagine what that would mean for Biden's candidacy — and fundraising. Eventually, the result will be known, though, and what will that mean for Biden's hopes next week in New Hampshire? Sen. Amy Klobuchar used the lack of results as a reason to continue on to New Hampshire. What would have happened if she finished fifth with that result known on caucus night? Now, the moderates in the race may continue to split the vote for longer than they would have liked. ."

6) The Iowa Caucus as such: "R.I.P. the 'First-In-the-Nation' Iowa Caucuses (1972-2020)" [Eric Levitz, New York Magazine]. "The "first-in-the-nation" Iowa caucuses died Monday night after a protracted battle with advanced-stage omnishambles. Or so we can hope. Iowa's eccentric, endearing — and wildly anti-democratic — nominating contest has always been an indefensible institution. There is no reason why the most politically-engaged and/or time-rich citizens of America's 31st most populous state should have the power to veto presidential candidates before anyone else in the country has a say. And yet, few of Iowa's bitterest critics ever dreamed it would subject the country to something like this."

7) The Democrat Party: "Joe Biden flopped in Iowa. And so did the Democratic party's reputation" [Nathan J. Robinson, Guardian]. "If you're the type of person who thinks the Democratic party is a creaking, incompetent entity whose leadership needs overthrowing, the Iowa caucuses certainly validated your point of view. None of us knew who would win, but we had at least expected a result. We didn't get one, at least not on caucus night."

8) The entire election: "Iowa Might Have Screwed Up The Whole Nomination Process" [FiveThirtyEight]. "we estimate — based on testing how much the results in various states have historically changed the candidates' position in national polls — that Iowa was the second most-important date on the calendar this year, trailing only Super Tuesday. It was worth the equivalent of almost 800 delegates, about 20 times its actual number…. The point is that the lead story around the 2020 Iowa Democratic caucuses is now — and will forever be — the colossal shitshow around the failure to release results in a timely fashion…. the failure to release results in a timely fashion."

9) The voters : I loath the phrase, "our democracy," because who's is it, anyhow? But the voters need to be assured that their votes will be accurately counted. That's especially true for the non-voters that the Sanders campaign is trying to bring in.

10) The idea that government can solve problems: "Why the Iowa voting fiasco matters" [The Spectator]. "This failure makes the Democratic party look ridiculous. The damage is compounded because they are the 'party of government'. That's their brand, and it has been since Franklin Roosevelt proposed the New Deal. Democratic policies almost always call for more government, run from Washington. When people point to social or economic problems, Democrats reflexively respond with laws, regulations, and bureaucracies to tackle them (and taxes to pay for them). That prospect looks a lot less appealing when you can't count the votes in a high school gym. It doesn't encourage people to say, 'These are just the people to handle my healthcare.'" • Well worth a read in full. In tweet form:

Typical Dem screwups. Yeah, we really want these guys in control. #IowaCaucus pic.twitter.com/lUukcYmEXE

— workingatit2 (@workingatit2) February 4, 2020

The winners:

1) Whatever state replaces Iowa. Obviously.

2) Possibly, if the winner is Sanders, Sanders: It is true that the Sanders supporters, if indeed their candidate is the winner, will have every reason to believe that their candidate was hard done by — since the clusterfuck, at every stage, can be laid to their adversaries in 2016, who did indeed cheat. This will certainly solidify Sanders base. Will it bring in the undecided, and above all the non-voters? Hard to say. My feeling is that if you want to bring in non-voters, it's probably best not to start out by explaining to them that their vote may not count.

Lambert here: The entire episode reminds me of a sclerotic Third World authoritarian regime with democratic trappings. When such a regime establishes a Constitutional order, they deliberately introduce complexity, so that "outside forces" can step in when failure inevitably happens, and they deliberately install cronies at key points in the system. Elections then fail, either because the cronies are incompetent (it's not necessary to be competent at anything but being a crony to be successful crony) or, when things get real, through outright sabotage. The result is that voters tend to lose faith in democracy as such, and the system falls into clientelism, where everybody is somebody's crony. Of course, the cronies fight viciously to retain their positions, not only because of ego, or the Dunning-Kruger syndrome, or ideology, but also for genuine moral commitments, as to family and friends. We see all these symptoms of decay in today's decadent Democrat Party.

* * *

Biden (D)(1): "Caroline Kennedy backs Biden, calls him Democrats' best bet" [ABC]. "'We need a nominee who can compete in every state, who can bring wandering Democrats and independents back to the fold, and even attract some Republicans,' Kennedy wrote. 'Biden at the top of the ticket is our best bet to win the White House, keep the gains we made in the House, and put the Senate in play.'"

Buttigieg (D)(1): Mad respect to Buttigieg for claiming victory when no offical vote count had been released.

Sanders (D)(1): "DNC Mulls Asking Donald Trump To Run As Democrat In Effort To Stop Sanders" [The Onion]. "At press time, Perez was in negotiations to ensure Trump was on every Democratic primary ballot for Super Tuesday and changing the requirements to allow Trump to qualify for the next Democratic debate."

Trump (R)(1): "Trump Job Approval at Personal Best 49%" [Gallup]. "Trump's approval rating has risen because of higher ratings among both Republicans and independents. His 94% approval rating among Republicans is up six percentage points from early January and is three points higher than his previous best among his fellow partisans. The 42% approval rating among independents is up five points, and ties three other polls as his best among that group. Democratic approval is 7%, down slightly from 10%. The 87-point gap between Republican and Democratic approval in the current poll is the largest Gallup has measured in any Gallup poll to date, surpassing the prior record, held by Trump and Barack Obama, by one point." • Still waiting for the genius aspect of Pelosi's strategy to kick in.

Trump (R)(1): "Trump's Super Bowl ad featured Alice Johnson, who Kim Kardashian West campaigned to free from prison" [Business Insider]. "President Donald Trump aired a campaign ad Sunday night during the Super Bowl featuring Alice Johnson, whose life sentence for nonviolent drug offenses was commuted by Trump in June 2018. The 63-year-old grandmother gained national attention after her case was championed by Kim Kardashian West. Her sentence was commuted just one week after Trump met with Kardashian West at the White House to discuss criminal-justice reform." • Only Trump could call a black woman "the least among us," and get away with it, because the liberal Democrats were already howling in outrage and fact-checking before they even got to that point.

* * *

"Bice: 'An unacceptable and upsetting environment': 2020 Democratic Host Committee under investigation" [Milwaukee Journal-Sentinel]. "The two top officials overseeing Milwaukee's host committee for the 2020 Democratic National Convention were sidelined Monday amid allegations of a toxic work culture. … In interviews with the Journal Sentinel over the weekend, two experienced political hands who have worked with the host committee described it as having a toxic culture rife with power struggles, backbiting and mismanagement. They accused the top two officials, Gilbert and Alonso, of giving contracts to their friends in New Jersey, calling meetings and then failing to attend them and being more focused on accumulating power than promoting Milwaukee. A New Jersey firm with strong ties to the New Jersey Democratic Party, for instance, developed the website for the host committee and manages its email platform. Both Gilbert and Alonso are top-ranking Democratic operatives in that state." • Wait, these are Democrats. Cronyism and greed? Say it's not so! More: "The host committee — the civic, nonpartisan arm of the convention — is responsible for raising $70 million to stage the July event at Fiserv Forum and recruit some 15,000 volunteers." ¨• The Democrat National Convention is July 13. By my count, 160 days. Not a lot of time to build an organization from scratch. The whole article is worth a read; there are plenty more seamy details.
2019
"Hillary's Selective Memory" [Juanita Jean]. "Obama won enough delegates to clinch the nomination at the beginning of June. Hillary refused to endorse until the second day of the convention in August, over two months later. I attended that convention and ended up somehow with a room at the Clinton headquarters hotel. I remember the seething crowds of Clinton supporters filling the hallways, lobby and bars, angrily plotting how to steal the nomination from Obama. Up until Hillary finally caved on the second night of the convention, no one knew what she was going to do. I believe that she only endorsed him after he promised her Secretary of State and to hand her the DNC after the 2012 election (which is exactly what happened). Even still, her PUMAs opposed Obama deep into the election, and many voted for McCain. That's a fact."• 2008 was not a civil campaign at all.
Realignment and Legitimacy
"The Very Real Mental Ramifications of Extremely Long Elections" [Vice]. "Vin Arceneaux, a professor of political science at Temple University, said that we're in uncharted water when asking how long campaigns will affect people's political involvement, because previous studies looking at campaign length and behavior studied election cycles that were much shorter than what we have today—the cut-off for a longer campaign could be defined as anything above six weeks, an amount of time that feels utopian, compared to current campaign lengths. What we do know: 'They are telling us they feel tired,' Arceneaux said. 'They feel less interested in following along with what's going on. And we know that, outside of politics, people have a certain emotional reserve to deal with things. After a while, you just run out of emotional wherewithal to respond.'" • I personally am not tired, because this is the most fascinating election of my life time, from the technical perspective, even if you leave out the enormous stakes. But I can see why voters would be,
Stats Watch
Shipping: "The global shipping industry's investment in a cleaner future is increasingly looking like a bet on natural gas. Several big carriers are pressing ahead with ships that will be powered by liquefied natural gas… even as questions about the fuel's environmental impact are growing" [Wall Street Journal]. "At its best, LNG will get ship operators only part of the way toward the International Maritime Organization's target of cutting carbon emissions by half by 2050. Environmental groups say the picture is even worse because methane, a key ingredient in LNG fuel, creates highly toxic emissions. It's one sign of the tough questions transport operators face as they try to get to a carbon-free future while technology lags behind." • Or maybe with less globalization there will be less transport.
* * *
Today's Fear & Greed Index: 55 Neutral (previous close: 46 Neutral) [CNN]. One week ago: 53 (Neutral). (0 is Extreme Fear; 100 is Extreme Greed). Last updated Feb 4 at 1:04pm.
The Biosphere
How Chickens Became Like Apple and Android Phones Heated
"How Chickens Became Like Apple and Android Phones" [Heated]. "Today, 90 percent of the 23 billion chickens eaten every year are either Cobb or Ross broilers." • Cobb is Tyson, Ross is Aviagen. More: "Both companies understand that, to keep growing, they need to find new markets for their chickens. As the global population surges from nearly 8 billion today to 10 billion in 2055, they say their poultry can be a main protein source for all the new mouths to feed.
But what both companies are effectively doing is exporting environmental dilemmas that haven't been solved in Europe and the U.S. to developing countries that are even less equipped to deal with the pollution that livestock leaves behind."
Water
"Andy Ostmeyer: Unsettling questions linger along Ozark rivers" [The Joplin Globe]. "This is [Aldo] Leopold, 80 years earlier: 'The last word in ignorance is the man who says of an animal or plant: 'What good is it?' If the land mechanism as a whole is good, then every part is good, whether we understand it or not. If the biota, in the course of aeons, has built something we like but do not understand, then who but a fool would discard seemingly useless parts? To keep every cog and wheel is the first precaution of intelligent tinkering."" • Sounds a lot like the Precautionary Principle (and puts the "conservative" in "conservation," of course.)
Health Care
19th Century hygiene:
The Power Of #Handwashing:

?Teacher asked several kids with various levels of hand #cleanliness to touch 5 pieces of white bread that were taken from the same loaf, at the same time

?Then, they put the bread in individual plastic bags to observe what would happen over 1 month pic.twitter.com/c8tcn7svKm

— Laurel Coons ??? (@LaurelCoons) February 1, 2020
What good is a partial travel ban?
Hong Kong shuts most China crossings over virus as medics strikehttps://t.co/9gxCkMDUwl https://t.co/9gxCkMDUwl

— The Star (@staronline) February 3, 2020
Groves of Academe
"Student loan refinancing site LendEDU sold positive reviews, FTC says" [CBS (RH)]. "Popular personal finance website LendEDU has long touted itself as an impartial source of reviews of different student loan products. In fact, it sold its rankings to student-loan companies, the Federal Trade Commission alleged in a complaint unveiled on Monday…. LendEDU did more than lie about its rankings, the FTC said. The website allegedly tried to boost its own ratings by having employees, their friends and family members write positive reviews on other ratings sites." • Constant drip-drip-drip of stories on meritocrat corruption…
"Family gets 55,000 duplicate letters from loan company" [Associated Press]. "An Ohio man is pondering what to do with the 55,000 duplicate statements addressed to his home by a student loan company…. 'I just hope it doesn't happen again,' Cain said. 'I might just have to return to sender.'" • Why wait?
Class Warfare
"Instacart Workers Win Historic Union Election" [Vice]. "A group of Instacart employees in the Chicago suburb Skokie voted to unionize with the United Food and Commercial Workers Local 1546 on Saturday—a historic win for the grocery delivery platform. The vote was 10-to-4 in favor of the union, according to workers…. The union victory sends a message to other gig workers around the country who are fed up with working conditions at Silicon Valley tech companies like Instacart—which has faced months of backlash in the form of worker-led strikes, protests, and online boycotts."
"E. P. Thompson's Romantic Marxism" [Jacobin]. "Despite his failure to adequately understand race and gender as constituent features of class formation, Thompson's Romantic Marxism of the incipient working class of eighteenth century England still offers a compelling antidote in the twenty-first century to the sterility of developmental evolutionism and economic reductionism, which continue to haunt various modes of Marxist inquiry and political practice." • Wokeness aside — a link to the theorist who does "understand race and gender as constituent features of class formation" would have been extremely useful — I don't see Thompson as capital-R Romantic at all. Making, as was the brilliant Whigs and Hunters, about the enclosure movement, was about meticulous examination of records: Letters, minutes, broadsides, etc. I'm hard pressed to think of the Romantic with that methodological approach.
News of the Wired
"Disabled Train and Power Failure Bring Delays for Thousands at Penn Station" [New York Times]. • Let them take helicopters…
* * *
Readers, feel free to contact me at lambert [UNDERSCORE] strether [DOT] corrente [AT] yahoo [DOT] com, with (a) links, and even better (b) sources I should curate regularly, (c) how to send me a check if you are allergic to PayPal, and (d) to find out how to send me images of plants. Vegetables are fine! Fungi and coral are deemed to be honorary plants! If you want your handle to appear as a credit, please place it at the start of your mail in parentheses: (thus). Otherwise, I will anonymize by using your initials. See the previous Water Cooler (with plant) here. Today's plant (FM):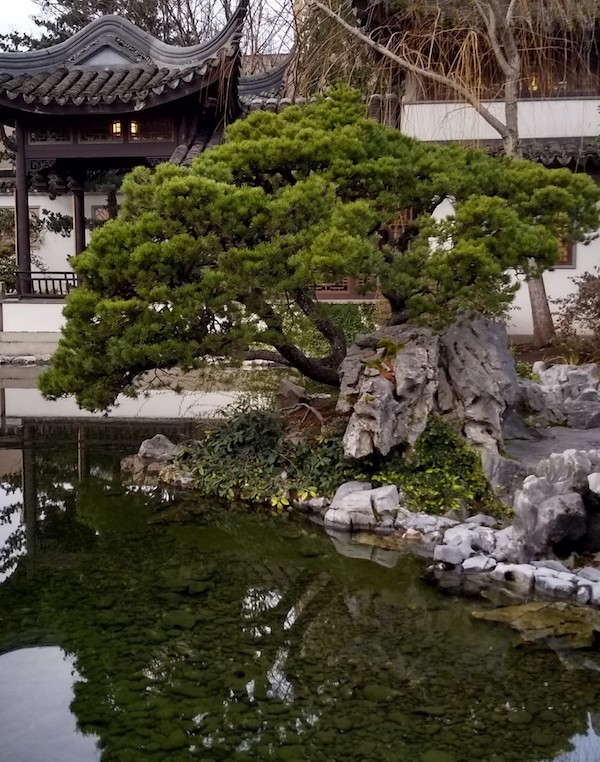 FM writes: "Shore pine, Lan Su Chinese Garden, Portland, Oregon." Portland has a Japanese Garden and a Chinese Garden?
* * *
Readers
: Water Cooler is a standalone entity
not
covered by the annual NC fundraiser. So if you see a link you especially like, or an item you wouldn't see anywhere else, please do not hesitate to express your appreciation in tangible form. Remember, a tip jar is for tipping!
Regular positive feedback both makes me feel good and lets me know I'm on the right track with coverage
. When I get no donations for five or ten days I get worried. More tangibly, a constant trickle of donations helps me with expenses, and I factor in that trickle when setting fundraising goals:
Here is the screen that will appear, which I have helpfully annotated.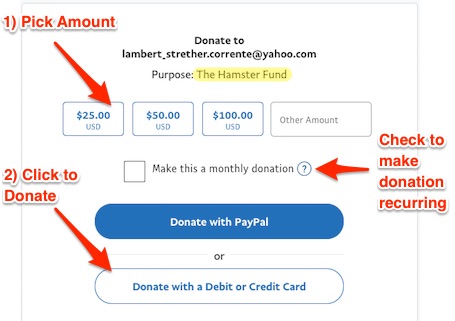 If you hate PayPal, you can email me at lambert [UNDERSCORE] strether [DOT] corrente [AT] yahoo [DOT] com, and I will give you directions on how to send a check. Thank you!