A woman lured a group of deer into her living room to feed them snacks. Wildlife officials said she risked the animals' lives CNN
Mysterious radio signal from space is repeating every 16 days CNN
Australia bushfires ignite calls for indigenous fire practices Agence France Presse
Traditional Ways of Paying for Fires and Floods Aren't Cutting It Bloomberg
Surge in plastics production defies environmental backlash FT
The Sprint-T-Mobile Merger: A Jump the Shark Moment for Antitrust? Matt Stoller, BIG
FTC demands data on small buys by Google, Amazon, Apple, Facebook, Microsoft Channel News Asia
Syraqistan
Exclusive: New leaks shatter OPCW's attacks on Douma whistleblowers The Grayzone
COVID-19
COVID-19 is to 2019-nCoV as AIDS (the disease) is to HIV (the virus).

Rectification of Names (1):

Now that the World Health Organization has named it, we have revised our style: COVID-19 is acceptable on first reference for the coronavirus disease that first appeared in late 2019 in Wuhan, China. Explain later in the story.The disease is caused by a virus called 2019-nCoV.

— AP Stylebook (@APStylebook) February 11, 2020

Rectification of Names (2):

The virus name isn't official yet.

It's a proposal for a name that has to be accepted by the Virus Taxonomy Commitee and then announced by WHO to become the official name.

WHO has said the current virus name today is still 2019-nCoV.

— Dr Kevin Purcell (@kevinpurcell) February 11, 2020

Rectification of Names (3):

Now this makes much more sense, SARS-CoV-2 #ICTV belonging to the same species as SARS-CoV #naming https://t.co/2XKPZ0gkAK pic.twitter.com/O9GtNoq6vR

— Mariet Feltkamp (@MarietFeltkamp) February 11, 2020

* * *

At Outbreak's Center, Wuhan Residents Question Accuracy of Virus Tests WSJ. "Medical experts around the globe have expressed fears that the scale of the outbreak could be much larger than Chinese data suggests—in large part because of concerns about potential flaws in testing. Independent experts say many tens of thousands of Wuhan residents are likely infected by the coronavirus, while the city's government puts the tally at less than 20,000. Only one in 19 infected people in Wuhan was being tested and confirmed, according to an estimate by Imperial College London as of Jan. 31." Eerie photos of a Wuhan empty of pedestrians and cars. Also, I would have expected China to have universal health care. China does not. From the anecdotes of patients being asked to pay exorbitant sums, they are rationing by price; the brutality seems similar to our own. One wonders if the difficulties the CCP has had in mobilizing a response has anything to do with the profit motive ("Close to 100 companies in China say they have developed testing kits for the virus…. '[But] due to the urgency, these products haven't been registered,' Hybribio executive Li Liejun told the newspaper. As a result, some tests are less reliable than others, experts say").

Early Coronavirus Genetic Data May Have Forewarned Outbreak Bloomberg

Early lessons from the frontline of the 2019-nCoV outbreak The Lancet

Spatially Explicit Modeling of 2019-nCoV Epidemic Trend based on Mobile Phone Data in Mainland China (PDF) medRviv. Modeling to the city level.

The effect of travel restrictions on the spread of the 2019 novel coronavirus (2019-nCoV) outbreak medRxiv

'Everyone is guessing' about coronavirus economic impacts, say experts Channel News Asia
The Best Defense Against Disturbing New Diseases The Atlantic
China?
Viral Alarm: When Fury Overcomes Fear China Files. A must-read.

China's Communist Party faces its biggest crisis since SARS AP
India
Locusts and food shortages add to pressure on Imran Khan FT. Locusts not only in Africa.
New Cold War
The Valdai Rest Home and "Gagarin" Gilbert Doctorow
Puerto Rico's Energy Insurrection The Intercept
Guaidó's return (1):
"Traitor! You're a traitor to the homeland!"

Juan Guaidó arrives in Caracas after his latest regime change lobbying tour and is immediately jeered and confronted by an employee of a Venezuelan airline sanctioned by his US paymasters pic.twitter.com/SxaimDzgKl

— Dan Cohen (@dancohen3000) February 11, 2020
Guaidó's return (2):
Failed coup frontman Juan Guaido gets a taste of how Venezuelan citizens feel about his circuit through foreign countries trying to drum up support for regime change immediately after landing at Caracas airport pic.twitter.com/yjayHW3O1X

— Alex Rubinstein (@RealAlexRubi) February 11, 2020
Needless to say, if Maduro were really a "brutal dictator," Guaidó would have been whacked, instead of jeered.
Trump Transition
Trump Gives Conditional Go Ahead on Peace Deal With Taliban, Officials Say NYT. "Trump The Peacemaker" ffs. Well done, Democrats.

The Oversight Wars Are Not Going Away The Atlantic
2020
Winners and losers from the New Hampshire primary WaPo. I will have a post on the NH results later today.

An important endorsement:

If Dems go on to nominate Sanders, the Russians will have to reconsider who to work for to best screw up the US. Sanders is just as polarizing as Trump AND he'll ruin our economy and doesn't care about our military. If I'm Russian, I go with Sanders this time around.

— Lloyd Blankfein (@lloydblankfein) February 12, 2020

Paging Michael Bloomberg Thomas Friedman, NYT

Biden left New Hampshire earlier than expected to go to South Carolina USA Today
Boeing 737 MAX
Boeing to Resume Max Production Before Flight Ban Is Lifted Bloomberg. No pressure.
Imperial Collapse Watch
The Sanders Doctrine The Atlantic. "This is the first U.S. presidential election to feature voters who were born after the Afghan War began. The 'forever wars' in the Middle East have disillusioned younger generations in particular, who constitute a significant part of Sanders's base. In different ways, both Trump and Sanders have seized on this despair. Central to the case they're making to voters is that as president, they would end these conflicts and refuse to have America serve as the world's policeman."

Philippines scrapping military cooperation pact with US The Hill

"How Could You Not Connect the Dots?": Inside the Red-Pilling of State Department Official Matthew Gebert Vanity Fair. Dropping the ball in Loudoun County….
2 Big Teachers Unions Call For Rethinking Student Involvement In Lockdown Drills NPR
Class Warfare
The Dismal Kingdom: Do Economists Have Too Much Power? Foreign Affairs. Throwing a flag on a clear violation of Betteridge's Law.

John Weeks – Joan Robinson and the Theory of Capital Brave New Europe
Someone blew the whistle on Hookers for Jesus Boing Boing (Re Silc).
OnlyFans: a day in the life of a top(less) creator The Economist
Mutinous librarians help drive change at Elsevier FT. We need more mutinous librarians.
Neuroscience study finds evidence that meditation increases the entropy of brainwaves PsyPost (DL) (original).
Antidote du jour (Furzy Mouse):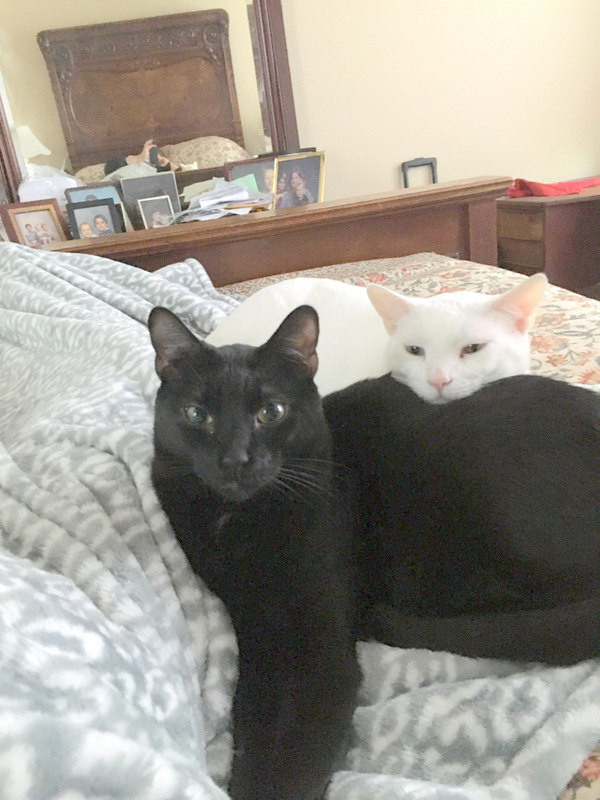 Furzy Mouse writes: "My sister's 'furballs' Jake and Elwood…."
Bonus antidote:
Siba the standard poodle has won the US's Westminster Dog Show! Look at that corner-of-the-eye poodle attitude she's using to check in with her owner. She's the fifth standard poodle to win best in show and the first since 1991. Audience scandalised. Siba beat a golden retriever. pic.twitter.com/YMePG5WjeB

— Prue Moodie (@PrueMoodie) February 12, 2020
Simultaneously upping my cat and dog game!
See yesterday's Links and Antidote du Jour here.