If you want proof that private equity is predatory, you need go not further than its concerted efforts to extend and intensify the devastating practice of surprise billing. Bad enough that patients develop afflictions or have accidents that land them in the hospital. Recovering physically is hard enough. But to then have the stress and financial damage of large and unexpected bills, which are exercises in rent extraction, is the sort of thing that creates Madame DeFarges.
Private equity experts Eileen Appelbaum and Rosemary Batt did the sleuthing to document how private equity has greatly extended and profited from this abuse. What most people do not realize is the degree to which hospitals have outsourced what most people would assume were core functions provided by doctors on the hospital's payroll, such as emergency room doctors. With many large nominally not-for-profit hospital groups run by MBAs out to justify higher pay packages for themselves, many practice areas are in fact outsourced. Private equity has hoovered up these groups. They, and not the hospital, provide the personnel for a particular case, and they make sure to get some out of network practitioners on the team to pad the bills.
One metric: a Stanford study determined that the odds of getting a surprise bill had increased from 32% in 2010 to 43% in 2016, and the average amount had risen over that time period from $220 to $628. A new study in Health Affairs found that this out of network billing raises health care costs by $40 billion per year.
Appelbaum gave a high-level overview in a op-ed in The Hill last May:
Physicians' groups, it turns out, can opt out of a contract with insurers even if the hospital has such a contract. The doctors are then free to charge patients, who desperately need care, however much they want.

This has made physicians' practices in specialties such as emergency care, neonatal intensive care and anesthesiology attractive takeover targets for private equity firms….

Emergency rooms, neonatal intensive care units and anesthesiologists' practices do not operate like an ordinary marketplace. Physicians' practices in these specialties do not need to worry that they will lose patients because their prices are too high.

Patients can go to a hospital in their network, but if they have an emergency, have a baby in the neonatal intensive care unit or have surgery scheduled with an in-network surgeon, they are stuck with the out-of-network doctors the hospital has outsourced these services to….

It's not only patients that are victimized by unscrupulous physicians' groups. These doctors' groups are able to coerce health insurance companies into agreeing to pay them very high fees in order to have them in their networks.

They do this by threatening to charge high out-of-network bills to the insurers' covered patients if they don't go along with these demands. High payments to these unethical doctors raise hospitals' costs and everyone's insurance premiums.
Appelbaum cited Yale economists who'd examined what happened when hospitals outsourced their emergency room staffing to the two biggest players, EmCare, which has been traded among several private equity firms and is now owned by KKR and TeamHealth, held by Blackstone:
….after EmCare took over the management of emergency services at hospitals with previously low out-of-network rates, they raised out-of-network rates by over 81 percentage points. In addition, the firm raised its charges by 96 percent relative to the charges billed by the physician groups they succeeded.
The study also described how TeamHealth extorted insurers by threatening them with high out-of-network charges for "must have" services:
…in most instances, several months after going out-of-network, TeamHealth physicians rejoined the network and received in-network payment rates that were 68 percent higher than previous in-network rates.
California and the Federal government tried to pass legislation to curb surprise billing. As we noted, the California bill was yanked suddenly and no one felt compelled to offer an explanation. The bi-partisan Federal effort also failed.
Appelbaum and Batt, in a new article at CEPR, explain how private equity has been throwing money at astroturf group to keep its scam going:
Early in the summer of 2019, Congress appeared poised to protect consumers from surprise medical bills and to hold insured patients financially harmless in situations where they were unable to choose their doctor….

Two solutions, both of which take surprise charges to patients out of the equation, have been put forward. Employers, patient advocates, and insurance companies favor paying out-of-network doctors a rate "benchmarked" to rates negotiated with in-network doctors to hold down health costs. Not surprisingly, this solution is opposed by large physician staffing companies and specialist physician practices that want to continue to charge prices higher than the in-network fees. These doctors' practices, some backed by private equity firms, have been lobbying intensively for a second option that would allow doctors dissatisfied with a negotiated rate to seek a higher fee via an arbitration process that they believe will ensure higher physician pay and higher company revenues and profits.

The campaign by Physicians for Fair Coverage, a private equity-backed group lobbying on behalf of large physician staffing firms, launched a $1.2 million national ad campaign in July to push for this second approach.8 The lobbying campaign bore fruit. In July, [sponsors of the House bill] Pallone and Walden accepted an amendment to allow arbitration, but only in special cases, and it required the arbitrator to use negotiated rates instead of provider charges when deciding on disputes over payment.9 But the private equity-owned physician staffing companies were not satisfied. In late July, a mysterious group called Doctor Patient Unity launched a $28 million ad and lobbying campaign (now up to nearly $54 million) aimed at keeping any legislation to protect patients from surprise medical bills from passing. In mid-September, a representative for Doctor Patient Unity finally revealed what many observers already suspected — that PE-owned doctor staffing firms Envision Healthcare and TeamHealth were behind the campaign…

Agreement on a joint House and Senate bipartisan bill by Senators Alexander and Murray and Congressmen Pallone and Walden nearly made it into the omnibus continuing resolution that passed in December 2019. It was stymied when Massachusetts Congressman Richard Neal, Chair of the House Ways and Means Committee, offered a last-minute alternative. The Neal bill protects consumers from surprise medical bills but requires disputes between providers and insurance companies to be resolved through arbitration. This, of course, is what the PE-owned staffing firms and the doctors' practices they own lobbied for. Lack of support from the Democratic leadership in the Senate and the House delayed passage of the legislation. In his September 2019 fundraising report, Neal reported receipt of $29,000 from Blackstone, owner of TeamHealth.
The entire article is very much worth reading, since it offers more detail on how the private equity firms tightened their grip on these chokepoints. And the threat of legal curbs has had an impact. As the piece also explains, the value of the debt on Envision, the parent of EmCare, and TeamHealth both fell into junk terrain and rebounded a bit when the bills were sidelined for 2019, but remains distressed: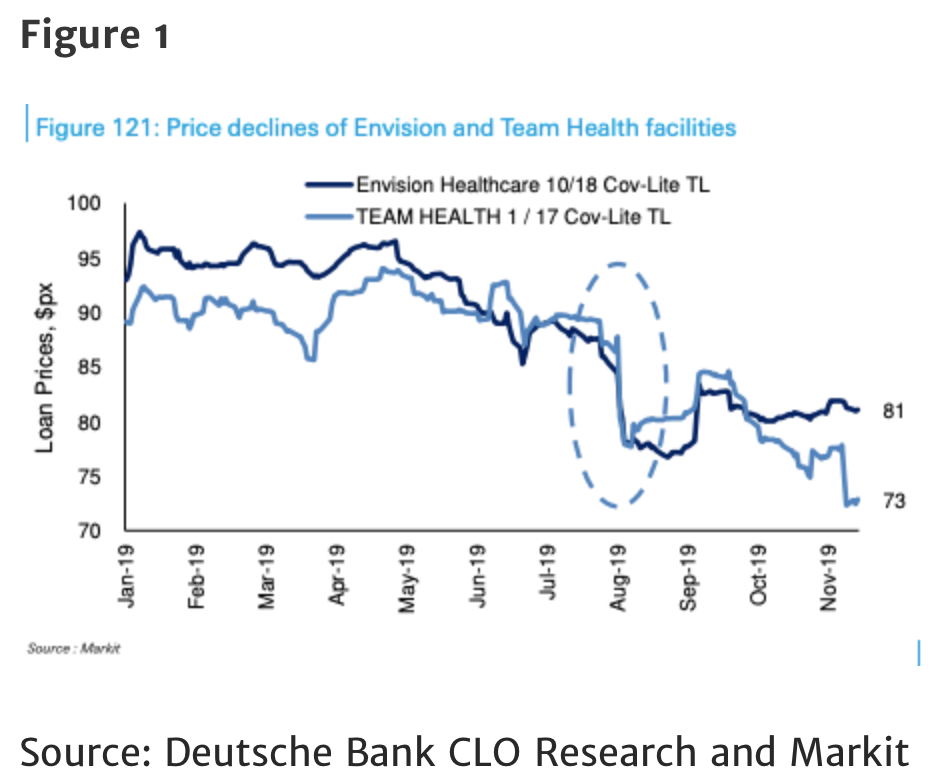 Appelbaum and Batt are pessimistic that anything will get done in 2020:
In the current legislative session, Congress is again working to pass legislation to protect patients from surprise medical bills. But the disagreements in Congress remain unresolved…Chances of a compromise bill emerging in this session of Congress do not look good as of this writing (mid-February 2020), and relief for insured patients from unexpected medical bills does not appear to be on the horizon.
However, bond investors clearly think there's still a risk of legislation with some teeth, although the earliest possibility is 2021. Keep your fingers crossed.