The artistic wizard who brought Oz to life BBC (David L)
Bumblebees can create mental imagery, a 'building block of consciousness', study suggests abc.net.au (Kevin W)
Earliest interbreeding event between ancient human populations discovered Heritage Daily (Kevin W)
Fossil-Fuel Production May Be Responsible For Much More Atmospheric Methane Than Scientists Thought Bloomberg
France Shuts Down Oldest Reactors, But Nuclear Power Still Reigns Agence France-Presse
Powerful antibiotic discovered using machine learning for first time Guardian (Dr. Kevin)
Chemotherapy For Cancer Could Soon Be Unviable Because of Superbugs MSN
#nCOVID-19
Ukrainian villagers STONE buses bringing countrymen evacuated from Wuhan to coronavirus quarantine RT. Wowsers, look at the videos. They even brought in a tank! Kevin W: "A sign of things to come?"

Bats In China Carry 400+ Coronaviruses With The Potential To Spill Over Into Humans NPR (David L)

Coronavirus Has Temporarily Reduced China's CO2 Emissions By a Quarter Carbon Briefing. Other analysts have said this level of fall in production means China is sure to have GDP drop in the first quarter. Whether they admit to that is another matter.

The Trump administration is blaming opioid deaths on the fact that health care wasn't expensive enough.

Are you f'ing kidding me? pic.twitter.com/w7Ry1W52i2

— Matt Stoller (@matthewstoller) February 20, 2020

Coronavirus outbreak in South Korea linked to Shincheonji Christian sect abc.net.au (Kevin W)

An inside look at the debate around pandemic bonds, which have $425 million hinging on how deadly the coronavirus ends up being Business Insider (Dan K). $425 million? For bonds, that a curiosity, not a market.
China?
China Expels Three Wall Street Journal Reporters Wall Street Journal (Bill B)
EU deadlocked in budget summit as rifts laid bare Financial Times
Germany and right-wing extremism: The new dimension of terror DW
Irish leader Varadkar to resign, as parliament fails to find new leader CNN
Dáil adjourns for two weeks after failing to elect new taoiseach Irish Times
New Cold War
Lawmakers Are Warned That Russia Is Meddling to Re-elect Trump New York Times (Kevin W). Kill me now.

First Putin installed @TomPerez as DNC Chair. Then he hired ACRONYM to build an app for the Iowa caucuses ominously named Shadow. Then he got Bloomberg to spend $400 million on ads. Then he made sure Democrats had no agenda… https://t.co/FId2yJT4Gm

— Matt Stoller (@matthewstoller) February 20, 2020
Syraqistan
Fighting mounts as Washington backs Turkish attack on Syria, Russia WSWS

NATO ally wants US Patriot missiles to protect Al Qaeda's biggest stronghold in the world. You can't make this shit up.https://t.co/sO5tfXOUl5

— Mark Ames (@MarkAmesExiled) February 20, 2020
Big Brother is Watching You Watch
Facebook Will Now Pay You For Your Voice Recordings The Verge

UCLA Abandons Plans To Use Facial Recognition After Backlash Vice

Should Facebook, Google Be Liable For User Posts? Reuters. I can't believe that they have gotten away this far with the pretense that they are not liable. If you moderate content, you as a publisher are liable. The only time in theory you aren't is if you are a chat board (as in a truly neutral platform) and let everything appear. Google regularly takes sites down for all sorts of reasons; it happened to us early on with Blogger. The pretense that they have not been publishers (the basis for their exemption) is really strained.

Leaked Document Shows How Big Companies Buy Credit Card Data On Millions of Americans Motherboard. Erm, not sure this is a big revelation. According to Tom Ferguson, political campaigns have been buying credit card data for quite a while to target actual and potential big ticket donors.
Trump Transition
The Trouble with Donald Trump's Clemencies and Pardons New Yorker (furzy)

Impeachment Didn't Change Minds — It Eroded Trust FiveThirtyEight

Richard Grenell is a partisan propagandist. Trump is appointing him to run the intelligence community. Washington Post (furzy)
State-federal task forces are out of control Washington Post (Dan K)
It was the Democrats' embrace of neoliberalism that won it for Trump Guardian (David L)
2020
I saw the debate live and Sanders unequivocally said that. But on top of that, in its evening news, NBC played more dirty tricks by presenting Sanders as not willing to respect the Democratic party convention rules (as opposed to saying he though the person with the most delegates should be the pick, a much much weaker formulation), followed by Biden criticizing Sanders for what he didn't say.
Our Famously Free Press
'This should go well': Trolling and worry as Twitter reveals plan to flag 'lies & misinformation RT

Indignant journalists furiously fact-check obviously fake Bloomberg video Washington Examiner
Why Do Corporations Speak the Way They Do? Vulture (resilc)
Sweden Starts Testing World's First Central Bank Digital Currency Reuters
IRS Sues Facebook For $9 Billion, Says Company Offshored Profits To Ireland Fox
How Blue Apron Became a Massive $2 Billion Disaster Observer. How about the simple version: "It was a stupid idea"? You'd never find enough people who'd want to minimally cook and pay the fully loaded cost.
The Reformation in Economics: Back to the Future American Affairs Journal (UserFriendly). Review of Philip Pilkington's new book. He started out at NC!!! Congrats to Philip.
Class Warfare
Poverty Is All About Personal Stress, Not Laziness Noah Smith, Bloomberg. JLP: "One step in the right direction, next time they will hypothesize that maybe poverty has to do with wages."

The Trump administration is blaming opioid deaths on the fact that health care wasn't expensive enough.

Are you f'ing kidding me? pic.twitter.com/w7Ry1W52i2

— Matt Stoller (@matthewstoller) February 20, 2020

Workers of the Target-owned delivery app Shipt say that if they don't buy gifts for rich customers with their own money, an assignment algorithm will downrank them out of lucrative shopping jobs https://t.co/CT0Uz4TIgs pic.twitter.com/c3IDjjLEYT

— ᴅᴇʀᴇᴋ ᴍᴇᴀᴅ (@derektmead) February 14, 2020
Antidote du jour. How handsome! From Brian B:
Shaggy and Poppy are Leonberger dogs – they are the same breed but they are not related. Leonbergers are knows as Gentle Giants as well as Lean-on-bergers given their habit of leaning into people so that they can get a good petting.

Shaggy is 6.5 years old and 185lbs. Poppy was 3.5 months old and 35lbs. Poppy is now 5.5 months and 65lbs.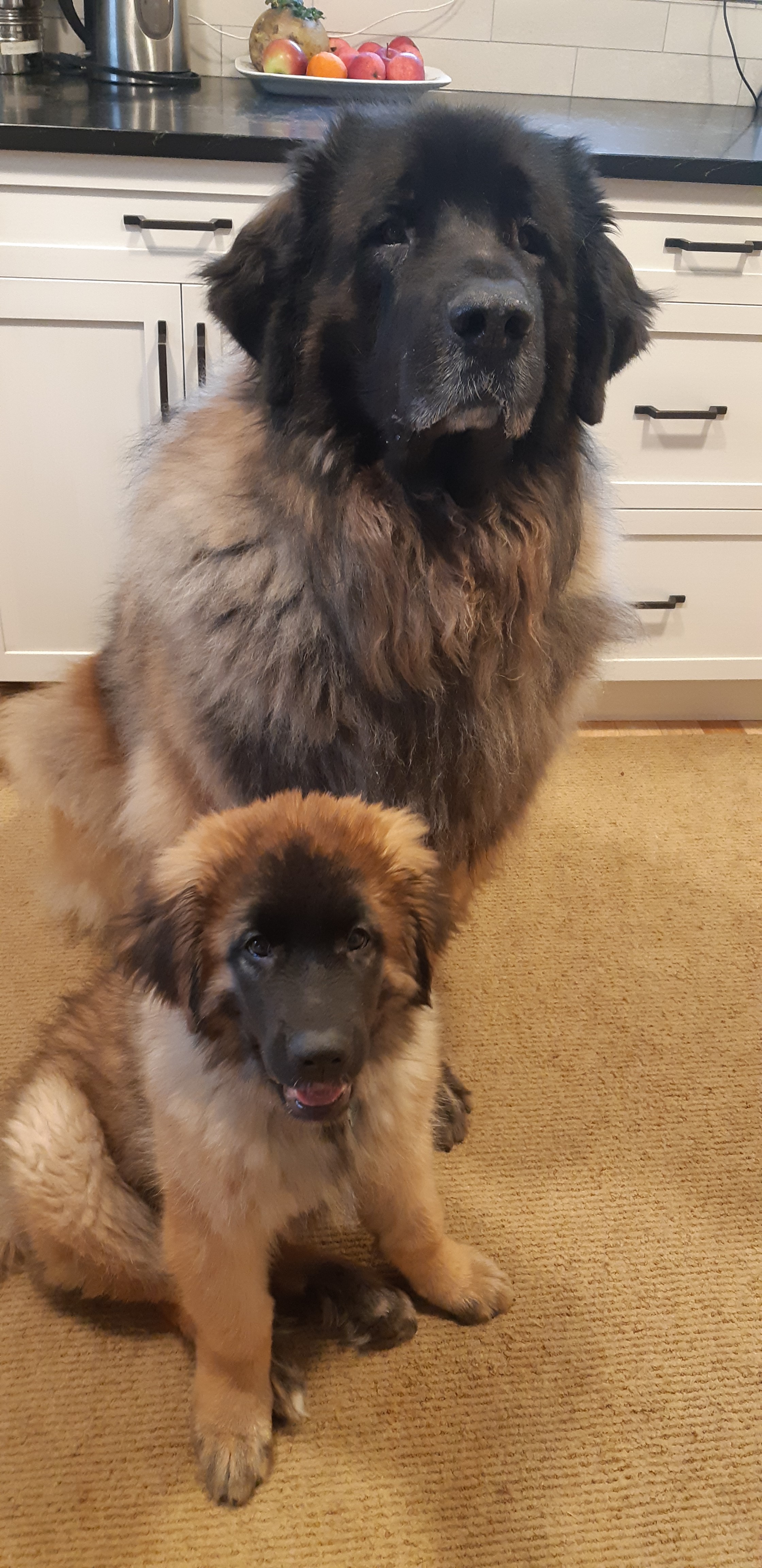 And a bonus:
For #NationalPetDay I give you my ferals Floofles who I've TNR'ed and her baby, have been feeding going on five years. Technically not my pets but love them!?? pic.twitter.com/LXRrhBZ9tx

— Lorraine Evanoff (@levanoff) February 21, 2020
See yesterday's Links and Antidote du Jour here.