By Lambert Strether of Corrente.
Politics
"But what is government itself, but the greatest of all reflections on human nature?" –James Madison, Federalist 51
"They had one weapon left and both knew it: treachery." –Frank Herbert, Dune
"They had learned nothing, and forgotten nothing." –Charles Maurice de Talleyrand-Périgord
Key dates coming fast now, so I added some counters:
Some of the next primaries. (I picked the major dates; here is a complete calendar.)
* * *
2020
We encourage readers to play around with the polling charts; they are dynamic, and there are a lot of settings, more than I can usefully show here. Here is a link to alert reader dk's project. You can also file bug reports or feature requests using the same contact process as for Plants, below. Thanks — but no promises!

Today we have one national poll from Ipsos, and polls from MI, MO, and WA, as of 3/10/2020, 12:00 PM EDT. The empire strikes back:

(Note the miserably small sample size.) And the numbers:

From Michigan, with the usual caveat that state polls are irregular, bad, and have small sample sizes:

MI numbers:

Sanders badly needs the Michigan polls to be wrong (as they were in 2016). Certainly, he's pulled out all the stops.

MO:

MO numbers:

WA:

WA numbers:

Sanders could have a shot.

* * *

Bloomberg (D)(1): "Bloomberg aides cut loose despite yearlong employment promise" [Politico]. "Mike Bloomberg's shuttered presidential campaign is dismissing staffers across the country and inviting them to reapply for jobs on his new independent committee — despite extending guarantees of being paid through the November election when they were hired. The consolation prize: They get to keep their Bloomberg-issued iPhones and MacBooks." • Grifters gotta grift.

Biden (D)(1): "Joe Biden tells factory worker 'you're full of s—' during a tense argument over guns" [CNBC]. "'Don't be such a horse's a–,' Biden added as the exchange grew more heated." • Not The Onion!

Biden (D)(2): A vivid fantasy life?

Joe Biden: "I didn't believe Saddam had Weapons of Mass Destruction"

What the actual fuck?

Biden was chair of the Foreign Relations Committee!

He was in the very room when Bush signed the order to invade Iraq

This is blatantly Orwellian

— Siddak Ahuja (@SiddakAhuja) March 10, 2020

Biden (D)(3): Biden's viral tweet on #MedicareForAll:

Biden says he would veto Medicare for All if the bill ever reached his desk pic.twitter.com/erdq11KN1v

— Eddy (@LebaneseJokerYT) March 10, 2020

Biden (D)(2): Neera Tanden, enforcer, steps in:

My new rule is I'm blocking people who spread disinformation. I am going to block the original tweeter and I hope you do too. https://t.co/TFNrvpktoh

— Neera Tanden (@neeratanden) March 10, 2020

(What's especially nice about "disinformation" is that conjures up Russia, the intelligence community, etc.)

UPDATE (D)(4): Here is a transcript:

— Tony Clements (@tonebobb) March 10, 2020

Biden (D)(5): An expert on collapsing empires and revolutions renders judgement.

It's true that Biden did not say exactly what the viral tweets say he said. BUT! When you listen to what he actually says…it's clear Biden believes M4A is impossible in all times and places, even in fantasy scenarios where he is President and Congress passes the bill. https://t.co/iHg81Hz35d

— Mike Duncan (@mikeduncan) March 10, 2020

Biden (D)(6): "The new Biden: Shorter speeches (and less time for gaffes)" [WaPo]. "Biden's event in St. Louis, framed by the Gateway Arch, clocked in at around seven minutes Saturday. A short time later, at a windswept event in Kansas City, people were streaming for their cars after Biden wrapped up in 12 minutes. His longest speech of the weekend, in the gym of Tougaloo College in Jackson, Miss., didn't quite make 15 minutes. It is a seismic shift for Biden, 77, who in five decades of political office and three White House runs has never had a reputation for breviloquence… The Biden campaign declined to talk about the greater strategy behind the candidate's briefer speeches, and also declined to say if this is the Biden voters will see for the rest of the primary contest and, if he makes it, the general-election race against President Trump."

Biden (D)(7): "James Biden's health care ventures face a growing legal morass" [Politico]. "The Federal Bureau of Investigation raided a health care business linked to Joe Biden's brother in late January, seizing boxes of documents…. [R]ecent filings in ongoing legal proceedings, along with new accounts provided to POLITICO by former executives of Americore and others, point to potential pitfalls for the former vice president, painting the fullest picture to date of James Biden's health care dealings and the ways in which they allegedly related to his older brother. In 2017 and 2018, James Biden was embarking on a foray into health care investing, telling potential partners, including at Americore, that his last name could open doors and that Joe Biden was excited about the public policy implications of their business models." • Which Medicare for All would make go away, #JustSaying.

Biden (D)(8): "Democrats and Their Media Allies Impugned Biden's Cognitive Fitness. Now They Feign Outrage." [The Intercept]. "[T]he very attacks [on Obama] that Democrats with virtual unanimity today vilify as disgusting, racist smears [like Birtherism] were ones that emanated from their own party — either from the Clinton campaign itself (maliciously spreading the photo of Obama in Kenya in traditional Somalian clothing and suggesting he is Muslim) or from various Clinton supporters (falsely claiming he was not eligible to run for office). And now they are doing the exact same thing when it comes to plainly valid questions concerning Joe Biden's cognitive fitness: expressing revulsion and scorn at the mere mention of these questions and declaring the topic off-limits to all decent people even though establishment Democrats were the ones who first spread insinuations and even explicit accusations about Biden's cognitive decline when they thought doing so could help them defeat him and/or because it genuinely concerned them regarding his ability to defeat Trump."

Klobuchar (D)(1): "Vindictive Amy Klobuchar Elected Mayor Of South Bend, Indiana" [The Onion]. "'South Bend has taken a step into a bright new day by finally electing a leader it deserves, and I'm here to help heal this broken city,' said the newly elected Mayor Klobuchar, relishing the crowd's applause as confetti rained down over her shoulders."

Sanders (D)(1): "Time to Debate: How Bernie Could Destroy Biden in 120 Minutes Or Less" [Common Dreams]. "Provided Michigan hasn't been a blow-out against you, the debate next Sunday will be your last and best chance to regain the upper hand. You can do this if you disavow your natural tendency to be kind to Joe Biden and his ilk, and remember what brought you to the movement in the first place, and exactly what kind of mortal threat Biden alone now poses to everything you hold dear. To go soft on Biden is to give a free pass to a segregationist, misogynist, anti-worker grandstander who embodies a lifetime of active collusion in the economy of war and exploitation that you abhor. If you don't overcome your ingrained repulsion toward personal conflict, your followers will feel betrayed for a lost opportunity to take down the establishment at its weakest." • Possibly Sanders really does believe Biden is his friend, as he believed Warren was his friend. If you want a friend in Washington, get a dog.

UPDATE Sanders (D)(2): "Sanders responds to Clinton criticism: 'Unlike Secretary Clinton, I don't want to relive 2016′" [The Hill]. "She added: "He was a career politician. He had — he did not work until he was like 41 and then he got elected to something. It was all just baloney and I feel so bad that, you know, people got sucked into it.' To her criticism, Sanders responded: 'Unlike Secretary Clinton, I don't want to relive 2016. We're in 2020 now.'" • I think it would have been more effective for Sanders to have pointed out, as a glance at Wikipedia shows, that he worked as a Head Start teacher, psychiatric aide, carpenter, filmmaker, and writer. So it's very interesting to see what Clinton, and her class, think is "work" and what is not work. I'm sure that anybody whose been a Head Start teacher knows it's work.

UPDATE Sanders (D)(3): "There is hard data that shows "Bernie Bros" are a myth" [Salon]. "The evidence that Sanders supporters are uniquely cruel online, compared to any other candidates' supporters, is scant; much of the discourse around Bernie Bros seems to rely on skewed anecdotes that don't stand up to scrutiny. Many Sanders supporters suspect that the stereotype is perpetuated in bad faith to help torpedo his candidacy… Jeff Winchell, a computational social scientist and graduate student at Harvard University, crunched the numbers on tweet data and found that Sanders' supporters online behave the same as everyone else. Winchell used what is called a sentiment analysis, a technique used both in the digital humanities and in e-commerce, to gauge emotional intent from social media data. 'Bernie followers act pretty much the same on Twitter as any other follower,' Winchell says of his results. 'There is one key difference that Twitter users and media don't seem to be aware of…. Bernie has a lot more Twitter followers than Twitter followers of other Democrat's campaigns.'" • Of course, "Bernie Bro" is really just an othering technique; those who use it are conveying the sentiment that Sanders supporters have no place in the party. One potential outcome of 2020 might be that Sanders supporters will take them at their word.

* * *

More problems at the ballot box in MO (after IA, TX, CA, and MI):

"If the mayor can get turned away, that would mean anybody can . . . so it's something we all need to try to address," Lucas said. "A lot of people won't come back either because they have to go to work" https://t.co/Ghq0vPQ7lN #kcmo #election2020

— Bryan Lowry (@BryanLowry3) March 10, 2020

The Mayor wasn't on the voter rolls!

* * *

"Exit Poll Versus Reported Vote Count" [TDMS Research]. "The combined discrepancies between the exit poll and the vote count for candidates Sanders and Biden currently totals 7.7%; more than double the 3.1% margin of error for the exit poll difference between the two. Warren's and Biden's discrepancies totals 5.6%, double the 2.5% margin of error. All margin of errors calculated at 95% confidence interval (CI). See table note 5. Values greater than the margin of error are considered statistically significant. The discrepancies in favor of Biden in California as in many of the other states to date, substantially exceed the margin of error at 99% (CI)…. The discrepancies between the exit polls' projections of each candidate's vote share and the vote shares derived from unobservable computer counts have a considerable impact on the apportionment of delegates to each candidate…. The United States remains one of the few major democracies in the world that continue to allow computerized vote counting—not observable by the public—to determine the results of its elections.[ii] Countries such as Germany,[iii] Norway, Netherlands, France,[iv] Canada,[v] United Kingdom, Ireland, Spain, Portugal, Italy, Denmark, Sweden, Finland and many other countries protect the integrity and trust of their elections with publicly observable hand-counting of paper ballots." • Let's check with the international observers. Oh, wait…..

"How LA's Election Innovation Fell Short" [Pew Trusts]. "Los Angeles County is the first jurisdiction to own and design its own voting system. Officials ditched paper ballots for hybrid paper-electronic machines built for accessibility, while also allowing voters to cast their ballots in any vote center, the county's term for a location where people can vote or drop off a ballot. With more voters than 42 states, the county could provide a template for other jurisdictions looking to develop an accessible voting system that doesn't skimp on security. This week's botched rollout could complicate that prospect." • You say "waited for more than three hours to cast their ballots" like it's a bad thing. In fact, it's a time-honored tactic of voter suppression.

UPDATE "The media is blowing its chance to head off an Election Day debacle" [Margaret Sullivan, WaPo]. "If Election Day 2020 turns into a full-blown disaster, no one can say there weren't plenty of warning signs. There were the Iowa caucuses, when glitches with an untested new app delayed the state's election results for havoc-filled days that turned into weeks. Or the Texas Democratic primary, where some Super Tuesday voters waited in line to vote for more than six hours while others simply gave up. Or the California primary that same day, when faulty new touch-screen voting equipment triggered hours-long waits in Los Angeles County. If comparable disaster in November robs well-intentioned voters of their chance to be heard — or worse, gives bad-faith partisans an excuse to undermine the credibility of the vote — then the news media will bear a share of the blame." • Oddly, Sullivan doesn't give a shout-out to Jennifer Cohn, who's all over this issue. However, I don't think only "bad faith partisans" "undermine the credibility of the vote." It's the parties that control the ballot box who do that. As we have known since Florida 2000 — [lambert breaks out calculator] — nineteen years ago.
Realignment and Legitimacy
"The Democrats' Cult of Pragmatism" [The New Republic]. "The Democrats' Cult of Pragmatism" [The New Republic]. "There is a reason why politicians use the language of realism rather than argue the merits of any specific issue; it's why Clinton uses 'the moon'—or, as she did in her 2017 memoir, 'a pony'—to describe Sanders's ambitious programs. What seems to irk these pragmatists is not strictly that promises like Medicare for All are, in their minds, impossible to enact, but that they are popular enough to force these pragmatists to come clean about why they oppose them. …[M]oderates who speak out against proposing grand plans should be wary of a tendency in their own politics: They often claim to have delivered on their promises when, in reality, they didn't. If you claim, for example, that you have given voters 'tuition-free' public college, as Cuomo has been doing since 2017, people will eventually notice that SUNY and CUNY still charge tuition. … Even the realists in this presidential race are making promises they can't keep. In the days leading up to Super Tuesday, Joe Biden sounded familiar themes. 'Bernie doesn't have a very good track record of getting things done,' he told CNN. 'Much of what he's proposing is very much pie in the sky.' In a victorious speech on the night of Super Tuesday, the former vice president pledged, if elected, '.'" • Good debate gotcha, there.

"Evangelicals Downplay Religious Expression When Working With Secular Groups" [EconIntersect]. "Findings from this study indicate that white evangelicals are more likely to participate in coalitions that display minimal religious expression. For example, our analysis finds that among the participating white evangelical congregations, they are twice as likely to join a coalition that does not open or close its meetings with prayer. We had not expected to find this preference, given how much evangelicals emphasize prayer. This finding is consistent with a multifaith coalition we observed in Los Angeles that addressed issues regarding underemployment, immigrant rights and environmental justice, among others. When that group met, it did not begin its meetings with a prayer or spiritual reflection, nor did it frame its social justice goals in religious terms. Other research cites a growing number of evangelicals approaching public engagement in a similar way. For example, the edited volume "The New Evangelical Social Engagement," compiled by scholars Brian Steensland and Philip Goff, provides several examples of evangelicals working with secular groups to address politically progressive issues. Similarly, scholar Marcia Pally describes in her book "America's New Evangelicals" a movement of evangelicals collaborating across religious-secular divides to advance the common good. American evangelicals, in other words, are not monolithic. Their priorities and approach to public life and politics vary substantially." • Interesting.
Stats Watch
At reader request, I added some business stats back in. Please give Econintersect click-throughs; they're a good, old-school blog that covers more than stats. If anybody knows of other aggregators, please contact me at the email address below.
Surveys taken before #COVID-19 really hit:
Small Business Optimism: "February 2020 Small Business Optimism Up Marginally" [Econintersect]. "Small business owners expressed slightly higher levels of optimism in February with the NFIB Optimism Index moving up 0.2 points to 104.5, a reading among the top 10 percent in the 46-year history of the survey."
Consumer Expectations: "February 2020 Consumer Expectations Little Changed" [Econintersect]. "The February survey shows a small increase in medium-term inflation expectations. Expectations about household income growth moderated somewhat, while spending growth and home price change expectations both ticked up."
Debt: "December 2019 Loan Performance: U.S. Overall Delinquency Rate Lowest for a December in at Least 20 Years" [Econintersect]. "The Loan Performance Insights Report shows that nationally, 3.7% of mortgages were in some stage of delinquency (30 days or more past due, including those in foreclosure) in December 2019, representing a 0.4 percentage point decline in the overall delinquency rate compared with December 2018, when it was 4.1%. This was the lowest for a December in more than 20 years."
* * *
Commodities: "The rush for protective masks as the novel coronavirus spreads is stoking demand for nonwoven polypropylene. The oil-derived textile is a key component of the sophisticated face masks that shield medical workers from the virus, and manufacturers are ramping up production as potential customers dangle hefty markups and even vacations in hopes of getting their orders filled" [Wall Street Journal]. "[S]pecialized supplier Monadnock Non-Wovens LLC is adding more machines and staff, and hopes to triple its output of the textile to around 30 tons a week. Some buyers are paying extra to ship supplies by air as canceled trans-Pacific sailings crimp ocean freight capacity….. 'Everyone thinks there is this magic factory somewhere. You can't call up and order a million. It's not how it works,' [said] HPK Industries President Michael Liberatore, on surging demand for protective masks." • No, the only "magic factory" is in finance…
https://maritime-executive.com/article/sea-trials-begin-for-artificial-intelligence-captain
Tech: "Multiple nation-state groups are hacking Microsoft Exchange servers" [ZDNet]. "All Microsoft Exchange servers are considered vulnerable, even versions that have gone end-of-life (EoL). For EoL versions, organizations should look into updating to a newer Exchange version. If updating the Exchange server is not an option, companies are advised to force a password reset for all Exchange accounts. Taking over email servers is the Holy Grail of APT attacks, as this allows nation-state groups to intercept and read a company's email communications."
Tech: "Sea Trials Begin for Artificial Intelligence 'Captain'" [Maritime Executive]. "IBM and marine research organization Promare have announced that a new artificial intelligence captain (AI Captain) will enable the Mayflower autonomous ship to self-navigate across the Atlantic later this year. With the three hulls of the trimaran Mayflower currently reaching the final phase of construction in Gdansk, Poland, a prototype of the AI Captain will first take to the water on a manned vessel — the Plymouth Quest — a research ship owned and operated by the Plymouth Marine Laboratory in the U.K. The trials starting this month will evaluate how the AI Captain uses cameras, artificial intelligence and edge computing systems to safely navigate around ships, buoys and other ocean hazards that the Mayflower is expected to meet during her transatlantic voyage in September 2020. She will sail from Plymouth, to Plymouth, Massachusetts, with no onboard crew, tracing the route of the original 1620 Mayflower to commemorate the 400th anniversary of the famous voyage. "
* * *
Today's Fear & Greed Index: 4 Extreme Fear (previous close: 3 Extreme Fear) [CNN]. One week ago: 10 (Extreme Fear). (0 is Extreme Fear; 100 is Extreme Greed). Last updated Mar 10 at 12:23pm.
Health Care
"Telling":
What's telling is the same Democratic Party politicians going on TV saying the government should step in and cover costs of for EMERGENCY corona virus tests somehow don't see the same EMERGENCY $ need for people rationing insulin and dying without ability to pay for healthcare

— Jordan (@JordanChariton) March 10, 2020
UPDATE "How the drug industry got its way on the coronavirus" [Politico]. "Industry lobbyists successfully blocked attempts this week to include language in the $8.3 billion emergency coronavirus spending bill that would have threatened intellectual property rights for any vaccines and treatments the government decides are priced unfairly…. The bill specifies that any products purchased must meet federal acquisition guidance "on fair and reasonable pricing." It also empowers the HHS secretary to ensure that vaccines, drugs or diagnostic tests developed with the emergency funding "will be affordable in the commercial market," without specifying how the government would determine a fair price.'" • Oh, right, it's only the testing that's free, not the vaccine. "Access to testing," lol. These people.
"Checkup for $30, Teeth Cleaning $25: Walmart Gets Into Health Care" [Bloomberg]. "The main drag of Calhoun, Ga., a town of about 16,000 an hour's drive north of Atlanta, is dotted with pawnshops, liquor stores, and fast-food joints. Here, as in thousands of other communities across America, the local Walmart fulfills most everyday needs—groceries, car repairs, money transfers, even hair styling. But now visitors to the Calhoun Walmart can also get a $30 medical checkup or a $25 teeth cleaning, or talk about their anxieties with a counselor for $1 a minute." • Love billing by the minute!
Screening Room
"The Forgotten Neoliberal Man of Parasite" [Ask a Korean]. "Parasite is a story of three families. But if you tried to guess the plotline by reading thinkpieces and analyses about the movie without having watched the movie, you would never know it involved the third family." • Full of spoilers, with a spoiler of its own. Worth reading for film mavens, and anybody who's seen Parasite.
Groves of Academe
"'How do we rebuild trust?' A year after admissions scandal, presidents say college must change" [USA Today]. "As shocking as the Varsity Blues college admissions scandal seemed to everyday Americans, with its accusations of bribes, faked athletic credentials and falsified test scores, it came as even more of a surprise to college presidents. Beyond the sheer scale of the fraud — millions of dollars allegedly funneled to athletics staffers, coaches and test proctors — was what it said about their institutions. Colleges, especially elite ones, have long viewed themselves as places open to anyone, where promising students from any background can find support to learn, grow and prepare for successful careers. What if none of that was true?" • Interviews with six college Presidents. I am not encouraged.
Class Warfare
"Amazon won't dock warehouse workers for missing shifts during coronavirus crisis" [CNBC]. "The company informed employees Sunday that it will not count any unpaid time (UPT) off should they need to take it during the month of March. Amazon made the change to ensure there are no repercussions for needing to stay home due to illness, the company told CNBC. The change of policy applies to any employee whose job requires them to "work from an office, store, fulfillment center, delivery station or sort center," according to a document obtained by CNBC. Amazon also told employees it will not assign attendance points if they're unable to come to work. The company uses a point system to track employee infractions in a given period of time."
"Deceit, Disrepair and Death Inside a Southern California Rental Empire" [LAist]. "Virtually unknown to his tenants or the public, [Mike Nijjar] is one of the biggest landlords in the state. Companies he is connected to make up a vast rental empire centered in some of the poorest parts of Southern California. Nijjar himself lives in a Los Angeles suburb that Forbes Magazine once called 'America's Most Expensive ZIP Code.' His 12,000-square-foot hillside mansion, dubbed 'Villa Bellefontaine,' sits in a gated community and boasts six bedrooms, nine bathrooms, a waterfall, a tennis court, a reflecting pool, a screening room and a vineyard. Many of Nijjar's tenants live in starkly different conditions, fighting off roaches, rats, bedbugs, bees, maggots and mold, all while struggling to get even minor issues fixed….. At a Pomona trailer park owned by a Nijjar entity since 2005, typhus broke out in 2015. The medieval, flea-borne disease can kill if left untreated. Public health officials came in, trapping feral cats and opossums. On one opossum, they counted 1,087 fleas. It was L.A. County's first typhus outbreak since 2009." • Sounds ideal for COVID-19 clusters….
"The CIA Reads French Theory: On The Intellectual Labor Of Dismantling The Cultural Left" [Los Angeles Review of Books]. "[I]n an intriguing research paper written in 1985, and recently released with minor redactions through the Freedom of Information Act, the CIA reveals that its operatives have been studying the complex, international trend-setting French theory affiliated with the names of Michel Foucault, Jacques Lacan and Roland Barthes…. What lessons might we draw from this report, particularly in the current political environment with its ongoing assault on the critical intelligentsia? First of all, it should be a cogent reminder that if some presume that intellectuals are powerless, and that our political orientations do not matter, the organization that has been one of the most potent power brokers in contemporary world politics does not agree. The Central Intelligence Agency, as its name ironically suggests, believes in the power of intelligence and theory, and we should take this very seriously." • So every Humanities Department ruined by PoMo has the CIA to tank? Now do intersectionality….
News of the Wired
"This Is How Science Happens" [Hillel Wayne]. "There's a lot of entertaining background here. Even better, the drama shows us much about how research happens, the pitfalls people face, and how scientists might not be the best at gracefully receiving criticism. And, ultimately, just how much the process of science is embedded in a social institution, just like everything else we do." • Insanely detailed blow-by-blow of an academic controversy. (There is actually a paper titled "Replication Rebuttal Rebuttal.")
"Bringing Just Walk Out shopping to your stores" [Amazon]. "In Just Walk Out-enabled stores, shoppers enter the store using a credit card. They don't need to download an app or create an Amazon account. Our Just Walk Out technology detects what products shoppers take from or return to the shelves and keeps track of them in a virtual cart. When done shopping, they can just walk out and their credit card will be charged for the items in their virtual cart. If shoppers need a receipt, they can visit a kiosk in the store and enter their email address. A receipt will be emailed to them for this trip. If they use the same credit card to enter this or any other Just Walk Out-enabled store in the future, a receipt will be emailed to them automatically." And: "We only collect the data needed to provide shoppers with an accurate receipt. Shoppers can think of this as similar to typical security camera footage." • Oh.
* * *
Readers, feel free to contact me at lambert [UNDERSCORE] strether [DOT] corrente [AT] yahoo [DOT] com, with (a) links, and even better (b) sources I should curate regularly, (c) how to send me a check if you are allergic to PayPal, and (d) to find out how to send me images of plants. Vegetables are fine! Fungi and coral are deemed to be honorary plants! If you want your handle to appear as a credit, please place it at the start of your mail in parentheses: (thus). Otherwise, I will anonymize by using your initials. See the previous Water Cooler (with plant) here. Today's plant (AG):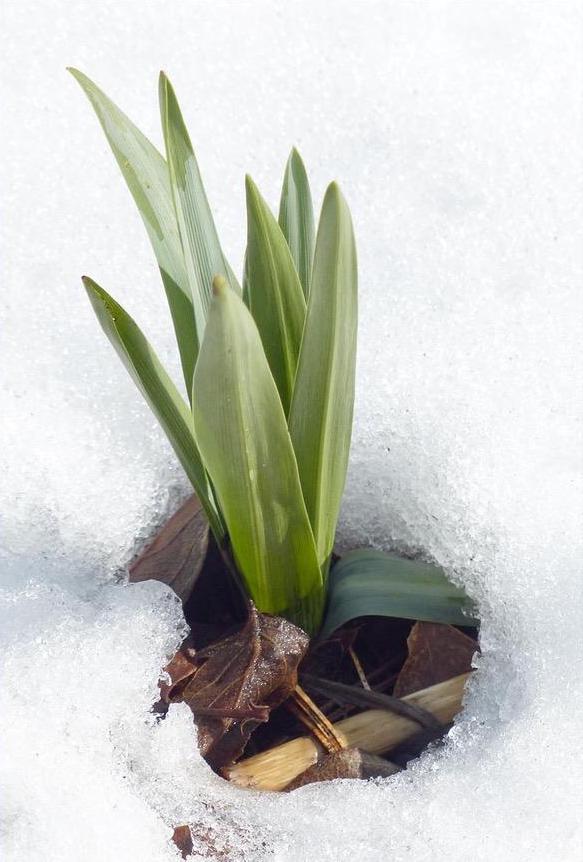 AG writes: "This photo is a native bulb, wavy–leaf Soaproot. Both coming along nicely, despite the snow. The Soaproot will eventually throw a flower stalk six or more feet high, from a bulb that may weigh up to 5 lbs! They bloom end of June or so." Something to look forward to. Plants are amazing!
* * *
Readers: Water Cooler is a standalone entity not covered by the annual NC fundraiser. So if you see a link you especially like, or an item you wouldn't see anywhere else, please do not hesitate to express your appreciation in tangible form. Remember, a tip jar is for tipping! Regular positive feedback both makes me feel good and lets me know I'm on the right track with coverage. When I get no donations for five or ten days I get worried. More tangibly, a constant trickle of donations helps me with expenses, and I factor in that trickle when setting fundraising goals:
Here is the screen that will appear, which I have helpfully annotated.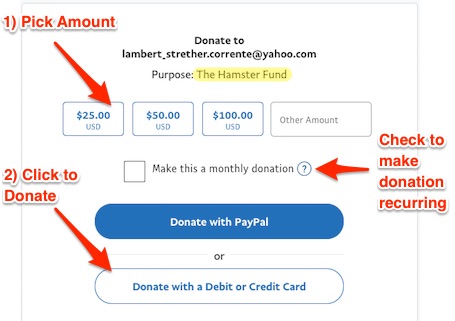 If you hate PayPal, you can email me at lambert [UNDERSCORE] strether [DOT] corrente [AT] yahoo [DOT] com, and I will give you directions on how to send a check. Thank you!