By Lambert Strether of Corrente.
Politics
"But what is government itself, but the greatest of all reflections on human nature?" –James Madison, Federalist 51
"They had one weapon left and both knew it: treachery." –Frank Herbert, Dune
Key dates coming fast now, so I added some counters:
Super Tuesday:
Super Tuesday states: AL, AR, CA, CO, ME, MA, MN, NC, OK, TN, TX, UT, VT, and VA.
* * *
2020
We encourage readers to play around with the charts; they are dynamic, and there are a lot of settings, more than I can usefully show here. Here is a link to alert reader dk's project. You can also file bug reports or feature requests using the same contact process as for Plants, below. Thanks — but no promises! UPDATE DK notes: "I'm completely removing the YouGov polls that were making that weird spike. Sorry for the inconsistency, I think it's for the best. I can put them back in if it's a problem for readers."

Today we have a new national polls IDPP/TIPP. We also have three new polls for SC. As of 3/2/2020, 11:00 AM EST (summary % for day):

The numbers for IDPP/TIPP:

I left Buttigieg in throughout, because he was in the race at the time the polling was done. I used the daily percentage, not the three-day average, to show a big drop for Sanders, post-SC. If indeed that number pans out (the outlier for SC did), I would say it gives a good approximation of the portion of Democrat voters who purely "just want to beat Trump," and so go with the winner. Note that the Sanders votes shifted to Undecided, however, not to Biden.

And now to states, with the caveat that they are all small samples, irregular, and bad. I did some Super Tuesday states, but not all. You are welcome to play around with the dk's project for your own state (pick from the States dropdown at top right). CA:

CA numbers:

Hard to see how Buttigieg affects delegates, here. Sanders, Biden, Warren, and Bloomberg are all far above viability, and the rest far below.

TX:

TX numbers:

Biden is within the margin of error. But I have to pinch myself when I see that Sanders is leading in TX; must be the Latin vote.

NC:

NC numbers:

Pinching myself here, too. Why is NC not more like SC? Reverend Barber?

VA:

VA numbers:

I flat out don't believe this. Surely the Northern Virginia suburbs (people who "work for the government") outweigh the rest of the state, and they can't possibly be voting for Sanders?

MA:

MA numbers:

The race shouldn't be close for Warren in her home state; this is like Al Gore losing Tennessee, and with it, the Presidency in 2000.

CAVEAT I think we have to track the polls because so much of the horse-race coverage is generated by them; and at least with these charts we're insulating ourselves against getting excited about any one poll. That said, we should remember that the polling in 2016, as it turned out, was more about narrative than about sampling, and that this year is, if anything, even more so. In fact, one is entitled to ask, with the latest I boomlet (bubble? (bezzle?)) which came first: The narrative, or the poll? One hears of push polling, to be sure, but not of collective push polling by herding pollsters. We should also worry about state polls with very small sample sizes and big gaps in coverage. And that's before we get to the issues with cellphones (as well as whether voters in very small, very early states game their answers). So we are indeed following a horse-race, but the horses don't stay in their lanes, some of the horses are not in it to win but to interfere with the others, the track is very muddy, and the mud has splattered our binoculars, such that it's very hard to see what's going on from the stands. Also, the track owners are crooked and the stewards are on the take. Everything's fine.

* * *

Biden (D)(1): "Joe Biden bundlers see surge of pledges from new big money donors after he wins South Carolina" [CNBC]. "Bundlers backing the former vice president's campaign told CNBC that they are seeing a surge in big money commitments in the wake of Saturday's apparent blowout victory in the Palmetto State. Fundraisers looking to help Biden secure resources for Tuesday, when 14 states hold primaries, got what they were looking for in the buildup to South Carolina and throughout Saturday. According to people with direct knowledge of the matter, Biden's bundlers lured donors who had been backing Sen. Amy Klobuchar and former South Bend Mayor Pete Buttigieg. They also grabbed support from donors who had been uncommitted, these people added. These wealthy donors are now willing to give up to the max amount of $2,800 to Biden's campaign, which has struggled at times to raise cash." • Assuming the bundlers are telling the truth, an air war, even a good one, takes more than two days.

UPDATE Biden (D)(2):

Joe Biden says he would consider picking a Republican running mate then doubles down by saying "There are really some decent Republicans out there, still." pic.twitter.com/TdJepxplSJ

— Don Winslow Berner Acct. (@DonnieWinslow) March 2, 2020

And a lot of Democrats will be fine with that.

Bloomberg (D)(1): "Mike Bloomberg addresses US in TV ad on coronavirus and Trump response" [Guardian]. • I had thought this was an actual address, not just a three-minute paid ad. Oops.

Bloomberg (D)(2): "A Field Guide for Bloomberg-Campaign Deputy Digital Organizers" [The New Yorker]. "If you belong to multiple disenfranchised minorities, that's amazing! Please let the campaign know if you're willing to appear behind Mike on camera at an upcoming rally. You will not be able to meet or speak to Mike."

Bloomberg (D)(3): "Nevertheless, He Persists The ego and the altruism of Mike Bloomberg." [New York Magazine]. "Then Bloomberg just starts to talk. "I was up in Maine and Vermont recently — look at the foliage and that kind of thing," he says. "They have a diner we go to. The food was really good. I said, 'We should have those diners in New York.' We've had a lot of diners close. It's partially tastes have changed, but we've had four restaurants in my neighborhood close in the past six months. Each one was in a townhouse. They're ripping them down and putting up these thin slivers of buildings. There's one two doors away from me. I had the developer and his wife over for dinner. He said they're getting $3,000 a square foot for 4,000 square feet — one floor, 12 million bucks! He took the top floor for himself, and he thinks he's going to move in.'" • Yeah, I wonder if there was somebody in New York — say, a Mayor — who could have done something about that.

UPDATE Bloomberg (D)(4): "They Like Mike: Women for Bloomberg Shrug Off NDA Mess" [Daily Beast]. "Just days after Elizabeth Warren had, very publicly and in front of millions of viewers, urged Michael Bloomberg to release multiple women from the non-disclosure agreements they signed over gender-related disputes at his businesses, he introduced himself to women who started lining up before 8 a.m. in an to hear him speak. But before that happened, something else entirely filled the room that was somehow booming with energy on a chilly Saturday morning. A rapid succession of women started rattling off, one by one, the exact amount of time they have known the former New York City mayor. "I've worked with Mike for 18 years!" one woman said enthusiastically before the billionaire Democrat took the stage. … Then, Fatima Shama, Bloomberg's director of constituency outreach who introduced him on stage nearly an hour after he was scheduled to appear, asked rhetorically: "Do you want a country where being female is fabulous?"….. The whole thing could have been a cringeworthy bust. But the fact that it wasn't broadly perceived that way, and was instead, according to interviews with nearly a dozen female voters who showed up to the McLean event, by all accounts a resounding success, illustrates the complexity of Bloomberg's last-ditch effort for the 2020 Democratic nomination." • Unsurprising. It's always OK with liberal Democrats when their guy does it.

UPDATE Bloomberg (D)(5):

Selma has seen some of the most important civil rights demonstrations of our time.

Thousands of people have marched these streets demanding equality.

That fight is not over.

True equality means that wealth in this country should have no relation to race or ethnicity. pic.twitter.com/jKhrVKuCff

— Mike Bloomberg (@MikeBloomberg) March 2, 2020

"True equality means that wealth in this country should have no relation to race or ethnicity." So gender discrimination is OK, lol. Even on his own terms, Bloomberg fails.

UPDATE Buttigieg (D)(1):

Gosh! Okay… I, Pete Buttigieg, politician, do henceforth and forthwith declare, most affirmatively and indubitably, unto the ages, that I do favor Medicare for All, as I do favor any measure that would help get all Americans covered. Now if you'll excuse me, potholes await.

— Pete Buttigieg (@PeteButtigieg) February 19, 2018

Bye, Pete, we hardly knew ye. Oh, wait…

UPDATE Buttigieg (D)(2):

in an email, the BLM group in South Bend claims a scalp:

"We're excited to hear this news as we believe that Pete Buttigieg never believed that poor and working class Black folks in his hometown would sink his campaign. We hope that he learned his lesson — "

— Trip Gabriel (@tripgabriel) March 1, 2020

Same.

UPDATE Buttigieg (D)(3):

Buttigieg is dropping out less than 2 hours after he sent a fundraising appeal to his supporters. pic.twitter.com/vKR7s7z0ib

— Julia Carrie Wong (@juliacarriew) March 1, 2020

Same.

Klobuchar (D)(1): "Amy Klobuchar will end 2020 presidential campaign and endorse Joe Biden" [CNN]. "Sen. Amy Klobuchar will end her presidential bid on Monday and endorse Joe Biden, a campaign aide tells CNN. The Klobuchar campaign confirmed that the senator is flying to Dallas to join the former vice president at his rally, where she will suspend her campaign and give her endorsement on the eve of Super Tuesday. Klobuchar's path to the nomination all but closed after she posted sixth-place finishes in Nevada and South Carolina, a sign that the Minnesota senator's surprising showing in New Hampshire would not be nearly enough to propel her toward the nomination.

A Democratic official told CNN that the Klobuchar campaign was worried that the senator would lose her home state of Minnesota on Tuesday. Vermont Sen. Bernie Sanders, the race's front-runner, is holding a rally in the state on Monday night." • So they pump enough blood into Joe Biden's ambulatory body that he wins a state he was absolutely going to win, and all of a sudden the Democrat field clears, the weekend before Super Tuesday? With all the ballots printed? Something is faintly odiferous. (And I respected Klobuchar for her viciousness; that she'd just endorse Biden right away…. That's very disappointing. Maybe she was just waiting for Buttigieg to drop out?)

UPDATE Klobuchar (D)(2):

Most of you know politics and I trust you understand what this is. https://t.co/4KR2VKL7rK

— Richard M. Nixon (@dick_nixon) March 2, 2020

(I am enjoying the "RIchard Nixon" account very much. There were giants in those days….)

Sanders (D)(1): "With Bernie, Trump May Regret What He Started" [The American Conservative]. "n ancient Hebrew rabbinical text, sometimes called The Apocalypse of Abraham, tells the story of Abraham's father, Terah, who manufactured statuette idols, considered gods by the local population. A young Abraham noticed that the head of one of these idols had fallen off during transport. He had a revelation: these were false gods made by humans; they had no spiritual or existential power. The true God then called on Abraham to leave his father's idolatrous house, which was promptly destroyed by fire from heaven. For many Americans, the idols whose heads have fallen off are the members of the Republican and Democratic establishments. The emergence of Trump and Sanders as the leaders of their respective parties indicates that they've concluded that our traditional political gods are phony, so let's burn the whole thing to the ground. The political class appears to them to be filled with empty vessels, not only lacking in morality but rigging the game for themselves. The rise of Bernie Sanders, coming on the heels of Donald Trump's remarkable presidency, is a sign that our nation has reached an epoch, a distinctive historical period representing a profound break from past authority. A growing number of Americans no longer recognize the traditional political establishment as their rightful rulers."

Sanders (D)(2): "Bernie's Boring Path to Victory" [The New Republic]. "Although the year is young, the 2020 race looks less like a revolution than a conventional election. But Sanders is moving ahead anyway, in completely ordinary fashion—a steady accretion of delegates by plurality that began with simple, statistically boring performances in Iowa and New Hampshire. This is how the nomination is often won. But the expectation that Sanders would win overwhelmingly if he were to win at all has made it difficult for pundits to see his unremarkable but very real rise coming and is now fueling concerns that other candidates in his statistical position—both within the primary and in the early general election polling—likely wouldn't face. Sanders's true challenge now is securing the majority of delegates needed to grant him the nomination without a fuss at the convention. But even if Sanders were to come to Milwaukee with a mere plurality, delegates would face a significant amount of pressure to hand him the nomination anyway, given that Sanders is already doing well—and is poised to do even better once other candidates drop out—with ordinary Democrats who don't consider themselves revolutionaries but like him about as much or more than the other candidates. If Sanders does secure the nomination, we could well see a similarly boring but still ultimately successful general election campaign that accomplishes exactly what any other Democratic candidate would work to accomplish—trying to win over some Obama-Trump voters in key swing states and bumping up minority turnout a bit."

Warren (D)(1): "Elizabeth Warren Announces Plan For Swift Federal Action On Coronavirus" [HuffPo]. "The proposed initiative, which Warren's presidential campaign shared with HuffPost on Sunday evening, is not another item on Warren's agenda for what she would do if she becomes president. It is, instead, a list of steps that she would like to see Congress and President Donald Trump take right now, in order to contain the outbreak, to help those affected by it, and to stop the economy from falling into a recession. Key actions would include making tests and treatments free to anybody who needs them, providing paid leave to people who must miss work or care for relatives, and propping up the economy with about $400 billion in new government spending. Many of the moves Warren has in mind would mirror actions the federal government has taken to address past outbreaks and pandemic scares, including H1N1 in 2009 and SARS in 2003."

Warren (D)(2): "No, Elizabeth Warren – taking Super Pac money is not girl power" [Guardian]. "Who are the donors behind the $14m of pro-Warren Super Pac spending? Nobody really knows. Because the Persist Pac was formed so late it is legally able to keep its donors secret until 20 March, by which time a majority of delegates will be allocated. Warren's campaign hasn't responded to requests for comment about whether the Super Pac should make its donors known earlier. Once again, I can understand why she would feel forced to accept Super Pac support. However, it is beyond the pale that she won't disavow a group that refuses to disclose its donors until after much of the primary voting has already taken place. The fact that the "men" running may embrace big money and eschew transparency is no excuse. Warren has asked other candidates to put their money where their mouth is. Being a woman doesn't exempt her from doing the same."

Warren (D)(3): "Why Elizabeth Warren thinks she can still win the nomination" [Politico]. "The team is also more openly discussing what it has been talking about internally for weeks. Warren's path to victory is likely at a contested convention and not by outright winning a majority of pledged delegates, which they believe no other candidate will achieve, either."

Warren (D)(4): Yikes:

In the first few seconds of the clip: pic.twitter.com/Z2Pad5tghO

— Merman Hellville (@lucidprinciples) March 2, 2020

(The complete video, from "2019 London Critical Theory Summer School – Friday Debate"). Feminist scholar Drucilla Cornell: "There is no more relentless, ruthless a nihilist that I have ever met in my entire life than Elizabeth Warren." They were colleagues at the University of Pennsylvania….

Warren (D)(4): "The Two-Income Trap Stuff Is Clearly Incorrect" [Matt Bruenig, Public Policy Project]. From 2019, still germane: "In footnote 9 of chapter 2, she explains that, by "inflation adjusted," what she means is that she took the nominal dollar amounts from the 1970s consumption and income survey she used and adjusted them up by plugging them into the BLS inflation calculator. There are two problems with doing this. First, the BLS online inflation calculator uses the CPI-U index. But she should be using the CPI-U-RS index. … Second, everything else about Warren's analysis is technically mistaken. She takes each category of expenditure and adjusts it by the overall CPI-U instead of the CPI-U for that particular category of expenditure. So the home mortgage column is adjusted by overall inflation rather than housing inflation. The same is true for health insurance and cars: they are adjusted for overall inflation rather than health care and car inflation." • Yikes.

* * *

"Coronavirus may turn the 2020 presidential campaign upside down" [CNBC]. "Presidential campaigns have shown no signs of adjusting their event schedules even as the coronavirus outbreak prompts several companies to cancel or postpone events…. When contacted by CNBC, none of the spokespeople for Biden, Warren, former South Bend Mayor Pete Buttigieg, Sen. Amy Klobuchar and Sanders said there would be change to upcoming campaign behavior. That includes their dedication to continuing the old-fashioned tradition of campaign handshakes and a new one in selfies."

* * *

TX:

"Texas closes hundreds of polling sites, making it harder for minorities to vote" [Guardian]. "Ongoing research by University of Houston political scientists Jeronimo Cortina and Brandon Rottinghaus indicates that people are less likely to vote if they have to travel farther to do so, and the effect is disproportionately greater for some groups of voters, such as Latinxs." • "Latinxs," sigh.

* * *

SC:

"Turnout in South Carolina makes Biden's win even more impressive" [WaPo]. "Around 528,000 South Carolinians turned out in the 2020 Democratic primary, a remarkable show of voter engagement compared to four years ago. Former vice president Joe Biden ran up his totals in black communities but also won areas dominated by groups he has struggled to connect with, notably white and higher income voters. These areas showed some of the largest turnout increases in the state." • Nobody ever said forces of reaction couldn't drive GOTV too.
Our Famously Free Press
"Aaron Sorkin on how he would write the Democratic primary for 'The West Wing.'" [New York Times]. This is an extremely long interview. This is the best part:

Given your inclination toward politics and idealism, is there a Democratic presidential candidate who's connecting with you? No. It's funny. I was emailing with a friend about this topic. There are grand gestures out there to be had, and no one is going for them. We're drowning in timidity. I'm sure you have thoughts about what those grand gestures could be. Mm-hmm. As long as we're crystal clear that I understand the difference between the real world and "The West Wing"? T.B.D., but go on. Fair enough, T.B.D. Here's what would happen on "The West Wing." Joe Biden would say: "You know what? If it'll get John Bolton testifying to the Senate under oath, swear me in too. I'll answer any questions you've got." Suddenly all the attention would be on him. It's a "Mr. Smith" moment. He gets to sit in front of hostile Republican senators and show us how well he can handle them. If he did it right, if he was performing a "West Wing" script where I got to decide what everybody else says too, it propels him right to winning.

"Grand gestures." I can't even.
Stats Watch
At reader request, I added some business stats back in. Please give Econintersect click-throughs; they're a good, old-school blog that covers more than stats. If anybody knows of other aggregators, please leave links in comments.
Manufacturing: "February 2020 ISM and Markit Manufacturing Surveys Are In Expansion But Marginally Declined" [Econintersect]. "Based on these surveys and the district Federal Reserve Surveys, one would expect the Fed's Industrial Production index growth rate to be little changed. Overall, surveys do not have a high correlation to the movement of industrial production (manufacturing) since the Great Recession."
Construction: "January 2020 Construction Spending Continues to Improve" [Econintersect]. "Construction spending is trending upward. The inflation-adjusted data is no longer in contraction. Private construction had been fueling construction growth – but currently, public construction is fueling the growth."
* * *
Intellectual Property: "Musicians Algorithmically Generate Every Possible Melody, Release Them to Public Domain" [Vice]. "Two programmer-musicians wrote every possible MIDI melody in existence to a hard drive, copyrighted the whole thing, and then released it all to the public in an attempt to stop musicians from getting sued."
Tech: "Report: Facebook's privacy tools are riddled with missing data" [Input]. "The obvious holes in Facebook's privacy data exports paint a picture of a company that aims to placate users' concerns without actually doing anything to change its practices…. The most pressing issue with Facebook's downloadable privacy data is that it's incomplete. Privacy International's investigation tested the "Ads and Business" section on Facebook's "Download Your Information" page, which purports to tell users which advertisers have been targeting them with ads. The investigation found that the list of advertisers actually changes over time, seemingly at random. This essentially makes it impossible for users to develop a full understanding of which advertisers are using their data. In this sense, Facebook's claims of transparency are inaccurate and misleading." • And much more like this.
Tech: "'It's not just AI, this is a change in the entire computing industry,' says SambaNova CEO" [ZDNet]. "Today's chips execute instructions in an instruction 'pipeline' that is fixed, he observed, 'whereas in this reconfigurable data-flow architecture, it's not instructions that are flowing down the pipeline, it's data that's flowing down the pipeline, and the instructions are the configuration of the hardware that exists in place, kind of like an assembly line: Here come the cars, and then at every station, something happens.'" • So, the future is self-modifying code?
Mr. Market: "Wall Street's coronavirus panic means little for Americans without wealth to invest" [USA Today]. "'Journalists are obsessed with the stock market,' says Jacob Hacker, director of the Institution for Social and Policy Studies at Yale University. 'But for most Americans, it's a side show in their economic lives. What really matters to them is the security of their jobs and health care, and the amount they have to pay for big-ticket items like housing and education.' Real wages for the typical American worker have risen by a mere 5% during the past decade and, in fact, are only about 11% higher than they were in 1979, according to the Federal Reserve Bank of St. Louis."
Honey for the Bears: "March 2020 Economic Forecast Index Returns To Expansion – Barely" [Econintersect]. Econintersect's Economic Index forecast: "Looking forward, we are concerned about the economic knock-on effects of the coronavirus in China. Simply, Chinese components are widely used across the goods production sector in the U.S. and most other countries in the world. One smart person said, "you cannot ship goods which are not 100 % complete". If the coronavirus' effects abates quickly, the disruption will be minor. If it goes on for longer than a few months, a goods shortage will develop in the U.S…. We are concerned about rail transport growth has remained in negative territory since the beginning of 2019 – a usual flag for a slowing economy… One positive indicator for the Main Street economy is that new home sales continue to have the best growth since 2007. Even existing home sales are now on an improving trend line."
* * *
Today's Fear & Greed Index: 11 Extreme Fear (previous close: 10 Extreme Fear) [CNN]. One week ago: 29 (Fear). (0 is Extreme Fear; 100 is Extreme Greed). Last updated Mar 2 at 12:30pm.
Rapture Index: Closes down 1 on Oil Supply/Price. "Slowing global growth has put downward pressure on oil prices" [Rapture Ready]. Record High, October 10, 2016: 189. Current: 181. Remember that bringing on the rapture is a good thing. Finally, the Corona Virus shows up, but under Interest Rates, not Plagues. And then, under Plagues, no mention of an actual Plague of Locusts. What is this, end-time regulatory capture?
The Biosphere
"California's super-dry February raises specter of early fires and drawn-down reservoirs" [KTLA]. "California is set to conclude one of its driest Februaries in recorded history, elevating fears the state's always-unpredictable fire season could arrive early this year — if March doesn't provide some wet relief."
"Scientists are trying to make crops love salt" [The Counter]. "The gradual, upward creep of soil salinity is a quiet phenomenon—one that doesn't get as much attention as, say, historic levels of flooding or incurable plant diseases. The factors that drive salinization, as it is officially known, are manifold. The use of certain high-salt fertilizers can increase salinity; as can saltwater intrusion—a problem that occurs in coastal regions where seawater from the ocean seeps into groundwater reserves. Even everyday, non-agricultural practices, such as the use of road salt, can play a role. But perhaps the most significant contributor to salinization is something that appears far less menacing: Irrigation, the ubiquitous, millennia-old technique of human-controlled watering."
"Ohio to Cap Total Daily Phosphorus Load Into Lake Erie" [AgWeb]. "Ohio is developing a total maximum daily load (TMDL) for phosphorus to try to improve the health of the lake. It'll take about two to three years to develop the TMDL, according to Ohio EPA in its draft 2020 Integrated Report…. 'The goal is to limit the formation of harmful algal blooms in nine years out of 10,' the report states. They don't have a specific daily number to announce yet, instead providing the yearly goal." • Hmm. I'd say "the goal" is to deny Lake Erie personhood.
Health Care
"Facing Widespread Criticism, Trump Administration To Launch 'Radical Expansion' Of Coronavirus Testing" [Kaiser Health News]. • A news wrap-up.
How the First World does it:
Here in BC, Canada there is a phone number anyone can call to speak with a nurse. And telemedicine by video chat is free, covered by our universal healthcare. US needs both of these now. #MedicareForAll https://t.co/V3Jm9d1qAk

— Michael (@OmanReagan) March 1, 2020
"Salone del Mobile Postponed Following Rise in Number of COVID-19 Cases in Italy" [Architect (NippersMom)]. •  Until June 16. Just one data point, although it would be interesting to see conference postponements like this aggregated.
* * *
"Why Are Nonprofit Hospitals So Highly Profitable?" [New York Times]. "The average chief executive's package at nonprofit hospitals is worth $3.5 million annually. (According to I.R.S. regulations, "No part of their net earnings is allowed to inure to the benefit of any private shareholder or individual.") From 2005 to 2015, average chief executive compensation in nonprofit hospitals increased by 93 percent. Over that same period, pediatricians saw a 15 percent salary increase. Nurses got 3 percent. A number of communities that think nonprofit hospitals take more than they give back have started to sue."
"Piled Bodies, Overflowing Morgues: Inside America's Autopsy Crisis" [New York Times]. • No matter the ultimate epidemiology, the virus is remorselessly exposing weakness in the political economies it variously assaults.
The 420
"Marijuana use is rising sharply among seniors over 65, study says, and there are serious risks" [CNN]. "The numbers of American seniors over age 65 who now smoke marijuana or use edibles increased two-fold between 2015 and 2018, according to research published Monday in JAMA. In 2006, only 0.4% of seniors over 65 reported using marijuana products in the past year, they said. The newly published study found that by 2015, the number had doubled to 2.4%. By 2018, it had doubled again, with 4.2% of seniors over 65 using weed."
Black Injustice Tipping Point
"The lost congressman: What happened to Jeremiah Haralson?" [Montgomery Advertiser]. "Jeremiah Haralson listened as the ex-Confederate accused him of forgery. It was Feb. 13, 1877, and Haralson, a congressman from Selma, had testified to a U.S. Senate subcommittee about the violence and fraud that cost him his re-election to Congress from Alabama's Black Belt. Malcolm Graham, on hand to represent the state Democratic Party, dismissed Haralson's descriptions of racial terror with a cynical languor. Local Democratic leaders told him no such intimidation occurred, and these cursory denials satisfied the former Confederate congressman. So Graham tried to make Haralson the criminal. During questioning, Graham asked Haralson about the testimony of another witness who claimed that Haralson had forged an election ticket to get votes in Lowndes County." • Control over the ballot…
Groves of Academe
"UC Santa Cruz fires 54 graduate students participating in months-long strike" [Guardian]. "The University of California, Santa Cruz, issued termination letters on Friday to 54 graduate students who have been waging a months-long strike for a cost-of-living-adjustment amid soaring rents. The firings came as graduate students at the University of California, Davis, and University of California, Santa Barbara, began their own cost-of-living strikes in solidarity. One of their demands is that all UC Santa Cruz graduate workers who participated in strike activities be restored to full employment status. The 54 UC Santa Cruz graduate students who received termination letters on Friday are just a fraction of the 233 graduate student instructors and teaching assistants who have refused to submit nearly 12,000 grades from the fall quarter since December. This month, the students' grading strike expanded, as teaching assistants refused all teaching duties and research assistants refused additional work. Some classes and office hours have been canceled because of the strike."
Guillotine Watch
"New York State's Pro-Tenant Law Snarls Hamptons Mansion Rentals" [Bloomberg]. "New York State's sweeping tenant-protection law is causing headaches for Hamptons mansion owners who lease out their beachside spreads for the summer. The new rules prohibit landlords from collecting more than a month's rent upfront. That's a problem in the Long Island resort towns, where homeowners rely on three-month rental contracts in the hundreds of thousands of dollars, paid in full ahead of the season. The law — aimed at keeping apartments affordable — took effect in June, but Hamptons homeowners are only now catching up with its provisions as the peak leasing season gets under way. Landlords, faced with the notion of collecting rent from partying tenants every 30 days, are considering doing away with full summer leases, or hiking monthly asking prices to cover maintenance costs on their lavish estates, brokers say."
Class Warfare
"Avoiding Coronavirus May Be a Luxury Some Workers Can't Afford" [Claire Cain Miller, Sarah Kliff, and Margot Sanger-Katz, New York Times]. These are measures the Centers for Disease Control and Prevention has recommended to slow a coronavirus outbreak in the United States. Service industry workers, like those in restaurants, retail, child care and the gig economy, are much less likely to have paid sick days, the ability to work remotely or employer-provided health insurance. The disparity could make the new coronavirus, which causes a respiratory illness known as Covid-19, harder to contain in the United States than in other rich countries that have universal benefits like health care and sick leave, experts say. A large segment of workers are not able to stay home, and many of them work in jobs that include high contact with other people. It could also mean that low-income workers are hit harder by the virus." • That's not a bug. It's a feature. See "Neoliberalism Expressed as Simple Rules."
"The Problem With Telling Sick Workers to Stay Home" [The Atlantic]. "The culture of the American workplace puts everyone's health at unnecessary risk. . 'With more than a third of Americans in jobs that offer no sick leave at all, many unfortunately cannot afford to take any days off when they are feeling sick,' Robyn Gershon, an epidemiology professor at the NYU School of Global Public Health, wrote in an email. 'People who do not (or cannot) stay home when ill do present a risk to others.' On this count, the United States is a global anomaly, one of only a handful of countries that doesn't guarantee its workers paid leave of any kind. . These are the workers who are stocking the shelves of America's stores, preparing and serving food in its restaurants, driving its Ubers, and manning its checkout counters." • And now, on the 10-year anniversary of the ACA, we can see that liberal Democrats constructed a health care system that isn't resilient against pandemics, and put the working class at risk (but not themselves). I'm shocked.
* * *
"How Hard Will the Robots Make Us Work?" [The Verge]. "n automation crisis has already arrived. The robots are here, they're working in management, and they're grinding workers into the ground. The robots are watching over hotel housekeepers, telling them which room to clean and tracking how quickly they do it. They're managing software developers, monitoring their clicks and scrolls and docking their pay if they work too slowly. They're listening to call center workers, telling them what to say, how to say it, and keeping them constantly, maximally busy. While we've been watching the horizon for the self-driving trucks, perpetually five years away, the robots arrived in the form of the supervisor, the foreman, the middle manager. These automated systems can detect inefficiencies that a human manager never would — a moment's downtime between calls, a habit of lingering at the coffee machine after finishing a task, a new route that, if all goes perfectly, could get a few more packages delivered in a day. But for workers, what look like inefficiencies to an algorithm were their last reserves of respite and autonomy, and as these little breaks and minor freedoms get optimized out, their jobs are becoming more intense, stressful, and dangerous."
News of the Wired
"Travelling with 24″ monitors" [My Blog]. " I don't really need to be close to my friends or be in a place that I know but I need my computer setup to be efficient, and my computer setup is a big issue, as I have three 24 inches monitors an external GPU and an ergonomic keyboard… . had to find a way to travel with monitors. How can I carry abroad 3 screens?" * Step 1: Remove the cases…
"To Build Truly Intelligent Machines, Teach Them Cause and Effect" [Quanta]. "As [Judea Pearl] sees it, the state of the art in artificial intelligence today is merely a souped-up version of what machines could already do a generation ago: find hidden regularities in a large set of data. 'All the impressive achievements of deep learning amount to just curve fitting,' he said recently."
"Reader letters: Fighting like cats and dogs over emotional support animals on planes" (letters to the editor) [Los Angeles Times]. "The last flight I was on, I counted at least 15 animals in the cabin." • Is that remotely plausible?
* * *
Readers, feel free to contact me at lambert [UNDERSCORE] strether [DOT] corrente [AT] yahoo [DOT] com, with (a) links, and even better (b) sources I should curate regularly, (c) how to send me a check if you are allergic to PayPal, and (d) to find out how to send me images of plants. Vegetables are fine! Fungi and coral are deemed to be honorary plants! If you want your handle to appear as a credit, please place it at the start of your mail in parentheses: (thus). Otherwise, I will anonymize by using your initials. See the previous Water Cooler (with plant) here. Today's plant (TH):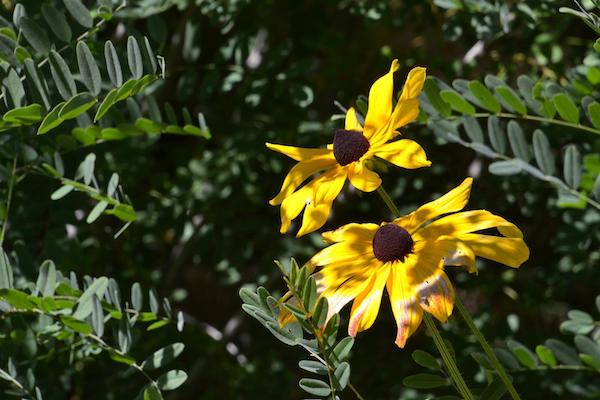 TH writes: "It's too soon since the last picture of this flower, I reckon, but thanks for telling me the name!" I think it could be time for a little sun. And Black-Eyed Susans are one of my favorite flowers, not least because they're invasive! I recall driving past entire fields of them in the Midwest when I was growing up.
Black-eyed Susans
* * *
Readers: Water Cooler is a standalone entity not covered by the annual NC fundraiser. So if you see a link you especially like, or an item you wouldn't see anywhere else, please do not hesitate to express your appreciation in tangible form. Remember, a tip jar is for tipping! Regular positive feedback both makes me feel good and lets me know I'm on the right track with coverage. When I get no donations for five or ten days I get worried. More tangibly, a constant trickle of donations helps me with expenses, and I factor in that trickle when setting fundraising goals:
Here is the screen that will appear, which I have helpfully annotated.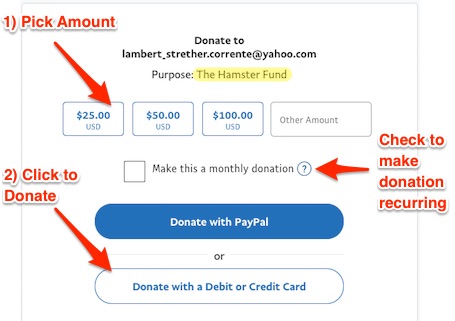 If you hate PayPal, you can email me at lambert [UNDERSCORE] strether [DOT] corrente [AT] yahoo [DOT] com, and I will give you directions on how to send a check. Thank you!