By Lambert Strether of Corrente.
Politics
"But what is government itself, but the greatest of all reflections on human nature?" –James Madison, Federalist 51
"They had one weapon left and both knew it: treachery." –Frank Herbert, Dune
Key dates coming fast now, so I added some counters:
Here is a second counter for South Carolina, coming soon:
And for Super Tuesday:
Super Tuesday states: AL, AK, CA, CO, ME, MA, MN, NC, OK, TN, TX, UT, VT, and VA.
* * *
* * *
2020
We encourage readers to play around with the charts; they are dynamic, and there are a lot of settings, more than I can usefully show here. Here is a link to alert reader dk's project. You can also file bug reports or feature requests using the same contact process as for Plants, below. Thanks — but no promises! UPDATE DK notes: "I'm completely removing the YouGov polls that were making that weird spike. Sorry for the inconsistency, I think it's for the best. I can put them back in if it's a problem for readers."

Today we have two new national polls from Ipsos and Public Policy Polling, and a new state poll from TX. As of 2/26/2020, 10:00 AM EST (three-day average):

And the numbers for IPSOS:

Public Policy Polling:

Again, hard to think this is what the DNC had in mind.

And now to states, with the caveat that they are all small samples, irregular, and bad. TX:

TX numbers:

Sanders within striking distance. Wonder if there's anything under the radar gping on, as in NV (and the IA satellite caucuses, which saved his bacon then, give that organizer a promotion).

CAVEAT I think we have to track the polls because so much of the horse-race coverage is generated by them; and at least with these charts we're insulating ourselves against getting excited about any one poll. That said, we should remember that the polling in 2016, as it turned out, was more about narrative than about sampling, and that this year is, if anything, even more so. In fact, one is entitled to ask, with the latest I boomlet (bubble? (bezzle?)) which came first: The narrative, or the poll? One hears of push polling, to be sure, but not of collective push polling by herding pollsters. We should also worry about state polls with very small sample sizes and big gaps in coverage. And that's before we get to the issues with cellphones (as well as whether voters in very small, very early states game their answers). So we are indeed following a horse-race, but the horses don't stay in their lanes, some of the horses are not in it to win but to interfere with the others, the track is very muddy, and the mud has splattered our binoculars, such that it's very hard to see what's going on from the stands. Also, the track owners are crooked and the stewards are on the take. Everything's fine.

* * *

Biden (D)(1): "Clyburn endorses Biden ahead of South Carolina primary" [The Hill]. "House Majority Whip Jim Clyburn (D-S.C.) on Wednesday endorsed Joe Biden's presidential bid, giving the former vice president a much-needed boost just three days before Democrats in South Carolina head to the polls…. The endorsement is a major vote of confidence for Biden at a critical time in his campaign. After lackluster finishes in the Iowa caucuses and New Hampshire primary, and a distant second-place finish in the Nevada caucuses last weekend, the former vice president is in desperate need of a win in South Carolina to power his presidential bid into Super Tuesday and beyond. Aides and allies of Biden have long pointed to South Carolina as a firewall for his campaign, given his strong support among black voters, who make up a majority of the state's Democratic electorate."

Bloomberg (D)(1): "Mike Bloomberg's Big-Tech Campaign" [New York Magazine]. "[Bloomberg's campaign is a] series of shots in the dark and money-sucking experimentation, buoyed by a single funding source. Bloomberg is not accepting donations and his campaign runs off of his own enormous fortune. It has been estimated that he could spend up to $1 billion on his campaign – an unfathomable amount of money to most Americans and also barely a dent in Bloomberg's $62 billion. This is analogous to how companies like Facebook and Google operate, using revenue collected almost entirely from a single product – their programmatic ad tools – to fund moonshots like driverless cars, or drones that beam internet access, or virtual reality, or video-game streaming. Or, more troubling for Bloomberg's chances, his campaign is being run like a tech startup that's bloated with venture-capital money and has no real path to profitability. Big Tech companies have graveyard full of dead software and hardware, because they are able to fully realize and implement ideas before determining if they even work. At these companies – and Bloomberg 2020 – there is no idea too foolish or counterintuitive that it can't be attempted." • Silicon Valley doesn't run on an election calendar, though. And a failure in one area doesn't ricochet into all the other areas ("the Dean Scream"). So how are those robot cars working out?

Bloomberg (D)(2): "Bloomberg catches himself from saying he "bought" House races in 2018″ [CNN]. Bloomberg: "All of the new Democrats that came in, put Nancy Pelosi in charge, and gave the Congress the ability to control this President, I boug… I got them." • Readers spotted this in real time, it made the Twitter, and here it is in the mainstream. Turning Bloomberg's greatest strength — his money — into a weakness is good, clean fun! Anyone can play, and many are. x

Bloomberg (D)(3): "Harvey Weinstein Recorded A Robocall For Mike Bloomberg In 2005" [HuffPo]. "HuffPost was not able to obtain an audio file of the robocall, but there were media reports at the time about it. 'New York City is a great place to make movies,' Weinstein said, according to the now-defunct New York Sun. 'And we've got a great leader in Mike Bloomberg.'…. Bloomberg has not yet commented on the Weinstein jury verdict, although in 2017, he said Weinstein's behavior was 'disgraceful.' 'It's not a world that I'm really familiar with,' Bloomberg told The Hollywood Reporter at the time. 'I certainly never heard stories. I don't know about rumors or anything, but I never heard stories. I'm not tuned in to the Hollywood thing.'"

Buttigieg (D)(1): Hmm:

#teampete @petebuttigieg did this debate with a horrible cold. And he still performed- let's make it rain tonight https://t.co/0AmxxTNreC

— Lis Smith (@Lis_Smith) February 26, 2020

Somebody should ask Liz Smith if Buttigieg was tested for #COVID-19 before he took the stage. Not that I'm foily.

Buttigieg (D)(2): "Buttigieg campaign cancels Wednesday visit to Miami, citing illness" [Miami Herald]. "Buttigieg had planned to hold fundraisers and 'community conversations' in Wellington in Palm Beach County and in Coral Gables Miami-Dade. But his campaign says he is too sick to come down to Florida after appearing Tuesday evening in the 10th Democratic presidential debate."

Buttigieg (D)(3): Hmm:

Pete's Charleston, SC headquarters in the fancy King Street shopping district was closed and desolate the entire time I was staying in Charleston, just a few days before the primary. Something isn't right. pic.twitter.com/BnFB1dC1ya

— Chris Sturr (@ChrisSturr) February 26, 2020

Sanders (D)(1): "Bernie Sanders to hold election rally in Springfield days before Super Tuesday primary" [MassLive]. • Cheeky! But if Sanders is to avoid a brokered convention — the now-avowed purpose of all his opponents — he's got to scrap for every delegate.

Sanders (D)(2): Hoo boy:

The BERN app is now #14 in social networking in the iPhone store, above Google Hangouts, Telegram, and Skype. ?

Have you downloaded it yet and added your friends who live in South Carolina and the Super Tuesday states? https://t.co/cevo8815MN pic.twitter.com/eU2C6qDC21

— #KnocktoWin #CalltoWin #BerntoWin (@clairesandberg) February 26, 2020

Speaking of youth turnout….

* * *

The smarter commentators are now attacking the Sanders theory of change directly:

"Bernie Sanders looks electable in surveys — but it could be a mirage" [Vox]. "Our data (laid out in an academic working paper here) also found what polls show: that Sanders is similarly electable to more moderate candidates. But, on closer inspection, it shows that this finding relies on some remarkable assumptions about youth turnout that past elections suggest are questionable…. We found that nominating Sanders would drive many Americans who would otherwise vote for a moderate Democrat to vote for Trump, especially otherwise Trump-skeptical Republicans… Democrats and independents are also slightly more likely to say they would vote for Trump if Sanders is nominated…. Despite losing these voters to Trump, Sanders appears in our survey data to be similarly electable to the moderates, at least at first blush. Why? Mainly because 11 percent of left-leaning young people say they are undecided, would support a third-party candidate, or, most often, just would not vote if a moderate were nominated — but say they would turn out and vote for Sanders if he were nominated.The large number of young people who say they will only vote if Sanders is nominated is just enough to offset the voters Sanders loses to Trump in the rest of the electorate." • Hmm. Demographics only. No mention of class.

"Can Bernie Sanders really beat Trump? His pollster makes the case." [WaPo]. "Sargent: I want to press you on 2018. That win was driven by a galvanized Democratic base. But it was also driven by a big shift in the suburbs and among educated whites. I want to understand the degree to which you see holding those gains as crucial to winning in 2020. Tulchin: The key to that is making the election a referendum on Donald Trump. [He] is uniquely polarizing, sexist, racist, misogynist. That motivates suburban voters. Bernie is solid on all the social issues they care about, especially choice. But we can't just rely on that suburban vote. Bernie has unique appeal with working-class voters. He can be more effective in Michigan, Wisconsin and Pennsylvania. If we turn just those three states around, we win the White House." • This is an extremely mild way of saying that the Clinton/Pelosi/Schumer turn toward the suburbs is based too narrowly to win, and that in fact Teixiera's "coaliton of the ascendant" was the correct strategy if and only if the various demographics are not sintered together by idenitity, but welded welded togehter by their class interests in universal concrete material benefits. The whole article is worth a read.

* * *

"Is Gmail hiding Bernie's emails to you? How inbox filtering may impact democracy" [Guardian]. • Handy chart:

Of course, it could be that Buttigieg and Yang are more skilful at manipulating Google's algo. But doesn't Google look with disfavor on such behavior, and try to prevent it?
The Debates
CBS's South Carolina debate last night was universally panned. Thanks to readers for their real-time comments; over 500 (!). I couldn't get through them all today, so please forgive me if I duplicate any points made while not giving a hat tip.

"Sanders targeted at chaotic SC 2020 debate where candidates struggled to score points" [Post and Courier]. "In a move that had been telegraphed in recent days by his campaign speeches, Biden hit Sanders on his gun control record, specifically his votes against the Brady Bill, a 1994 law that mandated federal background checks and waiting periods on gun purchases. Biden noted that Emanuel AME Church, site of the 2015 mass shooting, was walking distance from the debate site. 'I'm not saying he's responsible for nine deaths, but that man would not have been able to get that weapon if he had supported this bill,' Biden said." • Classic use of paralipsis.

"Who Won (and Lost) the Democratic Debate in South Carolina" [Eric Levitz, New York Magazine]. "An honest transcript of the evening would be 50 percent comprised of '[inaudible crosstalk]' or '[much shouting].' We reprised the Medicare for All financing argument and somehow found a way to make it even more tedious than the first 573 renditions. We were treated to incisive questions like, 'Why are your poll numbers less high than they used to be?' and 'What's your personal catchphrase?' The crowd booed too much, and then not enough. Somehow, the candidates' eagerness to tear into each other didn't produce high drama (as it had in Nevada) but instead a vexing unpleasantness — less like watching a reality show than a dysfunctional, booze-soaked family dinner. Anyhow. I've been doing this thing for a while now where I rank the candidates' debate performances from best to worst. And for the sake of brand consistency and search-engine optimization, I'm doing it again. But make no mistake: The only true 'winners' of tonight's proceedings were those whose professional choices and televisual tastes spared them the burden of witnessing this garbage." • If Sanders didn't lose, he won. So Sanders won. There is no expectation that Sanders will win SC (and if Biden wins, it may the last time the Black Misleadership Class is used as a club against the left, so good). On to CA and TX (!).

"Democrats needed a good debate, but got a bad one" [Politico]. "The snarling incoherence of the latest Democratic presidential debate Tuesday evening made it painfully hard to follow. But in its own way, the encounter perfectly crystallized the twin strategic challenges facing the party. The first strategic challenge is the problem of the impassioned plurality represented by frontrunner Bernie Sanders taking control of the party. … .The second strategic challenge is to convey what most Democrats regard as the gravity of the case against President Donald Trump." • Challenge? After Pelosi and Schumer impeached him? How could that be?

Twitter results:

The twitter data, for anyone interested pic.twitter.com/UKUUxFzxkZ

— Jake Tapper (@jaketapper) February 26, 2020

I really enjoy the "RIchard Nixon" account. This thread is as good as any other:

That was as disgraceful an episode of Phil Donahue as I've ever seen. Nothing in it was edifying or consequential. The Marines have an 11-letter word for what CBS did there. It begins with "c" and ends with "k." Nevertheless I will try to find some lines through it.

— Richard M. Nixon (@dick_nixon) February 26, 2020

"With Tickets $1,750, Debate Audiences Are Elite of the Elite. But That's Not New." [New York Times]. "The state and local parties that help organize the debates offer the option for people interested in attending to 'sponsor' the debate. This was the case tonight in Charleston, S.C., as it has been in other debates over the last seven months. The Charleston County Democratic Party offered sponsorship options ranging from $1,750 to $3,200, which included admission to the debate as well as access to other gatherings surrounding the event, according to a local news station, WCSC. 'This is something that the average person doesn't usually get to go to," the station quoted the county party chair as saying.'" • Well, that explains the boo-ing. Obviously, the tickets should be allocated by lottery. Just one more reason to level the existing apparatus to the ground, burn it, and then salt the ground.

"Democratic debate: CBS, Bloomberg draw jeers for ad buy, 'stacked' audience" [New York Post]. "DNC spokeswoman Xochitl Hinojosa said tickets were divided among the campaigns, the South Carolina Democratic Party, the Congressional Black Caucus Institute, CBS and Twitter. 'We invited local and community leaders, and DNC supporters,' she wrote on Twitter. 'This is the most diverse audience.'" • Ever? See above.
Realignment and Legitimacy
"Centrist-child syndrome" [The Outline]. "Antonio Gramsci, a Marxist theorist and founding member of the Communist Party of Italy, described this historical cycle succinctly in his Prison Notebooks, written as he served a life sentence in one of Mussolini's jails. 'The crisis consists precisely in the fact that the old is dying and the new cannot be born,' he wrote. 'In this interregnum a great variety of morbid symptoms appear.' Morbid symptoms certainly abound in our time, with one of them sitting in the White House. But the underlying sense of stasis, the refusal to be born, has found its own acolytes in contemporary politics. It has been on full display in the Democratic Party. One such representative is Pete Buttigieg, Mayor of South Bend, Indiana, and a candidate for president. At 37, the clean-cut young Navy veteran and former McKinsey consultant is the youngest person running, yet possesses the least-youthful disposition in the race…. Why is Buttigieg, the first arguably Millennial presidential candidate, so leery of even slightly radical politics? In might be that his heritage lies in a revolutionary intellectual tradition. For all his appeals to the middle, mayor Pete has described his father as a 'man of the left.' Joseph Buttigieg was a literary scholar whose work specialized in none other than the writings of Antonio Gramsci." • Ironically, Kamala Harris is a victim of the same syndrome.
Stats Watch
At reader request, I added some business stats back in. Please give Econintersect click-throughs; they're a good, old-school blog that covers more than stats. If anybody knows of other aggregators, please leave links in comments.
Leading Indicator: "February 2020 Chemical Activity Barometer Improved and Now In Expansion" [Econinterect]. "The Chemical Activity Barometer (CAB) rose 0.4 percent in February on a three-month moving average (3MMA) basis following a 0.7 percent gain in January. On a year-over-year (Y/Y) basis, the barometer increased 2.0 percent… Production-related indicators increased in February. Trends in construction-related resins, pigments and related performance chemistry generally improved and suggest further gains in housing. Plastic resins used in packaging and for consumer and institutional applications were mixed. Performance chemistry improved, with widespread gains among segments. U.S. exports were mixed. Equity prices surged, while product and input prices improved. Inventory and other indicators were mixed."
Retail: "[Walmart Inc.] is combining its U.S. online and store product-buying teams… as the company seeks to reduce conflict between the units and increase profits at its $50 billion e-commerce business. The latest integration move comes after Walmart combined its online and store supply chains and finance teams last year as it sought to create a single, unified business. But suppliers selling both on Walmart.com and in Walmart's stores still had to pitch two separate buying teams. The teams sometimes clashed over pricing differences and over plans to use stores to facilitate online sales for home delivery" [Wall Street Journal]. "That use of stores for fulfillment has grown popular with retailers as they try to leverage sprawling real estate holdings to minimize the high inventory demands of separate e-commerce distribution channels."
Shipping: "BIMCO: Coronavirus Shows Shipping's Dependence on Chinese Economy" [Martime Executive]. "BIMCO chief analyst Peter Sand laid out three likely scenarios for the impact of the epidemic on shipping. In the first, China's control measures succeed, and work begins to return to normal in Chinese factories by March. Shipping demand would return accordingly. In the second, normalization does not occur until April. In the third and worst scenario, the virus continues to spread in ways that are not possible to predict or analyze. (With significant new cases in Iran and South Korea reported Friday, the last case may be possible.) Scenario 1 entails a relatively minor disruption to global supply chains and a manageable impact on carriers. Scenario 2 would be more serious. In the second case, with an enforced shutdown in China extending into April, 'a temporarily obstructed active labour force . . .will extend disruptions to manufacturing, hinterland transportation and port operations. Given the lower container volumes, caused by a halt to regional manufacturing, the disruption could extend into a global supply shortage of retail and manufactured goods,' Sand wrote." • No detail on scenario 3.
Shipping: "The impact of China's coronavirus economic slowdown is landing hard at U.S. ports. The Port of Los Angeles is projecting a 25% decline in container volumes this month" [Wall Street Journal]. Holy moley. More: "[T]he drop will likely cascade across other ports through April as factories and logistics operations in China struggle to resume shipping flows. Cargo operators are already bracing for what [Port Executive Director Gene Seroka] says could be a 'big pendulum swing' as operations recover and pent-up demand reaches the ports."
Tourism: "Royal Caribbean 'Unable to Predict' Coronavirus Impact for 2020" [Maritime Executive]. "In an earnings report released Tuesday, Royal Caribbean warned that it is 'unable to predict the full financial impact' of the coronavirus epidemic on its earnings for 2020, given the ongoing uncertainty surrounding the disease and the public health measures to contain it." • A petri dish in the coal mine.
The Bezzle: "Uber Ousts Uber Eats Head As It Looks To Stem Losses" [PYMNTS.com]. "As Uber aims to stem losses from its Eats business in places where there is no indication that it will turn into a number one or two player, the executive leading the Eats business of Uber is departing the firm." • All these other stupid Silicon Valley names: Zomato, Swiggy. Say what you want about Uber, at least it's an ethos.
* * *
Today's Fear & Greed Index: 23 Extreme Fear (previous close: 22 Extreme Fear) [CNN]. One week ago: 53 (Neutral). (0 is Extreme Fear; 100 is Extreme Greed). Last updated Feb 26 at 10:05am.
The Biosphere
"SF Mayor London Breed declares state of emergency over coronavirus" [San Francisco Chronicle]. "'Given the high volume of travel between San Francisco and mainland China and the spread of the virus to other countries, there is a growing likelihood that we will see cases in San Francisco,' [Dr. Grant Colfax, director of the city's health department] said." • Also given the state of San Francisco's streets, and the fact that #COVIF-19 spreads by fecal transmission.
"China and India are home to nearly 90 per cent of cities with worst micro-pollution: Study" [The Straits Times]. "Taking population into account, Bangladesh emerged as the country with the worst so-called PM2.5 pollution, followed by Pakistan, Mongolia, Afghanistan and India, according to the 2019 World Air Quality Report, jointly released by IQAir Group and Greenpeace. China ranks 11th. Particulate matter of 2.5 microns or less in diametre – roughly 1/30 the width of a human hair – is the most dangerous type of airborne pollution. Microscopic flecks are small enough to enter the bloodstream via the respiratory system, leading to asthma, lung cancer and heart disease. Among the world's megacities of 10 million or more people, the most PM2.5-toxic in 2019 was the Indian capital New Delhi, followed by Lahore in Pakistan, Dhaka in Bangladesh, Kolkata in India, Linyi and Tianjin in China, and Jakarta, Indonesia. Next on the list were Wuhan – epicentre of the new coronavirus outbreak – along with Chengdu and Beijing." • We will, I suppose, see if cities with high PM2.5 ratings also have more/more serious cases of #COVID-19.
"Forest fire in New Jersey burns at least 80 acres near Appalachian Trail" [USA Today]. "The fire warden said that 2 to 3 feet of snow would usually be on the mountainside at this time of year, and that it was unusual for brush and forest fires to occur in February."
"Rio CEO Says World Must Sacrifice Growth to Meet Climate Goals" [Bloomberg]. "'The challenge for the world, and for the resources industry, is to continue the focus on poverty reduction and wealth creation, while delivering climate action,' Jean-Sebastien Jacques told investors on Wednesday. 'This will require complex trade-offs.' Jacques said consumers, governments and shareholders must all be willing to make sacrifices — in the form of lower consumption, growth and returns — if climate targets are to be met. The mining industry, a key pillar of growth in many developing countries, is facing investor demands to cut the scale of emissions created by its products, from thermal coal to iron ore."
"Can plants develop their own bacterial symbionts?" [John Kempf]. "Our principle task as growers is to farm soil microbes. The larger and more vigorous a population of microbes we can grow in our soil profiles, the more nutritious and healthier our crops will become. Soil biology can supply all of a crops nutritional requirements when they are well managed and well supported." • A controversial thesis!
The far side of the moon:
NASA just released video showing what Apollo 13 astronauts saw in orbit on the far side of the Moon. They were in darkness for eight minutes when they were between earthset and sunrise until the lunar terrain emerged. That's where the video starts. https://t.co/nC5bAaFenL pic.twitter.com/ijd99p893m

— CNN (@CNN) February 25, 2020
Black Injustice Tipping Point
Neoliberalism:
Harriet Tubman is having a moment. https://t.co/6NagHnodZF

— USA TODAY (@USATODAY) February 26, 2020
Health Care
Greatest health care system on earth:
.@gofundme has streamlined the process for setting up a medical crowdfunding page on its site.

Now, users can fast-track by selecting from one of several common ailments.

This is what choice looks like in America's health care system. pic.twitter.com/aF8tUAm4kd

— Walker Bragman (@WalkerBragman) February 25, 2020
News of the Wired
Not feeling wired today!
* * *
Readers, feel free to contact me at lambert [UNDERSCORE] strether [DOT] corrente [AT] yahoo [DOT] com, with (a) links, and even better (b) sources I should curate regularly, (c) how to send me a check if you are allergic to PayPal, and (d) to find out how to send me images of plants. Vegetables are fine! Fungi and coral are deemed to be honorary plants! If you want your handle to appear as a credit, please place it at the start of your mail in parentheses: (thus). Otherwise, I will anonymize by using your initials. See the previous Water Cooler (with plant) here. Today's plant (ChetG):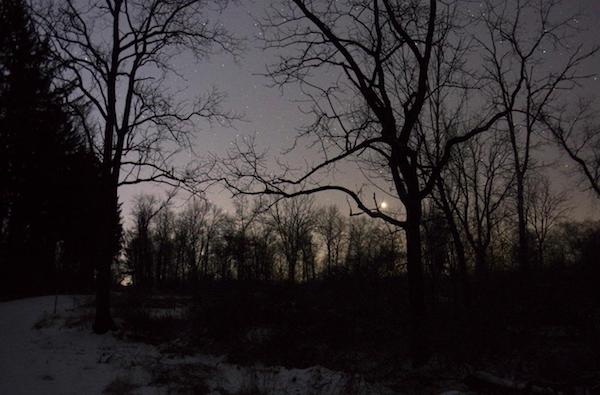 ChetG writes:
I thought to have a Venus-setting photo, since it is Valentine's Day.

When trees are in leaf, they block the stars; in winter, I find the stars among trees amazing.

The exposures averaged from 15 to 10 seconds (with a 20mm lens). With Earth rotation in mind, looking north allows a longer exposure than looking south; otherwise, one begins to have star trails. Star trails can be lovely, but take away something in a landscape when trees are to be the main focus.

Although Venus setting was an hour or so after astronomical sunset, sunset light lingers in the west.

Cheers – and thank you ever so much for Water Cooler!
* * *
Readers: Water Cooler is a standalone entity not covered by the annual NC fundraiser. So if you see a link you especially like, or an item you wouldn't see anywhere else, please do not hesitate to express your appreciation in tangible form. Remember, a tip jar is for tipping! Regular positive feedback both makes me feel good and lets me know I'm on the right track with coverage. When I get no donations for five or ten days I get worried. More tangibly, a constant trickle of donations helps me with expenses, and I factor in that trickle when setting fundraising goals:
Here is the screen that will appear, which I have helpfully annotated.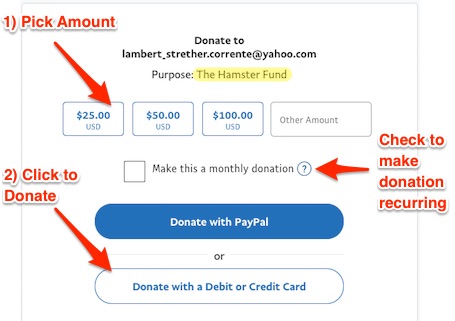 If you hate PayPal, you can email me at lambert [UNDERSCORE] strether [DOT] corrente [AT] yahoo [DOT] com, and I will give you directions on how to send a check. Thank you!