By Lambert Strether of Corrente.
Politics
"But what is government itself, but the greatest of all reflections on human nature?" –James Madison, Federalist 51
"They had one weapon left and both knew it: treachery." –Frank Herbert, Dune
"They had learned nothing, and forgotten nothing." –Charles Maurice de Talleyrand-Périgord
Key dates coming fast now, so I added some counters:
Some of the next primaries. (I picked the major dates; here is a complete calendar.)
* * *
2020
We encourage readers to play around with the polling charts; they are dynamic, and there are a lot of settings, more than I can usefully show here. Here is a link to alert reader dk's project. You can also file bug reports or feature requests using the same contact process as for Plants, below. Thanks — but no promises!

We have a new national poll from Morning Consult (very large sample)), and no state polls, as of 3/24/2020, 11:00 AM EDT.

And the numbers:

It does seem that the strategy of keeping Biden out of the public eye pays off. Earlier in the year, we often had occasion to comment on the mysterious strength of the Biden Juggernaut, on display here; but it's also true that Biden's ups and downs have been of much greater amplitude than other candidates.

* * *

"White House agrees to allow oversight of huge coronavirus loan program as $2 trillion Senate deal nears" [WaPo].

The Senate bill would allow the Treasury Department to extend $500 billion in loans and loan guarantees to try to blunt the deadly virus's economic impact. Of that amount, $425 billion is supposed to go to businesses, cities and states. Another $50 billion would go to passenger airlines, $8 billion more for cargo airlines, and an additional $17 billion would be directed for firms that are deemed important to national security.

… The Senate bill would allow the Treasury Department to extend $500 billion in loans and loan guarantees to try to blunt the deadly virus's economic impact. Of that amount, $425 billion is supposed to go to businesses, cities and states. Another $50 billion would go to passenger airlines, $8 billion more for cargo airlines, and an additional $17 billion would be directed for firms that are deemed important to national security….. Schumer said late Monday that the goal was to finalize the sprawling legislation on Tuesday and vote on it in the evening. In addition to the huge lending program for industries, the legislation would send $1,200 checks to individual Americans, set up a $350 billion loan program for small businesses, the unemployment insurance program, and pump more than $100 billion toward hospitals, among a host of provisions.

In other words, no help making the rent (and a metric fuck-ton of money to "industry" when aggregate demand is about to collapse. Of course, if the unspoken elite consensus is that everybody's going back to work in two weeks — see below — no problem there). Pelosi preens:

Pelosi: : "I think there is real optimism that we could get something done in the next hour, few hours…We think the bill has moved sufficiently to the side of workers."

— Manu Raju (@mkraju) March 24, 2020




"Sufficiently to the side of the workers." A doctor's note for testing. No free treatment. Nothing to make up for lost wages. Nothing to halt rent payments. Throws any worker not in the unemployment system under the bus. And an insultingly low $1200 check to come… some time. And not for everybody. Such a deal. Pelosi intends to pass the bill in essence by acclamation ("unanimous consent of the House"), so only two members need to be present (this is from memory, I may have technical details wrong). Stoller comments:

The way to stop this bill is trivially easy, because passing it requires every member of the House of Representatives to agree. So we need a single member to say on Twitter "I will not give $4 trillion to Donald Trump. I will go to D.C. and object to any bill that does that."

— Matt Stoller (@matthewstoller) March 24, 2020

An opportunity for The Squad to step up, I would say.

* * *

Biden (D)(1): Blast from the past:

"I love Bernie, but I'm not Bernie Sanders. I don't think 500 billionaires are the reason we're in trouble. The folks at the top aren't bad guys." – Joe Biden, 2018 https://t.co/OHkHMyGWrC

— Mehdi Hasan (@mehdirhasan) March 23, 2020

Biden (D)(2): "Stay Alive, Joe Biden" [The Atlantic]. "For the foreseeable future, there will be no more speeches in front of hundreds, or lines of people waiting to shake Biden's hand. There may not even be the glossy fanfare of a convention with a prime-time address. But, truthfully, all those things were always sort of beside the point. Like on that morning in McClellandville, and countless other ones besides, Biden was never really convincing anyone on the stump—his political power at this point is an idea, held collectively, about how to defeat Trump. The work now is to keep that idea convincing enough, for long enough, among as many people as possible, for the corporeal man to actually win."

* * *

Two weeks vacay, then back to work (this is called balancing health and the economy). Too numerous to mention, and bipartisan.

First up, Lloyd Blankfein was not hounded out of public life after the Crash!

Extreme measures to flatten the virus "curve" is sensible-for a time-to stretch out the strain on health infrastructure. But crushing the economy, jobs and morale is also a health issue-and beyond. Within a very few weeks let those with a lower risk to the disease return to work.

— Lloyd Blankfein (@lloydblankfein) March 23, 2020

The Jeff Bezos Daily Shopper weighs in:

Why did Dan Patrick's on-air plea that seniors should be ready to die to protect the economy touch such a chord?

Because it captured something essential about Trump. In a very real sense, Trump is asking us to accept the same choice.

New piece:https://t.co/b8E9lyZbBL

— Greg Sargent (@ThePlumLineGS) March 24, 2020

Not "is asking," though he might yet:

At a briefing last night, Trump insisted that the government can fight the viral spread while also going to work.

The change in tone comes as a growing faction has started to worry that weeks of economic shutdown will wreak financial havoc. https://t.co/sAh6PeakF3 pic.twitter.com/r2zPZNaq76

— POLITICO (@politico) March 24, 2020

Would that it were only Trump:

I've been thinking about this all night, I'm losing my mind pic.twitter.com/anJORJqMyn

— Catdad, la grande peste ? (@catdadaeternal) March 24, 2020

"Thrive":

Nancy Pelosi is on CNBC saying that everyone "wants [the stock market] to thrive."

— Matt Stoller (@matthewstoller) March 24, 2020

Well, everybody who is anybody.
Stats Watch
At reader request, I added some business stats back in. Please give Econintersect click-throughs; they're a good, old-school blog that covers more than stats. If anybody knows of other aggregators, please contact me at the email address below.
Manufacturing: "March 2020 Richmond Fed Manufacturing Survey Insignificantly Improves" [Econintersect]. "Of the three regional Federal Reserve manufacturing surveys released to date, two were in contraction and one barely in expansion. The important Richmond Fed subcategories (new orders and unfilled orders) were mixed but were zero or in contraction. This survey was better than last month."
* * *
Shipping: "Car carrier Wallenius Wilhelmsen's dramatic fleet action may provide a warning sign for the broader shipping industry. The Oslo-based operator is cutting 14 vessels from its fleet, including four that will be scrapped… as automobile production and demand nosedive around the world amid the coronavirus pandemic" [Wall Street Journal]. "The fleet downsizing is the biggest move yet among ocean carriers that have been buffeted by the coronavirus-driven hit to global economies. Shipping companies have generally weathered the downturn, but the car carrier's action suggests the ongoing shutdown of factories is cutting deeper into industrial supply chains. That will likely trigger a bigger impact on operators from dry-bulk commodities carriers to container lines. Consulting group SeaIntelligence reiterated its forecast of a 10% decline in container shipping demand this year and says, 'current developments indicate that the worst is ahead of us.'"
Supply Chain: "Just-in-time has turned out to be just-not-enough for grocery stores. A run on supermarkets in the U.S. is exposing the downside of the food industry's decadeslong efficiency drive to boost profit margins by paring inventories" [Wall Street Journal]. "Producers and grocery stores had gone from keeping months of inventory on hand to holding only a four to six weeks' supply, and now manufacturers, distributors and retailers are rapidly reversing course as consumers strip shelves bare. Suppliers are tossing out carefully calibrated distribution plans and instead shipping truckloads of goods straight to stores' warehouses. Retailers are overriding replenishment algorithms and heading straight to manufacturers to restock. Many producers are pressing raw materials suppliers to speed up manufacturing to get more goods into pipelines. Officials insist plenty of goods are moving, but some worry that an increasingly stretched system could buckle under the pressure." • All that optimization…. gone…..
Manufacturing: "Ford partnering with GE, 3M to build ventilators, respirators, face shields" [Automotive News]. "Ford Motor Co. plans to build respirators, ventilators and face shields in partnership with its UAW work force, manufacturing company 3M and GE Healthcare to aid medical workers as the coronavirus pandemic threatens to overwhelm their supply. Known internally as "Project Apollo" and inspired by the quick-thinking ingenuity of the Apollo 13 space mission, executives on Tuesday said Ford workers plan to use car parts and factory tools to help get some equipment out to doctors, nurses and first responders as early as this week…. Ford is partnering with manufacturing company 3M to build air-purifying respirators on two fronts. It will aid 3M in boosting production of respirator designs 3M is already producing, while simultaneously building its own respirators using a makeshift design that includes fans from F-150 pickup seats, 3D-printed parts and portable tool battery packs that could allow the devices to run for up to eight hours. Respirators using Ford's makeshift design would be built at its advanced manufacturing center near Detroit in Redford, Mich. Ford said it initially would be able to make up to 1,000 respirators per month." • It's a start.
Honey for the Bears: "A Greater Depression?" [Nouriel Roubini, Project Syndicate]. "The shock to the global economy from COVID-19 has been both faster and more severe than the 2008 global financial crisis (GFC) and even the Great Depression. In those two previous episodes, stock markets collapsed by 50% or more, credit markets froze up, massive bankruptcies followed, unemployment rates soared above 10%, and GDP contracted at an annualized rate of 10% or more. But all of this took around three years to play out. In the current crisis, similarly dire macroeconomic and financial outcomes have materialized in three weeks…. [E]very component of aggregate demand – consumption, capital spending, exports – is in unprecedented free fall. While most self-serving commentatorshave been anticipating a V-shaped downturn – with output falling sharply for one quarter and then rapidly recovering the next – it should now be clear that the COVID-19 crisis is something else entirely. The contraction that is now underway looks to be neither V- nor U- nor L-shaped (a sharp downturn followed by stagnation). Rather, it looks like an I: a vertical line representing financial markets and the real economy plummeting."
* * *
Today's Fear & Greed Index: 13 Extreme Fear (previous close: 5 Extreme Fear) [CNN]. One week ago: 5 (Extreme Fear). (0 is Extreme Fear; 100 is Extreme Greed). Last updated Mar 24 at 12:42pm. The chorus of "put American back to work" must be gratifying to Mr. Market.
The Biosphere
Slowing economy:
Images taken over the first three weeks of March show less nitrogen dioxide over parts of the United States than the same time last year. https://t.co/cjNKx4rsNu

— CNN International (@cnni) March 23, 2020
"A happy little miracle in dark times: The plant nursery business is booming" [Los Angeles Times]. "[A] happy little miracle has happened in the world of plants. People are clamoring to plant vegetable gardens, and Southern California nurseries — deemed an essential service by state and local officials — have found creative ways to meet the demand while keeping customers and staff at a safe distance amid coronavirus concerns…… 'We're seeing this as a resurgence in victory gardens,' [Desiree Heimann of Armstrong Nursery Centers] said. 'There are so many unknowns now, we're encouraging people to start planting their own backyard garden to have a sustainable food supply. Gardening really does reduce anxiety and stress, and what would the drawbacks be? That you have too many strawberries or tomatoes and you have to share with friends? There's not really a downside to this.'
"This ancient festival is a celebration of springtime—and a brand new year" [National Geographic]. "The [Iranian Nowruz] spring festival's focus is fertility and new life, so it's appropriate that many revelers celebrate with seeds and eggs. Households set up tables covered with seven symbolic items they call haft-seen. Haft means "seven" and 'seen' is 's' in Farsi, and all of the items start with the letter. These include seed sprouts (usually wheat, oats and other seeds, which symbolize rebirth), senjed (also known as silverberry or Persian olive, which is thought to spark love), garlic (protection), apple (fertility), sumac (love), vinegar (patience), and samanu, a pudding made of sprouted wheat (affluence). The table also can include a Koran, eggs, mirrors, and poetry." • In the press of events, I forgot the equinox!
"East Antarctica's Denman Glacier has retreated almost 3 miles over last 22 years" [Science Daily]. "East Antarctica's Denman Glacier has retreated 5 kilometers, nearly 3 miles, in the past 22 years, and researchers at the University of California, Irvine and NASA's Jet Propulsion Laboratory are concerned that the shape of the ground surface beneath the ice sheet could make it even more susceptible to climate-driven collapse. If fully thawed, the ice in Denman would cause sea levels worldwide to rise about 1.5 meters, almost 5 feet. With this sobering fact in mind, the UCI and NASA JPL scientists have completed the most thorough examination yet of the glacier and surrounding area, uncovering alarming clues about its condition under further global warming."
"Paris Climate Agreement Architects Make a Case for "Stubborn Optimism'" (interview) [Scientific American]. Tpm Rivett-Carnac: "If we start now, that's more than a 7 percent reduction every year. That is a mobilization at a scale that's barely imaginable. Now it is achievable, and science tells us that it's achievable. But we've reached the point at which we're going to discover if we're serious about dealing with this. So this book is about communicating what's at stake. We have allowed ourselves to feel powerless in the face of this challenge. But the reality is that we have more power than we can possibly imagine, because of the impact we can have."
Health Care
"Antibiotic resistance: the hidden threat lurking behind Covid-19" [STAT]. "lready, some studies have found that 1 in 7 patients hospitalized with Covid-19 has acquired a dangerous secondary bacterial infection, and 50% of patients who have died had such infections. The challenge of antibiotic resistance could become an enormous force of additional sickness and death across our health system as the toll of coronavirus pneumonia stretches critical care units beyond their capacity. Seventeen years ago, when I was leading the CDC, we worried about antibiotic resistance complicating the care of SARS patients. We knew then that America's arsenal of antibiotics was not sufficient to guarantee we could manage a large outbreak of drug-resistant bacteria. Since then, these bacteria have only become more widespread, more deadly, and far more difficult to treat, yet our stable of antibiotics to manage them has barely increased." • No money in it.
"Man dies after self-medicating with chloroquine phosphate" [Axios]. "A man has died and his wife is under critical care after the couple, both in their 60s, ingested chloroquine phosphate, an additive commonly used at aquariums to clean fish tanks," which is also part of one of the antimalaria drugs that President Trump has mentioned in recent days, according to Banner Health, the hospital system that treated both patients…. The malaria drug comes in tablet form, but the type the couple used was a toxic substance — not medication…. The man's wife told NBC News: 'I had it in the house because I used to have koi fish.'"
"Arizona Man Dies After Using Fish Tank Cleaner To Treat COVID-19" [Jonathan Turley]. "There has been legitimate criticism of some of the statements made by President Donald Trump during the coronavirus outbreak as overstated or inaccurate. However, there has also been a continuation of the type of 'Gotcha' stories that seem to be so reflexive for many in the media. An example is the slew of recent articles on how an Arizona man died of taking the anti-malaria drug repeatedly raised by Trump as a potential treatment for COVID-19. Trump has discussed Chloroquine as a drug which has shown promising results, which is true, in other countries. Indeed, a variation, hydroxychloroquine, has shown remarkable success but still needs to be fully studied for safety. However, the Arizona stories omit that this elderly couple did not take prescriptions of either drug but rather home remedied with chloroquine phosphate used to clean fish tanks."
"Lupus Patients Can't Get Crucial Medication After President Trump Pushes Unproven Coronavirus Treatment" [ProPublica]. "Trump's push to use hydroxychloroquine to treat COVID-19 has triggered a run on the drug. Healthy people are stocking up just in case they come down with the disease. That has left lupus patients like Valdez and those with rheumatoid arthritis suddenly confronting a lack of medication that safeguards them, and not only from the effects of those conditions. If they were required to take stronger drugs to suppress their immune systems, it could render them susceptible to more serious consequences should they get COVID-19."
Games
"Board games can keep you sane during quarantine. Here's how to find games you'll like" [The Prepared]. "I love to fondle the big, heavy board game boxes at my local game shop, and to look over the shoulders of the gamers as they play on those tables in the back. I like miniatures and maps, rules and stats, and all the role-playing and board-gaming things… but I'm not a board gamer. It's just a corner of nerddom that I had not yet ventured into… at least until the lockdown. During our final week of freedom, I went out to two local game shops — Dragons' Lair and Game Kastle Austin — and bought an embarrassingly large stash of games for the locked-down kids and adults in my house to play in the evenings…. Nonetheless, I find myself fielding questions on this board-game topic from other parents and grown-up nerds who suddenly have a lot of time on their hands and are looking for something fun to do. So I'm putting what I've learned so far about how to buy board games into a short blog post, not only so I can stop typing out the same advice in emails but so that more experienced gamers can drop into the comments with their own advice and tips." • Very good. If you want to get some board games, here's how.
Guillotine Watch
"Bunker with a bowling alley: How the rich are running from coronavirus" [Los Angeles Times]. "[Texas-based Rising S Bunkers] has 24 standard options, with the smallest being 8 by 12 feet. Complete with a bunk bed, air filtration system, kitchen counter and toilet, it costs $39,500. Other models include a 2,400-square-foot bunker for $539,000 called the Eagle and a complex with 42 bunk beds, 15 private bedrooms, a gun room and panic room for $1.009 million called the Fortress. The one with the most amenities is the Aristocrat. Priced at $8.35 million, it has a gym, sauna, swimming pool, hot tub, billiards room, greenhouse and garage." • That's quite an act. What do you call it? [NSFW].
"Super-rich people are panicking over the coronavirus ventilator shortage" [New York Post]. "Forget Birkin bags, Botox shots or Brazilian butt lifts. The sought-after accessory for the ultra-rich these days is anything that guarantees them oxygen should they get hit by the coronavirus…. the wealthy in the US are calling both their doctors and ventilator manufacturers hoping to get a machine on demand. They're even trolling the dark web to no avail as they face an uncomfortable truth: Money can't buy something that's not there. Ventilators cost only about $35,000, peanuts to the elites. But because the US healthcare industry is about making money, no one heeded warnings going back more than a decade that the country should stockpile the machines." • The rest of the story has several interesting interviews with ventilator manufacturers, so worth a read.
"New Yorkers Are Overcrowding Carbone's Sidewalk, Forcing Police Action" [Eater]. "Twice in the past week, police officers have had to manage the large crowds waiting for delivery and takeout orders outside Major Food Group's famed fancy restaurant Carbone in Greenwich Village. On Friday, after failing to disperse the crowds and rein in wait times that were over an hour long, frustrated managers for the restaurant locked the doors and turned off the lights, leaving deliverymen and patrons empty handed." • As stupid as the Florida spring-breakers. If only they were only putting themselves alone in danger!
Class Warfare
"Workers Left Out Of Government And Business Response To The Coronavirus" [Thpmas Kochan, The Conversation]. "My research shows that workers are eager to have a broader role in corporate governance and decision-making. This could be accomplished, for instance, if government bailout funds were conditioned on workers having seats on corporate boards or establishing joint worker-management consultative councils or committees to help allocate the money…. By working together in these ways in this time of crisis, business and labor might just lay the groundwork for building a new social contract that fills the holes in the social safety net and forges relationships that will serve society well in the future." • Well…. We don't seem headed in that direction.
"Can we save people like my brother from the economic impact of the coronavirus?" [Boston Globe]. "Every few days, I call my brother, who has always lived in a harder world than mine. He's 60, does not have a college degree, and for years has lived from paycheck to paycheck setting up banquets at a suburban Detroit hotel. He lost his job because of the coronavirus pandemic, which has shut down much of the economy. First, two events in a week were canceled. Then all events were canceled, and on March 16, his manager called to say there would be no more work…. My brother was pessimistic about what politicians could do. "A thousand dollars? That's not enough to cover a month," he said. He pays $1,000 a month just in rent for a room in a suburban Detroit condo he shares with two others, and neither of his roommates is on solid economic footing." • Thank you, Democrats, for putting "workers first."
"Amazon soliciting public donations to pay workers' sick leave" [Popular.info]. "In response to the pandemic, Amazon said it would provide two weeks of sick leave to "all Amazon employees diagnosed with COVID-19 or placed into quarantine." Kroger had a similar policy until Saturday when Kroger expanded its policy to cover workers with COVID-19 symptoms or who need to care for sick family members. Amazon, however, has held firm. Amazon's large contract workforce, which delivers packages and performs other critical tasks, is in even worse shape. Amazon is not providing any sick leave at all for these workers, even if they test positive for COVID-19. Instead, these workers must apply to the "Amazon Relief Fund" and apply for a grant to cover their sick leave. …. Amazon donated $25 million to the fund and is soliciting individual donations to add to the pot…. Isn't it a bit unseemly for Amazon, a company owned by the richest person in the world, to be soliciting donations to pay for workers' sick leave? Why isn't Amazon just paying people who contracted COVID-19 while doing essential work for Amazon?"
"Rural communities' digital deserts cripple tele-education during coronavirus outbreak" [ABC]. "As the coronavirus pandemic continues to spread across the country, businesses, schools and groups are heading online to stay productive. Rural communities with poor to little broadband Internet access, however, are stuck in digital deserts with no way to ride out the situation, according to digital accessibility activists."
"MBA Class of 2020 Faces Tough Summer or Worse as Recession Looms" [Bloomberg]. "There's one option that could be safer for a graduate than entering the workforce: Staying in school. College seniors might consider a graduate degree, and MBAs who don't land jobs could pursue an industry-based certification that will make them more employable, Carnevale says. 'It's going to be a rough several months. A bad start will affect you deep into your career—your first job, your second job,' he says. 'This is going to be a tough summer, and if you get a recession, it'll be another 10 months of slower hiring.'"
News of the Wired
Can this be real?
Americans living in 2020, meanwhile Korea is already in 3050. Can someone ship me these boba masks ASAP?! ?

(photo credit unknown, lmk if this is you) pic.twitter.com/bbVQJiiXKI

— ? Yo Iz So!⁷ ? (@ssoyunum) March 24, 2020
* * *
Readers, feel free to contact me at lambert [UNDERSCORE] strether [DOT] corrente [AT] yahoo [DOT] com, with (a) links, and even better (b) sources I should curate regularly, (c) how to send me a check if you are allergic to PayPal, and (d) to find out how to send me images of plants. Vegetables are fine! Fungi and coral are deemed to be honorary plants! If you want your handle to appear as a credit, please place it at the start of your mail in parentheses: (thus). Otherwise, I will anonymize by using your initials. See the previous Water Cooler (with plant) here. Today's plant (JU):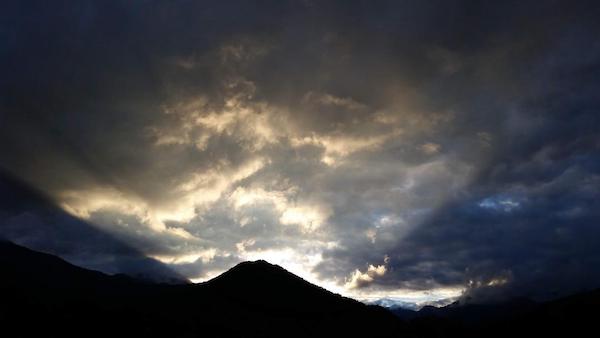 JU writes: "Sunrise rays in the Sierra foothills…" I think the plants are hidden in the shadows. But what a lovely moment!
* * *
Readers: Water Cooler is a standalone entity not covered by the annual NC fundraiser. So if you see a link you especially like, or an item you wouldn't see anywhere else, please do not hesitate to express your appreciation in tangible form. Remember, a tip jar is for tipping! Regular positive feedback both makes me feel good and lets me know I'm on the right track with coverage. When I get no donations for five or ten days I get worried. More tangibly, a constant trickle of donations helps me with expenses, and I factor in that trickle when setting fundraising goals:
Here is the screen that will appear, which I have helpfully annotated.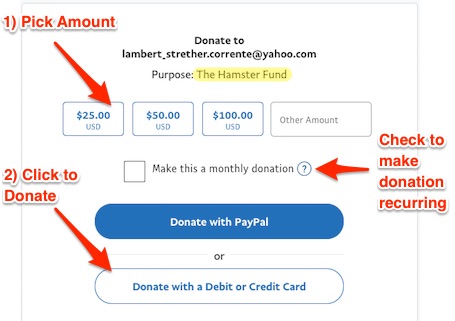 If you hate PayPal, you can email me at lambert [UNDERSCORE] strether [DOT] corrente [AT] yahoo [DOT] com, and I will give you directions on how to send a check. Thank you!