By Lambert Strether of Corrente.
For much of Africa, the spectre at the feast is not #COVID-19 but a plague of locusts of Biblical scale. A suitabl7 repellent video, with Biblical reference:
#KenyaRepent, Behold Locust at your doors step.

Look at them as they leap along the mountaintops. Listen to the noise they make—like the rumbling of chariots, like the roar of fire sweeping across a field like a mighty army moving into battle.
Joel 2:5pic.twitter.com/O2AIkf46PK

— Delphine Evelyne (@DelphineEvelyn1) February 25, 2020
From Locust Watch, by the United Nations Food and Agriculture Watch, the latest map: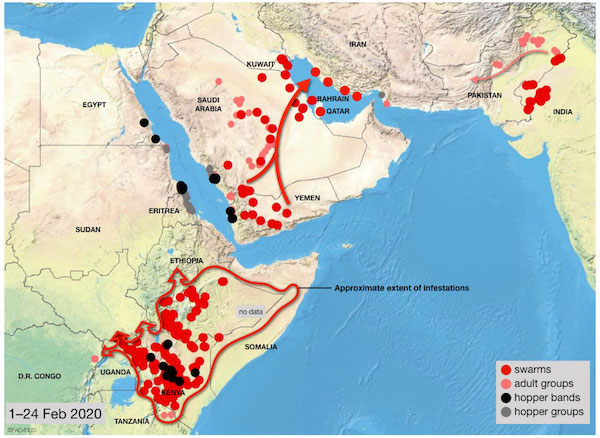 (The link includes detailed country reports.) The map includes "adult groups" in Congo.) From the Associated Press, "East Africa's huge locust outbreak now spreads to Congo":
A small group of desert locusts has entered Congo, marking the first time the voracious insects have been seen in the Central African country since 1944, the U.N. Food and Agriculture Agency said Tuesday…. The FAO said mature locusts, carried in part by the wind, arrived on the western shore of Lake Albert in eastern Congo on Friday near the town of Bunia…. "Needless to say the potential impact of locusts on a country still grappling with complex conflict, Ebola and measles outbreaks, high levels of displacement, and chronic food insecurity would be devastating," the U.N. officials said in the joint statement.
AP's story that made me think I should take a look at locusts again (first post here) because you ain't seen nothin' yet. Why? Because the locust's life-cycle is extremely fast. More from AP:
Desert locusts have a reproduction cycle of three months, the U.N. officials said, and mature swarms are laying eggs in vast areas of Ethiopia, Kenya and Somalia, "many of which are already hatching."

"In just a few weeks, the next generation of the pests will transition from their juvenile stage and take wing in a renewed frenzy of destructive swarm activity," the joint statement said.

This is a time when farmers' crops begin to sprout, which could devastate East Africa's most important crop of the year, the U.N. officials said.
So, we've already seen enormous swarms. Those swarms have laid their eggs — in the nice moist earth created by this season's heavy rains — which will shortly emerge as hoppers. (So we have a multiplicative process like #COVID-19, although with different limiting factors.)
In this post, I'm going to take a quick look at the situation in Pakistan, followed by a longer look at Africa[1]. (I'm going to ignore the Arabian Peninsula; perhaps I'll post on that topic later.) In each case, I'll focus on remedies for the swarms — ducks (!), pesticides, locust-killing fungus. I'll conclude with a look at coming "food insecurity" (what we call starvation and hunger these days, I guess), and the funding situation.
Locusts in Pakistan (and China)
Interestingly, China seems to be providing, or attempting to provide, substantial assistance to Pakistan. where a national emergency has been declared. From Pakistan's Dawn, "China assures Pakistan of help in fighting locusts":
Wang Fengle, who headed the delegation, spoke about their visit to Thar to gauge the gravity of the situation.

He said the visit was carried out to plan for an emergency response to control deadly swarms with sustainable mechanism.

The reporters were informed that the Chinese government would provide 50 vehicles that would spray 16,000 hectares per day, 50 units of drones would be provided that would spray and monitor 1,333 hectares per hour while aircraft would also be provided as the overall package was finalised.

They said a vast area of the country was yet to be surveyed; thus, they could be able to provide total value of the package after the whole country was surveyed.
(China to Pakistan: "We need data!"). I'm assuming that "spray" means "spray with pesticides" (but see below on the Metarhizium fungus). And then there are the ducks (which is another reason I wanted to write this post). From the Daily Mail, "China 'to send 100,000-strong duck army' to help Pakistan fight its worst locust plague in 20 years":
The teams of birds are of a native breed called 'No. 1 Guoshao', which is billed as the 'locust-killing genius', the Ningbo Evening News said on Thursday.

China deployed ducks, whose natural diet includes insects, to fight a similar infestation in its northwestern region of Xinjiang two decades ago, with considerable effectiveness, the report said.

Their use is both much less expensive and environmentally damaging than the use of pesticides, the paper quoted Zhejiang Provincial Institute of Agricultural Technology researcher Lu Lizhi as saying. 'Ducks like to stay in a group, so they're easier to manage than chickens,' he said. A duck is also capable of eating more than 200 locusts per day, compared to just 70 for a chicken, Lu said.
(Still, you'd need an awful lot of ducks to eat a billion locusts.) Sadly, no. From Malaysia's The Star, "Plan to send China ducks to destroy locusts in Pakistan just doesn't fly":
However, despite the popular support for the idea in a country where cute duck memes have become hugely popular, Zhang Long, a professor from China Agriculture University told reporters in Pakistan the ducks would not be suited to the conditions there.

"Ducks rely on water, but in Pakistan's desert areas, the temperature is very high," Prof Zhang said. Prof Zhang, part of a delegation of Chinese experts sent to help the South Asian country combat the locusts, advised the use of chemical or biological pesticides instead.
Awwww! As far as China itself, from the South China Morning Post:
"There is no threat to China by the desert locust because of a) the wind direction and b) they cannot cross the Himalaya Mountains because they are too tall and the air is too cold – so this is a natural barrier," said FAO's senior locust forecasting officer Keith Cressman by email.

China's Ministry of Agriculture and Rural Affairs agreed the threat was small, but officials are not leaving anything involving national food security to chance.

China's agriculture sector had a devastating year in 2019, hit by the crop-gobbling fall armyworms, which spread over a million hectares of farmland, as well as African swine fever that has killed about half of the country's 440 million pigs through culling of disease.
(Speculating freely and tangentially, consider that eliminating wild animals from China's food supply may not be all that easy, assuming they substitute for staples like pork.)
Locusts in Africa
I have seen two solutions proposed for killing locust swarms in Africa: Pesticides, and Metarhizium fungus. On pesticides, from the Low Country's Charleston Chronicle, "Kenya Makes Risky Bet On Pesticides To Exterminate Locust Swarm":
The pro-pesticide voices have already taken hold in three counties in Kenya – Wajir, Samburu and Marsabit – where the government has launched a large-scale spraying operation.

The Kenyan government set aside 200 million Kenyan shillings to combat the invasion, but its response was delayed for several weeks due to a lack of adequate pesticides and an insufficient number of spraying planes. This enabled the swarms to spread throughout the country. The pesticides used are numerous: fenitrothion, chlorpyrifos, fipronil, deltamethrin, diflubenzuron, teflubenzuron, triflumuron.

"With locusts, because they come in swarms of millions, we are supposed to use a 'blanket' of chemicals to stop them," said Timothy Munywoki, senior agronomist with Amiran Kenya Ltd, a major horticultural agribusiness in Kenya, who advocates the use of microencapsulated pesticides to limit the spread of these toxic products.

There is, however, debate in Kenya about this solution. "These products don't only affect locusts, they kill 'useful' insects, such as bees and beetles," says Munywoki. And without bees, there is no pollination, so no fruit.

… "If you kill the 'beneficial' insects that feed on other 'harmful' insects, it means that you will have to continue spraying chemicals to chase them away," warned Munywoki.
The second choice is Metarhizium fungus, a "biopesticide." From Science, "In Somalia, an unprecedented effort to kill massive locust swarms with biocontrol":
Somalia, one of several African nations being hit hard by enormous swarms of locusts, is planning to control them with a fungus in what would be the largest use of biopesticides against these insects.

"Large-scale use to control an invasion of desert locusts would be a first," says Michel Lecoq, a retired entomologist who worked on locust control at the French Agricultural Research Center for International Development. "If successful, it will be a big step forward."

In Somalia, which has large grazing areas, FAO is instead helping the country use biopesticides. They consist of spores of the fungus Metarhizium acridum, which produces a toxin that kills only locusts and related grasshoppers. Since the last major locust outbreak in Africa, in 2003–05, researchers have been able to make the biopesticide cheaper, more effective, longer lasting in the desert, and easier to store. "We're really lucky now that we have a very effective product," Keith Cressman, FAO's locust forecasting officer, told ScienceInsider. Compared with chemicals, however, the biopesticide takes longer to kill the locusts, so it is more useful before the hopper bands of young locusts have begun to fly.

Such biopesticides have previously been used in several countries to stamp out locust outbreaks. In the past 3 years, China has applied biopesticides on more than 48,000 hectares annually, says Long Zhang of China Agricultural University. The main challenges are finding the bands of young locusts and hitting them with enough biopesticide, he says. "If the dose is too low, it will take a long time to kill locusts," he says. Researchers in China have been selecting strains for greater virulence, but they still require that locusts to be exposed for several days longer than with chemical pesticides.
(Note that Metarhizium acridum is specific to grasshoppers, i.e., locusts.) Here is the happy result: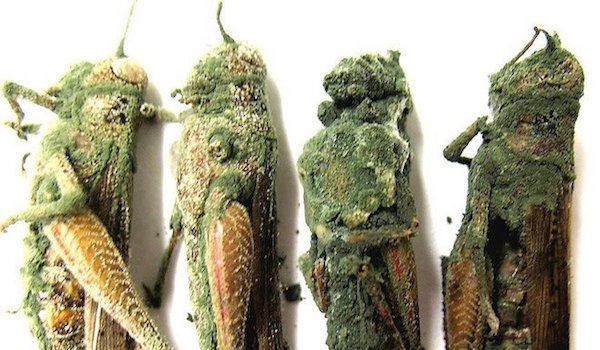 Here too, China is playing a constructive geopolitical role[2]. From the South China Morning Post, "China's green zombie fungus could hold key to fighting East Africa's swarms of locusts":
Chinese factories are producing thousands of tonnes of a "green zombie fungus" to help fight the swarms of locusts in East Africa.

Metarhizium is a genus of fungi with nearly 50 species – some genetically modified – that is used as a biological insecticide because its roots drill through the insects' hard exoskeleton and gradually poisons them.

In China it was named lu jiang jun, which means green zombie fungus, because it gradually turns its victims in a green mossy lump.

There are now dozens of factories across the country dedicated to producing its spores and despite the curbs introduced to stop the spread of Covid-19, many of them have resumed operations and are shipping thousands of tonnes to Africa.

These factories are set up in a similar way to breweries, growing the spores on rice which is kept in carefully controlled conditions to ensure the correct temperature and humidity.
"Dozens of factories"….
"Food Insecurity"
From Axios, an idea of the scale. "Swarms of locusts in East Africa put millions at risk of starvation":
If the locusts aren't soon combatted quickly and effectively, the number of people at risk of starvation in East Africa alone could rise to 33 million over the next few months. The swarms of locusts could grow exponentially and reach new countries, WSJ writes.

The big picture: Millions are already struggling with food shortages resulting from droughts, flooding, and insurgencies. The locusts could exacerbate the current situation.

The state of play:

Swarms the size of cities can consume 1.8 million metric tons of vegetation every day — enough to feed 81 million people.
Locusts have eaten 40% of the harvest in some parts of Pakistan, WSJ notes.
Locusts consumed corn, cotton, and wheat that were almost ready for harvest in Ethiopia, Africa's second most populated country, according to the WSJ.
So naturally, the international community is on top of this.
Funding
Not. From the Christian Science Monitor:
The FAO says it has received just $33 million of the $138 million it needs to clamp down on the locusts before regional harvests begin in April and May. The World Food Program says it will cost 15 times more to feed those whose food sources are destroyed by swarms than it will cost to prevent the swarms from forming now.
Bloomberg's TV advertising spend so far is $410 million, so saving East Africa from starvation from a Plague of Locusts would be 138 / 410. = 0.336, or a little bit more than a third of that. Couldn't he just be a Good Billionaire, and take it out of petty cash?
Conclusion
Sheesh, see above. $138 million? That's it? That's all? Very on-brand for 2020!
NOTES
[1] I'm sorry that my terminology is so crude and knowledge of the ground is so poor. Africa just aren't on the radar for the great bulk of the political class and the media in this country, and that goes for me, too. Southwest Asia is covered better, but still not well. Expert knowledge in the readership welcome!
[2] From the same article: "Today, most locust outbreaks happen in developing countries that do not have advanced monitoring networks and some of them are unable to produce pesticides on a mass scale, according to Li Hu, an associate professor with the China Agricultural University in Beijing. The Chinese locust treatment technologies were highly advanced, and usually cheaper than competing solutions from the West, he said." So, if Chinese biopesticides are better than Western chemical pesticides….