Yves here. It's not looking pretty in the travel industry, particularly for players like airlines that have international business as important. Even casual readers of the press have heard about widespread coronavirus-induced cancellations of conferences, restrictions in some countries and regions of large gatherings, corporate travel bans, and scuppered sports matches, including possibly the Tokyo Olympics.
The Financial Times ran a sober "is there life after coronavirus?" piece that centered on the collapse of air travel. Some vignettes:
I went to Heathrow to see it first-hand. I found the airport eerily empty. "It's been quiet all month," said a British Airways attendant, surveying the vast hall of Terminal 5 — a monument to globalisation. BA had cancelled flights to China, Italy and beyond. Other airlines too were reporting a sharp drop in bookings, and a rise in passengers simply not turning up…

There are two ways that disease outbreaks can change us.

The first is through reflection….

The second is structural. The Black Death accelerated the disintegration of English feudalism: so many peasants died that the landlords lost their grip. The first world war accelerated the rise of working women: once they had replaced men in factories, a Rubicon had been crossed. If the 1918 epidemic left an imprint, it was perhaps accelerating the arrival of public healthcare.

Coronavirus has already been claimed by ideologues. Donald Trump said that it justified tighter border controls; Bernie Sanders linked it to free public healthcare. Matt Stoller, a campaigner for corporate regulation, argued that coronavirus marked the end of "affluence politics" — that is, "the politics of not paying attention to what creates wealth in the first place".

Coronavirus may make us reconsider how many journeys — holidays, work trips, conferences — are actually essential. The threat of terrorism didn't stop us flying. Since September 11, the number of US air passengers has risen by one-third; global numbers have more than doubled.
The Fed is engaged in the futile exercise of trying to pull monetary levers to reverse real world breakdowns. Ambrose Evans-Pritchard pointed out the emergency 50 basis point cut, which looks to have juiced the market for all of one day, may even be counterproductive:
Justified or not, there is suspicion over why the Fed has suddenly acted in this fashion. A week ago it was imperiously dismissive of rate cuts. Yet little has changed that was not already obvious to anybody listening to the world's infectious disease experts – at least those not being muzzled by one regime or another. What did change was the overnight switch by Donald Trump's inner circle from attempts to spin Covid-19 as a 'hoax' to fear that it could blow up in his face.

Nor is there any consensus that a rate cut is the proper prescription. Monetary stimulus has little traction against ruptured supply chains, factory closures, and a partial shutdown of the tourist industry. Most of it is wasted, and central banks do not have much to spare. Europe and Japan have none.

Even Larry Summers, ex-Treasury Secretary and perennial ultra-dove, said the Fed was "scaring people" with jumpy behaviour. "The benefits of monetary pyrotechnics have to be balanced against the alarm they may cause," he tweeted.
The market freakout continues, with airlines one of the sectors that are correctly a focus of concern. Again from the pink paper on the ugly look of Friday after a near 1000 point swoon of the Dow yesterday:
Government bond prices rushed to new historic highs on Friday while stocks across Europe and US futures tumbled on fears over the cascading economic disruption caused by the spread of the coronavirus.

With haven assets in high demand and traders raising their bets on the US Federal Reserve cutting interest rates again, the yield on 10-year government debt slid as much as 0.21 percentage points to just 0.6980 per cent — a new record low. Yields stood at 1.9 per cent at the start of this year….

UK government bonds also hit new records, with 10-year yields sinking to 0.246 per cent. German Bund yields of the same maturity, already in negative territory, fell to a record minus 0.738 per cent.

Meanwhile, European stocks slid, with London's FTSE 100 shedding 3 per cent and Frankfurt's Dax down nearly 4 per cent in some of the most significant selling action since the outbreak of the coronavirus began rattling global markets last month.

The Stoxx 600 index tracking the region's leading companies was on track for its third consecutive week of declines, and is now trading at its lowest levels this year….

Futures trading also showed US stocks heading for another significant fall on Wall Street, with the S&P 500 expected to drop about another 3 per cent after closing Thursday's session down 3.4 per cent as concerns over the spread of coronavirus swept through markets.
Wolf Richter recapped the bloodbath in the airlines. Even the purely domestic Southwest is taking a hit. Needless to say, this isn't good news for Boeing.
By Wolf Richter, editor of Wolf Street. Originally published at Wolf Street
strong>Estimated hit to global air passenger revenues quadruples to $113 billion. Stocks of top-seven US airlines plunged 30% in 15 trading days, after getting massacred today.
The shares of the top seven US airlines reacted sharply today, with drops as of mid-afternoon ranging from -6.8% for Delta to -16% for Spirit Airlines, which is now down 49% since January 17 before the coronavirus threatened the travel industry. Since January 17:
But the plunge got going seriously after February 12, essentially forming a straight line down, with the value of the top seven US airlines plunging a combined 30% in 15 trading days (market cap data provided by YCharts):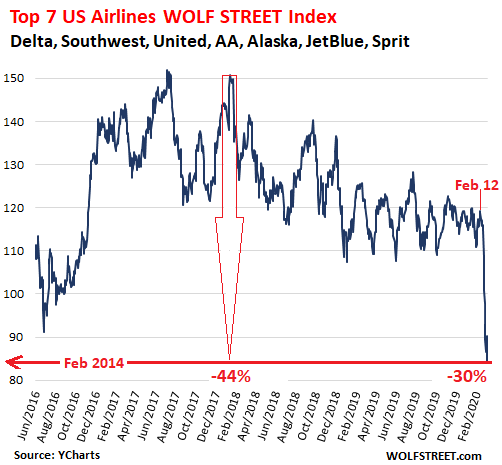 Amid a constant drumbeat of airline warnings of capacity cuts not only on international flights to affected areas but now also within the US – and within the domestic markets of other countries – the International Air Transport Association (IATA) released its new estimatesthis morning of the potential damage to passenger revenues for airlines. But it has not yet released estimates for the potential damage to the air cargo business.
The IATA's new estimates see a spectrum between two scenarios for 2020:
In the "limited spread" scenario, where the virus is "contained in the current markets with over 100 cases as of March 2," global passenger revenues would take a $63-billion hit, or 11% of revenues in 2020.
In the "extensive spread" scenario, where the virus is in "all markets that currently have 10 or more confirmed COVID-19 cases as of 2 March," and "with a broader spreading" of the virus, global passenger revenues would take a $113-billion hit, or 19% of revenues in 2020.
This extensive-spread scenario nearly quadruples the prior estimate of just two weeks ago, when on February 20, the IATA saw a hit of $29 billion to global passenger revenues in 2020, most of it relating to markets associated with China. Now it has become clear that the virus has spread far beyond China, and that it impacts ticket purchases on routes far beyond China, such as even domestic flights in the US.
"In little over two months, the industry's prospects in much of the world have taken a dramatic turn for the worse," said the IATA report, which pleaded for governments to step in and provide relief for airlines. And it added, "It is unclear how the virus will develop, but whether we see the impact contained to a few markets and a $63 billion revenue loss, or a broader impact leading to a $113 billion loss of revenue, this is a crisis."
Airlines hanging on by their fingernails will let go or get a bailout.
The first to let go was UK airline Flybe, and its sister carrier Stobart Air, which were grounded Thursday morning and entered bankruptcy administration. Passengers were left stranded. Flybe accounted for well over one-third of the domestic flights in the UK.
Flybe was acquired in January 2019 by Connect Airways, a consortium consisting of Virgin Atlantic, Stobart Group, and investment advisory firm Cyrus Capital Partners. The airline was already teetering at the time, and the consortium picked it up for a song (about £2.8 million).
The consortium injected some cash into the airline, most recently in January, and the government provided some relief on payment terms of the air-passenger tax. But a hoped-for larger bailout from the government didn't happen. And given the stress put on the airline industry as a whole by the coronavirus, the consortium decided not to fund the airline further. And abandoned by its owners, it collapsed today.
Other weak airlines will either collapse as well, or will be bailed out. The Chinese government has already taken over HNA Group, the conglomerate that owns about 18 airlines in China and Hong Kong.
Another airline on this list is Norwegian Air Shuttle ASA, which has been losing a ton of money with its low-cost international flights. It forced its bondholders last year into what was effectively a debt restructuring.  Today it withdrew its guidance due to the coronavirus. Its shares plunged 13% today to 15.85 Norwegian Krone (= $1.70), having lost 94% since their spike in August 2018.
Top US airlines warn, cut, cancel, and get hammered.

Airlines in the US have communicated that they're cutting international and domestic routes. United Airlines told employees that it would cut domestic capacity by 10% next month, and that it would cut international capacity by another 20%, on top of the cuts it had already made, such as shutting down its extensive  China routes and many of its flights to South Korea and Italy. These cuts could reach into May.
Other US airlines, in addition to suspending their China routes, have also cut flights to Italy and South Korea.
But it's the cutting of domestic capacity that is now cropping up in the US and in other countries as well, as conferences get cancelled one after the other, thus shutting down the conference-going circus, and as companies exhort their employees to eliminate unnecessary business trips and switch to online tools, and as vacation trips are being put on hold.
Southwest Airlines warned this morning in an SEC filingthat "in recent days, the Company has experienced a significant decline in Customer demand, as well as an increase in trip cancellations, which is assumed to be attributable to concerns relating to reported cases of COVID-19." This is US domestic demand– by spooked Americans that are just now starting to practice the art of "social distancing."
Even for its still pre-coronavirus quarter, Navistar reported that its Truck revenues collapsed by 31%. Read… "COVID-19 Added to this Uncertainty:" Orders & Sales of Heavy Trucks & Medium-Duty Trucks Plunge in the US