Fires Left These Wallabies Nothing to Eat. Help Arrived From Above. New York Times (David L)
When fish gave us the finger: this ancient four-limbed fish reveals the origins of the human hand The Conversation (Kevin W)
#COVID-19
Japan schoolgirl uses own savings to handcraft 612 masks for people in need The Mainichi (martha r)

Here Are Some Incredible Virtual Tours To Help You Pass The Time Refinery29 (David L)

Two 20-somethings extend 'invisible hands' in virus outbreak Associated Press

The coronavirus is starting to spread on a US Navy warship, and the flattop's crew is scrambling to stop it Business Insider. Kevin W: Key section:

The Boxer has reportedly had some problems with social distancing. The morning after the first sailor tested presumptive positive for the coronavirus, military leaders gathered dozens of crew members into a small space for a 30-minute meeting on social distancing, ProPublica reported Monday.

Grocery Shelves Won't Always Be Empty NPR (David L)

I just got home from 4 hours of stocking grocery store shelves at the local store I work at part-time. We were slammed the entire time. Here's what I saw:

— Resisting Bitch Face (@DisabledResist) March 17, 2020

Democracies' Covid-19 cures could be worse than the disease Asia Times (resilc). Important.
Health/Medical

Coronavirus patient on hellish ordeal: 'I was screaming for mercy and praying to God' New York Post. Note this guy was 50. And the hospital went all out to save him.

80% of US coronavirus deaths have been among people 65 and older, a new CDC report says — here's what it reveals about the US cases Business Insider (Kevin W). What this headline obscures that younger people account for 55% of hospitalizations. Younger people who get seriously ill are more likely to be saved….with heavy-duty intervention. What happens if and when young and old can't get care? Presumably we go to triage like Italy, with the elderly left to their own devices…except for the very rich and connected elderly.

Younger Adults Comprise Big Portion of Coronavirus Hospitalizations in U.S. New York Times (Kevin W). Story on the same report at the BI piece immediately above.

Children and Coronavirus: Research Finds Some Become Seriously Ill New York Times (Kevin W)

Relationship between the ABO Blood Group and the COVID-19 Susceptibility MedRxiv.org (PlutoniumKun)

Just received word from an ICU doctor at a small NY hospital: They are officially out of ventilators and are now double venting patients with COVID (using the same ventilator for 2 infected patients). Do everything possible to avoid infection. PLEASE ISOLATE as best you can.

— Peter Attia (@PeterAttiaMD) March 18, 2020

The shortage of face masks is so severe that the CDC is now advising nurses and other health care providers that they can "use homemade masks" like a "bandana" or "scarf" "as a last resort" — even though it admits the effectiveness "is unknown."https://t.co/nA5D9gXgoi

— Geoff Bennett (@GeoffRBennett) March 19, 2020

Hospital Workers Make Masks From Office Supplies Amid US Shortage Bloomberg

I have changed my mind about masks. I didn't like the idea of surgical masks for normal people because they don't protect you against the coronavirus (no seal from outside air_ and you can wind up fiddling with the mask on your face, leading to touching your face. Plus normal people were cutting into supplies for MDs and nurses.

However, upon reflection, masks can reduce spreading the disease (if you are incubating it) to others, plus this type of home-made mask (in use in Venezuela thanks to our embargo, even MDs can't get surgical mask) because it fully covers the face, preventing transmission via touching your face. But I can't figure out what she is using as material. Baby wipes?

Nice primer from @vtvcanal8 in US-blockaded Venezuela on making your own #COVID19 mask pic.twitter.com/yG9dD0K3FW

— Max Blumenthal (@MaxBlumenthal) March 15, 2020

3. We will have to either suppress the epidemic entirely (my strong recommendation), or increase hospital capacity greatly. A @NYTimes story uses the @HarvardGH numbers to look at plausible scenarios.

(Yes, those curves are silly. Trying to overlook). https://t.co/vHYDzb8gyg pic.twitter.com/Pt8f45WKgn

— Carl T. Bergstrom (@CT_Bergstrom) March 19, 2020

New York City Weighs Turning Hotels Into Hospitals Wall Street Journal. Honestly, I don't get this: "for 'those non-Covid patients who are really minor but need care.'" Um, that's normally outpatient.

Coronavirus sleuth outlines his 'Apollo program' for bringing down the pandemic GeekWire. This "It's really just logistics" is "Assume a can opener".

What will go down as the biggest breakdown in the US response to #COVID19 is the lack of test kits. South Korea and the US had their 1st patients on Jan 20 and Jan 21, respectively. Look at the difference in daily testing. By March 4th, SK was ~18,000 per day. pic.twitter.com/466Du8Iq2V

— Eric Topol (@EricTopol) March 17, 2020

Drug Companies Will Make a Killing From Coronavirus New York Times (David L)

Drug Cartels Switch To Producing Hand Sanitizer Babylon Bee (BC)

Aggressive testing helps Italian town cut new coronavirus cases to zero Financial Times

GM's CEO Offers to Make Ventilators in WWII-Style Mobilization Bloomberg

THREAD: If the concern is that asymptomatic or mildly symptomatic younger Americans (millennials) are continuing to spread #Coronavirus because they don't heed warnings, you could require anyone between certain ages to wear a procedure mask when they go out. 1/n ThreadReader (martha r)

Practicing social distancing with my baby #distantbaby pic.twitter.com/pebQLxfpQa

— Matt Bruenig (@MattBruenig) March 18, 2020

Coronavirus response: Navy hospital ship won't be ready to help NY for weeks CNBC (martha r)

Volunteers produce 3D-printed valves for life-saving coronavirus treatments The Verge
New Cold War

Russia deploying coronavirus disinformation to sow panic in West, EU document says Reuters (furzy)
UK/Europe
US

Coronavirus updates: 2 members of U.S. Congress test positive, New York City cases double NBC. Note doubling may be in part a function of more testing.

The Risk to Fox News Viewers Barry Ritholtz

Don't Let Trump Off the Hook for the Coronavirus Crisis New Republic
Political Responses

ECB announces €750 billion Pandemic Emergency Purchase Programme (PEPP) ECB. PlutoniumKun: "The ECB just brought out a bazooka."

Canada's COVID-19 Economic Response Plan: Support for Canadians and Businesses Canada (martha r)

Trump pushes Congress for new coronavirus spending as Senate mulls second emergency bill Reuters

From BC: "Another obstacle to sending checks, from the FDIC":

Estimates from the 2017 survey indicate that 6.5 percent of households in the United States were unbanked in 2017. This proportion represents approximately 8.4 million households. An additional 18.7 percent of U.S. households (24.2 million) were underbanked, meaning that the household had a checking or savings account but also obtained financial products and services outside of the banking system.

Reserve Requirements Federal Reserve (Paul R). Now zero. Among other things, lets them pay out their vault cash. See American Banker: Branches brace for staff shortages, rush for cash Haven't had time to think about this, though.

Bernanke and Yellen: the Federal Reserve must reduce long-term damage from coronavirus Financial Times (David L)

Green Jobs Are the Answer to the Coronavirus Recession New Republic (resilc)

We need tax breaks and direct grants to sectors hit by pandemic Adair Turner, Financial Times

How To Structure the Coronavirus Bailout Matt Stoller. Our bad. Getting to this only now. I like this but I can guarantee there is no appetite in either party to wipe out shareholders. AIG was an exception because among other things, Hank Greenberg hadn't curried favor (he may have overpresumed on how useful he'd been via having AIG employment serve as cover for CIA assets overseas).
>Economy/Markets

U.S. Stock Futures Falter Despite Central Banks' Action. As readers noted, a lot of aggressive tape-painting to get the Dow to a mere 1300 points down (versus down 2300 at its low for the day). That seems not to be holding. The notable feature of yesterday's action was the lack of any apparent safe haven, or perhaps as accurately, everyone dumping everything and anything to cover margin calls. Traders wanted cash. Even Treasuries sold off. Not that the Fed would be unhappy with higher yields per se, just not for this reason.

US set to be inundated with jobless claims Financial Times. As we warned yesterday.

The virus is an economic emergency tool Martin Wolf, Financial Times. As we've been saying….

States Can't Keep Up with Surging Unemployment Claims from Coronavirus Vice (resilc)

Qantas to cease international flying, tells majority of workforce to take leave Reuters (furzy)

6,000 Nissan Workers Forced to Work During COVID-19 in Mississippi PayDay Report. Go Mike Elk! Followed by: IMPACT: Nissan to Suspend Production at Mississippi Plant

As we all contend with #COVID19, it's vital to protect access to housing for all and ensure families have a roof over their head during these challenging times.

Here's our statement: pic.twitter.com/I66dEwvAhV

— CAReinvestCoalition (@CalReinvest) March 18, 2020

Buy gift cards to support restaurants OpenTable. Via e-mail:

We're hearing from restaurants that buying gift cards is a great way to help them right now. This allows restaurants to maintain some cash flow to pay employees and bills — and gives you something to look forward to in the future!

In the OpenTable gift card marketplace, you can search by location, cuisine, or price point. During this time, we've waived our gift card fees to restaurants to better help our partners. Restaurants in other areas or not in the marketplace may offer gift cards through their websites; we encourage you to reach out to your favorites. We're all in this together.

Oil prices could hit teens in coming weeks as markets crater over coronavirus and price war CNBC (furzy)
Imperial Collapse Watch
NASA's SLS Moon Rocket Is 44 Percent Over Budget and 3 Years Behind Schedule, Report Says UPI
Trump Transition
Irish planners reject Trump golf resort's plan to build wall Guardian (resilc)
2020
What If Trump Tried to Cancel the November Election? New York Magazine
Harvey Weinstein moved to maximum security prison in upstate N.Y. Reuters (furzy)
CalPERS using factor-weighted equity portfolio to mitigate market decline Pensions & Investments (Kevin W)
Guillotine Watch
The tech execs who don't agree with 'soul-stealing' coronavirus safety measures Guardian. Their perceived right to disrupt is more important than lives.
Antidote du jour. Arizona Slim:
Stuck at home with the kids, Sylvester shares his opinion of the Coronavirus.

Backstory: In dove culture, the guys take the day shift on the nest. Women do the overnights.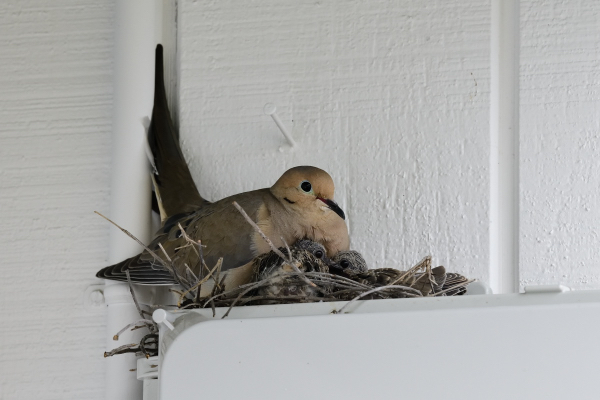 And a bonus (Chuck L):
Baby Baltic seal rescue in St. Petersburg pic.twitter.com/3KQtHiT89z

— RT (@RT_com) March 19, 2020
See yesterday's Links and Antidote du Jour here.