Patient readers, a comment on comments, supplementing what Yves said here on informational hygiene. Before you press "Post Comment," please consider the cascading effects your comment can cause, and the effect such cascades can have on moderators, who may end up having to rip out entire threads, a cumbersome, error-prone, and extremely irritating process. Comments that cause cascades tend to be ill-informed, politically motivated without being deft or knowledgeable, or (sometimes) simple shit-stirring, as if NC were Facebook or Reddit. It isn't.
Normally, we prefer to let the commentariat act, as it were, as our immune system for agnotology, but the volume of comments now is such that the cascade from a poor comment is the equivalent of a cytokine storm for our poor moderators.
The best way to avoid a cascade of dead cells and infected matter in our comments section is to take care with your initial post. Take your time to be analytical, add links and evidence, and if possible quotes. Then the commentariat can proceed on the basis of building collective knowledge, as opposed to spending its time, and ours, filtering out ego-driven, self-involved crap. Thank you! –Lambert
Markets draw comfort from 'maximum' central bank stimulus FT
The Coronavirus Is Demonstrating the Value of Globalization David Frum, The Atlantic. Or the price.
#COVID19
The science:

What the cruise-ship outbreaks reveal about COVID-19 Nature

Murky data calls into question quarantine strategy FT

How some cities 'flattened the curve' during the 1918 flu pandemic National Geographic

The surprising similarities between the 'Spanish flu' and the coronavirus pandemic El Pais

Have Coronavirus and Can't Smell? Harvard Scientists Explain Why Bloomberg (original).

* * *

Materiel shortages:

Testing backlog linked to shortage of chemicals needed for COVID-19 test National Post. AFAIK, these are the reagents. Readers will recall that a faulty reagent from a contractor was the proximate cause of the original CDC test kit failure. And that the intrepid reporters from our Famously Free Press still have not named the contractor.

Coronavirus outbreak is stretching New York's ambulance service to breaking point Reuters

A Framework for Rationing Ventilators and Critical Care Beds During the COVID-19 Pandemic JAMA

Laboratory testing strategy recommendations for COVID-19 WHO

Duke researchers are decontaminating N95 masks so doctors can reuse them to treat coronavirus patients CNN (the protocol).

Medical fetishists pitch in:

When you see someone from the government saying the NHS is getting what it needs, that is a LIE.
We have been contacted this week by representatives of NHS procurement all over the country, trying to source basic protective equipment and clothing. [2/5]

— MedFetUK (@MedFet_UK) March 27, 2020

California once had mobile hospitals and a ventilator stockpile. But it dismantled them Los Angeles Times

* * *

Testing:

Abbott Launches 5-Minute Virus Test for Use Almost Anywhere Bloomberg

SARS-CoV-2 diagnostic pipeline FIND. "We are collating an overview of all SARS-CoV-2 tests commercially available or in development for the diagnosis of COVID-19. We cannot guarantee that this is a fully comprehensive list."

My Corona (or Is It Schmutz?) Peggy Noonan. Recall that Nooners social-engineered her way into getting tested in the first place. Now she tries to get results:

Eight days in I entered the living hell of attempting to find my results through websites and patient portals. I downloaded unnavigable apps, was pressed for passwords I'd not been given, followed dead-end prompts. . This is what it's like, in a robot voice: "How to get out of the forest: There will be trees. If you aren't rescued in three to seven days, please try screaming into the void.

These are not bugs. They're features. Nooners has experienced the "health care" "system" in the same way the rest of us have been experiencing it for years. This reminds me of the British officer who finally went to the front lines after the Battle of the Somme was over, saw the mud that he had sent his troops into, and began weeping uncontrollably (albeit a little late). As readers know, I have a soft spot for Nooners, because she can write. This column shows her at her best, and her worst.

* * *

Spread:

Malcolm Tucker is the hero we need now:

The BBC is now running this as a public information film between some of its programmes. pic.twitter.com/L92EuU17nk

— Jim Waterson (@jimwaterson) March 26, 2020

Would everyone wearing face masks help us slow the pandemic? Science. I am coming around to the view that, expert opinion aside, masks are a signal of seriousness and commitment, and so should be worn to promote that, and that masks also also encourage social distancing (given that somebody wearing a mask is less approachable than someone who is not). And don't @ me.

How one spot became hot. Thread:

A brief thread about how the #COVIDー19 crisis in my small hometown of Albany, GA (Dougherty County) exposes some of the challenges unique to healthcare in rural places, but also serves as a harbinger of things to come in larger places. 1/14

— Yolonda (with an "O" in the middle) Wilson (@ProfYolonda) March 25, 2020

Darwin Awards (1): My Wife Is Taking Our Kids to a Kindergarten Play Group Despite the Coronavirus Lockdown Salon

Darwin Awards (2):

my grandma's assisted living place had to lock all the doors and windows because visitors were sneaking in despite the new rules ? come on people

— unemployed elizabeth (@spindlypete) March 28, 2020

Darwin Awards (3):

This shows the location data of phones that were on a Florida beach during Spring Break. It then shows where those phones traveled.

First thing you should note is the importance of social distancing. The second is how much data your phone gives off. pic.twitter.com/iokUX3qjeB

— Mikael Thalen (@MikaelThalen) March 26, 2020

* * *

Economic effects:

The World Could Be Running Out of Condoms Because of Pandemic Bloomberg. Next, whatever we make moonsuits out of.

* * *

Medical response:

Has the Emergency Department Ever Been More Boring — or Terrifying? Matt Bivens, Medium

* * *

Political response:

The stimulus bill includes a tax break for the 1% CNN (maryann). As readers know, I'm a fan of the em-dash–

It is worth taking a minute — many of us have more of those now in our quarantined states — to explain.

So even the relatively sheltered tax law professors are ticked off. A good explainer for this NYT story, in plain English.

The Coronavirus Exposed America's Authoritarian Turn Foreign Affairs

* * *

Corporate response:

AAEM Position Statement on the Firing of Dr. Ming Lin by TeamHealth and PeaceHealth St. Joseph Medical Center American Academy of Emergency Medicine. "TeamHealth, a lay corporation owned by the private equity company the Blackstone Group, should not be the employer of Dr. Lin according to the laws of the state of Washington. Their hand in this termination is not only inexcusable but likely impermissible."

Canadian flight crews demand protective suits as more than a dozen fall ill with COVID-19 CBC (MR).

* * *

Travel:

Hamptons seek travel ban on corona-fleeing New Yorkers New York Post (Furzy Mouse).

Rhode Island Police to Hunt Down New Yorkers Seeking Refuge Bloomberg

* * *

Remedies and ameliorations:

Simple DIY masks could help flatten the curve. We should all wear them in public. WaPo. MR: "The debate rages on."
China?
Urns in Wuhan far exceed death toll, raising more questions about China's tally Shanghaiist. But see thread here for discussion of those numbers.

Facing down the protests' right-wing turn Lausan. Hong Kong protests
Vietnam orders Hanoi's largest hospital locked down on coronavirus fears Straits Times
India
Coronavirus: Massive evacuation operation on as huge mass of migrants heads out of Delhi Times of India (J-LS).

Ground Report: Chaos at Anand Vihar as Buses Prepare to Take Migrant Workers Home The Wire

Genealogy of a Pogrom The Baffler
Syraqistan
Rocket Exchange With Gaza Signals Israel Won't Hesitate to Act Despite Coronavirus Crisis Haaretz
2020
Biden mounts behind-the-scenes mission to win over wary progressives Politico

Joe Biden's Sexual Assault Accuser Wants To Be Able To Speak Out Without Fear Of 'Powerful Men' Newsweek

Andrew Cuomo's Coronavirus Response Doesn't Mean He's Crush-Worthy Teen Vogue
RussiaGate
As Virus Spreads, China and Russia See Openings for Disinformation NYT (Furzy Mouse).

Fiona Hill: Trump's Coronavirus Talk Sounds a Lot Like Russia's Daily Beast. The RussiaGate grift is the best grift.
Health Care
Coronavirus May Add Billions to the Nation's Health Care Bill NYT. And by that, the Times means your health care bill.

One virus fits all (MR):

The health care industry front group @P4AHCF, which vilifies Medicare for All, has now gone completely silent for two weeks as polls show a surge in support for Medicare for All during the coronavirus crisis https://t.co/HRUaLcHuLq

— David Sirota (@davidsirota) March 29, 2020

How the BBC betrayed the NHS: an exclusive report on two years of censorship and distortion BBC (IH). IH writes:

Unfortunately, [the author] makes no mention of the cuts that began under the Thatcherites in the 1980s and continued by their Blairite, Cameron and May successors, including the loss of hygiene, pathology, and tropical medicine capability, including the Royal Air Force's institute headed by my father for a while, and how the NHS and tri service medical services wargamed such scenarios and maintained a network of regional centres, including military bases, able to assist in such emergencies. The shopkeeper's daughter and her successors knew the price of everything and the value of nothing.
MMT
Brrrr:

This is a remarkable clip. Trump's core intuitions about how our monetary system works, and his ability to articulate it, is so far ahead of most people in DC. https://t.co/WUSnAGbvuM

— Joe Weisenthal (@TheStalwart) March 28, 2020

We're gonna have to pry "How you gonna pay for it" from THE cold, dead heads of the Democrat Establishment… Even after the bailouts!
Three states push criminal penalties for fossil fuel protests amid coronavirus The Hill. Never let a crisis go to waste. Honestly, there are days I think I should do a Links with no #COVID19 stories at all, just to shine a light on what the usual suspects are trying to get away with while nobody's looking.
Guillotine Watch
Jeff Bezos sold $3.4bn of Amazon stock just before Covid-19 collapse Guardian. "As trillions of dollars were wiped off stock markets some of the world's richest got lucky." In the same way that an other enormous contractor for the intelligence community "got lucky," I supppose. As one does. "Luck is the residue of design." —Branch Rickey.
Class Warfare
Viral Inequality Project Syndicate

Corona: The Inequality Virus Jacobin

'White-Collar Quarantine' Over Virus Spotlights Class Divide NYT. "'This is a white-collar quarantine,' said Howard Barbanel, a Miami-based entrepreneur who owns a wine company. 'Average working people are bagging and delivering goods, driving trucks, working for local government.'" But it won't be a white-collar pandemic, will it? Thread from Chris Arnade:

Right now most people in those places are quarantined & dependent on the other 1/3, the rural & backward places, for a steady supply of food & power (and military safety)

That dependency, always there, has never been more clear.

— Chris Arnade (@Chris_arnade) March 28, 2020

The latest sign the economic downturn is intensifying: White-collar workers are being laid off now WaPo

What Happens If Workers Cutting Up the Nation's Meat Get Sick? ProPublica
Wake Up! Your Fears Are Being Manipulated The American Conservative
Notes: The Industrial and Neoliberal Origins of COVID-19 (aka SARS 2.0) Yasha Levine, Immigrants as a Weaon. Yasha's been on fire for the last few days. Today's must-read.
Antidote du jour (via):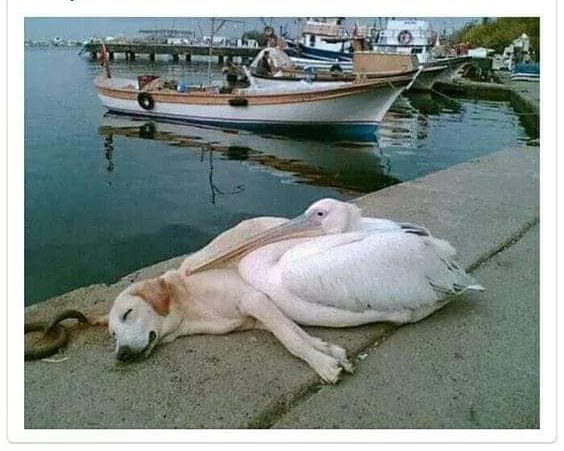 Bonus antidote:
Dogging.#LifeCommentary #LiveCommentary pic.twitter.com/BuRkVWAGjX

— Nick Heath (@nickheathsport) March 21, 2020
See yesterday's Links and Antidote du Jour here