By Lambert Strether of Corrente.
Time: 8:00PM-10:00PM ET
Place: CNN's studio in Washington, DC
Hosts: CNN, CNN en Español, CNN International, and Univision
Moderators: CNN's Dana Bash and Jake Tapper; Univision's Ilia Calderón.
Candidate line-up:
Joe Biden (former Vice President)
Bernie Sanders (Senator from Vermont)
(I can't find which candidate will be on the right and which on the left.)
Here is a shot of the horrid stage: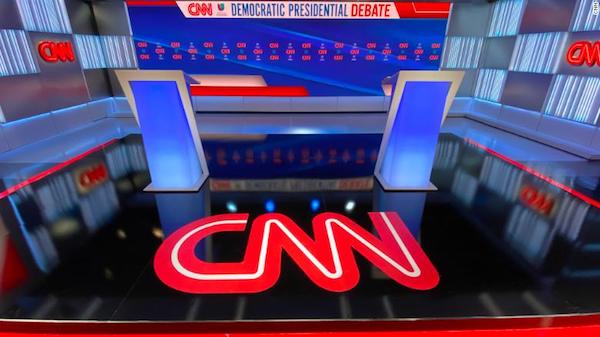 There will be no audience, due to #COVID-19. The podiums are, as prescribed by CDC social distancing guidelines, six feet apart. Hilariously, in a debate supposed by some to promote party unity, the podiums lean away from each other. The hosts also gave Biden a chance to take the load off, by seating the candidates.
How to Watch (or Listen):
The debate will air exclusively live on CNN, CNN en Español, CNN International and Univision. It will stream live in its entirety, without requiring log-in to a cable provider, on CNN.com's homepage, across mobile devices via CNN's apps for iOS and Android, and via CNNgo apps for Apple TV, Roku, Amazon Fire, Chromecast and Android TV, as well as Univision's digital properties.
As readers know, I don't think much of gaming debates out. But there seem to be two competing theories of the case. I'll label the first "Mushy Centrism," and the second "Decapitating Strike."
Mushy Centrism
There is no better advocate for mushy centrism than E.J. Dionne of The Jeff Bezos Daily Shopper™. In "Sanders and Biden need each other. Here's how they can make peace", Dionne writes:
[Sanders] has fundamentally altered the nature of the conversation in the Democratic Party… Moreover, Sanders's movement is now a permanent force in the Democratic Party, much like organized labor was in the old days, or the religious right is now in the GOP. Democrats will not be able to ignore the left wing that Sanders has brought to life… His task is to accept his role as a source of pressure for far-reaching reform inside the Democratic coalition.

There's a role model for him: Sidney Hillman, the strategic mastermind of the Congress of Industrial Organizations, the left wing of the labor movement of the 1930s and 1940s. The CIO gave critical support to Franklin D. Roosevelt when he needed it against the party's right wing, but it also pushed FDR in a more progressive direction.
So far as I can tell, Dionne proposes no power for Sanders supporters in the administration (say, Jayapal for HHS), and no policy commitments, especially not for #MedicareForAll, the main "idea" in the battle of ideas that Sanders is supposed to have won. As for Sidney Hillman, I am not strong on the history of the 30s, but I think Dionne is missing some context: First, the CIO was extremely militant; there's no possible way that Dionne, let alone Biden, could seriously be supporting that. Second, I think the CIO was as militant as it was because it was being held to account by an even more militant force: The Communist Party, then a viable organization. I doubt Dionne or Biden want that, either. So Dionne is really proposing a pleasant fable with no grounding in history, and nothing in it for Sanders. "I will gladly pay you Tuesday for a hamburger today." Such a deal.
Decapitating Strike
Jacobin (of course) writes, in "Bernie Sanders Must Take the Gloves off Against Joe Biden Tonight":
We need to fundamentally rebuild the country's welfare state as Sanders has spent decades calling for. Biden proudly promises a return to the Obama years, telling billionaires that "nothing will fundamentally change" if he's elected and proposing a health care plan that will leave over ten million people completely uninsured. Sanders, on the other hand, promises bold, sweeping reforms with universal benefits that will guarantee security to Americans and build our societal resilience to future crises. It's vital that he makes this contrast clear and tells tonight's viewers that a Biden presidency (should he somehow defeat Trump) would leave all of our current vulnerabilities untouched.

This past week has felt like one of those in which decades happen. As horrible as this situation is, it's a real opportunity for Sanders to seize control of this race and wake the public up to Biden's serious deficiencies as a candidate. The country — the world — needs him to win if we are going to have any chance of going forward. These are the stakes, and this could be his final chance to turn the race around. It would be a crime to waste it by being too nice.
(I don't think it makes sense to wait for Biden to wander off the stage — after all, he'll be sitting down, good choice CNN — or for him to start babbling. Putting my tinfoil hat on, Biden's Town Hall, technical debacle though it was, gave his handlers a good reading on how to adjust Biden's meds.)
At this point, I should remark that for all the comments about Sanders being "too nice," there were 29 candidates in the campaign, and there are now two: Sanders, and the Establishment's candidate. The contradiction can't be drawn any clearer than that. Sanders has, if he wishes to do so, put himself in the position to deliver a knock-out punch to his opponent (and it's worth noting that the debates have produced other knock-outs this year already: Harris and Bloomberg, at least). Politico writes, in "Sanders bets on Biden debate implosion":
"I don't know if you've seen Joe Biden lately, but he doesn't like to be told he's wrong," said a Sanders adviser. "We're going to take him on around the issues and make him defend his record. He's deflected on those in earlier debates because there's so much chatter happening on the stage. But ."

It's unclear how aggressive Sanders will be with Biden. Some of Sanders' staffers and supporters have been frustrated by what they see as his light touch with his former Senate colleague, whom Sanders likes and considers a friend. Even with Hillary Clinton, Sanders often lacked a killer instinct, famously telling her in a 2015 debate that "the American people are sick and tired about hearing about your damn emails!"

Sanders, who doesn't practice in mock debates while readying for showdowns, did not change his strategy during debate prep last week. "I know it's shocking for you to hear that Bernie Sanders remained consistent in his approach," joked Shakir.
(Sanders doesn't practice? That's not reassuring. Borscht Belt comedians polish their routines!) We'll see how the dynamic changes.
One dominating factor not mentioned by Dionne, Politico, or even Jacobin: Sanders' enormous base of small donors will be watching carefully. It's hard to see how mushy centrism will win their support, and if Sanders' money dries up, he'll have no leverage (as the Democrat Establishment must surely know). "I don't want to waste my money," if I may paraphrase an NC commenter, and Sanders' small donors disproportionately have no money to waste. If Sanders wants to stay on the trail — more, if he wants his movement to survive — staggering Biden, at the very least, is the way forward for him, and a knock-out the best.
P.S. Thirteenth debate, eh? (I counted the debates that were split across two nights as two debates.) "A great kingdom will be destroyed."
* * *
As usual, this post does not update; readers may track the debate in real time in comments.
Please keep your comments as informative and analytical as possible. Write for the reader who hasn't seen the debate, and comes to this site in lieu of watching it on TV. There are no points at NC for knee-jerk, context-free one-liners ("Boo ____!" or "Yay!") that only those who are also watching can make sense of; that's for Facebook or Reddit.
I think it adds more value if you take a moment, use your critical thinking skills, then comment, and readers can discuss what you say. That way, those who cannot watch the debate — or can't stand to do so — can get a good idea of what really happened by reading what you write. This is what the NC commentariat is so very good at, after all. Last time, the times before that, and this time. Thank you!