Investors reacted to the Fed's unprecedented Sunday moves, of dropping the Fed Funds rate to 0%, launching a new $700 billon Treasury and mortgage bond buying program, increasing the size of dollar swap lines, and other measures, with revulsion. S&P futures and the Dow mini went to limit down in 15 minutes.
The central banks signaled desperation and lost credibility as well as firepower. And the timing, coming right after Trump said he had the authority to remove the Fed chairman, had the look, whether true or not, of the central bank capitulating to the President's demands.
What is the point of cutting interest rates when they are so low as to not have a significant impact on funding decisions? Mr. Market has worked out that central bankers are pushing on a string and what the world needs is more demand to replace the massive deflationary shock of many people and businesses suddenly having or facing the high odds of a hit to their incomes. That means massive spending programs. Even Mark Zandi, whose role as a talking head is to put a happy face on distressing data, is in Defcon 1 mode. From the Wall Street Journal:
"The onus is now squarely on the Trump administration and Congress—there's no other way out," said Mark Zandi of Moody's Analytics. The measures so far will help, he said. "But this is a tsunami. They need something that's three or four times as large."
Just look at the headlines at Bloomberg: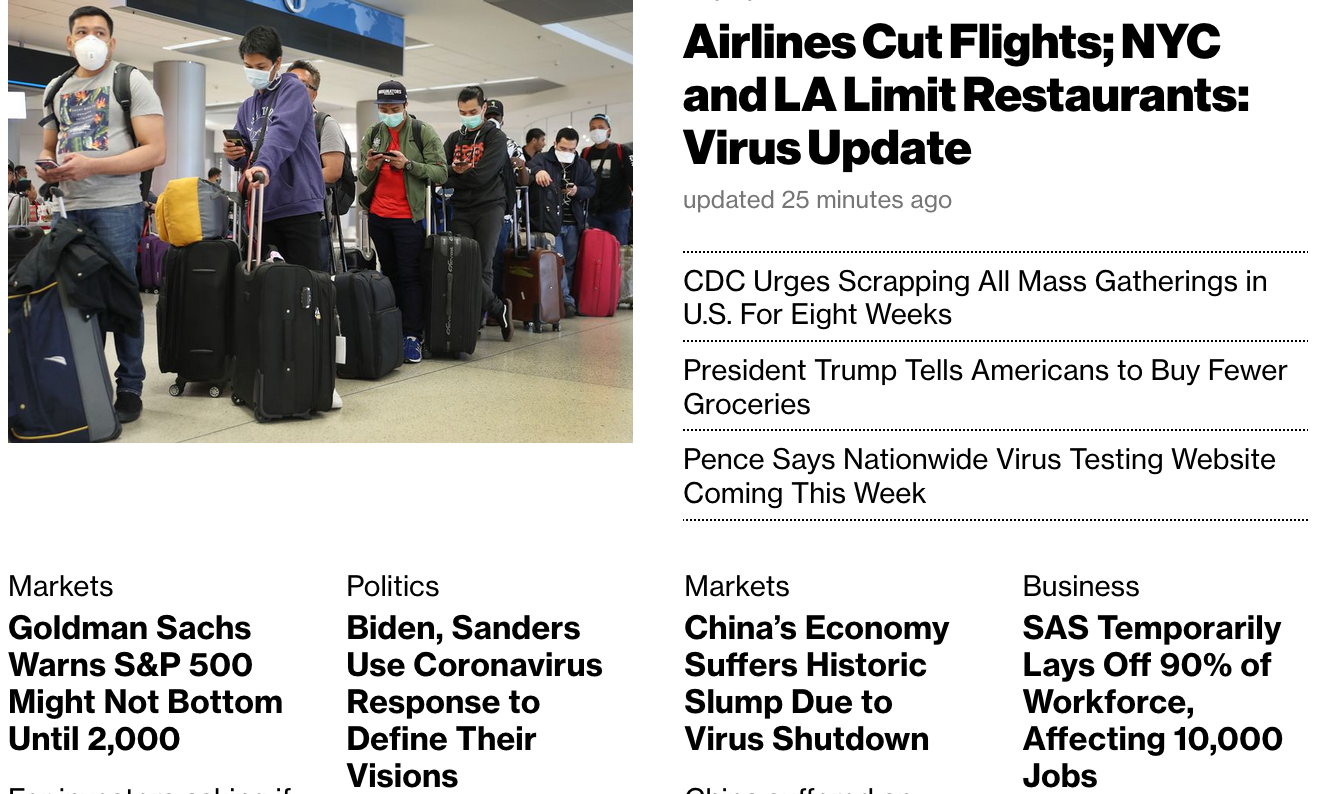 Another big bit of bad news came out of China. Even though they claim to have gotten their new coronavirus case rate down to effectively zero, the economic cost so far is much higher than analysts had cheerily predicted. From CNN:
Separately, fresh data coming out of China showed the economy has been hit harder than expected by the coronavirus outbreak.

Retail sales plunged 20.5% in the January-to-February period from a year earlier, much worse than the forecast 0.8% rise by analysts polled by Reuters, according to the National Bureau of Statistics on Monday.
Industrial output also fell 13.5% during the same period, while fixed asset investment plunged 24.5%, both widely missing estimates.
And as many experts have pointed out, it isn't as if business in China will get back to normal all that quickly. For instance, there have been reports of workers being slow to come back to their jobs. Reader Petter in comments yesterday gave a vignette that suggests how long the recovery might take:
A data point from Norway: my brother in law has a business – supplier to the fish and meat industry, selling everything from gloves to machines – everything. A significant portion of what he sells comes from China. Normally when he reorders the delivery time is three months, now it's year. A year.

He's in contact with colleagues and associates in the food business and it's the same for them. So what happens when the butchers, slaughterhouses, fish farms go empty for gloves, masks, aprons, etc? Which is definitely going to happen. They'll have to shut down. According to my brother in law, the factories that supply him from China, when they open again, and they may already be in the process of reopening, their first priority is to resupply China, and that may take a year. Europe is going to have to wait.

One last point – my brother in law is already getting calls from want to be customers who are out of supplies, and he's turning them down. He has to.
ewmayer opined that most food processors could make do with what they have…except for latex gloves, which sound like a must-have.
The magnitude of the fall in China gives the rest of the world a forecast of what it faces when other economies shut down to stop coronavirus spread. Big corporations see the financial squeeze coming and are trying to get ahead of it.Banks have better capacity to lend than in 2008, but in the US, for a very long time, banks loans have been a diminishing source of funding. They rely more on financial markets: bond issuances, securitizations, commercial paper. Credit lines are a backstop and making serious use of them is a sign of widespread stress. From the Financial Times:
Today, it is not Wall Street financial institutions, but companies in a variety of industries that are stressed, as a simultaneous supply and demand shock means they need to tap credit lines to pay their bills. With flights halted, supply chains disrupted and the consumer economy gutted, companies are trying to stockpile cash, whether they need it immediately or not.

It's one thing for the aircraft manufacturer Boeing to draw down its entire $13.8bn credit line. It's another for multiple big corporations to draw theirs at the same time. Still, as a recent Credit Suisse report pointed out, "we now have a global banking system where all major banks have to pre-fund 30-day outflows" with high-quality liquid asset portfolios. This is one important reason why these corporate funding stresses haven't caused a real time banking crisis in the way that the 2008 subprime crisis did.
Consider just the airlines. Delta, the strongest large US carrier, is already making barely-coded requests for a bailout. As our Clive observed by e-mail:
I can't see any international travel on any sort of scale for the next six months — possibly a year — save for repatriation flights laid on by governments. The entire passenger aviation industry will have to be nationalised and put into a state of suspended animation. Bilateral arrangements may start to creep back in on a very limited basis where there's large and largely unstoppable flows of people by other modalities (US to Canada and Mexico, U.K. to France and the RoI — that sort of thing).
Yet any rescues may not come soon enough to limit the loss of income to employees of not just the airlines but all the related activities: the catering companies, the airport stores, the terminal staff. A data point from David:
Air France has temporarily laid off 80% of its staff, and two of the three terminals at CDG are being closed,
And vlade added:
SAS laid off 90% of staff, AirNZ also laid off high proportion of staff… In regards air travel, this will have way more impact than 9/11, as I don't think the govts can support all the airlines.

Interestingly enough, in the CZ, the intra-country public transport (trains and buses) was strengthened to reduce crowds.
And confirming the recognition that central banks are out of ammo, other equity markets fell and safe haven assets rose despite other central banks taking emergency measures. Again from CNN:
The People's Bank of China on Monday pumped 100 billion yuan ($14.3 billion) into the financial system by offering one-year medium-term lending facility (MLF) loans to banks. On Friday, the central bank announced it would cut the amount of cash banks need to hold as reserves by 50 basis points, injecting around 550 billion yuan ($78.6 billion) into the economy. The RRR cut took effect on Monday.

The PBOC also said it would take other measures to lower borrowing costs to protect the economy that has been damaged by the coronavirus outbreak.

Elsewhere, the Bank of Japan announced Monday it would hold a one-day policy meeting later in the day, to replace the scheduled meeting on Tuesday and Wednesday. The Reserve Bank of Australia also said Monday it stands ready to purchase Australian government bonds to support the market. It said further policy measure will come out on Thursday.
Yet that didn't do much for Asian markets. From Ipek Ozkardeskaya, Senior Analyst at Swissquote Bank, by e-mail:
Asian stocks were smashed, with Australia's ASX (-9.79%) taking the biggest hit..

The fact that lower Chinese production will have a severe implication on most international companies' operations is now leading to another round of downside valuation in market prices…

Gold tanked to $1504 an ounce during the Friday's stock rally and jumped to $1575 in the overnight trading session. Though such violent swings are disturbing for a safe haven asset, chaotic market conditions give little alternative of rescue to investors.

WTI crude (-3.18%) shortly fell below $30 a barrel. The mounting selling pressure is partly countered by expectations that the global production would curb naturally if a barrel is exchanged below $30. Most producers would bleed money near these levels.
However, a critically important and perhaps missing player is the ECB. Stunningly, last week, Lagarde repudiated abandoned Draghi's "do whatever it takes" stand when that central bank could make a real difference by keeping a lid on the spreads of Italy's and Greece's bonds relative to those of Germany. Italian bond yields made a record single-day spike. Lagarde quickly went into reverse. From the Financial Times:
Ms Lagarde backpedalled quickly after her press conference by stating in a televised interview that she was "fully committed to avoid any fragmentation in a difficult moment for the euro area".

The ECB's chief economist, Philip Lane, also sought to reassure investors that the central bank was not leaving Italy to fend for itself, after the country went into lockdown to halt the rapid spread of the virus. In a blog post he said the central bank was "ready to do more" to contain any sovereign debt stress…

The ECB last week announced plans for €120bn of extra asset purchases — on top of its €20bn-a-month existing programme. Mr Lane said this showed it would have "a more robust presence in the bond market during phases of heightened volatility".

The new monetary policy package — including more cheap loans and lower capital requirements for banks — was agreed unanimously by the ECB governing council. But some members indicated they would have preferred a bigger "envelope" of extra bond purchases.
However, the pink paper pointed out that Lagarde's original stance got applause in some quarters, particularly Germany. And some of its reader think Lagarde meant what she originally said. For instance:
Phillip J. Fry

Considering she's a veteran politician and former IMF director, she must have calculated the effect on markets in advance. It was a deliberate point she made. No moral hazard under her watch.

Backpedaling now just looks like she is out of her depth. Understandable given the unprecedented nature of the crisis, but not what we want from someone tasked with guarding our currency.

WMD

Of much greater importance is the letter to the FAZ from prominent Germans. This is what Germany thinks. And what they think matters. Their view is that most of what is wrong with the EU can be laid at the door of the feckless and profligate Southern Europeans. Clearly their bonds should not be trading anywhere near those of Germany. In fact, these profligate so-and-sos need a bit of punishment, so that they might return to a proper sense of their duty.

And, as Germany ultimately controls the purse strings, Italy can go whistle for real support.

So, so long the Euro and the EU, it was nice while it lasted (not).
So part of the global swoon may not be only that the epicenter of the pandemic may soon be the US, whose fiscal and disease containment responses are sorely lacking, but also that the Europeans are failing to contain a potential financial system meltdown.
European stocks tumbled on Monday, as sweeping central bank intervention failed to staunch the wave of volatility that has shaken global markets.

The FTSE 100 fell 4.7 per cent at the open, taking losses so far this year for the London blue-chip index to more than 30 per cent. The sell-off was widespread across Europe: Germany's Dax and France's Cac 40 were 4.6 per cent lower.

The Federal Reserve cut US interest rates before markets opened on Sunday and joined forces with other central banks in a bid to prevent a more severe economic downturn and market dislocation caused by the coronavirus pandemic….

"The Fed has thrown everything at this. If we are now facing the end of central bank action, it means we are on our own," said Seema Shah, chief strategist at Principal Global Investors. "There is a fear settling in the market, investors are terrified that this was all that was left."
More and more countries are announcing lockdowns. The Czech Republic just joined the list. As you can see from Bloomberg, more and more US cities are restricting or closing a wide range of venues. The CDC has recommended against gathering of more than 50 people.
Mr. Market has already worked out that the stimulus bill working its way through Washington is inadequate and is lobbying for more. Even the normal Democrat-loyal New York Times took the unusual step of shellacking Pelosi's bill for not living up to its promise of delivering paid sick leave when in fact it covers only 20% of all workers.
A cornoavirus lockdown has an economic impact a lot like that of a disaster, like a hurricane, but playing out over a longer time frame. FEMA has found that 40% of businesses shutter in the wake of a disaster. And of the business that reopen, only 29% survive the next two years.
The US economy is 70% services. Travel, tourism, theme parks, casinos, cruises, restaurants, hotels, and restaurants are already in meltdown mode. Due to the market perturbations, people are likely to cut back on all sorts of discretionary spending, from home redos (and purchases), to donations to charities to plastic surgery and shrink visits. Anyone who can stand to wait won't have surgery. And who would go to a nail salon, or get a massage, or go to a doctor's or dentist's office unless they though it couldn't wait?
And remember, 40% of Americans don't have enough money or slack on their credit card to handle a $400 emergency. Many workers will be hit with hours cutbacks or job losses. They need assistance pronto or the economic damage will cascade: defaults on rent or mortgages, delinquencies on credit cards, defaults on car payments. And you have societal consequences like hunger, homelessness and suicides.
In light of that, mainstream thinking is way way way behind the curve. From the Wall Street Journal:
Some economists are advocating for tax rebates or direct subsidies to households, like the 2008 bill to boost the economy that saw more than 100 million households receive rebate checks.

Economists say such efforts will temporarily help staunch the bleeding for workers, businesses and investors as vast swaths of U.S. commerce shut down, bringing economic activity to a standstill.

But they say Congress will have to provide a much bigger package—perhaps on the order of $400 billion—to prevent the world's largest economy from spiraling into a much bigger crisis. One big fear is that the widespread shutdown of businesses across the U.S. for potentially weeks, if not months, could lead to the collapse of many companies and then a vicious cycle of rising unemployment, falling consumer spending and more industry strain.
Unless that $400 billion comes soon and a lot goes directly to individuals suffering financially as a result of the coronavirus, even that much money will be too little, too late.
And before you think concern about the economy is misplaced when people are dying, even more lives are at risk from fiscal malpractice. Hoisted from Links yesterday:
Health and the economy are closely linked. The correlation between per-capita GDP and health (life expectancy) is essentially perfect. If the covid-19 pandemic leads to a global economy collapse, many more lives will be lost than covid-19 would ever be able to claim. (12/12) pic.twitter.com/ZXcj2s8PAA

— Francois Balloux (@BallouxFrancois) March 14, 2020
The slow, too small, and too narrow sought-after responses don't merely reflect being in a fog of information gaps. The speed and aggressivenesses of the lockdowns, and their drastic impact make the broad outlines all too clear. Our supposed leaders are in a fog of denial. They cannot fathom that so much of what they had come to accept as the normal and proper operation of our system will crumble if radical action isn't taken soon, yet that very radical action will also result in changes they deem inconceivable, or worse, aesthetically unacceptable.
As we found out in the financial crisis, in tightly coupled systems, events can propagate across the various elements too quickly for anyone to intervene and limit the damage. The relentless drive for highly efficient systems, from just-in-time manufacturing to radically limiting inpatient time so as to reduce the number of hospital beds per capita, have created fragile systems that are now being tested to destruction. And we are learning, to our collective detriment, how many are wanting.