By Lambert Strether of Corrente.
I am sure the hilariously named CARES ("Coronavirus Aid, Relief, and Economic Security") Act is just as horried as the 2008 bailouts, if not moreso — if only because the people in charge are even more greedy and venal than 2008's crew[1] — but in this post, I'll focus exclusively concrete material benefits for the working class — sadly, not universal — as opposed to whatever meagre benefits will "trickle down" from however our betters reconfigure "the economy." this time. (There will, apparently, be more stimulus to come, when our lawmakers return from their vacation[2]. The unemployment provisions should be beefed up as well.)
The key point of the CARES that means-testing and complex eligibility requirements will only be pried from the cold, dead hands of the political class. As Peggy Noonan wrote (Links, this morning):
Eight days in I entered the living hell of attempting to find my results through websites and patient portals. I downloaded unnavigable apps, was pressed for passwords I'd not been given, followed dead-end prompts. The whole system is built to winnow out the weak, to make you stop bothering them. This is what it's like, in a robot voice: "How to get out of the forest: There will be trees. If you aren't rescued in three to seven days, please try screaming into the void."
I've been considering filing material like this under "Failed State," but it also seems to me that our State is doing exactly what it is designed to do. If you think about it, one of the most remarkable features of this whole ongoing debacle is that even after the last Crash, the Federal Government still does not have a simple, universal way to send every eligible resident in the country money. In Canada, by contrast:
11:25 a.m.: Trudeau says new federal benefits for those losing income due to COVID-19 will be in people's pockets within 10 days of their applications.

He says the government has redeployed thousands of civil servants to work on the benefits package so the funds can flow to people as soon as possible.

11:20 a.m.: "Help is on the way," Trudeau says in announcing the emergency response benefit that will provide $2,000 a month for four months for people who have lost their income because of COVID-19. The Canada Emergency Response Benefit combines two benefits announced last week to streamline application process.
But then Canada is a First World country.
That said, the concrete material benefits to the working class come in two forms: stimulus checks, and unemployment checks. Let's take each in turn.
Stimulus Checks
So, the $1,200 check. (It isn't always $1,200, but we'll get to that). I've always wondered: Why $1200? I can't dig up the legislative history, but one theory is that the minimum wage of $7.25 * 40 hours = $290 a week * 4 = $1160 a month. Rounding up, the government is paying you minimum wage for a month. But there are more entertaining theories:
Waitin for that stimulus check like pic.twitter.com/JghK4GxOdC

— Joe Fisher (@Joe__Fisher) March 28, 2020
(Here is the source.) There's also a whole "news you can use" genre of "What should I do with my stimulus check?" where "the experts weigh in," but basically the $1200 might as well have been directly deposited in your landlord's account: Renter-to-rentier, as it were.
Anyhow. I'm going to ask four questions about the stimulus checks:
Who gets a stimulus check?
Here is a handy chart of the eligibility requirements (source; qualifications):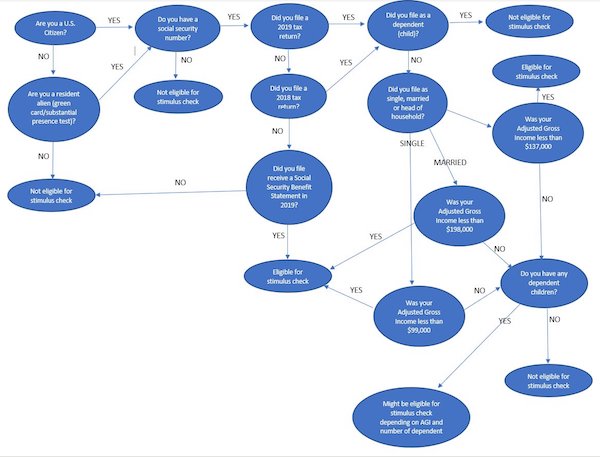 (One eligibility requirement is missing: You cannot owe child support. Otherwise:
Owing back taxes or other debt to the government is not a problem, according to Sen. Chuck Grassley, R-Iowa, the chairman of the Finance Committee and a key author of the bill.

The legislation "turns off nearly all administrative offsets that ordinarily may reduce tax refunds for individuals who have past tax debts, or who are behind on other payments to federal or state governments, including student loan payments," Grassley wrote in a medium.com post.

"The only administrative offset that will be enforced applies to those who have past due child support payments that the states have reported to the Treasury Department," he continued.
To be fair, for somebody like Grassely, this is generosity on a lavish, princely scale.
How much will the check be?
Here is a handy chart from the Tax Foundation, in "Congress Approves Economic Relief Plan for Individuals and Businesses":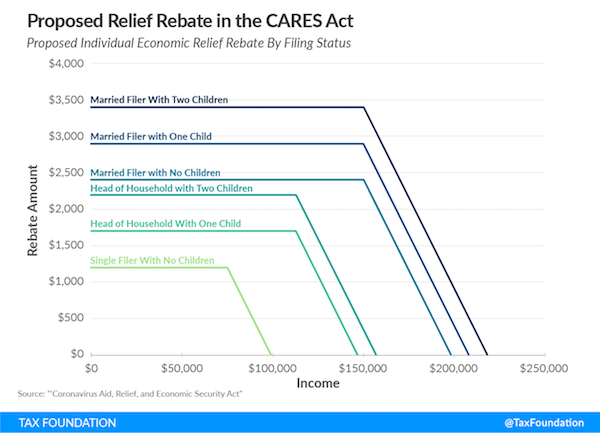 Here is a calculator if you don't like charts.
How long will the check take to arrive?
This is where things get really complicated. The default case:
The IRS is expected to start distributing the rebate checks within the next three weeks. The payments will be sent via direct deposit to Americans who already have provided the IRS with their bank account information. For those who haven't, the checks will be mailed.
[T]he IRS can mail a check to your "last known address," and it has 15 days to notify you of the method and amount of the payment. They'll send a phone number and appropriate point of contact so you can tell them if you didn't receive it.
If your "last known address" isn't your current address, this is what you can do:
If you have recently moved, you should file a Form 8822 with the IRS and a change of address notice with the U.S. Postal Service. This will ensure correspondence and payments from the IRS will be sent to your new address.
Anyone who doesn't already have direct-deposit information on file with the IRS may not see their emergency funds for up to 4 months.
Some emergency. I would also guess that if landlord-tenant relations deteriorate as there are many, many anecdotal reports they will, a lot of people's addresses are going to change, screwing up check delivery for millions. 36% of American households rent their homes.
When will the checks stop?
The stimulus checks are a one-time payment. What you do you think we are? Canada?
Unemployment Checks
Now let's turn to unemployment checks. Before we ask the same four questions, let's look at capacity issues. Here's a chart of unemployment benefits filings: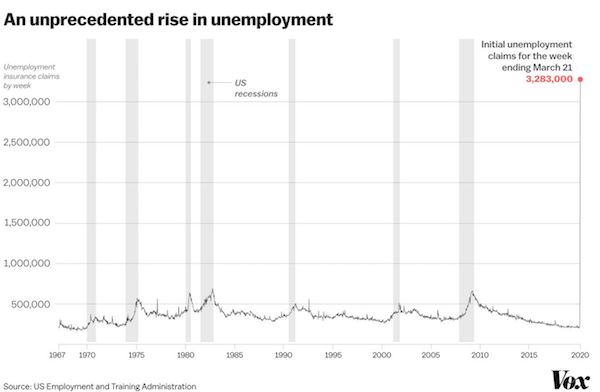 Vox remarks:
Instead of a one-off spurt, last week's eye-popping initial claims number could be just the leading edge of a larger tsunami that will continue to press forward for several weeks.
It's not clear to me that our unemployment system, which is handled administratively at the State level, has the operational capability to handle this surge. In Ohio:
The [Ohio Jobs and Family Services] spokesperson continued: "During previous downturns in the economy, claims trickled in, whereas . This amount of claims in this short expanse of time would tax any online system. We have been working around the clock to streamline performance and boost capacity so the online claims system can handle the unprecedented influx of claims, which has affected processing times."
In other words, the spike faced by emergency rooms and hospitals is, as it were, replicating itself across other systems. I'm sure each state unemployment office is calculating throughputs, but I don't know if they can scale up the capacity. From the New York Times, "Coronavirus Layoff Surge Overwhelms Unemployment Offices":
From New Jersey to Texas to Oregon, the newly jobless have tried to file claims, only to run into glitchy websites and clogged phone lines.

Help is on the way. A stimulus bill that President Trump signed into law on Wednesday provides $1 billion in emergency grants to states for unemployment insurance, and fully half could be immediately used to strengthen staffing, technology and other administrative costs.

Even when unemployment was stable and low, state employment offices were "threadbare," said Andrew Stettner, a senior fellow with the Century Foundation, a public policy research group.

State unemployment insurance programs rely on federal grants to pay for the administration of benefits, but those costs have been cut by 30 percent over the past two decades, he said.

Part of the reason for low staffing: Unemployment office head counts are pegged to the unemployment rate, which had reached historic lows before the pandemic hit.
Now, a bureaucracy with well-defined procedures and functional IT ought to scale to meet the crisis, much like spinning up more servers on a server farm. However, if the state systems are held together by bubble-gum and baling wire, then there's a good possibility Brooks' Law will apply ("adding manpower to a late software project makes it later," because it takes time for new people to become productive, and communication overhead increases as headcount increases." A dysfunction department is a lot more like a project than a server farm is). I guess we'll find out.
Who gets an unemployment check?
To be fair, the CARES Act does expand unemployment coverage significantly[3]. I wish I had a chart, but in prose from the National Law Review, "Unemployment Insurance Provisions of the CARES Act":
Under Section 2014 of the Act, individuals who are otherwise eligible for unemployment benefits under state or federal law will receive $600 per week, in addition to their regular unemployment compensation under state law, through July 2020….

Under Section 2107, if individuals remain unemployed after their state employment benefits are exhausted, the federal government will fund up to 13 weeks of additional unemployment benefits – thereby increasing to 39 weeks the 26-week maximum common under most states' unemployment laws – at a weekly rate of $600 during that 13-week period.

Finally, under Sections 2108 and 2109, the Act will provide funding to states that currently have or choose to implement a Short-Time Compensation (STC) program for employers that reduce their employees' hours in lieu of a lay-off and whereby the employees thus receive a pro-rated unemployment benefit. The federal government will fund 100% of the costs for states that currently have a STC program and 50% for those states that choose to implement one, in each case through Dec. 31, 2020.
Crucially, the CARES Act expands eligibility to those not currently eligible. Again from the National Law Review:
The Act, in Section 1202, will create a temporary, federally funded "Pandemic Unemployment Assistance" program providing unemployment benefits to individuals who otherwise would be ineligible for such benefits under state or federal law – such as individuals who are self-employed (for example, consultants or independent contractors), who are seeking part-time employment, or who lack sufficient work history. The Pandemic Unemployment Assistance program covers any individual who: (1) is not otherwise eligible for, or has exhausted all rights to, unemployment benefits; and (2) is unemployed, partially unemployed, or unable to work because of any of the following COVID-19-related circumstances.
(I'm not going to quote the circumstances, but they seem reasonable and capacious.) Here, at least, is a flow-chart for 1099 workers: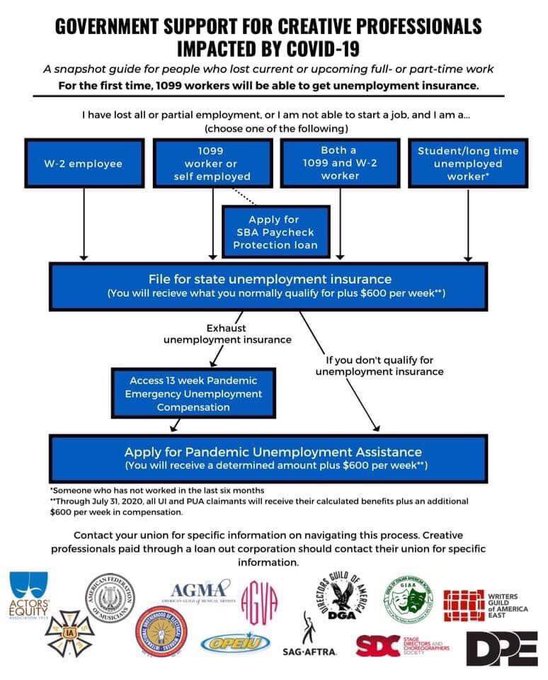 How much will the check be?
Again to be fair, if you accept the existing system, the amount doesn't seem nearly as bad as it might be:
New pandemic UI benefits are calculated as half the state average plus $600 per week. So that's $707 in MS and $875 in MA, averaging to $794 per week across the US.

In every state it exceeds the 2018 real median personal income of $648 per week. https://t.co/YgALH4jOe2

— Max Ghenis (@MaxGhenis) March 26, 2020
How long will the check take to arrive?
Since unemployment checks are cut by the states, it's hard to generalize. California says three weeks, give or take:
[Loree Levy, deputy director of communications at the California Employment Development Department,] said it typically takes three weeks from the time when a person files a claim to when they receive a payment. Whether the department can keep that timeline intact is being closely watched. The independent Legislative Analyst's Office wrote in a report last week that the massive workload would mean much longer wait times, but Levy said the department is optimistic that "clean claims without complicated issues" will still get out the door in three weeks.
Then again, it might be hard to get into the system in the first place, due to capacity issues. Here is a thread from Massachusetts 1099ers:
When you get to the section where you search for your employer…which might seem like the kiss of death for a self-employed freelancer…type "self-employed" into the search field and hit SEARCH three times. *Three times.* This is important and I'll explain why in the next tweet

— Miles Howard (@MilesPerHoward) March 29, 2020
Unfortunately, the thread concludes:
Folks: It appears there's a gulf between the "apply now" advice we're getting and how the system is working right now. 1099 people are getting rejected. CALL YOUR REP AND SENATOR. Ask when this will be fixed and how we can claim benefits for the weeks when the system didn't work

— Miles Howard (@MilesPerHoward) March 29, 2020
As I said above, I guess we'll find out.
When will the checks stop?
After four months, in the unemployment system:
The federal government's $600 weekly payout to unemployed workers will last for a period of up to four months through July 31. Additionally, the CARES Act will extend state-level unemployment insurance by an additional 13 weeks. For instance, whereas most state unemployment benefits last 26 weeks, the bill extends benefits in those states to 39 weeks. The extended benefits will last through Dec. 31, 2020.
For Pandemic Unemployment Assistance, December 31:
Workers can receive up to 39 weeks of PUA benefits. This program is only in effect through December 31.
Conclusion
Will the CARES Act provide enough relief to prevent millions of defaults?
This is why you maintain payroll even as workers temporarily step out of the workplace. Minsky, anyone? It's about cash flow commitments/recurring expenses. A cascading wave of defaults is the natural outcome when cash flow disruptions leave millions unable to service debt. https://t.co/0JvcO0xDC6

— Stephanie Kelton (@StephanieKelton) March 29, 2020
Hard to say. My guess is millions, no. Tens of millions, maybe yes. Tune in tomorrow when we talk about the rent!
NOTES
[1] Not to imply that Obama's crew weren't greedy and venal:
Here's @jasonfurman 3 days ago complaining to @ezraklein about bailout oversight in 2009. "We had a special investigator general for TARP – SIGTARP. That office still exists. It was a massive office. And frankly, I think it was chilling."

Ladies and gentlemen, the Democrats!

— Matt Stoller (@matthewstoller) March 28, 2020
[2] The Senate will return April 20, if all goes according to plan. After Easter.
[3] From Oregon Live, "In 'once-in-a-lifetime crisis,' Sen. Ron Wyden accomplishes goal of expanding unemployment insurance":
And Wyden had a plan. By happy coincidence, he and his people had been working on a thorough modernization and overhaul of the federal unemployment insurance program for much of the prior year.

As the bill approached a vote, Wyden and his allies had managed to include as much as $317 billion worth of expanded unemployment benefits into the legislation. A last-ditch Republican attack led by Sen. Lindsey Graham went nowhere.

With a timely assist from Sen. Bernie Sanders, who threatened to delay the bill if Graham succeeded in reducing the unemployment assistance, the 11th-hour opposition got no traction.
I've been trying to run down how much Sanders contributed to the unemployment clauses in the CARES Act, and so far as I can tell, he didn't craft the legislation or amend it.