By Lambert Strether of Corrente.
#COVID-19
At reader request, I've added this daily chart: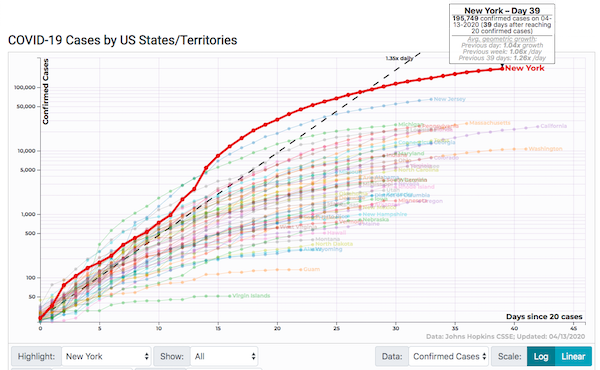 New York looks like it is still flattening. Still, holy moley.
The data is the John Hopkins CSSE data. Here is the site. I have changed to a logarithmic scale for US States and territories, adjusted for population. See Vice, "How to Read the Coronavirus Graphs":
Quantities that grow exponentially, when depicted on a linear scale, look like curves that bend sharply upward, with the curve getting constantly steeper. On a log scale, exponentially growing values can be depicted with straight diagonal lines.

That's the beauty of plotting things on log scales. Plots are meant to make things easy to understand, and we humans are much more adept at understanding linear, straight-line behavior. Log plots enable us to grasp exponential behavior by transferring the complexity of constantly steepening curves into the simplicity of an exponentially increasing scale.

On a log scale, we want to constantly be making the line more and more horizontal. The general concept of "flattening" is still a good one, but it's never going to curve down. And so what we should be looking, and hoping for is a trend toward horizontal.
I removed population adjustment, based on this exchange from alert reader dk:
A quick chart for those who keep asking for per-capita adjustment:

Here's population vs total death toll one week after 10th death.

No relationship.

As I've been saying, population does not affect pace of spread. All per-capita figures do is make smaller countries look worse. pic.twitter.com/yWsa4YNNxI

— John Burn-Murdoch (@jburnmurdoch) March 29, 2020
I hope this change is helpful. One also notices at once that the New York and New Jersey metroplexes stand out.
Politics
"But what is government itself, but the greatest of all reflections on human nature?" –James Madison, Federalist 51
"They had one weapon left and both knew it: treachery." –Frank Herbert, Dune
"They had learned nothing, and forgotten nothing." –Charles Maurice de Talleyrand-Périgord
* * *
2020
* * *

Biden (D)(1): "Obama endorses Biden's White House bid" [Politico]. "President Barack Obama endorsed Joe Biden's White House bid on Tuesday, formally throwing his support behind his former vice president and the now-presumptive Democratic nominee. 'If there's one thing we've learned as a country from moments of great crisis, it's that the spirit of looking out for one another can't be restricted to our homes or our workplaces, or our neighborhoods or our houses of worship. It also has to be reflected in our national government,' Obama said in a nearly 12-minute video message that touched on the coronavirus pandemic." • One of life's little ironies, that the liberal Democrat who sh*t the bed during the last Crash has returned to engineer the liberal Democrat response to this crash. We'll see how that plays with the under-50's.

Biden (D)(2): "'Accelerate the Endgame': Obama's Role in Wrapping Up the Primary" [New York Times]. "But with calibrated stealth, Mr. Obama has been considerably more engaged in the campaign's denouement than has been previously revealed." • You don't say! "'He kept his powder dry, and that gave him credibility, which made all the difference,' said Tom Perez, the Democratic National Committee chairman, who served as labor secretary under Mr. Obama." • He would, wouldn't he? "Mr. Biden is grateful for Mr. Obama's friendship but increasingly proud of his historic comeback. When news reports surfaced that Mr. Obama had called to congratulate Mr. Biden on his victory in South Carolina, the candidate made it clear to his staff that while his connection to Mr. Obama played a role in delivering African-American voters, Mr. Obama 'had not lifted a finger' on his behalf, according to a senior Democrat with knowledge of his remarks." • Lol, "increasingly proud of his historic comeback." Here on Planet Earth, it's been obvious since Obama defenestrated Ellison, and stood up Perez, and Perez then purged all Sanders supporters from the all-important Rules and Bylaws Committee (which decides all contested primaries), that the Democrat Establishment, from Obama down, would do everything in their power to prevent a Sanders victory. Tellingly, this article — I think we can dispense with the useful fiction that the Times is not a political player at the tactical level? — doesn't even mention Obama's Night of the Long Knives, when miraculously, all the candidates but Sanders (and Warren) dropped out and endorsed Biden. Are we really to believe that Obama had nothing to do with it? Worth reading in full for the horrid detail. Reminds me of The Wire.

Biden (D)(3): The sanctimony:

This: https://t.co/8Piv31vJuB

— Soledad O'Brien (@soledadobrien) April 14, 2020

Biden (D)(4): "What Biden Can Do About Pressure to Embrace Medicare for All" [New York Magazine]. "It's unlikely that Biden would want to go as far as Warren did, but the key would be recognition of a single-payer system like Medicare for All as an ultimate goal, with an interim proposal including a public option and a Medicare expansion. And standing back from a full M4A plan would presumably insulate Biden from too much blowback among independents who want to keep their private insurance plans, at least for the immediate future. Whether or not this approach appeals to him, Biden needs to start making serious concessions to the left on health-care policy or let it be known quietly that he's gone as far as he can. If there's anything good about the coronavirus pandemic, it's the new context it creates for policy proposals thought to be too extravagant earlier." • Nope. With Obama in the race, ObamaCare will now be sacrosanct.

Sanders (D)(1): Sanders voters may not be as fungible as the Democrat Establishment believes. Particularly Sanders supporters who were also active Obama supporters in 2008, back when "hope and change" was a thing. Thread:

i won't be lifting a fucking finger for someone who is anti-choice and who eulogized strom thurmon so i hope to GOD you've got some kind of army of ringers in the wings. best fucking wishes from me to you

— semper bufo (@spindlypete) April 14, 2020

(This is a fun account, and the whole thread is worth a read.)

* * *

"How to Vote by Mail in All 50 States" [Vice]. "Here's a state-by-state breakdown of what you need to do—and when—in order to ensure you can vote by mail in November." • This is very useful, but what I want is a state-by-state breakdown of how vote-by-mail ballots are counted….

"After the Pandemic, Then What?" [Charles Cook, Cook Political Report]. "Neil Newhouse, one of the most senior Republican pollsters in the business and another very wise person, observed, 'Half the voters will believe the president took the right action, and the other half will believe he's failed to meet the needs of the country. Our divisions are extraordinarily deep. This is unlikely to change a thing.'" • Of course, "half the voters" isn't "half the population," now is it… .
Realignment and Legitimacy
UPDATE "Delay the November election? What voters think about coronavirus and the campaign" [NBC]. "Sixty-eight percent of registered voters think the coronavirus outbreak will have a big impact on election turnout in the U.S., a new poll shows — and nearly 4 in 10 support delaying the November presidential election until the pandemic is under control." • The pollster is "TargetSmart," whoever they are.

Atrios is, I believe, under 50:

In crafting the rescue package, I called up a bunch of rich assholes and they said "well you gotta give all the rich assholes money" and they sent over some "give rich assholes money" legislation that they just happened to have on the shelf. I am very proud of this.

— Crewman Number Guy (@Atrios) April 14, 2020

"The Lesson of the Coronavirus? There's No One Left to Trust." [The Nation]. "nfortunately, Trump isn't the only one who's made bad decisions or issued rosy projections that have cost lives. He's had a lot of help. Our country operates under a theory of rapacious capitalism, and that has been on full display during this crisis. We saw employers who demanded that nonessential workers come into work, thereby fueling the spread of the virus. We saw state governments react slowly to close down business and public meeting places. We saw religious leaders urge people to come to services, and community leaders urge people to go to the mall, until the stark and deadly reality of the virus began to take lives, and they (well, some of them anyway) began grudgingly to change their tune about the seriousness of the pandemic. Now, this same collection of leaders is in charge of telling us when the crisis has passed—and we're supposed to trust their judgement about when to reopen the country, even as so many of them failed to act quickly enough to shut it down in the first place. What kind of gullible fool do they take me for?" • "First class!"

UPDATE "What People Power Looks Like in a Pandemic Democracy" [Corey Robin, New York Review of Books]. "Isolation, it has been pointed out, is a luxury many men and women in the United States cannot now afford and will probably never enjoy. For many in the working class, and some in the professional classes, there is no withdrawal from public spaces to a place of greater safety at home. These men and women are picking lettuce, boxing groceries, delivering packages, driving buses and trains, riding buses and trains, filling prescriptions, operating registers, caring for the elderly, taking care of the sick, burying the dead. Though these disparities understandably arouse a sense of deep unease, and guilt among those who are their beneficiary, there is a dimension to this inequity that has gone overlooked. The state designates these men and women to be "essential workers," and while that designation has earned those workers little more than a patronizing thanks for their "selflessness" from President Obama, Mayor Bloomberg, and other worthies, the designation is nonetheless a recognition of their potential power right now. Power that some have begun to wield." • Hopefully. This is a long-read, but Robin is always worth a look.
Stats Watch
At reader request, I added some business stats back in. Please give Econintersect click-throughs; they're a good, old-school blog that covers more than stats. If anybody knows of other aggregators, please contact me at the email address below.
Imports: "March 2020 Import Year-over-Year Inflation Declined To -4.1%" [Econintersect]. "Year-over-year import price indices inflation slowed and are now deep in contraction…. The main reason for the decline is lower fuel prices.."
Honey for the Bears: "IMF: 2020 Will Feature Worst Economic Downturn Since the Great Depression" [Industry Week]. "'The magnitude and speed of collapse in activity' following 'necessary quarantines and social distancing policies' implemented by countries around the world 'is unlike anything experienced in our lifetimes,' wrote Gita Gopinath, Director of the IMF's Research Department. Specifically, the IMF's April 'World Economic Outlook' report predicts that global economic growth will fall to -3%. That's a striking divergence from their last prediction, January 2020, which predicted the economy would grow 3.3%. It also predicts that the 'Great Lockdown 2020' depression will be much worse than the Global Financial Crisis of 2009, which saw the global economy grow at -0.1%. But, according to the IMF, it won't last too long. Provided that the pandemic goes away in the second half of the year, and that government aid to businesses and workers prevents systemic financial strain, the Fund predicts that global growth in 2021 will rebound to 5.8%."
* * *
Commodities: "Drillers across the continent are shutting wells in big numbers as oil prices sink to new lows… with companies like Fort Worth, Texas-based Texland Petroleum LP saying there are no buyers for their crude even at rock-bottom prices" [Wall Street Journal]. "In Midland, Texas, and in western Canada, oil has traded below $10 a barrel. That's triggering a rush to shut down rigs producing crude with nowhere to go, and it's hitting the sector's supply chains: After an upturn earlier in the year, the Association of American Railroads says rail carloads of petroleum products in the fourth week of March were the lowest for any week in more than a year."
Real Estate: "Warehouse operators believe the coronavirus pandemic will end up fueling more demand for industrial real estate. Executives say the business upheaval from extensive community lockdowns will trigger fundamental changes in supply chains… bolstered by more robust e-commerce operations and more 'safety stock' positioned around the country" [Wall Street Journal]. "The pandemic's potential lasting impact on business is being hotly debated even as retailers, logistics companies and transport operators cope with volatile swings in demand. Business shutdowns have curbed activity among some operators while others are scrambling for warehouse capacity to get closer to residential customers."
Shipping: "Truckload linehaul rates see biggest decline since financial crisis" [Freight Waves]. "'This ends any chance of 2Q20 seeing y/y growth in domestic U.S. shipments and freight costs,' the report's author and Stifel Financial (NYSE: SF) equity research analyst David Ross lamented. 'This has quickly gone from a China production concern to a U.S. (and global) consumer spending problem. No business, no jobs, and no income for many leads to much less freight moving around.'"
UPDATE Small Business:
New NBER survey of U.S. small companieshttps://t.co/EHonXOpb5t

Here is the percent, by industry, saying their business will still exist if the crisis lasts 6 months:

All retail (except grocers): 33%
Hotels: 27%
Personal services: 22%
Restaurants and bars: 15% pic.twitter.com/WGkqh6MGHs

— Derek Thompson (@DKThomp) April 13, 2020
Yikes!
Today's Fear & Greed Index: 44 Fear (previous close: 37 Fear) [CNN]. One week ago: 26 (Fear). (0 is Extreme Fear; 100 is Extreme Greed). Last updated Apr 14 at 12:15pm.
The Biosphere
"How COVID-19 could ruin weather forecasts and climate records" [Nature]. "[M]any scientists [have been] sidelined by the coronavirus pandemic, watching from afar as precious field data disappear and instruments degrade. The scientific pause could imperil weather forecasts in the near term, and threaten long-standing climate studies. In some cases, researchers are expecting gaps in data that have been collected regularly for decades. 'The break in the scientific record is probably unprecedented,' says Frank Davis, an ecologist at the University of California, Santa Barbara."
Health Care
"Universal Screening for SARS-CoV-2 in Women Admitted for Delivery" [New England Journal of Medicine]. "Between March 22 and April 4, 2020, a total of 215 pregnant women delivered infants at the New York–Presbyterian Allen Hospital and Columbia University Irving Medical Center…. Nasopharyngeal swabs were obtained from 210 of the 211 women (99.5%) who did not have symptoms of Covid-19; of these women, 29 (13.7%) were positive for SARS-CoV-2. Thus, 29 of the 33 patients who were positive for SARS-CoV-2 at admission (87.9%) had no symptoms of Covid-19 at presentation."
"No, Italy Is Not the Case Against Medicare for All" [The Nation]. "When Covid-19 reached Italian shores, it found a country in the midst of a private-sector transformation that has been turning the country's single-payer health care system into an Italian version of Biden's beloved "public option"—and putting millions of people at risk in the process. The callous slashing of public funding undertaken by all Italian administrations since the 1990s and the parallel proliferation of private clinics have left the country with fewer health care personnel and hospital beds, and longer wait times. These cuts, along with similar attacks on public expenditure in education, pensions, and social security, have been coupled with a dramatic restructuring of labor relations that has left a significant portion of the Italian workforce struggling with increasingly precarious forms of employment on one hand, and the threat of unemployment on the other. What does this mean in a time of pandemic? Stripped of paid leave and unemployment benefits and unable to afford missing a day of work, people have been going to work sick. Sound familiar?" • Important. Also, Biden was lying about Italy in the debate. Naturally.
"Hospital CARES funding not quite 'no strings attached'" [Heatlhcare Dive]. "Democratic lawmakers have asked HHS to consider the areas hardest hit by the outbreak when the remaining funds are allocated. ." • Democrats: We cannot, under any circumstances. support any policy that has the slightest hint of single payer about it.
What could go wrong:
What to do if you lose your health insurance amid the COVID-19 pandemic: https://t.co/ZRf7nRYvHJ pic.twitter.com/SvjYRRHqX5

— ABC News (@ABC) April 14, 2020
As I have been saying for some time, masks will become fashion items:
Created a page (on my erstwhile teaching blog) for you to check out these beautiful Thai art cloth masks and order some through my wife and I if you're so inclined #Thailand #Bangkok #Thai #ThaiArt #Handmade #Ratchaburi #SoulfulPPE ✌️

Check it out here: https://t.co/g6z3NQHsxw

— thailandmatthew (@tesolmatthew) April 14, 2020
Our Famously Free Press
"What went wrong with the media's coronavirus coverage?" [Recode]. "For instance: While President Trump has been correctly pilloried for describing the coronavirus as less dangerous than the flu, that message was commonplace in mainstream media outlets throughout February. And journalists — including my colleagues at Vox — were dutifully repeating exhortations from public health officials not to wear masks for much of 2020." • A little antidote for the current furor…
"Chris Cuomo Goes Full Howard Beale: 'I Don't Think [Anchoring Is] Worth My Time'" [Jonathan Turley]. "[Cuomo] recounted how he was confronted for going outside with his family on Easter Sunday: 'I don't want some jackass, loser, fat tire biker being able to pull over and get in my space and talk bulls–t to me, I don't want to hear it.' He wants to be able to tell such people to 'go to hell' again and 'That matters to me more than making millions of dollars a year … because I've saved my money and I don't need it anymore.'" • Oh.
RussiaGate
"Putin's Long War Against American Science" [New York Times]. • This RussiaGate grift is the best grift ever. The pattern is exactly the same as with the Russian "meddling" gaslighting during election 2016: No changes on the ground (whether in votes or minds) are ever shown; the only evidence is inputs from the Russian side, with no proof of output on the American side. If you believe RT, it has 500,000 unique viewers per day, less than a third of MSNBC, one of many channels in in the cablesphere. About what you would expect from an economy the size of Sweden.
Groves of Academe
"Scott says Vt. curve is flattening; Dartmouth warns students about conduct " [Valley News]. "Dartmouth Dean of the College Kathryn Lively wrote a sharply-worded email to undergraduates Monday, saying a 'relative few' students have held unauthorized parties in fraternities, congregated in groups both on campus and around Hanover, gone into dorms without permission, , and failed in other ways to comply with safe social distancing practices." • "Relative" is doing a lot of work there…
Class Warfare
"Amazon fires two employees critical of warehouse working conditions" [Reuters]. "Amazon.com Inc (AMZN.O) said on Tuesday it terminated two employees, who criticized the working conditions at the e-commerce giant's warehouses in the wake of the coronavirus pandemic, for 'repeatedly violating internal policies.' The termination of Emily Cunningham and Maren Costa, who worked as user-experience designers in Seattle, comes two weeks after the company fired another employee Christian Smalls after he came to its Staten Island warehouse for a demonstration in violation of his paid quarantine."
"230,000 Texas families filed for SNAP food assistance in March, twice as many as same month last year" [Texas Tribune]. "Texas has implemented some changes to SNAP in response to the pandemic, including automatically allocating the maximum SNAP benefits based on family size, allowing automatic reenrollment in the program for six months and waiving the interview requirement of the application for those who verify their identity, according to Texas Health and Human Services Commission. Before changes to the application were made, Katie Emden, who was laid off from her job at an Austin airport restaurant because of the pandemic, said the 30-page application required her last few paystubs and a letter from her boss saying her layoff was related to the COVID-19 pandemic. 'Applying for unemployment was a lot easier than getting food stamps,' Emden said. The SNAP paperwork took her two hours to get through, and she spent another two hours on the phone trying to get additional paperwork to upload on the online portal, Emden said." • Looks like the application is more complicated than a college admission form, never mind unemployment. See, if Texas were Blue, the application would only be 15 pages long.
UPDATE "There Is No Outside" [n+1]. "On my second day in the ED, I saw a nursing assistant gently scold an older patient for having his mask under his chin. She fixed it for him, but less than an hour later I heard his terrible cough disturbing his half-sleep. His sheets were askew, and his mask was off. Intubation—the process of putting a tube in a person's airway for attachment to a breathing machine—generates small particles that may stay airborne for a few hours before settling onto surfaces. People get intubated in the ED and in other hospital wards multiple times per day, hence the increased demand for—and shortage of—N95 masks. The mask protects from airborne infection if it's been fitted perfectly, and if the mask is not contaminated. If you are waiting in line to perform chest compressions on someone being intubated, like I was recently, it's hard to imagine being clean afterwards. You could take a shower and find yourself an entirely new outfit, or wear some kind of hazmat suit. It is self-evident that none of these is anything close to an option for most health workers right now." • A must-read.
News of the Wired
If it ain't baroque….
Dynamic Underwater Photos Look Like Dramatic Baroque Paintings https://t.co/H30naYjBXc via @mymodernmet

— Michael ?? (@FloridaManSiam) April 14, 2020
Quite lush!
Be careful out there:
Apparently someone thought it was a good idea to disinfect $5,000 Canadian dollars using a microwave. Plot twist- Canada uses plastic money. pic.twitter.com/bOkalVxbE8

— Greg (เกร็ก) (@BkkGreg) April 13, 2020
* * *
Readers, feel free to contact me at lambert [UNDERSCORE] strether [DOT] corrente [AT] yahoo [DOT] com, with (a) links, and even better (b) sources I should curate regularly, (c) how to send me a check if you are allergic to PayPal, and (d) to find out how to send me images of plants. Vegetables are fine! Fungi and coral are deemed to be honorary plants! If you want your handle to appear as a credit, please place it at the start of your mail in parentheses: (thus). Otherwise, I will anonymize by using your initials. See the previous Water Cooler (with plant)
here
. Today's plant (CR):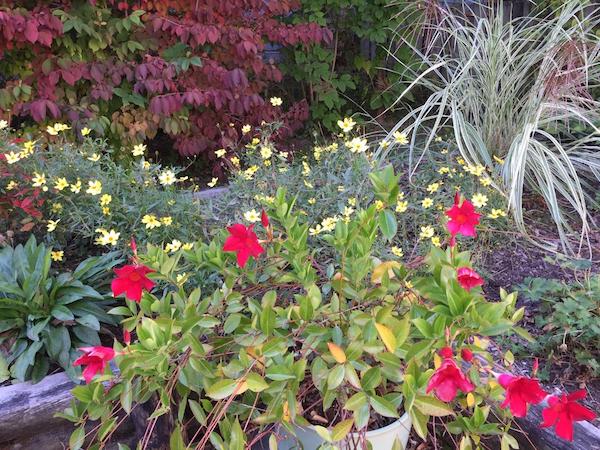 CR writes: "Summer will come. A jumble in the garden, August 2019." This is a very artfully arranged "jumble." My favorite kind!
* * *
Readers
: Water Cooler is a standalone entity
not
covered by the annual NC fundraiser. So if you see a link you especially like, or an item you wouldn't see anywhere else, please do not hesitate to express your appreciation in tangible form. Remember, a tip jar is for tipping!
Regular positive feedback both makes me feel good and lets me know I'm on the right track with coverage
. When I get no donations for five or ten days I get worried. More tangibly, a constant trickle of donations helps me with expenses, and I factor in that trickle when setting fundraising goals:
Here is the screen that will appear, which I have helpfully annotated.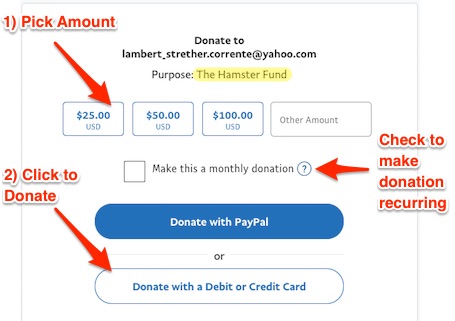 If you hate PayPal, you can email me at lambert [UNDERSCORE] strether [DOT] corrente [AT] yahoo [DOT] com, and I will give you directions on how to send a check. Thank you!