By Lambert Strether of Corrente.
#COVID-19
At reader request, I've added this daily chart: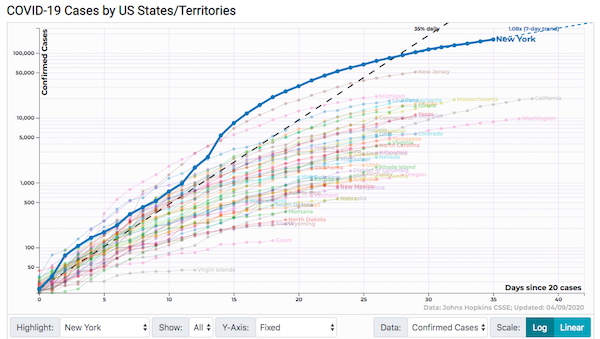 The data is the John Hopkins CSSE data. Here is the site. I have changed to a logarithmic scale for US States and territories, adjusted for population. See Vice, "How to Read the Coronavirus Graphs":
Quantities that grow exponentially, when depicted on a linear scale, look like curves that bend sharply upward, with the curve getting constantly steeper. On a log scale, exponentially growing values can be depicted with straight diagonal lines.

That's the beauty of plotting things on log scales. Plots are meant to make things easy to understand, and we humans are much more adept at understanding linear, straight-line behavior. Log plots enable us to grasp exponential behavior by transferring the complexity of constantly steepening curves into the simplicity of an exponentially increasing scale.

On a log scale, we want to constantly be making the line more and more horizontal. The general concept of "flattening" is still a good one, but it's never going to curve down. And so what we should be looking, and hoping for is a trend toward horizontal.
I removed population adjustment, based on this exchange from alert reader dk:
A quick chart for those who keep asking for per-capita adjustment:

Here's population vs total death toll one week after 10th death.

No relationship.

As I've been saying, population does not affect pace of spread. All per-capita figures do is make smaller countries look worse. pic.twitter.com/yWsa4YNNxI

— John Burn-Murdoch (@jburnmurdoch) March 29, 2020
I hope this change is helpful. One also notices at once that the New York and New Jersey metroplexes stand out.
Politics
"But what is government itself, but the greatest of all reflections on human nature?" –James Madison, Federalist 51
"They had one weapon left and both knew it: treachery." –Frank Herbert, Dune
"They had learned nothing, and forgotten nothing." –Charles Maurice de Talleyrand-Périgord
* * *
2020
Biden (D)(1): "Barack Obama wins the Democratic primary" [Politico]. "Obama had a delicate task. Everyone knew whom he preferred, and yet he could not be seen as helping organize the massive party-wide show of force in favor of Biden that emerged from South Carolina through Super Tuesday. Obama's aides forcefully reiterated that he was scrupulously not intervening. But some of his aides now concede that behind the scenes Obama played a role in nudging things in Biden's direction at the crucial moment when the Biden team was organizing former candidates to coalesce around Biden." • And the deck: "Released from his self-imposed neutrality, the former president will soon make the case for Biden that Biden has had trouble making himself." • "Neutrality," for pity's sake. Everybody knew what Obama wanted, and the article is full of details that prove it.

Biden (D)(2): "Biden rolls out new policies in effort to court Sanders supporters" [Axios]. On health care:

1. Lower the Medicare age from 65 to 60.

Under Biden's plan, Americans would be able to choose whether to access Medicare benefits when they turn 60.

If not, they would be permitted to remain on their employer's insurance, Biden's "public option" or other plans they can access through an Affordable Care Act marketplace.

This is a slap in the face to Sanders supporters. Why 60? Anyhow, Biden was selected to prevent #MedicareForAll, not advance toward it, so there's no reason to believe Biden is serious about it; if he were, he would have advocated for this in teh primary. Finally, tacking left in the primary, and then right in the general is the oldest trick in the book. One Sanders supporter comments:

Here's your clue nothing will get better. The moment the only candidate proposing something better, but unpalatable to the establishment, drops out, the Dem's media mouthpieces can now safely say the time for change has arrived. And now blame for inertia can be placed on the GOP. https://t.co/Z0pziwfZNU

— Garbage Ape ? ? (@GarbageApe) April 9, 2020

So Neera's gonna pull out a couple of three-ring binders and all the wonks are gonna go to work (lucky wonks). I'm so excited.

Sanders (D)(1):"Bernie Sanders and the Promised Land" [The New Yorker]. "Eventually, the hope that Sanders inspired on the left became directly related to the despair that Trump provoked. Trump sought to bring about a conservative kleptocracy in which power justified itself and a white-centric vision of what it means to be American was celebrated. Sanders wanted to address the inequality that continues to plague the country—through wars, financial crises, and actual plagues—and usher in a multiracial mass-movement politics which would force America's powerful to make concessions to their fellow-citizens. If a single charismatic leader could push the country toward one of those visions, perhaps a single charismatic leader could push it toward the other—this was the theory that formed the basis of Sanders's second Presidential campaign." • I think this thesis was more to do with the yearning of liberal Democrats for a leader to whom they can willingly submit than it does with facts out in the electoral biomass.

Sanders (D)(2): "Sanders — And The Media — Learned The Wrong Lessons From Trump In 2016" [Nate Silver, FiveThirtyEight]. "Sanders ran further to the left in 2020 than he did in 2016, with a message that shifted from economic populism to a broader and more 'intersectional' leftism. This shift was reflected at the ballot box, too. For instance, Sanders won just 24 percent of moderates in the Michigan Democratic primary this year (but 63 percent of 'very liberal' voters) — as compared 44 percent of moderates and 59 percent of 'very liberal' voters in 2016." • Anybody who thinks intersectionality is more left than economic populism needs to rethink. Conceptual confusion aside, Silver is onto something: A warming sign in 2020 in Iowa was that Sanders lost the Mississippi-adjacent counties that flipped in 2016 from Obama to Trump. And lost them to Buttigieg. This could be because Sanders didn't have a farm policy tuned to those counties (I can't say), but it could also be that intersectionality is fundamentally a PMC, NGO-adjacent concern that did not speak to those voters. Personally, I thought that Sanders struck the balance pretty well with "multiracial, multigenerational working class," but then I'm not those voters.

Sanders (D)(3): I tihnk this is the first insider coming forward:

Sanders former advisor Chuck Rocha: What went wrong and right for Bernie https://t.co/MzepXXJQYo via @YouTube

— #BlackWomenForBernie #MedicareForAll or #GetFired (@LostDiva) April 10, 2020

Interested to see what readers think.

* * *

WI: "Three tubs of ballots discovered in mail processing center after polls closed in Wisconsin" [MSN]. ""I learned today that the (state Elections Commission) received a call from a postal service worker informing them 3 large tubs of absentee ballots from Oshkosh and Appleton, were just located," Republican Sen. Dan Feyen of Fond du Lac said on Twitter."

WI:

So are we all pretending now only Republicans forced people to vote during a pandemic.

Cuz I kind of remember the DNC threatening states with a loss of delegates if they postponed their primaries.https://t.co/QoV8OkTUbX

— Cotton Eye Joe Exotic (@Jamie_Maz) April 7, 2020

MN: Minnesota AFL-CIO endorses Ilhan Omar:

Minnesota AFL-CIO endorses @AngieCraigMN, @VoteBetty, @IlhanMN, and @deanbphillips for Reelection https://t.co/Cu9QqUbS5p #1u #Labor2020 pic.twitter.com/2BYeGx3EGQ

— Minnesota AFL-CIO (@MNAFLCIO) April 9, 2020
Stats Watch
At reader request, I added some business stats back in. Please give Econintersect click-throughs; they're a good, old-school blog that covers more than stats. If anybody knows of other aggregators, please contact me at the email address below.
Consumer Price Index: "March 2020 CPI: Year-over-Year Inflation Rate Slows to 1.5%" [Econintersect]. "The index for energy was the reason for the decline of the CPI-U. Medical care services cost inflation increased from 5.3 % to 5.5 % year-over-year."
Rail: "Rail Week Ending 04 April 2020 – Rail Decline Magnitude Not Seen Since The Great Recession" [Econintersect]. "The big decline this week continues to be intermodal (trucks and containers on flatcars) which accounts for half of the rail traffic, Intermodal continues under 2013 levels. Whilst container exports from China are now recovering, container exports from the U.S. continues to slow. The rate of growth of rail had been improving before the coronavirus (even though it was in contraction) – and now the coronavirus is driving rail deeper into contraction. The effects of coronavirus will continue to slow rail."
Honey for the Bears: "03 April 2020 ECRI's WLI Growth Rate Now At Record Lows" [Econintersect]. "Please note that the coronavirus is a black swan event and the decline likely is more immediate and not lagging off six months as one would expect. We are in a recession and just waiting for the NBER to declare it. Hopefully it will be decided quicker than the Great Recession which took one year."
Honey for the Bears: "U.S. Recession Model at 100% Confirms Downturn Is Already Here" [Bloomberg]. "The novel coronavirus has spurred what will likely be the worst recession in generations as the U.S. economy grinds to a halt and millions lose their jobs…. Bloomberg Economics created a model last year to determine America's recession odds. The chance of a recession now stands at 100%, confirming an end to the nation's longest-running expansion." • Maybe Obama rebooting the system in 2009 instead of upgrading it wasn't the greatest idea. But here we are!
* * *
Shipping: "Substituting cargo for passengers becomes mainstream business for airlines" [American Shipper]. "What started out a month ago as a niche, experimental business — turning passenger aircraft into dedicated freighters for cargo customers — has exploded in popularity and become a driver of sorely needed revenue for airlines….. Demand for repurposed passenger jets has been so high that Lufthansa Airlines says it will even remove seats from four aircraft to make room for more cargo….. The coronavirus pandemic and widespread travel restrictions caused passenger travel to crater, forcing airlines to ground up to 90% of their fleets to control costs. About 30% to 40% of global cargo capacity immediately disappeared because passenger bellies are extensively used to haul cargo and mail. That created a shortage of space because there are not enough full freighters to make up the loss, especially with huge demand to move medical supplies."
The Bezzle: "Self-driving car LIDAR stalwart Velodyne sued for sacking a third of its staff claiming coronavirus was the cause" [The Register]. "A key maker of Light Detection and Ranging (LIDAR) sensors for self-driving cars unlawfully terminated more than 140 of its employees to shift jobs offshore, a lawsuit claims. Velodyne Lidar fired more than 33 per cent of its staff working at its headquarters based in San Jose, USA, we're told. The layoffs came as a shock to more than 140 of its employees, who were only given one day's notice, it is claimed."
Travel: "Coronavirus Is Spreading and Cruise Ships Are Still Sailing" [Bloomberg]. "The cruise industry is underwater after ocean liners carrying thousands of passengers became some of the earliest and most high-profile spreaders of the novel coronavirus. At least a half-dozen ships are still at sea with passengers and crew on board as cruise lines navigate long trips back to port and struggle to find ports willing to let them dock." • With map.
Travel: "CDC Extends 'No Sail Order' for All Cruise Ships by At Least 100 Days" [Bloomberg]. "The Centers for Disease Control and Prevention extended its "No Sail Order" for all cruise ships by at least 100 days — or until Covid-19 is no longer considered a public health emergency. The CDC said there are 100 cruise ships at sea off U.S. coasts, with 80,000 crew members on board. Twenty ships at port or anchorage in the U.S. have known or suspected Covid-19 among crew, according to the agency's statement Thursday…. The companies, led by industry giant Carnival Corp., have turned to financial markets to raise billions to wait out the pandemic. But Carnival estimates it has liquidity needs of about $1 billion for each month it doesn't sail."
The Fed: "Fed Bets Trillions In SMB Lending That Consumers Will Return" [PYMNTS.COM]. "It stands to reason that individuals and families will seek, in the absence of steady cash flow — or beset by worries that, as the economy does rebound, the foundation may be shaky — to pull back on spending. And in that scenario, the hundreds of billions of dollars in lending may not be enough for us to truly emerge from the economic devastation of COVID-19."
* * *
Today's Fear & Greed Index: 43 Fear (previous close: 31 Extreme Fear) [CNN]. One week ago: 21 (Extreme Fear). (0 is Extreme Fear; 100 is Extreme Greed). Last updated Apr 9 at 5:15pm.
The Biosphere
"How to Fix a Failing Global Effort" [Foreign Affairs]. "Climate change is the major environmental challenge facing nations today, and it is increasingly viewed as one of the central issues in international relations. Yet governments have used a flawed architecture in their attempts to forge treaties to counter it. The key agreements, the 1997 Kyoto Protocol and the 2015 Paris climate accord, have relied on voluntary arrangements, which induce free-riding that undermines any agreement. States need to reconceptualize climate agreements and replace the current flawed model with an alternative that has a different incentive structure—what I would call the "Climate Club." Nations can overcome the syndrome of free-riding in international climate agreements if they adopt the club model and include penalties for nations that do not participate. Otherwise, the global effort to curb climate change is sure to fail….. There are two key features of the Climate Club that would distinguish it from previous efforts. The first is that participating countries would agree to undertake harmonized emission reductions designed to meet a climate objective (such as a two-degree temperature limit). The second and critical difference is that nations that do not participate or do not meet their obligations would incur penalties." • This is important and interesting. Readers?
"The projected timing of abrupt ecological disruption from climate change" [Nature]. "Here we use annual projections (from 1850 to 2100) of temperature and precipitation across the ranges of more than 30,000 marine and terrestrial species to estimate the timing of their exposure to potentially dangerous climate conditions. We project that future disruption of ecological assemblages as a result of climate change will be abrupt, because within any given ecological assemblage the exposure of most species to climate conditions beyond their realized niche limits occurs almost simultaneously. Under a high-emissions scenario (representative concentration pathway (RCP) 8.5), such abrupt exposure events begin before 2030 in tropical oceans and spread to tropical forests and higher latitudes by 2050."
"A poor substitute for the real thing: captive-reared monarch butterflies are weaker, paler and have less elongated wings than wild migrants" [The Royal Society Biology Letters]. "The monarch in North America undertakes an extremely arduous migration each autumn, attempting to reach distant overwintering colonies, either in central Mexico or on the California coast, in a journey lasting two months…. Despite warnings from monarch conservation groups [1], a growing number of citizens have taken it upon themselves to rear monarchs in captivity, sometimes in large numbers, in an effort to 'boost' the monarch population. Monarchs are also commercially reared for release at weddings and festive events, and these releases are typically promoted as helping the population. While these efforts may be well intentioned, new research shows how monarchs reared in artificial conditions have trouble orienting properly during their autumn migration [2]. Other new work showed bouts of handling leads to physiological stress in developing monarchs [3], which may occur repeatedly during rearing activities. These surprising results highlight how little is known about the effects of captive rearing on monarch development, and given the growing popularity of rearing by hobbyists and commercial breeders, speak to the immediate need for further study."
"Stone Age String Strengthens Case for Neandertal Smarts" [Scientific American]. "Fibers twisted together to form string might not sound like bleeding-edge technology. But with string, or cordage, one can make bags, nets, rope and clothing. We use it to lace our shoes, floss our teeth, suspend bridges, transmit electrical power—the list goes on and on. Naturally, archaeologists have been eager to trace the origins of this pivotal innovation. But doing so is a difficult business because ancient string was made from perishable materials that have mostly been lost to time. Now archaeologists who have been excavating a rock shelter in France have recovered a fragment of string that could push back the known record of this technology by tens of thousands of years. What is more, the artifact appears to be the handiwork of Neandertals, adding to mounting evidence that our extinct cousins were cleverer than they have been given credit for."
"A website about the U.S. electricity grid offers a mesmerizing way to pass the time productively" [Yale Climate Connectionds]. Here it is. There's a fun animation that shows demand over the grid over time. Play with it! For example: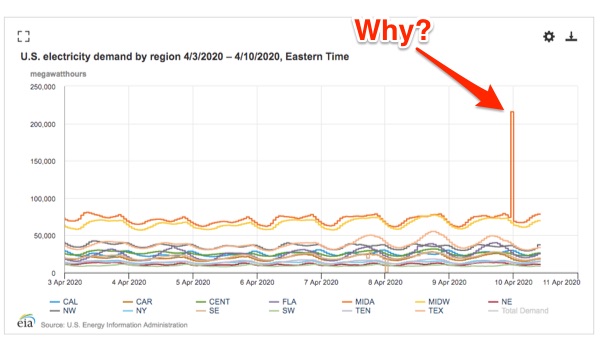 What's that enormous spike in the Midatlantic region? I did a cursory search and found nothing. Any grid mavens in the house?
Health Care
"Keeping Hospital Billing Systems Healthy In A Pandemic" [PYMNTS.COM]. Obviously our first concern. "'Elective procedures have been postponed and account for almost 75 percent of [providers'] profitability,' Talaga said. 'That is immediately having an impact on their cash flow, and as I have talked to several of our customers, they're expecting an impact of at least 30 percent on revenue overall for the year. So, they are getting very creative with different ways that they can prepare for not only the immediate loss but also the long term because this is not just going to fix itself as soon as this is over.'" • So I guess the "return to normal" will include a lots of surprise billing, plenty of upselling, even more testing, and a metric f*clkton of cosmetic surgery? After all, how else can we keep the adminstrators well-paid, and build out that new room with the snooker tables in the lounge and all the private suites? (See here in hospital capital budgets.)
"Social scientists scramble to study pandemic, in real time" [Science]. "For some researchers, the pandemic has created an unexpected opportunity to run "natural experiments." Unlike physicists or biologists, social scientists are frequently constrained from using controlled experiments to test hypotheses. No university, for instance, would approve an experiment that involved firing one group of workers and seeing how they fare compared with their still-employed colleagues. But interventions such as natural disasters—or a pandemic—can help create such experiments, if a researcher is ready to take advantage."
Our Famously Free Press
I was not familiar with the Yglesias Cycle:
The Yglesias Cycle reminds us of the importance of not averaging bad opinions over time pic.twitter.com/KAMXD79P2V

— Oedipa Maas (@bridgietherease) July 13, 2017
I'm wondering if there is a Klein cycle?
Feral Hog Watch
"'Super Pigs' Weighing 600 Pounds Wreak Havoc Across Canada — And Build 'Pigloos' To Survive The Winter" [Alll That's Interesting (dk)]. "About 30 years ago, Canadian farmers released hogs into the wild as the meat market slowed… [D]escendants of those boars have since bred with domestic pigs — and are now wreaking environmental havoc on the country's crops, wildlife, and grasslands…. The wild and domestic traits they've inherited gave them both a tolerance for extreme cold and the ability to birth large litters…. Perhaps most stunning is their size — [wildlife researcher with the University of Saskatchewan Ryan Brook] and his colleagues captured at least one hog that weighed more than 600 pounds…. They've even begun to build shelters above ground, since dubbed 'pigloos' by experts. As such, wildlife researcher with the University of Saskatchewan Ryan Brook has decided to aptly dub this generation as 'super pigs.'" • All they need are opposable thumbs…
Class Warfare
"How Not to Tackle COVID-19: Butler's Anticapitalism" [Nonsite]. "In a recent blog post, Judith Butler inveighs against Trump's America First jingoism and his 'unethical or criminal self-aggrandizement' during the COVID-19 crisis. … Butler now uses terms that she has largely avoided throughout a long and distinguished career: 'market-driven,' 'capitalism,' 'inequality.' This is good to see. 'Capitalism Has its Limits,' her title declares. And yet, the author's fretting and fidgeting suggests a profound discomfort with these basic terms—and a desire to redefine, domesticate, and pacify them. The fidgeting is evident on many fronts. It takes a certain amount of intellectual heavy-lifting, for example, to reduce capitalism to one of many -isms that might equally reduce one's life chances or access to healthcare. (Although not, apparently, as much as you might think, since everyone on the neoliberal left does it all the time.) Butler is thus careful to invoke 'nationalism, white supremacy, violence against women, queer, and trans people, and capitalist exploitation' as coequal factors in 'radical inequality.' This ritual invocation—plus the pivot from exploitation to discrimination ('The virus alone does not discriminate, but we humans surely do, formed and animated as we are by the interlocking powers of nationalism, racism, xenophobia, and capitalism'—serves to ward off charges of vulgar Marxism, no doubt, and to keep the narrative securely within the bounds of academic and foundation liberalism. (Establishment liberalism denounces inequalities so long as they can be traced to prejudice and discrimination; about exploitation and class inequalities it has much less to say.)"
"LEE CAMP: Four Reasons the Ruling Elite Love This Crisis" [Consortium News]. "Because our ruling elite fit in the farthest reaches of the sociopath spectrum, they do not see a horrific crisis as a time to help people. They see it as a time to get what they want." • Adaptive behavior. For example:
The US system distilled into an easy to read graphic. pic.twitter.com/wXLbJgfndU

— jeremy scahill (@jeremyscahill) April 10, 2020
News of the Wired
"Systems that defy detailed understanding" [Nel Hage]. For example, "Big Balls of Mud." "When a system gets big enough fast enough, with a large enough team and under lots of competing product pressures, it risks losing nearly all internal logic and guarantees."
He's not wrong:
Can Dr. Fauci recommend no shoes indoors next? It's long overdue.

— T.K. of AAK! (@AskAKorean) April 9, 2020
* * *
Readers, feel free to contact me at lambert [UNDERSCORE] strether [DOT] corrente [AT] yahoo [DOT] com, with (a) links, and even better (b) sources I should curate regularly, (c) how to send me a check if you are allergic to PayPal, and (d) to find out how to send me images of plants. Vegetables are fine! Fungi and coral are deemed to be honorary plants! If you want your handle to appear as a credit, please place it at the start of your mail in parentheses: (thus). Otherwise, I will anonymize by using your initials. See the previous Water Cooler (with plant)
here
. Today's plant (TH):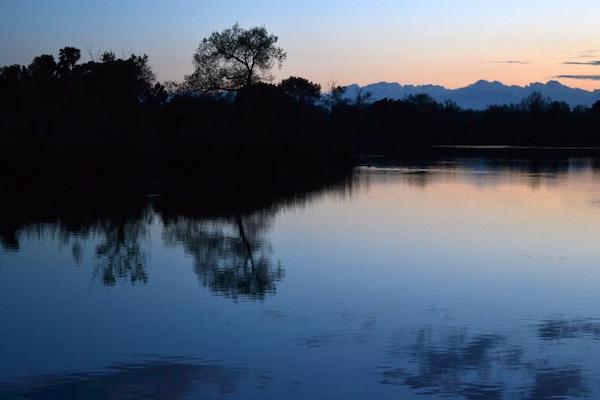 TH writes: "This was taken in the early morning at the Ken Malloy Regional Harbor Park (could that name be any longer?) in Harbor City, California. The park is quite near the Los Angeles Harbor College which is one of my library jobs, so I stop here when I've arrived at the area early and have a few minutes. Not exactly a plant photo—I'm counting it as such for the silhouette of that tree." Oh, I don't know. It's not the tree's fault there's all that reflective material about. I'd want to dig into those shadows in post, though.
* * *
Readers: Water Cooler is a standalone entity not covered by the annual NC fundraiser. So if you see a link you especially like, or an item you wouldn't see anywhere else, please do not hesitate to express your appreciation in tangible form. Remember, a tip jar is for tipping! Regular positive feedback both makes me feel good and lets me know I'm on the right track with coverage. When I get no donations for five or ten days I get worried. More tangibly, a constant trickle of donations helps me with expenses, and I factor in that trickle when setting fundraising goals:
Here is the screen that will appear, which I have helpfully annotated.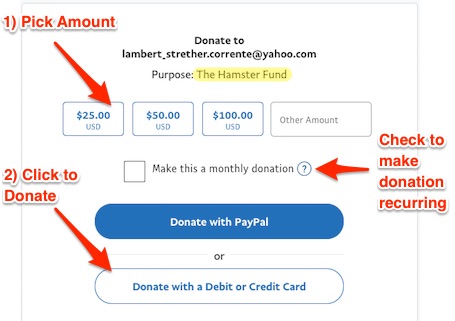 If you hate PayPal, you can email me at lambert [UNDERSCORE] strether [DOT] corrente [AT] yahoo [DOT] com, and I will give you directions on how to send a check. Thank you!