By Lambert Strether of Corrente.
#COVID-19
At reader request, I've added this daily chart: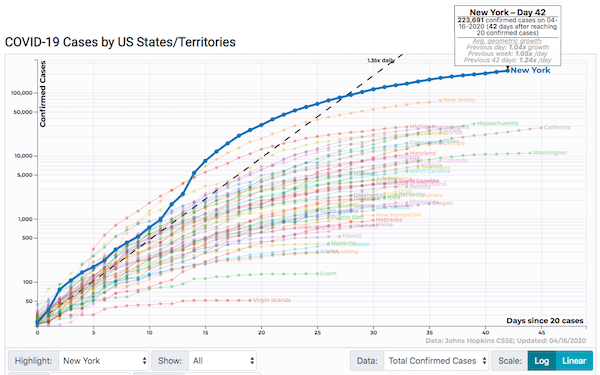 "But the number of new cases in the state seems to have reached a plateau, and Gov. Andrew M. Cuomo has said, 'I believe the worst is over if we continue to be smart.'" [New York Times]. • This curve hasn't gone flat though….
The data is the John Hopkins CSSE data. Here is the site. I have changed to a logarithmic scale for US States and territories, adjusted for population. See Vice, "How to Read the Coronavirus Graphs":
Quantities that grow exponentially, when depicted on a linear scale, look like curves that bend sharply upward, with the curve getting constantly steeper. On a log scale, exponentially growing values can be depicted with straight diagonal lines.

That's the beauty of plotting things on log scales. Plots are meant to make things easy to understand, and we humans are much more adept at understanding linear, straight-line behavior. Log plots enable us to grasp exponential behavior by transferring the complexity of constantly steepening curves into the simplicity of an exponentially increasing scale.

On a log scale, we want to constantly be making the line more and more horizontal. The general concept of "flattening" is still a good one, but it's never going to curve down. And so what we should be looking, and hoping for is a trend toward horizontal.
I hope this change is helpful. One also notices at once that the New York and New Jersey metroplexes stand out.
Politics
"But what is government itself, but the greatest of all reflections on human nature?" –James Madison, Federalist 51
"They had one weapon left and both knew it: treachery." –Frank Herbert, Dune
"They had learned nothing, and forgotten nothing." –Charles Maurice de Talleyrand-Périgord
* * *
2020
* * *

* * *

Biden (D)(1): "Joe Biden Needs to Start Acting Like a Presidential Candidate" [The Nation]. "Donald Trump goes on Twitter and television every day and promises Americans miracle cures and a stimulus check with his name on it. He holds court while sitting on a throne figuratively composed of the dead bodies of the victims of his administration's ineffective response to the pandemic. And all Biden can come up with in response to this flagrant failure of governance is a 940-word essay in The New York Times. Maybe next week Biden can write a cartoon caption for The New Yorker so we know he still has a pulse." • Yeah, it sure is odd.

Biden (D)(2): "Michelle Obama to lend star power to Biden" [The Hill]. "The trick for Michelle Obama and the Biden campaign is finding the right balance for the pop culture icon, who could be a massive asset for the campaign but has never shown much enthusiasm for campaign politics… Political observers say the Obamas provide the one-two punch Biden needs to help rally Democrats as he seeks to address an enthusiasm gap against President Trump…. The most natural spot for Obama could be on the voter registration side, where she launched a group in 2018 called "When We All Vote," along with Tom Hanks, Lin-Manuel Miranda, Janelle Monáe, Chris Paul, Faith Hill and Tim McGraw. She will lead a virtual event for the group on Monday as part of an effort to encourage voters to take advantage of mail and absentee balloting during the coronavirus pandemic." • Of course, if voter registration were a priority for Democrats, it would be a core party function. Maybe bring in some of those voters Sanders was trying to reach, eh?

Biiden (D)(3): "Biden campaign's selection of preferred super PAC stokes strife in Democratic Party" [WaPo]. "Joe Biden's campaign signaled to donors this week that Priorities USA would be its main big-money partner for the general election — a move that has alarmed some of Biden's ardent backers, who fear the campaign has given outsize influence to a super PAC that many donors associate with the party's loss in 2016…. At stake are hundreds of millions of dollars in independent spending for Biden by super PACs and politically active nonprofits that can raise and spend unlimited sums to try to influence elections." • Priorities USA supported Obama in 2012, Clinton in 2016, is rife with Clintonites, and focuses on big donors (they, I assume, are the "priorities" mentioned). So I guess Biden won't be running a small donor campaign?

Biden (D)(4): "Joe Biden can't beat Donald Trump or restore decency" [USA Today]. "Though he's branded as the affable 'Uncle Joe,' his policy record and personal temperament are far from decent. And while conventional wisdom holds that 'moderate' equals 'electable,' there's nothing particularly safe about him, either. In 2016, Democrats ran the candidate with a perfect résumé and party credentials. She lost to a far-right game show host. Biden has every liability Hillary Clinton had and then some. His Iraq War vote, ties to the financial sector, scandals involving his son and brother — these issues got little attention from the liberal press during the primary, but Trump and the conservative media will give no quarter. Biden's one advantage over Clinton — his folksy charm — has been eroded by age. Last fall, pundits and politicians alluded to him 'losing a step.' Sen. Cory Booker, D-N.J., said at the time that he wasn't sure whether Biden could get 'the ball over the (goal line) without fumbling.'" • A little unusual to see an editorial like this after a candidate's selection.

Biden (D)(5): "Joe Biden must pick a progressive black woman as VP if he wants to win" [Debbie HInes, The Hill]. "If Joe Biden expects to win the presidential election, he must import some extreme vigor into what I perceive as an unexciting campaign and candidate… A winning formula would likely be the selection of Sen. Kamala Harris or Stacy Abrams as Biden's running mate. Those two have name recognition and the much-needed magnetism and charisma to carry the day for Joe Biden." • A cop or one of Neera Tanden's many hack. I'm feeling the energy right now.

Sanders (D)(1): "The Tyranny of Decorum" [David Sirota, TMI]. "Yes, it is true — a small group of us with many years of campaign experience pushed Bernie to sharply contrast his own progressive record with Biden's record of working with Republicans against the Democratic agenda. I've been on seven underdog challenger campaigns in my life, and won a few of them — this is campaigning 101: you contrast, or you lose. And with Biden, the contrast was particularly stark." • "Contrast" doesn't equal "scorched earth," no matter how much think-skinned liberal Democrat power brokers clutch their pearls and head for the fainting couch.

UPDATE Sanders (D)(2): "Bernie Sanders thinks the media cost him the nomination" [CNN]. "'I think what we saw from Nevada on out was a cry from the rooftops, from the political establishment, from the media that they wanted anybody but Bernie. Anybody but Bernie! My God, I don't know how many articles they were about, we need anybody but Bernie and, you know, they ended up succeeding. And that's that.' In just a few sentences, Sanders a) lumps the media in with the 'political establishment' as actors working to keep him from the nomination and b) lambastes the number of articles allegedly written seeking 'anybody but Bernie.'" • Where's the lie?

UPDATE Sanders (D)(3): "Sanders says Biden's sexual assault accuser 'has the right to make her claims and get a public hearing'" [The Week]. "Sanders was asked about [Tara Reade's] claims in a Thursday interview with CBS This Morning, partly because Rep. Alexandria Ocasio-Cortez (D-N.Y.), a prominent Sanders supporter, had recently said the allegations are relevant when it comes to deciding whether to vote for Biden. 'I think it's relevant to talk about anything. And I think every woman who feels she has been assaulted has every right in the world to stand up and make her claims,' Sanders said. 'The public will make their own conclusions about it,' Sanders continued, before saying 'I just don't know enough about it to comment further.'" • That should cause a little heartburn, I would think….

UPDATE Sanders (D)(4):

I support @seiu200united and TCGPlayer warehouse workers work to organize a union. Now more than ever, workers need a union contract to protect their wages, benefits, and safety on the job. https://t.co/N3FUldba2r

— Bernie Sanders (@BernieSanders) April 16, 2020

Good, but not enough. Fundraise for them!. Because that is what a working class movement would do.

UPDATE Sanders (D)(5): "Nina Turner reveals whether she will serve as Biden's Vice President":

Impressive.

UPDATE Trump (D)(1): "Donald Trump's Greatest Escape" [Politico]. "Trump has built an astonishingly consistent record of surviving crises, of dodging the comeuppance everyone assumes is coming his way, and then turning seeming calamity into his next great opportunity—and emerging not just intact but emboldened….. He dodged the "Access Hollywood" tape fiasco. He evaded the noose of impeachment over the Ukraine deal. Those might now seem minor compared to the challenge of trying to get reelected during a worldwide health crisis and a looming depression—but if one acknowledges that he has been training in some sense for this sort of a jam for the bulk of his adult existence, then this nightmarish predicament starts to look less like an uncrackable problem than a potential capstone accomplishment…. Trump's aghast critics see a president backed into a corner, desperate and unmanned, in a frantic, final freefall. But people who've watched him for years, who've witnessed the dizzying pivots, the great escapes, the gobsmacking victories in the face of arguably more unforgiving audiences than American voters—what they see is Trump deploying tools and tactics that have worked before and could work again." • "This time we've got him!" This is well worth a read, because it doesn't seem particularly embubbled (especially for Politico). We have — checks counter — 200 days 'til the election. That's not just a long time. That's an eternity.

Warren (D)(1): "The Case for Joe Biden to Pick Elizabeth Warren as His Running Mate" [The New Yorker]. "[Warren's selection] would help unify Democrats going into the fall… [T]he Democratic Party today is a fractious coalition, and much of its progressive wing, which plays a key role in mobilizing support at the local level, has little enthusiasm for Biden. In an interview with Politico on Wednesday, Representative Alexandria Ocasio-Cortez, who supported Sanders during the primary, called on Biden to choose a more progressive running mate who 'he knows may push him.' Picking Warren would address this issue…." • Picturing disaffected Sanders supporters — in between tabling for DSA — bringing big inflatable snakes to Warren rallies. I don't think so.

* * *

WI: Alert reader AH used the 91-DIVOC tool we've been using to look at the Wisconsin primary. A redrawn version of the chart he sent:

AH writes: "It's only a couple days, but given the data reporting lag and the incubation period it seems likely that the renewed uptick in new cases per day is likely a post primary day contagion surge." So Biden, who urged voters to the polls, would be in part responsible for the uptick (which, mind you, is not necessarily due to voters, but to innocent bystanders they infected).
Realignment and Legitimacy
WTF @jack:

"OnPolitics: It isn't really politics as usual" [USA Today]. "But the biggest news, albeit somewhat obvious, was President Barack Obama's announcement on Tuesday. Biden of course was Obama's vice president, but . With the last opponent, Sanders, exiting the race last week, Obama was free to speak out." • This is just so patently not true. Obama signaled an absolute lack of neutrality by standing up Perez.

"The Neutral Partisan Effects of Vote-by-Mail: Evidence from County-Level Roll-Outs" (PDF) [Daniel M. Thompson, Jennifer Wu, Jesse Yoder, and Andrew B. Hall, Democracy & Polarization Lab, Stanford University]. "In this paper, we provide a comprehensive design-based analysis of the effect of vote-by-mail on electoral outcomes. We collect data from 1996-2018 on all three U.S. states who implemented vote-by-mail in a staggered fashion across counties, allowing us to use a difference-in-differences design at the county level to estimate the causal effect of vote-by-mail programs. We find that: (1) vote-by-mail does not appear to affect either party's share of turnout; (2) vote-by-mail does not appear to increase either party's vote share; and (3) vote-by-mail modestly increases overall average turnout rates, in line with previous estimates. All three conclusions support the conventional wisdom of election administration experts and contradict many popular claims in the media."

"Suit claims Mecklenburg voting machines could leave voters vulnerable to COVID-19" [Charlotte Observer]. "North Carolina's NAACP has filed suit against election boards in Mecklenburg County and elsewhere, charging in part that new, touch screen voting machines risk exposing voters to COVID-19. The suit also says the ExpressVotemachines are 'insecure, unreliable, and unverifiable' and threaten 'the integrity of North Carolina's elections.' … The lawsuit also points to what it says is the particular risk the machines pose during the current health crisis. 'Using the ExpressVote is particularly perilous during the COVID-19 pandemic,' it says. "COVID-19 can be spread to many North Carolinians through contact with the touchscreen computer or other parts of the ExpressVote … using the (machine) will exacerbate the public health crisis and cause longer lines where more voters will be exposed to one another.' Mecklenburg Elections Director Michael Dickerson said his office is working with the state to ensure that voting is safe. 'There are ways to clean the equipment and, if you are using a disposable stylus, you can eliminate the human touch of the panels,' he said. 'Also, it is not only the voting panels but the check-in stations, poll book tables, entry and exit doors are all concerns that we will have to deal with." • These are ballot marking devices, and so the suit is correct: The vote cannot be audited.

UPDATE "House Democrats Come One Step Closer To Allowing Lawmaking From Home" [HuffPost]. "House Rules Committee Chairman Jim McGovern, a Massachusetts Democrat, formally unveiled a plan on Thursday to enable House members to cast votes from afar through in-person proxies. The plan, which has the blessing of House Speaker Nancy Pelosi (D-Calif.), marks House Democrats' first real step toward reactivating the legislative process after weeks of recess during which President Donald Trump has led the country's response to the COVID-19 pandemic. … While the proposal addresses McGovern and Pelosi's professed technological concerns about enabling digital voting from afar, the inherent limits it places on the legislative process disappoint some proponents of remote voting. Individual members of Congress would not be able to file motions or otherwise shape legislative debates. The need for remote members to make up their mind relatively far in advance might restrict their leverage over the process as well." • Sounds like one of those temporarily permanent things, since the members might like less accountability, and the leadership would have even more control. Also, no pesky reporters.
Stats Watch
At reader request, I added some business stats back in. Please give Econintersect click-throughs; they're a good, old-school blog that covers more than stats. If anybody knows of other aggregators, please contact me at the email address below.
Employment Situation: "The coronavirus has destroyed the job market in every state" [Bloomberg]. "The coronavirus outbreak made America's job market go from 60 to zero in the blink of an eye…. Diane Swonk, chief economist at the auditing firm Grant Thornton, said many laid-off workers have yet to file for benefits simply because state unemployment portals were not built for the wave of traffic they are now receiving. 'As bad as this is, it's still an undercount.' Swonk said." • With an interactive chart for all the states.
Rail: "Rail Week Ending 11 April 2020 – Rail Decline Continues" [Econintersect]. "Intermodal and carloads are under 2013 levels. Whilst container exports from China are now recovering, container exports from the U.S. continues to slow. The rate of growth of rail had been improving before the coronavirus (even though it was in contraction) – and now the coronavirus is driving rail deeper into contraction. The effects of coronavirus will continue to slow rail."
* * *
Money: "Why The War On Physical Cash Is A War On Freedom" (podcast) [Joe Weisenthal & Tracy Alloway, Odd Lots]. • This is a Blloomberg podcast, but Weisenthal and Alloway are fun.
Marketing: "Influencer Brands Are Staying (Scarily) Strong And Are Quickly Pivoting To Quarantine Sponcon" [Buzzfeed]. "Over the past week or so, I've noticed how seamlessly influencers and their sponsored partners have started to post quarantine or crisis-related things. It's impressive, and it's surreal…. Brands and influencers have also quickly realized how mutually beneficial it is for their consumers and their image to align themselves with (seemingly) doing public good." • I wouldn't say "surreal." I'd say "creepy." Perhaps I'm allergic to Instagram prose: ""It's your internet BFF Dani here and it's giveaway time!!!" There's no smiley-face for the dot of the "i" in "Dani," but I feel sure there would be, if that were technically feasible.
Commodities: "The Global Airline Shutdown Has a Surprise Victim: Gold Miners" [Bloomberg]. "A shutdown of the airline industry has made transporting gold in all forms more difficult, the World Gold Council's chief market strategist John Reade said last month. Difficulties in moving metal between trading hubs, and linking those markets with vaults and refineries has impacted prices, widening the spread between New York futures and London spot prices."
Commodities: "Fresh produce goes to waste as coronavirus wrecks supply chains" [The Hill]. "The Produce Marketing Association, an industry trade group, estimates that about $5 billion of fresh fruits and vegetables have already been wasted. 'I think what it demonstrates is that the food supply chain that we have set up now, it's not set up to pivot … quickly to address this kind of shock to the system,' Brian Ronholm, director of food policy at Consumer Reports, told The Hill. Produce Marketing Association CEO Cathy Burns said the wasted fruits and vegetables were planted months ago and that farmers are already starting to plan for the next harvest…"
Shipping: "The coronavirus crash in trade may trigger a new look at container shipping's drive toward megaships. The ultra-large vessels that were supposed to carry liner companies into a new era of efficiency-driven profitability have become a financial albatross during the pandemic… and some industry experts suggest carriers may have to reconsider whether scaling up remains a priority" [Wall Street Journal]. "Massive ships with capacity for 20,000 or more containers make it tough for operators to be flexible, and carriers are seeing the impact as they navigate today's caving demand."
The Bezzle: "Senators Accuse Airlines of Holding Billions in Customer Funds" [Bloomberg]. "Airlines in the U.S. that have halted flights are holding more than $10 billion in customer money while offering credits for future travel instead of cash refunds, a group of senators charged Friday." • Markey, Warren, Blumenthal.
Tech: "In case you need more proof the world's gone mad: Behold, Apple's $699 Mac Pro wheels" [Tech Register]. "In case you needed more proof that the world is in a very strange moment, Apple now sells a US$699 (£560) wheel kit for the Mac Pro. Apple recommends the wheels as "ideal for moving your Mac Pro quickly and easily without having to lift it". For this price we thought that perhaps Apple has reinvented the wheel…"
Fiscal Policy:
This week we released our COVID state stress tests and the results were sobering. Under @MoodysAnalytics baseline an unprecedented 21 states will need to cut >10% of their budgets in FY21. Some >25% #Muniland pic.twitter.com/TmDsAPFOZq

— Dan White (@DanWhiteEcon) April 17, 2020
Incidentally, this shows why single payer, even at the regional compact level, should still be handled only by a currency issuer.
Today's Fear & Greed Index: 44 Fear (previous close: 42 Neutral) [CNN]. One week ago: 42 (Fear). (0 is Extreme Fear; 100 is Extreme Greed). Last updated Apr 17 at 12:32pm.
The Biosphere
"'Tremendous Victory' For Wildlife: Federal Judge Invalidates Keystone XL Pipeline Permit" [HuffPo]. "A federal judge in Montana on Wednesday overturned a key water crossing permit needed to build the controversial Keystone XL pipeline, handing a major victory to environmental groups who said the oil network could imperil endangered species and threaten drinking water. Chief U.S. District Judge Brian Morris said in his decision that the Army Corps of Engineers had failed to consider how a 2017 permit allowing the pipeline to cross waterways could harm some species, including the endangered pallid sturgeon."
Health Care
"What Have Epidemiologists Learned About the Coronavirus?" (interview) [Justin Lessler, The New Yorker]. Lessler is a professor of epidemiology at the Johns Hopkins Bloomberg School of Public Health. "[T]ake the number of deaths in a place like New York. The population is over eight million people, and just over eight thousand people have died. [New York City recently revised its death count to more than ten thousand people.] If the death rate is one out of a hundred, that implies that eight hundred thousand people have been infected, which is reasonable. But if the mortality rate is one out of a thousand, that assumes that eight million people have been infected in New York City, which is everyone. So if you scale those up by too big of a factor, you quickly get to a point where it implies that an unrealistic percentage of the city has been infected. So that sort of puts an upper limit on that scenario." • The entire interview is worth a read, even if it does underline how little we know. (Mortality is also not merely a biological function, either.)
One despairs:
Laura Ingraham: "Many are willing to take the risk of contracting the virus" pic.twitter.com/woc5NLGfS3

— Andrew Lawrence (@ndrew_lawrence) April 16, 2020
You want to get infected? Knock yourself out! What none of these loons seem to understand is that the issue is infecting others. Especially since SARS-COVID-19 is highly infectious and spreads rapidly. The stupid! It b-u-r-r-r-r-n-n-n-n-s-s-s-s!!!!!!!!!!
"Coronavirus clue? Most cases aboard U.S. aircraft carrier are symptom-free" [Reuters]. "The Navy's testing of the entire 4,800-member crew of the [U.S. aircraft carrier Theodore Roosevelt] — which is about 94% complete — [shows that] roughly 60 percent of the over 600 sailors who tested positive so far have not shown symptoms of COVID-19…. 'With regard to COVID-19, we're learning that stealth in the form of asymptomatic transmission is this adversary's secret power,' said Rear Admiral Bruce Gillingham, surgeon general of the Navy…. The figure is higher than the 25% to 50% range offered on April 5 by Dr. Anthony Fauci." • Again, though, a closed environment, I would imagine with a lot of air conditioning.
SARS-COV-19 and transport network:
…And here's a map of U.S. "megaregions" used by the U.S. Department of Transportation for planning purposes. pic.twitter.com/prmpwD2609

— Mark Miller (@markdmiller2) April 16, 2020
Class Warfare
Amazon workers:
THREAD/ Our virtual panel event today with warehouse workers and @NaomiAKlein was a hit! Nearly 400 Amazon tech workers tuned in despite Amazon's efforts to censor us and block access to the event. Here's our press release about the event: pic.twitter.com/aMLhyvGgQK

— Amazon Employees For Climate Justice (@AMZNforClimate) April 17, 2020
Well, er:
the cognitive dissonance between 4,591 US virus deaths in a single day and escalating demands for the economy to "re-open" is resolved once you realize that for liberal empire opening markets has always meant mass death

— inverted vibe curve: futurist edition (@PatBlanchfield) April 17, 2020
"I've Got the Light of Freedom" (review) [Joe Costello, SSRN]. "Immersed in our degraded political culture today, a person finds it difficult to appreciate only fifty years ago the United States experienced one of the great democratic movements of world history. Payne's book records some of the thinking, discussions, and actions of the multitudes of people across the small towns and communities of the South, who came together and seized their democratic rights. Most essentially, the book offers lessons in the processes of democratic organizing, a necessary first step to reviving, reforming, and evolving democracy in America."
News of the Wired
"When time stops" [Damon Linker, The Week]. "Amidst the pervasive anxiety about illness and economic hardship, it can be easy to miss somewhat subtler forms of distress — like the sense that time itself is coming unwound, with forward motion halted… A life without forward momentum is to a considerable extent a life without purpose — or at least the kind of purpose that lifts our spirits and enlivens our steps as we traverse time. Without the momentum and purpose, we flounder. A present without a future is a life that feels less worth living, because it's a life haunted by a shadow of futility." • Being almost entirely inner-directed, and with the technical capacity to do what I care about most when isolated, this doesn't really speak to me. But I can see how children, and people with children, would feel this form of distress acutely.
* * *
Readers, feel free to contact me at lambert [UNDERSCORE] strether [DOT] corrente [AT] yahoo [DOT] com, with (a) links, and even better (b) sources I should curate regularly, (c) how to send me a check if you are allergic to PayPal, and (d) to find out how to send me images of plants. Vegetables are fine! Fungi and coral are deemed to be honorary plants! If you want your handle to appear as a credit, please place it at the start of your mail in parentheses: (thus). Otherwise, I will anonymize by using your initials. See the previous Water Cooler (with plant)
here
. Today's plant (TH):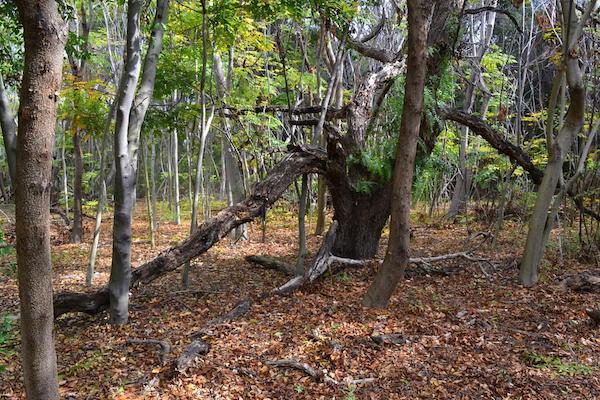 TH writes: "If I were a kid I would SOOOO be climbing this tree. El Dorado Park in Long Beach, CA." Me too!
* * *
Readers
: Water Cooler is a standalone entity
not
covered by the annual NC fundraiser. So if you see a link you especially like, or an item you wouldn't see anywhere else, please do not hesitate to express your appreciation in tangible form. Remember, a tip jar is for tipping!
Regular positive feedback both makes me feel good and lets me know I'm on the right track with coverage
. When I get no donations for five or ten days I get worried. More tangibly, a constant trickle of donations helps me with expenses, and I factor in that trickle when setting fundraising goals:
Here is the screen that will appear, which I have helpfully annotated.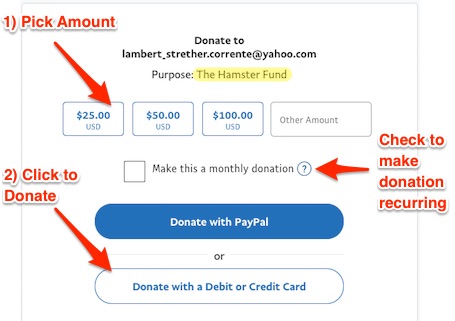 If you hate PayPal, you can email me at lambert [UNDERSCORE] strether [DOT] corrente [AT] yahoo [DOT] com, and I will give you directions on how to send a check. Thank you!