By Lambert Strether of Corrente.
#COVID-19
At reader request, I've added this daily chart: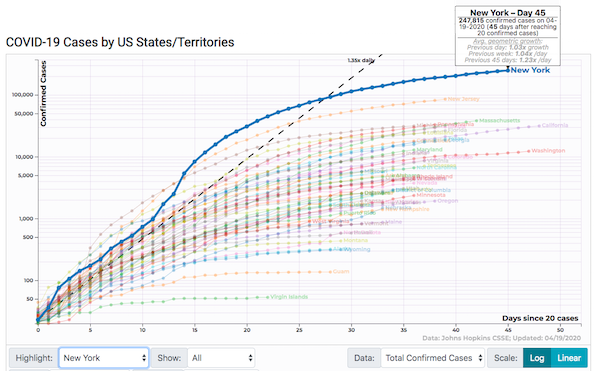 The data is the John Hopkins CSSE data. Here is the site. I have changed to a logarithmic scale for US States and territories, adjusted for population.
New Yorlk's curve is still not flat. I think triumphalism is premature. And have we reached a peak? Or a plateau? Thread:
A depressing precedent: Washington state, the first to get infected, has never really managed to bend its curve. It looked like infections were falling, but…nope. Bounced right back up. https://t.co/2vz14ebp03 pic.twitter.com/c94FpLPsb6

— We need #TestAndTrace ? (@Noahpinion) April 20, 2020
* * *
See Vice, "How to Read the Coronavirus Graphs":
Quantities that grow exponentially, when depicted on a linear scale, look like curves that bend sharply upward, with the curve getting constantly steeper. On a log scale, exponentially growing values can be depicted with straight diagonal lines.

That's the beauty of plotting things on log scales. Plots are meant to make things easy to understand, and we humans are much more adept at understanding linear, straight-line behavior. Log plots enable us to grasp exponential behavior by transferring the complexity of constantly steepening curves into the simplicity of an exponentially increasing scale.

On a log scale, we want to constantly be making the line more and more horizontal. The general concept of "flattening" is still a good one, but it's never going to curve down. And so what we should be looking, and hoping for is a trend toward horizontal.
Trade
"U.S. Delays Some Tariff Payments, Leaves China Levies in Place" [Bloomberg]. "The U.S. will allow companies to defer paying tariffs on many imported goods for 90 days, a move aimed at freeing up cash for pandemic-hit employers while leaving punitive measures against China and other nations intact. 'This will protect American jobs and help these businesses get through this time,' Treasury Secretary Steven Mnuchin said in a statement. The deferral doesn't apply to anti-dumping or countervailing duties, or so-called Section 201, 232 or 301 tariffs. So it won't ease President Donald Trump's punitive import taxes on Chinese goods, on steel and aluminum, or those tied to enforcement actions he took including against Airbus SE." • "Defer"… So when and if the recovery comes, the first thing people need to do is pay off debts? I dunno….
Politics
"But what is government itself, but the greatest of all reflections on human nature?" –James Madison, Federalist 51
"They had one weapon left and both knew it: treachery." –Frank Herbert, Dune
"They had learned nothing, and forgotten nothing." –Charles Maurice de Talleyrand-Périgord
* * *
2020
Lambert here: I will have more on 2020 in a bit, but honestly I could just stop with this:

— Donald J. Trump (@realDonaldTrump) April 20, 2020

28 seconds of mayhem (though I'm not sure what the music at the end communicates).

* * *

Biden (D)(1): "Could a closed archive hold answers on Biden sexual misconduct claim?" [Washington Examiner]. "Tara Reade, the woman who accused Joe Biden of sexually assaulting her, suspects that a key document about some of her claims — a complaint she filed to a Senate office about his behavior — may lie in his personal documents stored at the University of Delaware. A thorough review of the archive could boost Biden's claim to innocence, while a copy of the complaint or other documentation could also corroborate some of Reade's claims. Those protecting the records, however, have made either scenario impossible. Biden's archive, donated by him to the university in 2011, was expected to be made public sometime in 2019. But the university announced last year that the collection will be sealed from the public until two years after Biden "retires from public life" or two years after Dec. 31, 2019, whichever is later. The university refuses to reveal information about the records gift agreement from Biden to the university." • Odd. To be fair, the document might have been destroyed, because Senate record-keeping before the Congressional Accountability Act in 1995 was sloppy. Nevertheless…

Biden (D)(2): "Democrats lay out rebuttal to Trump attacks on Biden over China" [Axios]. "The DNC's War Room writes in the memo that it's an understatement to call Trump weak on China and that he 'rolled over in a way that has been catastrophic for our country' and 'put himself and his political fortunes first.'" • A race to the bottom on who "lost China." What could go wrong?

Biden (D)(3): Austerity, here we come!

Joe Biden held a virtual fundraiser tonight co-hosted by Erskine Bowles, the former chief of staff to Bill Clinton and namesake of the Bowles-Simpson commission on deficit reduction.

— Sahil Kapur (@sahilkapur) April 18, 2020

Sanders (D)(1): "Bernie's backers need to see sense" [Juan Williams, The Hill]. "Like soldiers hiding in the hills, shooting at shadows long after the war is over, these dissident Democrats are mostly a threat to themselves." • So you don't need their votes then?

Sanders (D)(2): "How Sanders Was 'Russia-gated' Out of the 2020 Race" [Michael Tracey, RealClearPolitics]. "At 4:16 p.m. Eastern time on Feb. 21, word leaked to the Washington Post that Russia was 'trying to help' the Sanders campaign…. Throughout the Trump era, a supermajority of self-described Democrats have expressed the belief that Russia "tampered with vote tallies in order to get Donald Trump elected president" in 2016. Not just lightly interfered with some small-scale social media chicanery, mind you, but literally hacked the nation's election infrastructure to put Trump in the White House. Which is of course demonstrably false, but still widely believed by Democrats….. So the Democratic electorate had been primed after several emotionally intense, paranoia-inducing years to view all Russia-related news in the most alarmist possible light. If you want to "trigger" an MSNBC-watching liberal of a certain age, simply say "Russia." It's within this frenzied context that the Russia-gating of Bernie Sanders, who at the time was seeking votes of inordinately energized, media-attuned Democratic Primary voters, must be understood. The Washington Post article was published just hours before the Nevada caucuses…. in that pivotal 12-day period — from Feb. 21, the day the "Russian interference" story first began circulating, through to the South Carolina primary on Feb. 29 and culminating on the Super Tuesday primaries of March 3 — one of the factors influencing Democratic primary voters' perceptions of Sanders was that he was being helped by Russia. Sanders' decision to meekly accept this ridiculous narrative, instead of refuting it, was time he never got back." • If there's data to support this not implausible thesis, I don't recall it. Readers?

Sanders (D)(3): "An Early Look At Who Bernie Sanders Wants To Join Joe Biden's Policy Task Forces" [HuffPo]. "HuffPost obtained a preliminary list of some of the people Sanders is considering. Everything is still in early stages, and the two campaigns have been negotiating who will be in these six policy groups and how big the groups will be. The list includes progressive policy experts who heavily influenced Sanders' campaign platform over the last year, such as Darrick Hamilton, The Ohio State University economist who has become one of the leading academics on the racial wealth gap in the United States, and Stephanie Kelton, an economist at Stony Brook University who has championed Modern Monetary Theory — the idea that governments can never run out of money, and that deficit spending on major domestic programs would lead to economic growth. Though not exhaustive, some other names on the Sanders campaign's early list include Heather Boushey, an inequality expert with the Washington Center for Equitable Growth; Emmanuel Saez and Gabriel Zucman, two leading economists in the world of wealth inequality and progressive taxation; Jeffrey Sachs, who runs Columbia University's Center for Sustainable Development; Josh Bivens, an economist with progressive think tank Economic Policy Institute; Daniel Kammen, who runs the Renewable and Appropriate Energy Lab at University of California, Berkeley; Tara Raghuveer, an affordable housing activist who runs the Kansas City Tenants group; and Bonnie Castillo, the executive director with the National Nurses Union. Faiz Shakir, Sanders' campaign manager who has been negotiating with the Biden campaign for weeks, would not confirm that the campaign was considering these individuals. These task forces are not yet finalized and could consist of a mix of campaign staff and outside experts. HuffPost reached out to every person on the preliminary list. Sachs and Kammen said they had not heard from either campaign. Boushey and Kelton declined to comment. The others did not respond." • Not as horrid as I expected. Though I'm not seeing mention of foreign policy, or the pandemic, which might lead one to believe the Biden campaign is going to be more horrid on both those topics than we could possibly imagine.

Sanders (D)(4): "Sanders asks for donations to reelect members of 'The Squad'" [The Hill]. • Sure, I like the squad. But that the Sanders list is not being used to support strikers verges on dereliction of during, particularly for a putativelly working class movement, and at a time when electoralism, as a strategy, has some 'splainin' to do.

Trump (R)(1): "The health vs. wealth election" [The Week]. "Trump is in a very good position here, rhetorically speaking. The president will try to argue that his prudent leadership saved millions of Americans from the threat of a deadly virus and that a corrupt expert class and their allies in the media and the Democratic Party bankrupted the country over something slightly less bad than the 2018 flu season. How can he possibly say both, you ask? Pshaw. This is what Trump always does. He was impeached, you might recall, for attempting to use millions of dollars in leverage available to him to investigate the activities of the Bidens in

Ukraine, which is totally within the purview of his authority as president — and for demanding absolutely nothing during a 'perfect phone call.' The amazing thing is that half the country will agree with him."

* * *

UPDATE "Ocasio-Cortez Welcomes Business Opposition to Her Re-Election" [Bloomberg]. ""There is a lot of Wall Street interest in unseating a member that holds Wall Street accountable," Ocasio-Cortez said in an online interview with Politico. 'Sometimes you are defined by your friends and sometimes you are defined by the people who come after you.' Ocasio-Cortez has raised $2.7 million for her re-election in the last quarter, according to Federal Election Commission filings. Caruso-Cabrera's campaign told the New York Post she has raised $1 million during the same period…. Ocasio-Cortez said her staff is in talks with former Vice President Joe Biden's team about endorsing his presidential bid, and that she is seeking commitments from him on climate change, immigration, health care and support for Puerto Rico." • As I have said consistently from the begining, I hope that AOC's constituent services organization is top-notch; we've had one field report at NC that it is. Readers?

UPDATE "Brooklyn Machine Pushing for In-Person Hearings Against Insurgent" [The Intercept]. "Nurse, who entered the race in February, is caught in a wave of confusion surrounding the number of signatures required to get on the election ballot. While New York typically requires 450 signatures, the threshold was lowered to 270 in light of the pandemic. She collected 339 signatures ahead of the March 17 deadline, the same day Mayor Bill de Blasio began telling residents to prepare for potential shelter-in-place orders — but due to city procedures that govern special elections, it was unclear whether that lowered threshold applies to Nurse's election. Her campaign has asked the city and Cuomo to clarify the number of petition signatures required for her election. While she has not yet seen the specific claims in Zapata and Alvarado's petitions, she worries that changes in campaign procedures because of the coronavirus may get in the way of her candidacy." • More Third World stuff.

"Will the Pandemic Keep Third Parties Off the 2020 Ballot? [Politico]. "In 2016, the Libertarian Party was on the general election ballot in all 50 states; this year, it has secured ballot access in just 35. Similarly, the Green Party—which in 2016 had its best election ever by making the ballot in 44 states, with a further three states granting the party's candidate official write-in status—has qualified for the November ballot in only 22 states. Several of the elusive ballot lines are in states that in 2016 were either narrowly won or flipped from red-to-blue. At present, neither the Libertarian Party nor the Green Party has qualified for the ballot in Pennsylvania, Wisconsin, New Hampshire, Iowa or Minnesota. Additionally, the Green Party has not secured a place on the ballot in Arizona, Georgia or Nevada, and the Libertarian Party is missing from Maine. To get on the ballot in the remaining states, they need to collect and submit petition signatures. And in a normal year, they would be on track to do just that. But because of the deadly coronavirus—and the social distancing and stay-at-home orders to minimize its spread—after March 6, 'petitioning was over in the United States,' as Libertarian Party executive director Daniel Fishman told me." • Yikes.

At least Twitter restored Green Party presidential candidate Howie Hawkins' account:

We will be doing another Question and Answer Livestream on Tuesday (4/21) at 8:00 PM EST. Submit your questions at the link below and be sure to watch the stream to learn more about the Original Green New Dealer. https://t.co/mCTb4ZTEs9 pic.twitter.com/tcORh9rcBS

— Howie Hawkins (@HowieHawkins) April 19, 2020

"Surprising Poll Results: People Are Now Happy to Pick Up the Phone" [New York Times]. "But in an industry where rejection is a normal part of a day's work pollsters are finding that many people are suddenly willing, even grateful, to talk. In some cases they are treating the anonymous questioners as lifelines to the world, almost as therapists, in the absence of other people to talk to. Executives at a number of firms across the country said in interviews that not only are more people willing to answer the phone to unknown callers these days, but that those who do agree to be interviewed are more likely to stay through the end of the conversation. This has led to an increase in productivity rates of roughly 25 percent, they said — and to an unusual situation where some respondents actually thank the pollsters for getting in touch."

* * *

–>
Realignment and Legitimacy
"Guardians of Global Economy Come Up Short in Virus Battle" [Bloomberg]. "[C]ritics faulted the Group of 20 for failing to adopt for the rest of the world the all-out approach they've embraced to help their own countries. 'I had modest expectations, which they significantly disappointed,' former U.S. Treasury Secretary Lawrence Summers said. 'It's whatever it takes for us and crumbs off the table for the world.' There's a lot at stake. A timid G-20 response risks consigning the world to what former IMF Chief Economist Maury Obstfeld calls 'reservoirs of disease' and hindering a full-fledged global economic recovery — for wealthy nations and those less well off — from the deepest downturn since the Great Depression." • From what I can tell, the United States — Third World below the looters, lanyards, and letterheads — is well on track to becoming a "reservoir of disease." Not really compatible with its current role as Imperial hegemon.

"Dems' Health Insurer Bailout Follows Bundled Checks from the Industry's Lobbyists" [ReadSludge]. "So far in the 2019-20 election cycle, lobbyists who represent the health insurance industry have raised more than $736,000 for the Democratic Congressional Campaign Committee (DCCC), the campaign arm of House Democrats that works to protect incumbents against Republican and progressive challengers. The contributions from health insurance lobbyists make up nearly a third of all the bundled lobbyist contributions the DCCC has reported to the Federal Election Commission (FEC) this cycle, and many of the lobbyists have bundled checks for the DCCC in previous cycles as well." • This is all horrible. I wonder Pelosi, like former Representative William Jefferson, keeps any cash in her freezer….
Stats Watch
At reader request, I added some business stats back in. Please give Econintersect click-throughs; they're a good, old-school blog that covers more than stats. If anybody knows of other aggregators, please contact me at the email address below.
Honey for the Bears: "Another Recession Gauge Signals Longest U.S. Expansion Has Ended" [Bloomberg]. "Following a period of economic expansion, an increasing likelihood of a recession has historically been associated with when the [Chicago Fed's National Activity Index's] three-month moving average falls below minus 0.70…. The report reflects data available as of April 16. At that time, 50 of the 85 indicators had been published and the rest were estimated. Sixty-five made negative contributions, 18 were positive and two neutral."
* * *
Manfacturing: "American steel makers are bending under growing stockpiles and falling demand. U.S. steel companies are slashing production as a collapse in demand pushes the sector into its most severe downturn since the 2008 financial crisis" [Wall Street Journal]. "Industry analysts expect distributors will likely draw down high stockpiles before companies place new orders one manufacturers reopen. One steel company says its "pipe inventory is now massive" after a spate of order withdrawals. The pullback has been rapid: Metal and ore volumes on U.S. railroads fell 25% in the second week of April from a year ago."
Tech: "Connected, but at what cost?" [Science]. "Facebook users, randomized to deactivate their accounts for 4 weeks in exchange for $102, freed up an average of 60 minutes a day, spent more time socializing offline, became less politically polarized, and reported improved subjective well-being relative to controls. However, the treatment group also became less knowledgeable about current events. …[A]fter the 4-week deactivation period ended, the treated subjects' Facebook use remained persistently lower than that of the controls, and treated subjects lowered the amount of compensation they would demand to deactivate their accounts for another 4 weeks." • For some definition of "knowledgeable" of "current events."
Supply Chain: "The rush for supplies to fight the coronavirus is scrambling U.S. government procurement standards. The government has placed more than $110 million in orders for N95 masks to protect health-care workers from coronavirus infection at high prices from unproven vendors… and problems are already showing up with the orders. Some of the vendors have missed delivery deadlines or have backed out because of supply problems" [Wall Street Journal]. "The troubles are part of the broader struggles in medical supply chains including the specialized N95 masks. Most of the federal orders were placed with no-bid contracts, federal databases show, and the average price from vendors offering quick delivery was close to $6 apiece, roughly six times the list price but in line with the current market rate." • I guess if you're opposed to central planning, this is what you get.
Fiscal Policy: "California COVID-19 Traffic Report Finds Silver Lining" [UC Davis]. "Traffic accidents and crash-related injuries and deaths were reduced by half during the first three weeks of California's shelter-in-place order, which began March 20. The reductions save the state an estimated $40 million per day — about $1 billion over the time period — according to an updated special report released this week from the Road Ecology Center at the University of California, Davis" (original).
Today's Fear & Greed Index: 42 Fear (previous close: 43 Neutral) [CNN]. One week ago: 37 (Fear). (0 is Extreme Fear; 100 is Extreme Greed). Last updated Apr 20 at 12:09pm.
Rapture Index: Closes down 1 on volcanoes. "The lack of activity has downgraded this category." [Rapture Ready]. Record High, October 10, 2016: 189. Current: 185. Remember that bringing on the rapture is a good thing. I dunno though; Krakatoa blew up on April 14. Is that "lack of activity"? Maybe yes, if one volcanic eruption a week is a sign of the End Times….
The Biosphere
"Is fungus the answer to climate change? Student who grew a mushroom canoe says yes." [NBC (dk)]. "In addition to their ability to break down harmful pollutants and chemicals, [Kary Ayers, 28, a student at Central Community College in Columbus, Nebraska] pointed out that mushrooms can be used for everything from household insulation to furniture to packaging, replacing plastics, Styrofoam and other materials that are hard to recycle and harmful to the environment. 'Mushrooms are here to help us — they're a gift,' Ayers said. 'There's so much we can do with them beyond just food; it's so limitless. They're our biggest ally for helping the environment.'" • Ayer's one-off mushroom canoe cost $500, half the average cost of a new canoe. Plus you can use it for pizza topping at end-of-life.
"Central Park, the calm amid New York's coronavirus storm" [Agence France Presse]. "Gone are the softball games, horse-drawn carriages and hordes of tourists. In their place are pronounced birdsong, solitary walks and renewed appreciation for Central Park's beauty during New York's coronavirus lockdown." • The World Without Us…
"'A Reminder That Nature Is Strong': In Japan, A 1,000-Year-Old Cherry Tree Blooms" [NPR]. "Taking care of the tree is a job the whole community takes part in. Neighbors visit and pull weeds, or help fertilize the ground with leaves — the same way their ancestors did hundreds of years ago. A small shrine at the foot of the tree is filled with offerings from passersby: rice, salt, even a tall bottle of sake. For the spirits of the tree, Hirata explained."
"Gorgeous Photos Show How Farms Are Helping People During The Covid-19 Crisis" [Buzzfeed]. "As COVID-19 reveals the risks of relying on global supply chains, perhaps this is an opportunity to look anew at local food systems. "In Maine, we have been working deliberately for decades to build a vibrant local food system,' [Amanda Beal, Maine's commissioner of agriculture, conservation, and forestry] says, 'and that work benefits us now, as our farmers are playing an important role in making sure that people can access the food they need in a time of crisis.'" • Quite correct. And the photos are gorgeous.
Memorial Day in Maine is still six weeks away, but maybe other parts of the country are further along:
Health Care
"The Plan for Dogs to Hunt Out the Coronavirus" [Bloomberg]. "Scientists in London say that dogs could in fact revolutionize the hunt for Covid-19 by sniffing out subtle odors produced by the virus when within the human body. The London School of Hygiene and Tropical Medicine is crowdfunding a project to train canines to detect healthy-seeming people who haven't necessarily realized yet they are carriers. If the project is successful, the animal detectives could be working across Britain by the summer. 'It's very early stages,' says James Logan, head of LSHTM's Department of Disease Control. 'We know diseases have odors — including respiratory diseases such as influenza — and that those odors are in fact quite distinct. There is a very, very good chance that Covid-19 has a specific odor, and if it does I am really confident that the dogs would be able to learn that smell and detect it.'" • That would be really, really cool, not least because it wouild snatch trillions from Silicon Valley's grubby trotters, and avoid turning the world into a dystopian panopticon. Though I have to say, "hunt out"… Well, they need to work on the optics.
"When Our Hospitals Are The Pandemic Superspreaders" [The American Conservative]. "For the very start of the pandemic, the hospitals in Wuhan were part of the problem. A study published in the Journal of the American Medical Association found that 41 percent of the first 138 patients diagnosed at one hospital in Wuhan became infected in that hospital. Simply put: nearly half of the initial infections in this hospital appear to have been spread within the hospital itself. Picking up diseases in hospitals is surprisingly common. A nosocomial infection is the technical term doctors use to describe these infections. It is a paradox that the last place you should be is in a hospital if you're sick. As doctor recently told me, "To those in the medical field, this is common knowledge. I would only go to the hospital if I needed ICU support." In the United States, the CDC has estimated there are almost 1.7 million nosocomial infections, which lead to 99,000 deaths each year. In Wuhan, the coronavirus quickly became a nosocomial disease. One of the doctors in Wuhan said putting infected people in hospital with other patients was a major cause of the cross-infections. A 29-year-old Wuhan resident told the South China Morning Post, that doctors didn't confirm his grandmother's infection for a week. She was placed in a regular ward at another hospital infecting many other patients. Hospitals contributed to superspreading events during the outbreaks of the Middle East Respiratory Syndrome (MERS), Severe Acute Respiratory Syndrome (SARS) and Ebola. A study in the New England Journal of Medicine pointed out that, "One of the features of SARS and MERS outbreaks is heterogeneity in transmissibility, and in particular the occurrence of super-spreading events, particularly in hospitals.'" • We have a lot of Petri dishes: Cruise ships, aircraft carriers, nursing homes, prisons and jails, and now…. hospitals. If we ever got serious on infrastructure, this would be one thing to think about. (I would add airports to that list. I wonder if they've all been deep-cleaned? Because they ought to be.)
"The US needs to do 20 million tests a day to reopen safely, according to new plan" [MIT Technology Review]. " A group of experts has produced a plan for the US to reopen its economy safely this summer. However, it's contingent on doing at least 20 million tests every day, scaling up contact tracing, and ensuring those who need to isolate can be properly supported. The report, produced by 45 cross-disciplinary experts assembled by Harvard University's Edmond J. Safra Center for Ethics, says we need to be testing 5 million a day by early June in order to start reopening the country, increasing to 20 million by mid-summer to fully end the shutdown. From the start, the World Health Organization has said the only way to beat the virus is to "test, test, test." That message seems to be finally getting through.'" • Here is the summary chart the experts produced: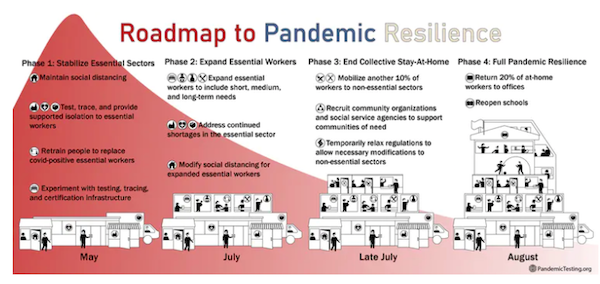 Meanwhile, here on Planet Earth… Look at bullet three under Phase One. Since when have we had a retraining program that wasn't an NGO grift? Plus, the ideal trainers are the workers themselves who are either (a) sick or (b) fully occupied. Feels like these guys are moving pieces around on a board that's changing under them (and might get kicked over anyhow).
"Will antibody tests for the coronavirus really change everything?" [Nature]. "Antibody tests have captured the world's attention for their potential to help life return to normal by revealing who has been exposed, and might now be immune, to the new coronavirus. Dozens of biotech companies and research laboratories have rushed to produce the blood tests. And governments around the world have bought millions of kits, in the hope that they could guide decisions on when to relax social-distancing measures and get people back to work. Some have even suggested that the tests could be used as an 'immunity passport', giving the owner clearance to interact with others again. Many scientists share this enthusiasm. The immediate goal is a test that can tell healthcare and other essential workers whether they are still at risk of infection… But as with most new technologies, there are signs that the promises of COVID-19 antibody tests have been oversold, and their challenges underestimated. Kits have flooded the market, but most aren't accurate enough to confirm whether an individual has been exposed to the virus." d
"Novartis steps up to study of hydroxychloroquine in Covid-19" [STAT]. "The drug giant Novartis said Monday it would conduct a 450-person study to determine if hydroxychloroquine, the malaria drug touted by many pundits and President Trump, can effectively treat Covid-19, the disease caused by the novel coronavirus. The study will be a randomized, double-blind placebo-controlled study, the medical gold standard in which patients will be assigned one of three options: hydroxychloroquine, the combination of hydroxychloroquine and the antibiotic azithromycin, or placebo…. A series of small studies, most of them not randomized (for instance, some compared patients who agreed to take the drug to those who didn't) and not blinded (doctors and patients knew who got which drug) have shown conflicting results." • I didn't see a date at which the study would be complete.
The 420
Since this is 4/20:
"Biggest 420 Ever: With America Stuck At Home, Cannabis Demand Is At An All-Time High" [Forbes]. "A month earlier, when Colorado instituted a stay-at-home order, panic buying set in and cannabis sales shot up 30%. [Sally Vander Veer, President & Cofounder, Medicine Man] says she figured the pace would die down and spike again on April 20, as it historically does; but business has continued to be unusually brisk every day. She believes that the realities of quarantine—unprecedented numbers of people home from work and nervous about the future—overlapping with 420 has intensified sales to reach record highs."
From the Wailer's pre-"international recognition" Trojan days, and far superior to later versions:
I love the lunatic guitar solo on the way out.
Guillotine Watch
$200 bucks a pop:
Christy Dawn For Quarantine Collection ??? pic.twitter.com/9rlYSBhnuI

— porochista khakpour (@PKhakpour) April 20, 2020
Class Warfare
"In a Post-Work World, Israel's Ultra-Orthodox Point the Way" [Bloomberg]. "How to find purpose in this low-employment future in which erstwhile workers have almost unlimited free time? Some researchers suggest looking at one of the world's most traditional communities: the ultra-Orthodox, or Haredim, of Israel. Thousands of Haredi men—distinguished by a look modeled after 18th century Polish nobility, with long side-curls, black fedoras, and knee-length coats—don't work and instead spend their days studying religious texts. They live off government support and their wives' salaries, and they shun smartphones for fear of encountering unfiltered information and immodest imagery. Yet in a government survey published last year, 98% of ultra-Orthodox said they're satisfied with their lives, more than any other group in Israel. Yuval Noah Harari, a bestselling author and history professor at Hebrew University of Jerusalem, calls the Haredim "the most successful experiment so far in how to live a contented life in a post-work world."
News of the Wired
Social distancing:
Los Angeles fills Venice Skate Park with sand amid #CoronavirusOutbreak

— Breaking911 (@Breaking911) April 18, 2020
Queen:
Imagine getting the brief to write some copy on a fucking bin bag and then smashing it out of the park like this. Sensational effort. pic.twitter.com/TBXjnUaWsT

— Stu Royall (@stu_bot3000) April 17, 2020
(Or, alternatively, King.)
* * *
Readers, feel free to contact me at lambert [UNDERSCORE] strether [DOT] corrente [AT] yahoo [DOT] com, with (a) links, and even better (b) sources I should curate regularly, (c) how to send me a check if you are allergic to PayPal, and (d) to find out how to send me images of plants. Vegetables are fine! Fungi and coral are deemed to be honorary plants! If you want your handle to appear as a credit, please place it at the start of your mail in parentheses: (thus). Otherwise, I will anonymize by using your initials. See the previous Water Cooler (with plant)
here
. Today's plant (MG):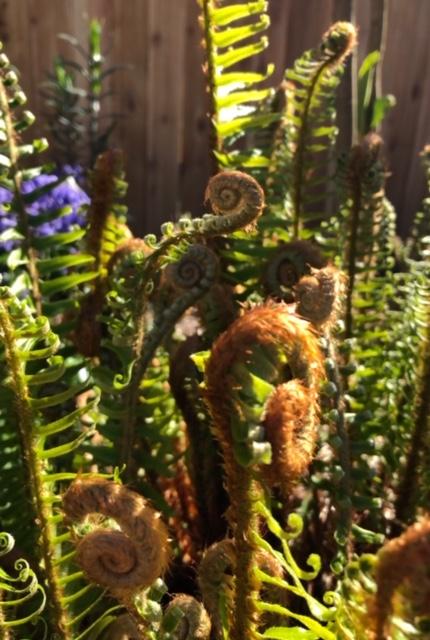 MG writes: "Fiddleheads…I just loves ta watch 'em uncurl! They start as lumps, then peek out, then slowly, and then faster ….." 'Tis the season…
* * *
Readers
: Water Cooler is a standalone entity
not
covered by the annual NC fundraiser. So if you see a link you especially like, or an item you wouldn't see anywhere else, please do not hesitate to express your appreciation in tangible form. Remember, a tip jar is for tipping!
Regular positive feedback both makes me feel good and lets me know I'm on the right track with coverage
. When I get no donations for five or ten days I get worried. More tangibly, a constant trickle of donations helps me with expenses, and I factor in that trickle when setting fundraising goals:
Here is the screen that will appear, which I have helpfully annotated.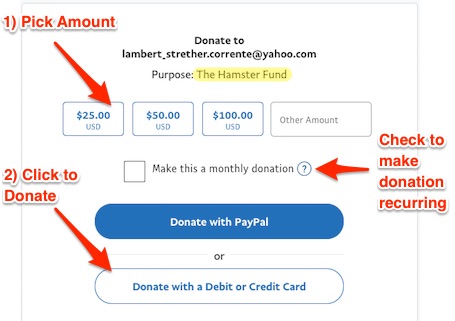 If you hate PayPal, you can email me at lambert [UNDERSCORE] strether [DOT] corrente [AT] yahoo [DOT] com, and I will give you directions on how to send a check. Thank you!