By Lambert Strether of Corrente.
#COVID-19
At reader request, I've added this daily chart: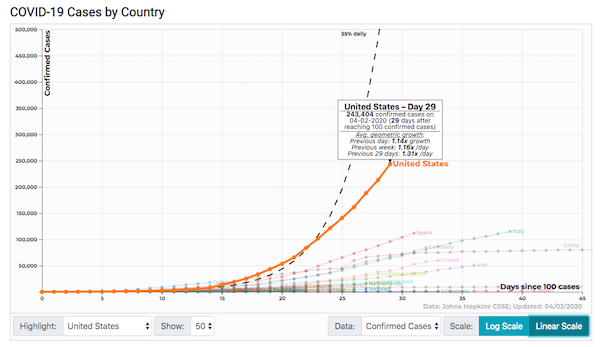 The data is the John Hopkins CSSE data. Here is the site. I am using a linear, not a logarithmic scale, because the linear scale conveys the alarming quality of the multiplication better (don't @ me, math nerds). I did not adjust for population, because it seems to me that the epidemics spread through a population in a fractal matter; within reasonable limits, the shape of the curve will be the same. Show me I'm wrong!
Politics
"But what is government itself, but the greatest of all reflections on human nature?" –James Madison, Federalist 51
"They had one weapon left and both knew it: treachery." –Frank Herbert, Dune
"They had learned nothing, and forgotten nothing." –Charles Maurice de Talleyrand-Périgord
* * *
2020
We encourage readers to play around with the polling charts; they are dynamic, and there are a lot of settings, more than I can usefully show here. Here is a link to alert reader dk's project. You can also file bug reports or feature requests using the same contact process as for Plants, below. Thanks — but no promises!

We have no new national or state polls today.

* * *

BIden (D)(1): Read the room:

New: @JoeBiden is attending a virtual fundraiser on April 16 hosted by Silicon Valley venture capitalist @JedKatz, per new invitation.

Costs $2,800 a person to attend.

Those who raise $25,000 get to attend a "pre-event VIP Clutch." pic.twitter.com/2k2uoLTVzg

— Teddy Schleifer (@teddyschleifer) April 2, 2020

Do I want to know what a "VIP Clutch" is? This being Silicon Valley, is it like a "cuddle puddle"? If so, will Joe be participating?

Biden (D)(2): Biden steps on another rake:

"A convention having tens of thousands of people in one arena is very different than having people walk into a polling booth with, uh, accurate spacing to six to ten peop- uh, feet apart one at a time going in and having machines scrubbed down."@JoeBiden on voting in Wisconsin pic.twitter.com/Watj9C2qqm

— Ben Hallman (@nowandben) April 2, 2020

This in the face of Florida poll-workers and voters being infected after the Biden campaign encouraged them to go vote, on national television, against CDC advice to avoid gatherings of 50 or more.

Biden (D)(3): "Senators clashed over Hunter Biden probe in classified briefing" [Politico]. "'Sen. Tester expressed concern over the reliance on reportedly untrustworthy foreign nationals and cautioned his colleagues against playing politics with national security,' said a spokeswoman for Tester." • BWA-HA-HA-HA-HA!!!!! Surely it will benefit "our democracy" to ensure that there isn't the slightest chance that President Biden could be subject to Russian kompromat?

Cuomo (D)(1): "COVID-19: Cuomo's Bubble is Starting to Burst" [Consortium News]. "Cuomo's present regard for the well-being of every New Yorker, rich or poor, and his lyrical demands to ramp up the number of hospital beds and ventilators is undermined by an ongoing record of drastically cutting back on the state's assistance to public medical facilities that serve the poor. While he is now frantically trying to add hospital beds in the state (which has lost 20,000 in the past 20 years), Cuomo, over the past decade, agreed to close and consolidate numerous public hospitals, mostly serving the poor, to save money…. Even in these extraordinary circumstances his budget proposal to shave $400 million off the state's $35 billion Medicaid bill—which provides care to the poorest New Yorkers—was accepted by the state Senate on Thursday and the Assembly early Friday, when both passed Cuomo's 2020 budget. It comes precisely as Medicaid recipients need it most…. Making it worse, is that Cuomo's budget did not include rises in property or wealth taxes, despite a $10-15 billion shortfall." • Making it clear, if it were not clear already, who liberal Democrats really serve.

Sanders (D)(1): It may be that reports of the death of the Sanders campaign have been greatly exaggerated. We'll see. That said:

Interesting campaign retrospective from @danielmarans. My view is the Bernie Sanders campaign over-performed. Bernie's a flawed and brittle candidate, and his campaign covered for his weaknesses and got him into the top two. I didn't think that was likely. https://t.co/qlGMzJNwdG

— Matt Stoller (@matthewstoller) April 2, 2020

I haven't gone (much) into the tactical errors of the Sanders campaign (see here and here for my take, especially on Sanders' theory of change). At some point I should take a look at Sanders as a candidate. That said, detaching 30% of the base from the Democrat Establishment and winning the fifth largest economy in the world (California) are not neglible accomplishments. The key outcome has not been addressed: The fate of the Sanders "movement" which, if the Twitter bears any relation to the real world, will in fact be rejected as a foreign intruder by the immune system of the Democrat Establishment. There is much more to this story to come.

Trump (R)(1): "The (Political) Science Behind Trump's Approval Bump" [Wired]. "[A]n approval bump due to major crises or wars is one of the most consistent patterns in American politics. 'It would have been amazing if Trump didn't get any rally,' said Matthew Baum, the author of several academic books about public opinion. The surprising thing, rather, is how small the bump has been. As of March 13, according to FiveThirtyEight's tracker, Trump was at around 42 percent approval and 53 percent disapproval, precisely where he has hovered throughout most of his first term. Since then, those numbers have shifted to about 46 percent and 50 percent—a 6-point overall swing. 'You would expect, given how unpopular Donald Trump was the day before this all happened, he would have a massive rally,' Baum said. Franklin Roosevelt, for example, got a 12-point boost after Pearl Harbor in Gallup's tracking poll; George W. Bush received the all-time polling bounce immediately after 9/11, nearly 40 percent."

* * *

WI: "Wisconsin's election is still April 7, but a federal judge has extended the deadline for absentee votes to be counted" [Journal Sentinel (KH)]. "- A federal judge Thursday kept next week's presidential primary on track but allowed more time to count absentee ballots after excoriating Wisconsin officials for not doing more to protect voters during the coronavirus pandemic. The ruling — which was immediately appealed — will allow absentee ballots to be counted if they arrive by April 13, six days after election day. U.S. District Judge William Conley also gave people until Friday to request absentee ballots and loosened a rule requiring absentee voters to get the signature of a witness. But Conley did not go as far as Democrats and voter mobilization groups wanted and declined to postpone Tuesday's election." • Some Democrats. Not Biden, not the DNC. Of course, the national Democrats have thrown Wisconsin Democrats under the bus. I think the whole primary deserves an asterisk, at this point. How can these votes be seen as legitimate?
RussiaGate
"DOJ keeping Congress in the dark about John Durham review, top GOP investigator says" [Washington Examiner]. "Rep. Jim Jordan, the top Republican on the House Judiciary Committee, said "no" when asked during a Just the News podcast on Thursday whether Durham or Attorney General William Barr have provided lawmakers an update on the inquiry…. The interview indicated that lawmakers, including Jordan, had little official information to go on as they talked about Durham's work over the past year. For instance, Rep. Doug Collins, a member of the House Judiciary Committee, told Fox News in late February that there will not be a report from Durham and rather that the public would hear about the progress the prosecutor has made if and when there is an indictment…. When asked, Jordan declined to speculate on whether any officials will be indicted in Durham's inquiry or if investigators will turn up evidence of "spying" on the Trump campaign earlier than when the FBI said it opened its Crossfire Hurricane counterintelligence investigation in the summer of 2016."
Realignment and Legitimacy
"Bailing Out the Bailout" [Matt Taibbi, Rolling Stone]. "Like 2008, only more so, the new mega-rescue is a bipartisan effort. Lawmakers sold this as a good thing…. As happened in the run-up to September 2008, Wall Street in recent weeks warned of Armageddon if the Fed did not immediately start spending billions per minute to buy every conceivable kind of financial product. The Fed responded by dusting off emergency lending facilities like the Term Asset-Backed Securities Loan Facility, the Commercial Paper Funding Facility, the Money Market Mutual Fund Liquidity Facility, the Primary Dealer Credit Facility, the Secondary Market Corporate Credit Facility, and the Primary Market Corporate Credit Facility, all of which saw action after the crash of 2008. Each would be used to step in and buy financial products in the various markets frozen due to virus panic." That's quite a list. More: "The problem? A lot of these markets were already overinflated thanks to post-2008 bailouts and interventions like Quantitative Easing. We're about to find out that the American economy has been living off dying, dysfunctional, or hyper-leveraged markets for more than a decade. The Trump administration just bought this undead economy at retail prices and committed the Fed and the Treasury to sustaining it…. Short-term loans to make payroll and keep tenants in storefronts are only a part of the rescue. The coronavirus emergency is probably temporary. The bailout looks like forever." • This is a must-read, particularly for readers who didn't go through the 2008 Crash with us.
Stats Watch
At reader request, I added some business stats back in. Please give Econintersect click-throughs; they're a good, old-school blog that covers more than stats. If anybody knows of other aggregators, please contact me at the email address below.
* * *
Employment Situation: "March 2020 BLS Jobs Situation Hit By The Coronavirus" [
Econintersect
]. "The headline seasonally adjusted BLS job growth was even worse than the forecasts with job losses on par with the Great Recession." From the BLS report: "Total nonfarm payroll employment fell by 701,000 in March, and the unemployment rate rose to 4.4 percent, the U.S. Bureau of Labor Statistics reported today. The changes in these measures reflect the effects of the coronavirus (COVID-19) and efforts to contain it. Employment in leisure and hospitality fell by 459,000, mainly in food services and drinking places. Notable declines also occurred in health care and social assistance, professional and business services, retail trade, and construction." And: "Interesting in this report that the bulk of job losses happened to age group 20 to 24." • Sanders voters….
Leading Indicators: "April 2020 Economic Forecast Was Hit By A Black Swan" [Econintersect]. "This is a black swan economic event. Black swan events are unexpected at the time with immediate significant impact. The speed which the coronavirus engulfed the economy was swift. Economic forecasting tools are not designed to anticipate black swans. We are not alone in publishing an economic forecast which is off the mark – except for a few cases such as ECRI's Weekly Leading Index – all forecasts suffer the same malady. And even in the case of ECRI's WLI – it is projecting the decline 6 months from today." • This is Econintersect's forecast:
Everyone is guessing on the way this coronavirus pandemic will play out. The best guesses change daily. The current range of guesses is that the worst will be over in 30 days – to this pandemic continuing through next winter. Because the U.S. is not collecting data in a scientific way [which would require at least a testing of sample population groups for coronavirus], the real rate of spread is unknown. It will be difficult to understand when the worst of the pandemic will be over – so I would guess in the best case the economy could begin to fire up 60 days from today.

This crisis has three sides economically:

1. The shelter in place portion which likely would reduce 2020 estimated GDP by 0.5 % per month for each month the shelter in place portion remains. Without the pandemic, annual GDP would have been in a range of 2.0 % to 2.5 %. So a two month shelter in place would reduce 2020 GDP to 1.0 % to 1.5 %. And I would assume that the shelter in place would not end cleanly in all areas – it will linger in major population centers.

2. The knock-on effect is more exponential. The longer this crisis continues, the less likely the economy can return to its current trend line. Just like what happened in the Great Recession, the economy would reset. Many businesses would no longer exist – and there is the associated unemployment. It is hard to restart a wounded economy.

3. There is a high possibility of a knock-on affect triggering defaults in municipalities, states, corporate or private debt.

The "new normal" reset of the Great Recession has been destroyed by the cornavirus. There will be a "post-pandemic normal" reset – and we will have to wait to see what it will be!

At this point, I would project that even in the best case the U.S. will have no economic growth in 2020 – A recession likely began in March 2020. I do not want to speculate on the worst case as there are too many variables – but economically it is ugly.
* * *
Commodities: "Coronavirus: London hospital almost runs out of oxygen for Covid-19 patients" [
Guardian
]. "The NHS-wide surge in patients receiving oxygen also presents a second risk for a hospital – that its liquid oxygen storage tank, known as its vacuum insulated evaporator (VIE), could quickly become run down…. Both scenarios "present a potentially significant risk to multiple patients", NHS England said…. The letter says: "If the demand through multiple wall outlets [for wall-mounted CPAP machines] exceeds the maximum capacity of the VIE delivery system, there is a risk of rapid pressure drop in oxygen supply pipes." • I had pictured oxygen as being packaged in small tanks, like helium for balloons. But no! Oxygen is a hospital-wide delivery system, like HVAC or power, so if it goes down, the whole hospital goes down. Yikes. Is it the same in America, or is this just the UK?
Retail: "Hobby Lobby Defies Stay-at-Home Orders by Reopening Some Stores" [New York Times]. "The arts-and-crafts chain Hobby Lobby was accused of defying stay-at-home orders in at least four states during the coronavirus outbreak, prompting officials to take action against the retailer. The moves by state and local authorities in Colorado, Indiana, Ohio and Wisconsin to shut the stores down came as governors across much of the United States have signed stay-at-home orders and health authorities have urged Americans to practice social distancing…
The Bezzle: "Staff Said The Free Mask Kits At Jo-Ann Fabrics Are Just Scraps From The Clearance Bin" [Buzzfeed]. "Major fabric retailer Jo-Ann Fabrics and Crafts claims that the free mask kits it gives out to customers are critical for health care workers and, therefore, its stores across the country need to remain open. But that argument is not convincing everyone — even Jo-Ann workers themselves, four of whom told BuzzFeed News their stores were supplying poor-quality fabrics and materials in what they viewed as a slapdash effort to remain open. 'We're trying to keep it [to what the company has described as] the correct kind of fabric— high thread count, 100% cotton — but it's gotten to the point where we are just grabbing random bolts of fabric off the shelves, whatever fits,' said one store manager near Seattle, who asked to remain anonymous, like all employees interviewed for this article, in order to protect their employment. 'We burned through all our clearance fabric.'"
The Bezzle: "The 'game changer' that wasn't: Company falsely claimed FDA authorization for coronavirus blood test" [CNN]. • Thank heavens Elizabeth Holmes is out of the picture. You can just imagine….
Tech: "Zoom CEO apologizes for having 'fallen short' on privacy and security" [CNN]. "Zoom will stop adding new features for the next 90 days and instead focus solely on addressing privacy issues, [CEO Eric] Yuan said. The company will also release a transparency report, similar to the ones periodically shared by tech giants such as Facebook (FB), Google (GOOGL) and Twitter (TWTR), which details requests for data or content from government authorities." • Still doesn't explain why the Mac OS installer is scripted like malware, though.
The Fed: "The Big Unanswered Questions about the Federal Reserve's Coronavirus Response" [Nathan Tankus]. "We have yet to get a response to the crisis that comes close to matching the speed and the size of this crisis. While congress has done worse than the Federal Reserve, the Federal Reserve has not done enough. In particular, the programs aimed at helping the sectors that need it most- small and medium sized businesses, state and local government- have yet to be launched. In fact, a municipal debt purchase program has not even been announced. … The worst element of the Federal Reserve's response to date has unquestionably been its failure to respond to the fiscal crises Coronavirus has created for state and local governments…. The fundamental point is we simply do not know how this is going to play out and what the ultimate breakdown of lending and purchases is going to be between the mind bendingly wide variety of programs. While I am frustrated with the misconceptions and myths that are being spread by some liberals and leftists, it is hard to blame the mistrust of an organization famously resistant to oversight and clarity like the Federal Reserve. Especially as the bill repeals open access meetings and records keeping regulations on Federal Reserve related programs and the capitalization fund is similar in structure and "after the fact" oversight to the Troubled Asset Relief Program." • Tankus has been on fire lately. If you aren't reading his blog, you should be.
* * *
Today's Fear & Greed Index: 22 Extreme Fear (previous close: 21 Extreme Fear) [
CNN
]. One week ago: 23 (Extreme Fear). (0 is Extreme Fear; 100 is Extreme Greed). Last updated Apr 3 at 11:56am. Back to Extreme Fear.
The Biosphere
"Emptying Skies to Cut Airline Emissions 38% in 2020, Report Says" [Bloomberg]. "Traffic forecasts by the International Air Transport Association suggest airlines' emissions could drop 38% in 2020, the report said….. 'The question remains as to whether Covid-19 pandemic will permanently change our flying habits,' said Richie Merzian, climate and energy program director at the Australia Institute. 'If we can work well together online now, perhaps it will permanently reduce the need for business travel.'"
"A Plant in Florida Emits Vast Quantities of a Greenhouse Gas Nearly 300 Times More Potent Than Carbon Dioxide" [Inside Climate News]. "The plant, a subsidiary of that says it generates $9 billion in annual revenue, is the largest point source of nitrous oxide emissions in the country. Its number one ranking as a nitrous oxide polluter illustrates how companies often choose to leave untouched greenhouse gas emissions they aren't required by law to abate, even when proven systems exist to eliminate those emissions. In the case of nitrous oxide emissions, DuPont and its global competitors, alarmed by N2O's potency as a greenhouse gas, joined forces almost 30 years ago and developed technologies to abate virtually all of their pollution." •
Health Care
"The Case for Universal Cloth Mask Adoption and Policies to Increase Supply of Medical Masks for Health Workers" [SSRN]. "Our analysis suggests each cloth facemask generates thousands of dollars in value from reduced mortality risk. Each medical mask, when used by a healthcare worker, may generate millions of dollars in value, and policies to encourage greater production prioritized for health workers are urgently needed." • Yeah, but it's all value nobody can extract…. I smell a subscription model! Face Masks As A Service™! One, two, five, or seven face masks delivered weekly to your door by our courteous uniformed driver!
"Coronavirus: Hong Kong scientists look into disinfection and reuse of face masks" [South China Morning Post]. "In the online session, Yuen revealed that he also uses alternative ways to make each mask last longer. Underneath each standard surgical mask, he said, he wears a reusable cloth mask. After he uses it, he disinfects the surgical mask with an ozoniser. "Then hang [the mask] up, let all the ozone disappear, and then I use it again, but again with a reusable cloth mask inside," he said." • I did a quick search on "ozoniser", but nothing defnitive. (Note that the ozonizer use case is not to purify the air, but to disinfect that mask.) Readers?
"It's Easy To Overhype New COVID-19 Discoveries" [FiveThirtyEight]. "The latest example of this dynamic came on Tuesday, when the Centers for Disease Control and Prevention released new data about how underlying health conditions can affect individuals' response to COVID-19. At first glance, the report suggested that people with those health conditions — such as diabetes, chronic lung disease and heart disease — were at a higher risk for severe disease or death from COVID-19. That finding is consistent with more anecdotal studies of COVID-19 patients in both China and Italy. But as you go deeper into the data, the limitations of the finding become more clear. As of March 28, the CDC had collected data for 7,162 COVID-19 positive patients that included information on whether they had underlying health conditions or other known risk factors. That is just 5.8 percent of the 122,653 total U.S. COVID-19 cases reported to the CDC as of that time. But the size of the data set isn't the biggest concern. The biggest concern is that we don't know whether that subset is representative of the population of infected individuals. Without that, we don't know whether the findings are representative, either." • Oh dear…
"Florida's statewide stay-at-home order still allows churches and their followers to gather during coronavirus outbreak" [Tampa Bay Creative Loafing]. "After weeks of criticism from lawmakers and the public, DeSantis announced a new sweeping executive order calling for a statewide 30-day stay-at-home order to go into effect this Friday; the order limits movement only to essential businesses and essential activities. The order, which you can read for yourself right here, also lists 'essential activities' that are permitted during the 30-day period, and includes things like exercising, taking care of pets, assisting a loved one, and 'religious services conducted in churches, synagogues and houses of worship.'" • Amazingly, this issue is covered in the actual Bible that modern-day Christians are said to use. Matt 6:5-7, helpfully annotated:
5 "And when you pray, do not be like the hypocrites, for they love to pray standing in the synagogues and on the street corners to be seen by others. Truly I tell you, they have received their reward in full. 6 But [A] and pray to your Father, who is unseen. Then your Father, who sees what is done in secret, will reward you. 7 And when you pray, [B] like pagans, for they think they will be heard because of their many words.
So, [A] practice social distancing, and [B] avoid aerosol transmission.
More petri dishes:
Cruise ships on hold off Florida… https://t.co/BtBt6kVXSz #coronacrisis pic.twitter.com/GpqJhhOvDC

— Hans de Vreij (@hdevreij) April 2, 2020
We all love our health insurance:
I am losing my fucking mind. @Aetna says it won't cover my Biofire panel as "covid-19" related because my doctor didn't diagnose me with COVID-19. My doctor couldn't diagnose me with COVID-19 until I had the Biofire test because my state doesn't have enough COVID tests. pic.twitter.com/fSMw2QiwkS

— Anna Davis Abel (@AnnaDavisAbel) April 1, 2020
* * *
"Sebelius, Looking Back At ACA, Says The Country's Never 'Seen This Kind Of Battle'" [
Kaiser Health News
]. KHN butchers the headline, and buries the lead. Here it is (I have helpfully underlined it):
[ROVNER:] Now it's 10 years later, the law is more popular than ever. And yet there are still some big problems in the nation's health care system, including levels of cost sharing, surprise bills, so that even people who do have insurance are worried about costs when accessing care. Why didn't the Affordable Care Act fix everything?

[SEBELIUS:] . We got blamed for it. And yet we really didn't do that. We ran most of this through the private system. So costs are still blossoming out of control. We've talked about how the public option would have been a lever for that, which we don't have. Surprise billing wasn't even an issue until investment bankers began buying specialty practices and figuring out, Oh, there's a new way to make money.

And, I also think, often the Affordable Care Act is blamed for employers shifting massive costs onto their employees in employer-based health care plans, which weren't really tampered with by the Affordable Care Act. That was always to be left alone. So .
So, ten years later, Sebelius admits that the 2009 ACA critique by single payer advocates was correct in every respect. And yet, single payer is not a policy supported by serious people in the Beltway, and its advocates have no seats at the table. It's just like Iraq, where everyone responsible for that debacle has more power than ever!
#MedicareForAll polling:
Opinion of Medicare For All, by age group:

Age 18-29:
67% SUPPORT, 15% oppose (+55%)

Age 30-44:
64% SUPPORT, 25% oppose (+39%)

Age 45-54:
58% SUPPORT, 34% oppose (+24%)

Age 55-65:
47% SUPPORT, 43% oppose (+4%)

— Matt Karp ???? (@karpmj) April 1, 2020
An alternative theory to stingy olds denying the benefits of Medicare to the youngs would be that Medicare's neoliberal infestation has done its damage: Co-pays, deductibles, complexity, and a monthly payment. Not free at the point of care. No dental. To someone without coverage, or what passes for coverage with ObamaCare or employer insurance, Medicare appears as a distant dream of safety. To those living the dream, not so much. Just a thought!
Class Warfare
"It is time to make amends to the low-paid essential worker" [Financial Times]. • I'm tired of this "essential worker" formulation, along with the soon-to-be-seen-as performative identification of media elites with grocery workers and delivery people. As a class, by definition, the working class is essential. So I don't care much for invidious distinctions like "essential" and "not essential," which are all too compliant with the liberal means-testing mentality, and their Lady Bountiful distinction between the deserving and the undeserving. Who cares if some poor schlub accidentally gets an extra grand. In this society? What the "essential workers" formulation conceals is that the relation between "essential" and wealth is often inverse. Who on earth would classify the Lords of Private Equity as essential? Or hedgies? Or health insurance executives? All such should be given something useful to do, like delivering pizza or clearing bedpans. It would clarify their minds and purify their souls.
"Miami confronts two battles: the opioid epidemic and coronavirus" [Miami Herald]. • And of the two, only one dominates the headlines (exactly like falling life expectancy in the heartland). Why? Because of the two, only one personally affects PMCs in the Blue Cities and the burbs, especially in the press. (Not to say the virus isn't spreading out into the flyover from its original foothold; it most surely is.)
"Virus Lockdowns Confront Billions Working in the Shadow Economy" [Bloomberg]. "How do governments control activity in an economy they never really controlled in the first place? That's an urgent question being asked for those who run the $35 trillion developing world as the coronavirus takes hold. From the slums of Manila to remote villages in Colombia, some 2 billion people ply their trades in a barely-regulated and untaxed informal economy. The effort to contain the spread of a disease that's so far infected around a million people may soon hinge on places hamstrung by weak institutions, constrained resources, and corruption." • Unlike the United States! No but seriously folks, a good global wrap-up.
News of the Wired
The sweet science:
#lockdown day 17 – hooman have lost will to live pic.twitter.com/20hO3TkQTe

— Islamicat ??? (@_Islamicat) April 2, 2020

* * *

Readers, feel free to contact me at lambert [UNDERSCORE] strether [DOT] corrente [AT] yahoo [DOT] com, with (a) links, and even better (b) sources I should curate regularly, (c) how to send me a check if you are allergic to PayPal, and (d) to find out how to send me images of plants. Vegetables are fine! Fungi and coral are deemed to be honorary plants! If you want your handle to appear as a credit, please place it at the start of your mail in parentheses: (thus). Otherwise, I will anonymize by using your initials. See the previous Water Cooler (with plant) here. Today's plant (AM):

AM: "Happy St Patrick's day from TriBeCa. Trees starting to bloom. Background building is infamous location of communications interception equipment post 911. Study in contrasts."

* * *

Readers: Water Cooler is a standalone entity not covered by the annual NC fundraiser. So if you see a link you especially like, or an item you wouldn't see anywhere else, please do not hesitate to express your appreciation in tangible form. Remember, a tip jar is for tipping! Regular positive feedback both makes me feel good and lets me know I'm on the right track with coverage. When I get no donations for five or ten days I get worried. More tangibly, a constant trickle of donations helps me with expenses, and I factor in that trickle when setting fundraising goals:

Here is the screen that will appear, which I have helpfully annotated.

If you hate PayPal, you can email me at lambert [UNDERSCORE] strether [DOT] corrente [AT] yahoo [DOT] com, and I will give you directions on how to send a check. Thank you!