By Lambert Strether of Corrente.
Patient readers, this Water Cooler is way too light (though I fancy there are some topics that will provoke discussion). I've had some household issues over the past couple of days, and frankly I'm out of gas. Back to the usual tomorrow! –lambert
#COVID-19
At reader request, I've added this daily chart: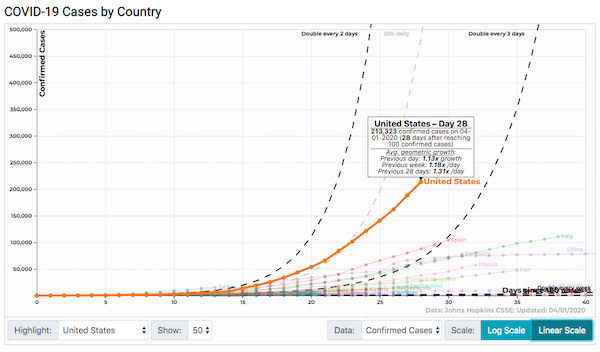 The data is the John Hopkins CSSE data. Here is the site. I am using a linear, not a logarithmic scale, because the linear scale conveys the alarming quality of the multiplication better (don't @ me, math nerds). I did not adjust for population, because it seems to me that the epidemics spread through a population in a fractal matter; within reasonable limits, the shape of the curve will be the same. Show me I'm wrong!
Politics
"But what is government itself, but the greatest of all reflections on human nature?" –James Madison, Federalist 51
"They had one weapon left and both knew it: treachery." –Frank Herbert, Dune
"They had learned nothing, and forgotten nothing." –Charles Maurice de Talleyrand-Périgord
* * *
2020
We encourage readers to play around with the polling charts; they are dynamic, and there are a lot of settings, more than I can usefully show here. Here is a link to alert reader dk's project. You can also file bug reports or feature requests using the same contact process as for Plants, below. Thanks — but no promises!

We have no new national or state polls today. Here is the most recent poll from Wisconsin; as always, state polls are infrequent, small, and bad:

Here we see the effect of Obama's Night of the Long Knives again. The numbers:

* * *

Biden (D)(1): Biden steps on amother rake:

Yep. She asks about her $2,000 per month health insurance premium and Joe Biden oddly responds that she should be able to get free testing.

This is real life folks.

Biden is going to be destroyed in the general.pic.twitter.com/mpQuni0XSE

— José Castillo Jr ? (@JoseCastilloJr) March 28, 2020

Testing requires a note from your doctor. And treatment isn't free.

Sanders (D)(1): The opportunity is there:

@BernieSanders should just assert that he in charge.
This is all Insane!

Come on Bernie, people are dying and nobody's home.

There is no room for a gentleman's campaign.

We are in deep trouble.

— RoseAnn DeMoro (@RoseAnnDeMoro) April 2, 2020

When you think of it, even 30% of the Democrat base, plus the State of California, isn't a bad starting point for… for…..

* * *
RussiaGate
In case you were momentarily thinking that the Democrat Establishment hasn't lost their minds:

The US is now a client state of Russia. https://t.co/cGNZh0uWz7

— Markos Moulitsas (@markos) April 1, 2020

We can't manufacture them ourselves, fool! Thanks to the globalization for which you are handmaidens and willing servants!
Realignment and Legitimacy
Legitimacy crisis:

It looks horrible in the coronavirus crash, because it is, in fact, horrible. But this breakdown has been with us for years. Our government is not meeting this moment because it has been unable to meet *any* moment for a long time. The stakes just haven't been this high.

— Zach Carter (@zachdcarter) April 2, 2020

"Pelosi announces new House committee on coronavirua" [Axios]. "Speaker Nancy Pelosi announced Thursday the creation of a new House committee addressing the coronavirus crisis, led by House Majority Whip Jim Clyburn (D-S.C.). The big picture: Pelosi said that the new committee would oversee 'all aspects' of the federal response to the pandemic, including the $2 trillion stimulus bill. She specifically cited the Truman Committee, formed in 1941 to address inefficiencies and profiteering during World War II, as a guide…. A lot of lawmakers have raised concerns about the implementation of the massive stimulus, given the overwhelming demand for loans. This committee will help address these concerns — and coordinate aid efforts between federal agencies." • As I am sure everybody in the Beltway instantly realized, the Truman Committee of 1946 ("every committee report was unanimous, with bipartisan support"*) was Truman's springboard to the Presidency, so it looks like Clyburn had bigger fish to fry for the Democrat Establishment than simply stopping Sanders. Not clear to me what "coordinate aid efforts between federal agencies" could possibly mean, except that it doesn't sound like something the Legislative Branch would do, and is not something the Truman Committee did. NOTE * It will be interesting to see which Republicans Kevin McCarthy puts on the Committee; I suspect the well of bipartisan co-operation was irretrievably poisoned by RussiaGate and the impeachment debacle.

Lambert here: This is as good a time as any to say that there is an implicit mythology that a Democratic (i.e., a Clinton) Administration would have handled the #COVID19 crisis better than the Trump Administration did. Leaving aside the issue that the track record for "liberal democracies" handling the crisis is decidedly mixed, so it's not clear what the baseline should be, I think there's little reason to believe that; and that's hard for me to say, since I came up as a Democrat. I should really turn this into a post, and the Crash was ten years ago, so my memory has faded. Nevertheless:

1. The net result of the Obama administration's policies was: Pain for the working class for many years, and a labor market that never recovered; millions lost their homes, and a generation of black family wealth was destroyed; the FIRE sector was not broken up; and inequality increased. Also, of course, deaths of despair, including many suicides. More specifically:

a. The bailouts simply rebooted the FIRE sector;

b. The stimulus was not large enough (and was poorly marketed, too);

c. HAMP was an unseemly debacle;

d. The chain of title debacle (obscured as "robosigning") enabled, through MERS, an enormous fraud by mortgage originators and servicers;

e. The foreclosure settlements were miserably small;

f. Not a single banker was prosecuted for accounting control fraud

2. The ObamaCare "marketplace" website crashed on launch in 2013, after four years of preparation. It took at least two months to fix. Nobody was held accountable, especially not Obama, whose signature project it was.

3. The entire Clinton campaign. Read Shattered and Chasing Hillary, as well as the never-discredited Podesta emails — for which Assange is still rotting in jail — if you want to see what a Clinton administration would have looked like from the inside. Shambolic doesn't even begin to describe it.

I think the Democrat Establishment pictures themselves as wranglers — problem solvers who will go into the agencies and bend them to their will — as probably happened a good deal on the West Wing? The difficulty comes when you're trying to wrangle a failed state. That's rather like pushing on a string.

I welcome suggestions from readers on framing and cases, if turning this into a post is a good idea. The smugness drives me up the wall.
Stats Watch
At reader request, I added some business stats back in. Please give Econintersect click-throughs; they're a good, old-school blog that covers more than stats. If anybody knows of other aggregators, please contact me at the email address below.
Manufacturing: "February 2020 Headline Manufacturing New Orders Unchanged" [Econintersect]. "According to the seasonally adjusted data, it was defense ships and boats that contributed most in the headline data. The data in this series is noisy so I would rely on the unadjusted 3 month rolling averages which improved. What should be concerning is the contraction of backlog/unfilled orders [maybe I should say that the coronavirus effects are not in this data]."
Trade: "February 2020 Trade Little Changed From January" [Econintersect]. "The data in this series wobbles and the 3-month rolling averages are the best way to look at this series. The 3-month average rate of growth was little changed for imports and exports."
Employment Situation: "28 March 2020 Initial Unemployment Claims Unbelievable" [Econintersect]. BLS: "The COVID-19 virus continues to impact the number of initial claims. Nearly every state providing comments cited the COVID-19 virus." More: "The pandemic has so far caused 10,000,000 job lost." • 2020 continues to produce events where "I've never seen anything liike it."
* * *
Another vertical straight line:
Since log scales are all the rage these days. https://t.co/K2ThE0WUnd pic.twitter.com/yLB0u9QIaF

— Matthew Yglesias (@mattyglesias) April 2, 2020
I'm sure there's a backlog in processing claims, too. So the vertical line, in reality, shoots even higher.
* * *
Today's Fear & Greed Index: 21 Extreme Fear (previous close: 22 Extreme Fear) [CNN]. One week ago: 22 (Extreme Fear). (0 is Extreme Fear; 100 is Extreme Greed). Last updated Apr 1 at 11:44am. Back to Extreme Fear..
The Biosphere
"Oregon Humongous Fungus Sets Record As Largest Single Living Organism On Earth" [Oregon Public Broadcasting]. This is not a nice fungus at all. ""People don't think of mushrooms killing trees," said Greg Filip, a pathologist with the U.S. Forest Service…. Trees often benefit from mushrooms at their roots. Honey mushrooms, however, suck the life out of a number of types of trees…. That white fungus spreads up under the tree's bark and rots its roots…. Back in 1988, Greg Whipple was the first Forest Service employee to realize they had 'something different' on their hands. Back then, it seemed to cover 400 acres. As of this story, it's footprint covers more than 3 square miles.'When you realize this fungus spreads at one to three feet a year and you have something that large, you can calculate the age,' Filip said. 'And we're looking at something anywhere from 2,000-to-8,000 years old." • Impressive.
"Rootin', poopin' African elephants help keep soil fertile" [Nature]. "Judith Sitters, an ecologist at the Free University Brussels, visited Mpala in 2015. She analyzed soil and vegetation samples from each of the areas—plus a plot that had no cattle—to see the impact of livestock and wildlife on nutrient levels. She was surprised to find nearly twice as much carbon in the soil in grazing areas that included elephants, compared with those without them. Soil nitrogen was also much higher when elephants were present, providing additional nutrients for plant growth, she and colleagues reported last month in Nature Sustainability. Those levels were similar to measurements for plots that had no cattle at all. 'We didn't expect that there would be such a positive impact from these elephants,' Sitters says."
Health Care
"Is the coronavirus airborne? Experts can't agree" [Nature]. Cf. our discussion yesterday: "Health officials say the virus is transported only through droplets that are coughed or sneezed out — either directly, or on objects. But some scientists say there is preliminary evidence that airborne transmission — in which the disease spreads in the much smaller particles from exhaled air, known as aerosols — is occurring, and that precautions, such as increasing ventilation indoors, should be recommended to reduce the risk of infection. In a scientific brief posted to its website on 27 March, the World Health Organization said that there is not sufficient evidence to suggest that SARS-CoV-2 is airborne, except in a handful of medical contexts, such as when intubating an infected patient. But experts that work on airborne respiratory illnesses and aerosols say that gathering unequivocal evidence for airborne transmission could take years and cost lives. We shouldn't 'let perfect be the enemy of convincing', says Michael Osterholm, an infectious-disease epidemiologist at the University of Minnesota in Minneapolis." • Pointing proudly to my Doctor of Philately diploma hanging over the mantlepiece: Both the China bus example and the Skagit Valley Chorale examples argue, to me, for some form of airborne transmission independent of respiratory droplets or fomites. (The Chorale seems to have been disciplined about social distancing.) However, I'd note that both examples are in enclosed spaces, not the open air. Putting on my policy hat, I'd be looking at HVAC systems, making sure filters were adequate and changed, and maybe increasing the speed with which air circulates (and maybe, if air temperature is a fadtor, adjusting it to minimize the chances of transmission).
"How to understand – and report – figures for 'Covid deaths'" [The Spectator].
You might think it would be easy to calculate death rates. Death is a stark and easy-to-measure end point. In my working life (I'm a retired pathology professor) I usually come across studies that express it comparably and as a ratio: the number of deaths in a given period of time in an area, divided by that area's population. For example, 10 deaths per 1,000 population per year. So just three numbers:

1. The population who have contracted the disease

2. The number dying of disease

3. The relevant time period

The trouble is that in the Covid-19 crisis each one of these numbers is unclear.
Which is all very well, I suppose, but humans experience death not as a rate but as the absolute that it is. There will surely be some large number of deaths, most especially if the curve does not flatten, and bad ones, too. I appreciate the Olympian perspective of the pathologist but we are here, on the ground.
I would like readers to critique this tweet to make sure it is not misinformation, even if a Professor did supply it:
Save and reuse masks! #COVID19 #coronavirus killed by 30min 70ºC/160ºF heat, 10min steam, or 30min UV light (40W at 2ft, e.g. typical biosafety cabinet). Face masks work fine afterwards (pic)!

Or, if it's your own mask, wait 3 days for virus to die then reuse!

h/t @wormsense pic.twitter.com/9noFME33PP

— Michael Lin, PhD-MD (@michaelzlin) March 26, 2020
The Stanford table clearly says "E. coli Disinfection Efficiency" (top right). Are these figures likely to carry over to a virus?
Class Warfare
"Coronavirus Creates an Opening for Progressivism — Also Barbarism" [New York Magazine]. "[A]s an extraordinary, exogenous shock to a badly broken status quo order, the COVID-19 pandemic has also expanded the spectrum of imaginable futures and political possibilities. And some of those possibilities have been a sight for sore socialists' eyes…. [T]he prospect of mass un-insurance in the middle of a pandemic has thrown a spotlight onto the perversity of our nation's employer-based health-care system. The deepening economic crisis has also exposed the inescapably political foundations of the market economy…. Finally, the pandemic has raised awareness of the profound social value that grocery-store clerks, warehouse workers, and deliver drivers create — and the failure of markets, as currently structured, to adequately compensate such labor…. If the coronavirus has provided cause for bullishness on democratic socialism, it's offered at least as much reason to believe the future belongs to tribalistic barbarism." • Like — I'm gonna say it — the 30% pop Joe Biden got after Obama's Night of the Long Knives.
News of the Wired
Landtidotes:
Asking everyone to post a photo you've taken from a place you've been. The only thing is that you don't appear in it. Just a photo, no location story. Let's flood twitter with landscapes to ease this isolation. copy this, post a photo and let's travel virtually around the world. pic.twitter.com/ofmKnELG6l

— Michael (@OmanReagan) April 2, 2020
We're not the only ones… .
* * *
Readers, feel free to contact me at lambert [UNDERSCORE] strether [DOT] corrente [AT] yahoo [DOT] com, with (a) links, and even better (b) sources I should curate regularly, (c) how to send me a check if you are allergic to PayPal, and (d) to find out how to send me images of plants. Vegetables are fine! Fungi and coral are deemed to be honorary plants! If you want your handle to appear as a credit, please place it at the start of your mail in parentheses: (thus). Otherwise, I will anonymize by using your initials. See the previous Water Cooler (with plant) here. Today's plant (AM):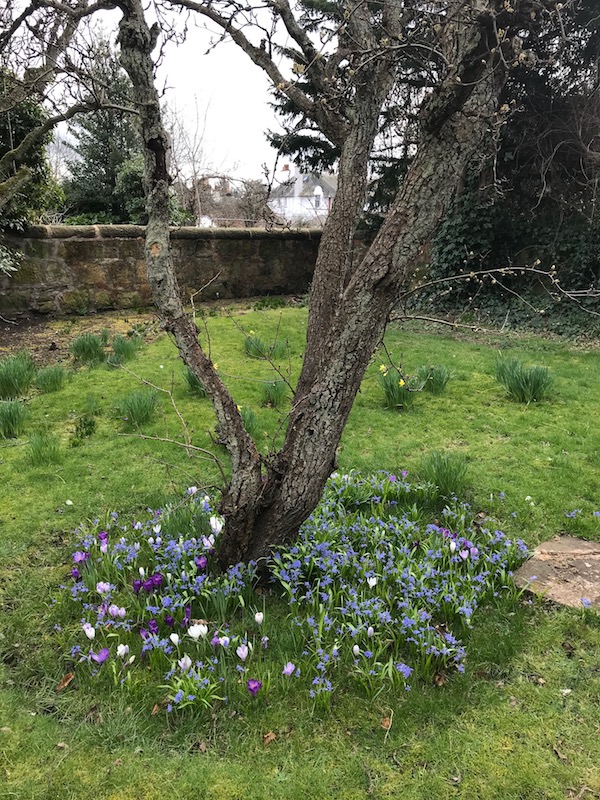 AM writes: "From last week in St Andrews Scotland. Crocuses putting on a brave front in somewhat chilly and damp weather." I can feel the dampness…
* * *
Readers: Water Cooler is a standalone entity not covered by the annual NC fundraiser. So if you see a link you especially like, or an item you wouldn't see anywhere else, please do not hesitate to express your appreciation in tangible form. Remember, a tip jar is for tipping! Regular positive feedback both makes me feel good and lets me know I'm on the right track with coverage. When I get no donations for five or ten days I get worried. More tangibly, a constant trickle of donations helps me with expenses, and I factor in that trickle when setting fundraising goals:
Here is the screen that will appear, which I have helpfully annotated.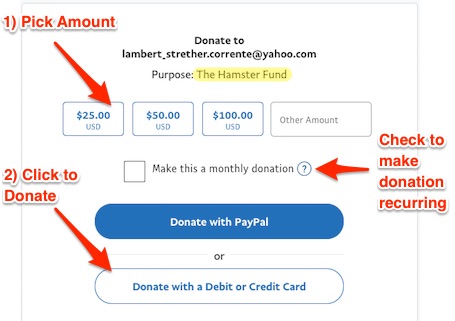 If you hate PayPal, you can email me at lambert [UNDERSCORE] strether [DOT] corrente [AT] yahoo [DOT] com, and I will give you directions on how to send a check. Thank you!