By Lambert Strether of Corrente.
Patient readers, I had a spate of connectivity problems; I'll add more in Politics shortly. –lambert UPDATE All done!
Trade
"New trade skirmishes are threatening the flow of medical equipment considered critical to fighting the coronavirus pandemic. Curbs on exports of drugs, chemicals, face masks, ventilators and other equipment vital to stopping the pathogen have proliferated as the number of cases world-wide has spiraled… amid fears of shortages and higher domestic prices if overseas buyers snap up crucial supplies" [Wall Street Journal]. "By one measure, governments around the world introduced 70 new export curbs and more are being imposed almost daily. Some economists say the reasoning is shortsighted and may backfire. The limits risk deterring manufacturers from investing in new capacity, could stem the flow of needed parts and may exacerbate the very supply squeeze governments wish to avoid. Evidence also suggests the actions will drive up the price of the equipment just when governments need it most."
#COVID-19
At reader request, I've added this daily chart: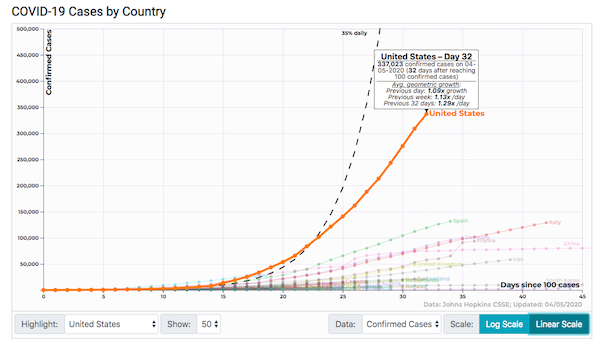 The data is the John Hopkins CSSE data. Here is the site. I am using a linear, not a logarithmic scale, because the linear scale conveys the alarming quality of the multiplication better (don't @ me, math nerds). I did not adjust for population, because it seems to me that the epidemics spread through a population in a fractal matter; within reasonable limits, the shape of the curve will be the same. Show me I'm wrong!
Politics
"But what is government itself, but the greatest of all reflections on human nature?" –James Madison, Federalist 51
"They had one weapon left and both knew it: treachery." –Frank Herbert, Dune
"They had learned nothing, and forgotten nothing." –Charles Maurice de Talleyrand-Périgord
* * *
2020
We encourage readers to play around with the polling charts; they are dynamic, and there are a lot of settings, more than I can usefully show here. Here is a link to alert reader dk's project. You can also file bug reports or feature requests using the same contact process as for Plants, below. Thanks — but no promises!

Once again, we have no new national or state polls today. Either (a) the pollsters have called the election, or (b) the pandemic (though I would imagine anybody "sheltering in place" would welcome a call).

* * *

UPDATE Biden (D)(1): "Trump, Biden trade barbs over possible virtual Democratic convention" [NBC]. "'Well, we're going to have to do a convention, may have to do a virtual convention,' Biden told ABC's 'This Week' days after the Democratic Party postponed the event until mid-August. 'I think we should be thinking about that right now. The idea of holding the convention is going to be necessary, but we may not be able to put 10-, 20-, 30,000 people in one place. That's very possible. Again, let's see where it is.'" • And then there are the alll-important meetings on credentials, the platform, and rules and bylaws. How will they be handled? Zoom?

Joe Biden talked about his chat with Bernie Sanders about a VP pick on "This Week": "I was apologizing to him by saying 'Bernie, I don't want in any way — it's not in any way to demean your effort — but if we don't start now we're not going to be able to get there."

— Holly Otterbein (@hollyotterbein) April 5, 2020

Not sure I want Biden negotiating with foreign leaders if his idea of making a case is saying his counter-party can destroy him, while at the same time not making any kind of offer.

Sanders (D)(1): A conversation starter, at least. Thread:

Bernie Post-Mortem: He was winning, and then his opponents did something unprecedented to stop him. Everything else is window dressing. And if Team Biden was smart, they would be making massive efforts to heal the wound caused by that unprecedented move.

— Respectable Lawyer (@RespectableLaw) April 6, 2020

It is true that the Night of The Long Knives orchestrated on Biden's behalf before California was unprecedented; I've never seen anything like it. At the same time, as so much else, it calls into question the legitimacy of the entire primary. I mean, how many of the candidates were really trying to get elected, and how many were straws?

UPDATE Sanders (D)(2): "Some Sanders top allies have urged him to withdraw from 2020 race: report" [The Hill]. "Sanders' campaign manager Faiz Shakir and Rep. Pramila Jayapal (D-Wash.), one of the senator's top surrogates, were both part of the group that has pressed for him to suspend his campaign, according to the sources. Other Sanders aides and allies such as national campaign co-chair Nina Turner have reportedly encouraged the 78-year-old to stay in the race. 'Millions of people are counting on him to be on the ballot so they can vote for that alternative vision that they support,' Larry Cohen, a longtime supporter who chairs a nonprofit associated with Sanders, told the Post. "If he was not on the ballot, they will feel abandoned.'" • Too bad there's no way simply to poll Sanders supporters. Nobody seems to be suggesting that, oddly (and if it's not possible is a deficiency in the Sanders campaign, I would think.)

UPDATE Sanders (D)(3): "Sanders' 'narrow path' to victory gets even narrower" [Politico]. "It is especially important to these Sanders supporters to maintain the rule changes they achieved in 2016, such as barring superdelegates from voting for presidential candidates on the first ballot. In order for his backers to have negotiating power, they said, Sanders needs to receive at least 1,200 delegates — he has more than 900 now — so they can introduce minority resolutions. They also hope that Sanders can push Biden to commit to progressive appointments. 'The party reforms go down the drain if he doesn't stay in,' said Cohen, adding that if he drops out before hitting 1,200 delegates, 'it's going to be Biden's people writing the platform, that's it.'" • Oddly, or not, the pundits are considering only the fate of the candidate and his campaign, and not the movement who backed him. No doubt they would prefer there would never be a small donor-driven insurgency in the Democrat Party ever again. Much will depend on Sanders' decision; my personal view is that he owes the Democrat Party nothing.

UPDATE Sanders (D)(4): Nurses have a lot of political clout normally, but now:

Day by day I am steadily more disgusted with both of the parties in the USA.

There is no country. The corporations with their govemental stand ins are strip mining our resources.

Speaking for myself, I think it is critical to entertain a 3rd party discussion immediately.

— RoseAnn DeMoro (@RoseAnnDeMoro) April 5, 2020

Hoo boy.

Trump (R)(1): When he's right:

Reporter: Biden just attacked you online(in a tweet).

Trump: No, he didn't. He doesn't write that stuff. He has democrat operatives write that. … If he's even watching this, he doesn't understand what he's watching.

— Amanda (@AmandaPresto) April 4, 2020

* * *

GA: Touch screens a disaster in the making:

1/ A politically diverse group of organizations, physicians, and voters joined @CoalitionGoodGv in asking @GaSecofState to review the public health safety of the 80,000 pieces of touchscreen equipment about to be deployed for the May 19 election. Thread ⬇️https://t.co/sSPJTZXNhF pic.twitter.com/1oRa6vu3Xt

— Marilyn Marks #StayHome (@MarilynRMarks1) April 6, 2020

WI: "Election Preview: Yes, Wisconsin Still Plans To Hold Its Primary On Tuesday" [FiveThirtyEight]. • Seems like the only Democrats who haven't called for the primary to postponed are the DNC and the Biden Campaign:

NEW: Mayors of Milwaukee, Madison, Kenosha and more ask Wisconsin DHS secretary to use emergency powers to postpone Tuesday's election, according to a letter provided to @politico pic.twitter.com/KoK00Rpd7d

— Natasha Korecki (@natashakorecki) April 5, 2020

I have to say that the Biden personally encouraging his voters to join the lines at the polling booths in the midst of a pandemic and infect themselves and others is, well, novel, like so much else this year. Again, how can anybody regard this election is legitimate?

UPDATE WI: "Wisconsin infectious diseases expert: Allowing in-person voting Tuesday 'just seems really irresponsible'" [Journal-Sentinel]. "James Conway, an infectious diseases expert at the University of Wisconsin-Madison's Global Health Institute, said allowing people to gather at polling locations during Tuesday's spring election will also damage the effectiveness of state leaders' message to stay away from each other to blunt the spread of coronavirus. Gov. Tony Evers on March 25 issued an order closing scores of businesses in an effort to limit the spread of the virus and Conway says, so far, that action has been successful in preventing the virus from spreading like wildfire…. 'From a public health stand it's both the wrong message and it's taking an enormous gamble,' Conway said."

WI: "Wisconsin's Pandemic Primary Could Exclude Many Voters" [Capital and Main]. "If an election indeed takes place Tuesday, it will be chaotic. The state is facing a severe shortage of poll workers as well as a massive number of absentee ballot requests that the state may not be able to handle. Beside the state's strict voter ID law, new hurdles borne out of the pandemic will disproportionately affect marginalized populations, including low-income people, people of color, seniors, and people with disabilities—but will make voting harder for nearly everyone."

WI: "Absentee ballots go missing" [Channel3000]. • Wow, that's a totally unexpected plot twist.
RussiaGate
National security goons with the self-awareness of stumps or rocks:

Can we organize a Deep State Poetry Slam on Zoom? We could call it the "Tool of Torture Invitational." https://t.co/YtOEuLrjil

— Matt Taibbi (@mtaibbi) April 5, 2020
Realignment and Legitimacy
"The Democratic Party Must Harness the Legitimate Rage of Americans. Otherwise, the Right Will Use It With Horrifying Results." [Jon Schwarz, The Intercept]. "The anger of Americans, once they figure out what's being done to them right now, is going to be volcanic. The fallout from 9/11 and the great recession of 2007-2010 will be imperceptible in comparison…. What we know from history is that someone always shows up to harvest this level of ambient rage — but it can go in two directions. If people can be made "angry at the crime," as Steinbeck wrote, there can be huge positive political changes. During the Great Depression, Franklin D. Roosevelt and unions organized the anger and used it to create the New Deal and the largest middle class in history. In unluckier countries, like Germany, Italy and Japan, the political left failed. The fury was organized by fascists, and directed at innocents…. No one knows today which path the U.S. will take. But it's going to be one or the other: The right or the left will emerge as the champion of the coming American rage." • What if "essential" meant… essential?

Wouldn't it be crazy if there was a large external shock to our extractive capitalist system that proved without a shadow of a doubt that our entire economy runs on the labor of the working class, not the unseen and immeasurable genius of plucky billionaires?

— Ben Hauck ?? (@fightdenial) April 2, 2020

Authoritarian followers:

Liberals just coming out and admitting that they would be fine with a monarchy if it meant they could go back to brunch https://t.co/5E7PrGRL17

— Hilary Agro ? #IBelieveTara (@hilaryagro) April 6, 2020
Stats Watch
At reader request, I added some business stats back in. Please give Econintersect click-throughs; they're a good, old-school blog that covers more than stats. If anybody knows of other aggregators, please contact me at the email address below.
* * *
Employment Situation: "March 2020 Conference Board Employment Index Plummets" [Econintersect]. "The year-over-year index growth rate decelerated by 47 % month-over-month and a negative 45 % year-over-year. The Econintersect employment index also slowed. Both of these indices are predicting softer job growth 6 months from now." • 47% seems like rather a lot.
* * *
Shipping: "Coronavirus-driven restrictions on travel and tight controls on movement around ports have left growing numbers of crews stuck on ships for long periods,… and many face exhaustion and potential illness at sea" [Wall Street Journal]. "Big cutbacks in flights have made it harder to move the many thousands of sailors that relieve crews at far-flung ports. At the same time, many ports are restricting movements of seafarers from anchored vessels. There has only been one outbreak of coronavirus on a cargo ship publicly disclosed so far. But shipowner groups want governments to act before seaborne supply chains reach a breaking point."
Labor Market: "The rush to eliminate jobs across the U.S. is stopping at the warehouse doors. Logistic staffing agency ProLogistix says demand for workers is 'off the charts' as retailers and distribution companies try to keep up with enormous demand to replenish stores and feed e-commerce operations" [Wall Street Journal]. "Warehousing and storage operators brought on 8,200 workers last month by the latest government measure…. defying the steep employment downturn in an American economy staggered by the coronavirus pandemic. The March hiring is likely just a sliver of the thousands of new workers heading into warehouses. ProLogistix says some employers are telling recruits their new jobs aren't just temporary work, but the broader employment picture carries troubling signals. Manufacturers and other goods-producing companies are slicing payrolls in big numbers, and faltering economic output will likely hit consumer buying power and the demand for all those warehouse workers."
Tech: "COBOL-coding volunteers sought as slammed mainframes slow New Jersey's coronavirus response" [The Register]. "Governor Murphy said his staff is "doing a heck of a job but literally we have systems that are 40-plus years old and there'll be lots of post mortems and one of them on our list will be how the heck did we get here when we literally needed cobalt programmers." • Only in the wacky world of software "engineering" would a program that works for forty years be considered a problem:
our world's digital infrastructure – banks, climate models, and most of gov tech run on cobol and fortran.

As someone who studies software sustainability, I deeply appreciate people who wrote code DECADES ago and it still works.

— Nic Weber (@nniiicc) April 5, 2020
Especially code written by public servants, instead of, well, the sort of people who programmed Uber's app tp rip off the drivers.
Tech: "5G cell towers torched in U.K. amid bogus coronavirus theories" [NBC]. You say "5G cell towers torched" like that's a bad thing.
Employment Situation: "COVID-19 and Unemployment Risk: State and MSA Differences" [Federal Reserve Bank of St Louis]. "Our analysis indicates that there are differences among states and MSAs regarding the share of workers facing a high risk of unemployment in the face of COVID-19. However, it is also important to consider the more detailed composition of these jobs, as aggregate statistics mask important features. For example, Nevada and Indiana both have a large fraction of "high-risk" workers, but those workers are in very different occupations—tending towards tourism in Nevada and production in Indiana—that may have very different immediate responses to the COVID-19 outbreak."
* * *
Today's Fear & Greed Index: 27 Fear (previous close: 21 Extreme Fear) [CNN]. One week ago: 25 (Extreme Fear). (0 is Extreme Fear; 100 is Extreme Greed). Last updated Apr 6 at 11:57am. Now mere fear. "Light at the end of the tunnel"?
Rapture Index: Closes up 2 on Globalism ("The massive downturn in the economy is bringing nations together like never before") and Oil Supply/Price ("The sharpest ever rise in oil prices (25%) show the unrest in financial markets") [Rapture Ready]. Record High, October 10, 2016: 189. Current: 186. Remember that bringing on the rapture is a good thing. Biggest pop in awhile. Seems like an odd take on Globalism!
Health Care
"HHS to divert some of $100B hospital COVID-19 funding to uninsured" [Health Care Dive]. This seems to be the direct payment mechanism:
The Trump administration said Friday it will pay hospitals to treat uninsured COVID-19 patients, targeting a crucial coverage gap as the novel coronavirus continues to overwhelm and upend the U.S. healthcare system. HHS Secretary Alex Azar said the funding will come in part from the $100 billion in the relief legislation signed late last month."As a condition of receiving funds under this program, providers will be forbidden from balance billing the uninsured for the cost of their care. Providers will be reimbursed at Medicare rates," Azar added. "To help them meet payroll and stay open, Congress allocated $100 billion in emergency funding last week. But HHS had not said how or when the money will be distributed. Now HHS says some will go to help pay to treat the uninsured."

* * *

"Ventilators aren't a panacea for a pandemic like coronavirus" [The Spectator]. "Clinical trials of new and old medications are ongoing. But right now, I am sorry to say there is no proven treatment for Covid-19 infection. It is therefore at least conceivable that putting patients on ventilators for Covid-19 pneumonia could be a bridge to nowhere. Now of course, hope springs eternal. The patient may recover on their own while we keep them alive with our machines. But this is not a risk-free wager. Dr. Paul Mayo, perhaps New York City's most illustrious critical care doctor expressed the risks pithily: 'putting a person on a ventilator creates a disease known as being on a ventilator.' When we mechanically blow air into your damaged lungs faster and harder than humanly possible, ventilator-induced lung injury may result. Generally, for a person to tolerate the undertaking, we have to sedate them, leading to immobility and severe weakness. While sedated, the person cannot cough or clear their airway effectively, leading to superimposed bacterial pneumonia. This is an awful lot to survive. And in the case of Covid-19, the preliminary outcome data is rather dismal."

A really illuminating YouTube on ventilators, and the (no doubt mostly well-meaning) efforts that confuse ventilators with pumps (hat tip Lefteris):

* * *

"Trouble in testing land" [University of Oxford]. "Multiple tests have been provided for evaluation, and a range of convalescent sera has been used to determine whether the tests can identify both low and high levels of antibodies. We have been very careful to test using gold standards checked against a sensitive enzyme-linked immunosorbent assay (Elisa) of the spike protein and other viral proteins. Sadly, the tests we have looked at to date have not performed well. We see many false negatives (tests where no antibody is detected despite the fact we know it is there) and we also see false positives. None of the tests we have validated would meet the criteria for a good test as agreed with the MHRA. This is not a good result for test suppliers or for us. Interestingly we are not the only ones who having difficulty identifying commercial tests that work in a home test kit format. The Spanish apparently returned test kits that were not working, and the Germans who are developing their own sensitive kits believe they are three months away from getting these available and validated. Not test has been acclaimed by health authorities as having the necessary characteristics for screening people accurately for protective immunity."

How they manage quarantines in the First World:

This is how you get exposed #COVID19 people to not go out–you give them EVERYTHING they need to stay in, including garbage disposal instructions, spam, fresh produce, MASKS, toilet paper and a PEP TALK/ statement of care ????https://t.co/BrxNddHRMM

— Marie Myung-Ok 명옥 Lee (@MarieMyungOkLee) April 5, 2020

Slack:

As I drove home later that day, through the protective ring of equipment, I realized a fundamental difference between public safety and healthcare.

Public safety is BUILT on latent capacity. We pay for people and equipment to stand idle, over-prepared for emergencies.

9/

— Ryan Gamlin, MD (@RyanGamlin) April 4, 2020

You'd think people would generalize:

what if the states… united? had some sort of central government apparatus to aid with pandemics and things…? https://t.co/M5DGVl7kc8

— Talia Lavin (@chick_in_kiev) April 6, 2020

Water

"Google Data Centers' Secret Cost: Billions of Gallons of Water" [Bloomberg]. "Google considers its water use a proprietary trade secret and bars even public officials from disclosing the company's consumption. But information has leaked out, sometimes through legal battles with local utilities and conservation groups. In 2019 alone, Google requested, or was granted, more than 2.3 billion gallons of water for data centers in three different states, according to public records posted online and legal filings." • 

Musical Interlude

Inspired by farmboy:

Not at all what I expected!

Guillotine Watch

"In This Remote Town, Spring Means Salmon — and Thousands of Fishermen From Coronavirus Hot Spots" [ProPublica]. "Later this spring, Alaska's Bristol Bay will blossom into one of the largest annual salmon fisheries in the world. The regional population of about 6,600 will triple in size with the arrival of fishermen, crews and seasonal workers on jets but also private planes and small boats, many traveling from out of state. And yet the heart of the health care system in southwestern Alaska, in a corner of the state where the Spanish flu once orphaned a generation, is a 16-bed hospital in Dillingham operated by the Bristol Bay Area Health Corp. Only four beds are currently equipped for coronavirus patients. As of Wednesday, the hospital had a few dozen coronavirus tests for the entire Florida-sized region, tribal leaders said. If those newly arrived workers need to quarantine for two weeks, as mandated by the state, residents said it's unclear where everyone will hunker down. Local store shelves are already bare of Clorox, Lysol and rubber gloves." • Bristol Bay's Naknek Airport is a state-owned facility; perhaps the fees for general aviation could be raised to be more commensurate with real costs…

"They Were the Last Couple in Paradise. Now They're Stranded." [New York Times]. "The resort's full staff are at hand, because of the presence of the two guests. Government regulations won't allow any Maldivians to leave resorts until after they undergo a quarantine that follows their last guests' departure. Accustomed to the flow of a bustling workday, and the engagement with a full house of guests, most of the staff, having grown listless and lonely, dote on the couple ceaselessly. Their "room boy" checks on them five times a day. The dining crew made them an elaborate candlelit dinner on the beach. Every night performers still put on a show for them in the resort's restaurant: Two lone audience members in a grand dining hall." • Very on-brand for the Times. And speaking of the Times:

It's hard to shelter in place if you have to drive to buy food:

This New York Times map is put together by people who clearly should get out of Brooklyn more often. IT TAKES *MANY MILES* TO DRIVE TO A STORE IN MUCH OF AMERICA. https://t.co/ekVyCK7cA2

— Yasha Levine (@yashalevine) April 2, 2020

"Religious groups battle orders to close services" [The Hill]. "Eleven states, out of the 38 that have issued statewide stay-at-home orders, have granted exemptions for religious gatherings: Arizona, Colorado, Delaware, Florida, Kentucky, Michigan, New Mexico, North Carolina, Pennsylvania, West Virginia and Wisconsin. Almost a fifth of respondents to a poll last week said they were still attending religious gatherings in person, BuzzFeed News reported." • In most religions with which I'm familiar, Typhoid Mary is not a venerated figure….

Class Warfare

"Class and COVID: How the less affluent face double risks" [Brookings Institution]. "There are wide gaps by income class in both the risk posed by the virus, because of existing health conditions, and in levels of response to the risk of infection." • With charts.

Yashar Ali on the same topic. Thread:

1. I've never had a hard time sleeping. But the past three nights I have slept a total of 3 hours. I'm writing this so I can sleep.

I am very angry. And I've realized during that having the space to be angry is a privilege because many people are too busy being terrified.

— Yashar Ali ? (@yashar) March 30, 2020

And from the same thread:

18. So Paula did everything right in her life. How have we paid her back? She's had everything snatched from her overnight. Nothing she planned for in her life involved losing her job and not being employable. Nothing. And there are tens of millions of Americans in the same spot

— Yashar Ali ? (@yashar) March 30, 2020

"The Making of the Soviet Ruling Class" [Jacobin]. "By 1935, Moscow's House of Government had 2,655 tenants — overwhelmingly families of state and party officials: … Two of The House of Government's three thematic "strains" deliver impressive insights. The first is the family histories of many 'named and unnamed' residents: Slevkine's sensitive rendering of so many compelling, often tragic residents' lives forms the centerpiece of this remarkable study. Equally engrossing, at times, is his exploration of the literary foundations of the Bolshevik worldview: 'For the Old Bolsheviks, reading the 'treasures of world literature' was a crucial part of conversion experiences, courtship rituals, prison 'universities,' and House of Government domesticity.' This third 'analytical' strain — Slezkine's identification of the Bolsheviks as millenarian religious sectarians — is problematic." • Another damn book to read, even if it is a cautionary tale.

News of the Wired

"Sharing a neat statistical result from one of Nassim Taleb's papers with kids" [Mikes Math Page]. • Not only kids, but adults!

People with too much time on their hands (1):

A couple of Farmers painted their cow and staged a #TigerKing photo shoot..
This is why the Internet was invented! pic.twitter.com/pGgtOO3WBF

— Jim Sheridan (@Jim_Sheridan) April 3, 2020

People with too much time on their hands (2):

Can you please paint The Artist Formerly Known As Prince having a fight with Prince Harry over who is least known as Prince now. In the background we can see the The Queen, and Queen (the band) also fighting over a similar thing.

– Lee Wheeler pic.twitter.com/mYmRC2nef4

— Jim'll Paint It (@Jimllpaintit) April 3, 2020

* * *

Readers, feel free to contact me at lambert [UNDERSCORE] strether [DOT] corrente [AT] yahoo [DOT] com, with (a) links, and even better (b) sources I should curate regularly, (c) how to send me a check if you are allergic to PayPal, and (d) to find out how to send me images of plants. Vegetables are fine! Fungi and coral are deemed to be honorary plants! If you want your handle to appear as a credit, please place it at the start of your mail in parentheses: (thus). Otherwise, I will anonymize by using your initials. See the previous Water Cooler (with plant) here. Today's plant (CanCyn):

CanCyn writes: "I took this photo yesterday while out for a walk on a local trail that is an offshoot of our famous Bruce Trail. I don't know what kind of fungus it is, growing on a fallen log, with some of the snow from the day before still not quite melted. For the record, photo was taken on my iPhone, I cropped and lightened it just a bit." The Bruce Trail is in the province of Ontario, Canada.

* * *

Readers: Water Cooler is a standalone entity not covered by the annual NC fundraiser. So if you see a link you especially like, or an item you wouldn't see anywhere else, please do not hesitate to express your appreciation in tangible form. Remember, a tip jar is for tipping! Regular positive feedback both makes me feel good and lets me know I'm on the right track with coverage. When I get no donations for five or ten days I get worried. More tangibly, a constant trickle of donations helps me with expenses, and I factor in that trickle when setting fundraising goals:

Here is the screen that will appear, which I have helpfully annotated.

If you hate PayPal, you can email me at lambert [UNDERSCORE] strether [DOT] corrente [AT] yahoo [DOT] com, and I will give you directions on how to send a check. Thank you!