By Lambert Strether of Corrente.
#COVID-19
At reader request, I've added this daily chart: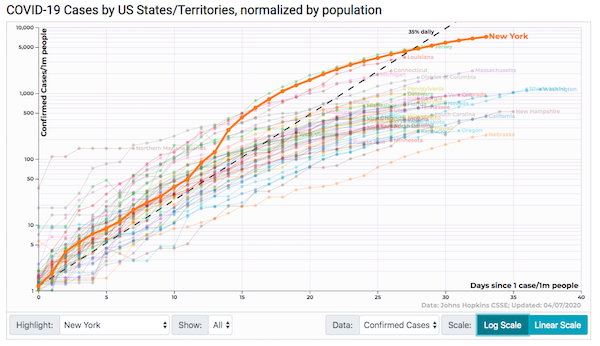 The data is the John Hopkins CSSE data. Here is the site. I have changed to a logarithmic scale for US States and territories, adjusted for population. See Vice, "How to Read the Coronavirus Graphs":
Quantities that grow exponentially, when depicted on a linear scale, look like curves that bend sharply upward, with the curve getting constantly steeper. On a log scale, exponentially growing values can be depicted with straight diagonal lines.

That's the beauty of plotting things on log scales. Plots are meant to make things easy to understand, and we humans are much more adept at understanding linear, straight-line behavior. Log plots enable us to grasp exponential behavior by transferring the complexity of constantly steepening curves into the simplicity of an exponentially increasing scale.

On a log scale, we want to constantly be making the line more and more horizontal. The general concept of "flattening" is still a good one, but it's never going to curve down. And so what we should be looking, and hoping for is a trend toward horizontal.
I hope this change is helpful. One also notices at once that the New York and New Jersey metroplexes stand out.
Politics
"But what is government itself, but the greatest of all reflections on human nature?" –James Madison, Federalist 51
"They had one weapon left and both knew it: treachery." –Frank Herbert, Dune
"They had learned nothing, and forgotten nothing." –Charles Maurice de Talleyrand-Périgord
2020
Since the Democrat primaries, barring force majeure, are over, I'm eliminating the Democrat primary voting feature. I want to thank dk for all the effort he put into it and the many improvements (and I hope he added to his technical arsenal doing it). In retrospect, and as I kept pointing out, the "Biden Juggernaut" — mysteriously strong, given that Biden performed poorly in every state em>until South Carolina, never visited many, and had cash problems — was the key story. Yes, of course there can be some bias in the polls, but not that much. In retrospect, the Biden Juggernaut said a lot about the state of the Democrat Party. Bitecofer is wrong, in that not all Democrat see politics as a partisan blood sport with team loyalty the primary ethic, if I may call it that; Bitecofer was surely right that the dominant factions see it that way, and that this — I can think of no other words for it — depraved degradation of the body politic and the democratic ethos has been carefully nurtured by the Democrat establishment (along with the press, who found it drove clicks) through, e.g., RussiaGate. On the bright side, a left that can learn to create and manage hate should do well. As the Romanovs discovered, to their cost. "Not me, them!" as it were.

* * *

Sanders (D)(1): The Sanders campaign mailed out the text of his speech addressing his supporters, in which he suspends his campaign (here is a video; Sanders published it in Jacobin). I'll skip the parts about "winning the ideological war"; the war isn't won until the enemy is driven from the field and a bill is passed. I'll excerpt what is key to me: The fate of the Sanders movement, and mechanics of the nomination process through the primaries:

[SANDERS:] And so today I am announcing the suspension of active campaigning, and congratulate Joe Biden, a very decent man [I will have more to say about this], on his victory.

As you all know, we have never been just a campaign. We are a grassroots multi-racial, multi-generational movement which has always believed that real change never comes from the top on down, but always from the bottom on up. We have taken on Wall Street, the insurance companies, the drug companies, the fossil fuel industry, the military industrial complex, the prison industrial complex and the greed of the entire corporate elite. That struggle continues. .

I'm gonna need an operational definition on that, because Our Revolution didn't cut it.

Martin Luther King, Jr. reminded us that "The arc of the moral universe is long, but it bends toward justice." The fight for justice is what our campaign was about. The fight for justice is what our movement remains about.

And, on a practical note, let me also say this: . While Vice President Biden will be the nominee, .

Then, together, standing united, we will go forward to defeat Donald Trump, the most dangerous president in modern American history. And we will fight to elect strong progressives at every level of government – from Congress to the school board.

As I hope all of you know, this race has never been about me. I ran for the presidency because I believed as president I could accelerate and institutionalize the progressive change that we are all building together. And, if we keep organizing and fighting, I have no doubt that our victory is inevitable. While the path may be slower now, we WILL change this country and, with like-minded friends around the globe, the entire world.

Readers know my views on the Sanders campaign as the unique institution that it is (do see this essay and its extension; they're not bad). And as readers know, my view was that the Sanders campaign should pivot toward accelerating the current orgnaizing efforts of workers, to which the openly brutal and stupid actions of elites in the current pandemic have given such impetus. For whatever reason, the Sanders campaign did not take my advice :-).

Analysis of the now victorious Democrat Establishment can wait for another day (one of the more entertaining aspects of my Twitter feed today is all the Democrats praising Sanders, who onlu yesterday were smearing him. But politics aren't beanbag; "Assuredly, I say to you, they have their reward"). For now, I would like to focus a bit on Sanders the candidate and the man.

Consistency. Sanders has been consistent in his views, and in his ethos, throughout his career. He has been staggeringly disciplined in his messaging on the trail. That said, the flip side of his consistency has been, I believe, a lack of dexterity at the tactical level. For example, anyone over the age of six could see that Biden was going to win South Carolina. Where was the ready-to-deploy riposte?

Comity. I think Greenwald is onto something:

Sanders did immense good — in 2016 amp; 2020. He inspired millions, highlighted the rot in the status quo amp; the Dem, and created a new small-donor model to fund a campaign. That#39;s huge.

But he still lost, twice, this time with advantages. Here#39;s my view of one reason why: pic.twitter.com/OVM6ocQIPv

mdash; Glenn Greenwald (@ggreenwald) April 8, 2020

It may be possible to adopt an attitude of Senatorial comity to one's adversaries (I do not for one moment believe that Joe Biden is "a very decent man") while at the same time running an insurgent campaign, but if it is, Sanders couldn't do it. (FDR did not attempt it; nor did, say, Huey Long.) Whether this is a personal characteristic of Sanders, or a deformation professionelle required to become "the Amendment King," I don't know.

Theory of Change. I believe that the Sanders Theory of Change — bringing the working class, as a class, into politics, currently through enfranchising them, though at this point I'm open to other methods — is, if not correct, the only political path that I and many can live with. In the previous essay, I discussed some reasons it failed. (It's worth nothing that the trendline of Sanders support in polling was gradually but constantly upward, 'til the very last day; it may be that he needed another year's worth of runway.) I think, in addition, many on the left* believed that liberal Democrats were, if not allies, exactly, capable of morally-based tactical alliances on policy; that it was possible to persuade them on, say, #MedicareForAll, for example; that they had "friends" to their right ("If only the Czar knew"). Clearly, that's not the case. If this election has shown anything, it is liberals and the left are opposed, not allied. (The left puts the working class first; both liberals and conservatives put "markets" first, the former with more layers of indirection and a sense of moral entitlement.) I think that must have been a bitter realization for Sanders (perhaps as bitter as his personal betrayal by his "friend" Warren, or his discovery that, decent though he may be, his "friend" Biden is a shameless liar). Stoller called Sanders brittle, but I think you'd have to be awfully tough to take blows like that. Yes, "if you want a friend in Washington, buy a dog;" but it was perhaps Sanders' key personal weakness that he was not cynical enough.

Finally, I am not at all of the Jimmy Dore persuasion. The Sanders campaign achieved amazing things: Besides winning IA, NH, Harry Reid's NV, and Nancy Pelosi's CA (the fifth largest economy in the world), he won the youth vote, including the black youth vote, the Latin vote, and in essence drove a giant wedge into the Democrat Party base. He clearly won the working class vote (his Walmart workers vs. Warren's lawyers); he just didn't expand it. It is true that the Democrat Establishment won the nomination based on a strategy of winning Red States they could never win in the general, but if they think Obama can put the Obama Coalition back together — will he and Michelle hit the trail with Joe? — I think they should think again. In any case, the Democrat base has shifted from what it was in 2008: Wealthier, more suburban, more PMC, more Republican-adjacent, more dependent on reactionary Black leadership in the South. What's been wedged is hard to unwedge.
#COVID19
"Obama: Robust coronavirus testing and monitoring the key to reopening country" [The Hill]. ""Social distancing bends the curve and relieves some pressure on our heroic medical professionals," Obama tweeted Wednesday. "But in order to shift off current policies, the key will be a robust system of testing and monitoring – something we have yet to put in place nationwide.'" • I had thought that Clyburn's Committee would be Impeachment 2.0, but apparently Pelosi decided to have him look forward and not back. I take Obama's sudden visibility (on the day Sanders dropped out) as a sign that #COVID19 will be handled by the Democratic strategist wing: The David Brocks (IIRC, there's already been one ad).
Realignment and Legitimacy
"Why Vote-by-Mail Could be a Legal Nightmare in November" [Politico]. "There's no question that, for public health reasons, expanding vote-by-mail is a wise decision for states to be making right now. But states — especially battlegrounds in the presidential election — should clarify as soon as possible the rules that their own courts are supposed to use in litigation that might arise over counting absentee ballots. It is not enough that state law has rules for casting ballots. There needs to be clarity on whether ballots can still count if something has gone wrong in the process of casting of them, especially if the problem is not the voter's fault. State legislatures have tended to leave these vote-counting matters for their courts to decide in the heat of the moment, and states have learned the hard way what happens when the counting rules are ambiguous. The lesson could be even harder this year, with the stakes perceived to be so high." • Details on what could go wrong. A lot, even absent chicanery.

"Mail-In Ballots Make Voter Fraud Easy. I Know Because I Did It." [Inside Sources]. Interesting anecdote! And: "States, I've since discovered, have no access to any master list of American citizens. So they can check to see if "Hannah Arendt" is a felon, or if she passed away as they can access death records. But they have no way of checking to see whether an American citizen with that birth date exists. It's an enormous hole in the ballot security system." • The Democrat Establishment would never support vote-by-mail unless they knew they could game it.
Stats Watch
At reader request, I added some business stats back in. Please give Econintersect click-throughs; they're a good, old-school blog that covers more than stats. If anybody knows of other aggregators, please contact me at the email address below.
"Mortgage Borrowers Stop Making Payments With Economy Shut" [Bloomberg]. "The percentage of loans in forbearance grew to 2.66% as of April 1, according to the MBA's Forbearance and Call Volume Survey. On March 2, the rate was 0.25%. For loans backed by Ginnie Mae, which serves low- and moderate-income borrowers, the rate jumped to 4.25%. The increase came as the U.S. economy largely shut down to help stem the spread of the coronavirus. The government is requiring lenders handling payments on federally backed loans to give borrowers grace periods of as much as six months at a time with no penalties. Loan servicers say they've been flooded with borrowers requesting help." • I'm sure the servicers will do fine, just as they did in the foreclosure crisis.
* * *
Shipping: "Amazon to suspend delivery service competing with UPS, FedEx" [Reuters]. "The suspension of Amazon Shipping will allow the company to focus on its core delivery operation, said Trevor Outman, founder of consultancy Shipware."
Travel and Leisure: "Costa Cruises slapped with proposed class-action suit over handling of coronavirus aboard Luminosa ship [WaPo]. • That's a damn shame.
Tech: "We Have No Reason to Believe 5G Is Safe" [Scientific American]. "more than 240 scientists who have published peer-reviewed research on the biologic and health effects of nonionizing electromagnetic fields (EMF) signed the International EMF Scientist Appeal, which calls for stronger exposure limits. The appeal makes the following assertions:" Numerous recent scientific publications have shown that EMF affects living organisms at levels well below most international and national guidelines. Effects include increased cancer risk, cellular stress, increase in harmful free radicals, genetic damages, structural and functional changes of the reproductive system, learning and memory deficits, neurological disorders, and negative impacts on general well-being in humans. Damage goes well beyond the human race, as there is growing evidence of harmful effects to both plant and animal life." The scientists who signed this appeal arguably constitute the majority of experts on the effects of nonionizing radiation. They have published more than 2,000 papers and letters on EMF in professional journals."
Manufacturing: "Etsy Rallies Its Artisanal Troops: 'Start Making Face Masks'" [Bloomberg]. "Etsy crafts never seemed like essential goods. But on Friday, the same day the White House announced guidelines that Americans should wear masks outside of the home, Etsy Inc. sent a push notification to every craftsperson on its website in the U.S.: 'Calling all sellers,' it said. 'Start making face masks.' The website is becoming a go-to destination for homemade cloth masks. Etsy said there was an average of one mask-related search on the site every two seconds in March. Last week, more than 10,000 sellers sold at least one mask apiece." • As I keep saying, masks — hopefully re-usable — will become fashion items, a permanent part of the industry.
Concentration: "Eli Lilly lowers insulin costs as coronavirus crisis deepens" [CNBC]. "Drugmaker Eli Lilly said on Tuesday it has capped the out-of-pocket cost for insulin to $35 per month to help diabetes patients across the United States, many of whom are facing financial difficulties due to the coronavirus outbreak. The new co-pay scheme covers most of Lilly's insulins, including widely-used Humalog injection, and can be purchased by people with commercial insurance as well as those without insurance…. However, patients with government insurance such as Medicaid, Medicare, Medicare Part D or any State Patient or Pharmaceutical Assistance Program are not eligible for the scheme, Lilly said." • So why not leave it there? (Readers, is $35 still high?)
* * *
Today's Fear Greed Index: 31 Fear (previous close: 26 Extreme Fear) [CNN]. One week ago: 22 (Extreme Fear). (0 is Extreme Fear; 100 is Extreme Greed). Last updated Apr 6 at 11:57am. Now mere fear. "Light at the end of the tunnel"?
Health Care
Department of Feline Felicity
"Editing the Buttholes Out of 'Cats' Was a Total Nightmare for VFX Crew" [Daily Beast]. "The visual effects source I spoke with described the situation as "almost slavery," and recalled working 90-hour weeks for months. Some colleagues, they recalled, stayed in the office for two or three days at a time, sleeping under their desks. But worst of all, the source said, was the treatment visual effects staff received from Tom Hooper… Some aspects of the production, the source alleges, became simply absurd—like when Hooper would demand to see videos of actual cats performing the same actions the cats would do in the film. 'And as you know,' the source said, 'cats don't dance.'" • One can imagine the joy some abused serf must have taken in adding buttholes to the animations…. And yet fior all this, Cats has become a cult favorite, today's The Rocky Horror Picture Show.
Guillotine Watch
"Private Flights Getting Cheaper Thanks to Stimulus Tax Relief" [Bloomberg]. "The legislation, known as the CARES Act, suspended a 7.5% federal excise tax on commercial air transportation through year-end, a move that would help big U.S. carriers. But it will also benefit some customers of private-jet operators such as Berkshire Hathaway Inc.'s NetJets and broker PrivateFly."
Ouch:
there are so many easier ways to let everyone know you were a legacy Harvard admit pic.twitter.com/aJfDEYi6ly

mdash; trey anastasio somoza (@investmntwanker) April 7, 2020
Class Warfare
"Why inequality could spread COVID-19" [Faheem Ahmed, Na'eem Ahmed, Christopher Pissaridesl, and Joseph Stiglitz, The Lancet]. "The inequitable response to COVID-19 is already evident. Healthy life expectancy and mortality rates have historically been markedly disproportionate between the richest and poorest populations. The full effects of COVID-19 are yet to be seen, while the disease begins to spread across the most fragile settings, including conflict zones, prisons, and refugee camps. As the global economy plunges deeper into an economic crisis and government bailout programmes continue to prioritise industry, scarce resources and funding allocation decisions must aim to reduce inequities rather than exacerbate them. We declare no competing interests." • Yes, the last sentence is medical publishing boilerplate designed to disclose potential conflicts of interests, but it does have a sting, doesn't it?
"As School Moves Online, Many Students Stay Logged Out" [New York Times]. "The absence rate appears particularly high in schools with many low-income students, whose access to home computers and internet connections can be spotty. Some teachers report that fewer than half of their students are regularly participating." • This feature of the American class system could come as a shock only to the nimrods of the Times. If we had universal broadband like South Korea, this wouldn't be a problem. But then South Korea is a First World country.
"How We Can Break the Power of Finance" [Jacobin]. "There are no non-political solutions to economic problems: every economic question is a question of power. Competing interest groups — Marxists call them classes — must organize in order to articulate their demands and transform our institutions. In a capitalist economy, the ruling classes will always have the upper hand. Challenging their dominance — and the crisis tendencies it generates — requires more than just clever economic analysis. It requires building a movement to demand a different future. Nowhere has this been clearer than in the response of capitalist states to the coronavirus crisis. Many on the Left have welcomed the rise in state spending that we've seen of late, claiming that it vindicates the fiscal policies articulated by politicians like Jeremy Corbyn and Bernie Sanders. In fact, governments have used these stimulus measures to support the interests of the coalition that underpins neoliberalism — homeowners and capitalists — rather than to help working people. Mortgage holders, but not private renters, are being offered repayment holidays; businesses are being given tax cuts; and there's widespread talk of bailouts for huge multinational corporations. We are now entering an age of state-monopoly capitalism, where the interests of leading politicians, financiers, and corporate executives are fused to such an extent that they come to resemble the 'general cartel' posited by Rudolf Hilferding back in 1917. In that context, the capitalist state is no friend of socialists, however large it becomes." • This article is well worth a read, especially for the contrast between Keynes and Veblen. (At some point I should read Stoller's book and see what he has to say about Veblem.)
"Against citizen science" [Aeon]. " It's not a coincidence that citizen science lowers the cost of research that requires lots of routinised labour. Thankfully, we're flush with design tools that manage to transform repetitive, mindless behaviour into something strangely fun and addictive: games. Galaxy Zoo, a non-profit, amateur astronomy project initially set up with data from the Sloan Digital Sky Survey, asks participants to scan millions of celestial images for common galactic morphologies; to keep their attention, players can spell out words with constellations, or win points for certain cute galactic structures. Smartfin, from the Scripps Institution of Oceanography at the University of California, San Diego, gets surfers to attach a sensor to their boards and collect data on salinity, temperature and the like, all of which is pinged back to Scripps once the surfer makes it back to the beach and hooks up the fin to a smartphone. Hundreds of 'camera traps', scattered around the Serengeti National Park in Tanzania, capture images of creatures that can then be identified by users at Snapshot Serengeti, thus keeping track of animal populations; to amuse themselves, people can attach comments to their favourite photographs (lolgoats, perhaps, rather than lolcats)." • The article gpes on to point out that citizen science has been polluted by billionaire-funded NGOs. But I think the initial impulse is benevolent. Citizen science should be funded by the Jobs Guarantee.
Lots of second homes in the Berkshires:
This fucking sucks. Berkshire County was always going to get hit hard due to older population but the data here is still chilling.

Virus is tearing through nursing homes in area per @JoshLandesWAMC reporting. pic.twitter.com/ibnMyXXvT1

mdash; Eoin Higgins (@EoinHiggins_) April 8, 2020
And the same with Coastal Maine, another hot spot.
News of the Wired
Lessons learned (1):
I keep finding positive things about this online learning. Today, I realized that I only have to iron the front side of my shirt. That's the only thing I have to iron. The. Front. Side. Of. My. Shirt. ??

mdash; Mr. Gupton (@GuptonFCS_LHS) April 7, 2020
Lessons learned (2):
CORONAVIRUS BRINGS OUT THE TRUTH pic.twitter.com/CMoYBfSSda

mdash; Sam Baker (@sam_baker) April 7, 2020
"One arrested after family argument over toilet paper turns physical" [Los Angeles Times]. "The son had accused the mother of hiding the family's toilet paper… The woman told deputies she hid toilet paper from her son, saying that he uses too much." • Sigmund Freud to the nearest courtesy phone?
* * *
Readers, feel free to contact me at lambert [UNDERSCORE] strether [DOT] corrente [AT] yahoo [DOT] com, with (a) links, and even better (b) sources I should curate regularly, (c) how to send me a check if you are allergic to PayPal, and (d) to find out how to send me images of plants. Vegetables are fine! Fungi and coral are deemed to be honorary plants! If you want your handle to appear as a credit, please place it at the start of your mail in parentheses: (thus). Otherwise, I will anonymize by using your initials. See the previous Water Cooler (with plant)
here
. Today's plant (PR):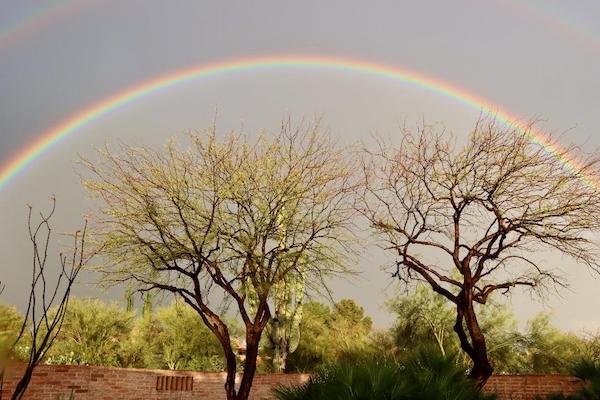 PR writes, subject line: "All is not lost. Text: "A rainbow at sunset last night in Tucson, AZ." I didn't deliberately save this one for today; it was just the next in line. But appropriate!
* * *
Readers: Water Cooler is a standalone entity not covered by the annual NC fundraiser. So if you see a link you especially like, or an item you wouldn't see anywhere else, please do not hesitate to express your appreciation in tangible form. Remember, a tip jar is for tipping! Regular positive feedback both makes me feel good and lets me know I'm on the right track with coverage. When I get no donations for five or ten days I get worried. More tangibly, a constant trickle of donations helps me with expenses, and I factor in that trickle when setting fundraising goals:
Here is the screen that will appear, which I have helpfully annotated.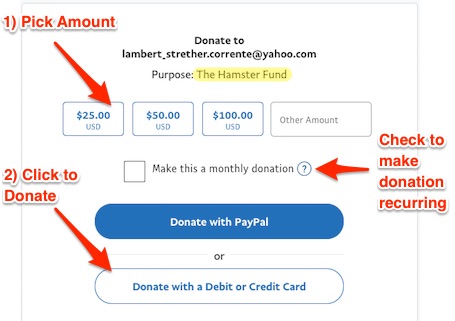 If you hate PayPal, you can email me at lambert [UNDERSCORE] strether [DOT] corrente [AT] yahoo [DOT] com, and I will give you directions on how to send a check. Thank you!