Experiment Finds That Gravity Still Works Down To 50 Micrometers ars technica
Satellite spots new ozone layer hole opening up over the Arctic New Atlas (David L)
New Renewable Energy Capacity Hit Record Levels In 2019 Guardian
Lawsuit Prompts Review of Plastic Pollution on Hawaiʻi Beaches Maui Now (David L)
Great Barrier Reef's third mass bleaching in five years is the most widespread ever Guardian (Kevin W)
A Google Plan To Wipe Out Mosquitoes Appears to Be Working Bloomberg
Is marriage over? aeon
#COVID-19
Coronavirus fight: White House health advisor Fauci says we may never get back to 'normal' CNBC
The Star spoke to the landlady, who said she "had no option" but to evict Gigi because she was "putting the health, safety and well-being of myself and others in the house at risk." https://t.co/sHSj4mQq3r

— Toronto Star (@TorontoStar) April 6, 2020
Health/Science

Iranian official backtracks after calling Chinese Covid-19 figures a 'joke' Guardian. Bill B: "Of course he's right. But you got to give him credit, doing something like this in Iran takes guts."

Social distancing: did individuals act before governments? Bruegel

UK

Boris Johnson moved to intensive care as condition worsens Financial Times. Looks like his karma caught up with him quickly on this one. He got sicker quickly, which is the pattern when the infected develop viral pneumonia. From the article:

Mr Johnson's allies said the prime minister "remains conscious at this time" and that his move to the ICU was a "precaution" in case he should need ventilation.

The NHS website explains that intensive care units are for those who are "seriously ill" or recovering from surgery. It adds: "Most people in an ICU have problems with one or more organs. For example, they may be unable to breathe on their own."

As most of you know, the success rate with ventilators is not high. An overnight update:

U.K. officials say Boris Johnson was receiving oxygen treatment at St Thomas' Hospital in London to help his breathing, but was conscious and not on a ventilator https://t.co/gFvSawRVvO

— Bloomberg Politics (@bpolitics) April 7, 2020

'Full-scale emergency': what the papers say about Boris Johnson's move to intensive care https://t.co/IDQ5ELGXtC

— Guardian news (@guardiannews) April 7, 2020

Boris Johnson is in ICU. Here's what happens if he becomes too ill to remain prime minister Business Insider

Britain could be worst coronavirus-hit nation in Europe with 66,000 deaths in the first wave of the outbreak – three times as many as expected in Italy Daily Mail

British 5G towers are being set on fire because of coronavirus conspiracy theories The Verge (Kevin W)

UK Government Encourages Social Distancing With In-Game Health Messages CNET

Coronavirus: Sophie Raworth's deserted London BBC. From a few days back, but a memorable photo essay.

Europe

Germany's coronavirus travel restrictions: What you need to know DW

Spain is moving to permanently establish universal basic income in the wake of the coronavirus pandemic Busines Insider (Kevin W)

China

How China's army of food delivery drivers helped keep country going South China Morning Post

China is now Blaming a Lond US Cyclist for Coronavirus   Vice. PlutoniumKun: "I can confirm that this is true – Chinese social media is full of this conspiracy theory."

India

Covid-19: India to supply essential drugs to badly-hit nations after Trump warns of retaliation

Middle East

Saudi futuristic city turns into a mirage in Covid-19 era Asia Times

US

Shithole kleptocracy pic.twitter.com/MDFBfx3B7h

— Mark Ames (@MarkAmesExiled) April 7, 2020

I must confess to not having been cynical enough to suspect this: https://t.co/t5ncnaIiaw

— Yves Smith (@yvessmith) April 7, 2020

Political Responses

Getting to Medicare-for-All, Eventually Dean Baker, Counterpunch

Trump is using the states as scapegoats for his coronavirus calamity The Week. Evident when Trump left lockdown decisions to states.

Serfs Revolt

My dad's an ER doctor. He just got off of a conference call. His hospital is cutting his salary – and everyone else's that works on the front lines – because they're losing money from non-COVID patients.

Cutting medical personnels' salaries right now. I mean… what the fuck?

— Cameron Beach (@CameronNBeach) April 3, 2020

Maybe I'm out of the loop — but, so far, I have heard little from the Hill about clearing the sometimes enormous student debt burdens facing residents who are now putting their lives on the line — and, in many cases already, dyinghttps://t.co/yvlivaQvGZ

— Jeffrey Stein (@JStein_WaPo) April 7, 2020

Economy/Finance

Dan K points out: "That might help to explain how stocks are so strong today. It was nice of Congress to share the insider tips with Wall Street execs."

SCOOP: Wall Street sources briefed by Congressional leaders and @WhiteHouse say expect next round of #virus stimulus by May, and somewhere in the $1.5 trillion neighborhood. PLUS: IPOs have dried up and may not come back this year, exchange officials tell @FoxBusiness more now

— Charles Gasparino (@CGasparino) April 6, 2020

Behind the scenes, private equity angles for a piece of stimulus SFGate. Paul R: "Lol. They are drawn to money like pigs to the trough. Kushner is all over it."

Scandal Follows Crisis After 35 Bond Funds Shuttered in Sweden Bloomberg

Wall Street Wins, Again: Bailouts in the Time of Coronavirus Nomi Prins, Common Dreams (UserFriendly)

America is Committing Economic Suicide Eudaimonia and Co (Dr. Kevin)

Coronavirus is revealing how broken America's economy really is Guardian (Bob K)

Domestic travel in the US, Australia and Southeast Asia could resume by June, says Flight Centre CEO CNBC
Australia
Cardinal George Pell to Walk Free From Prison After Court Overturns His Sex-Abuse Conviction Daily Beast
Polish government rams through electoral system changes Politico
Big Brother is Watching You Watch
Epic Richard Smith find:

In other news Stanford has made a toilet that identifies you based on your butthole https://t.co/JKSuLk4lD7 pic.twitter.com/RHbMa59ZPO

— quaranbean (@christapeterso) April 6, 2020

Foursquare Merges With Factual, Another Location-Data Provider TechCrunch
Imperial Collapse Watch
THE NATIONAL SECURITY AGENCY PARADOX SOLVED – WHY DOES SUCH A SMART INTELLIGENCE AGENCY KEEP GETTING OUTSMARTED BY THE RUSSIANS? John Helmer

Navy Secretary Thomas "The Sociopath" Modly blasts USS Roosevelt captain as 'too naive or too stupid' in leaked speech to entire ship's crew Task & Purpose

Acting US Navy Secretary: Fired Carrier Captain Was 'Stupid', Committed 'Betrayal' of Sailors Sputnik. Kevin W: ": The whole thing went down like a fart in an elevator. Here is a CNN link to a transcript of his speech. He also blames China for all this https://edition.cnn.com/2020/04/06/politics/thomas-modly-transcript/index.html."

Chuck L: "Justifiably withering comments down-thread on this non-apology apology."

Acting @SECNAV just issued an apology to the Navy for his comments today. pic.twitter.com/G7Q5YWigHK

— Dan Lamothe (@DanLamothe) April 7, 2020

Sudan finalizes deal with USS Cole victims' families Defense Post. Kevin W: "Key sentence – 'A U.S. court held Sudan responsible for the attack and ordered compensation, finding that the bombers were trained in the country.' Does that mean that a US court can find the US guilty and order compensation as the 9/11 hijackers learned their piloting & fighting skills in the US?" Moi: Not wild about the example, since not cross-border, but I appreciate the point: Since when is a government responsible for all the bad stuff that happens in their borders?
Trump Transition
2020
Supreme Court blocks Wisconsin from extending absentee voting The Hill

Supreme Court allows Wisconsin to throw away absentee ballots in gift to Republicans. Slate (UserFriendly)

NEW: The Democratic Party of Wisconsin just put up this guide to where to find curbside voting & absentee ballot dropoffs in your city. Can you RT this far & wide? https://t.co/XBROvUVHfA

— Ben Wikler (@benwikler) April 7, 2020

I don't agree with the claim that this particular video would have been effective. As someone down-thread said, it's hard taking on two opponents at once and the Dems would have gone nuts if Sanders had compared Biden to Trump, as much as the shoe fits. But it's a shame allies didn't take up these themes:

Imagine if a single person on Bernie Sanders' campaign had the guts to share this: pic.twitter.com/0kmLANsBKb

— Matt Orfalea (@0rf) April 6, 2020
Uber's Green Competitor That's Taking The World By Storm OilPrice
Fifa exco members took bribes for Qatar World Cup votes, US prosecutors allege Guardian (Kevin W)
Class Warfare
Uber Connects Out-of-Work U.S. Ride-Hail Drivers To Delivery, Production Jobs Reuters
Antidote du jour. Lee's Sleeping Beasty: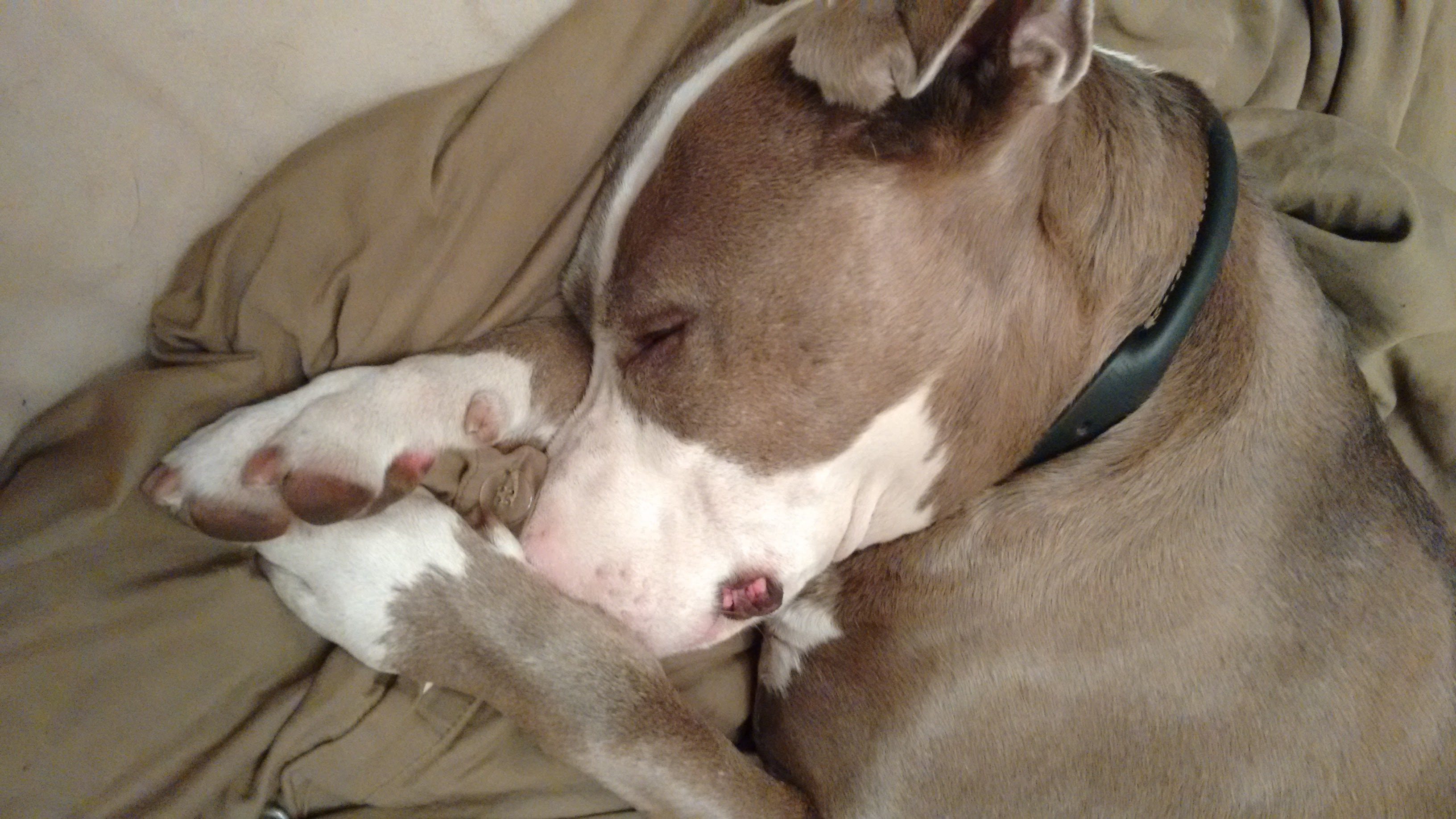 See yesterday's Links and Antidote du Jour here