The natives are getting restive. USA Today chronicled protests across the US against the coronavirus "shelter at home" and less-extreme forms of activity restriction. Most were small, only a hundred or so in places like Ohio, North Carolina, and Virginia. The largest was in Lansing, Michigan, despite Michigan suffering the third-highest death toll. Drivers set out to gridlock the capital and succeeded well enough to also block a hospital entrance: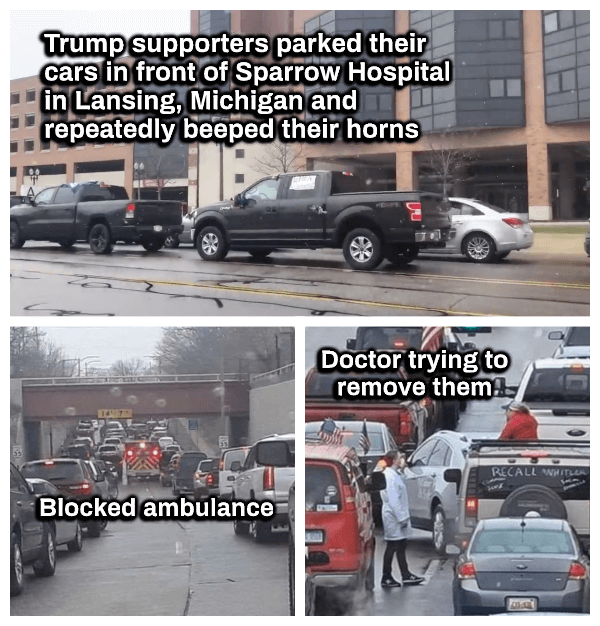 Most of the protestors wanted restrictions removed so they could go back to work or get their business back in operation. For instance, an account from Utah:
Deborah Palmer, a St. George resident who owns a small business, says that her concern for her family's job security is what brought her out to the march.

"My daughter is out of work, my husband's work has slowed down and I'm out of work because of this," Palmer said. "I hope our representatives and our governing officials get to see that there is a great number of us who do not support the government mandate and restrictions taking away our rights."
And it's undeniable that the coronavirus-induced shutdown have already exacted a huge toll. Data for March, when the restrictions weren't in place for the entire month, show much more severe damage than most economists foresaw. Note featured Mohamed El-Erian, Martin Wolf, and Goldman forecasts which were all more dour than the mainstream "quick rebound" take, which seemed obviously nonsensical.
The Financial Times today, which seldom practices hair-on-fire journalism, nevertheless sounds five alarms in its lead story, New data shows vast scale of US economic breakdown:
Data from all corners of the US economy published on Wednesday revealed the scale of the collapse in consumer demand, industrial activity and confidence, suggesting the hit from coronavirus lockdowns has been deeper even than feared.

Two measures in particular were historically bad: US industrial production showed the biggest monthly decline since the end of the second world war, while retail sales dropped by the most since the data started being collected in 1992…..

Industrial production, a broad gauge of output from factories, mines and utilities, fell 5.4 per cent in March from the previous month, according to the Federal Reserve, its worst performance since 1946.

Headline retail sales, a measure of sales in shops and restaurants, fell 8.7 per cent, according to the Commerce Department, erasing four years of growth….

Purchases at grocery stores surged by 27 per cent as consumers filled up their pantries, but there was a 27 per cent drop at bars and restaurants, which in many cases had to shut their doors. Sales at petrol stations sank by 17 per cent as people stayed home.

Clothing sales were cut in half, the worst of any category. Car and furniture sales each dropped by a quarter.
And aside from that, how was the play, Mrs. Lincoln?
Mind you, in some ways, the US is in a self-created worst of all possible worlds. I'm hoisting this chart from a cross post by Ilargi today: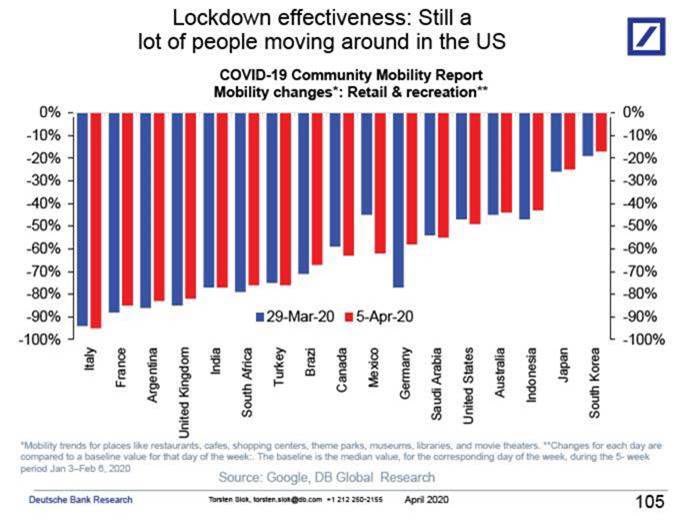 As we know, except for Northern California, US states and cities imposed restrictions too late, and even then too haltingly, to slow the rapid rise of infection. We still are not terribly locked down. And from what I can tell in Alabama, far too few people are wearing masks, and too many employers are cavalier about employee safety. For instance, at the CVS, the staff isn't wearing masks. I suspect management perversely wants everything to look normal. Yes, they finally installed plexiglass shields between the cashiers and the patrons, way later than either of the big local grocers.
This clearly does not cut it. First, CVS has tried hard to push customers to use self-checkout. From what I can tell, customers need assistance about 1/4 of the time. So the unmasked cashiers put the public at risk when forced regularly during the day to sally forth to those machines.
Second, the cashiers regularly have to have a manager come over either to approve a transaction (say a refund) or clear up a mess of some sort. That puts the manager and the cashier in unsafe proximity to each other.
Needless to say, this is endemic locally. I've seen no business with 100% mask use, and the public use seems to be about 20%. People seem to think either they don't need to bother, or that only a medical mask is adequate.
One of my pet peeves is the lack of modeling by our media and political leaders. Every TV talking head should be in a mask. Fauci off all people should be in a mask, along with every governor, mayor and public health official when they get in front of a camera.
Even worse, the Trump anti-lockdown messaging has done a lot of damage. Not only were red states, particularly in the South, slow to act, but belief in whether coronavirus is dangerous is split along party lines, which individuals behaving accordingly. From Wired:
For the latest study on this topic, a group of economists led by Hunt Allcott and Matthew Gentzkow used cell phone location data gathered across the US from the end of January to early April to measure the extent to which people had limited their trips to stores, restaurants, hotels, and other public gathering spots. Then they matched up those changes of behavior, at the county level, with vote shares in the last presidential election. The group's new working paper, posted Monday, describes the major finding: The more decisively a county went for Donald Trump in 2016, the less its residents have been hiding out from public spaces.

That's true even controlling for local case numbers, population density, and the timing of statewide social-distancing instructions. In Pulaski County, Kentucky, for example—where 82 percent of voters backed Trump in 2016—residents reduced their visits to so-called points of interest by 51 percent over the duration of the study. In contrast, demographically similar Washington County, Vermont—where Hillary Clinton won by a huge margin—saw trips decline by 71 percent. Both counties had registered only a handful of confirmed cases, while their state governments issued stay-at-home orders on March 26 and March 25, respectively.
The conundrum, as readers no doubt appreciate, is that wanting things to go back to normal won't make them go back to normal. If people are worried about safety, they won't fully re-engage in former activities. Perversely, it's safer to fly now, despite the generally high infection numbers, because airports are empty. No one at TSA check-ins save the TSA. Virtually empty waiting areas. Enough room on planes that the odds of reseating yourself in a row all by yourself are high. But the effective high level of social distancing on flights due to the collapse of travel (due to the lack of tourist attractions and business justifications) is an aberration of the moment.
For instance, what happens if restaurants try to reopen now? Maybe there are ones both manned and patronized by only under 40 year olds. But it's the middle aged and recently retired that are the biggest and most regular spenders. Will they come back in full right away? Doubtful, particularly for any with co-morbities.
Indeed, despite Trump thumping for an earlier removal of restrictions, and governors like Alabama's Ivey who is sure to be indifferent to the poor and the black dying, there are quite a few who have a grip on the tradeoffs, even in red and purple states. For instance, again from USA Today:
Earlier, the [Ohio] first-term Republican governor [Mike DeWine] made it clear during an interview with MSNBC's "Morning Joe" that any loosening of the stay-at-home order would be contingent on coronavirus testing results and other health data.

"Whenever we open up, however we do it, if people aren't confident, if they don't think they're safe, they're not going to go to restaurants, they're not going to go to bars, they're not going to really get back into society," DeWine said.
And corporate leaders are also trying to beat some sense into Trump. From the Wall Street Journal:
Banking and financial services executives told President Trump that his administration needed to dramatically increase the availability of coronavirus testing before the public would be confident enough to return to work, eat at restaurants or shop in retail establishments….

The people involved in the first call, which included executives from banking, financial services, food and beverage, hospitality and retail industries, described current testing levels in the U.S. as inadequate to effectively reopen the economy.

Some executives suggested that they were attempting to secure their own virus testing kits for employees and possibly customers as well, the people said.

Mr. Trump also touted the potential of a saliva test to determine whether people have Covid-19, arguing that it would let companies get back to work faster. The CEOs voiced approval for this idea. The president said reopening the country would not mean the end of social distancing and that people might have to get used to wearing masks even after businesses reopened, the people said.
This all sounds well and good, but get real. Trump has not been on board with any sort of muscular Federal action. To think he's gotten religion on testing after doing close to nothing to increase production of PPE is quite a stretch. Similarly, Trump has been extremely cool about the CDC's recommendation about mask-wearing in public.
So the most likely outcome is that too many parts of the country will ease up too early. Due to the poor access to testing, particularly in red states, it will take a few weeks (2-14 days of incubation + 5-7 days for a case to go from "mild to sort of bad" into viral pneumonia) for deaths to spike up again and be sustained to prove the reversal was a bad idea.
So businesses and confidence would be hit again with the false dawn and need for re-tightening.
If Americans were more disciplined, and would wear masks and would observe social distancing (including restaurants and bars removing seating), it might not be so risky to lift the restrictions. But that isn't how we roll.
And don't kid yourself that red state rubes who've consumed too much pro-Trump talk radio are the big sinners. Don't forget the 1%ers who fled to the Hamptons or other enclaves, in some cases knowing they were infected. And you see priorities like this among the top 10%:
If this keeps up more than about another weekend suburban parents are going to start committing civil disobedience. So their kids can play. That is where we are, folks, in this wild n' crazy public health paradise of ours. Never forget it. Never. https://t.co/qqMgq2d37T

— Alex Berenson (@AlexBerenson) April 10, 2020
I am clearly showing my age. A child who had tantrums every time it couldn't have something it wanted would be recognized as badly spoiled, and that was the result of over-indulgence. I wonder how this parent would cope with a personal train wreck that resulted in him and his family living in a car. That outcome may be more likely that he realizes.