By Lambert Strether of Corrente.
#COVID19
At reader request, I've added this daily chart. The data is the John Hopkins CSSE data. Back to the American West (linear):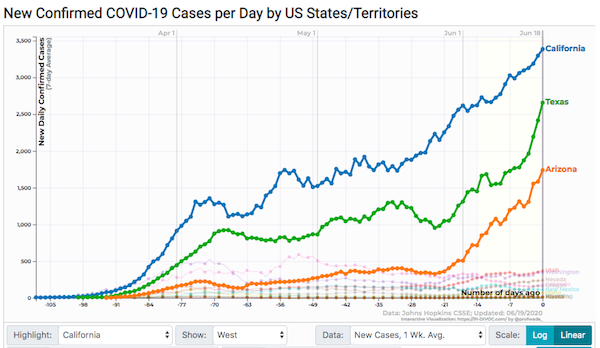 Not under control…
Politics
"But what is government itself, but the greatest of all reflections on human nature?" –James Madison, Federalist 51
"They had one weapon left and both knew it: treachery." –Frank Herbert, Dune
"They had learned nothing, and forgotten nothing." –Charles Maurice de Talleyrand-Périgord
Since we're getting closer to the election, maybe it's time to start looking at the electoral map, updated June 17 and unchanged today: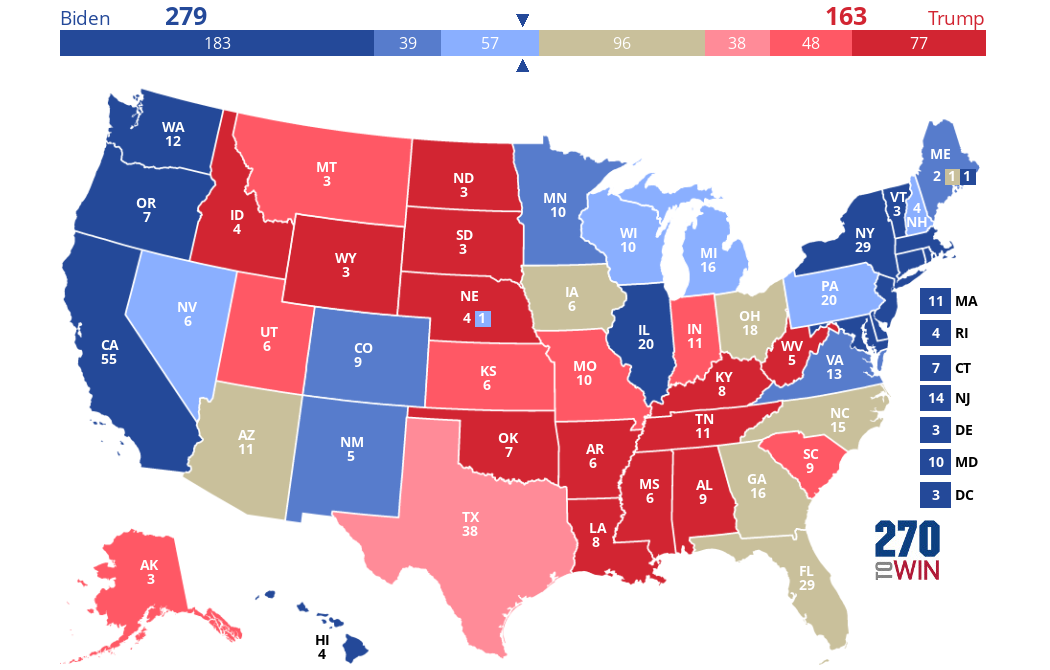 Click the map to create your own at
270toWin.com
So, taking the consensus as a given, 270 (total) – 204 (Trump's) = 66. Trump must win 66 from the states in play: AZ (11), FL (29), MI (16), NC (15), PA (20), and WI (10) plus 1 to win not tie = 102. 102 – 66 = 36. So if Trump wins FL, MI, NC, and PA (29 + 16 + 15 + 20 = 80), he wins. That's a heavy lift. I think I've got the math right this time!
* * *
2020
UPDATE Biden (D)(1): "Amy Klobuchar drops out of Biden VP contention and says he should choose a woman of color" [CNN]. • Sticking the shiv into Warren's back on her way out the door….

UPDATE Biden (D)(2): "What Joe Biden's Event Was Like" [New York Times]. "About 20 handpicked local officials, small-business owners and reporters sat in folding chairs, each placed within a large white circle taped on the floor of a recreation center to maintain — or at least encourage — social distancing. A few attendees whispered to each other as photographers quietly chatted. You could hear the clack of typing echoing across the room. The silence was striking…. Then, Mr. Biden appeared. He arrived with such little fanfare that I didn't even notice him enter the room. There was no introduction by an organizer to pump up a crowd that wasn't there, as is typical with campaign events. He just stood behind a lectern, pasted with the placard 'Reopen Right: Safer and Stronger,' and began reading a speech off the teleprompters, assailing President Trump." • Who knows? We may look back on the Biden campaign as genius level. Talk about rule-breaking!

UPDATE Biden (D)(3): "Biden's Slow Hiring in Key States Starts to Worry Some Democrats" [Bloomberg]. "Joe Biden's campaign has only begun to hire top officials in key states, leaving him without senior staff in battlegrounds like Wisconsin, Michigan and Florida, alarming some Democrats who say the leadership vacuum could hinder the party's efforts to defeat President Donald Trump in November…. The officials said campaign manager Jen O'Malley Dillon and senior adviser Greg Schultz have acknowledged that the campaign missed its self-imposed deadline for leaders in the battleground states to be in place by the start of June and has moved it to July 1." • Um, thirty days is a long time in politics. Again, though, we've just seen two well-organized and very well-funded campaigns implode: Clinton 2016 and Sanders 2020. Maybe nobody knows anything, and all the Democrat strategists are grifters. I mean, even more grifters than we already know they are.

UPDATE Biden (D)(4): Coming "for ask a quick favor":

Absolutely tantalized by this Biden ad where he says he's coming "for ask a favor" pic.twitter.com/kaNUhwTpwX

— Ava (@sluttypaulrudd) June 19, 2020

I'm seen a few versions of this, but this one seems recorded from the screen. How does the Biden campaign let this loose in the world? This keeps happening.

UPDATE Biden (D)(5): The new talking point is [wipes tear] empathy:

It gets crushingly boring to repeat the obvious truth, that the president is incapable of empathy or any sense of the public interest, but it's stil the defining feature of the American catastrophe we're living through. Look how he opens this interview!https://t.co/XulPsmXIIG

— Chris Hayes (@chrislhayes) June 19, 2020

Yeah, I mean, contrast Obama: "Turns out I'm really good at killing people." Like it or not, one must admit that Trump hasn't blown nearly as many faraway brown people to pink mist as Obama — with an assist from Clinton — did. But to be fair, Obama was articulate, understood irony, etc.

UPDATE Biden (D)(6): "Biden, Trump Quit Praising Xi to Feud Over Who'd Be Tougher on China" [Bloomberg]. "Donald Trump and Joe Biden used to brag about how well they knew Chinese President Xi Jinping. Barely four months from election day, the talk has turned to who can be tougher on Beijing, with a tell-all book by Trump's ex-national security adviser adding to the fray. 'Trump rolled over for the Chinese — he took their word for it,' the narrator in one Biden ad says of Trump's handling of the coronavirus pandemic. A Trump spot counters: 'China is the greatest threat to America's security and our values. Career politician Joe Biden is weak on China.'"

UPDATE Trump (R)(1): "The Lincoln Project has already dropped John Bolton's bombshells into an anti-Trump ad on China" [The Week]. " Reporters started revealing scandalous tidbits from former National Security Adviser John Bolton's tell-all about his time in President Trump's White House on Wednesday, and it didn't take more than a few hours for the Lincoln Project to use one of Bolton's biggest bombshells in a new ad arguing that Trump is continually losing against China — or at least the United States is losing under Trump's dealmaking skills." • There is actually one frightening thing — as opposed to the darkly hiliarious things — about Never Trump Republicans joining the Democrat Party: Republicans like to get things done. Unlike liberal Democrats. This is probably bad.

Trump (R)(2): "Trump Warns Potential Tulsa Protesters Ahead of Saturday Rally" [Bloomberg]. "'Any protesters, anarchists, agitators, looters or lowlifes who are going to Oklahoma please understand, you will not be treated like you have been in New York, Seattle, or Minneapolis,' Trump said in a tweet. 'It will be a much different scene!' Trump's campaign and Tulsa officials expect more than 100,000 of his supporters to pour into the town for the rally, which will likely be the largest indoor gathering of Americans since the coronavirus pandemic led to a national lockdown in March. The city imposed daily curfews around the BOK Arena, the site of the rally, beginning Thursday. Police told the mayor, G.T. Bynum, that 'individuals from organized groups who have been involved in destructive or violent behavior in other states are planning to travel to the City of Tulsa for purposes of causing unrest in and around the rally,' according to an executive order he issued…." • Shit-stirring on all sides. And too obviously from Trump's, I think.

Trump (R)(2): "Trump claims he deserves credit for making Juneteenth 'very famous'" [CNN]. "President Donald Trump is seeking to take credit for making Juneteenth — a day commemorating the end of slavery in the United States — 'very famous,' after rescheduling his first rally since the start of the pandemic to avoid further criticism for seeming to co-opt it. Trump told The Wall Street Journal that 'nobody had ever heard of' the holiday before he brought it up. 'I did something good: I made Juneteenth very famous,' Trump said in reference to the rally date in an interview published Thursday. 'It's actually an important event, an important time. But nobody had ever heard of it.'" • Trump's book deal will be something to behold.

Trump (R)(4): "Twitter labels Trump's tweet as 'manipulated media'" [Reuters]. " Twitter Inc (TWTR.N) added a 'manipulated media' label on a video posted on U.S. President Donald Trump's Twitter feed on Thursday that showed a doctored news clip with a misspelled banner flashing 'Terrified todler runs from racist baby.' The original video, which went viral on social media in 2019, showed a black toddler and a white toddler running towards each other and hugging. It was published here with the headline 'These two toddlers are showing us what real-life besties look like" on CNN's website last year. The clip here shared in Trump's tweet first shows the part where one of those toddlers is seen running ahead of the other. At one point the banner reads: 'Racist baby probably a Trump voter.'" • If I read the story rightly, Trump is quoting "manipulated media" ("manipulated media" being on par with "coordinated inauthentic activity" for utterly normal behavior in the political class, except when it isn't).

Trump (R)(5): "Trump's presidency is in a tailspin. His reelection may survive it." [CNN]. "Less than five months before Election Day, with the nation battling concurrent crises, every conventional political indicator is flashing red for Trump. But every conventional political indicator has always been flashing red for Trump — and he's never been defeated…. Trump is a backlash politician; his initial election was a reaction to the cultural, racial and political change many Americans perceived in the Obama presidency. Recent Supreme Court defeats could give the evangelical section of his base motivation for one last, decisive battle to create a generational conservative majority in a Trump second term. If there is one president who can harness a culture war with demagoguery to save his own political skin, it would be the incumbent. Similarly, Trump's refusal to model wearing a mask in a pandemic, his massive missteps on race and the demonstrable incompetence of his half-hearted effort to combat the worst public health crisis in a century are often not perceived by his supporters to be the disasters that his critics in Washington and in the media — who are operating from fact-based analysis [(!!!!!!!)]– perceive them to be." • Meanwhile, the only oracle I trust, Allan Lichtman of "Keys to the White House" fame, has not weighed in.

* * *

"Wall Street giants including the CEOs of Goldman and Blackstone are pouring money into the campaign to defeat AOC in a June primary" [Business Insider]. "Stephen Schwarzman, co-founder of Blackstone has donated $2,800 to Cabro-Cabrera's campaign. A further five Blackstone employees have donated the same amount to her campaign as well. David Solomon, chief executive of Goldman Sachs also backed Caruso-Cabrera to the tune of $2,800, along with three other Goldman employees. Paul Tudor Jones, the billionaire founder of the Tudor Investment Corporation also gave $2,800 to Caruso-Cabrera's campaign. A number of other donors to Caruso Cabrera's campaign include staff at Wall Street firms including Evercore, Elliott Management, and Apollo Global Management. Caruso-Cabrera has raised just over $2 million so far, while Ocasio-Cortez's campaign has received more than $10.5 million, FEC data shows…. The median size of Ocasio Cortez' donations is around $10, according to a Financial Times analysis of FEC filings and the online fundraising platform ActBlue."

"Amy McGrath Trails In Kentucky Senate Primary Poll Despite Raising $41 Million" [Forbes]. • That's a damn shame (although Data For Progress is the progressive Rasmussen).

"Andrew Romanoff is closing the gap after John Hickenlooper's stumbles, poll indicates" [Colorado Sun]. "The major shift in numbers is more reflective of Hickenlooper's mistakes in recent weeks. He refused to comply with a subpoena to testify on six allegations made by Republicans that he accepted illegal gifts as governor and became the first public official ever held in contempt by the state's independent ethics commission. The panel later found him in violation for accepting a ride on a corporate jet owned by a major political donor and taking a luxury limousine at a ritzy conference in Italy. At the same time, Hickenlooper found himself on the defensive for an insensitive comment regarding Black Lives Matter and other missteps on the issue of race. Gardner and a national Republican committee backing his reelection pounced and began running big-money TV ads blasting Hickenlooper." • Wasn't Hickenlooper running for President, there, for awhile?
Realignment and Legitimacy
"Taiwan funding of think tanks: Omnipresent and rarely disclosed" [Responsible Statecraft]. "Pushing back on bellicose statements from both parties requires credible policy advice from experts, many of whom are based at Washington research institutes. But five of the capital's most prominent think tanks have been producing policy papers urging closer U.S. ties with Taiwan — a territory locked in an uncertain legal status that threatens to be a flashpoint between Beijing and Washington. These seemingly impartial research institutions are pushing for expanded arms sales and trade agreements with Taiwan without widely disclosing their high-level funding from the Taipei Economic and Cultural Representative Office (TECRO), Taiwan's equivalent to an embassy. The five think tanks — the Brookings Institution, the Center for American Progress*, the Center for a New American Security, the Center for Strategic and International Studies, and the Hudson Institute — all disclose their funding from TECRO but bury it deep on their websites or annual reports." • Who knew, it's bipartisan!

"The Philosopher's Epidemic" [New Left Review]. "'There will be no recovery. There will be social unrest. There will be violence. There will be socio-economic consequences: dramatic unemployment. Citizens will suffer dramatically: some will die, others will feel awful.' This is no eschatologist speaking but Jacob Wallenberg, scion of one of global capitalism's most powerful dynasties, envisaging a world-economic contraction of 30 per cent and sky-high unemployment as a result of the coronavirus lockdowns. While philosophers worry that our rulers are exploiting the epidemic to enforce biopolitical discipline, the ruling class itself seems to have the opposite concern: 'I am dead scared of the consequences to society . . . We have to weigh the risks of the medicine affecting the patient drastically'. Here the Swedish tycoon echoes Trump's prognosis that the therapy will kill the patient. While the philosophers view anti-contagion measures—curfews, closed borders, restrictions on public gatherings—as a sinister control mechanism, the rulers fear the lockdowns will loosen their control." • And now we transition to Foucault! Interesting read.

* * *

"Mail-in voting gets a $59 million boost from progressive donors" [NBC]. "A network of deep-pocketed progressive donors is launching a $59 million effort to encourage people of color to vote by mail in November, a step many Democrats view as crucial to turning out the party's base during the coronavirus pandemic." • Gawd forbid that getting every voter to the polls should be a core party function. No no, GOTV is always stovepiped, always temporary, always bankrolled by big donors, and always has complex eligibility requirements (here, race). It's disgusting.
Stats Watch
At reader request, I added some business stats back in. Please give Econintersect click-throughs; they're a good, old-school blog that covers more than stats. If anybody knows of other aggregators, please contact me at the email address below.
Rail: "Rail Week Ending 13 June 2020 – Slight Improvement But Remains Deep In Contraction" [Econintersect]. "Week 24 of 2020 shows same week total rail traffic (from same week one year ago) contracted according to the Association of American Railroads (AAR) traffic data. Total rail traffic has been mostly in contraction for over one year – and now is taking a hit from coronavirus….. Intermodal and carloads are under Great Recession values. Container exports from China are now recovering, container exports from the U.S. declined and remains deep in contraction."
Fodder for the Bulls: "12 June 2020 ECRI's WLI Improves Again But Continues In Contraction" [Econintersect]. "ECRI's WLI Growth Index which forecasts economic growth six months forward improved, remains deep in contraction, and remains at a level at the values seen during the Great Recession…. Please note that the coronavirus is a black swan event and the decline is more immediate and not lagging off six months as one would expect. We are in a recession."
* * *
Shipping: "Trucker YRC Worldwide Inc. is back in familiar territory. The less-than-truckload operator is looking to defer millions of dollars in payments to providers of medical and other benefits….as the company tries to navigate through a coronavirus-driven freight downturn that has added new strains to its balance sheet" [Wall Street Journal]. "The fresh problems at YRC show how the economic upheaval during the pandemic has left companies without much financial flexibility struggling to adjust to the changed economic landscape. YRC is one of the few remaining big unionized trucking companies, and it has struggled with high pension and benefits costs. It has also won repeated concessions to shore up finances, and it's looking for more help now. Big shipping customers say they are standing by the business." • "Financial flexibility….
Shipping: "The U.S. is blacklisting more than dozen individuals, their businesses and two tankers alleged to have been involved in up to 40% of Venezuela's crude-oil exports in recent weeks….[A] much longer list had been planned but that emergency actions by the private sector to stop Venezuela transactions prompted the administration to prune the list" [Wall Street Journal]. "Crude markets had faced potential sanctions on up to 50 tankers that would have sliced into global oil transport capacity. U.S. Treasury also took off the list two oil tankers recently sanctioned by the U.S. off its blacklist because the companies cut their ties to Venezuela. That's central to the American efforts to isolate Venezuela as it seeks to convince companies their business will be effectively sidelined around the world if they violate the restrictions."
Manufacturing: "Covid Creates a Boom for Röhm's Protective Plexiglas Panels" [Bloomberg]. "Then in March [Michael Pack of Röhm GmbH, the German acrylic glass manufacturer] noticed a sudden uptick in a part of the business that had long been steady at best: acrylic sheets sold under the Plexiglas brand. Orders were pouring in from retailers, offices, hospitals, and public transport companies, which were eager to get their hands on protective shields to separate employees from a coughing and sneezing public spreading the coronavirus. Like face masks and disinfectant, Plexiglas became omnipresent almost overnight, a translucent guard between cashiers, bus drivers, and receptionists on one side and customers on the other." • Exactly as "go long latex" worked during the AIDS crisis…
The Law: "New Case Holds That COVID-19 Closure Order "Unambiguously" Triggers Force Majeure Clause" [National Law Review]. "A force majeure provision excuses a party's breach of contract when certain, extraordinary events or superior forces specified in the party's contract cause the party's breach. Such events may include war, strife, labor strikes, acts of terrorism, natural disasters and disease. Most notably for our purposes, these clauses will also typically include some reference to unforeseen governmental action or regulation…. Just last week, in a case of first impression, a federal court in the Seventh Circuit—which covers Wisconsin, Illinois and Indiana—issued a decision that could help various businesses impacted by the pandemic and the governmental response to it. The case at issue—In re Hitz Restaurant Group—concerned a Chapter 11 bankruptcy in the Northern District of Illinois and a creditor's attempt to hold the debtor to its obligation to pay rent…. added.) The restaurant group argued that the clause was triggered on the date Illinois' governor issued an executive order addressing the COVID-19 pandemic and closing restaurants for on-premises consumption. Federal bankruptcy judge Donald R. Cassling issued the opinion of the court and, in conclusive language, held that the force majeure clause was 'unambiguously triggered' by the governor's closure order. The Court found that the order 'unquestionably constitutes both 'governmental action' and issuance of an 'order' as contemplated by the language of the force majeure clause." • I would imagine the creditors are "unambiguously triggered" as well….
* * *
Today's Fear & Greed Index: 54 Neutral (previous close: 51 Neutral;) [CNN]. One week ago: 53 (Neutral). (0 is Extreme Fear; 100 is Extreme Greed). Last updated Jun 19 at 12:40pm.
The Biosphere
"Rising Seas Threaten an American Institution: The 30-Year Mortgage" [New York Times]. "Home buyers are increasingly using mortgages that make it easier for them to stop making their monthly payments and walk away from the loan if the home floods or becomes unsellable or unlivable. More banks are getting buyers in coastal areas to make bigger down payments — often as much as 40 percent of the purchase price, up from the traditional 20 percent — a sign that lenders have awakened to climate dangers and want to put less of their own money at risk. And in one of the clearest signs that banks are worried about global warming, they are increasingly getting these mortgages off their own books by selling them to government-backed buyers like Fannie Mae, where taxpayers would be on the hook financially if any of the loans fail…. now, as the world warms, that long-term nature of conventional mortgages might not be as desirable as it once was, as rising seas and worsening storms threaten to make some land uninhabitable. A retreat from the 30-year mortgage could also put homeownership out of reach for more Americans."
Health Care
"Community Use Of Face Masks And COVID-19: Evidence From A Natural Experiment Of State Mandates In The US" [Health Affairs]. From the abstract: "State policies mandating public or community use of face masks or covers in mitigating novel coronavirus disease (COVID-19) spread are hotly contested. This study provides evidence from a natural experiment on effects of state government mandates in the US for face mask use in public issued by 15 states plus DC between April 8 and May 15. The research design is an event study examining changes in the daily county-level COVID-19 growth rates between March 31, 2020 and May 22, 2020. Mandating face mask use in public is associated with a decline in the daily COVID-19 growth rate by 0.9, 1.1, 1.4, 1.7, and 2.0 percentage-points in 1–5, 6–10, 11–15, 16–20, and 21+ days after signing, respectively. by May 22, 2020 by these mandates. The findings suggest that requiring face mask use in public might help in mitigating COVID-19 spread." • We published one natural experiment from Germany in Links; this is a second one.
"Age-dependent effects in the transmission and control of COVID-19 epidemics" [Nature]. "We estimate that susceptibility to infection in individuals under 20 years of age is approximately half that of adults aged over 20 years, and that clinical symptoms manifest in 21% (95% credible interval: 12–31%) of infections in 10- to 19-year-olds, rising to 69% (57–82%) of infections in people aged over 70 years. Accordingly, we find that interventions aimed at children might have a relatively small impact on reducing SARS-CoV-2 transmission, particularly if the transmissibility of subclinical infections is low."
"Associations Between Built Environment, Neighborhood Socioeconomic Status, and SARS-CoV-2 Infection Among Pregnant Women in New York City" [JAMA]. "The likelihood of SARS-CoV-2 varied substantially across measures of built environment and neighborhood socioeconomic status…. The lowest probability of infection was estimated for women living in buildings with very high assessed values… and the highest was for those residing in neighborhoods with high household membership." • Well, I never.
Police State Watch
"Revolutionary ideals of the Paris Commune live on in Black Lives Matter autonomous zone in Seattle" [Monthly Review Online]. From the article:
A new autonomous zone set up in Seattle by the Black Lives Matter (BLM) movement bears some striking similarities with the Paris Commune of 1871. Despite its brutal ending, the seminal event in the French capital 150 years ago set the agenda for progressive urban politics and broader social justice movements ever since. But while what is happening in Seattle shares some of the political visions of the commune, it faces an altogether different and more sophisticated threat–of being co-opted by creative capitalists.

The Capitol Hill Autonomous Zone in Seattle–or Chaz as it has come to be known–was set up on June 8 in the Capitol Hill area of Seattle. It came about as a result of BLM protesters moving in after the Seattle police abandoned the precinct due to clashes with protesters.

Since then, the protesters have barricaded the perimeter and set up a "no cop co-op" offering free water, hand sanitiser, face masks, food and other supplies. There are teach-ins, street art installations and other activities often associated with anarchist urban protest camps.
The other day, when somebody mentioned a garden being set up in the autonomous zone, I asked:
Can I get an update on that garden? The images I saw made it look like CHAZ/CHOP gardening types were trying to do sheet mulch without knowing how. And they were walking on the soil too, which is bad bad bad. Soil should be fluffy not compressed.
An answer came over the transom:
Lambert,

I talked to my son N [Not His Real Name] tonight and asked him about the community gardens. He was down there a few days ago and he said it is basically a mess. The gardens are located on a baseball field in Cal Anderson Park, but it appears that there are several gardens, all controlled by different people – he didn't see anyone that was really in control of the various gardens. The only real plants he saw growing were in large flower pots. Mostly it appears that volunteers are just dumping soil and compost on the turf – they aren't digging it up – and trying to garden that way…..

But, in any event, he doesn't see this lasting much longer. Apparently at least three different groups are vying for control of CHOP, formerly CHAZ, and to use my son's words, they are now tussling instead of cooperating and most of the people he knows that were volunteering down there are now dropping out because of this. The residents who live in that area are becoming increasingly hostile because the roads are such a mess that they are complaining that they can't get out to get food or get food deliveries in. He doesn't think it will be long before the police come in with the water hoses to clear everyone out.
There's a good deal of material on the Intertubes about how to convert a turfed area into a garden, so I'm not sure what's going on here. We'll see if N called his shot! On the Commune, Marx and Engels commented, "On the 20th Anniversary of the Paris Commune":
The hardest thing to understand is certainly the holy awe with which [the Communards, who had seized control of Paris] remained standing respectfully outside the gates of the Bank of France. This was also a serious political mistake. The bank in the hands of the Commune – this would have been worth more than 10,000 hostages.
It would be unfair to put the failure to create a proper garden on par with the failure to capture the bank of France. Nevertheless. And granted, the article was reprinted from The Conversation and not a Monthly Review original, but come on, man. Can we have a little less romance and a little more rigor?
The continuing question of what cops actually do. A thread:
2/ search warrant, I caught a ride back to the office with a local detective on my TF. We were riding along when we saw a guy slide through a stop sign. "I've got to pull him over," the *veteran detective* told me. What? You kidding me? Traffic tickets?

— James Harris (@jimeharrisjr) June 18, 2020
Law enforcement for profit was one of the triggers in Ferguson, let us remember (itself triggered by municipal debt and the Crash). Another question to ask the Mayors of Blue Cities…
You'll miss me when I'm gone:
NEW: ATL Police Union spokeman Vince Champion tells me that officers around the city are protesting the charges announced against officers Rolfe and Brosnan. He says they're walking off the job, not responding to calls unless backup is needed, and going silent on the radios.

— Charlie Gile (@CharlieGileNBC) June 18, 2020
Juneteenth
"How to Mark Juneteenth in the Year 2020" [The Intercept (MCC)]. "The Civil War, and therefore emancipation, was won for the Union in large part thanks to a mass 'general strike' of enslaved Black Americans, as revealed by Du Bois in his seminal 1935 work 'Black Reconstruction,' which historian Eric Foner has described as 'a landmark of historical scholarship and essential reading for anyone seeking to understand the era of Civil War and Reconstruction.' The book, which to this day has never been reviewed in the American Historical Review, the central organ of American historians, ran roughshod over the then-dominant white supremacist school of historiography, known as the Dunning school. The Dunning school saw the democratic explosion wrought by Reconstruction as a great historical crime and the participation of Black Americans in the war and Reconstruction as a sideshow at best. In taking apart the Dunning school, Du Bois posited that every army depends on its logistics. Soldiers do need food and medical supplies. World War II Admiral Lynde McCormick said that 'logistics is all of war making, except shooting the guns, releasing the bombs, and firing the torpedoes.' Using the same logic, Du Bois noted that 'The Southern worker, black and white, held the key to the war; and of the two groups, the black worker raising food and raw materials held an even more strategic place than the white.'" And: "Labor journalist Mike Elk has been tracking strike actions since the beginning of the COVID-19 pandemic. Since the murder of George Floyd, there has been a verifiable surge of strike activity. There may be no better way to mark Juneteenth in the year 2020."
"Juneteenth And National New Beginnings" [Essence]. "Federal agents were as much concerned about maintaining social order among blacks and restoring the plantation economy as they were in finalizing the war. Granger was either unaware or unmoved by black ingenuity and valor, on and off the battlefields, that had disproven dreaded fears of dependency. Instead, he urged Black Texans to sit tight and to not prioritize pulling their families back together that had been broken apart. And, above all, get back to work under the same management." • Well worth a read.
Black Injustice Tipping Point
"When the City of Man Is Redlined" [Comment]. "The biggest question regards two strategies for alleviating the poverty that is a direct result of historic segregation, generally referred to as "place-based community development" and Moving to Opportunity. (The latter is the name of a formal federal program and shorthand for a strategy, which is why it is usually capitalized.). Place-based community development looks at a neighbourhood in West Baltimore like Sandtown, with its murder rates usually among the top five in the city, its life expectancy a full twenty years lower than high-income neighbourhoods a mile away, its incarceration rate higher than anywhere else in the state, and asks: How can we help transform this community for the better? Moving to Opportunity looks at the same neighbourhood and asks: How can we help people—especially families with young children, who might be able to do much better elsewhere—get out of such a bad neighbourhood?"
"Swimming with Seals: How Zoology and Racism Converged to Make Elephants of Men" [The BItter Southerner]. "Back in 1963, when the order to desegregate came to Greenville, some white folks' sudden love for the good ol' days — and anything black but human beings — suddenly revealed itself when the pool at Cleveland Park was made into a Southern "sea world" rather than allow Black people to taint the pristine white only waters of the public facility. Rather than integrate on federal orders set in motion by King and the Civil Rights Movement, which was at a fever pitch, the city decided that sea lions deserved a new place to swim. So the pool that was destined to be miscegenated was seal-ed. The white folks still had plenty of segregation-now-segregation-forever hideaway swimming holes they could retreat to. I have nothing against sea lions or seals. They're beautifully adapted creatures built for aquatic lives, but the decision to stock wild animals in a public facility, instead of following the law and integrating it, speaks beyond the volumes of vicissitude that define racism's insidious innovation. The move, no doubt approved of on multiple levels of municipal hierarchy, left no question in the thriving Upstate mini-metropolis-to-be that "Negroes" were dirty and worth less than wild animals."
UPDATE "The Backstory: The little known story about a former slave who sued her captor and won" [USA Today]. "Henrietta Wood was a former slave living in Cincinnati when the woman she worked for suggested a carriage ride across the river to Covington, Kentucky." • No! Don't go across the river! More: "Here, she was abducted and forced into slavery – again…. Wood was ultimately sold to slaveholder Gerard Brandon and taken to Natchez, Mississippi, to work in his cotton fields….. As federal troops advanced toward Mississippi, Brandon forced 300 of his slaves – including Wood and her young son, Arthur – to march 400 miles to Robertson County, Texas, where he set up new operations near the Brazos River. 'The reason why people like Brandon went to Texas was because they knew that if they could get to interior Texas where U.S. troops had not yet reached, they could hold out as long as they could," says historian W. Caleb McDaniel, who teaches at Rice University. 'So I think Texas became a place where die-hard slavers went to try to wait out the war and see if slavery could survive.' It would be two more years, on June 19, 1865, before troops arrived in Galveston, Texas, and forced slaveholders to free their slaves. This is now known as Juneteenth." • Read the rest of the article, which features — besides the stalwart Woods — Lafcadio Hearn (!).
"The 2% Solution: Inside Billionaire Robert Smith's Bold Plan To Funnel Billions To America's Black-Owned Businesses" [Forbes]. "Robert F. Smith, the private equity billionaire who is the nation's richest Black person, said on Thursday that large corporations should use 2% of their annual net income for the next decade to empower minority communities. Smith made the comments after circulating a plan among CEOs that first calls on big banks to capitalize the financial institutions that service Black-owned businesses and minority-run entrepreneurial ventures. In a keynote address he gave at the Forbes 400 Summit on Philanthropy, Smith, 57, said Black and minority communities have been abandoned by large banks and are starved of the capital needed to build businesses and local institutions. Smith argued that pumping in what he described as and investing directly in financial architecture would be a fast way to advance economic justice for Black Americans. 'Nowhere is structural racism more apparent than in corporate America,' Smith said. "If you think about structural racism and access to capital, 70% of African American communities don't even have a branch, bank of any type." • 
Class Warfare
"Virginia: More Than 12K Have Refused to Return to Work" [Associated Press]. "Unemployment benefits in Virginia will be suspended in more than 12,000 cases involving claimants refusing to return to work as coronavirus-related restrictions loosen and businesses reopen, the Virginia Employment Commission announced Thursday. 'While certain circumstances, such as health, childcare or other caregiver responsibilities, may warrant continued payments of unemployment benefits to a claimant who has refused to return to work, the payments will be paused pending the outcome of an administrative review,' the commission said in a news release. The news release noted that approximately 400,000 job vacancies are currently posted on a state workforce website." • Who needs a whip when you've got "the economy"?
"Latinos make up nearly 70% of coronavirus cases in San Diego County — more than three times as many as white residents" [CBS]. "Despite making up the 34% local population, about 67.4% or 5,517 of Hispanic or Latino residents had the virus. That rate is much higher than white residents, who registered about 20.9% or 299 of the total; they make up about 46% of San Diego's population."
"How a Raise for Workers Can Be a Win for Everybody" [New York Times]. 'The new research shows that raising the minimum wage improves workers' productivity, which translates into businesses offering higher-quality service. Because many customers are willing to pay more when quality improves, a company can raise its prices without losing sales volume. That means that profits need not suffer even though employee salaries increase. Moreover, because companies are getting better performance from workers in return for paying them more, a higher minimum wage does not necessarily lead to fewer jobs. With a more productive work force, more economic value is being created and there is more money to go around, so a higher paycheck for one person does not imply another person's loss. The federal minimum wage of $7.25 an hour has not increased since 2009, though Democrats in the House of Representatives have tried to raise it."
News of the Wired
"Sir Ian Holm: Lord of the Rings and Alien star dies aged 88" [BBC]. "Stage and film actor Sir Ian Holm, who played Bilbo Baggins in The Lord of the Rings films, has died aged 88. Sir Ian, Oscar-nominated as Olympic running coach Sam Mussabini in Chariots of Fire, also played the android Ash in 1979's Alien.' • Holy [family blog]! Holm played Ash? I saw Holm play Lear, years ago in London, went I went to thirteen plays in ten days (well before the Leicester Square Ticket Booth has degenerated into the Disneyfied banality it had become the last time I was there). Holm's portrayal of Lear as a child in the final act was heartbreaking. And the smashed "eyeball" ("Out, vile jelly!") being smeared across the stage was pretty memorable, too. Take that, George R.R. Martin (and where the heck are those books?)
"The Brain Interprets Smell like the Notes of a Song" [Scientific American]. "[Dmitry Rinberg, a neuroscientist at N.Y.U.Langone] likens smell perception to the melody of a song: The notes—in this case, representing activated glomeruli—are important. But without the right timing, the song, or the perceptual experience, falls apart. Changing the seventh note of a melody might be unnoticeable. Swapping the first two might result in a new tune altogether. When we smell, it is not only about which glomeruli are activated but also what time sequence they follow." • And in fact perfumiers speak of "notes"…
* * *
Readers, feel free to contact me at lambert [UNDERSCORE] strether [DOT] corrente [AT] yahoo [DOT] com, with (a) links, and even better (b) sources I should curate regularly, (c) how to send me a check if you are allergic to PayPal, and (d) to find out how to send me images of plants. Vegetables are fine! Fungi and coral are deemed to be honorary plants! If you want your handle to appear as a credit, please place it at the start of your mail in parentheses: (thus). Otherwise, I will anonymize by using your initials. See the previous Water Cooler (with plant) here. Today's plant (pq):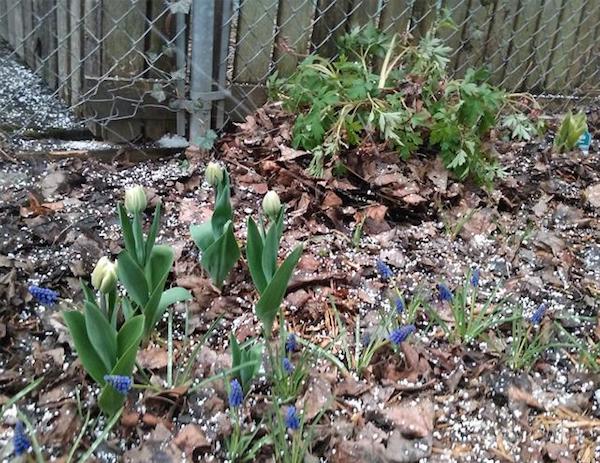 pq writes: "Report from pq's garden: Took leaf mulch off plants a few weeks ago, but with snow in forecast yesterday, spent several hours putting it back on. Got caught in a hailstorm today while out checking damage. Bleeding hearts limp and struggling, so packed more leaves around them in anticipation of freeze tonight and possibly more snow on Sunday (May 10)." Bleeding hearts, my favorite flower!
* * *
Readers: Water Cooler is a standalone entity not covered by the annual NC fundraiser. So if you see a link you especially like, or an item you wouldn't see anywhere else, please do not hesitate to express your appreciation in tangible form. Remember, a tip jar is for tipping! Regular positive feedback both makes me feel good and lets me know I'm on the right track with coverage. When I get no donations for five or ten days I get worried. More tangibly, a constant trickle of donations helps me with expenses, and I factor in that trickle when setting fundraising goals:
Here is the screen that will appear, which I have helpfully annotated.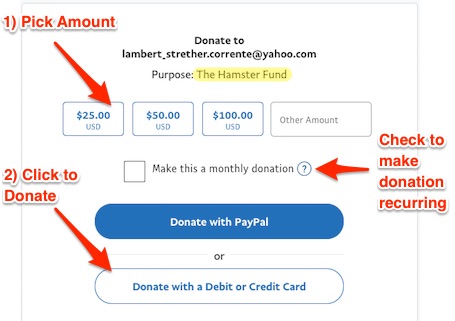 If you hate PayPal, you can email me at lambert [UNDERSCORE] strether [DOT] corrente [AT] yahoo [DOT] com, and I will give you directions on how to send a check. Thank you!