By Lambert Strether of Corrente.
#COVID19
At reader request, I've added this daily chart. The data is the John Hopkins CSSE data. Here is the site. States going up, with New York for comparison: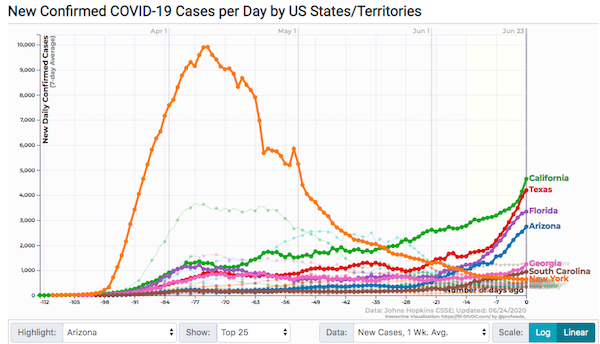 Ugly slopes.
Politics
"But what is government itself, but the greatest of all reflections on human nature?" –James Madison, Federalist 51
"They had one weapon left and both knew it: treachery." –Frank Herbert, Dune
"They had learned nothing, and forgotten nothing." –Charles Maurice de Talleyrand-Périgord
Since we're getting closer to the election, maybe it's time to start looking at the electoral map. As of June 21: NPR and U.S. News forecasts added. And yet the consensus remains stable!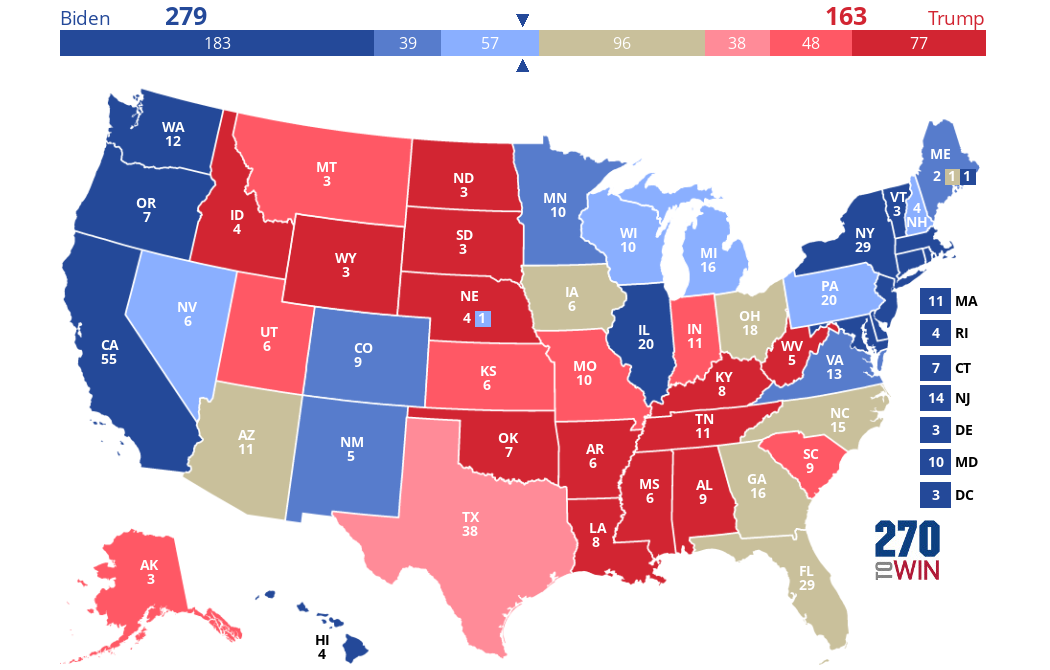 Click the map to create your own at
270toWin.com
So, taking the consensus as a given, 270 (total) – 204 (Trump's) = 66. Trump must win 66 from the states in play: AZ (11), FL (29), MI (16), NC (15), PA (20), and WI (10) plus 1 to win not tie = 102. 102 – 66 = 36. So if Trump wins FL, MI, NC, and PA (29 + 16 + 15 + 20 = 80), he wins. That's a heavy lift. I think I've got the math right this time!
* * *
2020
Biden (D)(1): "Joe Biden Begins Building His Presidential Transition Team" [Bloomberg]. "Joe Biden has tapped former Senator Ted Kaufman, a longtime adviser and friend, to lead his transition team as the Democratic presidential nominee enters into a more formal phase of planning for a potential administration…. Yohannes Abraham, a top aide to senior adviser Valerie Jarrett in the Obama White House, will be joining the operation in the coming weeks to manage day-to-day operations. He's also worked as chief operating officer of the Obama Foundation…. Avril Haines, a former principal deputy national security adviser and deputy director of the Central Intelligence Agency, will also join the staff soon to set up the transition's policy and agency review operations, as well as to lead its work on national security and foreign policy. Other senior staff preparing to join the transition team are Gautam Raghavan, chief of staff to Representative Pramila Jayapal, who was a co-chair of Sanders's presidential campaign; Angela Ramirez, chief of staff to Representative Ben Ray Lujan; former Biden White House adviser Evan Ryan; and Julie Siegel, Warren's senior counsel for economic policy, who previously was a senior adviser at the Consumer Financial Protection Bureau." • On Avril Haines, from Wikipedia (sigh):

In 2015 Haines was tasked with determining whether CIA personnel involved in the hacking of the computers of Senate staffers who were authoring the Senate Intelligence Committee report on CIA torture would be disciplined. Haines chose not to discipline them, overruling the CIA Inspector General….. During the Democratic National Committee email leak during the 2016 presidential campaign, Haines as DNSA convened a series of meetings to discuss ways to respond to the hacking and leaks. In 2018, Haines was an outspoken supporter of President Trump's controversial nomination of Gina Haspel to serve as CIA director. While not commenting on Haspel's record, she praised her knowledge of the agency and intelligence, a position hailed by the White House as it promoted Haspel's confirmation…. Haines has consulted for a variety of for-profit entities with business interests related to American national security policy, including Palantir Technologies and WestExec Advisors.

So, Haines is pro-torture, pro-hacking Congress, and Palintir-adjacent. She's perfect!

Biden (D)(2): "Exclusive: Dozens of Republican former U.S. national security officials to back Biden" [Reuters]. "Dozens of Republican former U.S. national security officials are forming a group that will back Democratic presidential candidate Joe Biden, people familiar with the effort said…. The group will publicly endorse Biden in the coming weeks and its members plan to campaign for the former vice president who is challenging Trump in the Nov. 3 election, the sources said. It includes at least two dozen officials who served under Republican Presidents Ronald Reagan, George H.W. Bush and George W. Bush, with dozens more in talks to join, the sources added." • Holy Lord, the people who brought you Iraq are gonna get another bite at the bad apples. David Frum must be so proud.

Biden (D)(3): "How Diverse Is Joe Biden's 2020 Staff? His Campaign Won't Say." [Buzzfeed]. "[T]he reporter asked if Biden would commit to selecting a person of color as his running mate. Aboard his campaign bus in Iowa, the 77-year-old candidate looked equal parts frustrated by the question and confident in his answer. 'I have the most diverse staff of anybody running. I've always done that.' Biden's campaign refused to give any detail about the claim after he made it. And more than six months later, he has yet to back up the assertion or provide any data on the diversity of his campaign staff." • True, Avril Haines is a [x] woman torture advocate, but if only she were also a [x] black torture advocate!

Trump (R)(1): "Donald Trump Tulsa, Oklahoma Rally Speech Transcript" [Rev]. • The Borscht Belt bits are in there, along with the usual. I would love to have a way to reverse engineer his A/B testing with the next rally.

Trump (R)(2) "The President's Shock at the Rows of Empty Seats in Tulsa" [New York Times]. "Exactly what went wrong was still being dissected on Sunday. But a broad group of advisers and associates acknowledged to one another that Mr. Trump had not been able to will public opinion away from fears about the spread of the coronavirus in an indoor space. And they conceded that myriad polls showing Mr. Trump's eroded standing were not fake, and that he might be on course to lose to former Vice President Joseph R. Biden Jr., the presumptive Democratic nominee, in November." • This story, too, is focused on Trump's personal reaction. And it's revealing that the heart of the story is what Trump's advisors "acknowledge to each other" about the crowd, rather than the crowd itself (no voters were interviewed for this piece). So we have the very definition of access journalism, unsurprisingly.

Trump (R)(3): "Trump's sparse rally crowd enraged him. His advisers just revealed why." [WaPo]. • Everything I said about about Izvestia on the Hudson applies to Pravda on the Potomac. So we have not only access journalism, but pack journalism. We know more about K-Pop kids than we know about voters who were expected to show up at Trump's rally, but didn't!

* * *

"McGrath leading, Engel in trouble after Tuesday's primaries" [Politico]. And the rubble is still bouncing in AOC's district: 73% (!). More: "It will be at least a week until winners are known in Tuesday's much-anticipated showdown between the progressive and establishment wings of the Democratic Party. Voters in five states went to the polls Tuesday for primary elections, with the top races coming in Kentucky and New York. In Kentucky, Democratic voters were choosing between party favorite Amy McGrath and state Rep. Charles Booker to face Senate Majority Leader Mitch McConnell, for whom rank-and-file Democrats' disdain rivals only that for President Donald Trump. But Tuesday night ended without a winner — and with hundreds of thousands of absentee ballots to count next week…. The marquee House race of the night was Engel's race against Bowman, a middle school principal. Early results staked Bowman to a lead over the incumbent that continued into Wednesday morning." • A good wrap-up. On Booker:

If I were Amy McGrath (D), I wouldn't be overly optimistic about sitting on an ~8% lead w/ potentially only 12%-15% of the vote counted and none of Louisville/Lexington reporting yet. #KYSEN

— Dave Wasserman (@Redistrict) June 24, 2020

That "late surge" shows, once more, why "early voting" is a bad idea: Early voting rewards incumbent name recognition and big donor funding. That's why the Democrat Party establishment loves it.
Health Care
UPDATE About masks:

What should public health experts have done instead? Could have leveled with public "masks are important, but avoid hoarding to ensure medical staff have enough." Could have pushed for cloth/homemade mask wearing by public instead. Could have pushed for mass production.

— Arpit Gupta (@arpitrage) June 23, 2020

Lambert here: To my shame, I bought into — and worse, propagated, told readers and friends — the original LIE propagated by Fauci and WHO, that masks were not necessary. Fortunately, I continued to do my homework and watch the news flow, and changed my mind (and my practice). Fauci and WHO perpetrated what Plato called a "noble lie," believing that the best way to make sure that medical personnel — and they, too, personally — had masks was to make sure the public they duped didn't buy them up, and so they used their authority to lie about whether masks worked (they do). In an election season where the liberal Democrat pitch seems to be "Let The Professionals Take Charge Again"™, having top PMC and global agencies get caught out in a Noble Lie might not have been the greatest idea. And as we few, we happy few in the Blue States make fun of the fat stupid loud people in the Red States who don't trust the experts that lied to them, we might consider whether our Noble Lies have unexpected effects, not merely politically, but in the destruction of the very concept of public health. Sorry about that.

"House Democrats tack to center with election year health care bill" [Politico]. "The House Democratic plan is less ambitious than the platform put forward by Joe Biden and doesn't include a public insurance option that could compete with private plans. It also would not expand eligibility for Medicare or Medicaid. But the 153-page legislative draft could amplify Democrats' election-year message of building on the ACA as the Trump administration presses to overturn the law at the Supreme Court. Pelosi and her leadership plan a vote on the legislation next week. The plan stands virtually no chance of being taken up by the Republican-controlled Senate but comes amid new concerns over health coverage amid the coronavirus pandemic and the economic crash." • So Pelosi's bill is a message bill, and the message is "We have no ambition" (and to people without insurance in the pandemic, "think happy thoughts on the way down"). No doubt the health insurance "industry" will be happy. But say, why not wait for the Biden/Sanders Task Force to issue some recommendations? In the spirit of party unity and team play?
Realignment and Legitimacy
UPDATE "The limits of White Fragility's anti-racism" [Ryan Cooper, The Week]. (Chapo has a fine podcast on White Fragility here. It makes sense, too much sense, that the idpol types want a world that runs like an HR department.) "For all her talk about difficult conversations, it is hard to miss how DiAngelo totally elides questions of economic justice that would be uncomfortable indeed for the wealthy corporations and executives that hire her to harangue their employees. At any rate, it is surely useful for American whites to think about how they might be inadvertently making their workplace an uncomfortable place for their co-workers of color. But it's also useful for whites to think about what they might have in common with their Black and brown fellow citizens. They might form a multi-racial union (another idea that goes unmentioned in the book). They might realize that though Black Americans have it worse, white Americans are still not doing great compared to residents of peer nations — they are impoverished, imprisoned, and killed by police at shocking rates; live shorter and less healthy lives, pay through the nose for lousy health care, and on and on. Racism must be eradicated, partly because it forestalls the kind of multi-racial, working-class political coalition that could make this country a better place to live for everyone. But it seems you won't learn that at a corporate diversity seminar."

UPDATE "Policing and the Long-Term Problem Democrats Face" [Mike the Mad Biologist]. Quoting Gin and Tacos: "When it comes to the problems with policing in this country, Democrats seem fundamentally unable to conceive of themselves as a big part of the problem. At best there is an argument about the Republicans being worse – which is true, and is almost universally true – that is used to deflect criticism. It is necessary to face up to the reality that many of the places with the worst problems with police violence are, and have been, controlled by Democrats at the local level for a long time. If you look at protesters and don't understand why they burn property rather than channel their anger into voting, the very obvious answer is that there is no imaginary future in which voting for Joe Biden and whoever they just elected Mayor will actually solve the problem. Republicans offer pure authoritarianism – they actively *encourage* police to be brutal – while Democrats have done nothing to stop them, or in many cases abetted them. In my lifetime Chicago has elected one Democratic mayor after another, backed by a lockstep Democratic county board and city council and a veto-proof Democratic state legislature in many cases. All that has happened with the Chicago PD is that it has gotten worse. Much the same can be said for Minneapolis, St. Louis, New York, Los Angeles, and other places with notoriously bad police departments."

* * *
Stats Watch
At reader request, I added some business stats back in. Please give Econintersect click-throughs; they're a good, old-school blog that covers more than stats. If anybody knows of other aggregators, please contact me at the email address below.
Shipping: "Trucking Industry Growth Marginally Improved In May 2020" [Econintersect]. "Headline data for the American Trucking Association (ATA) and the CASS Freight Index show that truck volumes marginally improved but show the year-over-year growth deep in contraction. The CASS index is inclusive of rail, truck, and air shipments. The ATA truck index is inclusive of only trucking industry member movements (ATA's tonnage data is dominated by contract freight). I put a heavier weight on the CASS index year-over-year which is consistent with rail and ocean freight…. Econintersect tries to validate truck data across data sources. It appears this month that the truck employment rate of growth continues to slow. Please note using BLS employment data in real-time is risky, as their data is normally backward adjusted (sometimes significantly). Additionally, Econintersect believes that the BLS is not capturing all truck employment."
* * *
Tech: "Google blew a ten-year lead" [Second Breakfast]. "I got my email through Gmail, I wrote documents on Docs, I listened to Pandora, I viewed photos on TheFacebook. Why did I need all of Windows Vista?… In 2010, I predicted that by 2020 Chrome OS would be the most popular desktop OS in the world. It was fast, lightweight, and $0…. .I haven't installed MSFT Office on a machine since 2009. Sheets and Docs have been good enough for me. The theoretical unlimited computing power and collaboration features meant Google Docs was better than Office (and free!). Then something happened at Google. I'm not sure what. But they stopped innovating on cloud software…. I'm a long shareholder of Google. . I'm confident they have a bright future ahead. But the lack of innovation is frustrating. The product goals are all over the place. Microsoft has a new clear mission: The Cloud. What's Google's clear mission? It feels like they blew a 10 year lead."
Supply Chain: "Supply chain's response to pandemic dominates annual 'State of Logistics Report'" [Freight Waves]. "The report painted a picture of an industry first traumatized by the coronavirus pandemic and the government's tough measures designed to stop its spread, but then able to right itself and meet the challenge of bringing essential goods to market. An industry that's rarely top of the public mind demonstrated its enduring value, the report said. The sector, though damaged by the pandemic, is already adapting to the profound changes it has caused, the report said. The report's central narrative echoed the views of many: that the nation's supply chain, and the logistics practitioners who support it, will shift from a model based on cost and efficiency to one driven by resiliency, defined by the report as being positioned to "adjust and recover from future difficulties." U.S. firms that sourced exclusively from China faced massive supply disruptions in February and March after Chinese authorities shut down large swaths of the country's manufacturing and outbound shipping to curtail the virus' spread. For U.S. firms, avoiding a repeat scenario will require development of multiple sourcing locations, more buffer inventory, and the warehouses needed to store them. It will also lead to higher costs to support the investment in assets. Shifting supply chain strategies does not mean abandoning China, according to a group of experts participating in an online Q&A session. Michael Zimmerman, a Kearney partner, said ." • Well, one would think that an Indo-Pacific strategy would be helping this happen (too bad, perhaps, so sad about the TPP, but surrenduring our national sovereignty to a self-regulating cabal of trade lawyers backed by global corporations was really a little bit much, though somebody should ask The Biden™ if The Obama Alumni Association plans to revive it).
Honey for the Bears: "A Crisis Like No Other, An Uncertain Recovery" [International Monetary Fund]. "Global growth is projected at –4.9 percent in 2020, 1.9 percentage points below the April 2020 World Economic Outlook (WEO) forecast. The COVID-19 pandemic has had a more negative impact on activity in the first half of 2020 than anticipated, and the recovery is projected to be more gradual than previously forecast. In 2021 global growth is projected at 5.4 percent. Overall, this would leave 2021 GDP some 6½ percentage points lower than in the pre-COVID-19 projections of January 2020. The adverse impact on low-income households is particularly acute, imperiling the significant progress made in reducing extreme poverty in the world since the 1990s. As with the April 2020 WEO projections, there is a higher-than-usual degree of uncertainty around this forecast." And: "The global community must act now to avoid a repeat of this catastrophe by building global stockpiles of essential supplies and protective equipment, funding research and supporting public health systems, and putting in place effective modalities for delivering relief to the neediest." • LOL, no.
* * *
Today's Fear & Greed Index: 48 Neutral (previous close: 52 Neutral;) [CNN]. One week ago: 51 (Neutral). (0 is Extreme Fear; 100 is Extreme Greed). Last updated Jun 24 at 1:51pm.
The Biosphere
"The origins of flowering plants and pollinators" [Science]. "For more than a century there has been a fascination with the surprisingly rapid rise and early diversity of flowering plants (angiosperms). Darwin described the seemingly explosive diversification of angiosperms as an 'abominable mystery,' and debates continue about the origin and processes driving angiosperm speciation. Dating the origin of angiosperms was traditionally the prerogative of paleobotanists who read the fossil record of plants, but with DNA sequencing becoming increasingly sophisticated, molecular dating methods have come to the table. Many angiosperm fossils can be dated to the Early Cretaceous (∼135 million years ago), which has led paleobotanists to reason that they originated during that era. It is now increasingly recognized that . When angiosperms originated is key to understanding the origin and evolution of pollinators, particularly insects such as bees, butterflies, moths, and flies. Recent reports highlight the disparity of molecular and paleontological time scales." Best "more studies needed" final sentence ever: "Whether Darwin's question about the timing of flowering-plant evolution and radiation will ever be answered remains a mystery, but clearly this question and its ecological implications for understanding insect pollination are complicated." • It's worth fighting through the brambles of science-y prose — not that hard, in this case — to gain additional appreciation of how wonderful plants are.
Health Care
"Mounting clues suggest the coronavirus might trigger diabetes" [Nature]. I have to say, I think this is a little clickbait-y. Interesting and suggestive, but "Their hunch is based on a handful of people" and "The latest clue comes from an experimental study in miniature lab-grown pancreases published last week [which] suggests that the virus might trigger diabetes by damaging the cells that control blood sugar. Mini organs reveal how the coronavirus ravages the body. But other researchers are cautious about such suggestions." • Big if true, I guess.
"Lessons on Coronavirus Testing From the Adult Film Industry" [New York Times]. "'We can actually learn a lot about safety guidelines by listening to producers of porn," said Perry N. Halkitis, dean of the School of Public Health at Rutgers University. 'Thinking back to the H.I.V./AIDS crisis, the adult film industry had to learn how to keep their workers safe.' He recommends following its lead by using what he calls the Four Ts: Target, Test, Treat and Trace. The adult film industry uses a nationwide program called PASS, for Performer Availability Screening Services, that requires performers to be tested every 14 days for H.I.V. and other sexually transmitted infections in order to be cleared for work. If a worker tests positive, he's treated, and his partners are traced.' … [ Dr. Ashish Jha, director of the Harvard Global Health Institute] agreed. He said he would like to see a database much like the PASS program where people can register online to show they were tested for the coronavirus. 'It should be run by a nonprofit or private business, not the government,' he said. 'I'm not opposed to the government doing it. It's that a lot of people would not be comfortable with the government running it.'"
Good question:
Emissions have been dramatically cut by eliminating NON ESSENTIALS in our economies (conservation).
And as they are non essential, where's the discussion about 'restarting the economy' = expanding non essential activity that restores prior levels of emissions???

— Warren B. Mosler #MMT (@wbmosler) June 22, 2020
Black Injustice Tipping Point
"2 Lawyers Of Color Face 45-Year Sentences — For Vandalism" [HuffPo (Re Silc)]. "[Colinford King\ Mattis, along with Urooj Rahman, 31, was arrested in New York City on May 30 during protests against racism and police brutality following the death of George Floyd at the hands of Minneapolis police officers. The two were charged with attempting to burn an unoccupied, already damaged New York City Police Department vehicle. Nobody was injured in the incident. Now Mattis and Rahman face additional federal charges that carry a 45-year mandatory minimum sentence, and up to life in prison — for what essentially amounts to property damage. Activists and lawyers are alarmed by the unusually harsh charges being brought against them, and believe Mattis and Rahman should not be awaiting trial in jail. They say that they are not a threat to society — which the prosecution is arguing — and it is highly unlikely they're a flight risk or will commit another crime. Mattis is a corporate lawyer educated at Princeton and NYU Law; Rahman went to Fordham Law and works for Bronx Legal Services, helping low-income clients fight evictions in housing court. Both grew up in New York and are deeply connected to their communities."
Games
"Video Game Industry Rocked by Outpouring of Sexual Misconduct Allegations" [Bloomberg]. "Dozens of women took to social media over the past few days to outline explosive allegations against prominent men in the world of video gaming and streaming, setting the stage for what could be the beginning of a #MeToo reckoning for the $150 billion video game industry. Four women leveled accusations of sexual misconduct against Chris Avellone, a critically acclaimed video game writer, leading one developer to end its cooperation with him and prompting him to part ways with another game in the works. A different woman accused Omeed Dariani, the chief executive officer of Online Performers Group, a talent agency that works with many video streamers, of making an unwelcome sexual overture. Dariani resigned from his position on Sunday. Some streamers began calling for a blackout Wednesday of Amazon.com Inc.'s Twitch, the biggest game streaming platform, alleging that it turns a blind eye to misbehavior. The gaming industry has for years been criticized as unwelcoming—if not hostile—to women, but has not yet faced the #MeToo movement on the same scale as Hollywood and other industries."
Failed State
"Lawsuit alleges scientific misconduct at U.S. nuclear weapons lab" [Science]. "An unusual lawsuit alleges scientific misconduct at Lawrence Livermore National Laboratory in California, one of the United States's three nuclear weapons labs. Peter Williams, a 50-year-old physicist, worked at Livermore from January 2016 until May 2017, when he says he was fired in retaliation for complaining that his superiors were mishandling a computer program that simulates the detonation of high explosives, undermining their ability to predict how a particular nuclear weapon would perform if used…. Livermore used such test explosions to refine a modeling program called ARES-CHEETAH. But Williams says he became aware that one of his supervisors was essentially changing parameters in the program after the fact to make sure the simulation fit the data from each experimental setup. That's "pseudoscience," Williams charges, as it guarantees the model will look accurate, even if it isn't. He says he repeatedly asked the researcher to explain the rationale for the tweaking. 'It became clear that he didn't have a rationale, he had a motive,' Williams says. 'And the motive was to keep money flowing to help develop and improve CHEETAH.' Such 'curve fitting' renders the program incapable of making meaningful predictions, he says." • All too plausible. And Williams is only suing for $600,000, so he's not in it for the money.
Guillotine Watch
"Meet Our Members." [The Coalition to End Social Isolation & Loneliness (Krystyn Podgajski)]. "The Coalition to End Social Isolation & Loneliness consists of national stakeholders including consumer groups, patient advocacy organizations, health plans, community-based organizations, mental and behavioral health advocates, and private sector innovators." • Extroverts are gonna kill us all.
Class Warfare
"The Jobs We Need" [Editorial Board, The New York Times]. "If income had kept pace with overall economic growth since 1970, Americans in the bottom 90 percent of the income distribution would be making an extra $12,000 per year, on average. In effect, every American worker in the bottom 90 percent of the income distribution is sending an annual check for $12,000 to a richer person in the top 10 percent." Nice framing. And: "Change is possible. A government more inclined to help workers would have ample opportunity. But as in the early 1930s, political change must proceed economic change. For the voices of workers to be heard, the influence of the wealthy must be curbed." • Which totally explains why Obama stood up Biden. It's all so clear now!
"The New Truth" [Tablet]. "I don't know how to argue in America anymore, or whether it's even worth it. For someone like me, that is a real tragedy and so I would like to understand how this new reality came about. There are distinct and deep-rooted traditions of rational empiricism and religious sermonizing in American history. But these two modes seem to have become fused together in a new form of argumentation that is validated by elite institutions like the universities, The New York Times, Gracie Mansion, and especially on the new technology platforms where battles over the discourse are now waged. The new mode is argument by commandment: It borrows the form to game the discourse of rational argumentation in order to issue moral commandments. No official doctrine yet exists for this syncretic belief system but its features have been on display in all of the major debates over political morality of the past decade. Marrying the technical nomenclature of rational proof to the soaring eschatology of the sermon, it releases adherents from the normal bounds of reason. The arguer-commander is animated by a vision of secular hell—unremitting racial oppression that never improves despite myths about progress; society as a ceaseless subjection to rape and sexual assault; Trump himself, arriving to inaugurate a Luciferean reign of torture. Those in possession of this vision do not offer the possibility of redemption or transcendence, they come to deliver justice. In possession of justice, the arguer-commander is free at any moment to throw off the cloak of reason and proclaim you a bigot—racist, sexist, transphobe—who must be fired from your job and socially shunned. Practitioners of the new argument bolster their rationalist veneer with constant appeals to forms of authority that come in equal parts from biology and elite credentialing. Have you noticed how many people, especially online, start their statements by telling you their profession or their identity group: As a privileged white woman; as a doctoral student in applied linguistics; as a progressive Jewish BIPOC paleontologist—and so on? These are military salutes…." • Of course, identity doesn't come from biology (except when it does).
News of the Wired
"IRS May Consider Delaying Tax Filing Deadline Again, Mnuchin Says" [Forbes]. "'As of now, we're not intending on doing that, but it is something we may consider,' Mnuchin told Bloomberg in an interview. Mnuchin said that the extension made sense in March, 'because we were absolutely worried about people who couldn't get to their accountants, couldn't get their information,' but added that a majority of Americans have already filed their 2019 taxes. The Treasury secretary noted that people who can file their tax returns now should do so by July 15, especially if they are expecting a refund. On the possible extension, he stated, 'We'll look carefully as we approach this July date.'"
"Writing, Reading, Writing" [George R.R. Martin, Not a Blog]. "If nothing else, the enforced isolation has helped me write. I am spending long hours every day on THE WINDS OF WINTER, and making steady progress. I finished a new chapter yesterday, another one three days ago, another one the previous week. But no, this does not mean that the book will be finished tomorrow or published next week. It's going to be a huge book, and I still have a long way to go." • And he's 71, and has — as the rest of the post makes clear — a ton of side projects. So it goes.
"How People Read Online: New and Old Findings" [Neilson Normal Group]. "People still primarily scan, rather than read. Scanning all of the text on a page, or even a majority, is still extremely rare. Even when users do scan content in its entirety, they never scan it perfectly linearly. They still jump around pages, skipping some content, backtracking to scan what they skipped, and rescanning content they've already scanned."
This is a great thread on animals walking into the shot on Zoom, but:
Says "I'd like to try some of your lipstick" and I said "Will you pay for it?" and the duck says "Just put it on my bill".

— Keith Humphreys (@KeithNHumphreys) June 23, 2020
* * *
Readers, feel free to contact me at lambert [UNDERSCORE] strether [DOT] corrente [AT] yahoo [DOT] com, with (a) links, and even better (b) sources I should curate regularly, (c) how to send me a check if you are allergic to PayPal, and (d) to find out how to send me images of plants. Vegetables are fine! Fungi and coral are deemed to be honorary plants! If you want your handle to appear as a credit, please place it at the start of your mail in parentheses: (thus). Otherwise, I will anonymize by using your initials. See the previous Water Cooler (with plant) here. Today's plant (AM):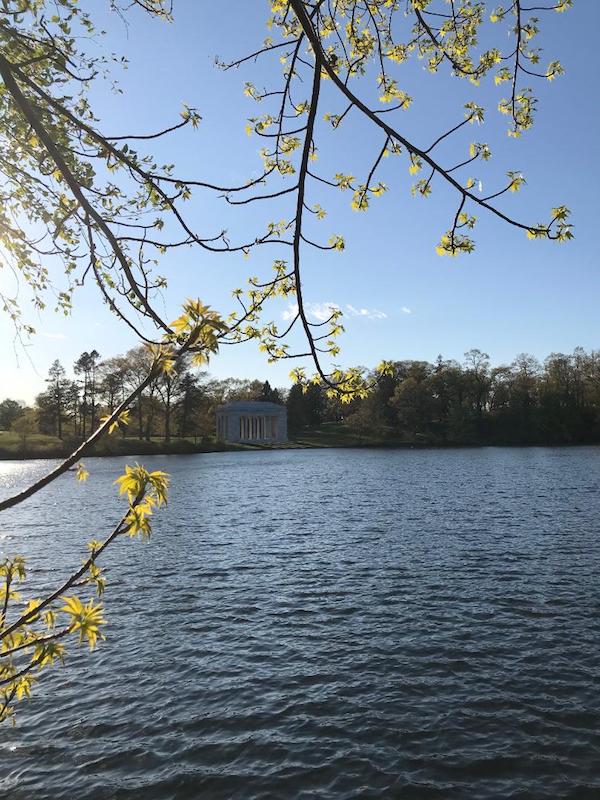 AM writes: "From today's walk (May 12) in Roger Williams Park. New leaves and branches reaching out toward the Temple to Music across the lake. The sun was a bit of a challenge. I blocked it with the tree." Clever! (And seeing new buds and leaves against the sky for the first time in Spring is a wonderful moment.)
* * *
Readers: Water Cooler is a standalone entity not covered by the annual NC fundraiser. So if you see a link you especially like, or an item you wouldn't see anywhere else, please do not hesitate to express your appreciation in tangible form. Remember, a tip jar is for tipping! Regular positive feedback both makes me feel good and lets me know I'm on the right track with coverage. When I get no donations for five or ten days I get worried. More tangibly, a constant trickle of donations helps me with expenses, and I factor in that trickle when setting fundraising goals:
Here is the screen that will appear, which I have helpfully annotated.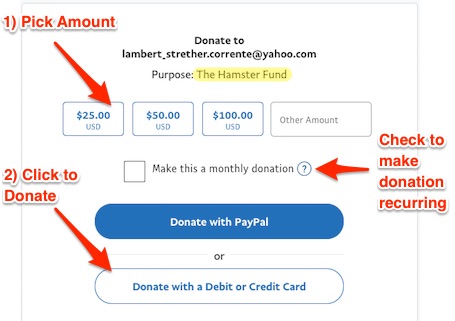 If you hate PayPal, you can email me at lambert [UNDERSCORE] strether [DOT] corrente [AT] yahoo [DOT] com, and I will give you directions on how to send a check. Thank you!