By Lambert Strether of Corrente.
#COVID19
At reader request, I've added this daily chart. The data is the John Hopkins CSSE data. Here is the site. A view for the primaries: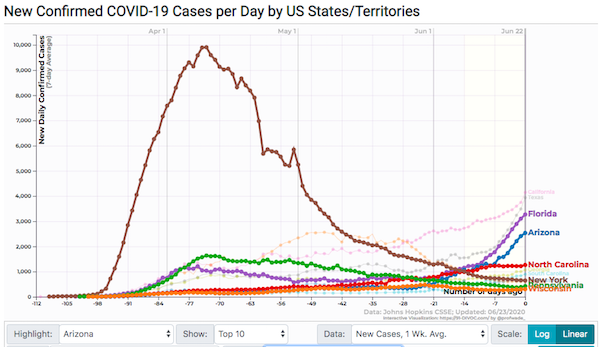 Swing states AZ, FL, NC, PA, and WI, with NY for comparison.
Getting tested in AZ, a thread:
Here's a story of an ongoing personal journey of mine — that makes it clear to me the vastness of the COVID spread across Phoenix is still so little understood:

I have sought a COVID test after being around crowds the last week+ — with the desire to keep one's own family safe.

— Vaughn Hillyard (@VaughnHillyard) June 20, 2020
"No, more testing doesn't explain the rise of covid-19 cases in the U.S." [WaPo]. "It is true that the United States has dramatically expanded testing for the virus that causes covid-19…. Tests can also help tell us whether such measures are working. The way to tell whether a rise in cases is indicative of increased spread in the population — rather than a byproduct of conducting more tests — is by seeing how many tests are identifying infections…. The World Health Organization recommends that countries seeking to lift social distancing restrictions should be doing enough testing to maintain a test positivity of less than 5 percent. This target is based on the experience of countries that have driven their numbers of cases down and largely stopped viral spread. Many places, such as South Korea, Australia and New Zealand have been keeping their positivity much lower — at 2 percent or less. Such experiences show that very low positivity rates are an important benchmark to gauge progress against the pandemic."
"Texas Children's Hospital admitting adult patients to free up hospital beds in Houston" [KHOU]. "Texas Children's Hospital confirmed late Monday it is admitting adult patients to free up hospital beds across Houston as coronavirus cases surge. In a statement sent to KHOU 11, Texas Children's Hospital said it is providing additional capacity through ICU and acute care beds across its campuses to both pediatric and adult patients. On Monday, Houston Mayor Sylvester Turner said the health department is reporting some of the highest numbers the city has had since the start of the pandemic. 'We are moving very fast and we are moving very fast in the wrong direction,' said Turner. 'The course that we are currently on is not in the best interest of our city or state.'" • Uh oh.
"Alarmed by spiking coronavirus numbers? Here's why officials insist they aren't worried" [Los Angeles Times]. "[R]ising case numbers have sparked some worry about whether the economy is reopening too quickly and that easing stay-at-home orders could cause new outbreaks. But health officials [in Los Angeles County] continue to discount those concerns, saying total new cases is not the best measure of community spread because of aggressive levels of new testing. They point to other metrics they say show that the local outbreak has stabilized — even though the number of new cases increased by nearly 20,000 in the last two weeks and by more than 3,600 just over the weekend…. Two key indicators — the positivity rate and average number of daily hospitalizations — have continued to remain relatively steady, while average daily deaths have declined, L.A. officials said."
"What Does and Does Not Correlate with COVID-19 Death Rates" [NBER]. "We estimate correlation patterns both across states, as well as within states. For both models, we find higher shares of African American residents in the county are correlated with higher death rates. However, when we restrict ourselves to correlation patterns within a given state, the statistical significance of the correlation of death rates with the share of African Americans, while remaining positive, wanes. We find similar results for the share of elderly in the county…. Counties with higher home values, higher summer temperatures, and lower winter temperatures have higher death rates. Contrary to past work, we do not find a correlation between pollution and death rates. Also importantly, we do not find that death rates are correlated with obesity rates, ICU beds per capita, or poverty rates….. We find that death rates in the Northeast are substantially higher compared to other states, even when we control for the four sets of variables above. Death rates are also statistically significantly higher in Michigan, Louisiana, Iowa, Indiana, and Colorado. California's death rate is the lowest across all states."
Politics
"But what is government itself, but the greatest of all reflections on human nature?" –James Madison, Federalist 51
"They had one weapon left and both knew it: treachery." –Frank Herbert, Dune
"They had learned nothing, and forgotten nothing." –Charles Maurice de Talleyrand-Périgord
Since we're getting closer to the election, maybe it's time to start looking at the electoral map. As of June 21: NPR and U.S. News forecasts added. And yet the consensus remains stable!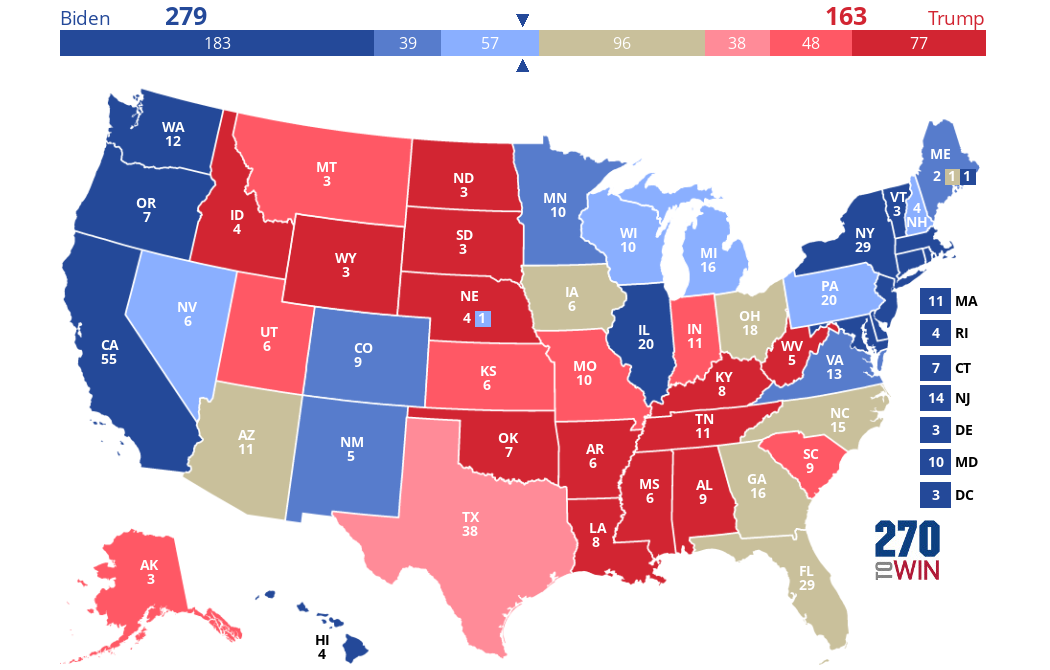 Click the map to create your own at
270toWin.com
So, taking the consensus as a given, 270 (total) – 204 (Trump's) = 66. Trump must win 66 from the states in play: AZ (11), FL (29), MI (16), NC (15), PA (20), and WI (10) plus 1 to win not tie = 102. 102 – 66 = 36. So if Trump wins FL, MI, NC, and PA (29 + 16 + 15 + 20 = 80), he wins. That's a heavy lift. I think I've got the math right this time!
* * *
2020
Biden (D)(1): "Congressional Black Caucus chair Karen Bass being vetted to be Biden running mate" [CBS]. "Congresswoman Karen Bass, chair of the Congressional Black Caucus, is undergoing vetting as a candidate to be Joe Biden's running mate… It is not immediately clear where Bass stands in the vetting process but her name has been floated for consideration by powerful Democrats like House Majority Whip James Clyburn." • Interestingly, Bass supports #MedicareForAll. Why not Barbara Lee?

Biden (D)(2): "The Debate Over Biden's VP Pick Is Full Of Half-Truths And Misleading Arguments" [FiveThirtyEight]. For example: "'Though we have propped up the Democratic Party for decades, the return on our investment in the party might as well read, 'insufficient funds,'" Rye and a group of other prominent Black women Democrats wrote in an op-ed in The Washington Post in May, urging Biden to pick a Black woman as his running mate. 'Those days are over. We are here to collect,' they continued. 'Very simply, Vice President Biden: You owe us, you need us and you must not take our votes for granted — they must be earned.'" • "You owe us for Clinton and Biden" might not be the strongest case to make. In any case, Biden being in the shape he is, we're also picking the next (presumptive) President too. Abrams 2024? Really?

Biden (D)(3): "Biden And His Ventriloquists Keep Out-Hawking Trump" [Caitlin Johnstone, Medium]. "Joe Biden keeps trying to out-warmonger Donald Trump, and by Joe Biden I of course mean the team of handlers who are animating the dementia-ravaged corpse of the Biden campaign like a ventriloquist operating a wooden dummy. In response to Trump suggesting an openness to scaling back his administration's murderous Venezuela policy and meeting with President Nicolás Maduro, whoever runs Biden's Twitter account for him seized upon the moment to assert that the former vice president will be doing no such thing if elected commander-in-chief.

'Trump talks tough on Venezuela, but admires thugs and dictators like Nicolas Maduro,' tweeted Biden Incorporated. 'As President, I will stand with the Venezuelan people and for democracy.'" • Which should make the national security goons very happy.

Biden (D)(4): "Biden still has a Hispanic voter problem, but does it matter?" [The Hill]. "What is worrying, though, is Biden's margins with Hispanic voters. He is currently at 57 percent support to Trump's 31 percent, and has lost 9 points since the last survey. Clinton won 66 percent of Hispanic voters and Obama took 67 percent. If Biden is doing so well, why does he struggle with Hispanic voters?"

Sanders (D)(1): "The Second Defeat of Bernie Sanders" [Ross Douthat, New York Times]. "Throughout his career, Sanders has stood for the proposition that left-wing politics lost its way after the 1970s by letting what should be its central purpose — the class struggle, the rectification of economic inequality, the war against the "millionaires and billionaires" — be obscured by cultural battles and displaced by a pro-business, pro-Wall Street economic program. This shift has made left-of-center political parties (in Europe as well as the United States) steadily more upper middle class and conservatism steadily more blue collar, but the promise of Sandersism was that the transformation need not be permanent: A left that recovered the language of class struggle, that disentangled liberal politics from faculty-lounge elitism and neoliberal economics, could rally a silent majority against plutocracy and win. The 2016 Sanders primary campaign, which won white, working-class voters who had been drifting from the Democrats, seemed to vindicate this argument. The 2020 Sanders campaign, however, made it look more dubious, by illustrating the core challenge facing a socialist revolution: Its most passionate supporters — highly educated, economically disappointed urbanites — aren't natural coalition partners for a Rust Belt populism, and the more they tugged Sanders toward the cultural left, the easier it was for Joe Biden to win blue-collar votes, leaving Sanders leading an ideological faction rather than a broader working-class insurgency. Now, under these strange coronavirus conditions, we're watching a different sort of insurgency challenge or change liberalism, one founded on an intersectional vision of left-wing politics that never came naturally to Sanders. Rather than Medicare for All and taxing plutocrats, the rallying cry is racial justice and defunding the police. ." • Well, er.

UPDATE Sanders (D)(2): "Primaries renew fears about Democratic unity in presidential race" [The Hill]. "Some Democrats have begun pointing the finger at Sen. Bernie Sanders (I-Vt.), saying he's been consumed with down-ballot elections at the expense of promoting Biden's bid for the White House…. While they concede Sanders has done more to help Biden than he did in the 2016 race for then-Democratic nominee Hillary Clinton, they still say Sanders needs to use his influence with his supporters to ensure they turn out and donate to Biden's campaign… Sanders, who crushed his competitors in fundraising during the primary 'could in one hour raise Biden north of $10 million, and the symbolism would be worth twice that,' [Philippe Reines] said." • Sheesh, Phiul. Ask Bloomberg! Anyhow, Sanders, 2016: "We are not a movement where I can snap my fingers and say to you or to anybody else what you should do, because you won't listen to me. You shouldn't." Translation: "If I tell you how to vote, they showed me the Zapruder film."

UPDATE Trump (R)(1): "Trump's 'trench warfare' reelection campaign begins" [Politico]. "After three months of little public activity, both candidates have launched their general campaigns in earnest. Their advisers have started making big ad buys. The outline of the swing state map has taken shape. And amid widespread civil unrest and an ongoing pandemic, the opening stage of what is likely to become one of the most bitter, intensely personal general election campaigns in contemporary history began to unfold…. 'We're playing offense, ,' Patrick Bonsignore, Biden's director of paid media, said in a memo describing the buy.'" • Holy Lord, the pearl-clutching that would ensue if Sanders did such a thing. Aren't all those voters racist?

UPDATE Trump (R)(2): "Donald Trump finds sanctuary in Tulsa" [The Economist]. " Part of the appeal of Trump rallies is that they are transgressive. The president always says something outrageous (this time it was 'kung flu'). But and the arena, which can hold more than 19,000, was half empty." • "Seems" is doing a lot of work there, because we don't effing know, and we don't effing know because there's been no reporting on it. There's been more reporting on the K-Pop fans than there was been on voters! More: "A lazy conclusion from this confluence of disasters is that the president has had an unusually terrible week. In fact the past week has been little different from any other since January 2017. Keeping America Great in November would mean signing up for another four years of the same. Given that, ." •¨Yes, that would be an interesting story to write, too.

UPDATE Trump (R)(3): "This Is How Trump Plans to Beat Biden" [The New Republic]. "Trump's best opportunity to deepen these anxieties will arrive with Biden's running mate⁠—a person voters will have no trouble imagining not only as an influence on Biden, but as someone who could conceivably replace him as president given his age. Reporting and comments from Democratic figures indicate it's highly likely Biden will pick a woman of color whom the public doesn't know terribly well. The ferocity of what awaits them has been foretold by the last 12 years of American politics. There is a risk for Trump that leaning too heavily into bigotry and piggishness on the right might further alienate the suburban voters he's already hemorrhaging and finally shatter any meager hope he might have had of meaningfully improving his performance with Black voters. But the president is not a cautious or intelligent man. He will speak and act mostly by instinct, as he usually does⁠—trusting that the inequities of our sham democracy will allow him to feel and fumble his way back into office. And he might be right."

UPDATE Trump (R)(4): "Pollster Who Got It Right in 2016: Michigan a Dead Heat" [RealClearPolitics]. "In 2016, Robert Cahaly was the only pollster to show Donald Trump winning the state of Michigan…. Cahaly's polls in 2016 also showed Donald Trump winning Pennsylvania – again, he was nearly alone in projecting Trump's narrow victory there – and thus taking the White House. Cahaly's success continued in 2018, most conspicuously in Florida… Cahaly's survey, using the same methodology he employed four years ago but with an enhanced system for targeting likely voters, shows the race in Michigan as extremely competitive. The pollster also continues to see signs of 'shy' or 'reluctant' Trump voters in the electorate. Known as 'social desirability bias,' it refers to the effect of respondents not telling the truth about whom they will vote for because they think their choice will be viewed unfavorably by others, including those conducting the survey. In a phone interview today, Cahaly said the social desirability bias he is seeing is 'worse than it was four years ago.' Cahaly also pointed out, social desirability notwithstanding, African American support for Trump in the survey registered 11.8%, which would represent a significant increase over four years ago. According to the 2016 exit polls, Trump won just 6% of African American voters in Michigan." • Big if true.

* * *

"9 things to watch on a huge primary day for Democrats" [Politico]. Kentucky specifically: "The race has increasingly come down to Booker's momentum versus McGrath's structural advantages. Her campaign has been on the airwaves for months funding biography spots and general election ads against McConnell, and her campaign's cash has also allowed them to build the infrastructure to turn out her voters across the state, relying on Kentucky's more conservative Democrats outside the population centers in Louisville and Lexington." And: "In the contested primaries in New York City and Kentucky, it is unlikely that a winner will be declared tonight, unless the races are an absolute blowout."
Health Care
Neera Tander throws in the towel on ObamaCare:

A Medicaid expansion for the unemployed would provide a seamless, automatic, and immediate transition from coverage loss to affordable coverage, with no cracks in the safety net.https://t.co/6kjDasFwiT

— American Progress (@amprog) June 22, 2020
Realignment and Legitimacy
UPDATE "Activists cite tabulation flaw in mail-in ballots in Georgia" [The Ledger]. "Faulty software or poorly calibrated vote-tabulation scanners used to count mailed-in ballots in this week's chaotic Georgia primary may have prevented thousands of votes from being counted, election officials and voting integrity activists say. The issue was identified in at least four counties, DeKalb, Morgan, Clarke and Cherokee, according to officials who discovered them, including activists who have sued the state for alleged election mismanagement. 'The fact that it is in multiple counties tells me that it's probably systemic,' said Richard DeMillo, a Georgia Tech computer scientist who has testified for the plaintiffs, because identical scanners and software were used to count all absentee ballots across the state. DeMillo said the only way to know for sure is through audits." • Vote-by-mail is only as good as tabulation. While Georgia is a Republican state, there is no reason whatever to think that the problem is limited them; see how votes are tabulated in a Democrat stronghold, California, at CalPERS, for example, here, here, and here.

UPDATE "States failed to get absentee ballots to thousands of voters in recent primary elections, signaling problems for November" [CNN]. "[T]housands of voters who didn't get their requested absentee ballots in recent primaries, including in the battleground states of Georgia and Wisconsin. In Maryland, where all registered voters were automatically supposed to get ballots in the mail, about 160,000 ballots, roughly 5% of those sent out, weren't delivered, officials say. With five months to go before the November election, when an unprecedented number of voters will likely cast mail-in ballots, some glaring trouble spots are beginning to emerge. States' rush to expand absentee voting ahead of primaries this spring exposed logistical issues that, if not addressed, could lead to much bigger problems on Election Day. This isn't the 'massive fraud' that President Donald Trump falsely claims is happening — a distortion he reiterated on Monday morning in an all-caps tweet. To the contrary, , according to a new CNN review of data from a half-dozen recent primaries." • So that's alright, then.

* * *
Stats Watch
At reader request, I added some business stats back in. Please give Econintersect click-throughs; they're a good, old-school blog that covers more than stats. If anybody knows of other aggregators, please contact me at the email address below.
Manufacturing: "June 2020 Richmond Fed Manufacturing Survey Improves" [Econintersect]. "Of the three regional Federal Reserve manufacturing surveys released to date, one is in expansion, one is in contraction, and one is in the neutral zone. The important Richmond Fed subcategories (new orders and unfilled orders) improved. This survey was better than last month."
Housing: "May 2020 Headline New Home Sales Remain Strong" [Econintersect]. "This month the backward revisions were down. Because of weather and other factors, the rolling averages are the way to view this series. The rolling averages improved. Sales again remained strong this month demonstrating the resilience of the new home market."
* * *
Saving: "Americans Will Soon Need Extra Money They Saved in Lockdown" [Bloomberg]. "Savings rates soared to an unprecedented one-third of disposable income during the pandemic lockdown. Still-employed Americans found there weren't many places to spend their paychecks, and expanded government benefits helped paper over the financial cracks for the tens of millions who lost their jobs. Some 37% of adults told the Federal Reserve last year that they didn't have enough cash to handle an unexpected expense of $400. That's down from about 50% in 2013, as households bolstered their savings during the long U.S. expansion. Still, it raises the question: if almost 2 in 5 Americans can't handle a surprise car-repair bill, how will they cope in a drawn-out downturn? Hardly any economist expects the U.S. to return to 2019 levels of employment in the foreseeable future…. It's not just the poor who are vulnerable, data suggest. Even well-off middle-class families may struggle to come up with the cash to endure an economic drought of more than a couple months –- because they tend to hold savings in assets that are difficult and costly to access in an emergency." • Hmm.
Shipping: "Market watch: Air cargo frenzy dies down" [MarketWatch]. "The white-knuckle ride through the airfreight market stratosphere has ended as prices continued to fall back toward earth again last week, bringing relief to companies that purchase air transport to move their goods. The change in conditions is best illustrated by export flows from China to the U.S. and Europe, where air rates have tumbled more than 60%, from $15 to $20 per kilogram at one point, to under $10 per kilogram, as panic-buying for personal protective equipment (PPE) gives way to pre-planned ordering and supply chains shifting to accommodate other types of products. Third-party logistics providers say the situation reflects waning demand for hospital supplies to combat the coronavirus as inventories have built to the point that importers can convert shipments to less expensive ocean transport, with some supplies also moving to Europe via rail. Also contributing to a more stable delivery tempo is the fact that established freight management intermediaries have weeded out first-time shippers who capitalized on the urgent need for protective gear but clogged the system because they didn't understand best practices for sourcing and customs compliance."
Shipping: "Cruise Industry Extends Pause from U.S. Ports" [Maritime Executive]. "Cruise Lines International Association (CLIA), the trade association for the cruise industry, announced that its ocean-going cruise line members will voluntarily extend the suspension of cruise operations from U.S. ports until September 15, 2020. The surprise announcement came as some of the international cruise lines prepared to resume operations and the North American lines were beginning to announce new health protocols. Industry observers, however, had noted that pressure was likely rising on the cruise industry due to the recent spike in reported COVID-19 cases in Florida, the headquarters for the cruise industry, and home port to many of the cruise ships that were expected to resume service."
Manufacturing: "How the L.A. apparel industry became mask makers" [Los Angeles Times]. "After hearing of the critical shortage of face masks, [Abdul Rashid] Dadabhoy [of AST Sportswear, one of the nation's biggest makers of T-shirts] sat down with his three brothers the next morning and prototyped a cotton version, which workers at the company's vertically integrated Brea factory churned out 1,200 pieces of the next day. The company has made more than 10 million masks since…. While other sectors remained closed for months, Southern California's apparel manufacturers, which employ thousands, turned on a dime to produce masks and other critically needed personal protective equipment. This nimbleness allowed local businesses to compete with low-cost overseas suppliers, but it also exposed employees to possible infection and reignited allegations that its low-income, largely immigrant workforce was being exploited."
Manufacturing: "Pandemic Brings Highs and Lows to Region's Fireworks Companies" [Business Journal]. "Youngstown-based Phantom Fireworks is a retailer that sells consumer-grade fireworks at its 84 stores and 1,200 temporary stands across the country, not to mention in hundreds of chain stores in certain states. Its sales always reach a crescendo as the Fourth of July nears but it's on a record pace this year. A populace that has been urged to stay at home is eager to buy up firecrackers, fountains and bottle rockets. 'The numbers we're seeing so far, if translated to the rest of the season, will blow away any year,' said Alan Zoldan, executive vice president of Phantom. Meanwhile, pyrotechnics companies that stage massive public fireworks displays at festivals and for the Fourth of July are among the hardest hit by pandemic-related cancellations."
The Bezzle: "Wirecard's Former CEO Markus Braun Arrested" [PYMNTS.COM]. "Braun surrendered to Munich prosecutors after a judge issued a warrant as prosecutors investigate an accounting scandal that centers on a missing 1.9 billion euros ($2.1 billion), prosecutors confirmed on Tuesday. The 50-year-old executive faces charges of accounting fraud and market manipulation designed to artificially inflate the financial technology company's balance sheet to make it look more appealing to investors and customers, the Financial Times reported…. Until his resignation Friday (June 19), when an audit revealed 1.9 billion euros ($2.1 billion) were missing from two bank accounts in the Philippines, Braun had been at the top of the FinTech company since 2002."
Pandemic: "Prospering in the pandemic: the top 100 companies" [Financial Times]. "In a dismal year for most companies, a minority have shone: pharmaceutical groups boosted by their hunt for a Covid-19 vaccine; technology giants buoyed by the trend for working from home; and retailers offering lockdown necessities online." • Handy chart: "Companies with net market cap gain of more than $1bn in 2020, by sector. Circle size shows market cap added YTD*, top 100 highlighted, top 25 labelled":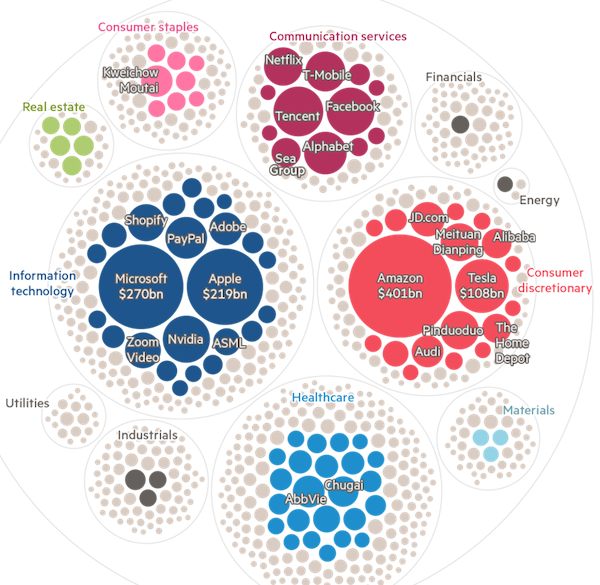 * * *
Today's Fear & Greed Index: 53 Neutral (previous close: 52 Neutral;) [CNN]. One week ago: 52 (Neutral). (0 is Extreme Fear; 100 is Extreme Greed). Last updated Jun 22 at 11:57am.
The Biosphere
"The Himalaya should be a nature reserve" [Nature]. "The Himalaya, which straddles seven nations, already has one of the world's highest rates of deforestation as a result of logging, agricultural expansion, a burgeoning human population, and the building of dams and other infrastructure. It is also thought to be the most rapidly warming mountain range on Earth. Alongside the animal species, Himalayan alpine meadows boast a wealth of herbaceous flowering plants — strange, colourful and delicate — often with medicinal properties. Nowhere else are so many native plant species found at such high elevations…. Here is my idealistic aim for this region. Alongside other multilateral strategies, the mountain range, or at least those areas between 2,600 and 4,600 metres high — whose famous inhabitants include the snow leopard and its prey, the Himalayan blue sheep — should be designated a nature reserve. I propose calling it the Himalaya-one-Nature-one-Reserve, or HONOR. It would ideally encompass much of the Himalayan biodiversity hotspot in the Eastern and Western Himalaya, about 740,000 square kilometres. My dream is not as far-fetched as it sounds. In Antarctica, the Ross Sea Marine Protected Area covers more than 1.5 million square kilometres under a 25-nation agreement. The largest land-based protected area, Northeast Greenland National Park, is 972,000 square kilometres."
Health Care
"Coronavirus research updates: A striking share of infected people never show classic symptoms" [Nature]. "Less than one-third of people infected with SARS-CoV-2 fell ill with respiratory symptoms or fever, according to a survey of thousands of people in Italy…. Roughly half of these 5,484 contacts became infected themselves (P. Poletti et al. Preprint at https://arxiv.org/abs/2006.08471; 2020). Of those, 31% developed respiratory symptoms — such as a cough — or a fever; only 26% of those under the age of 60 did so." • Not peer-reviewed!
"FDA warns against 9 hand sanitizers after dangerous chemical discovered" [The Hill]. "The Food and Drug Administration (FDA) is warning against the use of nine hand sanitizers produced by a Mexico-based manufacturer due to the potential presence of a toxic substance. The FDA said methanol, which can be dangerous when absorbed through the skin or ingested, was identified in nine different hand sanitizers produced by Eskbiochem SA." • List of products at the link, with National Drug Code (NDC) codes.
Sports Desk
"College football on the brink: Push to play undercut by virus outbreaks" [Politico]. "Across the country, college athletic programs are under financial and political pressure to return to the fields, but these efforts come amid safety warnings from public health officials and continued uncertainty about how the academic side of colleges will get back to business this fall…. Health experts are urging administrators to craft intricate campus safety plans, while college towns rely on the economic activity generated by fall Saturdays. How colleges proceed will send a message about the influence of athletics — and the cash produced by big-time programs — in higher education."
Class Warfare
"Jane McAlevey's Vision for the Future of American Labor" [The New Yorker]. "Whereas previous generations of teachers' unions wrought power by sending a negotiating team into a closed room, the new teacher unionism turned power inside out by seeking to build high-participation, high-action unions. It was radical in the most etymological sense: it returned to the root elements of unions—organizing people, forging solidarity, leading strikes. These teachers' groups were hardly the first unions committed to building democratic, high-participation labor movements. This strategy was fundamental to the labor organizing of the nineteen-thirties, led by the Congress of Industrial Organizations. It was also a tradition within civil-rights movements, pioneered by leaders such as Ella Baker, who referred to organizing as 'the spadework' of movements—the tending necessary for growth. But it has been teachers' unions in recent years that have brought it to life."
"Wokeness Defined" [Good Ol Boyz Podcast]. "There is a reason that intersectionality speaks so much of colonialism- colonialism taught them everything…. Now, this is outright blasphemy. How can I compare this thing to colonialism? This is outrageous, intersectionality is synonymous with anti-colonialism. This may shock you, but intersectionality has no central component of black struggle, slavery, feminism, whatever. It is irrelevant. What matters is maintaining small coalitions, and keeping them fighting for crumbs….. Create identities, attack them, keep the heat up, and the megarich never have to worry about the commonality again. It's easy for the elite political class, the woke, to arrange ideal (for them) political coalitions when you can move people around a chessboard by what you look like. It's not that people don't want universal health care and less imperialism, it's just hard to compete with the immediacy of hate, violence, and quotas. Schmitt said that politics was nothing more than the relationship between friend and enemy- here they hold a reliable method for defining these categories." • Seems to have exactly one post…
News of the Wired
"What the world needs now: lessons from a poker player" [Nature]. "As someone who has read almost every piece of literature on poker, I can say that The Biggest Bluff is the best depiction yet of the game I love, and the invaluable thinking skills it teaches. This is not a book that will teach you how to play your Ace–Queen out of position against a laggy villain (although it will teach you what that means). But it will show you how to play the game of life more effectively. Konnikova's is an uplifting zero-to-hero journey that will raise a smile in these trying times." • Hmm. A review of a book on risk that mentions von Neumann but doesn't mention Taleb?
"Unused Audio Commentary By Howard Zinn & Noam Chomsky, Recorded Summer, 2002, For The Fellowship Of The Ring (Platinum Series Extended Edition) Dvd, Part Two" [McSweeney's Internet Tendency] • I missed this in 2003. Dang.
* * *
Readers, feel free to contact me at lambert [UNDERSCORE] strether [DOT] corrente [AT] yahoo [DOT] com, with (a) links, and even better (b) sources I should curate regularly, (c) how to send me a check if you are allergic to PayPal, and (d) to find out how to send me images of plants. Vegetables are fine! Fungi and coral are deemed to be honorary plants! If you want your handle to appear as a credit, please place it at the start of your mail in parentheses: (thus). Otherwise, I will anonymize by using your initials. See the previous Water Cooler (with plant) here. Today's plant (KS):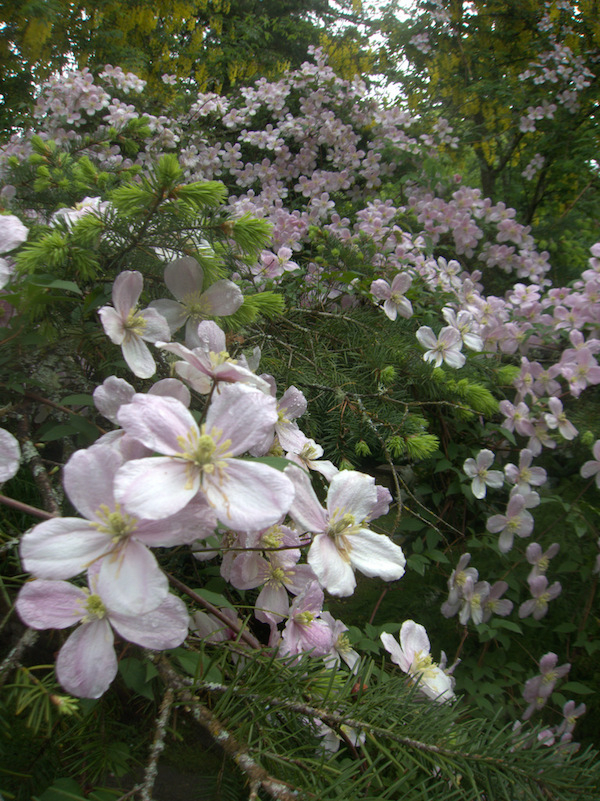 KS writes: "Just some clematis shots from the yard. Nice show!"
* * *
Readers: Water Cooler is a standalone entity not covered by the annual NC fundraiser. So if you see a link you especially like, or an item you wouldn't see anywhere else, please do not hesitate to express your appreciation in tangible form. Remember, a tip jar is for tipping! Regular positive feedback both makes me feel good and lets me know I'm on the right track with coverage. When I get no donations for five or ten days I get worried. More tangibly, a constant trickle of donations helps me with expenses, and I factor in that trickle when setting fundraising goals:
Here is the screen that will appear, which I have helpfully annotated.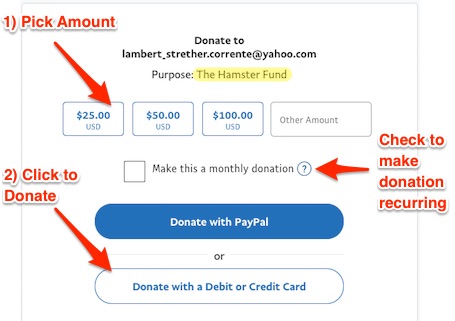 If you hate PayPal, you can email me at lambert [UNDERSCORE] strether [DOT] corrente [AT] yahoo [DOT] com, and I will give you directions on how to send a check. Thank you!