A new story at the Wall Street Journal, 'Running on Fumes': Restaurants Trying to Reopen Face Cash Crunch, provides some key details on why many restaurants are having a hard time reopening. And mind you, the issues the Journal describes are in addition to ones typically cited, like how can they be profitable when they need to reduce table count or implement other measures to establish enough distancing to satisfy local requirements and/or skittish customers.
Restaurants are a tough business. The famed factoid that nine out of ten businesses fail in the first three years is significantly due to the high mortality rate of new restaurants. And reopening in the Covid-19 era, with having to make significant operational changes on top of typically being seriously behind on bills, arguably has a similar level of difficulty to starting afresh.
The Journal states that 3% of the restaurants have already gone out of business. In Birmingham, a foodie town, I've already encountered three that have died, and it's not as if I've gone looking. The high-end restaurants here, save the Ruth Chris, which already had a lot of space between tables, are only doing takeout.
The chart below, at the Journal site, cycles through the various cities. Another not-good sign is that many show a recent decline after some recovery. Is this fear of a resurgence? Or a flattening after pent-up demand was satisfied?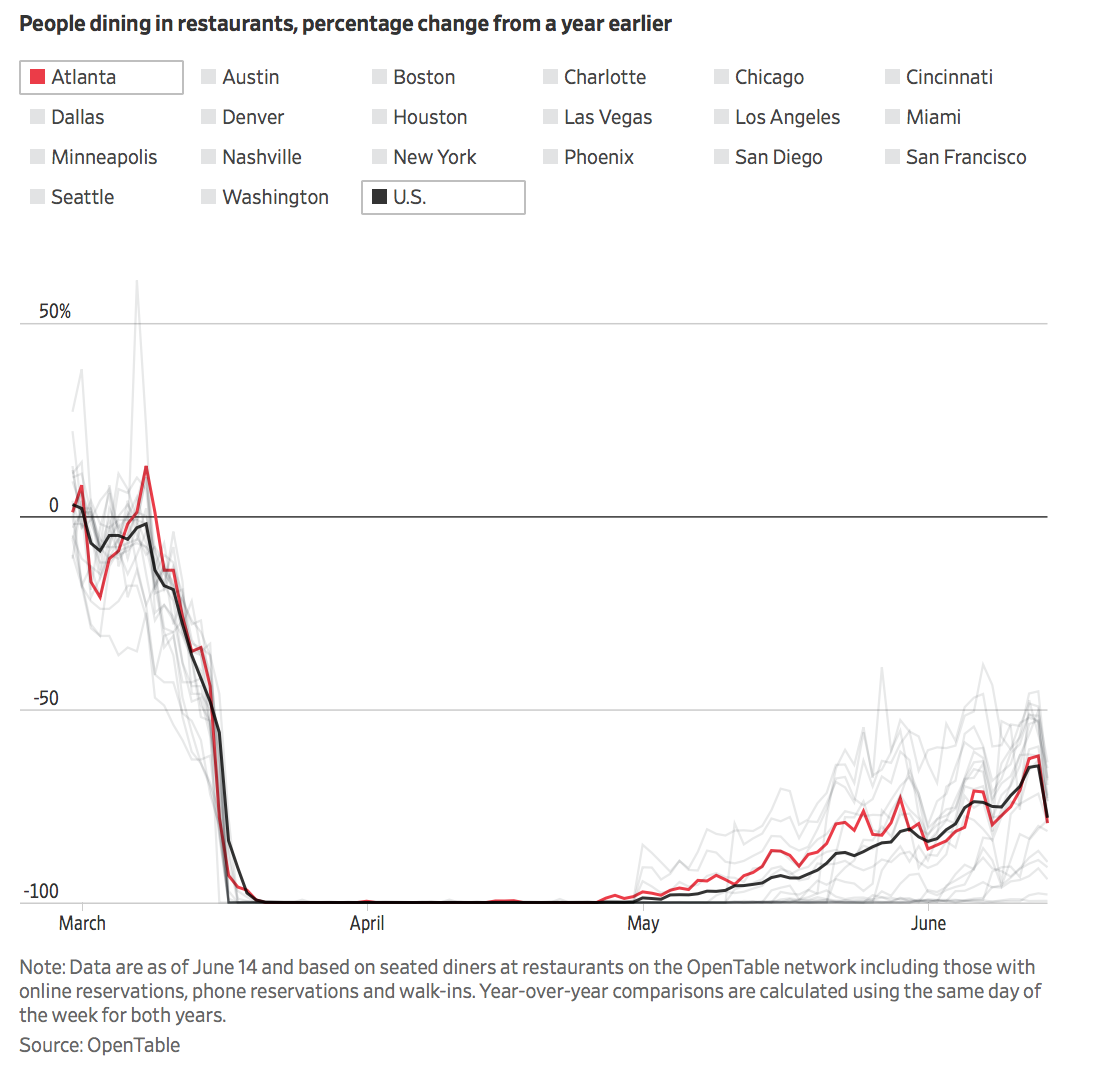 The Journal sets forth specific adversities for restaurants. The biggie is paying off debts to their suppliers. Restaurants usually pay 30 days in arrears, so they sell the food and get the income before they have to pay their vendors. But in many cities, the shutdown orders blindsided the restaurants, leaving them with supplies on hand that went unused. This happened in Birmingham; by happenstance, I ordered for pickup from a local upscale grill restaurant (this had nothing to do with Covid). I asked when they would be taking their last order. I was told way earlier than I expected. When I got there, the manager was in a panic because the order to close restaurants had come literally hours before. I was one of the last two patrons on what turned out to be their last day.
Suppliers are requiring that restaurants pay the amounts owed or at least come up with a plan as to how they will make good or else. ike DeNiro, vice president of LaSource Group, a restaurant supplier debt collector, told the Journal that May had been his most active month ever, confirming that many restaurants can't or won't pay up.
Loans are scarce and expensive. From the Journal:
Restaurants, with their high failure rate even in good times, have trouble getting financing from banks, and the situation is worse now. "You do have very limited options," said Kathryn Petralia, president of Kabbage, a small-business lender. Kabbage lends to restaurants, and the average interest rate on its loans is greater than 25%. Since restaurants have had little revenue recently, Kabbage shut down all its credit lines for new and old customers, and instead helped them apply for federal loans….

Restaurant chains typically have more access to cash than independent restaurants, but it can be costly. Anthony Pigliacampo started a small chain called Modern Market in Denver that took on private-equity funding and expanded to dozens of locations. He said founders of private-equity-backed chains might have to give up some of their equity if they need to tap their investors for more money ahead of reopening.

There is still cash available, but it is a fraction of what it was before. ARF Financial LLC, a finance company that lends to restaurants, has cut back the size of its loans from an average of $100,000 to between $15,000 and $20,000, and borrowers will have to "show they're making progress ramping up to average sales" to get further credit, said President Les Haskew.
Federal assistance hasn't been of great help either. The article mentions that one of the restaurants profiled got a turn down. The Paycheck Protection Program, which turned loans into grants if recipients kept their employees on full pay for at least eight weeks, didn't work for many restaurants since they were under lockdown when the eight weeks would start ticking. From the Portland Press-Herald:
Shortfalls in the program have pushed state and national trade groups to ask for immediate reforms. HospitalityMaine, which represents restaurants and hotels, wrote to Maine's congressional delegation asking to be able to use the money over a longer time period with more spending flexibility.

The National Restaurant Association asked for similar measures in a letter to congressional leaders last week.

"A growing number of restaurant owners are concluding PPP is not going to prevent them from permanently closing operations in local communities," the association said.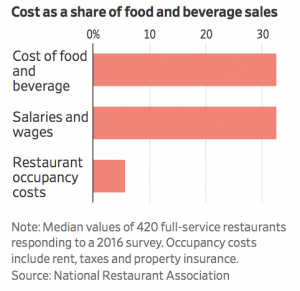 Restaurants also have sufficiently high fixed costs that the prospect of reopening when they have no idea how much business they will get is nerve-wracking. And takeout-only is a bust for many; the article mentions one operator who got only 10% of their former revenues when they went to takeout. The loss of high-margin alcohol sales is yet another negative. Yes, some and I assume many states now allow restaurants to sell alcohol on a takeout basis. But how many customers do you think are placing orders?
Many restaurant owners will come to this conclusion:
Mr. [Justin] Brunson, who had been the owner of Old Major, said additional cash wouldn't solve his bigger problem: Restrictions on the number of customers and a depressed economy mean he might end up operating at a loss. He could have switched to a cheaper menu or focused on takeout. Instead, this month he sold Old Major and will use the money to support his other ventures.