By Lambert Strether of Corrente.
#COVID19
At reader request, I've added this daily chart. The data is the Johns Hopkins CSSE data. Here is the site. This is the next tranche of five problem states: Tennesse, Louisiana, North Carolina, Alabama, and South Carolina, with Georgia and Arizona for comparison: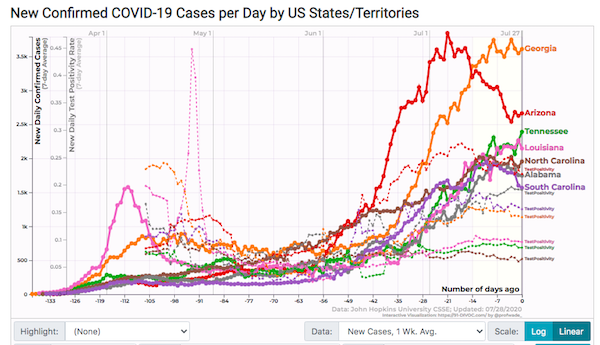 This chart includes new cases and positivtity (because deaths scrunch together at the bottom of the chart and I don't trust that data anyhow; excess deaths would be nice). In terms of undercounting as measured by positivity (higher is bad), the order from worst to best would be AZ, FL, TX, GA, CA, and CA, at 7.42%, is still too high by WHO standards (they want 5%).
Politics
"But what is government itself, but the greatest of all reflections on human nature?" –James Madison, Federalist 51
"They had one weapon left and both knew it: treachery." –Frank Herbert, Dune
"They had learned nothing, and forgotten nothing." –Charles Maurice de Talleyrand-Périgord
The electoral map. July 17: Georgia, Ohio, ME-2 move from Leans Republican to Toss-up. Continued yikes. On July 7, the tossup were 86. Only July 17, they were 56. Now they are 91. This puts Biden at 278, i.e. over 270.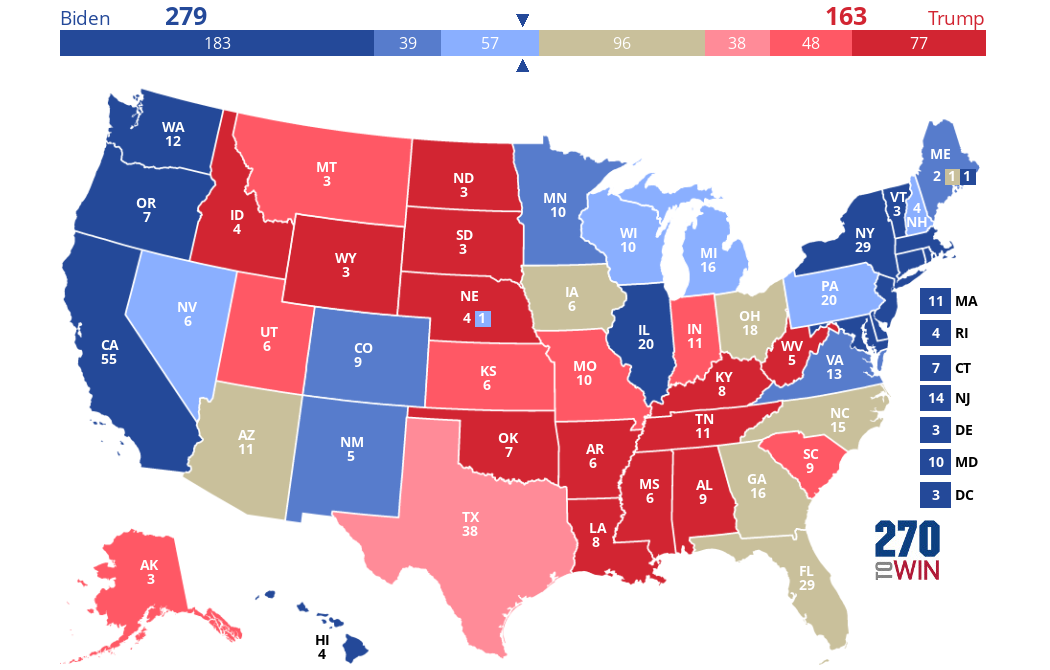 Click the map to create your own at
270toWin.com
So, taking the consensus as a given, 270 (total) – 204 (Trump's) = 66. Trump must win 66 from the states in play: AZ (11), FL (29), MI (16), NC (15), PA (20), and WI (10) plus 1 to win not tie = 102. 102 – 66 = 36. So if Trump wins FL, MI, NC, and PA (29 + 16 + 15 + 20 = 80), he wins. That's a heavy lift. I think I've got the math right this time!
2020
Biden (D)(1): "Our Foreign Policy Nightmare: Vice President Susan Rice" [The American Conservative]. "'Susan Rice is right in the middle of the road, when you think about foreign policy hands in DC," said John Glaser, director of foreign policy studies at the Cato Institute, in an interview with The American Conservative. 'She has a lot of high level experience in foreign policy, but I've never been able to detect a way she stands out as a unique thinker, in that she had something to say about the way she'd prefer the U.S. to go. She says things that are plastic, packaged to be right in the center of the foreign policy consensus in D.C. That's how I see her: run of the mill, not an extraordinary pick … If she were VP, our foreign policy would not be different than what we've seen the past 30 years.'" • Well, we'll have the Bush Republicans to counter-balance her and serve as a check. Oh, wait…

Biden (D)(2): "Will the Left Get a Say in the Biden Doctrine?" [David Klion, The Nation]. • I don't even have to invoke Betteridge's Law for this one.

Biden (D)(3): "Don't Count Trump Out" [The Atlantic]. "Nina Turner, a co-chair of the Sanders campaign, told me she has no appetite for the choice she faces: 'It's like saying to somebody, 'You have a bowl of shit in front of you, and all you've got to do is eat half of it instead of the whole thing.' It's still shit.'" • Had to pull that quote out and file it under Biden, despite the headline.

Sanders (D)(1): "Bernie Sanders introduces bill to provide 'Masks for all'" [CNN]. "Vermont Sen. Bernie Sanders will introduce a bill on Tuesday that would provide high quality, reusable masks to every American…. The legislation, which was written before this latest outburst from Trump, has support across the Democratic congressional caucus' ideological lines, from Alabama Sen. Doug Jones to New York Rep. Alexandria Ocasio-Cortez, one of the cosponsors on the House side. It also has the support of an assortment of unions and progressive groups. The bill calls on the United States Postal Service to deliver the masks, which would also be made available at pick-up sites around the country, including schools and pharmacies, and provided — all free of charge — to the homeless, patients in assisted living facilities, people in prison and college students in their dorms. Health care workers, who have struggled to maintain stocks of personal protective equipment, would be given surgical masks and N-95 respirators. The Defense Production Act, invoked but rarely used by Trump, would be counted on to aid in what would be a massive manufacturing project."

Trump (R)(1): "Don't Count Trump Out" [The Atlantic]. "He could win. He might win. Here are six reasons why. 1. The economy could come back just enough…. 2. Polling could be wrong (again)… 3. Trump can campaign all day long…. 4. Biden's got his own problems….. 5. Biden voters might not get to vote…. 6. What if there's an October surprise?" • On #2, I look at the polls — very sadly — as openly political players at the tactical level, like the Beltway press. It's not a matter of the "house effect," sadly. It's like every poll is a push poll. I attempt to compensate for that by aggregating pundits with 270toWin, but who knows? Of course, we have the exit polls to serve as check on the opinion polls. Oh, wait…

MA: "Send Ed Markey back to the Senate" [The Boston Globe]. "In this moment, the country and the Commonwealth need leaders who won't settle for incremental progress, who recognize the profound underlying conditions of inequality and racial injustice that exacerbate our problems, and who notice that the table is set for transformational change and can help carry it out with legislative proposals." • The Gods are good.

MA: "Rep. Joe Kennedy calls out Sen. Ed Markey for ignoring Massachusetts towns that don't even exist" [The Week]. "Sen. Ed Markey (D-Mass.) is facing a tough primary challenge from Rep. Joe Kennedy III (D-Mass.), and has tried to highlight what he's done for every Massachusetts municipality with a map on his campaign website. But that map seemingly had some omissions, Kennedy's campaign noted in a weekend press release, saying 'the towns/cities of Stoughton, Blackstone, Dana, Dudley, Enfield, and Prescott do not exist in Markey's Massachusetts.' 'There's just one problem," The Boston Globe notes. "The towns of Dana, Enfield, and Prescott don't exist in anyone's Massachusetts.' Those three western Massachusetts communities actually haven't been around for a century, as they were all unincorporated and flooded in the 1930s to create what's now the Quabbin Reservoir." • The Gods are good…

* * *

The Party decides:

Legalize Marijuana

DNC Platform
vote: 106n, 50y, 3a
% support: 31/67 (-36) ?

Polling – Pew 11/19
Public: 67/32 (+35)
Dems: 78/20 (+58) ←

Medicare for All

DNC Platform
vote: 36y, 125n, 3a
% support: 22/76 (-54) ?

Polling – KFF 5/20
Public: 57/40 (+17)
Dems: 78/19 (+59) ←
— austerity is theft (@wideofthepost) July 28, 2020

Useful information on the DNC:

We obtained a copy of the full 447 voting DNC members, who make up the majority of 771 superdelegates, and got their committee affiliations.

We've been working our way through DNC committees: Exec, Rules, Budget, Resolutions, and coming next, Credentials:https://t.co/gcyIzUPz2B
— David Moore (@ppolitics) July 28, 2020

I wish Mark Ames could learn to be more direct about his feelings:

Democratic Party isn't just moving rightward—they're making a big show of stomping hard on whatever was dear to the Bernie insurgency. They're dragging his political corpse behind their DNC Tesla and gloating all the way. Rotten country, ruled by suicidal maniacs
— Mark Ames (@MarkAmesExiled) July 28, 2020

Sid's owner:

Harm reduction means canvassing for the moderate republican the Democrats run against Tucker Carlson in 2024. Mutual aid is when you shop at local businesses. Police Abolition means the cops are now called Big Badge Friends and each department does a dance meme tiktok once a week
— 10,000 Motivated Rats (@bombsfall) July 28, 2020
Health Care
AOC 2024 and don't @ me:

"Why on Earth would anyone want to go back to the broken,janky,system of health ins that we have had in the USA after this?This should be a lesson.Can some Dem who believes in for-profit insurance explain to me why we should not work to open Medicare to every single person?" @AOC pic.twitter.com/BA2VyaztfS
— People for Bernie (@People4Bernie) July 28, 2020

At one point, AOC asks her viewers what COBRA means to them. I thought the best answer was "a car note," meaning that you had to go into debt to make the COBRA payments. (Hilariously, Biden wants the government to cover COBRA, but only during the Covid crisis, like working class America doesn't suffer a daily crisis, Covid or not.)

"Congress's Steadfast and Stupefying Refusal to End Surprise Billing" [The New Republic]. "For years, media outlets have covered the most unfortunate of these casualties of the American health care system, skimming off the most shocking examples of surprise hospital bills from among thousands of unlucky patients who won't get articles written about them, and nothing has been done…. Responsibility for this failure can be largely laid at the feet of Representative Richard Neal, chair of the House Ways and Means Committee. In December, Neal reportedly killed the compromise bill, in favor of one that was more friendly to doctors and hospitals (and lighter on details). Neal took $54,000 from lobbyists who represented groups and companies that opposed the surprise billing legislation and $29,000 from Blackstone, the private equity firm that partially bankrolled a $53 million ad campaign to defeat the legislation. Blackstone owns TeamHealth, one of the bigger purveyors of the surprise bill scam. Chuck Schumer is also "famously close with the Greater New York Hospital Association," which donates millions to Senate Majority PAC." • Ka-ching. ($54,000 + $29,000 is not a lot of money. As the joke goes: "Why are politicians bought so cheap?" "Why not? It's like selling your neighbor's car for twenty bucks!")
Realignment and Legitimacy
"SCOOP: Senate GOP Copied & Pasted Cuomo's Corporate Immunity Law Word-For-Word" [David Sirota, Too Much Information]. The background: "TMI previously reported that in April, Cuomo worked with a major health care industry lobby group to slip language into his state's budget designed to block lawsuits against hospitals and nursing homes during the pandemic, as the casualty count exploded in New York. The provisions did not just cover frontline health care workers — it included language extending that protection to any 'health care facility administrator, executive, supervisor, board member, trustee,' or other corporate manager. Cuomo pushed the provision after his political machine received more than $1 million from the Greater New York Hospital Association." • Ka-ching. More: "Senate Republicans copied key parts of New York Gov. Andrew Cuomo's controversial corporate immunity law and pasted it word-for-word into their new coronavirus relief proposal released on Monday. The provision could shield health care industry CEOs, executives and corporate board members from COVID-related lawsuits in the event that their business decisions." • The first parallel (an image) is deady taken in combination with the second one (scroll down). Always good to see Democrats and Republicans extend the right hand of good fellowship across the aisle.

The Great Assimilation™: "Revenge of the Never Trumpers: Meet the Republican Dissidents Fighting to Push Donald Trump Out of Office" [Time]. A good round-up: "A group of more than 70 former national-security officials from GOP administrations, led by John Bellinger, the senior National Security Council and State Department lawyer under George W. Bush, and Ken Wainstein, Bush's Homeland Security Adviser, plans to endorse Biden and publish a mission statement describing the damage they say Trump has done to America's national security and global reputation. They will also fund-raise for the former Vice President and do media appearances in battleground states when the group launches later this summer. Some of the same people wrote an open letter denouncing Trump in 2016. But, says Wainstein, "our effort this time is going to have some staying power throughout the campaign.'" • "Bush's Homeland Security Adviser"…. Jobs for the boys?

* * *

"100 days out, parties fear chaotic election" [The Hill]. "A little more than three months before November's election, partisans who back both President Trump and former Vice President Joe Biden are growing anxious over what they see as the mounting potential for a chaotic contest marred by disenfranchised voters, administration errors and mountains of litigation. The new anxiety comes on top of the typical nerves that plague campaign operatives…. 'We won't have an Election Night this year. Every important race is going to take days or weeks to decide. It's going to have people on edge and it's going to be a complete mess,' said Sean Noble, a Republican strategist in Arizona. 'County recorders are going to be under a microscope and almost none of them are prepared for that kind of scrutiny.'" • At some point, an electoral system that both parties want to fix was going to hit the wall. Perhaps 2020 will be the year.

UPDATE "Hand Counts Vs. Machine Counts in the 2020 Democratic primaries" [Dale Tavris, Medium]. "If the exit poll discrepancies from official election results that Soares has identified are indeed the result of election rigging, then it would be highly likely that Sanders would have performed better in hand counted than in machine counted voting jurisdictions, because vote counts produced by machines are far more susceptible to vote rigging than hand counting. Hand counting is susceptible to small errors, but not errors large enough to result in statistically significant exit poll discrepancies from official results…. The main result in all three states [New Hampshire, Vermont, and Massachusetts], depicted in the Table below, was that Sanders performed substantially better in his total hand-counted vote percentage compared to his machine-counted vote percentage, whereas his nearest competitor (Buttigieg in New Hampshire, Biden in Vermont and Massachusetts) performed worse in in the hand counted townships…. It seems to me that a country that calls itself a democracy should be willing and eager to recount paper ballots by hand in elections that are highly suspicious and important." • Soares regularly compares exit polls to election results, finding statistically significant discrepancies. But he's the only one doing it. So it's significant to me that a second figure, however obscure, built on Soares's results. Can any statistics mavens in teh commentariat take a look at this potentially important post?
Stats Watch
At reader request, I added some business stats back in. Please give Econintersect click-throughs; they're a good, old-school blog that covers more than stats. If anybody knows of other aggregators, please contact me at the email address below.
Manufacturing: "July 2020 Richmond Fed Manufacturing Survey Improves" [Econintersect]. "Of the five regional Federal Reserve manufacturing surveys released to date, all are in expansion…. The important Richmond Fed subcategories (new orders and unfilled orders) improved. This survey was better than last month."
Consumer Confidence: "July 2020 Conference Board Consumer Confidence Decreases" [Econintersect]. "A quote from the Conference Board: 'Looking ahead, consumers have grown less optimistic about the short-term outlook for the economy and labor market and remain subdued about their financial prospects.' Consumer confidence had been steady for the previous two years – but the coronavirus killed the upswing."
Leading Indicators: "28 July 2020 New York Fed Weekly Economic Index (WEI): Index Again Declined and Remains At Recession Levels" [Econintersect]. "The New York Fed's Weekly Leading Index (WLI) declined and continues to show an economy that is significantly worse than seen during the Great Recession. However, this index remains on a recovery trend."
Housing: "S and P CoreLogic Case-Shiller 20 City Home Price Index May 2020 Year-over-Year Growth Slows" [Econintersect]. "All home price indices are now showing home price growth is slowing year-over-year. Most of the blame for this should be laid at the feet of the pandemic which has altered daily lives."
* * *
Retail: "Toy makers are getting an expensive lesson in inventory management under the pandemic. Retail sales at Hasbro Inc. and Mattel Inc. soared in the second quarter as parents stocked up to entertain homebound children… but overall revenue actually declined because wholesale business lagged as retailers remained cautious on replenishing inventories" [Wall Street Journal]. "The wide split between point-of-sale trends, which toy makers say reflects underlying demand, and financial performance reflects the tumultuous retailing conditions in recent months. The toy makers say orders are weak as retailers remain wary of overstocking in an uncertain environment. Sales have moved online, but the toy makers are finding that digital sellers don't require as much inventory on hand to stock shelves. Manufacturers still have high hopes for the critical holiday season, however, and they don't expect parents to get conservative with the kids still at home." • So toymakers are long Covid…
The Bezzle: "Waymo: Human factor key to unlocking AV safety, public trust" [Freight Waves].
Asked by moderator Chrris Gerdes, director of Stanford's Center for Automotive Research, how the company builds trust while protecting intellectual property, Schwall responded: "Fundamentally, in order to really convince the public and be compelling, what we need is to be simple. And the simpler it is, the less IP is an issue."

For example, to instill confidence among first responders, Waymo has implemented a toll-free number dedicated to that group and created a video explaining how the technology works. In California, where the company runs tests on public roads and Arizona, Waymo brings the vehicles to police and fire stations directly to train workers on the technology.

While no intellectual property is revealed during these trainings, Waymo does open the trunk of the vehicles to first responders, a view not available to the broader public.
They open the trunk….
The Bezzle: "NJ police charge three after 700-person party at Airbnb rental" [The Hill]. "Capt. Steven Laskiewicz said in a statement posted on Facebook that the party attracted more than 700 people with more than 100 vehicles parked in the area, violating statewide coronavirus restrictions…. The Ocean County Prosecutor's Office was contacted to pursue charges against Weiss and the party organizers for violating the governor's executive order on gatherings. New Jersey currently mandates that all outdoor gatherings be less than 500 people and indoor gatherings have fewer than 100 people." • Turns out the "sharing economy" means sharing the virus. Also, can we please not be stupid?
Manufacturing: "Kodak aims to be one of 'greatest second acts' in American industry, add 300-plus jobs" [Democrat & Chronicle]. "Eastman Kodak Co. will receive a $765 million government loan to help expedite the domestic production of drugs to treat a variety of medical conditions and loosen the country's reliance on foreign sources, officials said Tuesday. The move is expected to create at least 350 new jobs, launching a new business unit for the Rochester-based company that — when at peak production in four to five years — is expected to produce 25% of the active ingredients for 'non-biologic, non-antibacterial, generic pharmaceuticals.' The loan from the U.S. International Development Finance Corporation is the first of its kind under the Defense Production Act, officials said. Kodak is gearing up to produce ingredients for drugs including the antimalarial drug hydroxychloroquine, which President Donald Trump has supported in treatment for COVID-19, according to the Journal." • Great for Kodak, for whom I am happy, but hoo boy.
Supply Chain: "General Mills Inc. is reaching deeper into the food manufacturing business to help match its supply chain to heightened demand. With its own factories already operating at capacity, the company is turning to more third-party manufacturers…. a sign of the continuing struggle by packaged-food companies to keep grocery shelves stocked as consumers load up during the coronavirus pandemic" [Wall Street Journal]. "General Mills will boost the number of suppliers by as much as 20% on top of the 200 it had before the pandemic, and expects these third parties to supply products until at least next summer. The outsourcing will be costly but the company says it's needed for an expected "longer period of sustained higher demand."
* * *
Today's Fear & Greed Index: 65 Greed (previous close: 65 Greed) [CNN]. One week ago: 65 (Greed). (0 is Extreme Fear; 100 is Extreme Greed). Last updated Jul 28 at 11:59am. Solid greed.
The Biosphere
"A Front-Row Seat for the Arctic's Final Summers With Ice" [Bloomberg]. "Scientists are certain that the Arctic ice is disappearing. The shrinking ice cap accelerates warming globally. As Greenland and other Arctic glaciers lose ice, they help raise sea levels, potentially exposing millions of people to flooding. Nearly every dramatic, headline-grabbing effect of climate change, from alarming coastal erosion to intense and frequent fires, is already happening in the Arctic, at a fast pace and at a giant magnitude. 'These individual things are part of a very complex system that's changing dramatically,' says Guido Grosse, head of the permafrost research unit at the Alfred Wegener Institute, Helmholtz Institute for Polar and Sea Research, or AWI. 'Because it is very remote people have a hard time understanding how it might affect our life in more temperate regions. But it will.'"
Health Care
Alert readers MV sends a link to vaccines.gov, commenting "Quick, before they change it":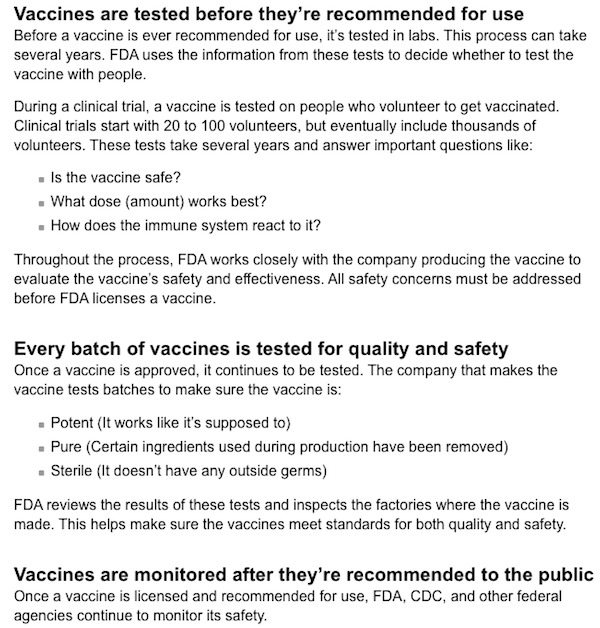 The same process concerns were raised on the issue of changing the Covid dataflow endpoint from CDC to HHS proper. I understand them, and obviously the thalidomide tragedy, after which the FDA was given the power to regulate drugs, argues strongly for those concerns. But the risk of not "CRUSHING" Covid is ruin, and a process that doesn't account for those risks is problematic too.
"This seaweed extract outperforms COVID-19 drug remdesivir in the lab" [Fast Company] (original). "In cell tests in the lab, RPI-27 was nearly 10 times as active as remdesivir at blocking infection, meaning a much smaller dose was needed to inhibit infection. Heparin was slightly less active than remdesivir but could also be used in treatment. Separate tests showed that the compounds worked without causing any damage to the cells. The researchers are now beginning the next step of animal trials." • Fauci ramping Gilead like a penny stock over remdesivir might also be considered a process issue. However, I think the cases are different. Fauci degraded trust (as he also did with his Noble Lie on masks) which makes the entire system dysfunctional.
Class Warfare
UPDATE "How Larry Hogan Kept Blacks in Baltimore Segregated and Poor" [Politico]. "For Black Baltimoreans and allies watching, the pattern of investing public funds in white areas and disinvesting from Black neighborhoods could not have been more obvious." • This is just awful. And Hogan is supposed to be one of the good Republicans, apparently.
UPDATE "Single Mothers and Their Children Are Taking Over Abandoned Public Buildings" [In These Times (dcblogger)]. "In Philadelphia, single mothers and their children have moved into abandoned, publicly owned buildings, in the most significant housing take over in the country—at a time when millions have lost their jobs and the country is on the brink of another housing crisis…. In recent years, the housing authority's projects have included more market-rate housing, which is unaffordable for those eligible for public housing, and potentially takes housing from those who really need it. And while thousands of Philadelphians languish for years on the waitlist, PHA sells lots and structures to private developers who build market-rate housing, and let other houses sit empty and decay."
News of the Wired
I don't follow skateboarding, though naturally as a former resident of Philly I support it, so I can't rank this video, but it does look pretty cool:
Today I discovered Japanese skateboarder Isamu Yamamoto. Just when you think he's done the video gets better and better. pic.twitter.com/MrQFPBf3ee
— Kelvin Liu (@getakliu) July 27, 2020
Restoring my faith in humanity:
We have just had our patio done and my 6yo has loved going out and helping the builder, so it made his day to receive this. What an example of kindness ? pic.twitter.com/Wq39TU4uwL
— Steph Kemp (@steph_heathcote) July 27, 2020
* * *
Readers, feel free to contact me at lambert [UNDERSCORE] strether [DOT] corrente [AT] yahoo [DOT] com, with (a) links, and even better (b) sources I should curate regularly, (c) how to send me a check if you are allergic to PayPal, and (d) to find out how to send me images of plants. Vegetables are fine! Fungi and coral are deemed to be honorary plants! If you want your handle to appear as a credit, please place it at the start of your mail in parentheses: (thus). Otherwise, I will anonymize by using your initials. See the previous Water Cooler (with plant) here. Today's plant (J-LS):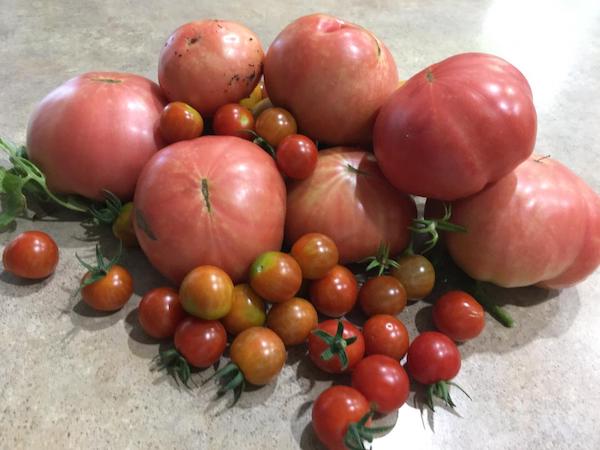 J-LS: "Mom's tomatoes!" (I'm letting this one jump the queue, because tomatoes.)
* * *
Readers: Water Cooler is a standalone entity not covered by the annual NC fundraiser. So if you see a link you especially like, or an item you wouldn't see anywhere else, please do not hesitate to express your appreciation in tangible form. Remember, a tip jar is for tipping! Regular positive feedback both makes me feel good and lets me know I'm on the right track with coverage. When I get no donations for five or ten days I get worried. More tangibly, a constant trickle of donations helps me with expenses, and I factor in that trickle when setting fundraising goals:
Here is the screen that will appear, which I have helpfully annotated.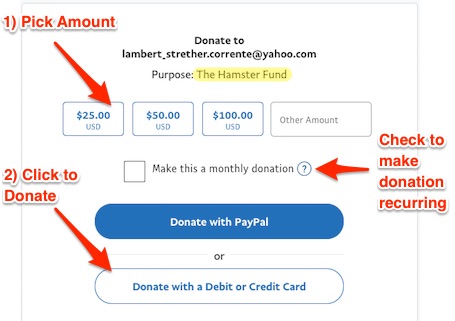 If you hate PayPal, you can email me at lambert [UNDERSCORE] strether [DOT] corrente [AT] yahoo [DOT] com, and I will give you directions on how to send a check. Thank you!