By Lambert Strether of Corrente.
#COVID19
At reader request, I've added this daily chart. The data is the Johns Hopkins CSSE data. Here is the site. Our five problem states, with New York for comparison: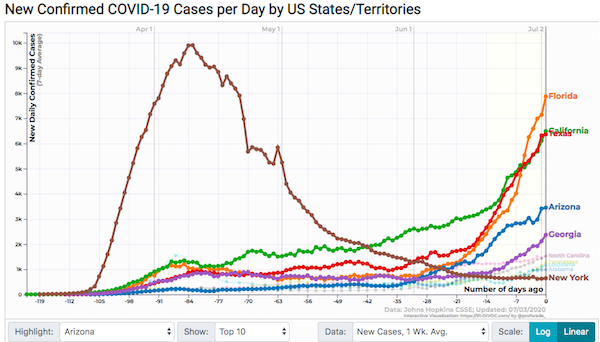 Politics
"But what is government itself, but the greatest of all reflections on human nature?" –James Madison, Federalist 51
"They had one weapon left and both knew it: treachery." –Frank Herbert, Dune
"They had learned nothing, and forgotten nothing." –Charles Maurice de Talleyrand-Périgord
The electoral map. As of July 2: Still no change. So, regardless of polling, the consensus (aggregating ten organizations) remains the same. And a Biden 10 point lead means a swing of five flips the race. Of course, that can't happen….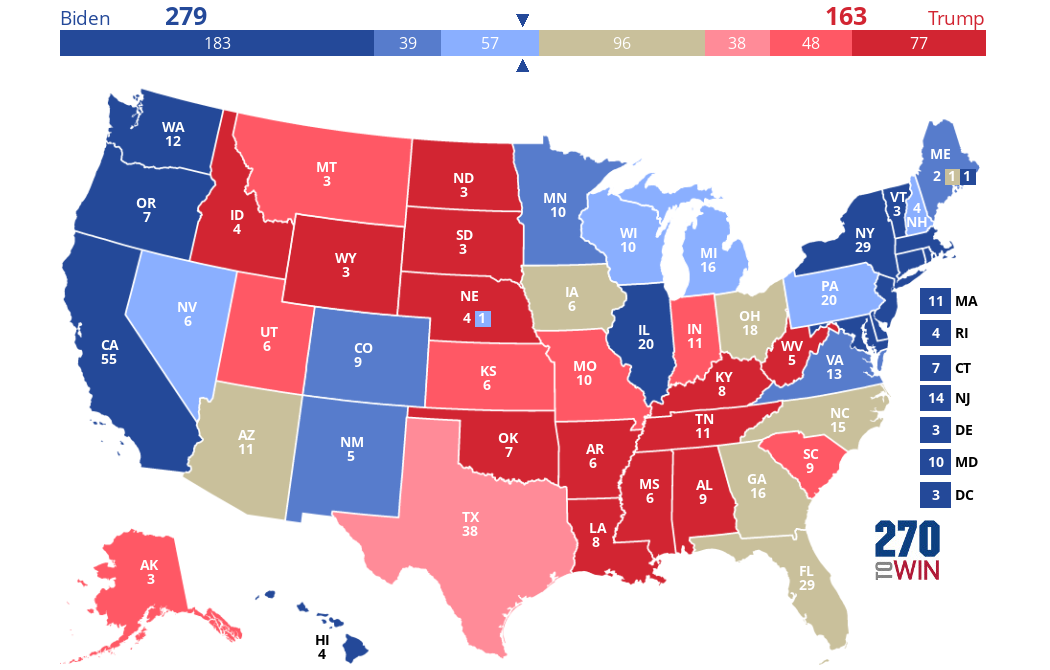 Click the map to create your own at
270toWin.com
So, taking the consensus as a given, 270 (total) – 204 (Trump's) = 66. Trump must win 66 from the states in play: AZ (11), FL (29), MI (16), NC (15), PA (20), and WI (10) plus 1 to win not tie = 102. 102 – 66 = 36. So if Trump wins FL, MI, NC, and PA (29 + 16 + 15 + 20 = 80), he wins. That's a heavy lift. I think I've got the math right this time!
2020
Biden (D)(1): "How the Trump Campaign Is Drawing Obama Out of Retirement" [New York Times] (Rising commentary on YouTube). "Mr. Obama speaks with the former vice president and top campaign aides frequently, offering suggestions on staffing and messaging. , the better to make the campaign a referendum on Mr. Trump and the economy, according to Democratic officials…. Moreover, Mr. Obama has always been cleareyed about his friend's vulnerabilities, urging Mr. Biden's aides to ensure that he not 'embarrass himself' or 'damage his legacy,' win or lose. When a Democratic donor raised the issue of Mr. Biden's age late last year — he is 77 — Mr. Obama acknowledged those concerns, saying, 'I wasn't even 50 when I got elected, and that job took every ounce of energy I had,' according to the person." • Can't understand the lack of enthusiasm…

UPDATE Biden (D)(2): "Nina Turner addresses Biden's search for a running mate" [The Hill]. "Turner, also a former state senator in Ohio, pointed to Rep. Barbara Lee (D-Calif.) as a potential progressive the Biden campaign could look to for a vice presidential pick, though no chatter has surfaced that Lee is in contention. 'If you are a progressive, you need not apply, that's just the bottom line here. And no one should be surprised by this, certainly Vice President Joe Biden has the right to pick whomever he decides to. However, there is a component within the mainstream Democratic Party that has a disdain for progressives. So that is why the congresswoman is not on that list,' Turner said on Hill.TV's 'Rising.'" • A "component"?

UPDATE Biden (D)(3):

Incidentally this describes my mom's position in a nutshell. https://t.co/UkI2SxwPA6

— Mike Duncan (@mikeduncan) July 3, 2020

After Nerva came Trajan. I don't see a Trajan on the horizon. Harris? Rice?? Abrams???

Sanders (D)(1): I got a very good response to my call for Sanders canvassers, so let me repeat it, and make the response even better!

My analysis of the pathways to misfortune for the Sanders campaign is still hung up, because there's been no reporting involving actual voters on why the campaign's theory of change misfired. Reading Sam's comments, it occurred to me that canvassers might have a good sense of what the voters they contacted were thinking (supporters or no), as well as voters they did not contact, who they might have expected to. If I could interview, say, half a dozen canvassers, I might get some sense of what happened (and not what the media thinks happened). Anyone interested in helping me out can contact me using the address about the plant; please put "SANDERS" in the subject line. (I'm not interested in the failings of the Sanders campaign, but the mindset of voters.) Thank you!

I will aggregate your responses, cogitate, and probably ask some questions of you all, if that is OK.

Trump (R)(1): "Trump Is in Trouble in Pennsylvania, but 'He's Been Way Behind Before'" [New York Times]. "A New York Times/Siena College poll of six battleground states released last week showed that the former vice president's net approval in Pennsylvania was largely the same as elsewhere: Fifty percent of registered voters viewed him positively and 48 percent saw him negatively. President Trump, mired in the lowest point of his presidency, was viewed favorably by just 43 percent of voters in the six battlegrounds. It helped explain why he trailed Mr. Biden in all six states and by 10 percentage points in Pennsylvania, a dire picture of the president's chances of re-election. Still, with four months to go until Election Day, Mr. Trump could well become competitive again. Leaders of his campaign in Pennsylvania, seizing on Mr. Biden's failure to shine as a favorite son, have sketched out a comeback path for Mr. Trump. Its steps include the Republican Party's advantage in new voter registrations; a return to in-person organizing while Mr. Biden's ground game remains virtual; and a range of issues — including energy policy, reopening the economy and defunding the police — that Republicans believe will peel away swing voters in a state Mr. Trump narrowly won in 2016."

Trump (R)(2): "Why June Was Such a Terrible Month for Trump" [New York Times (also)]. "In addition to public surveys showing him losing decisively to Joseph R. Biden Jr. in a number of battleground states, private Republican polls in recent weeks show the president struggling even in conservative states, leading Mr. Biden by less than five points in Montana and trailing him in Georgia and even Kansas, according to G.O.P. officials who have seen the data." • Kansas? Commentary:

If reactionary Paleoconservatism has a stronghold, it's Kansas…

if Trump is losing in Kansas, it means he's losing in a LOT of other places the GOP must have to win in November.

This is a very real crisis for them – IF the report isn't just made up bullshit. It could be.

— Donald Trump is a fascist & so are his supporters (@NatSecReporter) July 3, 2020

Trump (R)(3): "Tucker Carlson 2024? The GOP is buzzing" [Politico]. "Tucker Carlson's audience is booming — and so is chatter that the popular Fox News host will parlay his TV perch into a run for president in 2024. Republican strategists, conservative commentators, and former Trump campaign and administration officials are buzzing about Carlson as the next-generation leader of Donald Trump's movement — with many believing he would be an immediate frontrunner in a Republican primary…. While practically every Republican eyeing a 2024 presidential run is professing loyalty to Trump the person, Carlson has become perhaps the highest-profile proponent of "Trumpism" — a blend of anti-immigrant nationalism, economic populism and America First isolationism that he articulates unapologetically and with some snark. At the same time, he's shown a rare willingness among Republicans to bluntly criticize Trump when he believes the president is straying from that ideology." • Why wait?

* * *

"Episode 153: The Kentucky Axis of Evil" (podcast) [The Trillbillies]. • Yes, voter suppression in Kentucky was real. Discussion starts at 36:39, although the beginning is certainly entertaining!

"Believe the Polls This Time" [Stanley Greenberg, The Atlantic]. Mostly about how Greenberg adjusted his sampling techniques. Then this: "Today, the numbers suggest that the electorate is ready to repudiate Trump and his agenda. Instead of living in fear that 2016 will repeat itself, Democrats should listen to what voters are saying and seize the opportunity to push for the most possible change." • Maybe like reducing Medicare eligibility to 60?

"After What Happened in 2016, You'd Think People Would Be More Skeptical about 2020 Polling" [National Review]. "None of the above is scientific, and I certainly don't claim any special expertise on the matter. If polls tell me Donald Trump is in trouble in Pennsylvania, Michigan, and Wisconsin, I'm inclined to believe them, because the events I'm witnessing tend to confirm it. Trump hit a low in the national average today, and that's a trend that should concern Republicans. On the other hand, lots of media and liberals seem awfully confident they're going to run away with the election. It seems to me a little more skepticism about the polling might be in order. Especially considering recent history." • One key difference between 2016 and 2020 is that Clinton was hated. Biden is not.
Realignment and Legitimacy
The Great Assimilation™

‼️NEW EPISODE‼️

Conservative author and former George W. Bush speechwriter @DavidFrum joins the @Alyssa_Milano to discuss his new book "Trumpocalypse: Restoring American Democracy" and the conservative case against Donald Trump.

Listen today!https://t.co/PYEOSQ1zEM

— Sorry Not Sorry (@sorrynotsorry) June 29, 2020

Me too! Me too!

"Here Are the 16 Democrats Who Voted With GOP to Kill Amendment to Withdraw All US Troops, End Afghan War" [Common Dreams]. "A bipartisan Senate amendment to withdraw the remaining 8,600 U.S. troops from Afghanistan—ending a bloody war that has dragged on for nearly two decades—failed Wednesday after 16 Democrats joined 44 Republicans in voting to table the measure, effectively guaranteeing it will not be included in the chamber's $740.5 billion National Defense Authorization Act." • Here is the roll of dishonor:

Below are the 16 members of the Senate Democratic caucus who voted with nearly every Republican to table the Afghanistan amendment:

Richard Blumenthal (Conn.)
Tom Carper (Del.)
Chris Coons (Del.)
Dianne Feinstein (Calif.)
Maggie Hassan (N.H.)
Doug Jones (Ala.)
Angus King (Maine)
Joe Manchin (W.Va.)
Bob Menendez (N.J.)
Chris Murphy (Conn.)
Jack Reed (R.I.)
Jacky Rosen (Nev.)
Jeanne Shaheen (N.H.)
Kyrsten Sinema (Ariz)
Mark Warner (Va.)
Sheldon Whitehouse (R.I.)

I'm so old I remember when getting Doug Jones in was really important. Oh, and this sends a pretty clear signal about whether the Biden administration stands on war: They're for it.

* * *

UPDATE "The Election Day nightmare scenarios" [The Week]. "Let's say the election comes down to a single state that's barely won by Biden, but whose state legislature is controlled by Republicans. Michigan could be such a state. The legislature could back Trump's claim that he was denied victory by fraud, and move to give him the state's electoral votes. Under another scenario, the legislature and the state's Democratic governor could send competing electoral certificates to Congress, which tallies the final Electoral College vote. It would then be up to Congress to decide which certificate was valid — and if a House controlled by one party and a Senate controlled by the other disagree, 'there is basically no way to resolve the dispute,' [Lawrence Douglas, a law professor at Amherst College] said."

"Biden Says 600 Lawyers Will Guard Against Election 'Chicanery'" [Bloomberg]. "Joe Biden said Wednesday that his campaign had convened a group of 600 lawyers and thousands of volunteers to prepare for any 'chicanery' that might disrupt or interfere with the November election…. 'We have over 10,000 people signed up to volunteer,' he said Wednesday. 'We're in the process of getting into the states in question to train them to be in a polling place.'"

"House panel votes against curtailing Insurrection Act powers after heated debate" [The Hill]. "The House Armed Services Committee has voted against limiting presidential authority under the Insurrection Act, the law President Trump threatened to invoke to deploy active-duty troops in response to protests against racial injustices. The amendment, offered by Rep. Veronica Escobar (D-Texas), failed largely along party lines in a 25-31 vote. Several moderate or vulnerable Democrats voted against the amendment: Reps. Kendra Horn (Okla.), Xochitl Torres Small (N.M.), Jared Golden (Maine), Elaine Luria (Va.), Anthony Brindisi (N.Y.) and Gil Cisneros (Calif.). Last month, Trump threatened to invoke the Insurrection Act at the height of the protests, saying he would deploy active-duty troops if governors did not "dominate" demonstrators.nThe 1807 act creates an exception to the general prohibition on using the U.S. military to enforce domestic laws. It was last used by former President George H.W. Bush at the request of California's governor to quell the 1992 Rodney King riots." • That's our Democrats!

UPDATE "American Exceptionalisms" [The American Conservative]. Obama answers a question on "American Exceptionalism" at a Strasbourg presser: "At one level, Obama endorsed American exceptionalism. At another, he finessed exceptionalism with a postmodern flair that rendered his words anything but an affirmation of America's uniqueness. And the backstory of his comments reveals the charade going on at the nexus between the media, presidential rhetoric, and America's increasingly politicized image. In an online post on April 4, 2009, Time White House correspondent Michael Scherer wrote that '[Obama's] answer was fascinating to me.; He detected a telling contrast between the new president and his predecessors in the Oval Office. 'While in the past the idea that America was exceptional, the shining city on a hill, was evoked as an objective description, a fact, a prediction and a course by which the ship of state could be sailed, Obama used the phrase, by contrast, in a more subjective, self-aware way, acknowledging that the fact that he held this belief was not so, well, exceptional.' Yet it turns out that Scherer was the one who wrote the question in the first place and fed it [FT reporter Ed] Luce, who admitted this in a tweet on June 14, 2012. The C-SPAN video of the news conference clearly shows the president working from a prepared list of questioners. The pretense here is breathtaking. A reporter writes a question, gives it to a colleague, who is then chosen to ask the question, and does so, after which the first reporter writes a glowing editorial praising the cleverness of the answer. One can't help wondering if the president saw the question ahead of time and if the answer was scripted." • But I trust [fill in the blank]….
Stats Watch
At reader request, I added some business stats back in. Please give Econintersect click-throughs; they're a good, old-school blog that covers more than stats. If anybody knows of other aggregators, please contact me at the email address below.
Rail: "Rail Week Ending 27 June 2020 – June Down 14.3% Year-over-Year" [Econintersect]. "ntermodal and carloads are under Great Recession values. Container exports from China are now recovering, container exports from the U.S. declined and remains deep in contraction."
* * *
"June jobs report shows recovery, but small business owners still need urgent cash assistance to survive" [MarketWatch]. "From plunging revenues to shuttered storefronts, it's no secret that the COVID-19 public health crisis has driven too many small businesses to the brink of collapse. An estimated 100,000 small businesses across the country have already closed their doors permanently. And Black business owners, who largely run sole proprietorships or small businesses, have declined by 41%…. The pandemic's impact on the small business community has been front and center during the crisis. Importantly, this emergency has exposed fundamental inequities in our economy that favor large, politically-connected corporations over the Main Street businesses and solo enterprises that drive our economy."
UPDATE Honey for the Bears:
CBO appears to project full recovery by 2027.

The economy will continue to perform a bit lower than prior projections after that. That APPEARS to be because CBO estimates there will be 2 million fewer people (278m above 16 instead of 280m) https://t.co/6DNWXnXozO

— Marc Goldwein (@MarcGoldwein) July 2, 2020
2027, eh? For whom?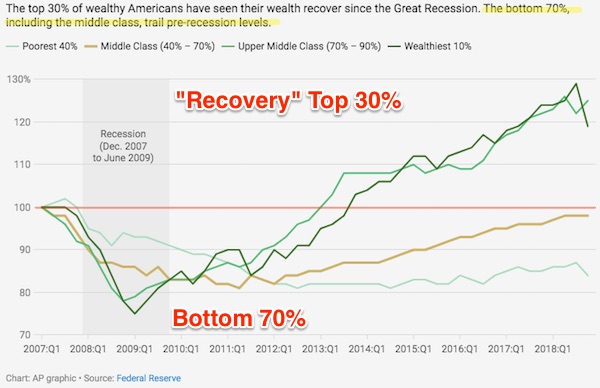 It's not like the Obama Alumni Association doesn't have a track record.
Today's Fear & Greed Index: 50 Neutral (previous close: 49 Neutral;) [CNN]. One week ago: 49 (Neutral). (0 is Extreme Fear; 100 is Extreme Greed). Last updated Jul 2 at 5:19pm.
Health Care
Restaurants:
JPMORGAN: ".. we find a positive correlation between levels of [credit-card] activity three weeks ago and the spread of COVID-19 since then." Of all indicators, "the highest correlation .. is the level of "card-present" (essentially in-person) restaurant spending .." pic.twitter.com/V5JE7edAEE

— Carl Quintanilla (@carlquintanilla) July 2, 2020
Bizarre that we're acting on data from the finance sector on a public health issue, but here we are.
"Treatment with Hydroxychloroquine, Azithromycin, and Combination in Patients Hospitalized with COVID-19" [International Journal of Infectious Diseases]. n=2541. "According to a protocol-based treatment algorithm, among hospitalized patients, use of hydroxychloroquine alone and in combination with azithromycin was associated with a significant reduction in-hospital mortality compared to not receiving hydroxychloroquine." From CNN: "Dr. Marcus Zervos, division head of infectious disease for Henry Ford Health System, said 26% of those not given hydroxychloroquine died, compared to 13% of those who got the drug. The team looked back at everyone treated in the hospital system since the first patient in March." • Yes, it's an observational study, and so what? If you haven't read this from Tricia Greenhalgh, read it now.
UPDATE "Here We Go Again on Testing" [Bloomberg]. "A shortfall of Covid-19 testing is creating lines and delays, frustrating test-seekers and undermining efforts to contain the virus at a critical moment. A story we published this week could as easily have been March or April. For months, we've been reporting about the gaps that have hobbled the U.S. virus response—challenges like limitations in crucial testing supplies that have been alleviated over time, but not solved. Now, the hotspots are new: places like Texas, Florida and Arizona. Lines for testing extend out of urgent-care offices, and in Houston two high-school football stadiums regularly hit capacity by mid-morning and have to turn people away. Testing in the U.S. has so far struck a 'very delicate balance' when it comes to sufficient supplies and staffing, said Scott Becker, who leads the Association of Public Health Laboratories, 'and that's why we're worried about the surge in testing in the next few weeks.' Becker predicts that testing supply shortages will worsen in hot-spot areas, though he's hopeful the situation can get back on track in the coming weeks."
UPDATE "Pediatricians 'strongly advocate' kids return to in-person learning this fall" [ABC]. "In a statement posted to its website, the AAP wrote that it 'strongly advocates that all policy considerations for the coming school year should start with a goal of having students physically present in school.' … The AAP recognized differing needs for students when it comes to school re-entry. For example, while it may not work for younger children to wear face coverings, older kids are recommended to do so. Physical distancing, special education and bussing are all addressed."
"It's not just coronavirus: America repeatedly fails at public health" '[Los Angeles Times]. "But if the president's disdain for masks may be extreme, his impulse to look for the latest and greatest medical intervention reflects a strong tradition in American healthcare that has long put a premium on new drugs, bigger medical systems and more technology, often at the expense of public health initiatives that other nations have shown to be more effective at lower cost. 'We are much more willing to put money toward treating something than preventing it,' said Dr. Richard Besser, the former acting director of the U.S. Centers for Disease Control and Prevention who now heads the Robert Wood Johnson Foundation…. ." • Dang. Who was President, then, anyhow?
"One U.K. trial is transforming COVID-19 treatment. Why haven't others delivered more results?" [Science]. "Large, randomized trials are the gold standard to test a drug's efficacy. But they have been scarce so far in the COVID-19 pandemic. 'Everybody has the first part about 'randomized,' but they omitted the 'large' part, says Ana-Maria Henao Restrepo, a medical officer at the World Health Organization's (WHO's) Emergencies Programme. 'Every clinician, every researcher wants to help and then they end up having a trial with 300 or 400 patients that cannot come up with conclusive evidence.' In a sea of small, single institution studies, Recovery, with 12,000 patients and hundreds of participating hospitals, stands out—and offers lessons for the few other megatrials, organized by WHO and other bodies, which have been slow off the mark. 'I think the three Recovery trials are the best trials that have been performed to date,' Topol says. In the United States, where the health care system is fragmented, the National Institutes of Health has only begun a few large trials so far and completed just one…." • Gilead's. Naturally. Ka-ching.
Police State Watch
"The Problem Isn't Just Police—It's Politics" (interview) [Boston Review]. Alex Vitale: "[T]he decision to turn social problems over to the police is a political decision (as is the creation of the social problems in the first place). Responding to this deeply entrenched form of governance requires a new politics. We just cannot fix policing with a set of superficial, technocratic reforms, because they don't address the way the most basic needs of people have themselves been defunded, creating the 'crime' that must be policed in the first place. And that dynamic requires a profound political transformation that neither political party's leadership is prepared to embrace right now. In the short term there's so much waste, there's so much misspent money in policing that we can start there—defunding and shrinking police forces—and shift huge amounts of resources into communities. But to really fix the problems of mass homelessness, economic precarity, healthcare disparities, that's going to require more resources—whether that comes from states, or the federal government, or a complete rethink about how taxes are structured in these big cities."
L'Affaire Joffrey Epstein
Joffrey Lannister, not the Joffrey Ballet:
"Episode 80: Ghislaine Goes Down" (podcast) [TrueAnon]. • Lots of good material here, including detail on Maxwell's house ("Tuckedaway," purchased through an LLC for one million in cash) and an analysis of the indictment; interestingly, the three victims are all before Epstein purchased his house on Little St. James (in 1998), although at that point he did own Zorro Ranch.
"Ghislaine Maxwell 'asked her realtor about flight patterns' over the $1M New Hampshire hideout where she was arrested and 'bought it anonymously with the help of a mystery British tech firm owner'" [Daily Mail]. • A good wrap-up, with good links.
"Ghislaine Maxwell's Case Will Unearth Secrets Epstein Took to His Grave" [Bloomberg]. "And she stood at the very center of the web of wealthy and powerful figures surrounding Epstein. The network she inherited from her billionaire father, the late British publishing tycoon Robert Maxwell, gave Epstein access to the highest echelons of society. She even introduced Brooklyn-born Epstein to Britain's Prince Andrew, whose connection to the pedophile has forced the British royal from public duties… Epstein's high-powered network means there's potential for a public reckoning that could tarnish top figures on Wall Street, in corporate America and in Washington. Perhaps more important, a trial would at long last give victims a chance to face at least one of their alleged tormentors. ',' said Jessica Roth, a former federal prosecutor who teaches at Cardozo School of Law in New York. 'The original indictment against Jeffrey Epstein made it clear that he didn't act alone and that the government had evidence that other people were also involved.'" • I dunno. Who wants that?
"James Comey's daughter is a lead prosecutor on Jeffrey Epstein's sex trafficking case. Here's what we know about her." [Business Insider]. "Maurene Comey — the daughter of former FBI director James Comey — is one of the three lead prosecutors on the case. Despite her father's history of dominating the news cycle, Maurene Comey has largely stayed out of the spotlight, instead maintaining a low-profile legal career up until now. Here's what we know about the first daughter of law and order." • OK, a beat sweetener. But we're turning into an aristocracy, aren't we?
"Boris Johnson Says No Approach From U.S. for Prince Andrew Interview" [Bloomberg]. "U.K. Prime Minister Boris Johnson said the U.S. government hasn't approached his administration to request an interview with Prince Andrew over the Jeffrey Epstein affair, but declined to comment on whether Britain would comply if such a demand was made. 'No such approach has been made,' Johnson said in an interview on LBC Radio on Friday. 'It's a matter for the Royal Family.'"
The conventional wisdom:
Today's @nypost cover: https://t.co/dDWufPXgq8 pic.twitter.com/73lOE757Ap

— Newley Purnell (@newley) July 3, 2020
MMT
"#MintTheCoin & COVID Relief with the Modern Money Network" (podcast) [Monthly Review]. "Rohan Grey and Nathan Tankus join Money on the Left to discuss the flurry of debate about Modern Monetary Theory (MMT) arising out of the Coronavirus crisis. We focus, in particular, on the Modern Money Network's multi-pronged efforts to illuminate and remedy the resulting economic devastation. At the center of our conversation is Rohan's contribution to Rep. Rashida Tlaib's 'Automatic BOOST Act.' Known by the popular hashtag #MintTheCoin, Tlaib's proposal calls on the U.S. Treasury to mint two trillion dollar platinum coins in order to deliver direly-need cash assistance via preloaded public debit cards for all—no exceptions. In response to dismissive critiques of the proposal as a gratuitous 'gimmick,' we affirm #MintTheCoin's political significance as a gimmick—whether as a critical parody of sound finance trickery or as a meaningful pedagogical ritual that makes public money creation visible." • Fascinating to see MMT in the Monthly Review…
Class Warfare
I need to think about this one:
I really appreciate this very, very generous profile from @petercoy but I do want to disagree with the headline, which is reinforced by the article. I do have a credential- the intersection of my whiteness, maleness and cisness. 1/N https://t.co/h9YcdjFDkK

— Nathan "Donate to @survivepunishNY" Tankus (@NathanTankus) July 2, 2020
No knock on Nathan, but it strikes me that treating ascriptive identities literally as credentials is a fascinating take on the PMC's embrace of identity politics.
UPDATE ""White Fragility," Plus Adolph Reed on Identity Politics" [Useful Idiots]. • Both Taibbi and Halper hate "folks"! It's not just me!
"'OSHA is AWOL': Critics say federal agency is where workplace COVID-19 complaints go to die" [Miami Herald]. "OSHA, charged with enforcing health and safety in the American workplace, has received more than 6,000 complaints nationwide about unsafe work conditions related to COVID-19. And yet, on June 9, Labor Secretary Eugene Scalia told lawmakers that OSHA, which his department oversees, had issued just one citation related to the coronavirus — to a Georgia nursing home for failing to report the hospitalization of six employees within 24 hours. The agency proposed a $6,500 fine. 'Essentially, OSHA is AWOL,' said David Michaels, a former head of OSHA under the Obama administration who now teaches at George Washington University's school of public health." • OSHA isn't really absent; it's just a question of where they are.
News of the Wired
"Finding the 'invisible' millions who are not on maps" [BBC]. ""There are about two billion people in the world who don't appear on a proper map," says Ivan Gayton from the charity Humanitarian OpenStreetMap. "There are about two billion people in the world who don't appear on a proper map," says Ivan Gayton from the charity Humanitarian OpenStreetMap. 'It's shameful that we – as cartographers of the world – don't take enough interest to even know where they are. People are living and dying without appearing on any database… If you come into a health facility anywhere in the world with a communicable disease, they'll ask you where you're from. In the low-income world you don't always have a system for describing that location."
"Twitter teases adding an edit button to the platform, but only if EVERYONE wears a mask – but some say they would rather not suffocate" [Daily Mail]. • That's in good taste. WTF is wrong over there?
* * *
Readers, feel free to contact me at lambert [UNDERSCORE] strether [DOT] corrente [AT] yahoo [DOT] com, with (a) links, and even better (b) sources I should curate regularly, (c) how to send me a check if you are allergic to PayPal, and (d) to find out how to send me images of plants. Vegetables are fine! Fungi and coral are deemed to be honorary plants! If you want your handle to appear as a credit, please place it at the start of your mail in parentheses: (thus). Otherwise, I will anonymize by using your initials. See the previous Water Cooler (with plant) here. Today's plant (RM):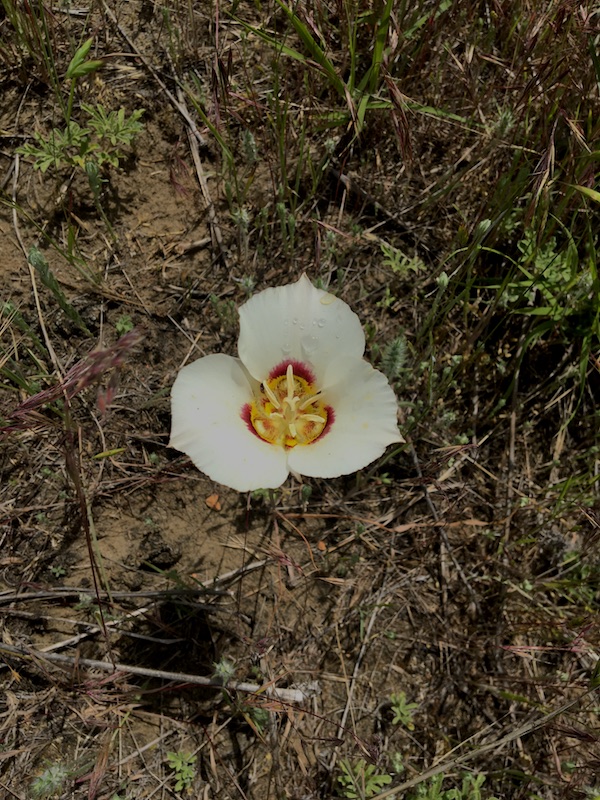 RM writes: "The Sego lilies are loving the spring rains this year on my Montana prairie ranch."
Readers, I could still use some more images of plants — especially garden projects!
* * *
Readers: Water Cooler is a standalone entity not covered by the annual NC fundraiser. So if you see a link you especially like, or an item you wouldn't see anywhere else, please do not hesitate to express your appreciation in tangible form. Remember, a tip jar is for tipping! Regular positive feedback both makes me feel good and lets me know I'm on the right track with coverage. When I get no donations for five or ten days I get worried. More tangibly, a constant trickle of donations helps me with expenses, and I factor in that trickle when setting fundraising goals:
Here is the screen that will appear, which I have helpfully annotated.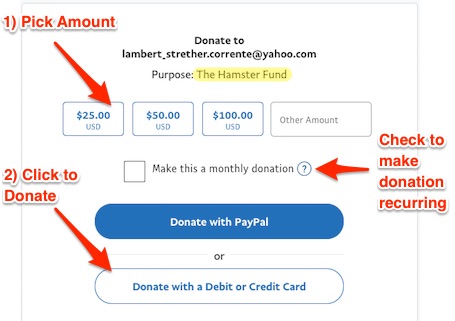 If you hate PayPal, you can email me at lambert [UNDERSCORE] strether [DOT] corrente [AT] yahoo [DOT] com, and I will give you directions on how to send a check. Thank you!