By Lambert Strether of Corrente.
Extremely patient readers, I set the alarm wrong and woke up too late. More as shortly as may be, since I must also do a laundry if I am not to be whiffy later in the day. Grr! –lambert UPDATE All done. Now to the dryer!
#COVID19
At reader request, I've added this daily chart from 91-DIVOC. The data is the Johns Hopkins CSSE data. Here is the site. Here are the bottom five of the top ten problem states: Tennessee, North Carolina, Alabama, Louisiana, and Illinois, with Georgia for comparison: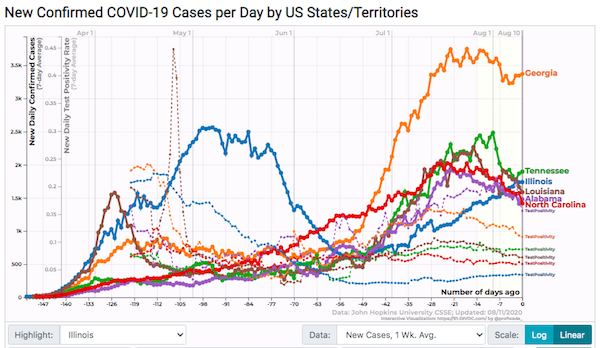 CA: "CA Director of Public Health resigns [Cal Matters]. "The director of California's public health department resigned late Sunday night, less than a week after state officials reported a tech glitch that resulted in an undercount of coronavirus cases and confusion about the scope of infections as the state's death toll crossed 10,000. Dr. Sonia Angell didn't state a reason for her departure. She is the second high-ranking official to leave the department in two months, raising questions about how the state plans to handle a critical moment in the pandemic while addressing data snafus and communication problems." • Everything is like CalPERS.
DC: "The State of COVID-19 in D.C.: Not Heading in the Right Direction" [Mike the Mad Biologist]. "It's a mixed bag, Wards 1, 2, and 3 are doing better, while the rest are holding steady or getting worse. "Holding steady" is doing a lot of work, as the city as a whole and Wards 4 – 8 are above the German rollback threshold of 50 new cases per 100,000 per week… I understand Bowser's desire to keep businesses afloat–and the lack of a federal support package means we can't do the public health interventions needed–but we're just going to keep limping along. And for those turning to test-and-trace, it's not working in D.C. Most cases can't be linked to quarantined individuals–this probably means we're not finding the initial patient (and massive street parties of hundreds of people aren't helping), even though we're doing enough testing (percent positive rate < 0.05%), though it's probably not rapid enough. We really need to rollback–If we did this now, we could be in a good place come October." GA: "The Georgia school that punished students for posting photos of a packed hallway says it will close for 2 days after multiple students and staff got COVID-19" [Insider]. "On Saturday, Gabe Carmona, the principal of North Paulding High School, Dallas, told parents that six students and three staff members had tested positive for the virus… 'On Monday and Tuesday the school will be thoroughly cleaned and disinfected,' [Superintendent] Otott wrote, according to a copy of the letter obtained by WSB-TV reporter Chris Jose." • The school may or may not reopen.
TX: "Coronavirus testing in Texas plummets as schools prepare to reopen" [Texas Tribune]. "In the week ending Aug. 8, an average 36,255 coronavirus tests were administered in Texas each day — a drop of about 42% from two weeks earlier, when the average number of daily tests was 62,516. At the same time, the percentage of tests yielding positive results has climbed, up to 20% on average in the week ending Aug. 8. Two weeks earlier, the average positivity rate was around 14%…. The number of tests performed in Texas has 'never been great,' said Vivian Ho, a health economist at Rice University and Baylor College of Medicine, but 'it's extremely troubling' that the numbers have dipped since last month. 'It's troubling because we can guess at some of the reasons, but we're not sure,' she said." • Oh…
TX: "So, how bad is COVID-19 in Houston? A guide to reading the data" [Houston Chronicle]. The first sentence: "The first thing to keep in mind is that in order to get the full picture, you have to look at several metrics together." • And the metrics have different sources. We really do need a single, national data standard for Covid reporting. I don't want to denigrate Houston's efforts, but this is beyond absurd.
Politics
"But what is government itself, but the greatest of all reflections on human nature?" –James Madison, Federalist 51
"They had one weapon left and both knew it: treachery." –Frank Herbert, Dune
"They had learned nothing, and forgotten nothing." –Charles Maurice de Talleyrand-Périgord
The electoral map. July 17: Georgia, Ohio, ME-2 move from Leans Republican to Toss-up. Continued yikes. On July 7, the tossup were 86. Only July 17, they were 56. Now they are 91. This puts Biden at 278, i.e. over 270. August 10: Still no changes.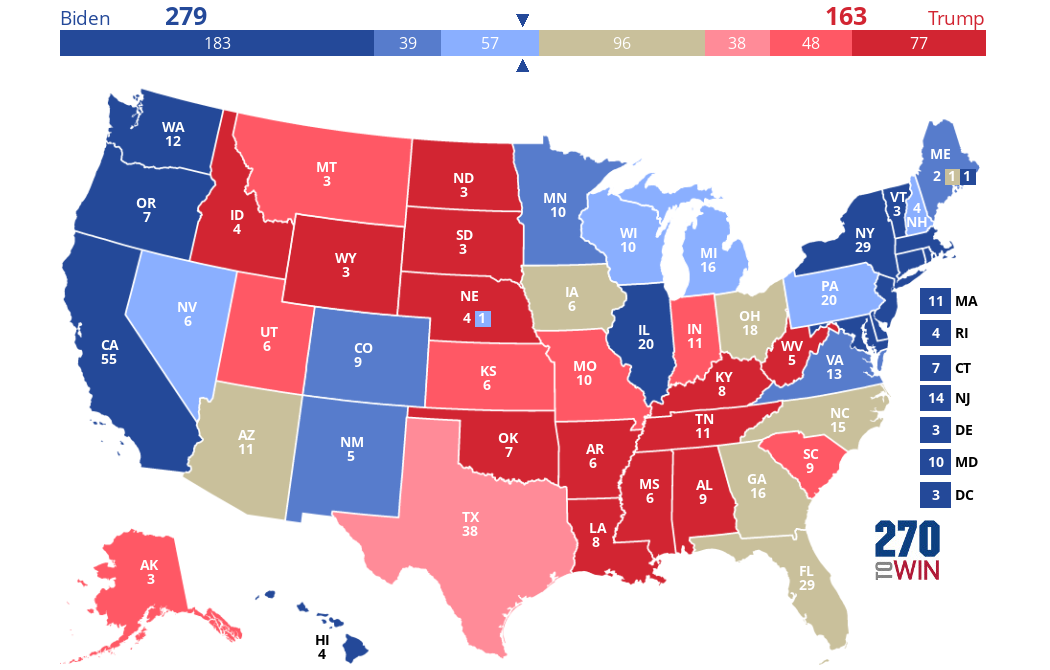 Click the map to create your own at
270toWin.com
So, taking the consensus as a given, 270 (total) – 204 (Trump's) = 66. Trump must win 66 from the states in play: AZ (11), FL (29), MI (16), NC (15), PA (20), and WI (10) plus 1 to win not tie = 102. 102 – 66 = 36. So if Trump wins FL, MI, NC, and PA (29 + 16 + 15 + 20 = 80), he wins. That's a heavy lift. I think I've got the math right this time!
"Why I'm Nervous about the 2020 Presidential Election: It's the Map, Stupid" [Mike the Mad Biologist]. "This map does not feel me with optimism. Other than Arizona, I find it hard to believe that Biden can win any of these states or the swing votes in Maine and Nebraska. And between mail-in voting, a lack of appeal to young voters, and Republican chicanery, Wisconsin seems optimistic. Losing all the 'brown' regions and Wisconsin yields a two vote Electoral College victory for Trump. Yes, the polling suggests a Biden victory, but it also suggests a ten point win, and I don't think that will hold (already, the political press corps is emphasizing Biden's idiot eruptions–and we told you this would happen). Given the map, it's very possible that Trump wins the electoral college, even as Biden gains an actual majority–not a plurality like Clinton, but a majority." • So I'm not the only one.
2020
Biden (D)(0): Twitter chatter that Biden has ended the enormous suspense and picked his Veep, but nothing sourced, as of this writing. UPDATE "Kamala Harris Is Biden's VP Pick — Here's What It Means For The Election And Beyond" [FiveThirtyEight]. • What it means is that Harris is the Democrat front-runner in 2024, and perhaps in 2028. Assuming Biden makes it through his first term. So you're not just voting for Biden. (I dunno what was with that Willie Brown thing, though. Brown is a sharp, sharp operator.)

Biden (D)(1): "Biden Builds Staff Team for Running Mate Before She Is Unveiled" [Bloomberg]. "The vice presidential candidate's staff includes longtime Biden insiders, veterans of former President Barack Obama's White House and more recent campaign hires. The rollout comes ahead of Biden's announcement of who will join him on the ticket… Karine Jean-Pierre, a senior adviser on Biden's campaign, will be the vice presidential candidate's chief of staff, the Biden campaign said. Before joining Biden's team earlier this year, she was chief public affairs officer for MoveOn and also worked on both Obama presidential campaigns. She was also a regional political director in the Obama White House." • I guess the VP won't be straying far off the reservation…

Biden (D)(2): "Biden won't rule out naming donors as envoys, despite corruption concerns" [Politico]. "Joe Biden has promised to put "U.S. diplomacy back in the hands of genuine professionals." … [But] the presumptive Democratic nominee has refused to rule out giving ambassadorships to big-time campaign donors and fundraisers. Instead, he's indicated that, if he wins the presidency, he'll continue the longstanding, bipartisan practice, which critics for decades have said smacks of corruption and damages America's international standing." • "Nothing would fundamentally change."

Biden (D)(3), The Great Assimilation™: "The Revolt of the Republican Strategists" [Ross Douthat, New York Times]. "[There is] question of what the Lincoln Project actually stands for — what ideas would its strategists import into the center-left, were they welcomed there with open arms, and how they imagine rebuilding the Republican Party, were the entire G.O.P. somehow actually burned down? From following a few of the Lincoln Project men on Twitter and reading the things they write, I have a hard time figuring out the answer to these questions, mostly because it's hard to distinguish their takes from a banal MSNBC liberalism." • Exactly.

Biden (D)(4), The Great Assimilation™: "Neoconservative Wolves Dressed In Never-Trumper Clothing" [The American Conservative]. "Never-Trumper Republicans have been worming their way into the Biden campaign, offering to flesh out his 'coalition' ahead of the election and pushing their way into the foreign policy discussions, particularly on China. Given their shared history with the liberal interventionists already in the campaign, don't for a second think that there aren't hungry neoconservatives among them trying to get a seat at the table. 'Some hawkish Democrats may see the neocons as convenient allies in preserving an outdated interventionist mindset,' offers Matt Duss, who is Sen. Bernie Sanders' longtime foreign policy advisor and maintains close ties with the Democratic campaign to replace President Trump. 'And of course neocons are desperate for any opportunity to salvage their own relevance.'" •

Biden (D)(5), The Great Assimilation™: "What Do 'Never Trump' Republicans Want From Joe Biden?" [HuffPo]. "But [Lincoln Project] certainly have taken up a fair amount of airspace, and that might be what they want. After all, exposure like that leads to more money ― both in donations and lucrative TV contracts. Cable networks can't resist moderate Republicans, and they were given plenty of time in the primary to warn against Sen. Bernie Sanders (I-Vt.) with the perspective of what could and could not appeal to Republicans who dislike Trump. It seems likely that they'll also get a similar platform in a Biden administration, but with Trump gone, the question will be what they would use it for." • Grifters gotta grift. I hadn't realized that Obama wanted to put three Republicans in his cabinet. The Great Assimilation™ has been going on for some time….

Biden (D)(6): He's not wrong:

BIDEN TEAM: well, what can we do to get supporters of our primary opponents on board?
BERNIE PEOPLE: M4A please
SUPPORTERS OF EVERY OTHER CANDIDATE: OMG PUT MY GUY IN YOUR CABINET AND ANNOUNCE IT NOW

— The Situationist International House Of Pancakes (@cranstonl1972) August 11, 2020

Trump (R)(1): "Trump's path to winning Pa. runs through small Rust Belt towns — like one near Biden's hometown" [Philadelphia Inquirer]. "While Trump has collapsed in the polls in Pennsylvania and nationally following his mishandling of the coronavirus pandemic, the race is likely to tighten in its final weeks. In a pivotal state Trump won by less than 1% of the vote in 2016 — partly because of voters in Lackawanna County and bordering Luzerne County — even small shifts in his favor in places like Carbondale could have outsized importance. And interviews with 20 residents and political operatives in the northeast suggest that places like Carbondale are trending even more pro-Trump than four years ago." • Worth reading in full. Deindustrialization has political consequences.

Trump (R)(2): "The MAGA President Remade America as a Shithole Country" [The Daily Beast]. "We are now the shithole country in the toilet—not the shining city on the hill—thanks to the president's disinterest in protecting Americans." • Since this is a Members-only story, I can only quote this, but remember that for liberal Democrats, January 20, 2017 is the Year Zero, and nothing happened before that. Especially not deindustrialization, the health care system, falling life expectancy in flyover, etc.

UPDATE Trump (R)(3): "'Christianity Will Have Power" [New York Times]. From Sioux Center, Iowa: "Evangelicals did not support Mr. Trump in spite of who he is. They supported him because of who he is, and because of who they are. He is their protector, the bully who is on their side, the one who offered safety amid their fears that their country as they know it, and their place in it, is changing, and changing quickly. White straight married couples with children who go to church regularly are no longer the American mainstream. An entire way of life, one in which their values were dominant, could be headed for extinction. And Mr. Trump offered to restore them to power, as though they have not been in power all along. said Micah Schouten, who was born and raised in Sioux Center, recalling something a former pastor used to say. 'If you don't teach it to your children it ends. It stops right there.' Ultimately Mr. Trump recognized something, said Lisa Burg, a longtime resident of nearby Orange City. It is a reason she thinks people will still support him in November. 'The one group of people that people felt like they could dis and mock and put down had become the Christian. Just the middle-class, middle-American Christians,' Ms. Burg said. 'That was the one group left that you could just totally put down and call deplorable. And he recognized that, You know what? Yeah, it's OK that we have our set of values, too. I think people finally said, 'Yes, we finally have somebody that's willing to say we're not bad, we need to have a voice too."" • I think this is what I had in mind when I posted those Louvin Brothers tunes the other day.

* * *

Here is the Democrat National Convention speaker line-up:

Democratic National Convention featured speakers: pic.twitter.com/Cv7h4pdk0K

— Jennifer Epstein (@jeneps) August 11, 2020

There's a lot of ways this tells Sanders people where they stand, but I think the best is putting Sanders on Day One, "We The People," and then making Closing Night, with Biden, "America's Promise." As if, to the liberal Democrat mind, "the people" and "America's promise" are quite distinct. As indeed Thomas Frank, in The People, No! explains they are. To them.

"Democrats will highlight everyday Americans in their prime-time convention lineup" [WaPo]. • Ah, yes. "Everyday Americans." Perhaps the Clinton campaign's most flaccid formulation.

Good for Zephyr Teachout:

The Democratic platform should include Medicare for All.

I will vote against a platform without it.

C'mon.

— Zephyr Teachout (@ZephyrTeachout) August 11, 2020

We all scream for ice cream:

Preparing to defend our Democratic ticket against the horseshoe of far left White sexists and far right White evangelicals who share a deep disdain for women in power. #sundayvibes

— Christine Pelosi (@sfpelosi) August 9, 2020

Nina Turner, AOC, Tlaib, Omar, Cori Bush, Marquita Bradshaw…. What world do the Pelosis live in?

* * *

Sunrise Movement heaves Morse over the side:

Here is our statement on the MA-01 Congressional race and how we are proceeding: pic.twitter.com/HXPP59hb9e

— Sunrise Movement ? (@sunrisemvmt) August 10, 2020

So, climate isn't the most important thing? (See the Bauman affair.)

Mass Nurses do not:

Update: @MassNurses is sticking with Morse after the board met last night. Their statement from spokesman Joe Markman is attached. https://t.co/zx6JxJIFko pic.twitter.com/HtkBrPePmc

— Daniel Marans (@danielmarans) August 11, 2020

Krystal Ball on Morse:

(Just to be clear, when I urged that you "please watch this whole segment," I meant Krystal's entire commentary on her program at the YouTube link, not just the short excerpt in her tweet. It's genuinely great and cuts right to all the key points):https://t.co/cFLk7VBYXr

— Glenn Greenwald (@ggreenwald) August 11, 2020

A long thread on "the left." If this is "the left," the left needs a new name:

A lot of people are confused right now about what the Left is doing to Alex Morse and why. And understandably so. But it's a really instructive case for understanding what is happening on the Left in this moment. What's happening is confusing for two reasons:

— Shant Mesrobian (@ShantMM) August 10, 2020

Interesting, as we say, that the accusation against Morse comes from College Democrats. To me, a thinly evidenced accusation about personal behavior immediately before an important election is something Massachusetts Democrats just do ***cough *** Liz Warren ***cough***. It's the same play. Kudos to College Democrats for protecting Neal and making the Sunrise Movement look like fools. It's a two-fer!

* * *

"Ballot Drop Boxes Become Latest Front In Voting Legal Fights" [NPR]. "Many voters are worried about casting their ballots in person this November because of the pandemic. They're also concerned that their mail-in ballots could be misplaced or delayed. One voting option that's gaining popularity — and also attracting controversy — is the use of drop boxes, where voters can deposit their absentee ballots to be collected later by election officials. Michigan had hundreds of drop boxes available for its primary after more than 1 million voters decided to cast absentee ballots rather than go to the polls. In the last presidential election, about 16% of voters nationwide used drop boxes, but they were concentrated in states such as Washington, Oregon and Colorado, where almost all voters cast absentee ballots."

"The Postal Service is Not Ready for November" [Democracy Docket]. However, this tweet and the attached letter is more to the point than the article:

?More concerning news from @USPS. In short, the Post Office won't prioritize election mail unless states pay more.

Updating my @DemocracyDocket piece on this and will repost it this afternoon. pic.twitter.com/m1T8MHKxZy

— Marc E. Elias (@marceelias) August 10, 2020
Stats Watch
At reader request, I added some business stats back in. Please give Econintersect click-throughs; they're a good, old-school blog that covers more than stats. If anybody knows of other aggregators, please contact me at the email address below.
Debt: "May 2020 Loan Performance: First Annual Increase In More Than 9 Years" [Econintersect]. "Loan Performance Insights Report for May 2020 shows on a national level, 7.3% of mortgages were in some stage of delinquency (30 days or more past due, including those in foreclosure). This represents a 3.7-percentage point increase in the overall delinquency rate compared to 3.6% in May 2019."
Inflation: "July 2020 Producer Price Final Demand Year-over-Year Growth Remains In Contraction" [Econintersect]. "Year-over-year inflation pressures remain soft as this index remains in contraction. This may be the beginning of a deflationary cycle – we will know only in hindsight."
Small business optimism: "July 2020 Small Business Optimism Declines" [Econintersect]. "The Small Business Optimism Index fell 1.8 points to 98.8 in July, near the survey's historical average. Overall, 4 of the 10 Index components improved, 5 declined, and 1 was unchanged. The NFIB Uncertainty Index increased 7 points to 88. Reports of expected better business conditions in the next six months declined 14 points to a net 25%. Owners continue to temper their expectations of future economic conditions as the COVID-19 public health crisis is expected to continue."
* * *
Readers, earlier today I got the dreaded "This Message has no content" for 30 mails, which iOS refused to send and dumped in my outbox, with nothing in the message body. Here's why:
There are a lot of third-party email applications on the App Store, but Apple's own app, Mail, works perfectly fine for most people. Unfortunately, there are times where the Mail app acts up and doesn't work correctly and shows either not subject or "this message has no content."… The problem is that there's no certain or clear-cut workaround, but there are a few different options to try out.
Tim Cook is a billionaire. His company can't write an email application that works reliably. (30 mails for me is thirty gathered links, so that's about an hour of work lost, plus the value I hoped readers would get.) Note also that the iPad is supposed to replace the Mac as a professional tool (perhaps on Earth 2). In order to do that, it's going to need email that works.
* * *
Today's Fear & Greed Index: 74 Greed (previous close: 74 Greed) [CNN]. One week ago: 67 (Greed). (0 is Extreme Fear; 100 is Extreme Greed). Last updated Aug 11 at 1:17pm. Falling back to mere Greed from Extreme Greed.
The Biosphere
Helping Mauritius:
This morning I received an urgent call for help from @FffMauritius

"We are a small tropical island with limited resources. Please can you help us? We need special equipments to remove the oil from our coasts and sea."

Here's a crowdfund they recommend:https://t.co/rccyWkuAtM pic.twitter.com/XqKCWPpQUX

— Greta Thunberg (@GretaThunberg) August 10, 2020
"Court strikes down Trump administration's methane rollback" [The Hill]. "In 2018, the Bureau of Land Management (BLM) rolled back parts of the prior rule that limited the release of the greenhouse gas. The change was expected to allow for more methane leaks in a process called flaring and add to air pollution. On Wednesday, Judge Yvonne Gonzalez Rogers determined that the rulemaking process used by the BLM was 'wholly inadequate.' 'In its haste, BLM ignored its statutory mandate under the Mineral Leasing Act, repeatedly failed to justify numerous reversals in policy positions previously taken, and failed to consider scientific findings and institutions relied upon by both prior Republican and Democratic administrations,' wrote the Obama appointee." • Good news!
"Green bean seedling vigor" [John Kempf]. "When our goal is to have seed germinate quickly, establish large root systems, and have strong seedling vigor, we need to support seeds with the trace minerals and biological symbionts they should have had if they were grown in optimal conditions." • Yep!
Health Care
"Do Masks Work Or Not?? Proving Whether Masks Stop Covid-19 Transmission with Uncle Rob" [YouTube]. • This is awesome. If you someone is your circle thinks masks don't work, show this to them:
"Universal Masking in the United States: The Role of Mandates, Health Education, and the CDC" [JAMA]. "Although a federal mask mandate may appear to be an attractive policy, it could encounter legal challenges, be difficult to enforce, and further politicalize wearing of masks. It is not clear whether the CDC has the authority to mandate face coverings nationwide. The Public Health Service Act grants the CDC powers to detain and medically examine potentially infected persons arriving into the United States and traveling between states, but this authority is unlikely to extend to regulatory actions such as requiring masks. Congress probably could enact a national mandate under the commerce power but has not done so. A federal mandate, moreover, might provoke political opposition to face coverings rooted in state sovereignty. A better way to gain more national uniformity is by inducing states to enact mask laws. This respects states as key decision makers in public health and is more consistent with state autonomy. It is also easier to gain compliance with state and local directives rather than using federal officers to monitor and enforce a national mandate. A well-crafted use of federal spending powers would likely be constitutional. Congress could attach conditions on the receipt of federal funds, inducing states to adopt a mandate. Intoxicated driver laws offer an analogy. The Supreme Court upheld a federal law conditioning 5% of highway funds on states adopting a 21-year-old drinking age."
"Exposure assessment for airborne transmission of SARS-CoV-2 via breathing, speaking, coughing and sneezing" (preprint) [medRxiv]. From the Results: "The calculated total volume of expelled aerosol droplets was highest for a sneeze, followed by a cough and speaking for 20 minutes, and lastly breathing for 20 minutes. A few to as much as tens of millions of virus particles were expelled. Exposure probability strongly depends on the viral concentration in mucus, as well as on the scenario." • Intuitive! This is a modeling paper, but it's worth a read for the droplet/aerosol explanation. (This paper is from July. Later studies have shown physical transmission of Covid particles through aerosols, nota bene.)
* * *
–>
News of the Wired
UPDATE "The New Passport-Poor" [New York Review of Books]. "Today, the passport's days are rumored to be numbered. Airline executives and government officials predict that as soon as 2022, international travel will be 'a smooth, tokenless process,' free of IDs or boarding cards, relying entirely on iris scans and fingerprints taken in a split second and vetted by a gigantic database of traveler information." • That's a horrible idea.
Sid! Sid! Sid!
SID SPEAKS!! #SoundUpForSid pic.twitter.com/3wLOZo5gDs

— 10,000 Motivated Rats (@bombsfall) August 10, 2020
Further down in the thread, there's an image of the polyp the vet removed from Sid's throat, in a jar; it's the size of a quarter.
* * *
Readers, feel free to contact me at lambert [UNDERSCORE] strether [DOT] corrente [AT] yahoo [DOT] com, with (a) links, and even better (b) sources I should curate regularly, (c) how to send me a check if you are allergic to PayPal, and (d) to find out how to send me images of plants. Vegetables are fine! Fungi and coral are deemed to be honorary plants! If you want your handle to appear as a credit, please place it at the start of your mail in parentheses: (thus). Otherwise, I will anonymize by using your initials. See the previous Water Cooler (with plant) here. Today's plant (RM):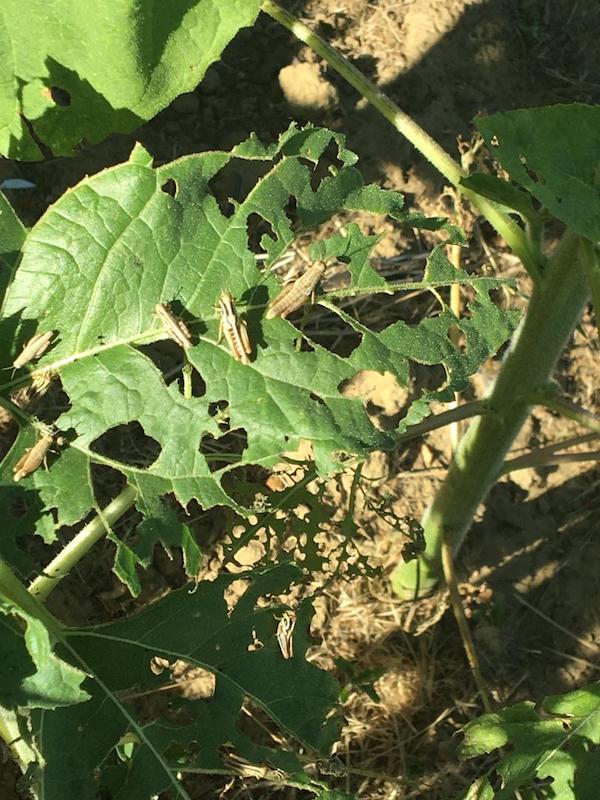 RM writes: "I thought I'd send you this photo of the grasshopper damage to my sunflowers just for fun. Hungry little rascals." Striking the optimsistic note! Next, frogs. After, boils…
* * *
Readers: Water Cooler is a standalone entity not covered by the annual NC fundraiser. So if you see a link you especially like, or an item you wouldn't see anywhere else, please do not hesitate to express your appreciation in tangible form. Remember, a tip jar is for tipping! Regular positive feedback both makes me feel good and lets me know I'm on the right track with coverage. When I get no donations for five or ten days I get worried. More tangibly, a constant trickle of donations helps me with expenses, and I factor in that trickle when setting fundraising goals:
Here is the screen that will appear, which I have helpfully annotated.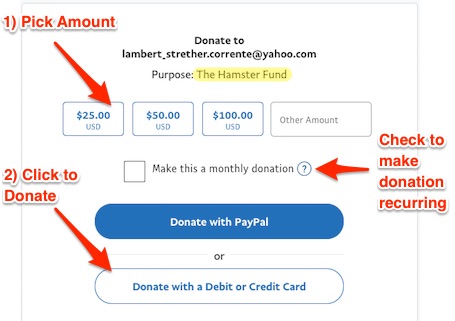 If you hate PayPal, you can email me at lambert [UNDERSCORE] strether [DOT] corrente [AT] yahoo [DOT] com, and I will give you directions on how to send a check. Thank you!