By Lambert Strether of Corrente.
#COVID19
At reader request, I've added this daily chart from 91-DIVOCThe data is the Johns Hopkins CSSE data. Here is the site. Here are the bottom five of the top ten problem states: Tennessee, North Carolina, Alabama, Louisiana, and Illinois, with Georgia for comparison:
CA: "Central Valley becomes California's new coronavirus concern" [Politico]. "[A]fter the state reopened in May and June, the region became the state's biggest problem spot — with some metrics now worse than even Los Angeles…. The Central Valley has a disproportionate share of essential blue-collar workers and Latino residents, many working on farms and in factories to provide food for the nation…. While parts of the Valley felt insulated from the worst of the virus in March, and local Republican leaders have pushed for a faster reopening there to boost the economy, the region could ultimately be hit hardest. Many Valley workers are immigrants and people of color who cannot do their jobs from home, and are more likely to have underlying conditions and less access to health care. Aloise said workers are risking their own health to support their families, with some octogenarians still reporting to cannery production lines. Working conditions, including more personal protective equipment, have improved since the pandemic first hit, he said, but the disease is more prevalent in the community and there remains pressure to keep producing food."
IL: "Gatherings With 'Trusted' Friends, Family Are Driving Rise In Chicago Coronavirus Cases, Top Doc Says" [Block Club Chicago]. "After slowing the initial spike in coronavirus cases months ago, Chicago is again seeing a troubling rise in cases that could force city officials to tighten restrictions on dining and gatherings that were loosened as cases dropped. A main culprit, [said Dr. Allison Arwady, commissioner of the city's Department of Public Health] said Tuesday, is people letting down their guard at gatherings with friends and family and bringing coronavirus back into their homes…. Arwady encouraged people to limit their close contacts — the people likely to contract COVID from you if you do become infected. Exposure within a household is the number one risk factor, Arwady said, noting you are 10 times more likely to contract COVID in your home than in other settings, based on people bringing it home."
MA: "Experts urge rollback of reopening as COVID-19 cases rise in Mass." [Boston Globe]. "'We're not seeing a major surge in cases. What we're seeing are the indicators that a surge is coming,' [Samuel Scarpino, a Northeastern University epidemiologist] said in an interview. 'Given how challenging it can be to intervene and slow the spread of COVID-19, the actions we take now are what's going to determine whether we're risking a situation like heading back to April or a situation that's far more manageable.' Scarpino advocated for returning to "at least" the second stage of Phase 2 of the state's reopening plan, which would mean once again shuttering venues including gyms, casinos, and movie theaters.
UPDATE NJ "Wild pool party shut down by police at New Jersey mansion" [New York Post]. "A massive rager at a mansion in New Jersey's richest zip code was shut down by cops over the weekend — and neighbors say wild Vegas-like blowouts have been regularly held there despite the coronavirus pandemic. Hundreds of carefree revelers — most without masks — were spotted outside the home on Hemlock Drive in Alpine for what promoters called 'The Lavish Experience Pool Party' Saturday night, NBC New York reported. Cops eventually were called to break up the bash, which spilled out onto the street with zero regard for social distancing rules…. A neighbor told The Post that the wild affairs have been a regular occurrence since May, at the height of the coronavirus crisis. She said she's seen party buses dropping off people for the bashes — which are brazenly advertised on social media." • Represent, New Jersey! (But "rager"? What is a "rager"?)
NY: "NYC party ship owners arrested, charged with breaking coronavirus orders on 'booze cruise'" [NBC]. "Owners of a New York City party boat were arrested after taking 172 guests out on a cruise — without a liquor license and serving alcohol indoors — in violation of emergency coronavirus regulations, officials said Monday…. 'Operating a booze cruise in the middle of a pandemic is irresponsible and in complete disregard with COVID safety measures,' [Manhattan Borough President Gale Brewer] said in a statement on Monday. 'Reckless socializing isn't worth putting people's lives at risk, and now is not the time to let our guard down.'" • "Operating a booze cruise in the middle of a pandemic is irresponsible" is really a sentence I never expected to read…
UPDATE Yglesias must love Trump:
Public concern seems to track deaths more than cases, but deaths really do lag substantially and it looks like there's a good chance the second wave of cases has peaked and we're now on the way back down.

— Matthew Yglesias (@mattyglesias) August 4, 2020
I think we've seen a series of first waves, starting from the epicenter in New York. However, "back to school" is more or less simultaneous — is it not? — so there may indeed be a synchronized, second wave.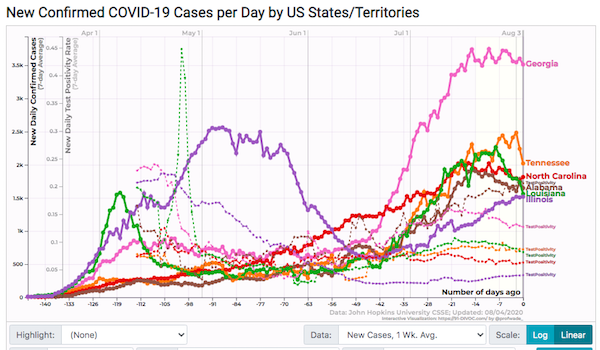 Politics
"But what is government itself, but the greatest of all reflections on human nature?" –James Madison, Federalist 51
"They had one weapon left and both knew it: treachery." –Frank Herbert, Dune
"They had learned nothing, and forgotten nothing." –Charles Maurice de Talleyrand-Périgord
The electoral map. July 17: Georgia, Ohio, ME-2 move from Leans Republican to Toss-up. Continued yikes. On July 7, the tossup were 86. Only July 17, they were 56. Now they are 91. This puts Biden at 278, i.e. over 270. August 3: Still no changes.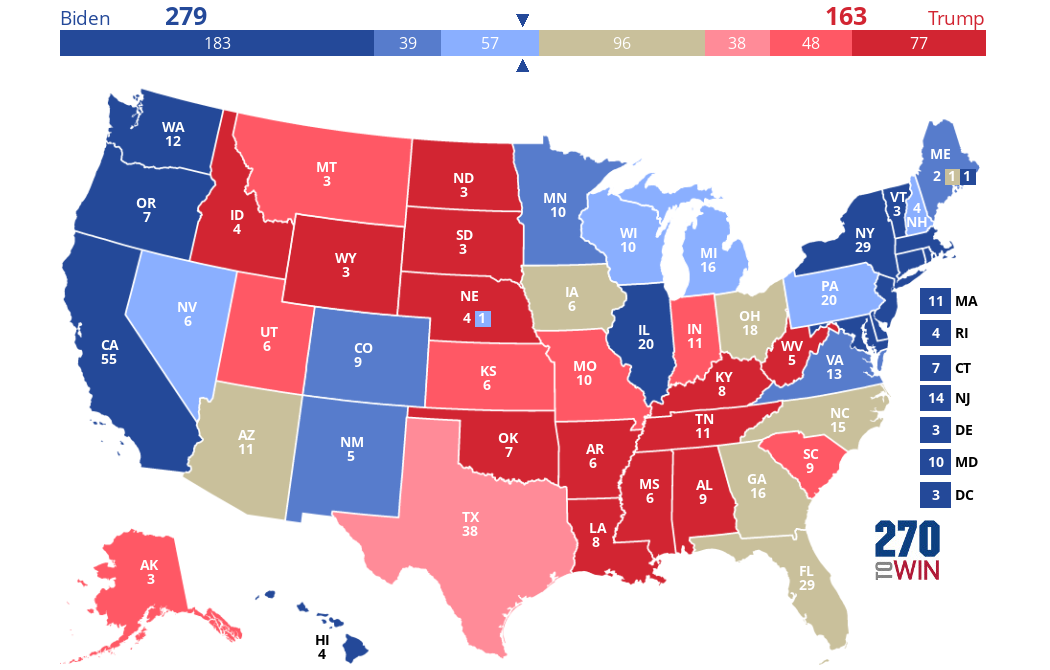 Click the map to create your own at
270toWin.com
So, taking the consensus as a given, 270 (total) – 204 (Trump's) = 66. Trump must win 66 from the states in play: AZ (11), FL (29), MI (16), NC (15), PA (20), and WI (10) plus 1 to win not tie = 102. 102 – 66 = 36. So if Trump wins FL, MI, NC, and PA (29 + 16 + 15 + 20 = 80), he wins. That's a heavy lift. I think I've got the math right this time!
2020
UPDATE Biden (D)(1): I thought Biden didn't hire Bloomberg's media team?

Not a joke, folks.

Get yours today: https://t.co/RqCQJE8Kho pic.twitter.com/A1CNMOu2ct

— Joe Biden (@JoeBiden) August 4, 2020

UPDATE Biden (D)(2): "How the coronavirus got Joe Biden to think much bigger" [Vox]. "Those close to Biden told me that watching the country fall into two debilitating recessions in the past 12 years has had a profound effect on the former vice president. Biden helped shepherd the country out of the 2008 crisis, many working families never enjoyed the full benefits of that recovery. With America in yet another economic calamity, Biden now envisions a much larger role for government in his administration if he wins than past Democratic presidents have been comfortable with." • "Yet" is doing a lot of work, there. More: "'Bill Clinton and Barack Obama were operating under the shadows of the Reagan 'government-is-the-problem' [idea],' said Emanuel. 'I think Biden is the end of the Reagan critique and the beginning of something new, a touchstone of a view where the government was an affirmative force and public service was a noble profession.'" • The article pivots to a beat sweetener on Biden advisor Bruce Reed, describing him as "a quiet presence" who is "an influential voice on policy." Reed was CEO of the Democratic Leadership Council. Come on, man.

Biden (D)(3): "Supporters Urge Joe Biden Not to Debate Trump, Applaud Hosts for Canceling Over COVID-19 Concerns" [Newsweek]. "Democratic strategists and supporters of Vice President Joe Biden are urging him not to debate President Donald Trump in the lead-up to Election Day, citing Trump's publicity stunts and disregard for the rules in 2016. Meanwhile Biden backers, including some conservatives, applauded the University of Notre Dame and the University of Michigan for cancelling their scheduled debates over COVID-19 concerns. Former White House Press Secretary Joe Lockhart joined several Democratic Party strategists in bluntly advising Biden, "whatever you do, don't debate Trump.'" • Waiting for Trump to set up an empty chair, and debate that…

Cuomo (D)(1): There it is:

"I literally talk to people all day long who live in their Hamptons house, who used to live [in NYC]," Governor Cuomo says, in explaining why he cannot support a billionaire's or millionaire's tax

— Christopher Robbins (@ChristRobbins) August 3, 2020

I hope Cuomo told them to wear masks.

Sanders (D)(1): Going negative:

I want to give you ten reasons (and there are many more) as to why, together, we have got to do everything we can to create the largest voter turnout in history and send Trump packing.

— Bernie Sanders (@BernieSanders) August 3, 2020

"Orange man bad" ten ways. Not one positive reason to vote for Biden.

Trump (R)(1): The walls are closing in:

Watch the full "Axios on HBO" interview with President Trump – Axios https://t.co/LfpQrZr4cV

— Annie Karni (@anniekarni) August 4, 2020

Trump (R)(2): He's not wrong:

President Trump: "They failed with Mueller. They failed with everything. They failed with Congress. They failed at every stage of the game." https://t.co/v5HXiZMq41 pic.twitter.com/VVkFfqLtkY

— The Hill (@thehill) August 4, 2020

Trump (R)(3): Not owning the libs enough:

Trump out flanking the democrats. https://t.co/nhgBtAtUwz

— Katie? (@k_artig) August 3, 2020

Of course, we're still waiting on Trump's health care plan. Nonetheless….

Trump (R)(3): "RNC: Decision on private Trump renomination vote not final" [Associated Press]. "The vote to renominate President Donald Trump is set to be conducted in private later this month, without members of the press present, a spokeswoman for the Republican National Convention said on Saturday, citing the coronavirus. However, a Republican National Committee official contradicted that assessment Sunday, emphasizing that no final decisions have been made and that logistics and press coverage options were still being evaluated, The official was not authorized to discuss the matter publicly and spoke on condition of anonymity. While Trump called off the public components of the convention in Florida last month, citing spiking cases of the virus across the country, 336 delegates are scheduled to gather in Charlotte, North Carolina, on Aug. 24 to formally vote to make Trump the GOP standard-bearer once more. Nominating conventions are traditionally meant to be media bonanzas, as political parties seek to leverage the attention the events draw to spread their message to as many voters as possible. If the GOP decision stands, it will be the first party nominating convention in modern history to be closed to reporters.:"

* * *

"McConnell has 17-point lead over Democratic challenger McGrath: poll" [The Hill]. • Lol. Morning Consuilt, too.

UPDATE "Barack Obama omits AOC's name while endorsing New York Democrats" [New York Post]. • That's odd. AOC is a Woman of Color. It's hard to keep track of the every-shifting rules.

"'Any Functioning Adult 2020' Presidential Election Campaign Is Getting Popular" [Sad and Useless]. "The 2020 United States presidential election, scheduled for November 3, 2020, will be the 59th quadrennial U.S. presidential election. Some people are supporting Trump, others will vote for anyone but him, so they've started a pretty funny "Any Functioning Adult 2020" presidential election campaign with various signs, bumper stickers and t-shirts available on Amazon and on Etsy. Featured below are some of the examples spotted in the wild." Spotted in the wild by alert reader Jason Boxman and others. I don't see the members of our political class as being anything other than adult — except maybe the Gravel kids, who really should have been permitted to get their candidate into the debates — and I also see them as being functional (at least in their own terms, and for their donors). So I'm not enthusiastic about this campaign paraphermalia, though I understand the sentiment.

UPDATE I whacked Welder for not knowing Roberts Rules, but this is good:

#BREAKING: Here's the list that the DNC did not want you to see. The record of how the DNC Rules Cmte members voted on my anti-corruption amendment to reject corporate PAC money and ban corp lobbyists. They rigged the process, but the @BernieSanders nominees got you this list. https://t.co/FCNaBaWQUl pic.twitter.com/6ZIeqWV7Ns

— Brent Welder (@BrentWelder) August 3, 2020

UPDATE Not being a church-goer, I wouldn't have thought of this, but I think it's correct:

I didn't comment at the time because it was too soon. But it's been a minute, so there it is. I think the rage I saw on my feeds about it from ppl who'd been forbidden to gather at church and/or mourn lost loved ones was 100% justified. The indoor spectacle was an affront.

— Jon Stokes (@jonst0kes) August 3, 2020

First, shaming Red State church services. Now this…
Realignment and Legitimacy
"How the Media Could Get the Election Story Wrong" [New York Times]. "[A] group of former top government officials called the Transition Integrity Project actually gamed four possible scenarios, including one that doesn't look that different from 2016: a big popular win for Mr. Biden, and a narrow electoral defeat, presumably reached after weeks of counting the votes in Pennsylvania. For their war game, they cast John Podesta, who was Hillary Clinton's campaign chairman, in the role of Mr. Biden. They expected him, when the votes came in, to concede, just as Mrs. Clinton had. But Mr. Podesta, playing Mr. Biden, shocked the organizers by saying he felt his party wouldn't let him concede. Alleging voter suppression, he persuaded the governors of Wisconsin and Michigan to send pro-Biden electors to the Electoral College. In that scenario, California, Oregon, and Washington then threatened to secede from the United States if Mr. Trump took office as planned. The House named Mr. Biden president; the Senate and White House stuck with Mr. Trump. At that point in the scenario, the nation stopped looking to the media for cues, and waited to see what the military would do." • Oh. The name "Transition Integrity Project" reminds me forcibly of Nelson Algren's advice: "Never eat at a place called Mom's."

* * *

UPDATE "U.S. judge orders election boards to extend count of absentee ballots in New York state primary" [Reuters]. "A U.S. judge late on Monday ordered all local boards of election in New York state to count "thousands" of absentee ballots received the day after a congressional primary held last June 23 but previously disqualified because of postmark problems." • A good ruling that took 41 days. That will be a problem in a national election.

"Coronavirus creates election worker shortage ahead of November" [Politico]. "Election officials across the country are seeing early shortages and scrambling to recruit a new generation of poll workers for Election Day, looking to maintain a volunteer force that has relied heavily on senior citizens in the past — the cohort most vulnerable to the coronavirus…. More than two-thirds of jurisdictions said that it was either "very difficult" or "somewhat difficult" to obtain a sufficient amount of poll workers — according to data collected about the 2018 elections by the Election Assistance Commission, a federal agency charged with assisting election officials — with just 15 percent saying it was either somewhat or very easy to do so. And that was before a pandemic that is especially lethal for those most likely to serve as poll workers hit America's shores." • Just a thought, but maybe volunteers don't want to fix paper jams and wipe down touchscreens?

"Tips to Mitigate Threats to Our Votes and Voter Registrations Before November" [Jennifer Cohn, Medium]. "5. Down ballot races, especially state races, are critical this year bc state lawmakers will vote in 2021 on the new maps that will impact control of the US House of Representatives for a decade." • Quite right!
Stats Watch
At reader request, I added some business stats back in. Please give Econintersect click-throughs; they're a good, old-school blog that covers more than stats. If anybody knows of other aggregators, please contact me at the email address below.
Manufacturing: "June 2020 Headline Manufacturing New Orders Improve" [Econintersect]. "US Census says manufacturing new orders improved month-over-month with unfilled orders shrinking modestly. Our analysis shows the rolling averages improved but remain in contraction. According to the seasonally adjusted data, the increase was widespread except for civilian aircraft which significantly contracted."
Housing: "June 2020 CoreLogic Home Prices: Fastest Monthly Gain In More Than 7 Years" [Econintersect]. "CoreLogic's Home Price Index (HPI) shows home prices increased by 4.9% in June 2020, compared with June 2019. Month over month, home prices increased 1%, compared with May of this year, the fastest monthly gain for the month of June since 2013…. This is a rear view of home prices. Econintersect believes home prices will deteriorate as the year progresses as the knock-on effect of the coronavirus will grow. The worst-case will be a decline to Great Recession levels but the most likely scenario is a 10% decline roughly equal to the expected unemployment rate. Too much money is being removed from the economy due to the COVID restrictions and elevated unemployment."
Employment Situation: In small businesses:
75% economy: Small business employment in the US has plateaued 25% down on pre-crisis level. @homebase_data via @SoberLook pic.twitter.com/OawVSE8Dua

— Adam Tooze (@adam_tooze) August 4, 2020
Employment Situation: "Five Things You Need to Know to Start Your Day" [Bloomberg]. "For some context on what's going on in the labor market, I talked with Andrew Zatlin of SouthBay Research, who keeps his own proprietary data of small, local business job openings. He likes paying close attention to mom & pop-style small businesses (eateries, salons etc.) since they're the most sensitive to real-time changes in the economy. Their situation is not good…. As for sectors, not surprisingly, the worst-performing category has been HR. The best-performing category he tracks has been security, as even shuttered businesses need security on some level. Longer term, he still sees knock-on weakness for white-collar workers, even if and when there's more normalization for the directly-exposed service industry. Though not in the above indices, large tech job openings are way down, he told me. The issue with the labor market remains straightforward: There are a dearth of job openings due to the virus, and among the businesses who hire and fire the fastest, there has been a clear weakening trend again over the last month."
* * *
Retail: "In A Twist On Loyalty Programs, Emirates Is Promising Travelers A Free Funeral If Infected With Covid" [Forbes]. "Emirates' insurance for travelers stipulates that if one of its passengers is diagnosed with COVID-19 during their journey, the Dubai-based airline will cover their medical expenses, up to €150,000 (about $176,000). It will pay €100 ($118) per day for quarantine costs – such as a hotel room – for up to two weeks. And if the worst happens, Emirates will offer €1,500 (about $1,765) for a passenger's funeral. The insurance is automatic with ticketing, effective immediately, and carries no fees for travelers. It's an interesting idea. It delivers share of mind on steroids. It demonstrates the integrity of the brand to the public, and it shows they have empathy for their customers and understand the current environment. The premise of insurance for medical bills or quarantine is brave. It's bold and cuts to the heart of the reluctance to travel. It doesn't skirt the emotions surrounding COVID-19 but tackle them head on. However, the fact that the insurance includes a death coverage could be problematic. It could encourage the kind of mental imagery that an airline normally wouldn't want associated with its brand." • Makes me wonder. If I don't buy the insurance, have I waived my ability to sue Emirates for unsafe COVID practices? Travel mavens?
Tech: "Robots Running the Industrial World Are Open to Cyber Attacks" [Bloomberg]. "Robots are often connected to networks and run via software, according to the report, and previously unknown vulnerabilities could allow hackers to hide malicious code in them and other automated, programmable manufacturing machines. The researcher found flaws in software produced and distributed by the Swedish-Swiss multinational ABB Ltd, one among world's largest industrial robot maker. They also found other vulnerabilities in one of industry's most popular open-source software called 'Robot Operating System Industrial', or Ros-I, adapted for ABB and for Kuka AG, a German robot maker."
Tech: "Hedge funds scour alternative data for edge on Covid and economy" [Financial Times]. "A multibillion-dollar industry offering unusual data such as satellite imagery and measurements of social media sentiment is enjoying a boom in demand as hedge funds and companies hunt for clues on how to tackle the coronavirus crisis. Many investors have turned to so-called alternative data — niche information beyond standard financial market indicators or statistical releases — after finding official numbers too slow in reflecting the collapse in economic activity due to Covid, and the recovery. Providers argue it can provide precious, real-time glimpses into how a company or economy is faring." Then again: "Anthony Lawler, head of GAM Systematic, said his firm used alternative data but added that such information had not been behind his funds' gains last year, nor had it driven markets this year. 'Daily credit card data or footfall data didn't lead the recovery in [stock] prices. What led the recovery was investor sentiment, animal spirits and a belief in a better future,' he said. 'For none of that could you use innovative photographic, credit card or shipping data."
* * *
Today's Fear & Greed Index: 67 Greed (previous close: 67 Greed) [CNN]. One week ago: 63 (Greed). (0 is Extreme Fear; 100 is Extreme Greed). Last updated Aug 4 at 11:50am. Solid greed. Starting to get dull.
Rapture Index: Closes up one Beast Government. "The government movement is having trouble with world unity" [Rapture Ready]. Record High, October 10, 2016: 189. Current: 182. (Remember that bringing on the rapture is a good thing.) Beast Government is volatile!
Health Care
"What is herd immunity and could it happen in the US?" [Guardian]. Interview with Dr Angela Rasmussen, virologist and associate research scientist, Columbia University Mailman School of Public Health; Dr Amber D'Souza, professor of epidemiology, Johns Hopkins University Bloomberg School of Public Health; Dr Marc Lipsitch, professor of epidemiology and director, Center for Communicable Disease Dynamics, Harvard TH Chan School of Public Health.
Is there any possibility that we could achieve natural herd immunity to Covid-19?

D'Souza: The data suggest that nationwide, maybe 10% of Americans have been exposed. We're not even close to achieving herd immunity through natural infection at this point.

Rasmussen: The idea that, "Well, we're just stuck with it, so let's all just get it over with and we'll all have herd immunity", is just not done. It would cause the deaths of millions of people and potentially the permanent disability of millions more. We can't afford to pay that type of epidemiological price for herd immunity. We need to wait for a vaccine.

Lipsitch: The problem is that we'll suffer in the process. So, it's not that we can't do it, it's that we don't want to do it, given the damage that we now know that it can cause.

I don't think it's scientifically wrong, I think it's morally wrong.
Assuming that we can achieve "herd immunity through natural infection" at all. We haven't with the common cold.
"Pastor who urged people not to 'cower in fear' tests positive for coronavirus" [The Hill]. "The pastor of a Capitol Hill Catholic church tested positive for the novel coronavirus the same day he suggested parishioners who did not attend in-person church services over fears of infection were 'lukewarm' in their faith." • Lick the shrine….
Our Famously Free Press
I believe I've posted these rules before, but they are still useful:
#beirutexplosion pic.twitter.com/i360K4ZNci

— Vanessa Parra ✨BLACK LIVES MATTER (@ParraV) August 4, 2020
Class Warfare
"Wave of evictions expected as moratoriums end in many states" [Associated Press]. "23 million people nationwide [are] at risk of being evicted, according to The Aspen Institute, as moratoriums enacted because of the coronavirus expire and courts reopen. Around 30 state moratoriums have expired since May, according to The Eviction Lab at Princeton University. On top of that, some tenants were already encountering illegal evictions even with the moratoriums. Now, tenants are crowding courtrooms — or appearing virtually — to detail how the pandemic has upended their lives. Some are low-income families who have endured evictions before, but there are also plenty of wealthier families facing homelessness for the first time — and now being forced to navigate overcrowded and sometimes dangerous shelter systems amid the pandemic. Experts predict the problem will only get worse in the coming weeks, with 30 million unemployed and uncertainty whether Congress will extend the extra $600 in weekly unemployment benefits that expired Friday. The federal eviction moratorium that protects more than 12 million renters living in federally subsidized apartments or units with federally backed mortgages expired July 25. If it's not extended, landlords can initiate eviction proceedings in 30 days."
UPDATE Symbol manipulation from the back row:
Around half of Americans with a high school diploma or less education (48%) say the conspiracy theory that powerful people intentionally planned the coronavirus outbreak is probably or definitely true. https://t.co/lEUWZFWS31

— Pew Research Center (@pewresearch) August 3, 2020
Fortune passes everywhere. Except it doesn't, does it?
New of the Wired
"How to Autosave local to PC instead of to OneDrive when using Word" [Microsoft]. • Ha ha, you can't. Imagine not being able to store your own data on "your own" PC. Who thought of this? Who coded it?
Try this at home:
I'm going to take a break from social media for my mental health. I will see you all in 2 minutes.

— erin whitehead (@girlwithatail) July 18, 2020
(I believe that Twitter is less virulent than Facebook, perhaps because Twitter has never claimed to be about "friends" (although paradoxically I've formed friendships on Twitter, but never on Facebook)).
* * *
Readers, feel free to contact me at lambert [UNDERSCORE] strether [DOT] corrente [AT] yahoo [DOT] com, with (a) links, and even better (b) sources I should curate regularly, (c) how to send me a check if you are allergic to PayPal, and (d) to find out how to send me images of plants. Vegetables are fine! Fungi and coral are deemed to be honorary plants! If you want your handle to appear as a credit, please place it at the start of your mail in parentheses: (thus). Otherwise, I will anonymize by using your initials. See the previous Water Cooler (with plant) here. Today's plant (CR):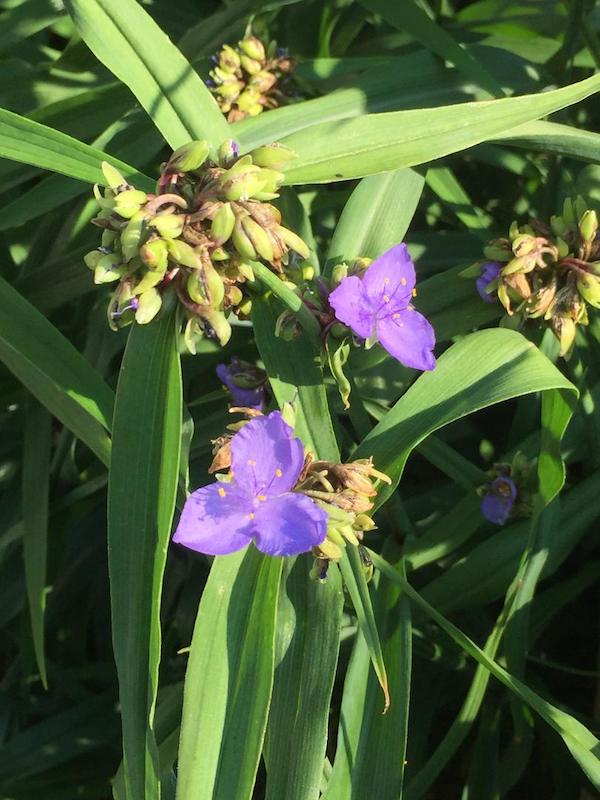 CR: Spiderwort (Tradescantia). From the Missouri Botanical Garden: "When the stems of spiderworts are cut, a viscous stem secretion is released which becomes threadlike and silky upon hardening (like a spider's web), hence the common name." Yes, but about the wort part?
* * *
Readers: Water Cooler is a standalone entity not covered by the annual NC fundraiser. So if you see a link you especially like, or an item you wouldn't see anywhere else, please do not hesitate to express your appreciation in tangible form. Remember, a tip jar is for tipping! Regular positive feedback both makes me feel good and lets me know I'm on the right track with coverage. When I get no donations for five or ten days I get worried. More tangibly, a constant trickle of donations helps me with expenses, and I factor in that trickle when setting fundraising goals:
Here is the screen that will appear, which I have helpfully annotated.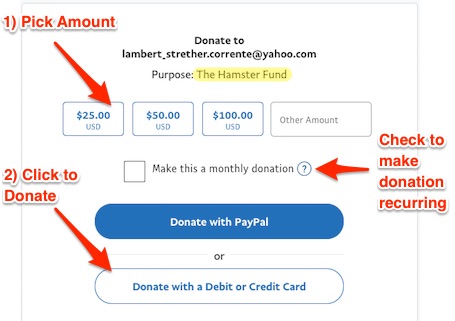 If you hate PayPal, you can email me at lambert [UNDERSCORE] strether [DOT] corrente [AT] yahoo [DOT] com, and I will give you directions on how to send a check. Thank you!