By Lambert Strether of Corrente.
#COVID19
At reader request, I've added this daily chart from 91-DIVOCThe data is the Johns Hopkins CSSE data. Here is the site. Back to our top five problem states: Florida, California, Texas, Georgia, and Arizona, with New York for comparison: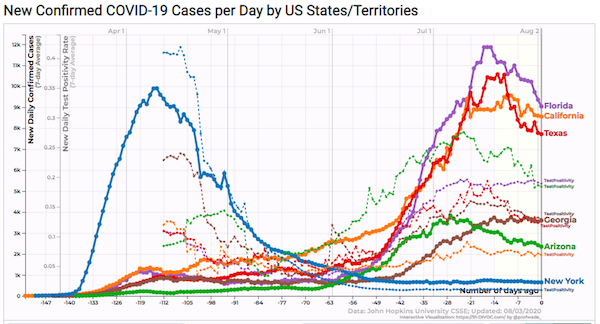 Not a plateau in our five problem states, fortunately.
This chart includes new cases and positivity. Positivity is concerning. In terms of undercounting as measured by positivity (higher is bad), the order from worst to best would be AZ, FL, GA, TX, CA, at 7.46%, is still too high by WHO standards (they want 5%). So all the states are making progress in testing, especially Arizona (20.2%) but all have a way to go.
91-DIVOC has some new charts. By Census Bureau regions: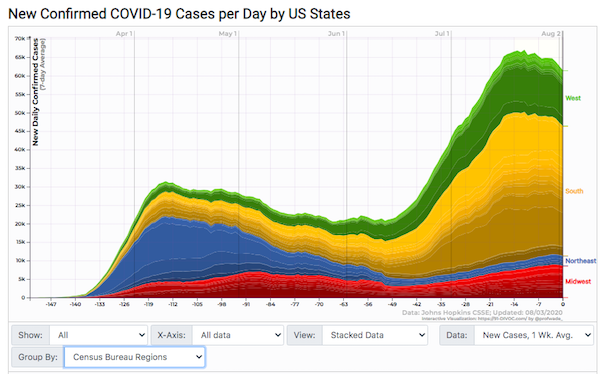 By Governor's political party: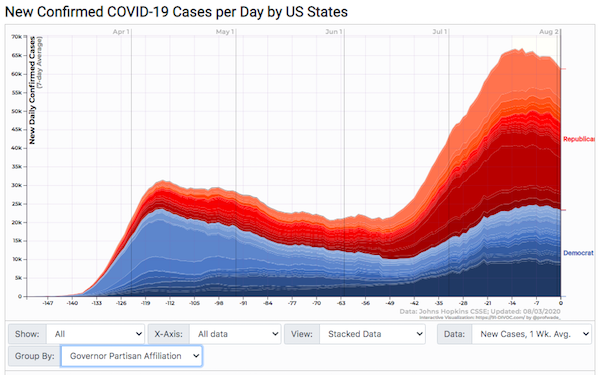 CA: "California COVID-19 cases spiked after July 4th. Family gatherings helped the spread, experts say." [USA Today]. "County health officials throughout California are increasingly reporting that close social gatherings and spread of the virus within a household are larger drivers of transmission than tourism. While there are very real concerns about travel to far-flung and small communities where hospitals could be quickly overwhelmed, it isn't currently public health officials' main worry."
HI: "With cases increasing at a distressing rate, Lt. Gov. Josh Green says a statewide lockdown might be the only way out" [Star-Advertiser]. "Hawaii's positive COVID-19 cases went back to triple digits Sunday, adding another data point to a surge that is bringing the state closer to another widespread lockdown and garnering national attention…. [Lt. Gov. Josh Green] said the state is at a crossroads now, and 'this week is the last week to get the numbers under control without having to take dramatic measures.' 'If we see another week of triple digits, the only sensible thing to do is to have a two- to four-week shutdown with only essential work occurring to keep ourselves alive,' he said. 'It certainly makes the opening of schools problematic and any trans-Pacific travel problematic.'
MO: "Missouri got millions to fight COVID-19, but 50 health agencies haven't seen a penny" [Kansas City Star]. "By early May, the federal government had delivered hundreds of millions of dollars to Missouri to fight the spread of the coronavirus… Of Missouri's 114 counties, only 17 local health agencies reported receiving aid. Thirteen said they did not apply for funds and another 34 did not participate in the survey."
NV: "What Happens In Vegas Doesn't Stay In Vegas" [Eschaton]. "Can't see any real problem with a high new case rate in a state/city where people fly in for a couple of days, spend it all in an enclosed space with a lot of other people from all around the country, and then fly back home."
TX: "'I'm just so, so tired'" [Houston Chronicle]. "The strain has hit everyone up and down the medical chain in hospitals, from doctors to support staff. They all say they feel it, disheartened by a pandemic with no finish line. Often, though, the brunt is being borne most by the hands-on workers, those who hover after the doctor has left the room, monitoring conditions, administering medication, stepping in as surrogate family. Nursing shifts are sometimes stretching 17 hours or longer with few if any days off because there are often not enough staff at some facilities to relieve them. Fear of bringing the virus home to family or falling sick themselves is a constant."
Politics
"But what is government itself, but the greatest of all reflections on human nature?" –James Madison, Federalist 51
"They had one weapon left and both knew it: treachery." –Frank Herbert, Dune
"They had learned nothing, and forgotten nothing." –Charles Maurice de Talleyrand-Périgord
The electoral map. July 17: Georgia, Ohio, ME-2 move from Leans Republican to Toss-up. Continued yikes. On July 7, the tossup were 86. Only July 17, they were 56. Now they are 91. This puts Biden at 278, i.e. over 270. August 3: Still no changes.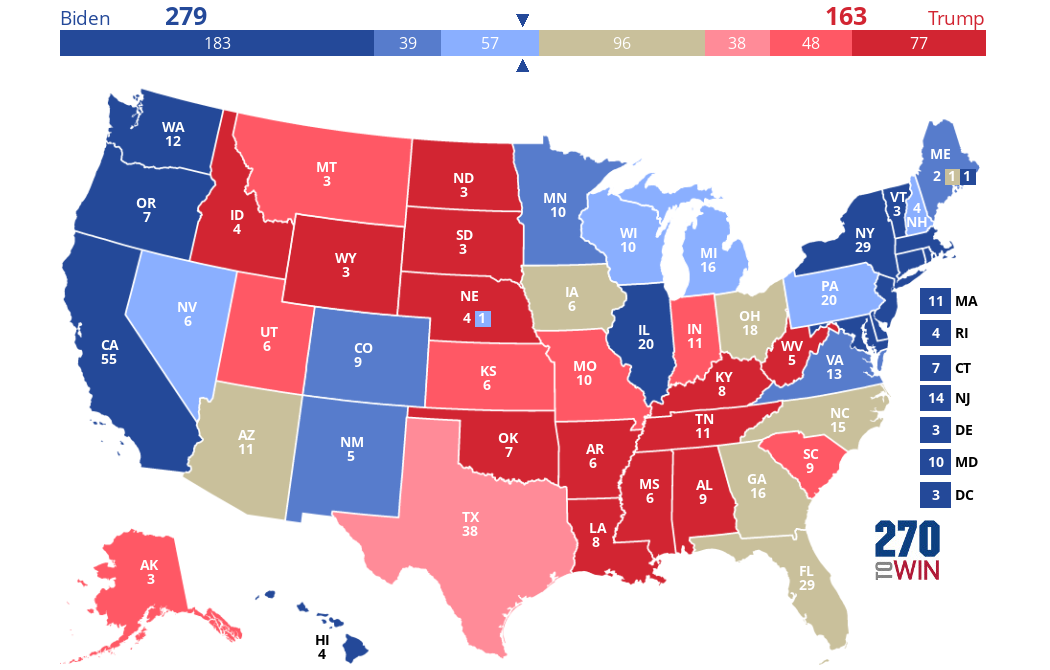 Click the map to create your own at
270toWin.com
So, taking the consensus as a given, 270 (total) – 204 (Trump's) = 66. Trump must win 66 from the states in play: AZ (11), FL (29), MI (16), NC (15), PA (20), and WI (10) plus 1 to win not tie = 102. 102 – 66 = 36. So if Trump wins FL, MI, NC, and PA (29 + 16 + 15 + 20 = 80), he wins. That's a heavy lift. I think I've got the math right this time!
2020
Biden (D)(1): Via email, NH:

Saw new yard signs for state elections, and US Senatorial elections, but no new Biden signs. There is zero energy for that guy. Not even car stickers, nothing.

Biden (D)(2): Via email, Seattle, WA:

I see more trump signs out here in Seattle than Biden signs. I think the trumpers are not as shy about their candidate as Biden's supporters.

Biden (D)(3): More in Seatte:

Inspirational stuff. https://t.co/YvQcwQxxBw

— dilan (@dilanpcook) August 1, 2020

Biden (D)(4):

The guy stuffed with formaldehyde is only 9 points ahead of Trump – even though the economy has collapsed, there's a plague, and civil war looms. This is looking bad for the Dems. https://t.co/jsBSClQSzS

— Sharmine Narwani (@snarwani) August 2, 2020

I try to discount Democrat triumphalism… And it is true that a five point swing beats a nine-point lead. That's not insuperable, especially for a mercurial candidate like Trump. But national polls don't matter; only swing states do.

Sanders (D)(1): "Sanders endorses ending filibuster to pass voting rights legislation" [Axios]. • Sure, but not for Medicare for All?

Trump (R)(1): "The case for Trump will come down to his record. It's a strong one." [Hugh Hewitt, WaPo]. • Oddly, Hewitt omits nuking TPP. And doesn't mention COVID. He concludes: "There's an aesthetic critique of Trump that has convinced elites that he must be beaten, that he is cruel and beneath the office. But Americans want their jobs and security back. They like the police. And, yes, most of the time they mostly admire Trump's style and, almost always, his results." • I hate the body language metaphor, but Trump's body language suggests to me that a colorable vaccine could be doable. So does WaPo; that would be why they just emitted an editorial saying that downplaying a vaccine's importance.
Stats Watch
At reader request, I added some business stats back in. Please give Econintersect click-throughs; they're a good, old-school blog that covers more than stats. If anybody knows of other aggregators, please contact me at the email address below.
Manufacturing: "July 2020 ISM and Markit Manufacturing Surveys Improve" [Econintersect]. "Based on these surveys and the district Federal Reserve Surveys, one would expect the Fed's Industrial Production index growth rate to be slightly better than last month. Overall, surveys do not have a high correlation to the movement of industrial production (manufacturing) since the Great Recession. No question these surveys suggest the economy is no longer in recession."
Construction: "June 2020 Construction Spending Declined" [Econintersect]. "Construction spending is trending downward but remarkedly strong considering the impact of the coronavirus pandemic. Private construction had been fueling construction growth – but currently, public construction is fueling the growth. Consider this a slightly worse report relative to last month. Construction employment has contracted significantly."
* * *
Retail: "Hermes sales plunge 42 per cent amid global coronavirus store closures" [CNA Luxury]. "The iconic Birkin bag may be the world's most resilient luxury product in times of crisis, but even its maker is feeling the brunt of the COVID-19 pandemic. French luxury goods company Hermes has announced that sales fell 42 per cent in the second quarter as the coronavirus pandemic forced it to shutter stores across the globe and pause production…. the silver lining of the pandemic lies in Hermes's online channels, where sales have grown by double-digits across Asia. Online sales in the first half increased by more than 100 per cent in China, with growth continuing even after stores reopened in the country, reported Jing Daily. In a sign of confidence, Hermes also announced that it has increased its workforce by almost 300 people, mostly in production."
Tech: "Huawei somehow becomes the #1 phone manufacturer, thanks to the coronavirus" [Ars Technica]. "Despite aggressive sanctions from the US government, Huawei has become the number 1 smartphone manufacturer in the world, according to Canalys. The company's 55.8 million smartphone shipments in Q2 2020 put it at the top of Canalys' charts for the quarter, marking the first time the company has passed Samsung for the top spot. Huawei's top spot isn't really due to it defeating US sanctions. Huawei's sales are actually down slightly compared to last year, but in the age of the coronavirus, sales being down only 'slightly;' is a major win."
Tech: "Comcast Cable, Internet Revenues Buoy Firm Through COVID-19 Turbulence" [CRN]. "Comcast Corp.'s strength in business services, sought-after high-speed internet, and wireless carried the cable giant's balance sheet during an otherwise tumultuous fiscal period brought on by the disruptive COVID-19 pandemic. The cable giant's 'best-in-class and flexible' broadband network — the core of the company — saw record-low customer churn during the second-quarter of the year, said Comcast Chairman and CEO Brian Roberts during Comcast's Q2 2020 earnings call on Thursday. 'This confirms that our investments are working. We offer differentiated products and services, and a fantastic customer experience,' he said. Comcast's NBCUniversal entertainment and theme parks segment, on the other hand, succumbed to park closures, postponed filming schedules, and cancelled sporting events during the quarter with a 25 percent decline in revenues." • Eesh, what is a "fantastic customer experience" on broadband?
Tech: "Amazon will invest over $10 billion in its satellite internet network after receiving FCC authorization" [CNBC]. "Amazon's project, known as Kuiper, would see the company launch 3,236 satellites into low Earth orbit. Amazon says it will deploy the satellites in five phases, with broadband service beginning once it has 578 satellites in orbit."
Manufacturing: "US chip industry plots route back to homegrown production" [Financial Times]. "Many advanced chips are designed in the US, but only around 12 per cent are manufactured there…. There is no mystery behind the anxiety. China is still years behind the US in semiconductors, but it is racing to develop a globally competitive chip industry and is projected to become a serious competitor by the end of the decade." And: 'Taiwan's 'silicon shield' makes it the 51st [US] state,' said [Dan Hutcheson, chairman of VLSI Research and a longtime chip analyst], referring to the theory that the country's leadership in chip technology is its best defence against aggression from China. 'The US needs to protect Taiwan — it can't afford to lose it to China.'"
* * *
Today's Fear & Greed Index: 67 Greed (previous close: 65 Greed) [CNN]. One week ago: 65 (Greed). (0 is Extreme Fear; 100 is Extreme Greed). Last updated Aug 3 at 1:02pm. Solid greed. Starting to get dull.
Rapture Index: Closes up one Beast Government. "The government movement is having trouble with world unity" [Rapture Ready]. Record High, October 10, 2016: 189. Current: 182. (Remember that bringing on the rapture is a good thing.) Beast Government is volatile!
The Biosphere
"With coronavirus keeping commuters at home, soot pollution in Cleveland, Akron down significantly" [Cleveland.com]. "A byproduct of many Ohioans working from home to avoid spread of COVID-19 coronavirus is that harmful soot from automobile exhaust has dropped significantly in Greater Cleveland. Pollution data collected by the U.S. Environmental Protection Agency shows air quality ratings improving in both Cleveland and Akron within about a week of Gov. Mike DeWine issuing his stay-at-home order on March 22. And pollution levels in both cities still remained below five-year averages for a majority of business days in both June and July, the most recent data cleveland.com could obtain from the EPA showed, though the trend was less pronounced in Akron."
"This country regrew its lost forest. Can the world learn from it?" [CNN]. "In the 1940s, 75% of Costa Rica was cloaked in lush rainforests. Then the loggers arrived, chainsaws in hand, and cleared the land to grow crops and raise livestock. While there is ongoing debate about the extent of reduction, it is thought that between a half and a third of forest cover had been destroyed by 1987. Soon after this all-time low, the government took a series of radical actions to convert the country back into a natural paradise. In 1996 it made it illegal to chop down forest without approval from authorities and the following year it introduced PES, [PES, which pays farmers to protect watersheds, conserve biodiversity or capture carbon dioxide]. Today almost 60% of the land is once again forest."
"Arctic sea ice could disappear completely within two months' time" [Arctic News]. "Arctic sea ice fell by 3.239 million km² in extent in 25 days (i.e. from July 1 to 25, 2020). Melting will likely continue for another two months. If it continues on its current trajectory, the remaining 6.333 million km² of Arctic sea ice could disappear completely within two months' time…. The fall in extent over the next two months' time may not remain as as steep as it was in July, yet the sea ice still could disappear completely. One reason for this is that, over the years, sea ice thickness has been declining even faster than extent. The rapid decline in sea ice thickness is illustrated by the sequence of images below."
"Amazon region: Brazil records big increase in fires" [BBC]. "Official figures from Brazil have shown a big increase in the number of fires in the Amazon region in July compared with the same month last year. Satellite images compiled by Brazil's National Space Agency revealed there were 6,803 – a rise of 28%. President Jair Bolsonaro has encouraged agricultural and mining activities in the Amazon. But under pressure from international investors in early July his government banned starting fires in the region." • International investors? Really?
Health Care
"How the Pandemic Defeated America" [Ed Yong, The Atlantic]. "Since the pandemic began, I have spoken with more than 100 experts in a variety of fields. I've learned that almost everything that went wrong with America's response to the pandemic was predictable and preventable. A sluggish response by a government denuded of expertise allowed the coronavirus to gain a foothold. Chronic underfunding of public health neutered the nation's ability to prevent the pathogen's spread. A bloated, inefficient health-care system left hospitals ill-prepared for the ensuing wave of sickness. Racist policies that have endured since the days of colonization and slavery left Indigenous and Black Americans especially vulnerable to COVID‑19. The decades-long process of shredding the nation's social safety net forced millions of essential workers in low-paying jobs to risk their life for their livelihood. The same social-media platforms that sowed partisanship and misinformation during the 2014 Ebola outbreak in Africa and the 2016 U.S. election became vectors for conspiracy theories during the 2020 pandemic." • I could file this under failed state, too (though after The People, No, that "experts" makes my Spidey sense tingle).
"COVID-19 long-term toll signals billions in healthcare costs ahead" [Reuters]. "Studies of COVID-19 patients keep uncovering new complications associated with the disease. With mounting evidence that some COVID-19 survivors face months, or possibly years, of debilitating complications, healthcare experts are beginning to study possible long-term costs. Bruce Lee of the City University of New York (CUNY) Public School of Health estimated that if 20% of the U.S. population contracts the virus, the one-year post-hospitalization costs would be at least $50 billion, before factoring in longer-term care for lingering health problems. Without a vaccine, if 80% of the population became infected, that cost would balloon to $204 billion."
World's greatest newspaper hazes over the distinction between indoor and outdoor transmission:
The media's misinformation campaign continues on the front page of the Sunday @nytimes. What's driving the latest surge in cases? Apparently people enjoying themselves at spacious beaches and parks and drive-in movies. pic.twitter.com/Ho0UaMj0WD

— Julia Marcus, PhD, MPH (@JuliaLMarcus) August 2, 2020
I think the idea behind the beach photos is to shame. But can't we get the science right?
"Trump 'owes us an apology.' Chinese scientist at the center of COVID-19 origin theories speaks out" [Science]. "n her written answers to Science, [Shi Zhengli] explained in great detail why she thinks her lab [Wuhan Institute of Virology (WIV)[is blameless. WIV has identified hundreds of bat viruses over the years, but never anything close to SARS-CoV-2, she says. Although much speculation has centered on RaTG13, the bat virus that most closely resembles SARS-CoV-2, differences in the sequences of the two viruses suggest they diverged from a common ancestor somewhere between 20 and 70 years ago. Shi notes that her lab never cultured the bat virus, making an accident far less likely…. Shi mentioned several other factors that she says exonerate her lab. Their research meets strict biosafety rules, she said, and the lab is subject to periodic inspections "by a third-party institution authorized by the government." Antibody tests have shown there is "zero infection" among institute staff or students with SARS-CoV-2 or SARS-related viruses. Shi said WIV has never been ordered to destroy any samples after the pandemic erupted and she was sure the virus didn't come from the Wuhan Center for Disease Control and Prevention—or another lab in the city—either: "Based on daily academic exchanges and discussion, I can rule out such a possibility." • Carefully vetted, no doubt. But: "Shi ended her answers to Science on a similar note. 'Over the past 20 years, coronaviruses have been disrupting and impacting human lives and economies,' she said. 'Here, I would like to make an appeal to the international community to strengthen international cooperation on research into the origins of emerging viruses. I hope scientists around the world can stand together and work together.'"
Black Injustice Tipping Point
"How the Antislavery Movement Ignited a Political Revolution" [Matt Karp, Jacobin]. "The transformation in political consciousness that Garnet witnessed in 1856 is the subject of Matt Karp's essay in Catalyst, "The Mass Politics of Antislavery," which traces the development of the movement against slavery in the decades leading up to the Civil War. This movement included militant abolitionists, but also many ordinary white Northerners and small farmers — a diverse coalition pulled together by the nascent Republican Party. Founded in 1854, the Republican Party was part of a movement that brought abolitionism from the fringe to the center of American politics by fusing moral opposition to slavery with appeals to the material interests of those who might otherwise have been indifferent to the antislavery cause. Indeed, hatred of "the Slave Power" became the driving force within the Republican movement, which never lost sight of abolitionism, even as it sought to expand its appeal and broaden its base."
Groves of Academe
"Colleges Seek Waivers From Risk-Taking Students" [Inside Higher Ed]. "As fall semester approaches, students are increasingly opposing liability waivers and "informed consent" agreements required by colleges as a condition of returning to campus…. Some of the agreements are more explicit than others, such as the contract used by Bates, which legal experts say implies that students are waiving their right to pursue litigation for negligence on the part of the college. Mary Pols, a spokesperson for Bates, said in an email that the college's fall reopening plan 'emphasizes student choice[' and the written acknowledgment is 'intended to help students and their families make an informed decision about the fall semester.' 'Students may choose to return to campus, study remotely, or take a leave,' Pols wrote. 'That choice lies squarely with students and their families, depending on their personal circumstances … the college has been and will continue to be flexible as students' plans change over the summer.' Agreements at other institutions attempt to conceal the legal language within statements about students' responsibility to follow public health guidance and general information about how to prevent the spread of coronavirus, some students said."
Guillotine Watch
"Eight Shocking Secrets I Learned While Working on Private Jets" [Bloomberg]. "[O]utfitting an aircraft with silverware, bedding, and electronics exceeds $100,000. (Much of it gets stolen.)" • I'm shocked.
Class Warfare
"Mnuchin on $600 unemployment benefit: We can't be 'paying people more to stay home'" [The Hill]. • If you want them to stay home during a pandemic, that's what you should do. Of course, C-M-C' rules.
"Property May Not Be Theft, but It's Not NOT Theft" [The Nation]. "[P]roperty destruction needs to be taken seriously as a coherent, intelligent form of political speech. Reframing property destruction as a fully conscious, intelligent form of resistance is important for a number of reasons. It forces us to distinguish between violence against people (often in the name of property protection) and violence against non-living things. It explicitly acknowledges the role of coercion in political struggle that is obscured by a reductive notion of nonviolence as the gold standard of democratic change. And it invites us to examine something so fundamental to the very terms of our political thought that it often escapes scrutiny. Namely, private property. The recent attacks on buildings, monuments, and police stations that occurred in the course of protests against state-sanctioned murder were not an unfortunate byproduct of otherwise peaceful, legitimate protests but integral to them." • Hmm.
News of the Wired
"How the 1918 Pandemic Got Meme-ified in Jokes, Songs and Poems" [Smithsonian]. "Take, as an example, poems everyday people wrote about the Spanish Flu, which were published widely in local and national newspapers. Media of the time labored under the close watch of World War I media censorship, which aimed to curb public dissent. However, newspapers did frequently publish poetry, providing an outlet for regular people to submit their work and vent their frustrations. Some papers contained specific pages for humorous pieces, "odd" facts, and anecdotes. Others placed poems in the midst of local or national news." •
Memento mori>
Properly taking care of photo archives is difficult & expensive. Photographers, if you care about your legacy, start planning now. Don't leave it to your survivors. That's how many archives have ended up in dumpsters. Seriously. https://t.co/yotNosck5I

— John Edwin Mason (@johnedwinmason) August 1, 2020
News you can use:
today on amazon i accidentally discovered that you can just buy wheel locks for cheap enough to put on someone's car who pissed you off pic.twitter.com/6GprVyFyIP

— POKEY ALSO (in spirit) (@rabcyr_alt) August 1, 2020
* * *
Readers, feel free to contact me at lambert [UNDERSCORE] strether [DOT] corrente [AT] yahoo [DOT] com, with (a) links, and even better (b) sources I should curate regularly, (c) how to send me a check if you are allergic to PayPal, and (d) to find out how to send me images of plants. Vegetables are fine! Fungi and coral are deemed to be honorary plants! If you want your handle to appear as a credit, please place it at the start of your mail in parentheses: (thus). Otherwise, I will anonymize by using your initials. See the previous Water Cooler (with plant) here. Today's plant (CR):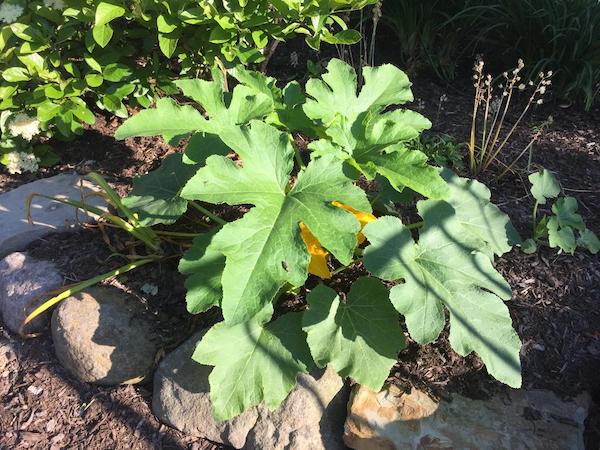 CR writes: "Will the deer allow us to have any zucchini? Remains to be seen."
I suppose forest fires come under the rubric of plants (periol), so bonus:
Pyrocumulus moon – One of the more apocalyptic sunsets I've watched. #AppleFire #cawx #stormhour pic.twitter.com/brJzoamEc7

— Kevin Palmer (@krp234) August 2, 2020
* * *
Readers: Water Cooler is a standalone entity not covered by the annual NC fundraiser. So if you see a link you especially like, or an item you wouldn't see anywhere else, please do not hesitate to express your appreciation in tangible form. Remember, a tip jar is for tipping! Regular positive feedback both makes me feel good and lets me know I'm on the right track with coverage. When I get no donations for five or ten days I get worried. More tangibly, a constant trickle of donations helps me with expenses, and I factor in that trickle when setting fundraising goals:
Here is the screen that will appear, which I have helpfully annotated.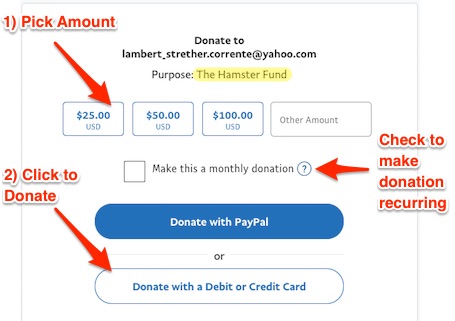 If you hate PayPal, you can email me at lambert [UNDERSCORE] strether [DOT] corrente [AT] yahoo [DOT] com, and I will give you directions on how to send a check. Thank you!