Many readers, but likely not as many in the general population, will recall that the vogue for city living is a fairly recent phenomenon. In most of the post-war era in the US, the ideal was suburban living, the single family home with a yard so children had a place to play. After all, everyone was supposed to marry and have 2.3 kids. Cities were places where young people got experience and older men worked to support their families.
Large cities fell into disfavor in the 1970 as they came to be seen as hotbeds of crime and "white flight" became widespread. The exodus further eroded strained tax bases.
We'll focus on New York City as the canary in the coal mine for what is coming for other cities if Covid-19 isn't tamed by say mid 2021, particularly since commentators are already worrying about fiscal-crisis-level damage to the Big Apple. For instance, Wolf Richter has a piece documenting how San Francisco's financial district has become a ghost town which we'll discuss briefly. Heavily tourism-dependent towns are also due to take worse hits than similar-sized brethren.
The Wall Street Journal has a new story tonight on how employers are facing worker revolts about bringing them back to offices, which does not bode well for the recovery of urban centers. Key sections:
This summer, executives at health-care-technology firm Epic Systems announced a plan: Most of the 9,500 employees at its 1,000-acre campus in Wisconsin would be expected back in the office in September.

The company, like many others, says its employees do their best work when they can collaborate in the same space. But blowback to the mandate was swift. Employees expressed fears about safety and spreading the new coronavirus. Local health officials questioned the move. So Epic joined legions of other companies making late-in-the-game changes to office-reopening plans, saying this month that staffers could work from home at least through the new year….

Expecting the virus to be under control by Labor Day, many employers had hoped to bring white-collar workers back to the office next month. But as cases rose in dozens of states throughout the summer, major school districts settled on remote or hybrid instruction, complicating the picture for working parents. Some employers have already scuttled plans to force office workers back so soon.

They include some of the country's biggest companies. In an August survey of 15 major employers that collectively employ about 2.6 million people, 57% said they had decided to postpone their back-to-work plans because of recent increases in Covid-19 cases. Nearly half said they were putting in additional safety measures for when they reopen, such as redesigned workspaces and temperature checks.

Only one respondent said the summer surge of infections hadn't affected its timeline or plans for bringing workers back.
In the 1970s period of revulsion about cities, New York City was the sickest: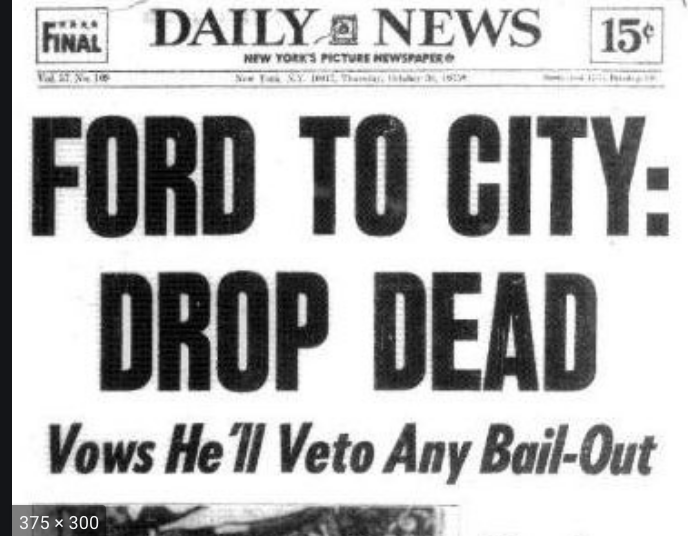 I spend the summer in New York City in 1980 and moved there in 1981. It was grimy. There were a lot of petty robberies, but if you lived in at least an OK neighborhood and didn't go to risky areas in the late evening, personal safety wasn't a real risk. But even then, it was the place to be for so many lines of work: dance, theater, visual arts, advertising, publishing, finance, law. It was also a magnet for top journalists and medical professionals. But I ran into people even as late as the mid-1980s who had nearly had their businesses fail during the fiscal crisis and still seemed traumatized when the topic came up. They had little confidence in the resurgence of prosperity then.
As I've recounted, New York City's population of the city rose not just due to growth of jobs but also the increased tendency of mid and upper income workers to bring up their children in the city. And the long-term plan for New York City, of it becoming a bedroom community for the wealthy and professionals, was coming to fruition (if you were a fan of sort of thing) via formerly commercial neighborhoods like Soho and Tribeca becoming playgrounds for the affluent, and Harlem and areas colonized by artists gentrifying.
Another chapter in this "progression" was New York, along with other "world cities" becoming a place where the super-wealthy would buy apartments as investments. They were often kept vacant or little used. New York hadn't gone as far as, say, Fulham Road near Sloane Square, in terms of looking like it had been hit by a neutron bomb. But some buildings like the former Plaza Hotel, converted into condos, even had articles written about how creepily empty they were.
Now this has all gone splat. High end real estate prices are cracking as the city's budget becomes a black hole, assuring coming deep and painful cuts in services. The press was already reporting that rats were becoming bolder due to restaurants no longer producing anywhere near their former level of throw-away food, in combination with the city sanitation services having already cut back on their schedules.
The first adverse development was underway before Covid-19 hit, that of the super-rich cooling on New York City. Some of that was due to increases in mansion taxes and transfer taxes on very high end properties. I imagine another chilling effect came from an initiative to disallow corporations to buy properties without disclosing who the owners were; that followed a New York Times expose on some of the corporate-owned units in the Time Warner Center, which found some could not be traced at all and others had decidedly seedy (as in crime connected) shareholders. The threat was to make real estate sellers subject to "know your customer" type requirements, not just banks.
On top of that, lots of new apartment buildings designed for the top wealthy had just come on the market. From the Wall Street Journal over the weekend, Covid-19 Pounds New York Real Estate Worse Than 9/11, Financial Crash:
The Covid-19 crisis has delivered a stunning gut-punch to the New York City luxury real-estate market, applying downward pressure at a rate that surpasses both the 2008 financial crisis and the period immediately following the 9/11 terrorist attacks.

In the West Chelsea district, a recently built ultra high-end boutique condominium known as the Getty slashed prices for its remaining units by as much as 46%. One full-floor, four-bedroom apartment at the Peter Marino-designed building was lowered to $10.475 million from $19.5 million….

The crisis comes at a time when sales and prices in the luxury market were already under pressure. "It's not like New York City is all of a sudden on sale. New York has been on sale for the past 24 months," said Tal Alexander, a luxury agent with Douglas Elliman. "Sellers who are motivated and want to do deals need to add on another layer of discount."….

New listings were down by 21%, while new listings priced at $4 million and above were down by almost 35%. For luxury homes sold in the second quarter, prices were also down by about 11%, according to a report by Douglas Elliman….

Agents said the greatest discounts are in new developments, where developers with stacks of inventory need to move product to meet loan repayment deadlines. "Any developer who broke ground after 2016 in Manhattan is going to be lucky to get most of his equity out," Mr. Korolik said.
The flip side is this is way way way short of the distress during the fiscal crisis or even the much-shorter-lived bottom of the nasty 1991-1992 recession. Then some co-ops were sold for $1 plus proof of enough income to cover the maintenance. There were so many buildings seized by the city, mainly in Harlem, that it also created a homesteading program: the city would let someone take over a house if they could show they had plans for fixing it plus the skills and funds needed for the repairs.
Or as Kurt Andersen, founder of Spy Magazine, said in an interview in the New York Times:
I know people who are trying to buy and sell real-estate right now and I haven't heard that you can suddenly get a one-bedroom apartment for $200,000.
But things look set to get worse before they get better. From yet another Wall Street Journal piece, this one today on the New York City budget crisis:
New York City faces a $9 billion deficit over the next two years, high levels of unemployment and the prospect of laying off 22,000 government workers if new revenue or savings aren't found in the coming weeks.

The growing economic crisis, brought on by the coronavirus pandemic, has alarmed New York Gov. Andrew Cuomo so much that he recently asserted greater control over a panel overseeing the finances of the nation's largest city…

Mr. Cuomo, a Democrat, has grown concerned about the direction of the city budget, state Budget Director Robert Mujica said in an interview.

The city had to cut billions to balance its latest budget, but it still has major funding challenges.

Local officials have called on Congress to approve a relief package for the city, but talks about a bill are ongoing. As a backstop, New York City Mayor Bill de Blasio asked state lawmakers for authorization to borrow up to $5 billion to fund operating costs. Democrats who control the state Senate objected, and the request hasn't been granted.

"A lot of the same things that occurred in 1975 are reoccurring," [state Budget Director] Mr. [Robert] Mujica said. "And if that's the case, and the city's going to be in a level of fiscal distress, we want to know early."
Axios confirms the downbeat take:
Where it stands: A throwdown between Mayor Bill de Blasio and the city's unions over New York's massive municipal budget deficit could make matters much worse.
De Blasio has appealed to Albany and Washington for relief, but so far is hearing, "Talk to the hand."

He's threatened to fire 22,000 city employees unless unions agree to trim $1 billion in labor costs.

Meanwhile, trash is piling upin city parks, the city's EMS union chief says that "people will die" if first responders are cut, and New York's teachers have threatened a sickoutto protest de Blasio's plan to open schools on Sept. 10.
And there are plenty of signs of trouble:
"Until the pandemic struck the city, La Jornada food pantry used to hand out groceries to roughly 1,000 families a week. Now, the number tops 10,000. . .Across the five boroughs, the hungry is in the hundreds of thousands, the Food Bank of New York estimates."

— Jennifer Taub (@jentaub) August 23, 2020
And collapsing confidence in Mayor DiBlasio:
Parents in New York City are 'Baffled' that @NYCMayor has no plan to test all entering schools https://t.co/CmbcrTgDvA @UFT

— Brian Gibbons (@BrianUFT) August 22, 2020
And although it is only one opinion, developers tend to be bullish. From CNBC, New York City may take a decade to recover from coronavirus pandemic, says developer Don Peebles:
"I think New York will ultimately come back. It'll come back differently. It'll be a different place, and it will be much more affordable," said [Don] Peebles, CEO of privately held Peebles Corp., which has a corporate office in lower Manhattan.

He added on "The Exchange," "I think it's going to take New York about a decade or so to dig out of this. Maybe longer. But it's not going to be soon."

Peebles said he foresees challenges ahead for New York City in attracting and maintaining new residents and businesses going forward. Among them is the strength of other U.S. cities, especially in places with a more tax-friendly environment, he said.
I hate to sound like a Republican but the New York City corporation tax is a big disincentive. And there is an unincorporated business tax too.
While New York City's tsuris gets a lot of coverage, it is not alone. As we mentioned, Wolf Richter has a photo essay of San Francisco. From the set up:
The data of how work-from-home impacts office patterns in a city like San Francisco are grim. According to Kastle Systems – which provides access systems for 3,600 buildings and 41,000 businesses in 47 states, and therefore has a large sample of how many people are entering offices during the Pandemic – office occupancy in San Francisco was still only at 13.6% of where it had been at the beginning of March, meaning it was still down by 86.4%, just above New York City:
And some of his images, taken at the AM rush hour on August 18:
On Columbus Street, looking at the intersection with Montgomery Street, with the Transamerica Pyramid in the background. I'm standing in the middle of the street to take this photo. Why? Because I can: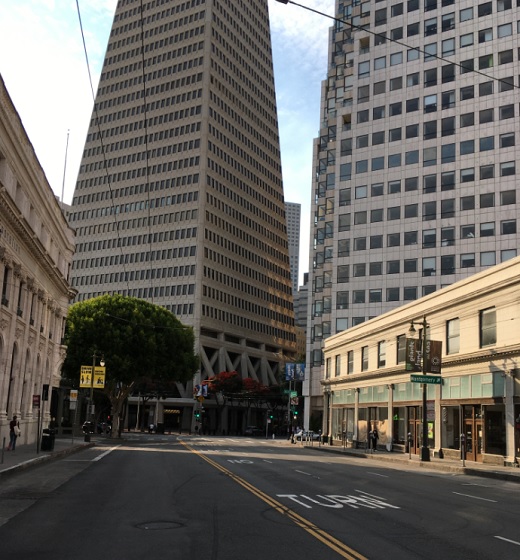 …..On Montgomery, getting closer to Clay Street: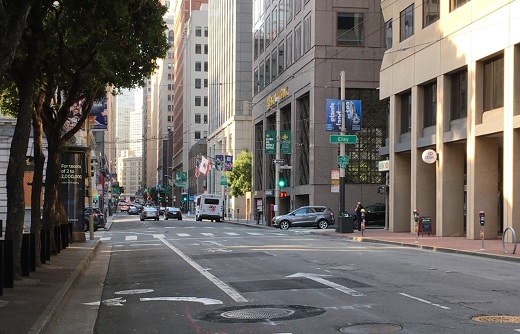 …..Intersection of Montgomery and California, another main drag, so to speak. The cable car rails have been unused since March, cables turned off. Looking south on Montgomery, across California: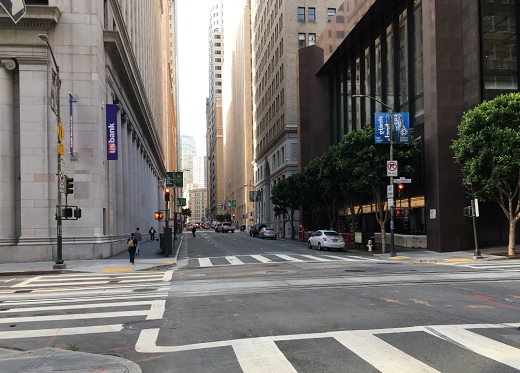 If you have time, I suggest you look through all of Wolf's images. They look an awful lot like Midtown when I was there in July.
These cities will all limp through. But how long it takes and how much they change is very much an open question.